***If you would like to easily save and print all these amigurumi patterns, you can check out my beautifully-formatted bundle called the "Chinese New Year Zodiac Amigurumi PATTERN BUNDLE" that contains ALL the zodiac patterns at a discounted price. It is 89 pages long as it contains all the step-by-step process photos and all 13 crochet patterns! Purchase it HERE in my Etsy store!
In January 2011, I first started my blog and a very fun series that we have been continuing for the past twelve years: our Chinese New Year Zodiac Amigurumi Collection! The Chinese New Year Doll was our very first original design and I vividly remember sitting at our dining room table planning out how we were going to make her. My husband Ryan and I had been newly married for a couple of months, and we had moved into our brand new home. After rediscovering my love of crochet and following patterns online and in crochet books, I soon got a sense of how to create various 3-dimensional shapes and how to format a crochet pattern. Since Chinese New Year was right around the corner, we thought it would be neat to design some sort of amigurumi to help celebrate this special occasion. I have such fond memories of eating delicious food, gathering with family, attending special events, and receiving red pocket money during Chinese New Year. How neat would it be to celebrate Chinese New Year with crafting and crocheting?
Ryan did an initial sketch, we broke down the design into its component shapes, and I meticulously wrote down all my numbers and notes so I could try and type out a pattern. We were very proud of that very first original design, and little did we know that it would kick off a series and tradition that we could carry on for the next 12 years! In every subsequent year, we designed the zodiac animal of that year. It was always such a joy to sit down with Ryan and figure out how we were going to make our animal unique and in our style. The series is now complete in 2023 as we have finished designing the last of the animals!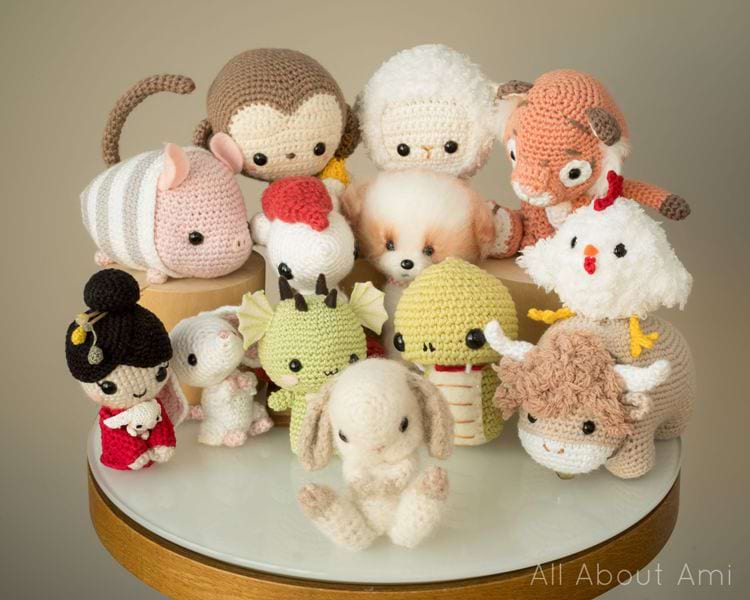 Let's take a closer look at all of them! I will provide all the links so that this blog post can serve as a central hub for all these zodiac designs. For each design, you can check out the free pattern or the PDF on Etsy or Ravelry. I have used mostly worsted weight yarn (level 4) or lightweight yarn (level 3) for these amigurumi, and you can substitute any yarn you would like. Generally using thicker yarn will result in a larger size. If you would like yarn substitution ideas, you can check out the Ravelry entries as people show their finished projects and list what yarns they used. For some of the amigurumi, I used a very small 2.00 mm hook, but you can use any hook size that feels comfortable (generally the smaller the better to get tight and dense stitches).
The Chinese New Year Doll is so sweet with her rosy cheeks, lashes and striking red dress. I love how her hair is in a topknot (I frequently wear my hair in this style) with beautiful chopsticks (aka toothpicks) providing a decorative touch. She is holding a teeny tiny bunny that is the smallest amigurumi I have ever made!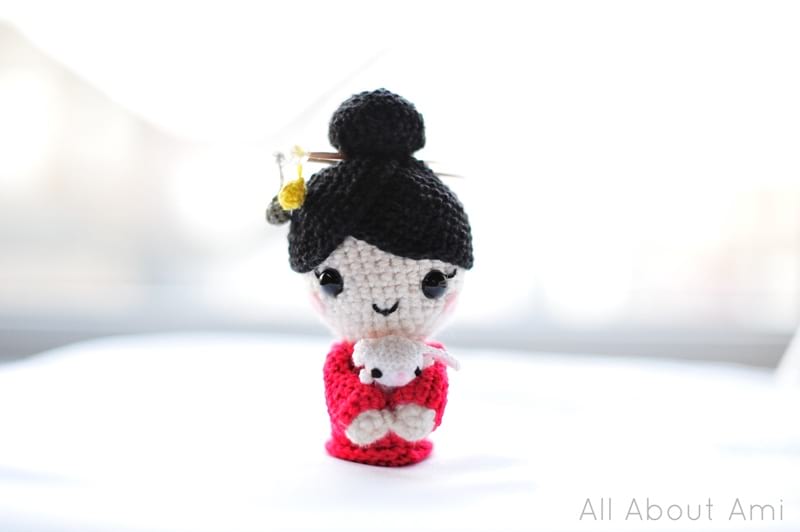 Dragon is very adorable with his little wings, horns, scaled belly, rosy cheeks, and fang. You can choose any color you want to crochet this baby dragon, and I have seen some of you crochet him in a rainbow of colors!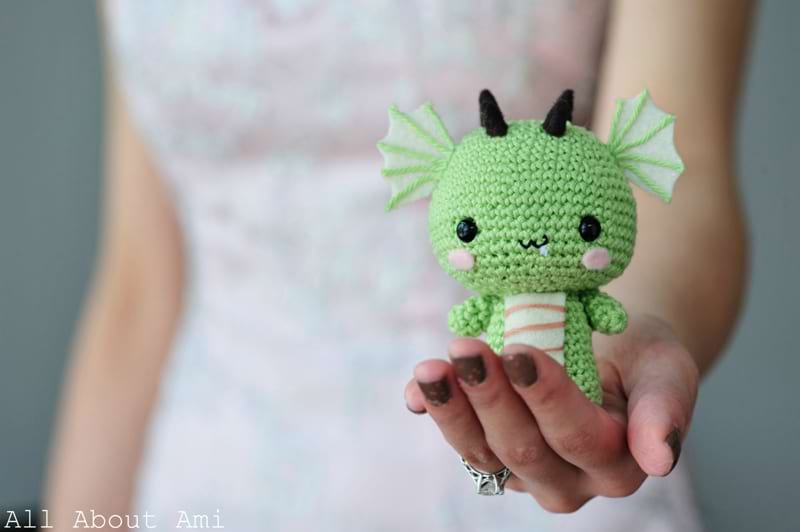 Snake is our slithery friend with his scaled belly, long tongue and fangs. He is such a friendly and adorable snake!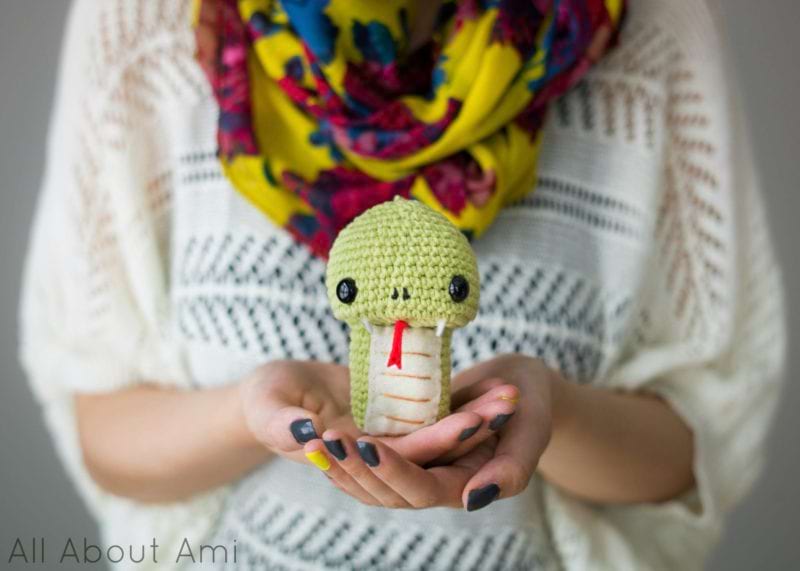 Horse or Pony is so adorable with her puffy mane and seated position. I really like how her mane is broken down into various shapes and curves around the head. The red is so striking against the white, and I have seen many of you work up your ponies using many beautiful colors!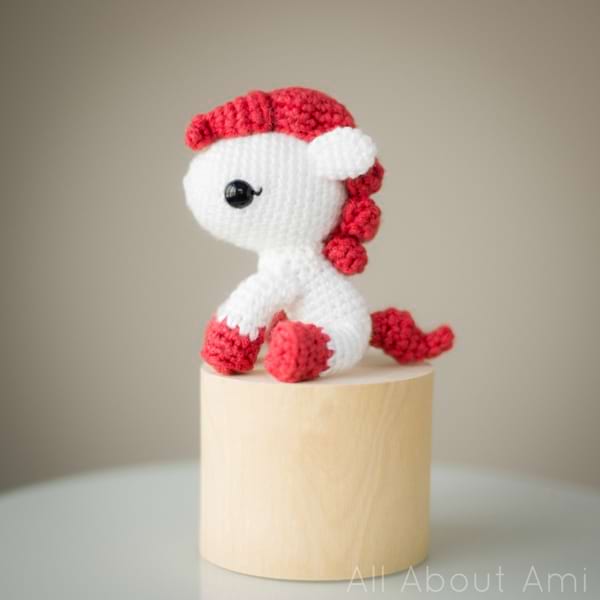 Sheep or Lamb uses fluffy yarn to give a lovely texture for the fur. We named our lamb "Lambert" and even launched the "Lambert Collection" in collaboration with artist Laura Uy to create shirts, mugs and bags based on our adorable lamb. I think his face is so cute, and I love the little bell and his seated position!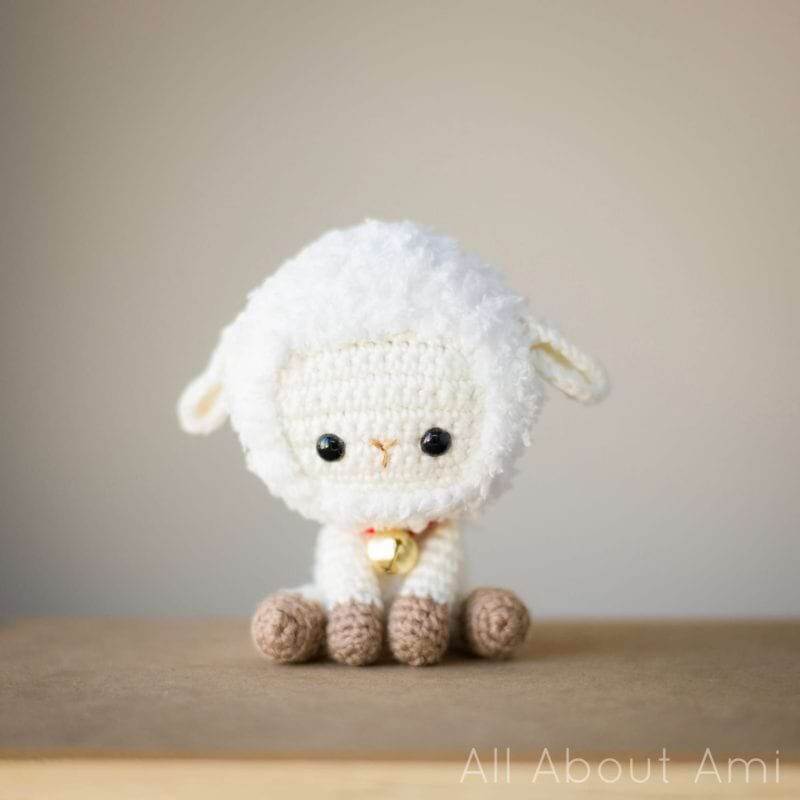 Monkey is probably the most popular design of our zodiac amigurumi collection! This little one is so adorable with his sweet face, curved tail, and cute pose clutching a banana. There is actual wiring in his tail and arms so that you can have him hanging on various objects and holding different items!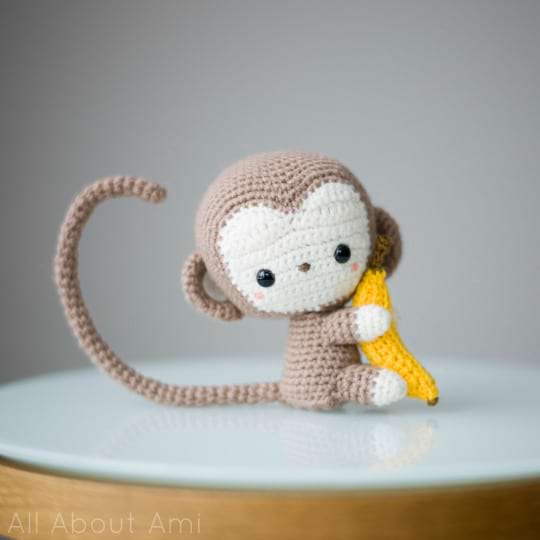 Rooster uses fluffy yarn as well, and he is so cute with his little yellow legs, red comb, wattle and orange beak. We crocheted both a white and a brown rooster!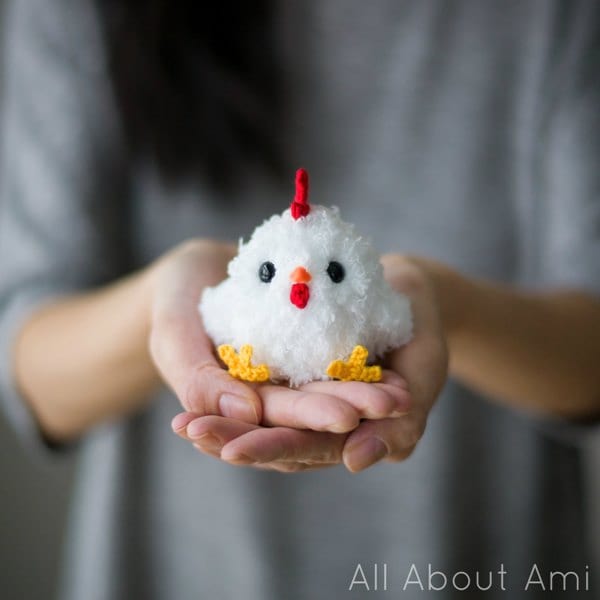 Dog has a brushed and felted look because we used a dog slicker brush to fuzz up the yarn! You can also use Sharpie markers to "paint" the fur to add color. There are two different ear shapes available so you can choose which one you want to make!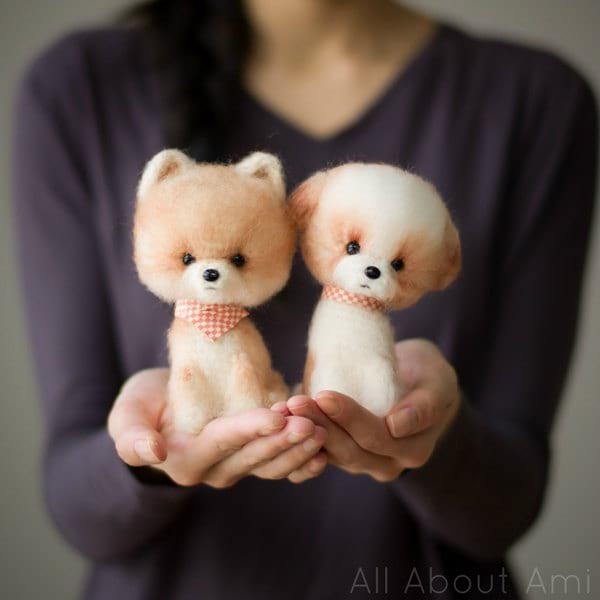 Pig is so adorably round with his cute face, little legs and curly tail. His striped pajamas are very cozy, and it is fun choosing different color combinations for his pajamas!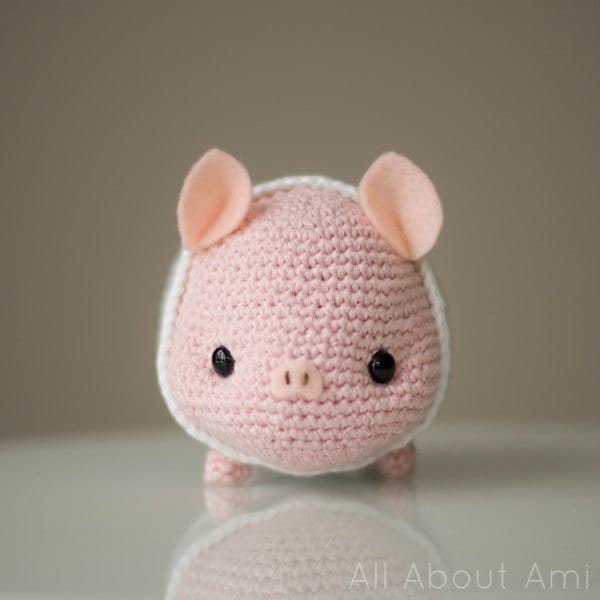 Rat is incredibly sweet with the big floppy ears, long tail, and adorable pose. I love the pink and white combination!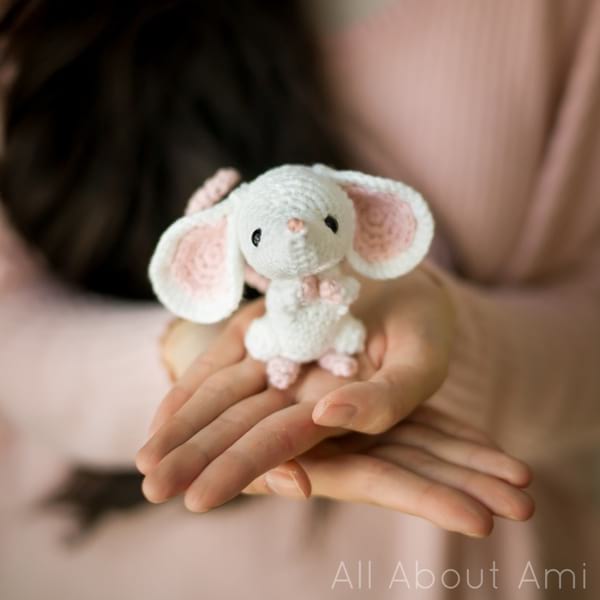 Ox is one of my favorite designs of the series as I love how he is constructed! His floppy hair, horns, tail and bell all add to his cuteness!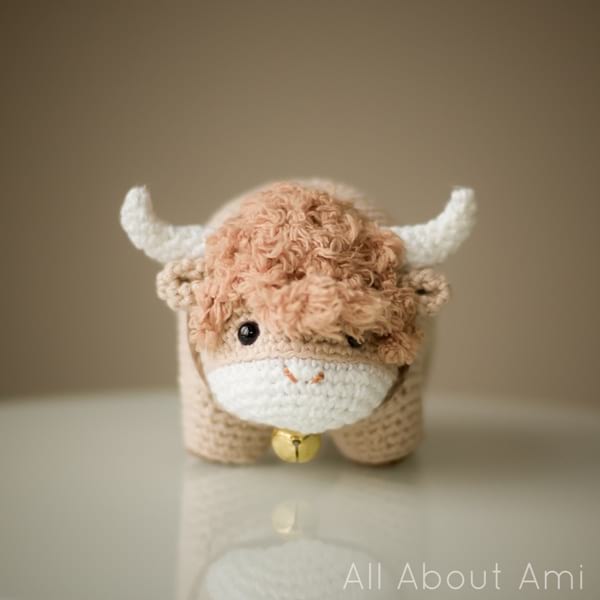 Tiger has plenty of detail with his stripes, white eye roundies, long tail, paw embroidery and fur on the sides of his head. I love his seated position!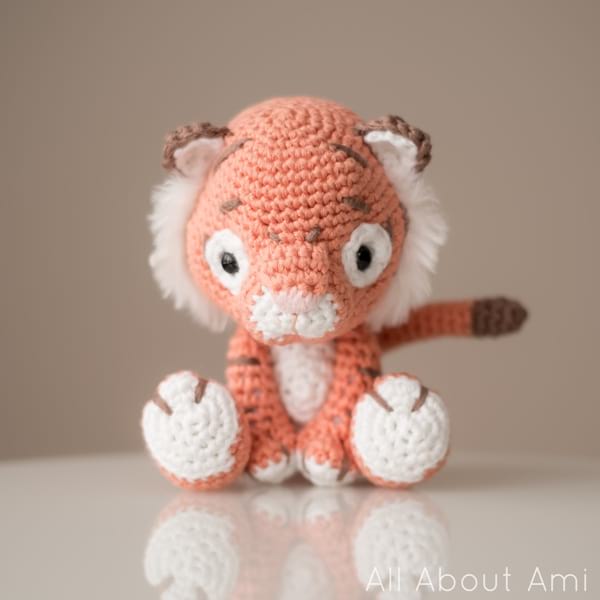 Rabbit is very sweet and cuddly as she can be cradled in your hands! She is a baby bunny with her puffy cheeks, larger forehead, floppy ears and big feet. A dog slicker brush is used to fuzz up the yarn and give a beautiful brushed effect like the Dogs.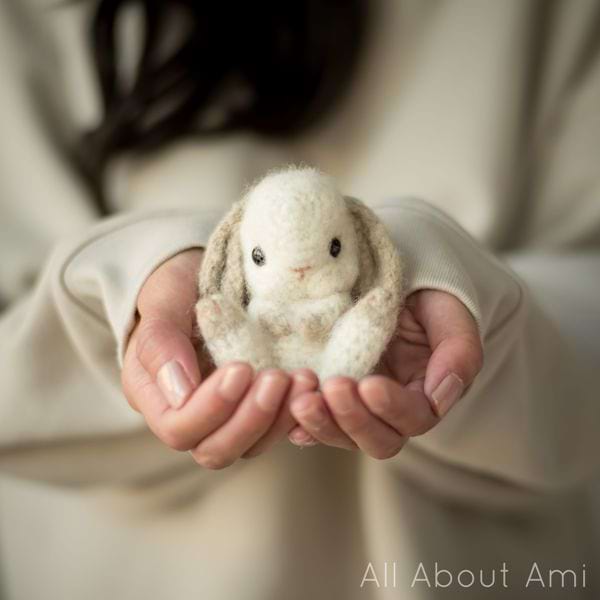 I can't believe that the Chinese New Year Zodiac Amigurumi series is complete now after 12 years – what a journey it has been! From sketching out the designs, figuring out the component shapes, seaming them together and bringing them to life, typing up the patterns and showing sneak peeks on social media: we have enjoyed each and every step along the way. It has been so fun seeing our collection grow year by year. Thank you for your enthusiasm for the series as I know many of you have eagerly anticipated the zodiac design every year (I would always get quite a few messages leading up to Lunar New Year asking if we were continuing the tradition). I have enjoyed seeing you work up your own versions of these designs as you have gifted them to friends and family members and they have also been part of your Lunar New Year celebrations.
Enjoy building up and completing your collections too, everyone! You can tag me on social media (@AllAboutAmi and #AllAboutAmi) when you are working on your projects and showing your finished items as I LOVE seeing your projects using my patterns! Thank you for following along with this series, and we are very grateful for your support and love!