Over my years of blogging, Lion Brand Yarn has always been extremely supportive of my work. Since the beginning, they always shared my projects using their yarn on social media, and they asked me to be a part of their #scarfie campaign back in 2014. For the past two years, I have been designing monthly projects with them using their large range of yarns and corresponding with their staff. Imagine my extreme surprise when they invited me to their Lion Brand Yarn Blogger Bash in January 2018 to celebrate their 140th Anniversary in New York City! Ryan and I were ecstatic, and we could not wait to meet the other crochet bloggers as they listed who they were inviting! Flying to New York City ended up being more complicated than expected with two flight cancellations and reschedules, but 13 hours later (originally supposed to be 7 hrs), we safely landed and I was so thankful that we did not miss any part of the blogger activities that would begin the following day! I tried to document our adventures through pictures and videos, so I will share them with you in this blog post and explain as much as I can! Sit down, relax, and grab a cup of tea as this is one lengthy blog post (if you don't want to read the whole post, scroll down to the video I made that recaps our whole trip!)!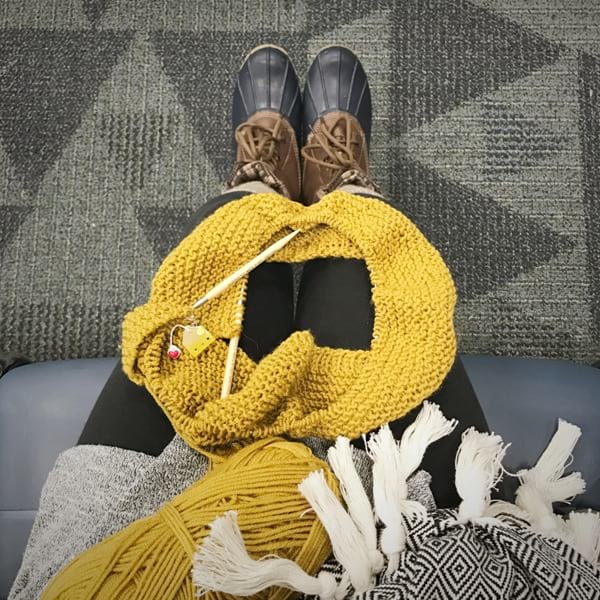 On Day 1 of the Lion Brand Blogger Bash, we met in the Lion Brand offices adjacent to the Lion Brand Yarn Studio. I was so impressed with the beautiful crocheted display in the storefront created by London Kaye with the delicate snowflakes and elegant dancer! I loved browsing through the studio and seeing the different yarns and colours in person, and they also had many other items such as project bags, notions, yarn bowls, and even a sample wall where you could wind yarn around a card and cut some for free! They also sell the LB Collection, an exclusive line of luxury yarns at a more affordable price that can only be found in the studio, outlet, and on-line. Do check out my video later on in the blog post to see more of the studio!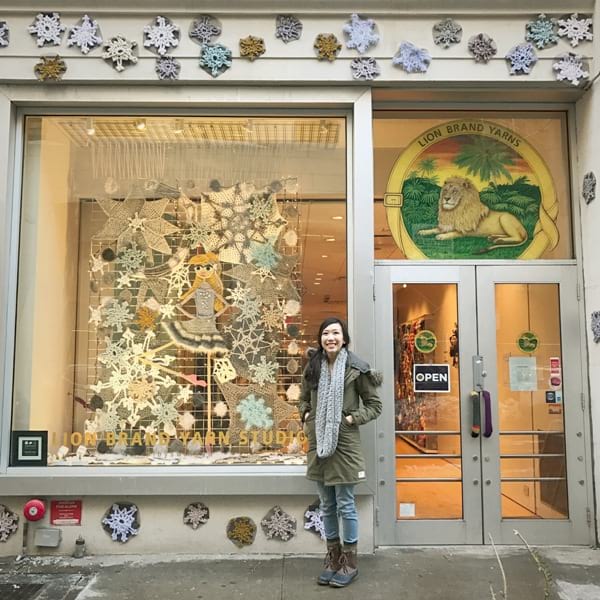 As soon as we stepped off the elevator, we were greeted by the warm and friendly Lion Brand staff who were smiling from ear to ear! They were all wearing matching t-shirts that said, "I got it from my bloggers", and I wish I had snapped a pic, but I think we were all just so caught up in the excitement of meeting each other in person! The white board in the conference room said, "Welcome Bloggers" and there were treats and yarn on the table- two of my favourite things! As the bloggers all gathered, there was lots of hugging and squealing (by me!) and it was absolutely amazing meeting so many of my favourite crochet bloggers and designers at the same time! We are all familiar with each others' work and have seen countless photos of each other on Pinterest- it was surreal meeting in real life and it felt as though we already knew each other since we "knew" each other online! We were given a goodie bag upon our arrival that included special silk yarn, a notions container, tape measure, gift cards to the studio and outlet, and other goodies. They also had personalized chocolate-covered Oreos made with our logos on them- so special and delicious! We then went on a tour of the New York offices that include the marketing team (who we are in contact with the most) and design team. There are classes and workshops available for those interested in learning how to knit and crochet or who want to further their skills with master classes. I love how there was yarn everywhere from the shelves to poufs under desks, and that knitted lion was impressive! As we were riding the elevator or walking down the stairwells, I kept thinking, "I can't believe so many amazingly talented crochet designers are gathered in one place!"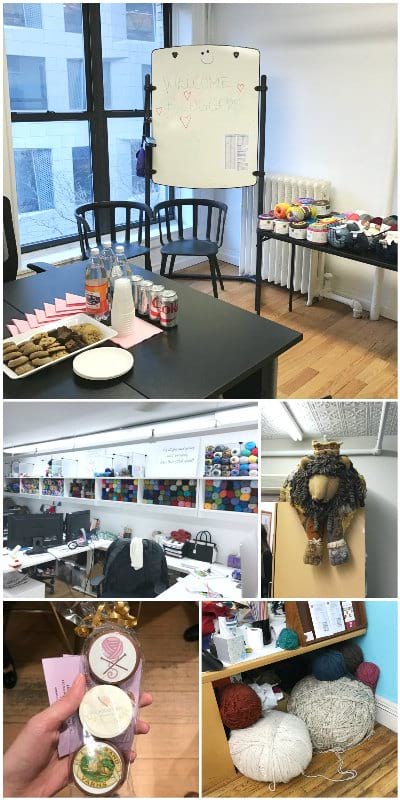 Lion Brand Yarn was founded in 1878 by the Blumenthal family, and it is the oldest producer of knitting and craft yarn in the United States. It's astounding how they are celebrating their 140th anniversary and they are still owned and operated by the same family! David Blumenthal, the current CEO and President of Lion Brand Yarn is a 4th generation family member as his great-grandfather Reuben was one of the founders of the company. David's daughter Shira is the brand ambassador of Lion Brand Yarn, and she is a 5th generation member of the family- how amazing is that? You might be familiar with her popular "Tea with Shira" video series! Below is a picture of all the Lion Brand bloggers gathered in David's office with the stunning knitted "Greetings from New York City, Home of Lion Brand Yarn" artwork behind us!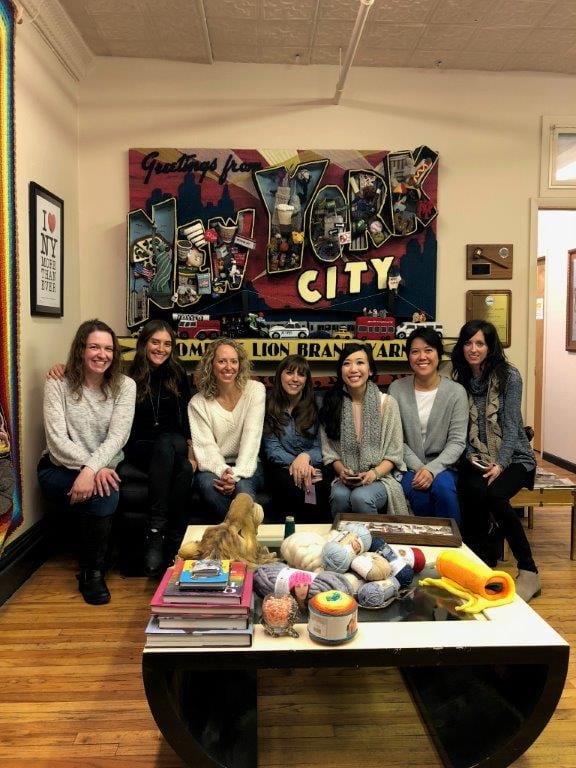 From left to right we have:
Tamara of Moogly: Tamara is such a prominent figure in the crochet world as she has paved the way for so many of us! Her work is so prolific as she designs such a wide range of projects and has very clear and easy to understand stitch tutorials and videos- I link to them very frequently, and I learned how to do the star stitch and solid shell stitch from Tamara! I also used her amazing Moogly Crochet Alphabet to create the Crochet Letter cards for Valentine's Day a couple of years ago- Tamara is such a wealth of knowledge and so humble. It was neat hearing her voice in real life after hearing her voice so frequently in videos!
Alexi of Two of Wands: Alexi is so incredibly skilled technically and she combines her love of design and fashion into her knit and crochet pieces so beautifully. I am blown away every time she posts a new design as they are so modern, and I want to try making so many of her projects! Alexi exudes coolness and style, and wore many of her pieces such as the French Market Bag, scarf using the new Jumbo Alpaca blend yarn, and a brand new crochet pullover sweater. Alexi was so effortlessly chic wearing all her handmade knit and crochet items and kept all her tools and yarn within reach with her trendy Hank's pocket (I'm itching to get one too after seeing her sport it all around town)! Alexi is so down-to-earth and open about her crochet and knit journey and is bringing such a fresh take on knit and crochet wear!
Jess of Make & Do Crew: Jess is such a creative genius with so many brilliant and innovative ideas, from her range of crochet footwear with flip flops bases to dip-dyed mittens. She is so genuine and sincere and has two daughters about the same age as Myla and Brie! Jess blows my mind with all the projects she comes up with and she has such a great eye for constructing garments! I admire her honesty in sharing about balancing motherhood and blogging, and how it's not always smooth sailing as it is difficult finding time. You can listen about her journey from advertising to motherhood to going full force into Make and Do Crew with her interview on the B.hooked podcast here!
Ashleigh of Sewrella: Ashleigh has been blogging for two years and has accomplished so much within that time! She designs a range of objects from amigurumi to blankets, and she's recently discovered her love of designing garments, such as her stunning Crochet Heirloom Cabled Sweater. Ashleigh is very open and willing to provide resources for aspiring bloggers with her "How to Start A Blog" tutorial and monthly income reports. Not only does she run her successful crochet blog, but she is also the mastermind behind "Happy Yarn Mail", a monthly crochet subscription service! Subscribers get a brand new pattern and accompanying yarn every month, and Ashleigh recently changed the packaging from boxes to envelopes to greatly reduce the cost- Happy Yarn Mail is now $19.99 including shipping (if you live in the US) every month! Ashleigh is such a brilliant entrepreneur, and she's also a fellow Gilmore Girls lover (doesn't she look like she could be a Gilmore Girl too? :D)! Ryan and I had so much fun hanging out with Ashleigh and her husband CJ!
Me
ChiWei of One Dog Woof: ChiWei's designs have always astounded me as she is so skilled technically in shaping pieces, such as her Baby Humpback Whale and Classic Stuffed Bunny. I actually crocheted Baby Mary-Jane's for Brielle following ChiWei's patterns years ago, and we corresponded ever since then! In addition to running such a high qualty blog, ChiWei also has a full-time job in event planning- isn't that amazing? ChiWei is so intelligent, outgoing and funny, and we share a love of yummy food (hello, ramen!)!
Jessica of Mama in a Stitch: Jessica and I have always shared a love of similar colour palettes and stitches, and on numerous occasions, we have dreamed up parallel projects around the same time completely without knowing about the other! She is the queen of blanket sweaters (e.g. Light Frost Blanket Sweater & Baja Blanket Sweater) and provides beautiful and modern knit and crochet designs that are well-loved by so many! We have always supported and encouraged one another, and it was so lovely finally being able to meet Jessica in person as she is so incredibly gentle, kind, and sweet! We bonded over the love of our girls and family life and were in awe of how far our hobbies have taken us! We got to meet Jessica's brother who lives in New York City too, and he is learning how to knit!
After the Lion Brand activities of Day 1 were done, Ashleigh and I walked back to Times Square and managed to get last minute tickets to see the Broadway musical "Anastasia" through TKTS! As soon as I found out we were going to New York, I was really hoping we could sneak in a Broadway show since I LOVE musicals, and I was thrilled we managed to catch one with our tight schedule! We purchased tickets and quickly lined up to get into the theatre, and we thoroughly enjoyed the music, costumes and dancing! I loved watching "Anastasia" growing up, and it was neat to see how they translated the movie into a Broadway production. They included all the songs I loved and added some new ones as well! If you're wondering what the husbands did while we were doing our Lion Brand activities, let me tell you: Ryan's hobby (in addition to helping me so much with the blog and crochet creations) is Gunpla, the art of building Japanese Gundam models. He had researched some Gundam stores he wanted to visit, so he and CJ scoped out these stores together! We also went for dinner at Ippudo Ramen after the Broadway show, and it was so awesome chatting about anything and everything. It's rare to find people who do the exact same thing you do (crochet designing, photographing crochet, blogging patterns), so it was wonderful connecting with another husband-wife team who do the same thing. CJ helps Ashleigh with her photography just as Ryan helps me with mine, and of course we were chatting about our sweet kiddos!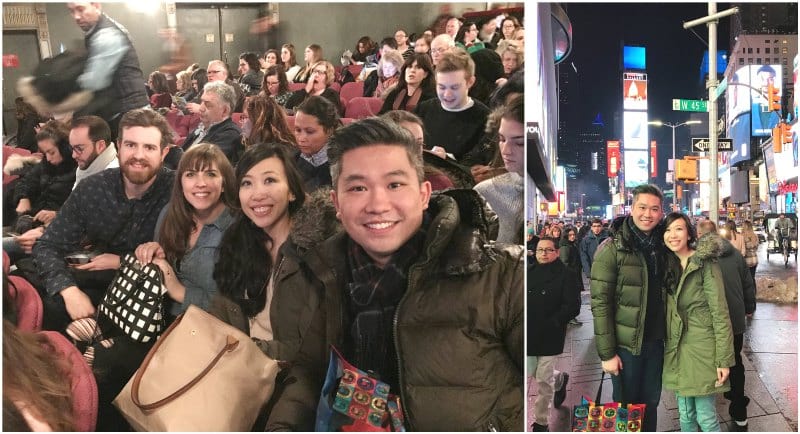 On Day 2 of the Lion Brand Blogger Bash, we hopped on a bus and headed to the Lion Brand offices in New Jersey! Upon our arrival, we were greeted by the president and CEO David Blumenthal! We then met Jack Blumenthal, David's cousin (also 4th generation family member), who is the Senior VP of Lion Brand Yarn. Jack gave us a tour of the offices and shared anecdotes and stories along the way, including Martha Stewart's famous poncho and how Vanna White became their spokesperson (check out this neat timeline HERE to see highlights of Lion Brand's history as well as moments in national and world history)! In the New Jersey offices are the teams who do product development, customer service, finance, sales, mail order and shipping, and the warehouse. Below you can see pictures of the 100 year old cabinet with Lion Brand's many awards ontop as they have been widely recognized for their work, a cute little Lion Brand Yarn water, and Jack showing us his office!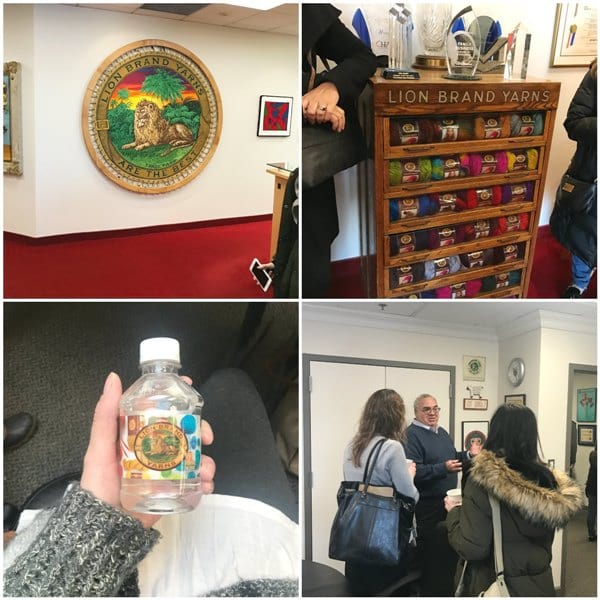 Inside Jack's office was this adorable Bonbon candy machine and the awesome Lion Brand take on the famous "American Gothic" painting by Grant Wood! I love how the farm couple are lions and the husband is holding a crochet hook! I also snapped a pic of the advertisement showing a little girl with her Cabbage Patch doll wearing matching outfits since I used to love my Cabbage Patch doll! Lion Brand Yarn has a heart for giving back to the community, and they regularly donate to charities including St. Jude Children's Research Hospital!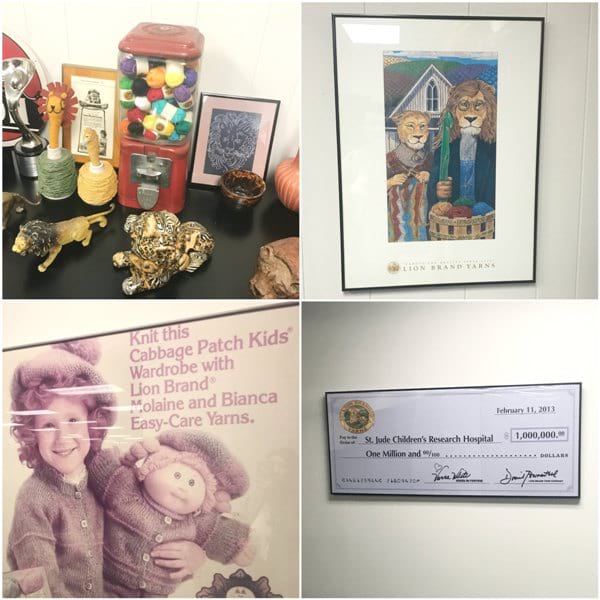 We took a stroll through the warehouse and it was mind-boggling to think how much yarn was here! I love all our group photos- I really miss these ladies already! After this, we were shown some exciting new yarns in development and we were asked for our opinions! Can you imagine what a cool job that is? To develop yarns and think about composition, texture, weights, and colours? I love how they included us and we got to see and squish potential new yarns!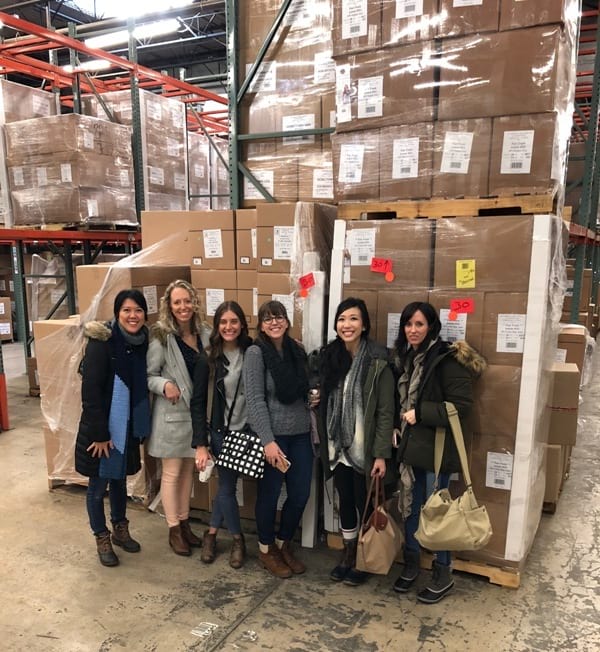 We then got to spend some time in the Lion Brand Yarn Outlet right across from the offices! This place was so fun to browse, and I highly recommend checking it out if you're ever in the area! They had some beautiful knitted and crocheted displays from previous storefronts and shows, and they had a lovely area where you could sit down and knit and crochet away!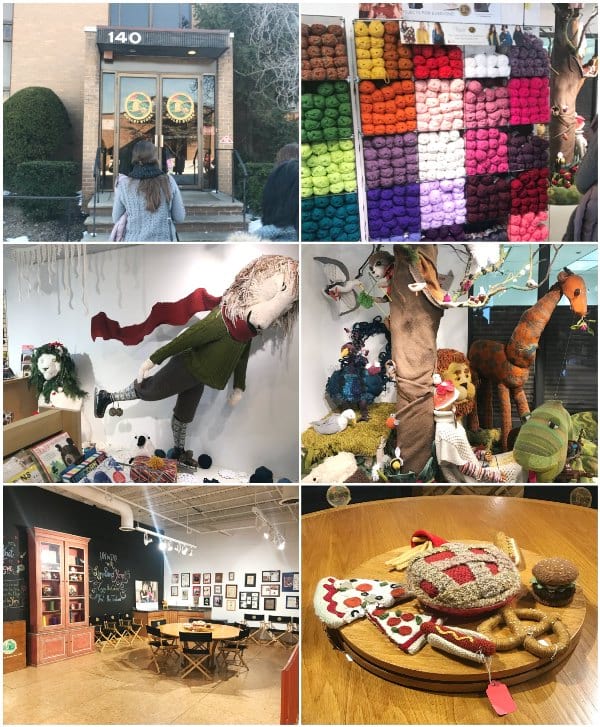 In addition to finding their regular yarn, you can also find yarns and colours that have been discontinued in bags of 3 skeins at a very discounted rate. For example, the Martha Stewart Lofty Wool Blend (75% wool/25% acrylic) was only $4.80 for 3 skeins! How can you beat that? The bag of yarn in the top right corner was only $3! They also sell mill ends and roving that can be spun into yarn, and there is also a sample sale section with garments from previous shows. We were given a gift card to use at the outlet, and with the limited amount of time that we had to shop, I felt like I was on a game show, grabbing yarn with both hands and quickly adding up the costs as I ran through the aisles trying to make full use of the gift card haha!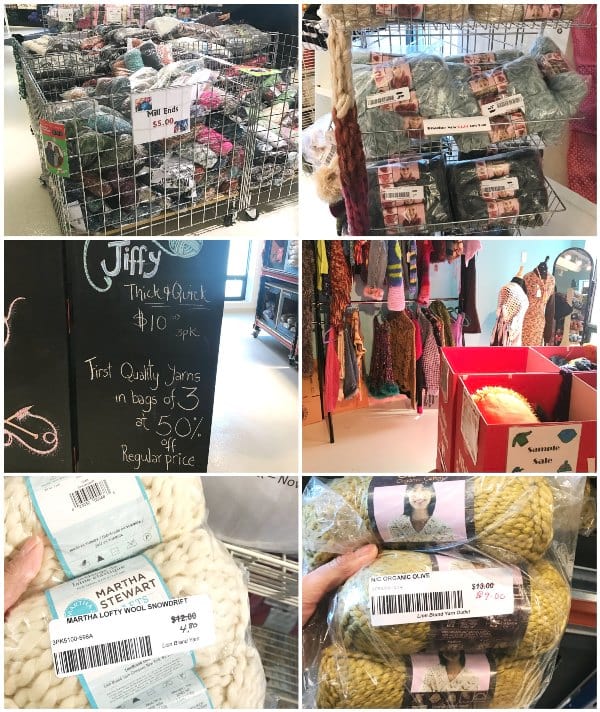 We then hopped back on the bus and made our way back to the New York offices for the afternoon! We had lunch and some treats and laughed at our mutual love of grey while trying to get that perfect Instagram shot! We as bloggers all understood each other as we were posting on social media! After lunch, we each filmed a video segment with Sarah (video production) while Shira asked us questions! We all had different topics and brought some of our own creations to show (I brought my Pineapple Purse, Star Stitch Pouches, and Knitted Seed Stitch Headband)! The filming was such a neat experience, and I loved seeing the other bloggers' designs in persons. I wore my Cascade Cardigan and Ashleigh wore her Crochet Heirloom Cabled Sweater throughout the whole day I tried not to get too nervous with the bright lights and camera on me, and the Lion Brand team did a great job of making us feel comfortable.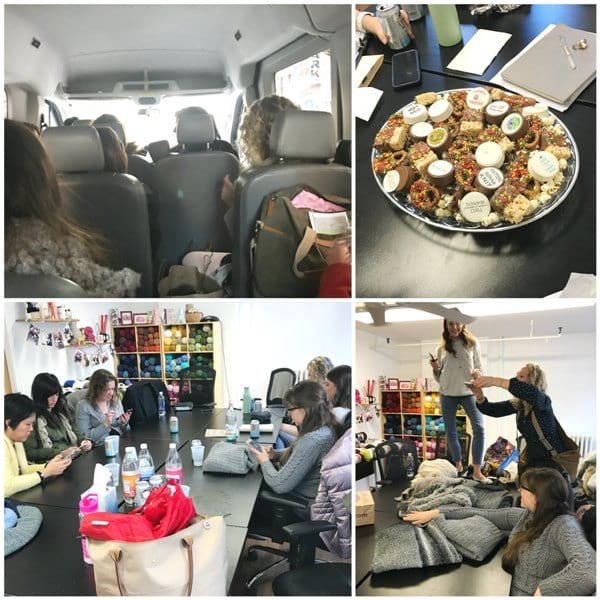 After everyone was done filming their segments, we walked over to Flatiron Hall for a Sip and Stitch! When I first looked at our Lion Brand schedule, I thought it would be so special to have some sort of public get-together while we were all in New York City! I reached out to Alexi of Two of Wands since she was familiar with NYC spots, and she suggested Flatiron Hall with the long tables as she had held previous Knit Nights there before! ChiWei of One Dog Woof set up an Eventbrite page so there was a system for people to RSVP, and some of us posted about this Sip and Stitch on social media to invite NYC crocheters and knitters! When I told the Lion Brand staff about this Sip and Stitch that we were organizing, they so generously provided us with One & Done Kits for our guests! These special knit and crochet kits are geared towards Level 1 beginners and include the yarn, pattern, tapestry needle, and either crochet hook or knitting needles depending on the kit. The yarn included in the kits is called "Chillax", a level 5 bulky wool-blend yarn (70% acrylic/30% wool) that is available exclusively in the One and Done Kits! We had the black Swipe Right Crochet Cowl or Back to the Fuchsia Knit Cowl for people to choose from! It was thrilling as people started to arrive, and many brought or wore their handmade items (I was wearing my Cascade Cardigan to this event too, but it soon became very warm so I took it off!)! Approximately 50 people came, and it was a great turn-out!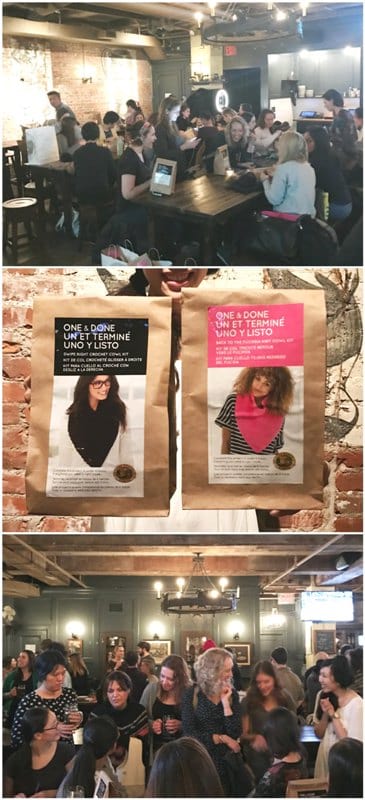 It was incredible meeting fellow makers who I have connected with online throughout the years!
Top left: Vanessa of VanessaKnits, Alexi of Two of Wands and Casey of PremKnits. Vanessa has been a hugely loyal supporter throughout the years and she designs beautiful knit pieces- some are available as kits in the Stitch & Hustle Shop HERE! Casey and I just had a recent collab (see HERE) and she is the mastermind behind all the gorgeous knit braided cabled patterns that are so popular! Her hand-dyed wool is stunning as well!
Top right: Michele of 144 Stitches and Stitch & Hustle. Michele is so dynamic and full of life! She loves designing knit and crochet pieces and has worked hard to create a crafting community by featuring different makers on her community page and partnering with designers to create kits! She also organizes Stitch Up events in various locations that you can check out HERE!
Bottom left: Toni of Tlyarncrafts & Gwen of Bygwendesign: This mother-daughter duo is so talented and their love for each other really shines through! Toni designs beautiful crochet pieces (check out her stunning Veronica Cardigan) as well as cute pins and mugs (remember my "Crochet is Bae" mug?)! On Instagram she also hosts very informative lives about different topics such as pricing, pattern designing and more. Her mom Gwen is so supportive of Toni and was such a joy to talk to!
Bottom right: All the bloggers! We still couldn't believe that we were all gathered together for a Sip and Stitch in New York City! So surreal!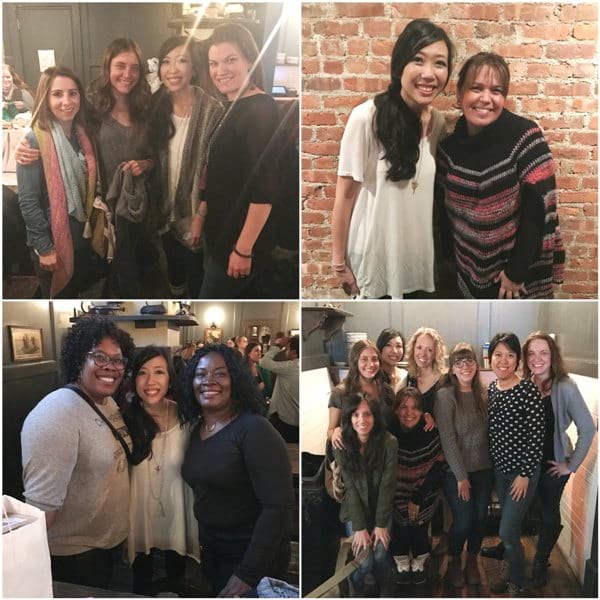 Here are some of the knitters and crocheters who came to our Sip and Stitch! I was so touched that they took the time to come and meet us, and it was incredible seeing people wearing pieces that I designed (do you spot the Triple Luxe Cowl?). As a blogger and mom, I design my pieces at home, take photos of the projects, write out the pattern, and then publish the blog post, all of which are fairly solitary tasks (thankfully I have Ryan to work together with). Thus, it was incredible being able to meet people who actually read my blog and are familiar with past projects and our journey! I loved hearing how they followed our patterns to make items for themselves, their children, or to sell in their Etsy shops! Some said that this was their first Sip and Stitch or first time crocheting or knitting in public, and they loved seeing so many others passionate about the fiber arts as well! My heart was so full and I felt so touched knowing the impact that we were making on the knit and crochet community. At the end of the night back in the hotel room, I kept thinking, "How is this real life? I can't believe I met all those kind and sweet people!"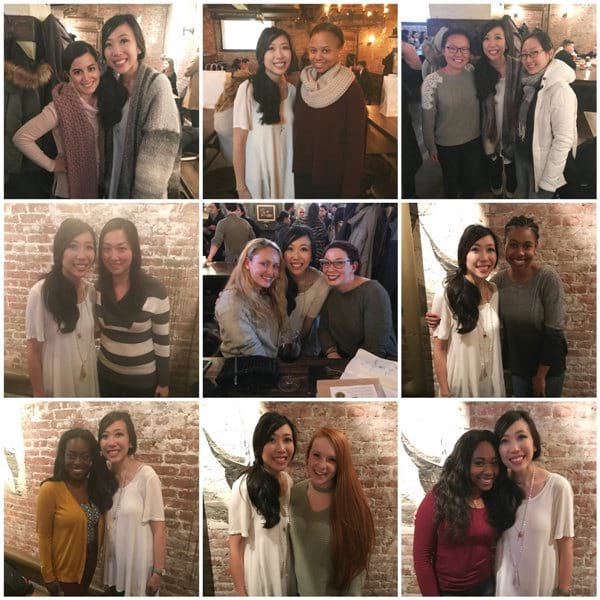 Rose from Rose_Knits completely took me by surprise when she brought the book that I was published in called "Crochet Learn It Love It" by Tracey Todhunter (I designed my amigurumi Finnley the Fox as a guest designer for the book). She asked me to sign it and I was so incredibly flattered and touched!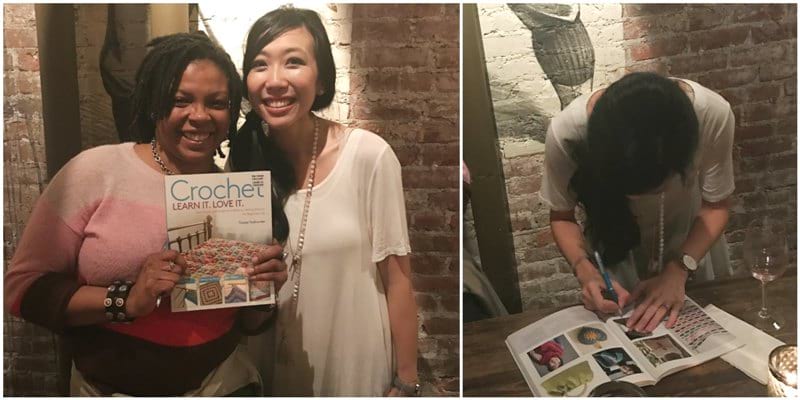 On Day 3 and the last day of the Blogger Bash, we started off with a bagel breakfast! It was very special because they asked Ryan to speak a bit about photography, so Ryan and CJ shared some tips! I love how they could be a part of this too! We saw some new yarns (e.g. their new "Feels Like Butta" yarn which lives up to its name) and were also shown their "Colors of the Year" campaign! I was very impressed with their color choices and names, and you have to check out this video HERE showing them all. They have patterns to accompany each color, and I'm currently designing some pieces within those palettes as well!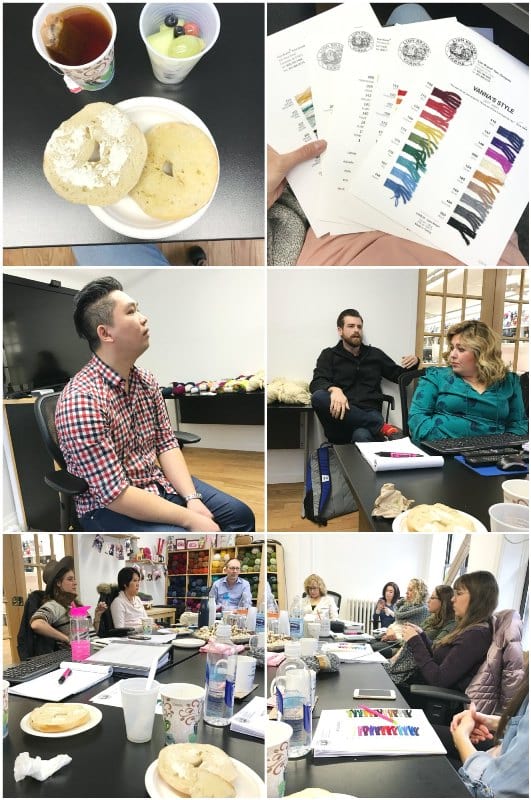 We then walked to a nearby Michaels and looked at the various yarns and how they were displayed! Here we are holding the Bonus Bundles– we love Lion Brand Yarn!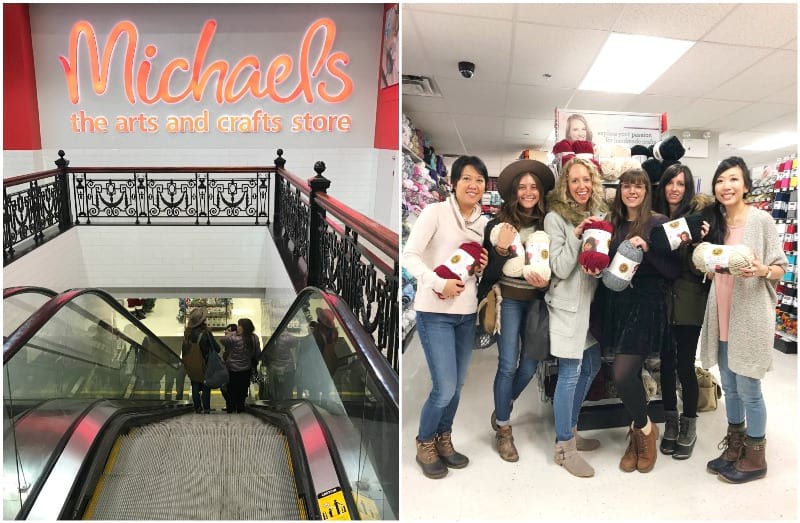 We snapped some pics outside and said our good-byes to the amazing staff! On the left are Lindsay and Abby of the marketing team who run social media and help us with our kits. These two are yarn enthusiasts and bring so much positive energy to the team- they actually work through the blogger kits too and have completed so many of our designs! On the right are the bloggers with Mark, the Director of Influencer Marketing who gathered us together! Mark has done such a fantastic job of bringing so many talented bloggers together who all design such fresh and modern patterns. They give us so much flexibility and allow us all to shine with our various strengths and project preferences! The Lion Brand team was so welcoming and gracious to us and really made us feel like family! I am so honoured to be a part of this team and we all gelled so well together!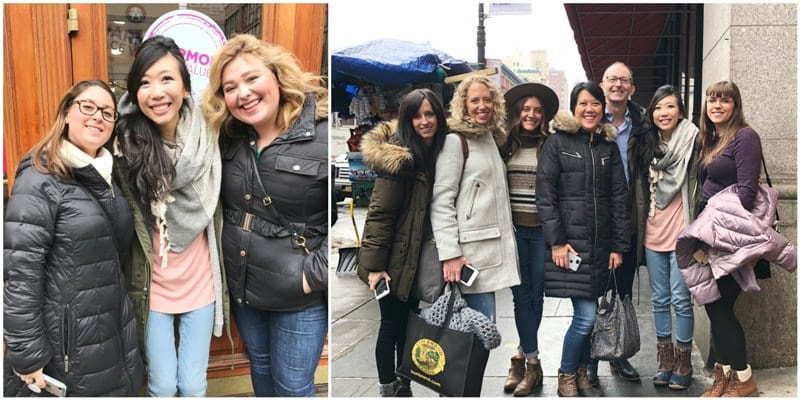 We quickly hopped back into the Lion Brand Yarn Studio to see my "Braided Cabled Cowl & Slouchy Beanie" on display! You may have noticed that I was wearing the cowl on the first day but not on the other days! Lion Brand asked that I bring the set to New York for it to be displayed at the studio, and it was such a thrill and honour seeing my work displayed in such a beautiful place and to see the kits in person!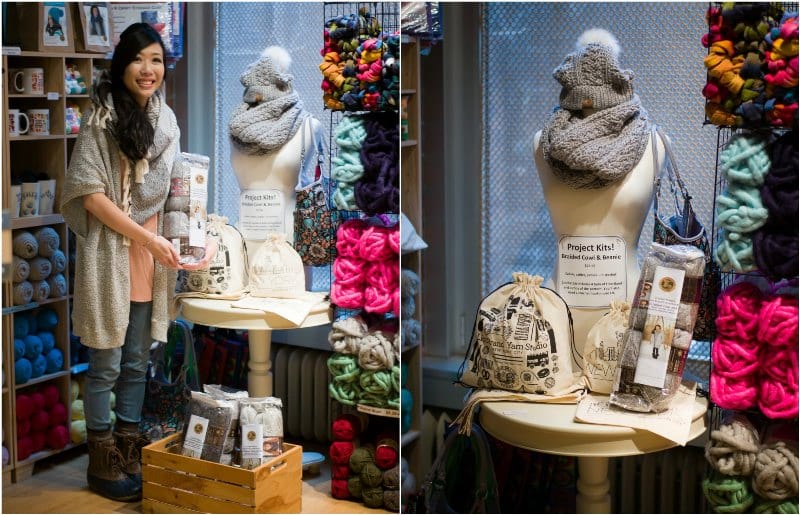 During the evening, we attended the Flock Party hosted by LoveCrafts from the UK! The decor was very British, and they provided dinner and treats as well (how cute is that little knitting cookie?)!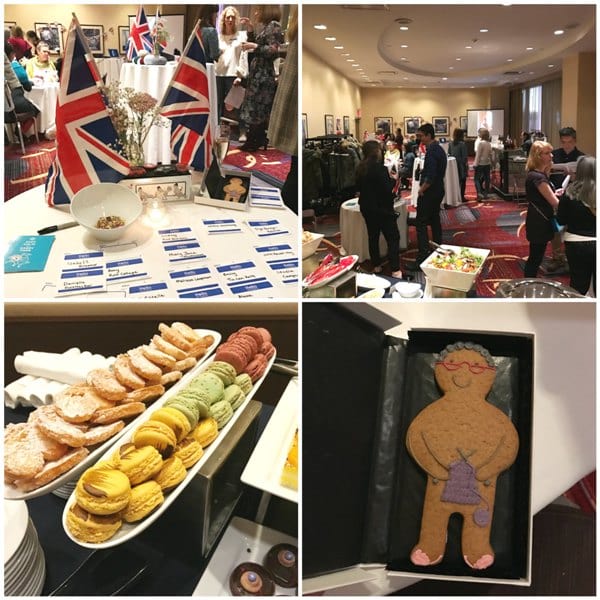 I got to meet many other crochet and knit designers in person, and it was amazing having so much talent in one room!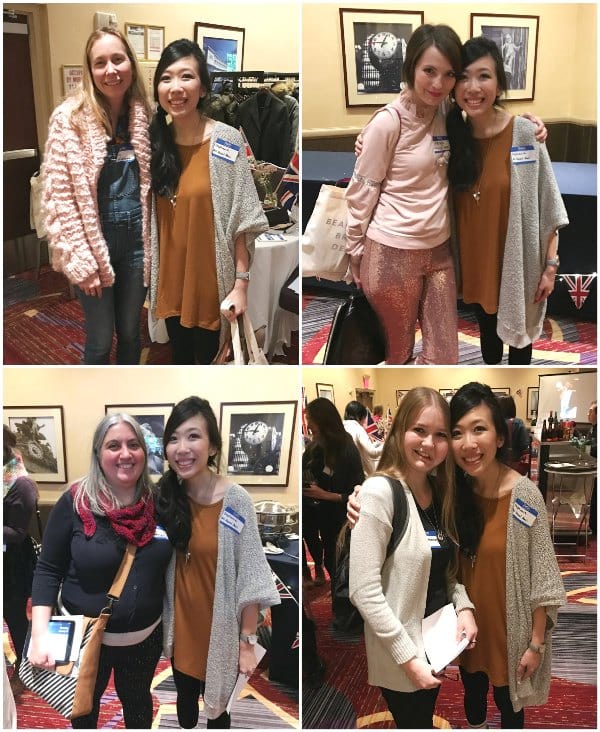 Here is a group photo from the Flock Party! Can you spot your favourite designers from the knitting and crochet world?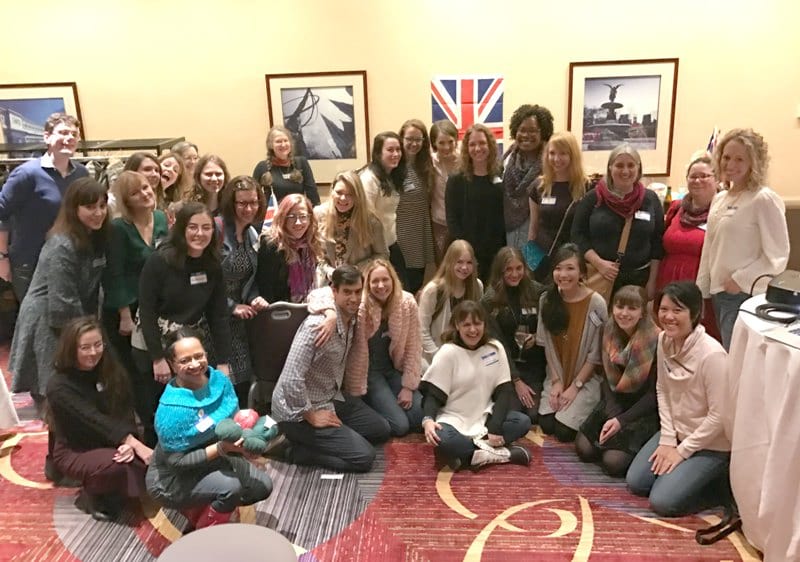 On the last day, Ryan and I did some last minute shopping after we checked out of our hotel and managed to eat a delicious lobster roll for our last meal in NYC. The flights were very smooth and I had a lot of time to knit and reflect on the whirlwind that had just happened. I picked up this cute NY Line Friends snapback hat on the last day and will always remember this special trip when I wear it!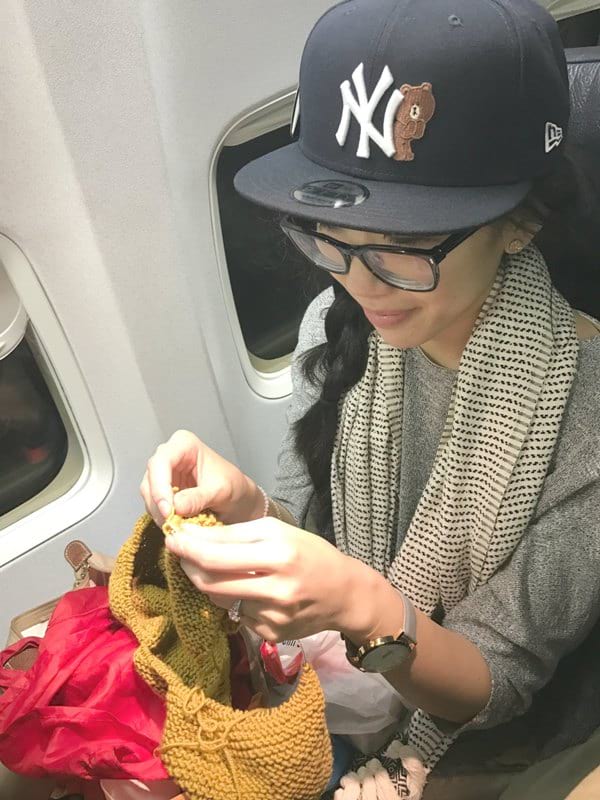 I took lots of photos and videos of this trip to document this whole surreal experience! I compiled them together into this video made using my iPhone below so you can get a taste of what we experienced and get a better view of the Lion Brand Yarn Studio and Outlet. The places we visited as shown in the video include: Muji, Raclette, Uniqlo, Flatiron Hall, Kinokuniya Bookstore, Chelsea Market (The Lobster Place) and Line Friends. I hope you enjoy watching the video!

After waking up the next morning back at home, I thought to myself, "Was it all a dream?" The entire week was such a whirlwind and it was surreal because seven years ago, we went on a family vacation to New York City and visited the Lion Brand Yarn Studio (see top pic). I was in awe of all the beautiful yarn and when we returned back home, I decided to take the plunge and start a blog about amigurumi. Exactly seven years ago (my blogiversary is January 13), I wrote my first blog post on Tumblr and began that journey of sharing my love of crochet with the world! I never dreamed how far the blog would come and that seven years later, I would be a mom to two daughters and be invited back by Lion Brand Yarn as a blogger to visit the studio and even have my designs on display! It's all been a dream come true and such an affirmation of the relationships we've built! I never knew that a possible career choice was crochet and knit designer/blogger and that I could make an income that surpasses my previous income doing what I dearly loved doing as a little girl. I truly love my job and feel so blessed that I can use the talents and interests that God has given us to bless others! Keep dreaming that dream- you never know where it'll take you!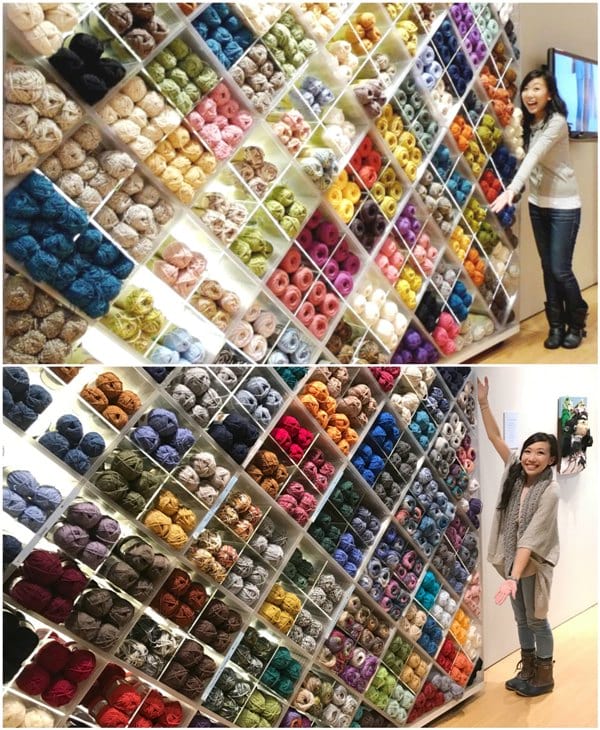 We were so excited to see the girls when we returned home and the girls gave us the biggest hugs and showered us with kisses. Myla asked if she could go to the "Lights Rainbow Land" (aka Times Square) in the future after seeing pictures from our trip haha. I naively thought that I would get tons of sleep in New York since we would be traveling without the girls, but we ended up getting less sleep since we would stay out late hanging out and I wanted to upload videos and pictures of our adventures on Instagram before going to sleep! I really wanted to share this experience with you all since you have played such a vital part in our blogging and crochet journey, from following our patterns to supporting our work! I want to extend a huge thank you to the Lion Brand team for planning and organizing such a memorable trip that all of us will cherish forever and for making us feel like such valuable members of the Lion Brand family!
Note: Thank you to Lion Brand Yarn for sponsoring the Lion Brand Blogger Bash!