I love expanding my knitting skills by following other designers' brilliant patterns!  You may remember that I tried my hand at fair isle knitting with these beanies HERE and I got a taste of knitted cables with this Cable Crown Headband HERE.  My eyes widened with excitement when I came across a gorgeous knitted Braided Cable Beanie on Instagram- I soon found out that the designer was Casey of Prem Knits.  Photos of these cabled beanies were popping up everywhere as other makers were just as excited as I was!  I love it when you get that feeling when you absolutely know you HAVE to try crocheting or knitting a design since it is exactly what you are looking for or the perfect challenge that you've been waiting for!  As Casey describes, her Braided Cable Beanie "was created for the advanced-beginner/intermediate knitter who loves chunky, squishy cables and beanies that have just the tiniest bit of slouch".  You can knit it using a bulky (level 5) yarn or hold two strands of worsted weight (level 4) yarn together.  I chose to use Lion Brand Yarn's Heartland yarn in "Acadia" with my Clover Takumi bamboo needles!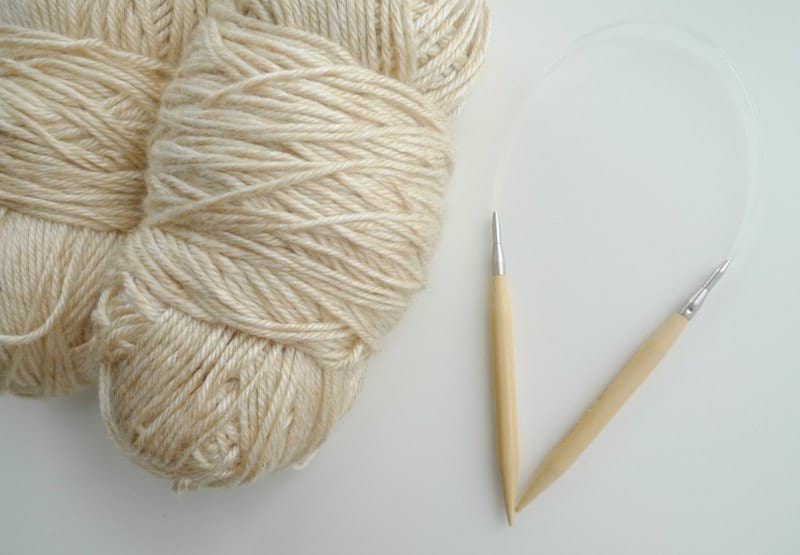 The ribbing is so pretty!  I absolutely could not wait to begin the cabled portion of the beanie!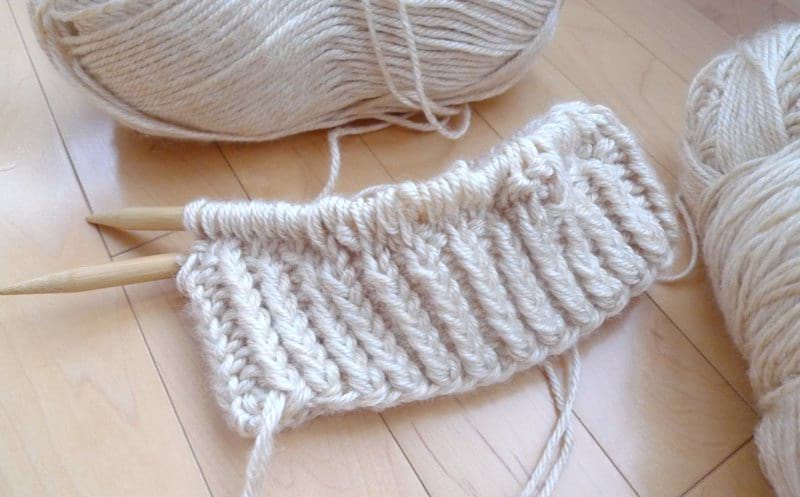 I had so much fun knitting these squishy and luxurious cables!  Casey's instructions were very clear, and I had no trouble following them whatsoever.  Since I had some experience cabling with the headband, it was a fun challenge to work these cables all stacked next to each other in a round.  It is a very addictive pattern and so rewarding seeing these cables build up round after round!  If you are curious about how knitted cables are created, check out this YouTube tutorial HERE!  These beautiful twists and curves are created by moving stitches onto a cable needle and working them later on- thus, stitches are displaced and worked in a different order, and once you get the hang of it, it's a breeze!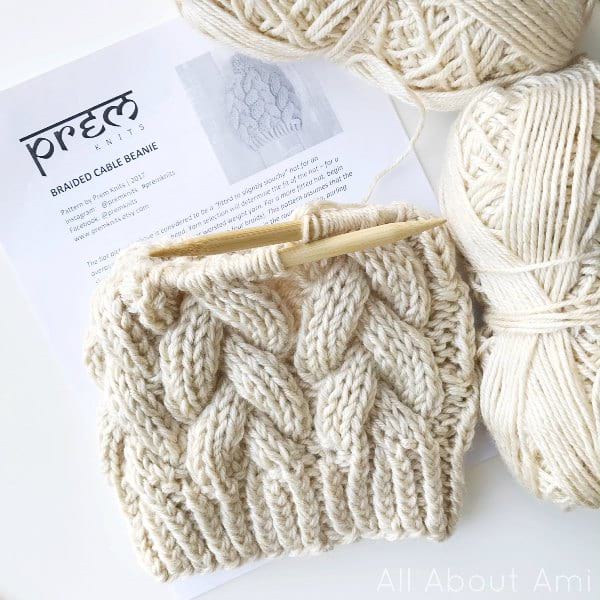 Here is the very first Braided Cable Beanie that I knitted!  Isn't it gorgeous?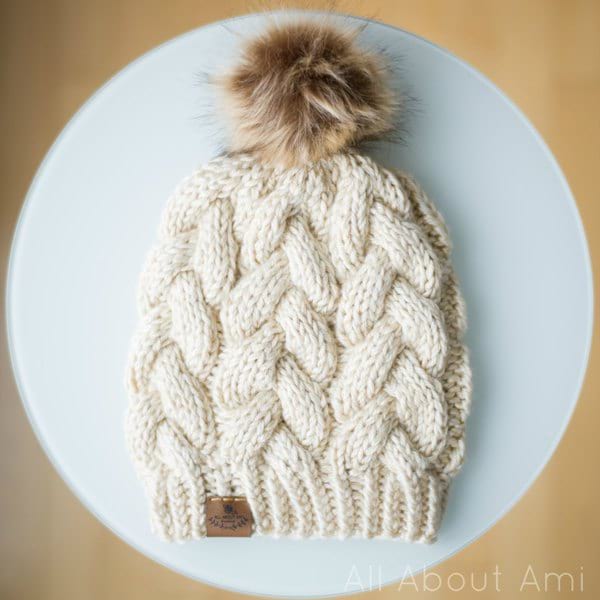 The Acadia colourway is the same one I used to make my Crochet Cabled Mittens from last year!  Don't they make a lovely set?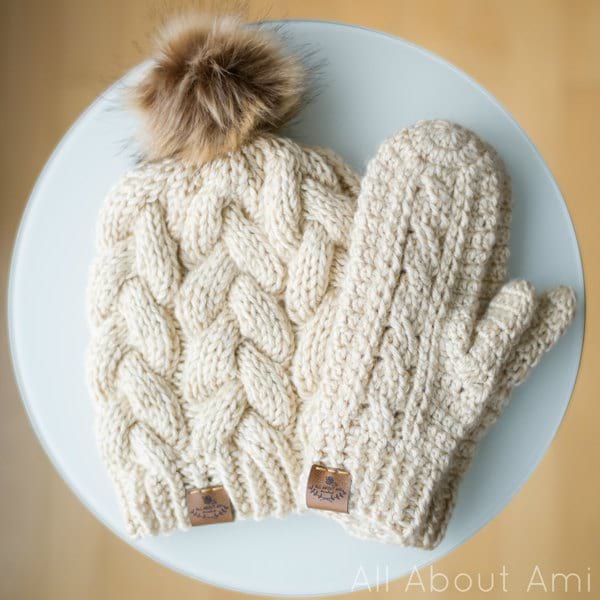 I love its neutral colour, the slight slouch and how luxurious and elegant this beanie looks!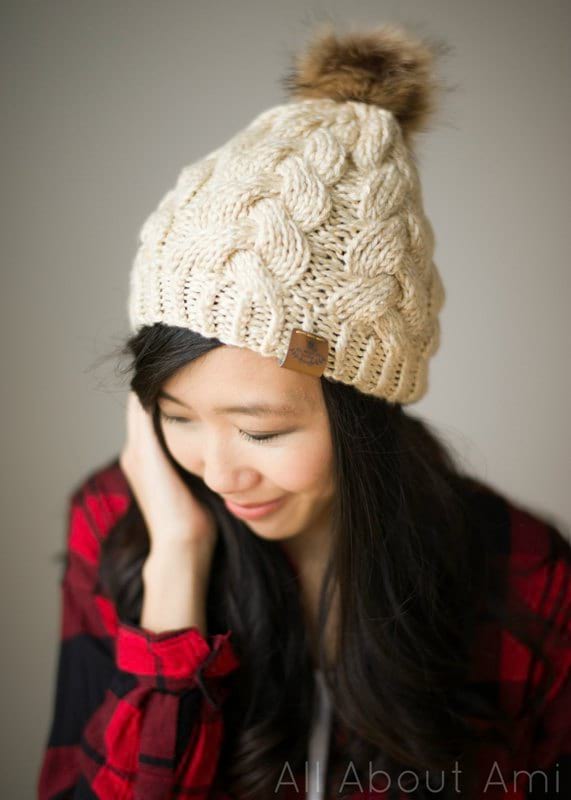 For this beanie, I used a faux fur pom pom from a keychain that I bought at Ardene's last year (see HERE).  This neutral beanie will match with absolutely everything and will be a staple in my winter wardrobe!  I think it looks so cute paired with my red flannel shirt!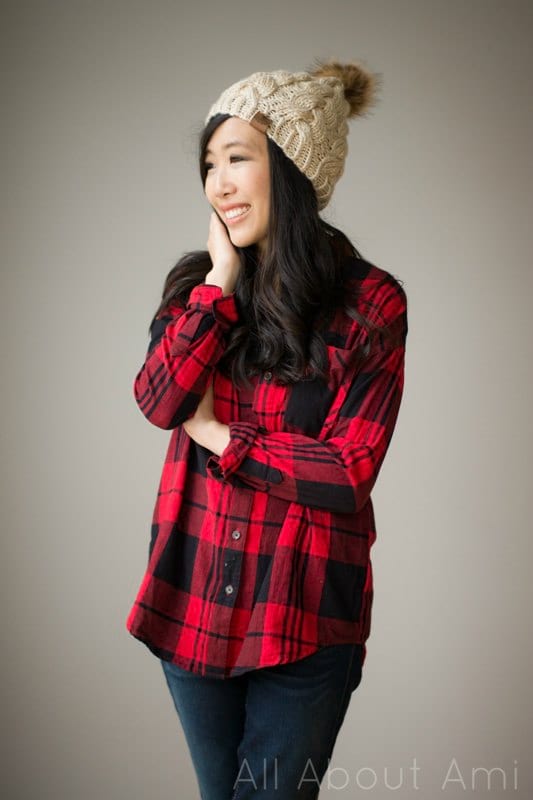 As I mentioned, this pattern is very addictive, so I couldn't help but knit another one!  I've always wanted a blush pink beanie to brighten up those cold winter days since most of my jackets are neutral colours.  Thus, for my second Braided Cable Beanie, I used this pretty "Nude" colour in the Petite Wool by We Are Knitters.  Since it is a bulky (level 5) yarn, I only had to hold one strand instead of holding two strands of worsted weight yarn (only one ball is required).  I also used 6 mm knitting needles for the ribbing to get a tighter brim for the hat as suggested in the pattern (for my beige beanie above I used 8 mm for the ribbing).  Pictured below is also my Knitting Kitty Pouch by Momomints which I absolutely LOVE!  I thought it was perfect since I was knitting with pink yarn just as the kitty is!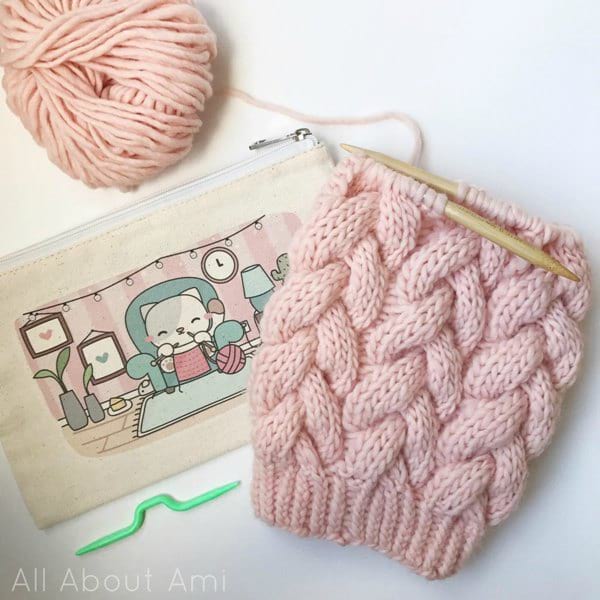 Here is my finished blush pink beanie!  Aren't those cables so squishy and pillowy like marshmallows?  For the finishing touches, I sewed on my grey ultraleather garment tag by Brick Bubble (see HERE).  I also purchased some handmade faux fur pom poms from my friend Cristin of Kozy Komforts.  She has different colours available in her Etsy shop, and I bought white and white with grey tips.  I think the white looks stunning atop the pink hat, and the strings at the bottom of the pom pom make it very easy to secure them onto your hat!  Be sure to check out her faux fur pom poms HERE!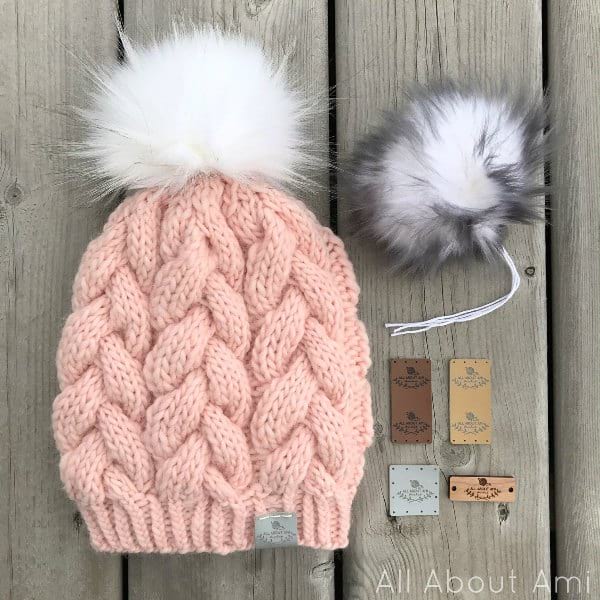 This is what my pink beanie looks like when worn!  So pretty!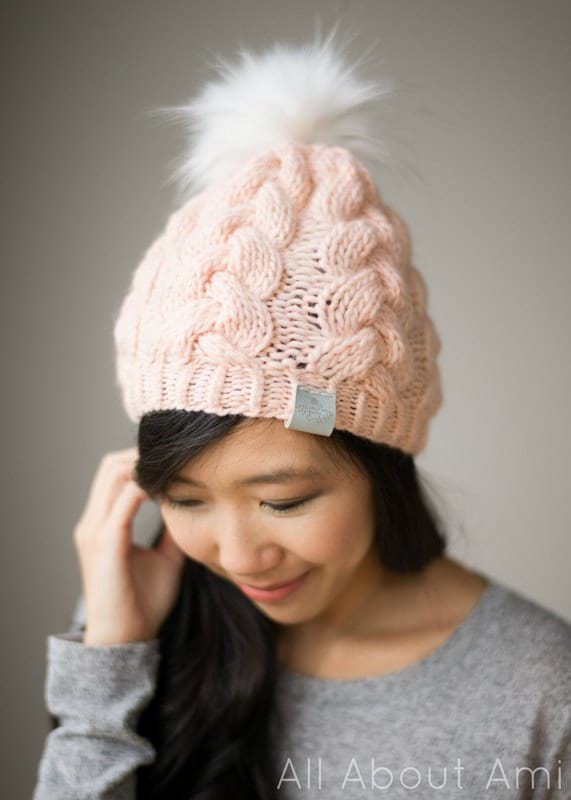 Grey, pink and white make such a lovely colour combination- you know they're favourites of mine since you can find them in my blog theme colours!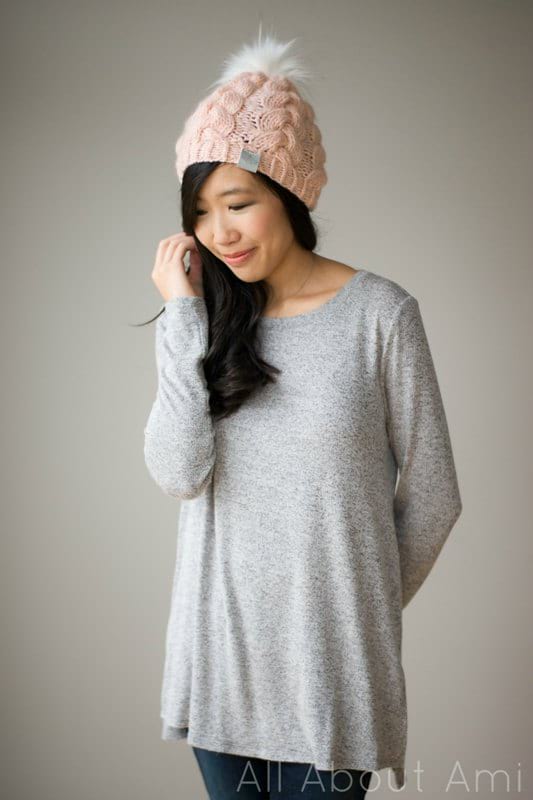 In addition to her knit designs, Casey also dyes her own wool!  She was so sweet to send me some of her amazing hand-dyed yarn including this stunning Blush Haze.  It is a bulky level 5 yarn that is 100% Superwash Merino Wool (109 yards, 3.5 oz).  I love the grey, black and blue speckles!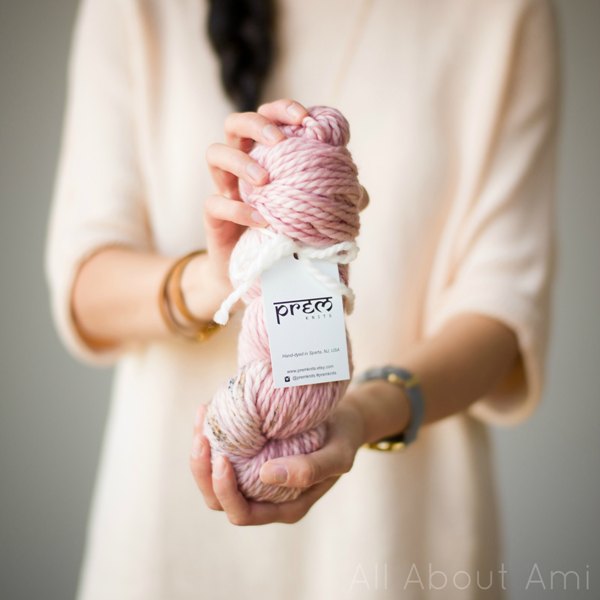 Casey also sent me this speckled purple colourway called "Profane Purple" that is inspired by Chantal of Knitatude's hair!  Chantal is another very talented knitwear designer, and I followed her pattern to make the pretty No Seam Sweater Dress HERE in the summer!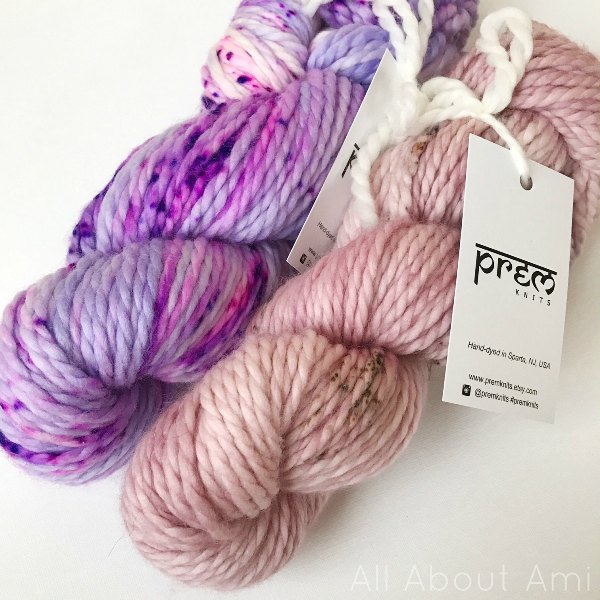 It was only fitting that I use some of Casey's hand-dyed wool to work through one of her brilliant beanie designs!  I really wanted to try her popular "Big Braid Beanie" that features one large and bold braided cable as seen below.  The Blush Haze colourway works up beautifully and is so soft with a lovely drape!  It's wonderful because one skein of her yarn is enough to make one beanie (either the Big Braid Beanie or Braided Cable Beanie)!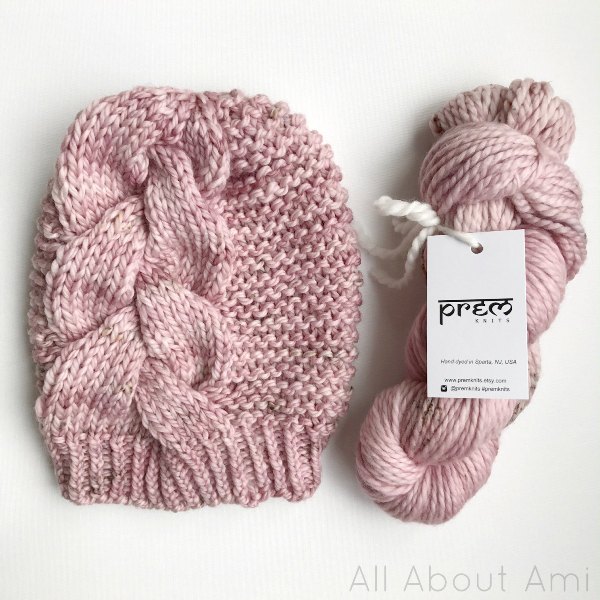 Lastly, Casey just recently released her "Lil Kitty Beanie" as a FREE pattern on Ravelry with four sizes available (baby to adult).  Every year I try and make some new hats for the girls to wear in the winter, and I thought this would be the perfect hat with its cute design and kitty ears.  I laid out all my bulky yarn from my stash and asked each girl what yarn they wanted me to use for their beanies.  As Myla's eyes scanned the options available, she immediately picked up the "Profane Purple" and said, "I WANT THIS ONE"!  This was a really fun colourway to work with as different colours appeared with the speckles.  It's a great beginner-friendly pattern that could be customized with so many different colours (great for variegated yarn, could make it striped, or add a bow).  To seam up the top, you need to use the Kitchener stitch, and I love using this video tutorial HERE.  Get the free Lil Kitty Beanie pattern HERE!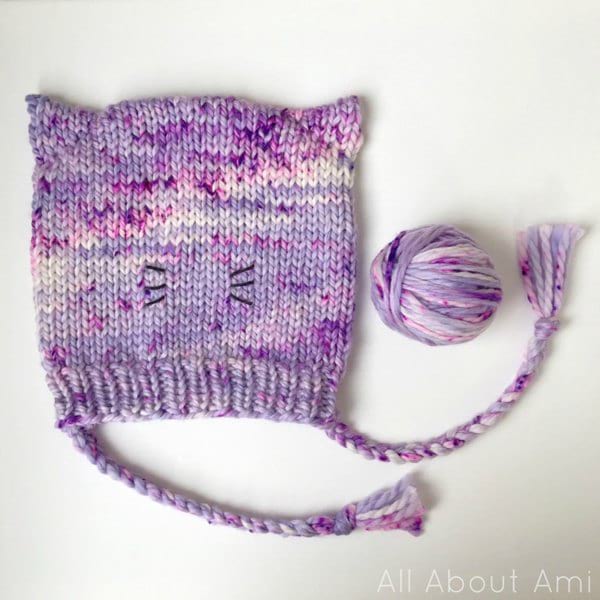 Now, may I present to you my two cutie pies wearing their favourite new hats!  Brie didn't want me to add whiskers on hers, and I didn't sew the ears as she liked them shaped and curved like that!  They have so much personality!  For reference, I knit them both the Big Kitty size (6-9 years old) because I wanted them to be able to wear them in years to come too!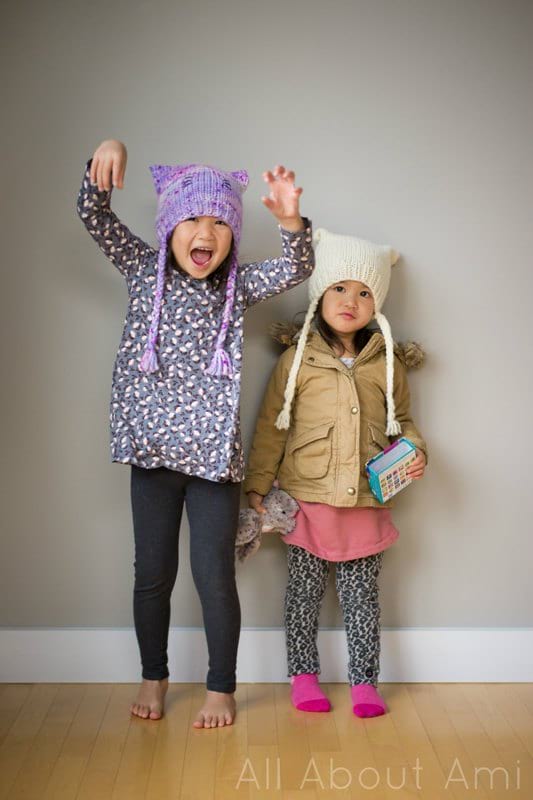 I am thrilled that I've added so many gorgeous knitted cabled beanies to my collection, and I cannot thank Casey enough for designing them!  She has created such timeless yet modern designs with clear instructions that are inviting to knitters of all stages and backgrounds!  I know I will be getting a lot of wear out of my hats this winter, and they are such a fun way to stay warm, add a chic touch to winter wear, or cover up a bad hair day!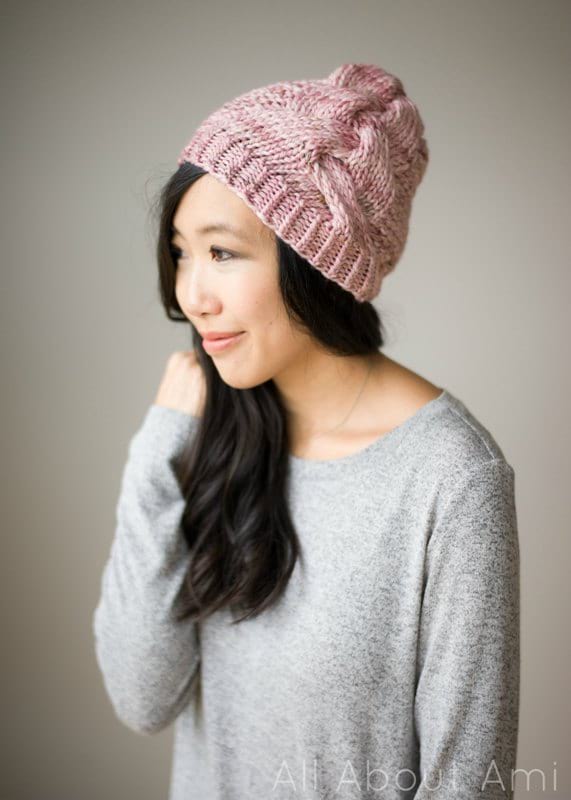 Casey has been so generous to partner with me for an amazing GIVEAWAY [NOW CLOSED]!  We will be choosing THREE winners who will each get to choose a pattern from Casey's Etsy shop along with a skein of her hand-dyed wool!  This means that three of you will get a chance to use Casey's wool to knit one of her amazing beanies, just like I did!
***To enter, please visit the Prem Knits Etsy shop and leave a comment below telling us what pattern and what colourway you would like to win (e.g. Blush Haze with the Braided Cable Beanie)!  You can choose from the colours Blush Haze or Profane Purple and the following patterns: Braided Cable Beanie, Big Braid Beanie, Herringbone Beanie, XOXO Beanie, Braveheart Cable Pillow, and her soon-to-be-released Rows of Purls Beanie!  This giveaway is open WORLDWIDE and will close on Sunday, November 5th at 8 PM MST!  You can also enter through Instagram and Facebook for more chances as we will be choosing one winner from each platform!
Note: Thank you to Casey of Prem Knits for providing me with the beanie patterns and hand–dyed wool from her Etsy shop!  All opinions expressed are 100% my own!