I have always loved following other designers' patterns to challenge myself and learn new skills. Some of my previous goals have been to knit a pair of socks and knit a raglan sweater, both of which I had a lot of fun accomplishing (even though the raglan sweater was technically a tiny one for a teddy bear haha). I have always wanted to try and knit a yoke sweater, and Chantal of Knitatude's "Easy Eyelet Yoke Sweater" caught my eye years ago when she first released it. In fact, Chantal wore her sweater during some gatherings we both attended during the Lion Brand Yarn Blogger Event in 2019, so I could even see it in person!
Chantal used one of my favorite yarns to design this yoke sweater: Chainette from the LB Collection. It is a level 4 worsted weight yarn that is incredibly soft with a delightful squish to it. I have worked with it many times in the past with my Horizons Beanie and Daylight Cardigan. However, it is important to note that Lion Brand has recently needed to change suppliers for Chainette, so the composition and some of the colors are now different. Originally, the yarn was: 70% baby alpaca, 18% virgin wool and 12% polyamide. Now it is 65% baby alpaca and 35% nylon. I have not personally tried the new Chainette yarn yet but I hear that it is similar!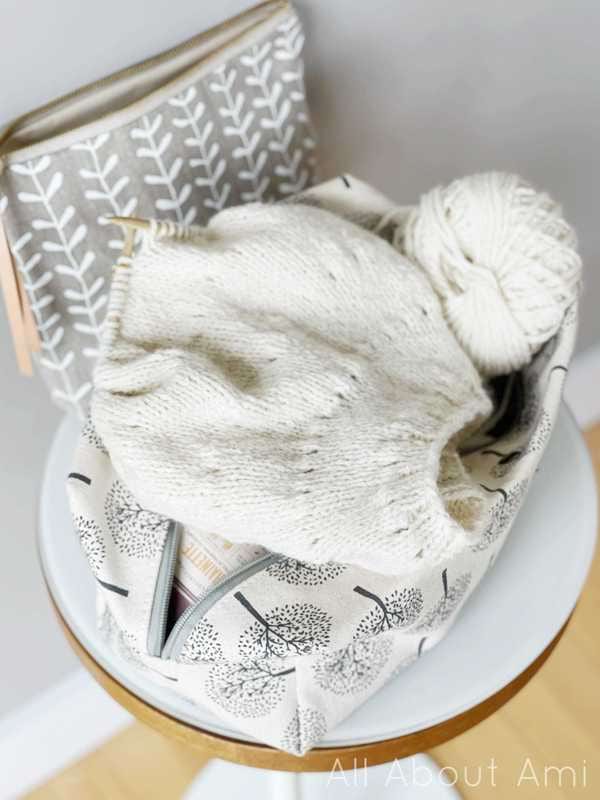 Years ago I set aside 6 balls of the original Chainette yarn in the color "Cream" to knit the Easy Eyelet Yoke Sweater so that I could knit it when I had enough time. However, during this past January as Ryan and I were searching for a suitable yarn for our "Chinese New Year Rabbit" to complete our Zodiac series, the Chainette yarn caught our eye. We wanted a yarn with a slight fuzz to it to make a soft bunny, so we ended up using half a ball to design our rabbit. With only 5.5 balls of Chainette yarn left, I was not sure if it would be enough to knit my sweater as the pattern said that 6 balls were required for a size small. I knew that I would not be able to easily order another ball of the original Chainette, so I dove into the project and hoped for the best!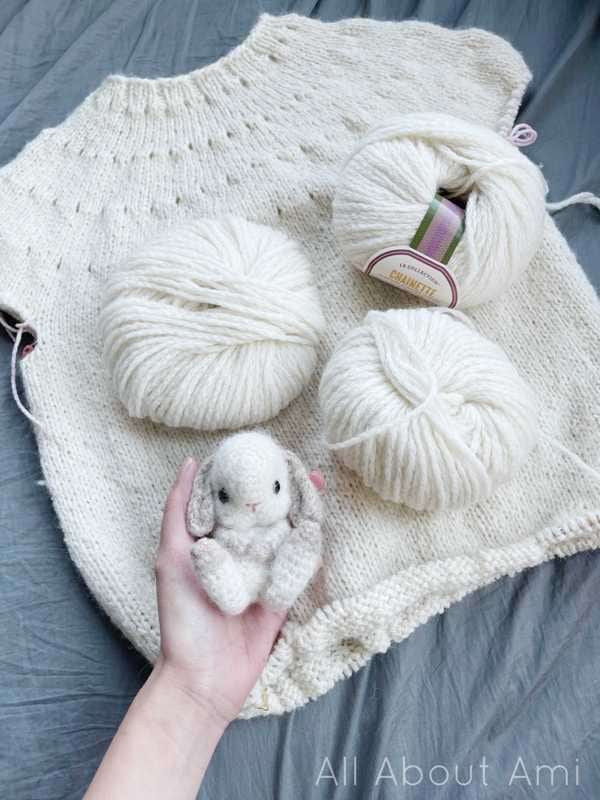 I love knitting stockinette in the round and the eyelets were surprisingly easy to create. It was very fun splitting the yoke into the sleeves, front and back of the sweater. Since this garment is worked top-down, I could try on the sweater as I went, so it was wonderful being able to check the fit throughout the process rather than just at the very end! When I tried on my sweater, I decided to reduce the total length by 2″ as I liked where the sweater hit. I knew this would help save some yarn since I was unsure whether I would have enough, and I really wanted my sweater to have long sleeves (I would rather reduce the length of the entire sweater rather than the length of the sleeves). I found it very relaxing and therapeutic to work on this sweater – the picture below shows me knitting my yoke sweater in a very cozy spot in our house with my beautiful Cozy Days Daisy Blanket!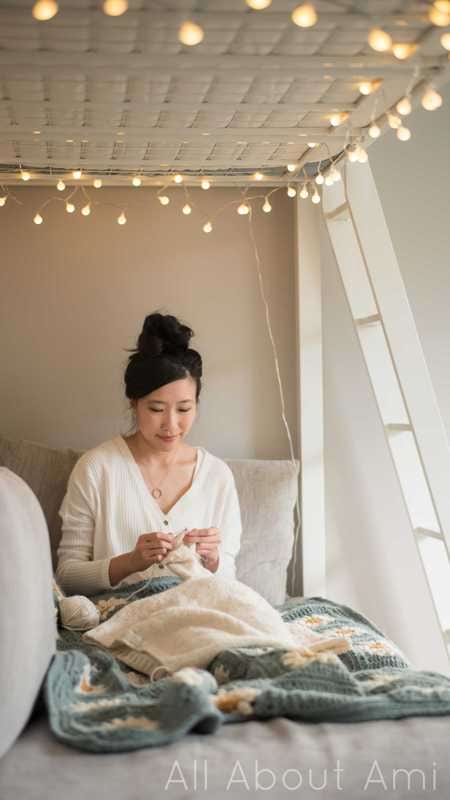 Once I casted off the bottom of the sweater, I weighed how much yarn I had left: I had 86 grams of Chainette yarn. This meant that I could use about 43 g of yarn for each sleeve. I excitedly picked up stitches around the armhole and began working the first sleeve. It was great knowing exactly how much yarn I could use and whether I needed to make any adjustments to the pattern. When I casted off the first sleeve and weighed the remaining yarn, I had 52 grams left which was more than enough to complete the second sleeve. It was such a relief knowing that I would have enough yarn to complete my sweater!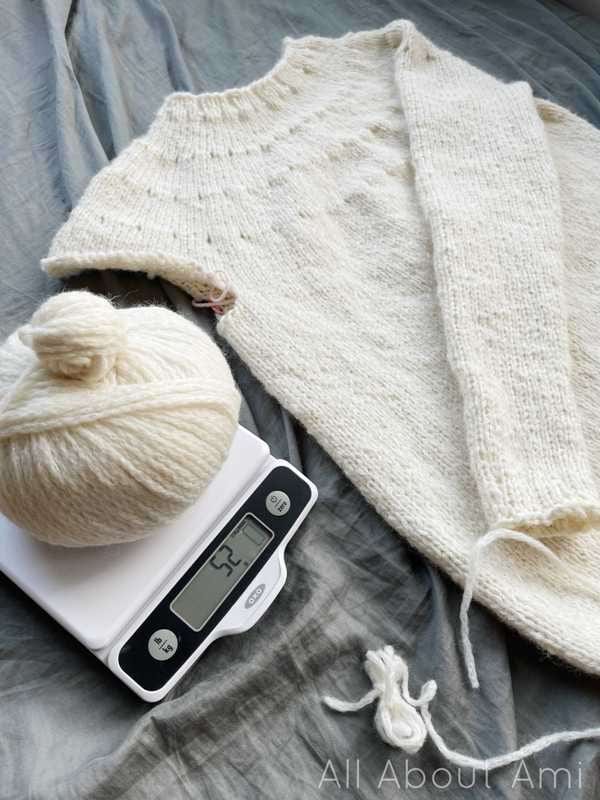 After weaving in the ends and blocking my sweater, I was so excited to wear my very first yoke sweater and take photos of it with the fall background! Here is my finished Easy Eyelet Yoke Sweater!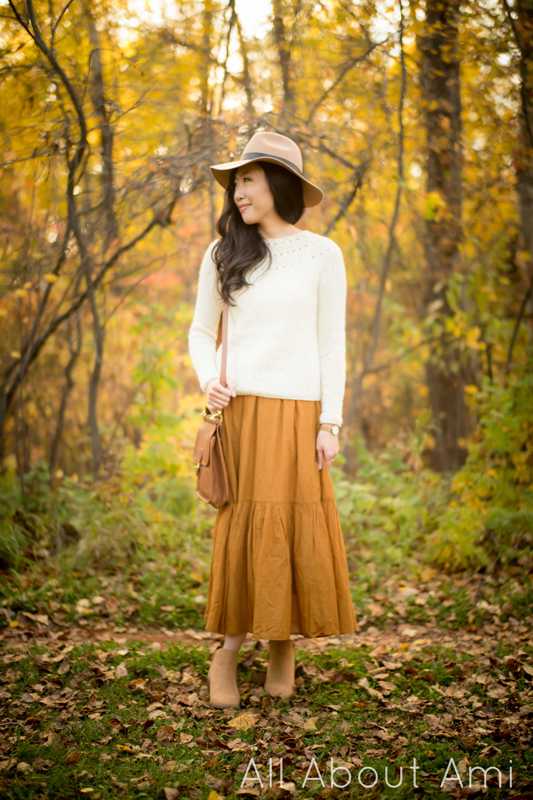 Doesn't it fit like a dream? I am delighted that it fits so perfectly and it was amazing being able to try on the sweater as I went so there were no surprises. Chainette feels amazing against the skin and is not itchy at all. Once again, I knit the size small and the only adjustments I made was decreasing the length of the sweater by 2″ (I followed the sleeve pattern exactly).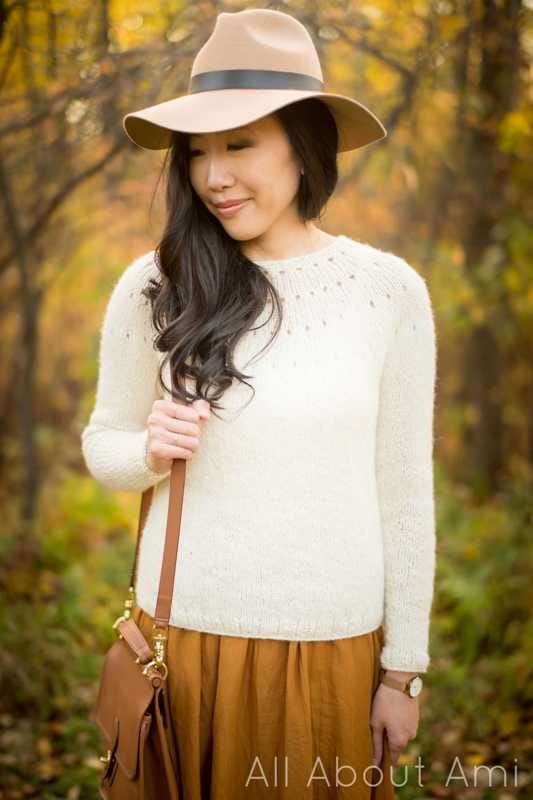 When I was knitting this sweater, I envisioned myself wearing it over this lovely brown skirt that I bought on our recent trip to Tokyo. Since the cream is such a neutral color, I can pair it with so many different outfits (I love wearing skirts) and it would look so lovely with jeans as well!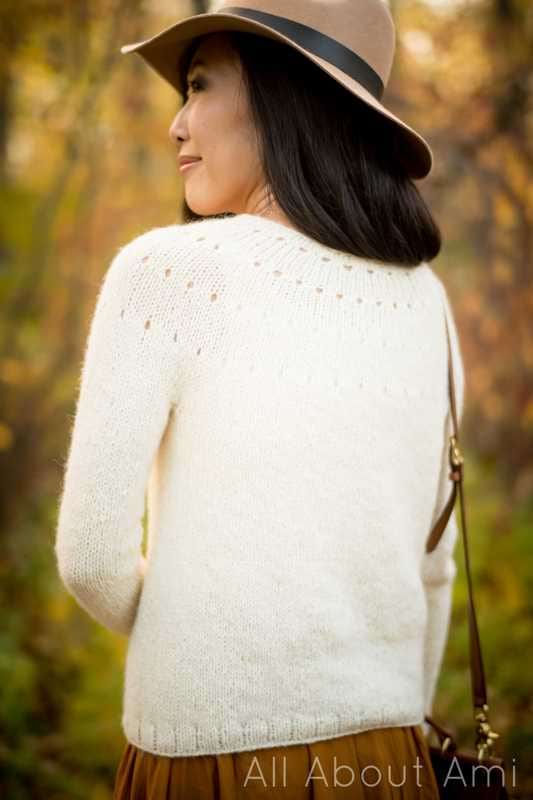 If you have been wanting to knit a pull-over sweater or a yoke sweater, I highly recommend Chantal's pattern. She classifies the difficulty level for "Advanced Beginners". The pattern was very easy and clear to follow, and I love how this design is seamless. I learned some new techniques along the way and now I can add "yoke sweater" to my list of goals that have been accomplished! You can purchase the "Easy Eyelet Yoke Sweater" pattern HERE on Etsy or the Lion Brand Yarn kit HERE (you can wait for sales to get the kit at a discounted price). I am delighted to add this knit sweater to my handmade wardrobe and would definitely make it again since I loved the pattern and process so much!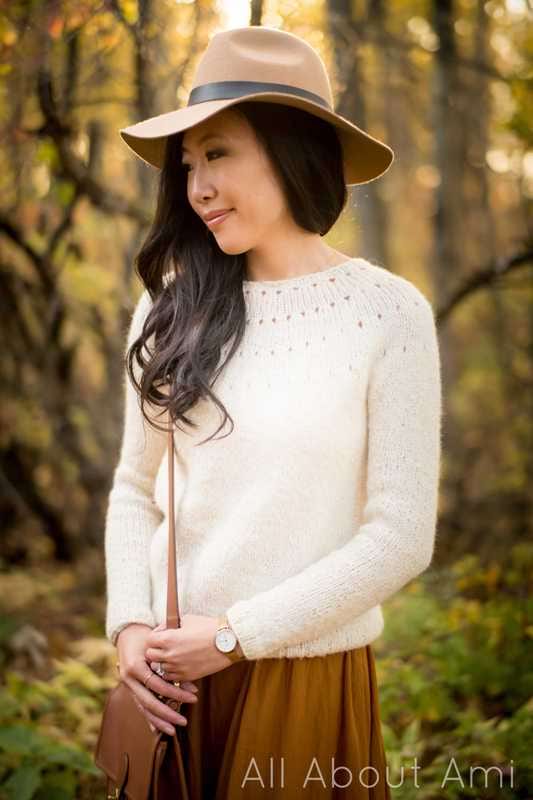 Thank you for reading and for following along with my crochet and knit adventures! You can pin the below image to your Pinterest boards if you want to add this project to your to-make list and remind yourselves to knit this beautiful yoke sweater when the time comes!