Would you believe that you can knit a large blanket with only one cake of yarn? Feast your eyes on Cover Story, a super bulky level 6 chenille yarn (100% polyester) that is very large as each cake is 1000 g/547 yds! The Lion Brand Yarn website states that you can knit a 48″ x 52″ blankie, but I made an even bigger one since I used larger knitting needles. As soon as I saw this gorgeous light pink shade called "Cameo", I knew I had to get it since pink is my favorite color. It reminds me of the lovely "Millennial" shade I used in Color Made Easy for my knit Downtown Cardigan!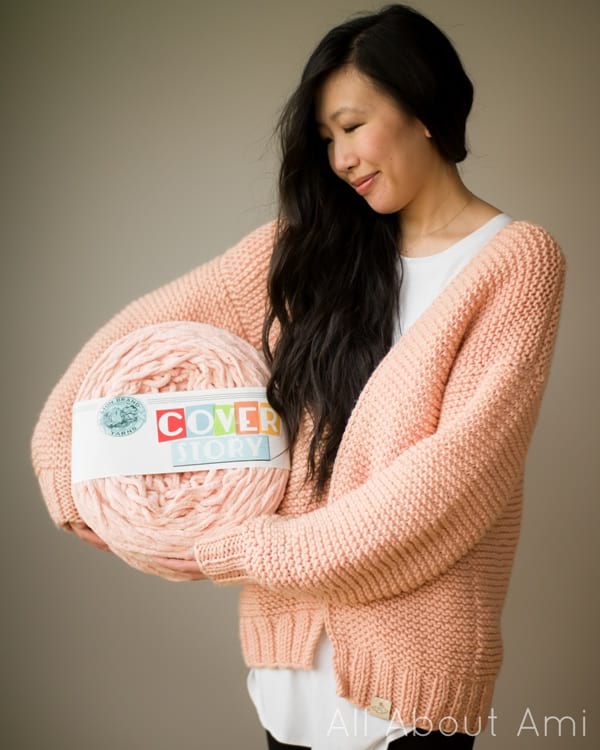 You may remember that I previously posted about "I Wanna Make a Blankie" yarn, also by Lion Brand Yarn. It is very similar, and the only difference is that Cover Story has 1000 g while I Wanna Make a Blankie has 800 g of yarn (same composition and thickness). You can see my blog post about this yarn HERE as it includes both knit and crochet blanket patterns!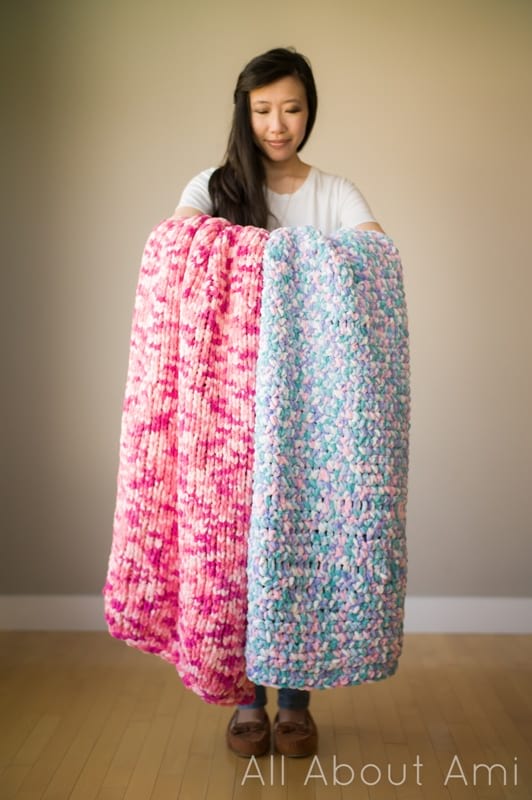 I love knitting with chunky yarn and large needles as the stitches fly off so quickly! It is extremely satisfying being able to whip up a blanket in very little time. Not having to add yarn balls means that there are no knots or weaving in countless ends. It is so convenient being able to knit one large blanket using only a single cake of yarn!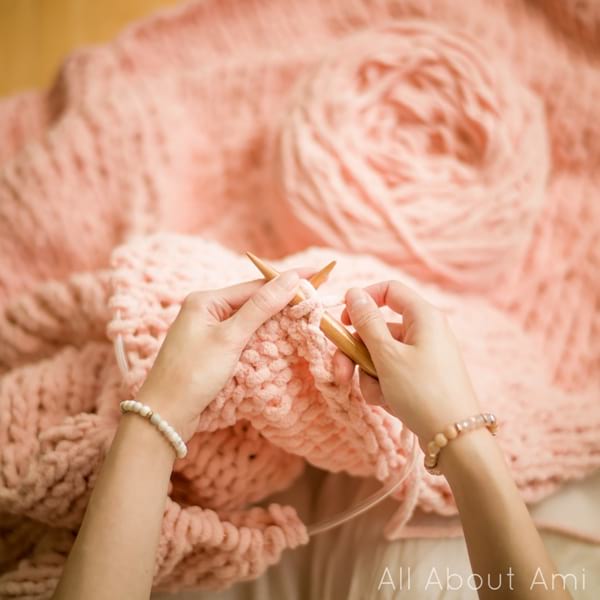 ********************************
Here is the pattern I used to knit my Cover Story blanket: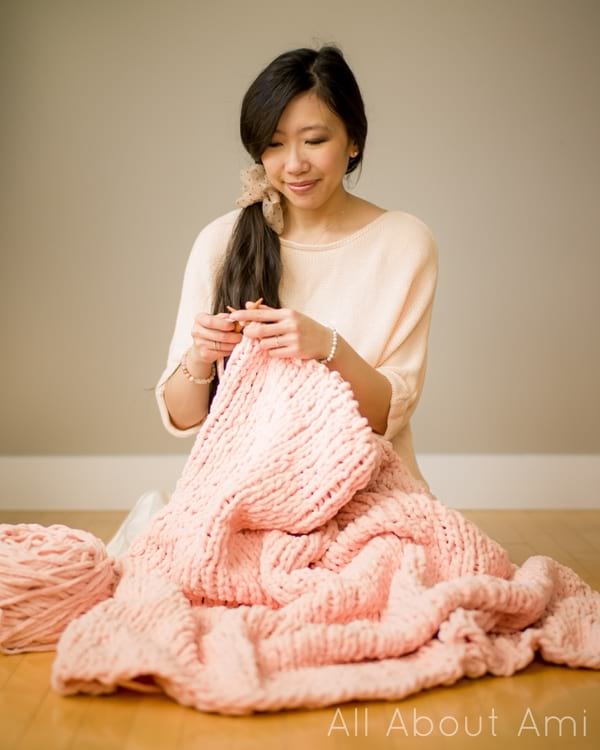 Materials:
Gauge: 5 sts and 8.5 rows = 4″
Using long tail cast-on, loosely cast on 70 sts.
Row 1: Purl all stitches.
R2: Knit all stitches.
R3-131: Repeat Rows 1 and 2.
Loosely cast off all stitches.
Final dimensions: 58″/147 cm x 61″/155 cm
Note that if you want your blanket to be more rectangular, you could cast on 65 stitches and knit approximately 141 rows (final dimensions would be: 52″/132 cm x 66″/168 cm).
***************************
I ADORE my pretty pink knit blanket! It is very large and incredibly soft, and I cannot believe that I only needed one cake of yarn to knit this beauty!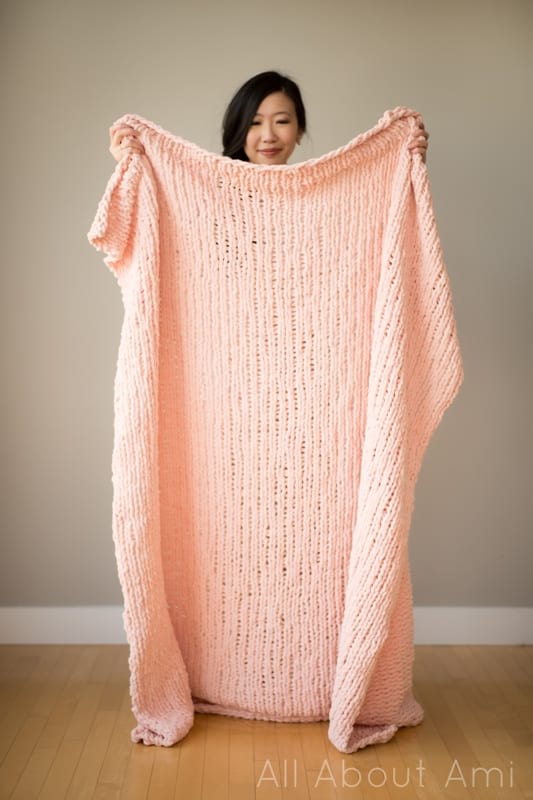 I keep this pink blanket in our reading cozy corner along with our other handmade knit and crochet pillows. I love this inviting space and it is one of my favorite places to read, knit and crochet. Family read-aloud time has become a part of our routine and the girls love hearing me read a variety of books to them, from the Chronicles of Narnia to the adventures of Ralph S. Mouse and Ramona. If you would like to knit or crochet a blanket for your own home or as a gift, I would highly recommend this yarn as I had so much fun working with it!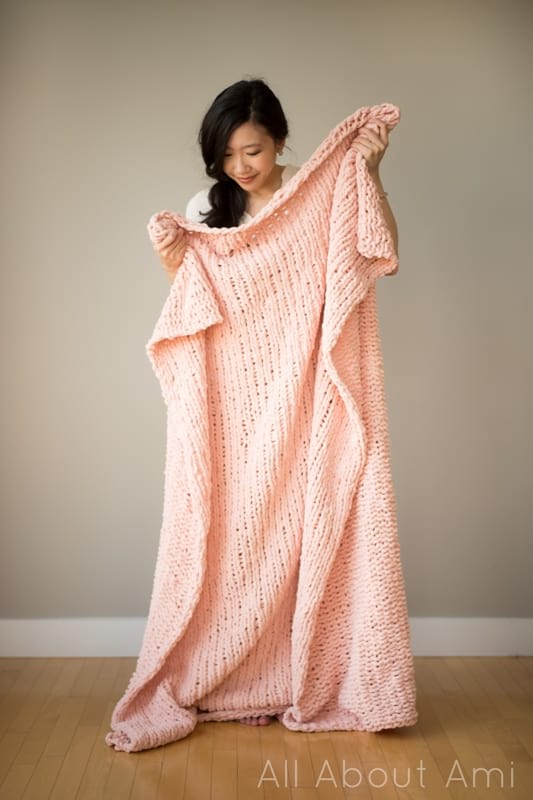 You can pin the collage below to your Pinterest boards to remind you of this project! It is such a simple, beginner-friendly knit project!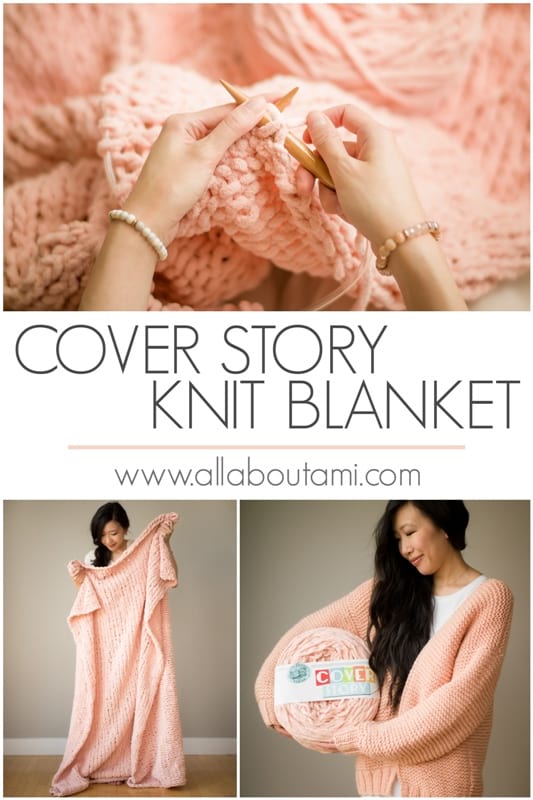 Note: Thank you to Lion Brand Yarn for providing the yarn for this project!