While browsing Instagram last year, I fell in love with the stunning look of knitted Fair Isle hats.  I saw many makers post pictures of their hats, and I loved the different colour variations they used and how the stitches resembled little hearts.  I was excited to take up knitting again early last year with my Cucho Scarf as the last time I had picked up knitting needles was when I was a young girl.  After building up my confidence in knitting with my Cucho Scarf, Fisherman's Rib Hat, Bahia Sweater, Extreme Knitted Blanket, and Thick and Thin Cowl, I thought I would try my hand at fair isle knitting and learn how to work colour changes!  I had long admired Kathleen of Country Pine Designs' hats, so I used her Tara pattern (available HERE in her Etsy store) to attempt to knit my very first fair isle hat!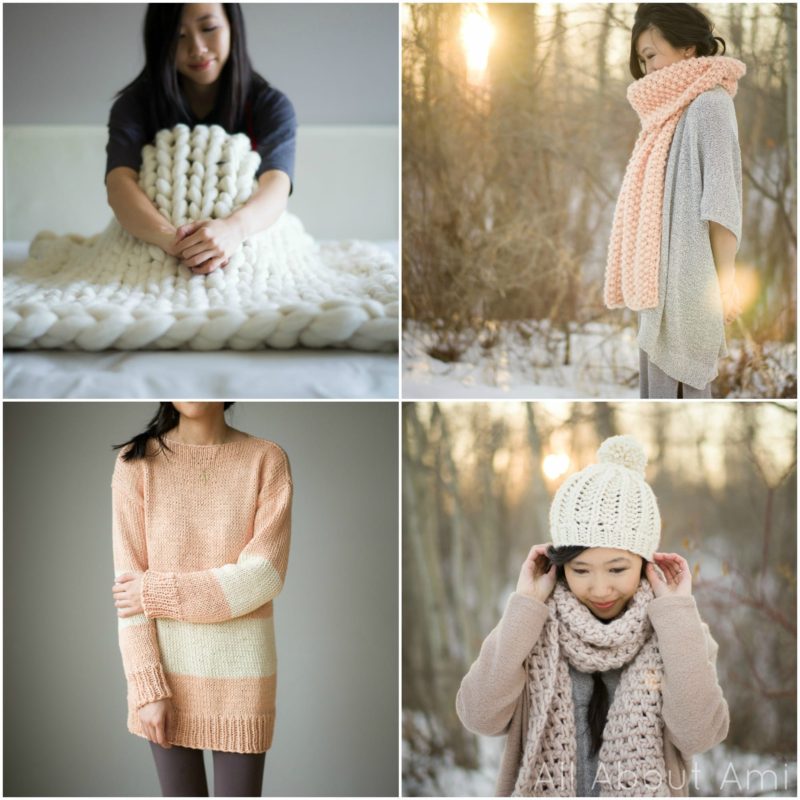 I wanted to make a black and white fair isle hat as monochrome is so modern and chic!  I used Lion Brand Yarn's "Wool-Ease Thick & Quick" in Black and Fisherman.  This yarn is a super bulky (level 6) yarn that is a favourite among knitters with its extensive colour range and fiber content: it is 80% acrylic and 20% wool.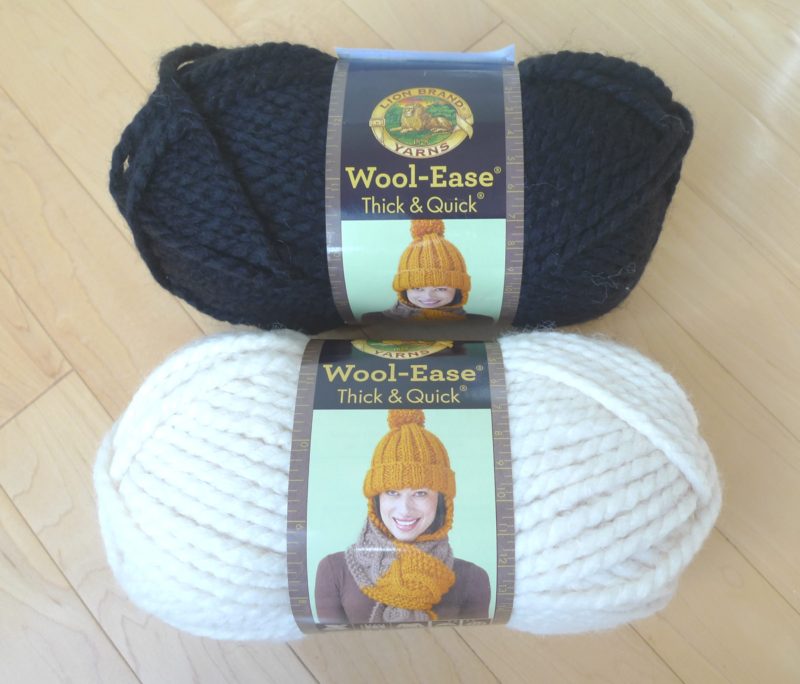 I am so happy that I learned how to knit in a round with circular needles as it is extremely addictive.  I love using my Clover Takumi Interchangeable Needles since I have so many different sizes in my set.  I find that the bamboo grips the yarn well so that it is not sliding and flying off the needles!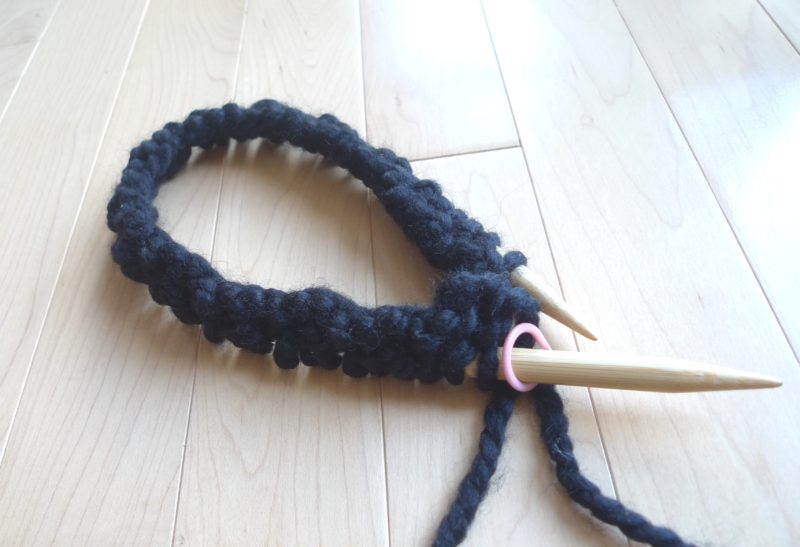 The ribbed brim is complete!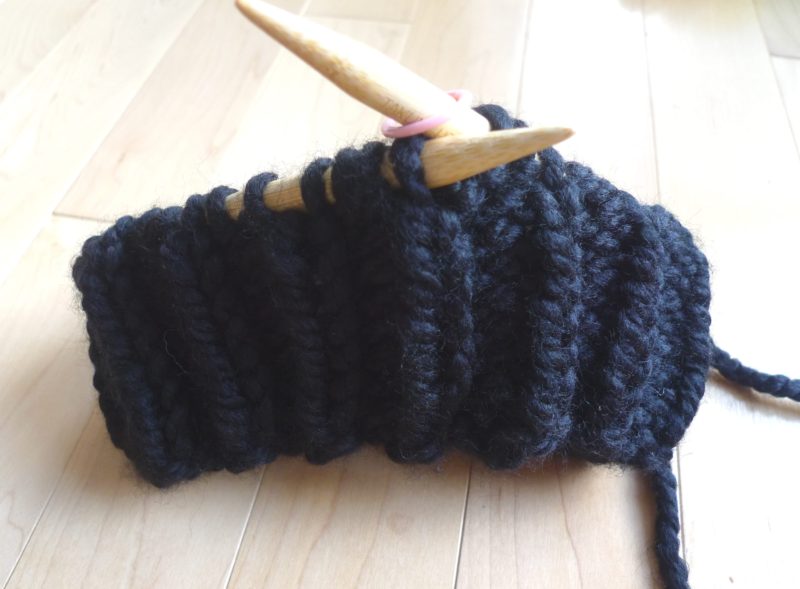 Switching colours was actually very easy, and it was soo much fun seeing the pattern work up beautifully!  It's just a matter of dropping one colour and picking the other colour up!  It was very easy to learn since I already knew how to knit in a round.  You can see an example of what switching colours looks like in this video HERE.  If you knit continental style, you can check out this video HERE to see how to fair isle knit more quickly.  I myself knit English style, so I just dropped and picked up the different colours of yarn with the same hand.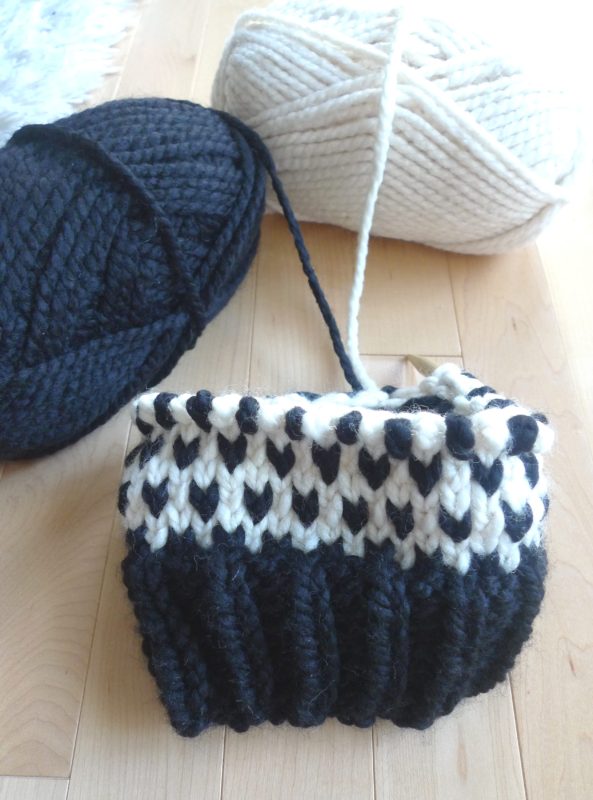 I find it so therapeutic knitting in a round.  This hat worked up so quickly, and I was itching to make more in a myriad of different colourways!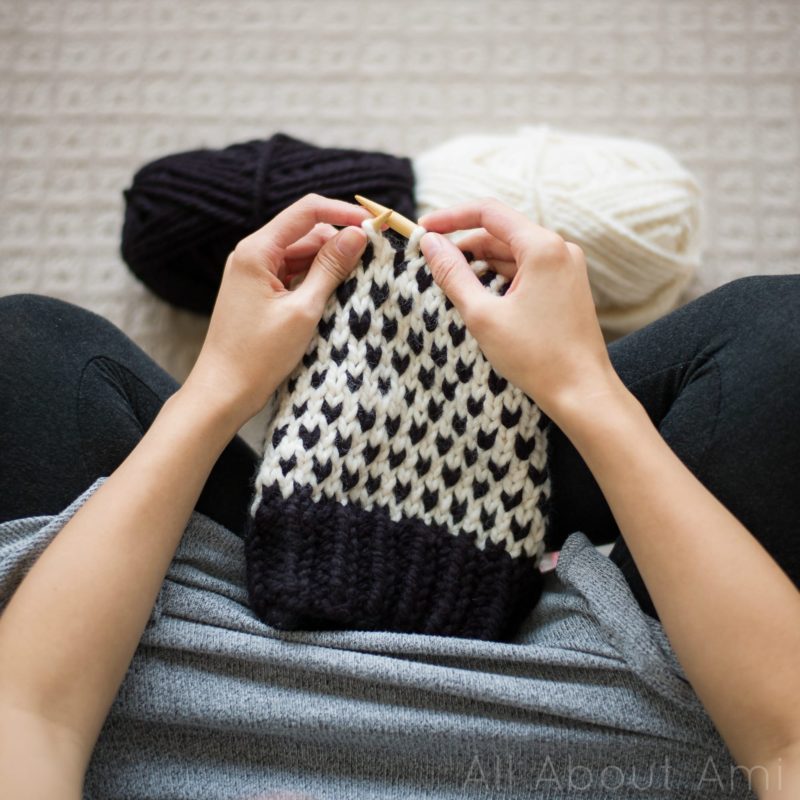 After working my fair isle pattern and closing up the top, my hat was complete!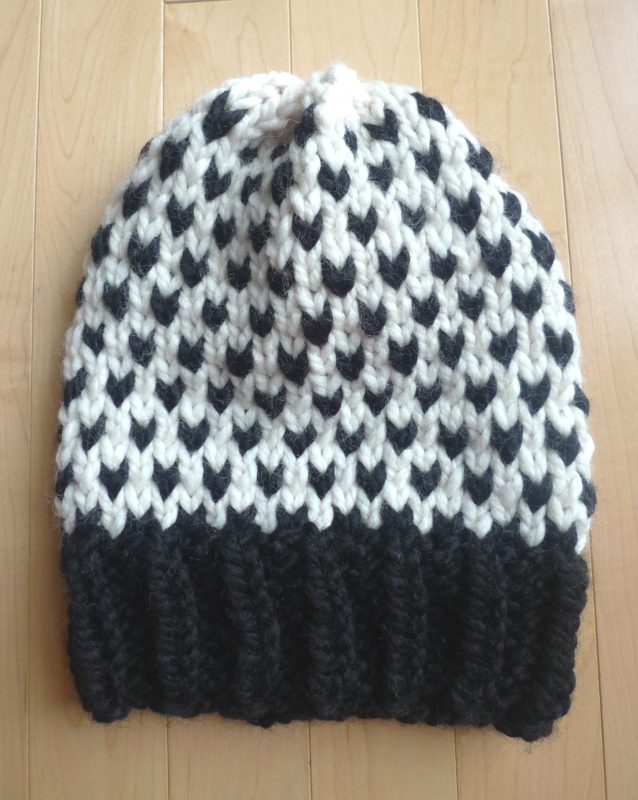 After knitting my black and white fair isle hat, I decided to make another one, this time using the Colorado Hat pattern by Country Pine Designs!  In this design, the brim is worked in the same colour as the body of the hat, and the little "hearts" in the secondary colour are more spaced apart.  I used Wool-Ease Thick and Quick in Mustard and Fisherman for this hat- mustard is such a rich and gorgeous colour!  I used my Clover Pom Pom Maker to make these furry pom poms to place atop the hats!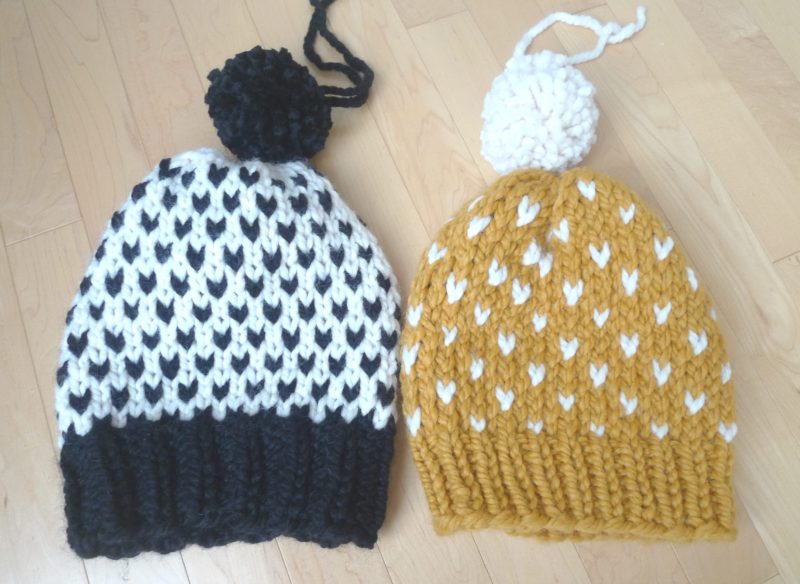 Whenever I finish my knitting and crochet projects, I always sew on one of my ultraleather garment tags as a beautiful finishing touch.  I ordered mine locally from Diane of BrickBubble, and they currently come in three colours as shown below.  Which colour would you choose for each hat?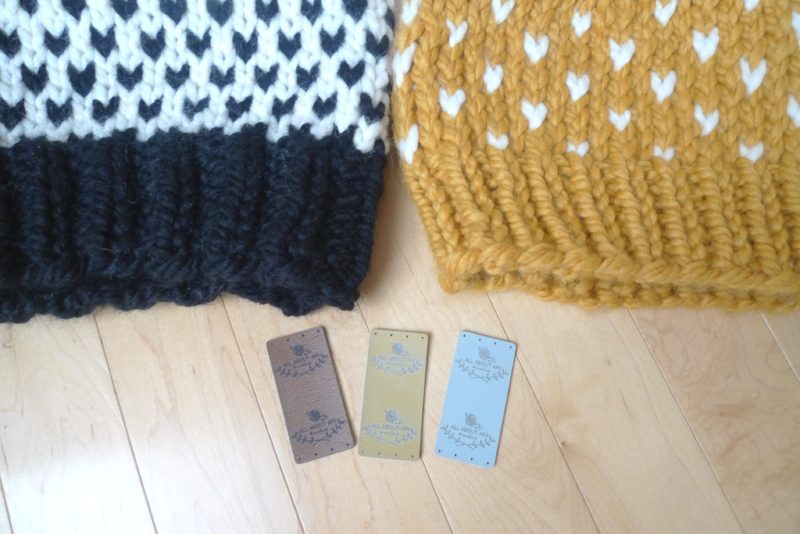 Here are my two completed fair isle knitted hats!  Aren't they beautiful?  I ended up sewing a grey label onto the mustard hat (I love the grey/yellow combination) and a dark brown label onto the black and white hat.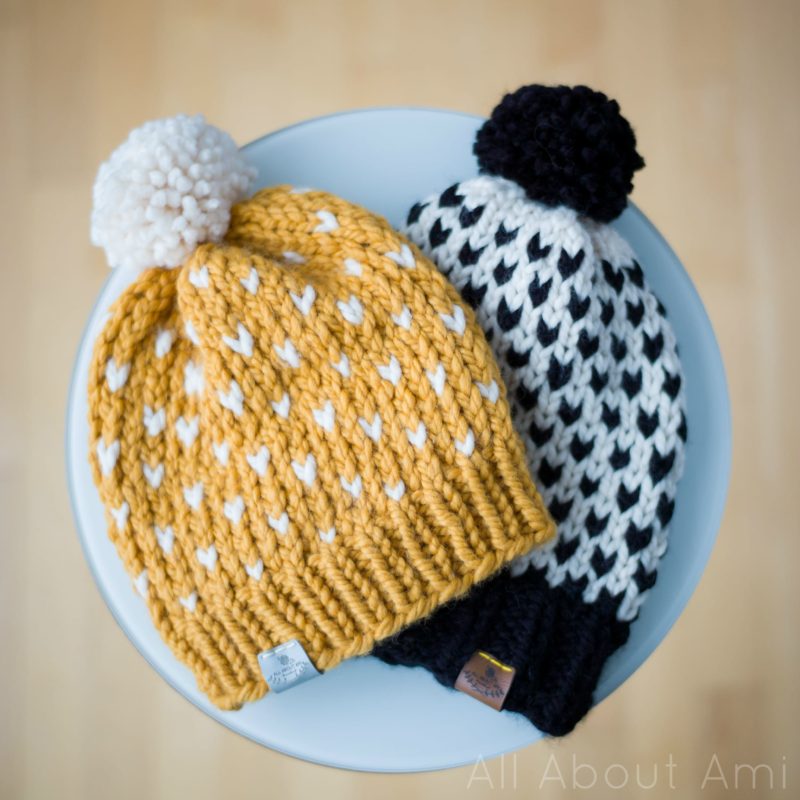 One of my goals this year was to learn how to fair isle knit, and I am so happy that I did!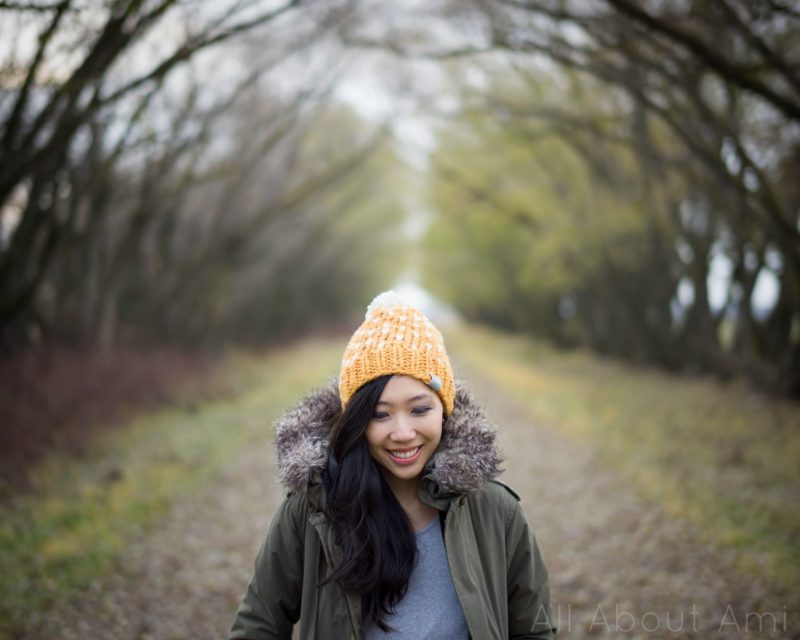 The little white "hearts" create such a beautiful design against the mustard background.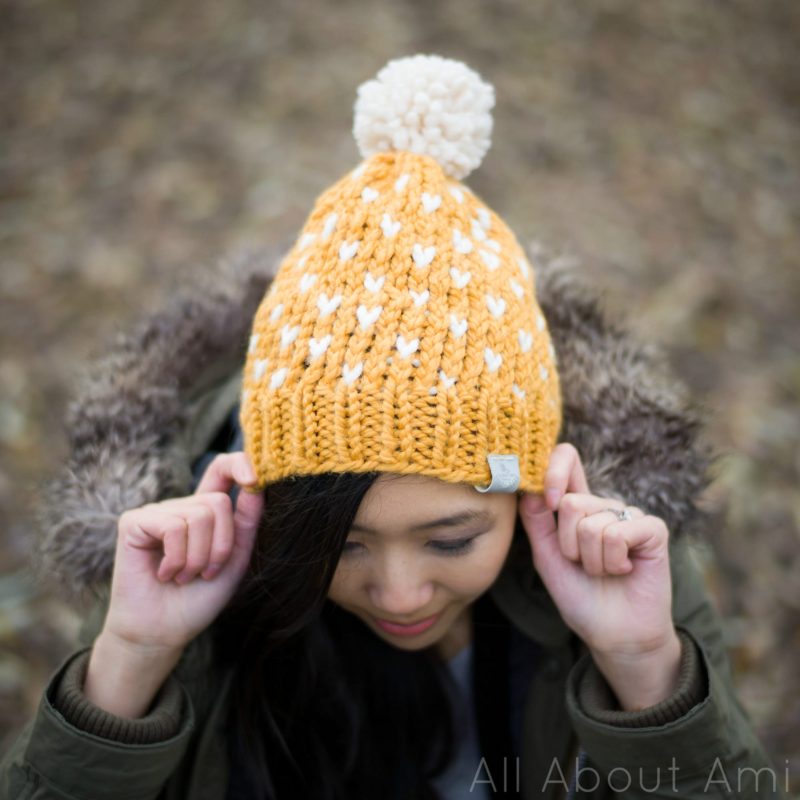 We have been experiencing very frigid temperatures here in Alberta over the past couple of weeks, and I have been wearing a knitted or crocheted beanie almost everyday!  We snapped these photos when the weather was much milder…and when I could actually leave my jacket unzipped!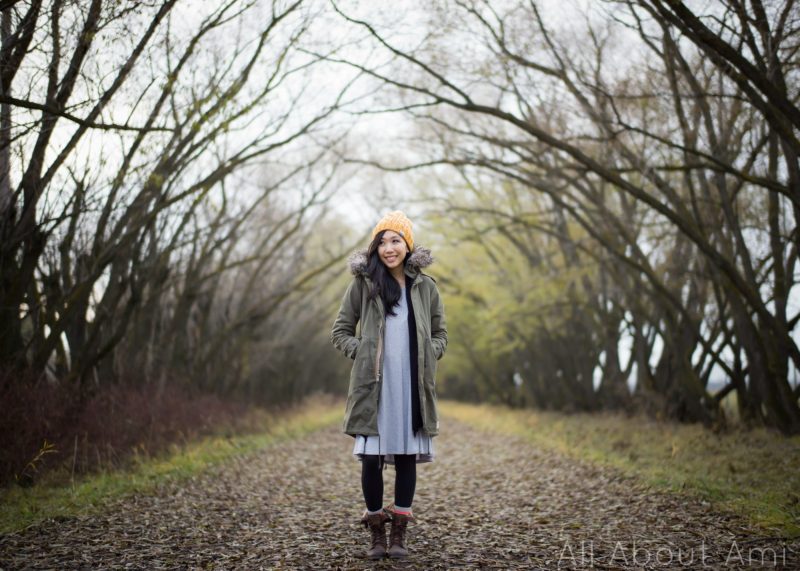 This army green Aritzia parka is one of my favourites, and you've seen me wear it in many photoshoots throughout the years.  I knew that this mustard hat would look striking with it!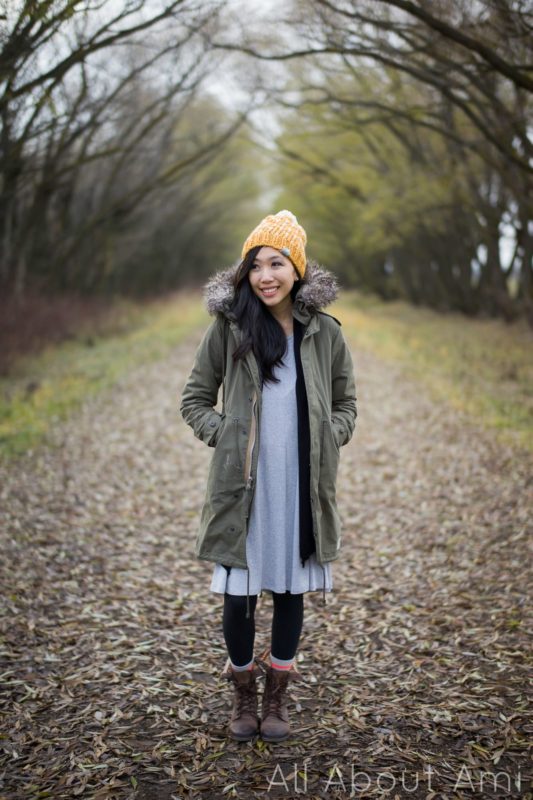 I ADORE the look of my black and white knitted hat too!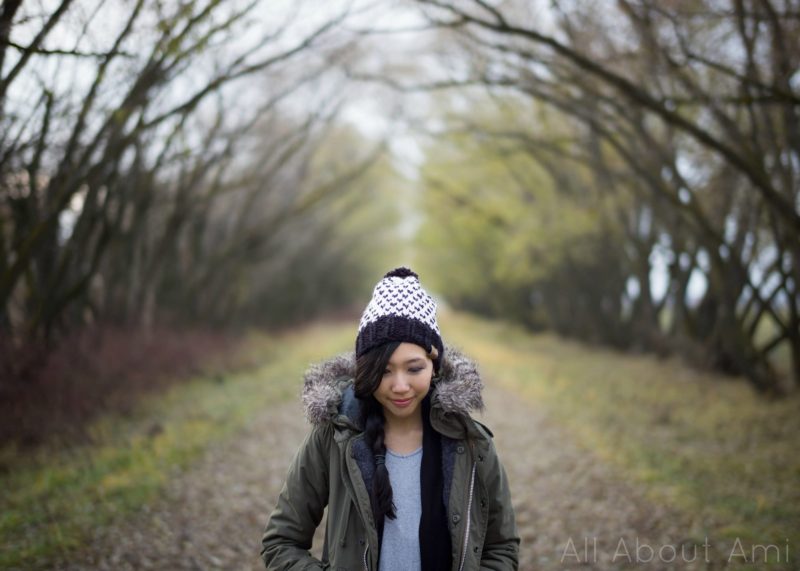 This colour combination is so versatile as I can throw it on with any outfit and jacket that I'm wearing.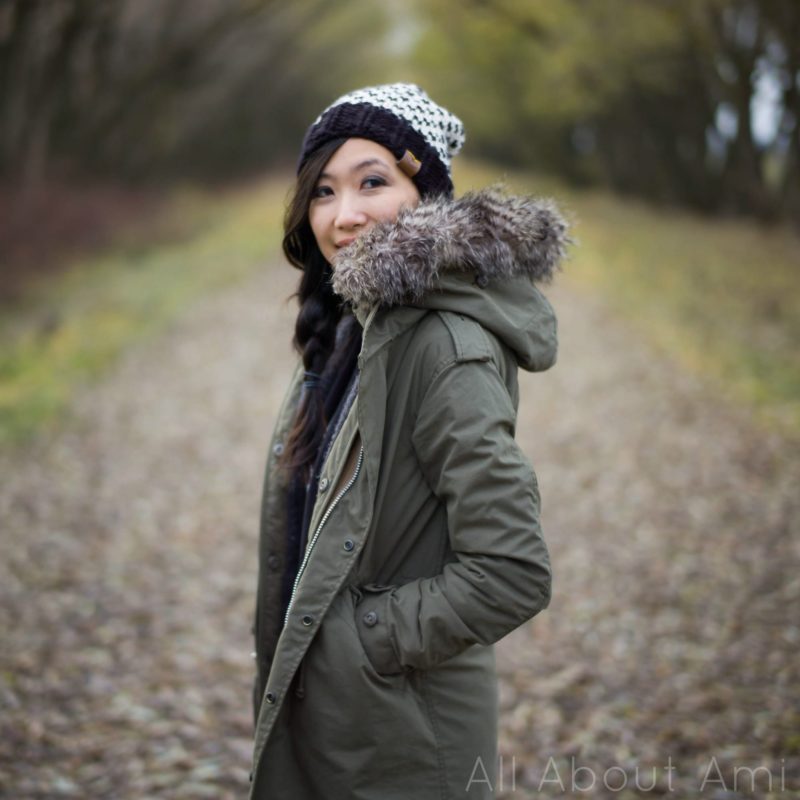 Fair isle knitting is not as difficult as it appears, and the finished look is so striking.  It creates such an elegant yet modern design- I have so many different colour combinations I want to try, such as one with little pink hearts!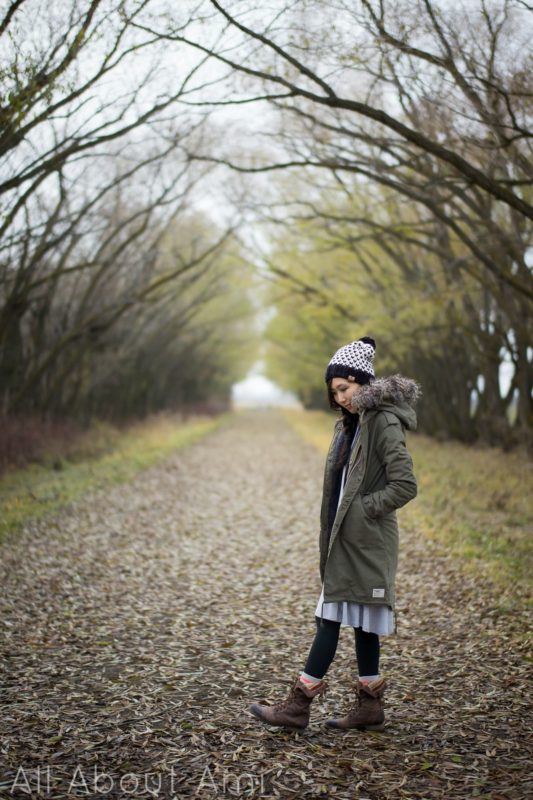 Kathleen's patterns were very easy to follow, and she was readily available to answer any questions I had!  I moved up a needle size for the body of the hat since I have a larger head, and I think I tend to knit with tighter gauge.  I also added a few more rounds to the body to make the hat a bit slouchier!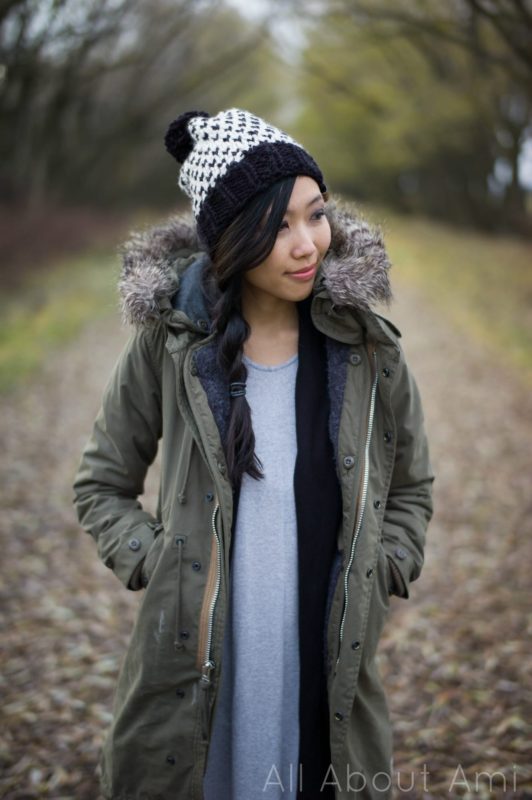 We ended our photoshoot with our classic jumping shot!  These are always hilarious to do as I try to get as much air as I can and Ryan attempts to capture a moving target!  Hahaha I love how this one turned out!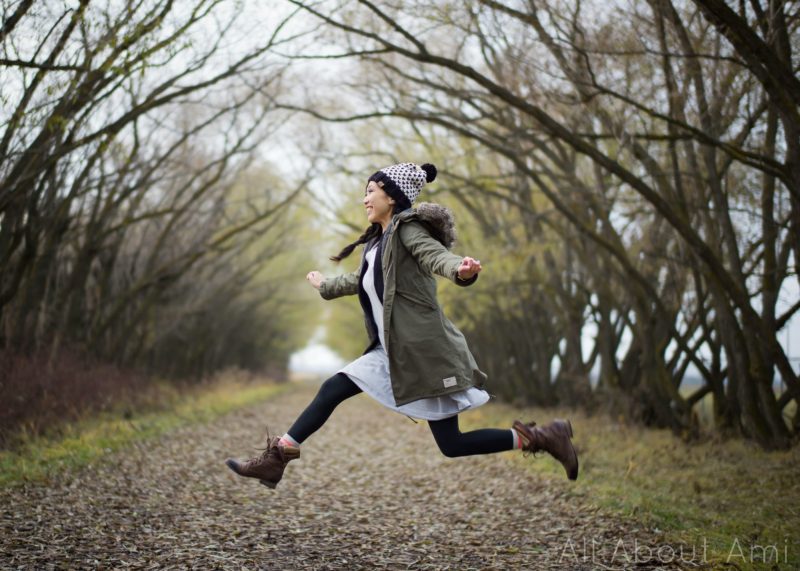 I was strongly motivated to improve my knitting skills after seeing pictures of beautiful fair isle knits, and I am so proud of myself that I was able to learn and make some of my own!  Even though certain projects, techniques or hobbies may seem too challenging at the time, we all need to start somewhere, and with practice, research, and motivation, you can achieve so much!  I know most of my readers are crocheters, but if you have been wanting to learn how to knit but don't even know where to begin, fret not!  I am planning a series of posts in the new year that will introduce you to the basics of knitting with some very simple projects, so stay tuned!
If you've been wanting to try your hand at fair isle knitting, now is your chance to try one of Kathleen's patterns too!  We are partnering together to offer a GIVEAWAY [NOW CLOSED] to three readers to win one of Kathleen's patterns from her Etsy shop (Congrats to Rosalin of the blog comments, Karen L. of Facebook and "Sonjas Artsy Place" of Instagram!  To enter:
Visit the Country Pine Designs Etsy shop HERE and take a look around!
Leave a comment below telling us which pattern you would love to win (for example, the Colorado hat or the Tara hat).  Kathleen offers both knit and crochet patterns in case you don't knit!
This giveaway will close on Wednesday, December 21st at 8 PM MST and is open WORLDWIDE!
Thanks for reading and have fun learning new techniques and skills!