A couple of months ago, I was delighted when I was contacted by "We Are Knitters" to try out one of their kits!  According to their website, this company is the business project of two young entrepreneurs, and their main goal is to recreate the ancient craft of knitting and to spread the knitting love to people of all ages!  I had been following them on Instagram and was impressed by their lovely images of all different types of knitting projects.  I had a blast going through their site trying to determine which kit I wanted to try.  Although they offer crochet kits, I thought this would be a great opportunity for me to try my hand at knitting again since the last time I knitted was when I was a little girl!  I actually learned how to knit before I learned how to crochet, and I loved both as a child!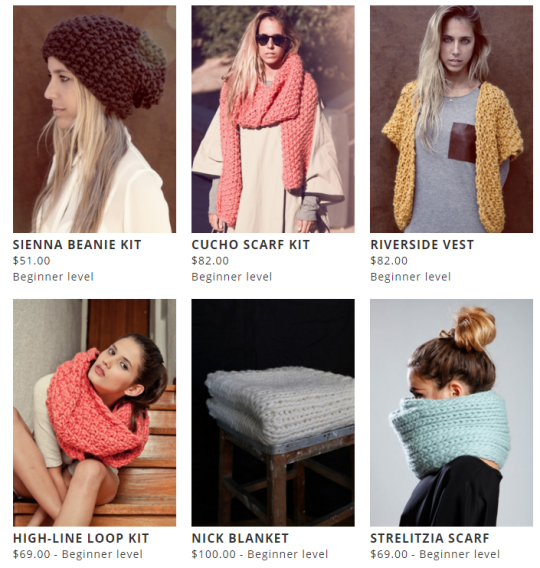 They classify their kits as Beginner, Easy, Intermediate and Advanced.  I steered towards a Beginner project as I did not want to be too ambitious since I knew I would be in over my head with more complicated projects.  I thought the "Cucho Scarf" looked gorgeous and so luxurious, so I decided to go with that one!
I was sooo excited when my kit came in the mail- the sturdy paper bag that holds your kit fits perfectly in the box!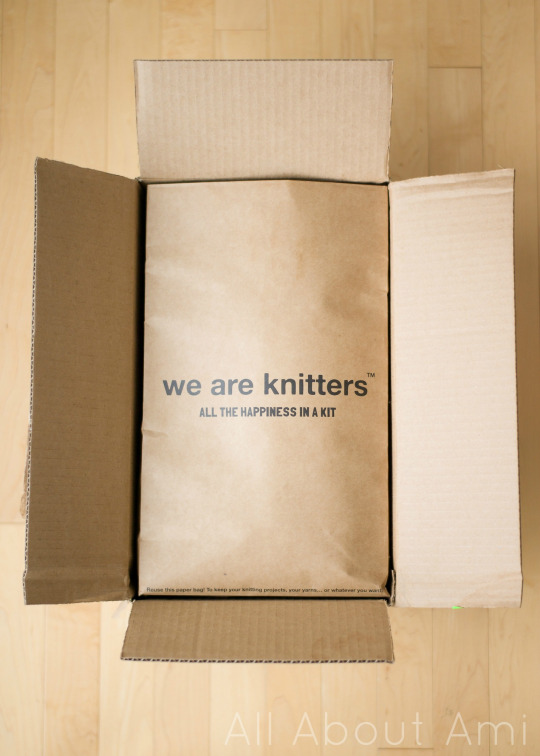 This large paper bag also doubles as a project bag to store your work-in-progress!  Keep in mind that if you are ordering from outside the US, your kit may be subject to taxes, fees or other charges due to local laws or customs rules (especially if this is a gift) when UPS delivers it.  My kit came with a $19 customs fee since I live in Canada- do keep this in mind so you're not surprised in case you're charged with these extra fees!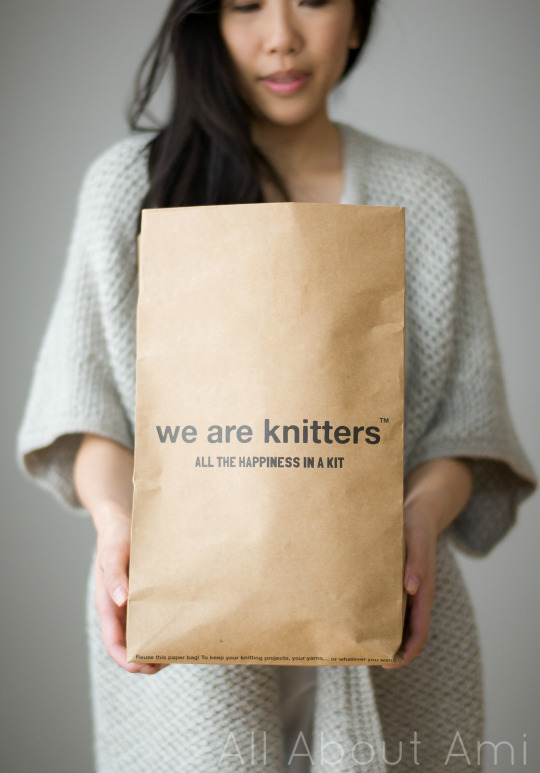 The other side of the bag shows what project you chose and lists the contents of the kit!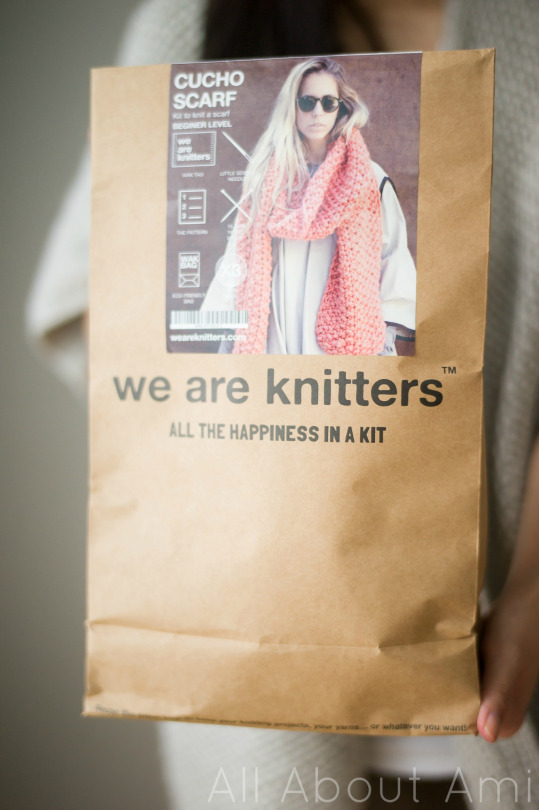 This is what you get inside your bag!  The kit includes handmade 15 mm needles made of 100% beechwood, 3 balls of "The Wool" (100% Peruvian wool), a yarn needle, a cute "We Are Knitters" tag that you can sew onto your finished project, and the pattern itself that you follow to knit your project.  One of the most fun parts is getting to choose your own colour for your project!  They offer over 30 gorgeous wool colours, and I went with their beautiful "Salmon" which is a peachy-pink hue as shown below.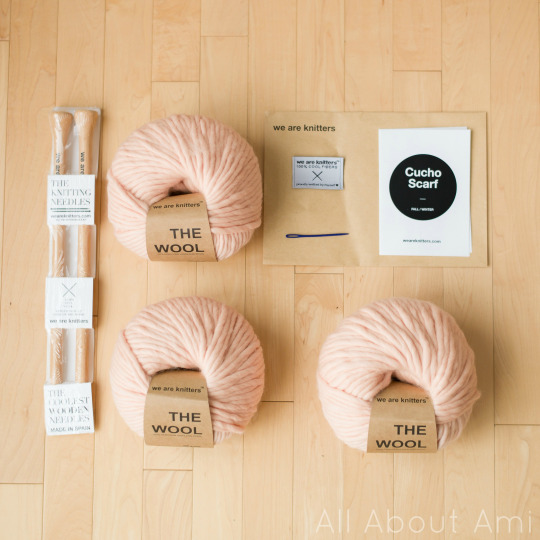 I was very impressed by how large "The Wool" is as sometimes it's hard to tell the relative size on-line.  Each ball has 200 grams (80 m) of wool and it has an incredibly luxurious look and feel to it!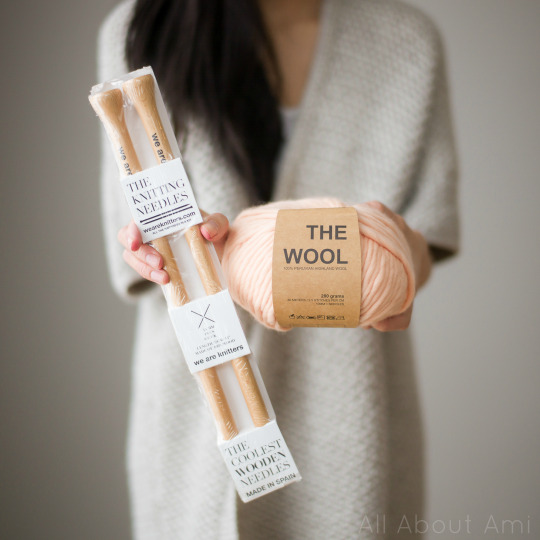 I was so excited to dive into the project!  Thankfully, knitting came back quite easily for me as the motions seemed pretty natural.  The simple, straight-to-the-point video tutorials for each stitch found on the We Are knitters website were extremely helpful for me (see them all HERE), and they have tutorials for both beginner and advanced techniques.  The Cucho Scarf uses the "Moss Stitch" (see HERE) which is alternating knit and purl stitches.  I love the textured look of this beautiful stitch!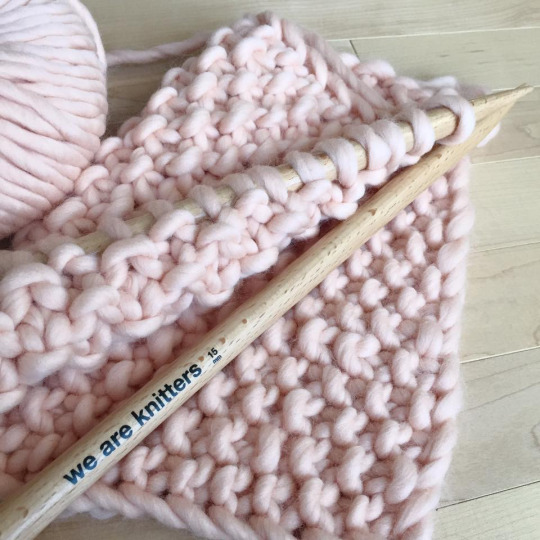 I had so much fun working up this scarf and practicing my knits and purls.  You can see a video of me knitting my Cucho Scarf below!
I enjoyed working with such large needles since the result was such a gorgeous, chunky look and it worked up quickly as well!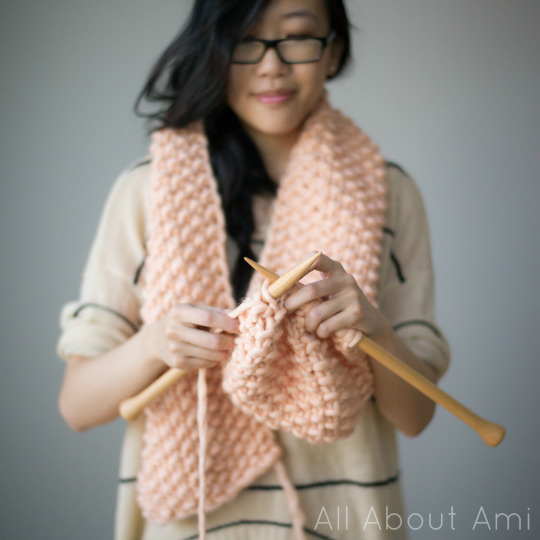 This is my beautiful finished Cucho Scarf!  I am delighted with how it turned out and am so proud of my first knitted project as an adult!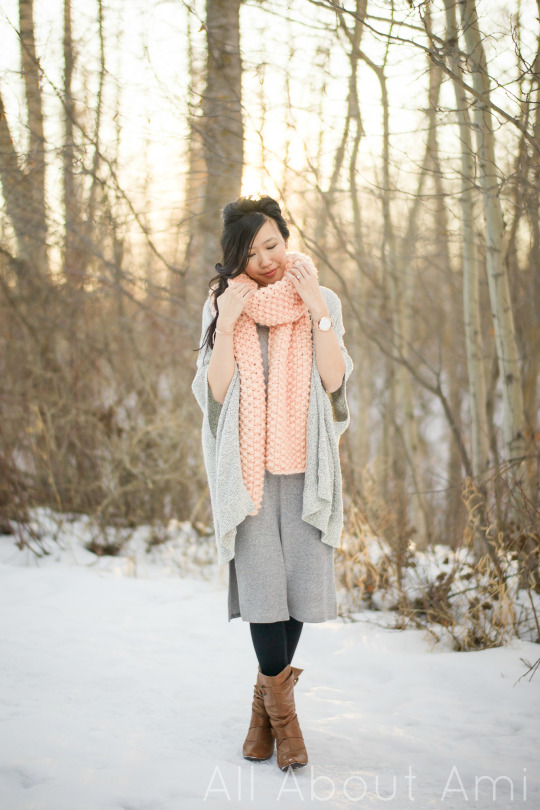 My favourite colour is pink, and funnily enough, I have never crocheted myself a lighter pink scarf before…until now!  It adds such a whimsical and pretty touch to outfits!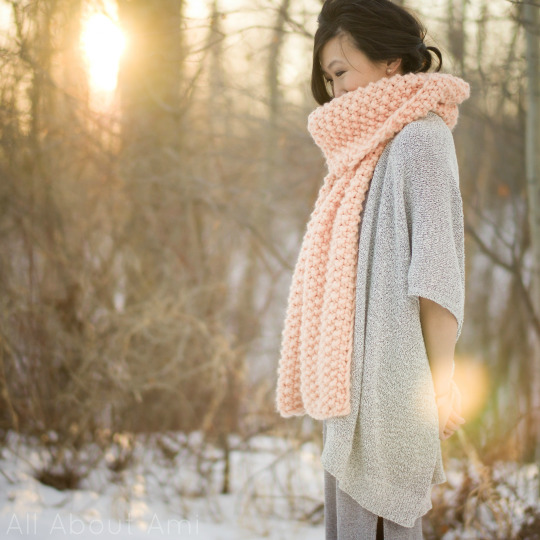 Since this scarf is so long and is made of 100% Peruvian wool, it is extremely warm.  I love how it looks wrapped around!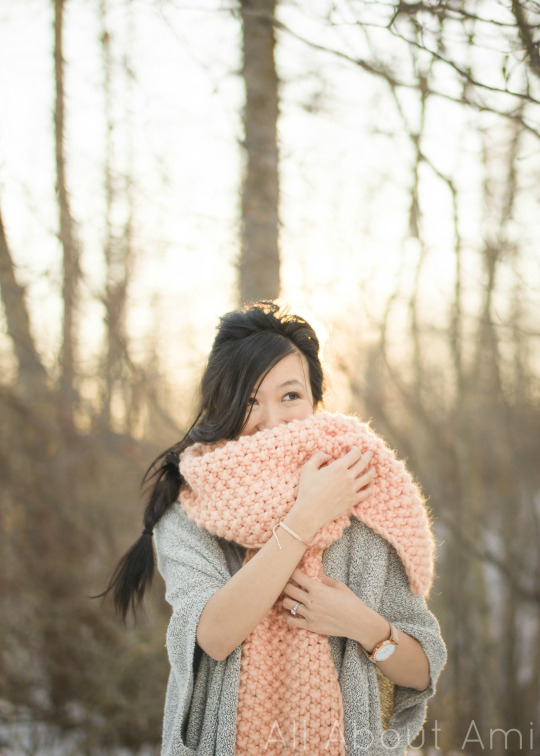 I've been having so much fun rediscovering my old hobbies.  Recently I started making friendship bracelets again with beads and macramé, and I'm wearing a pink and cream one that I made in these photos!  I'm also wearing my locally handmade Berg + Betts watch in "Rose Gold Round Watch in Pale Pink" which is made from rescued leather!  I love the combination of grey and pink together- so elegant and pretty!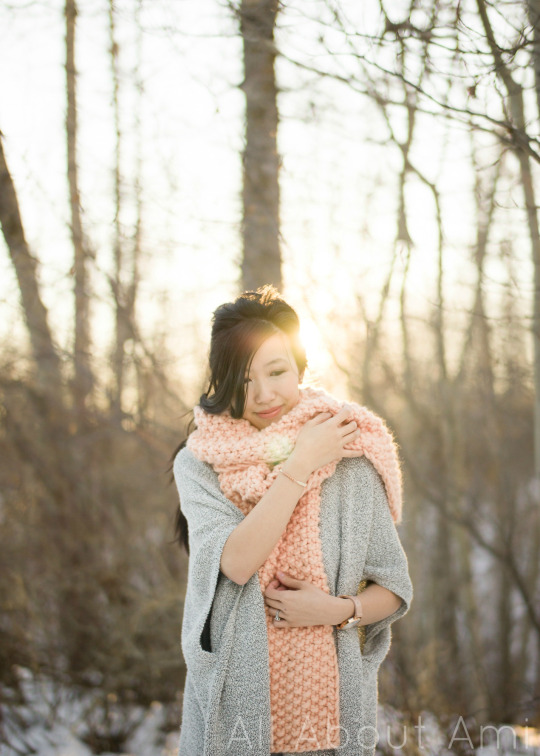 If you have been wanting to learn how to knit, check out "We Are Knitters" for their kits and wool!  The exciting part is that they have provided my readers with a special code too: use "WAKABOUTAMI" to get 15% off your order!  Even if you are not interested in knitting, consider trying out some of their wool for your crocheting projects too!  In fact, I used their wool to design a crochet pattern that I will be posting about next week 🙂  I don't think I would have delved back into knitting had it not been for their contacting me to try out one of their kits, so I thank them very much for opening up a world of knitting to me again!  It's been so much fun, and I love having another way to work with yarn- follow me on social media (
Facebook, Twitter and Instagram) to see what I've been working on!  Happy knitting & crocheting, my friends ❤
~Stephanie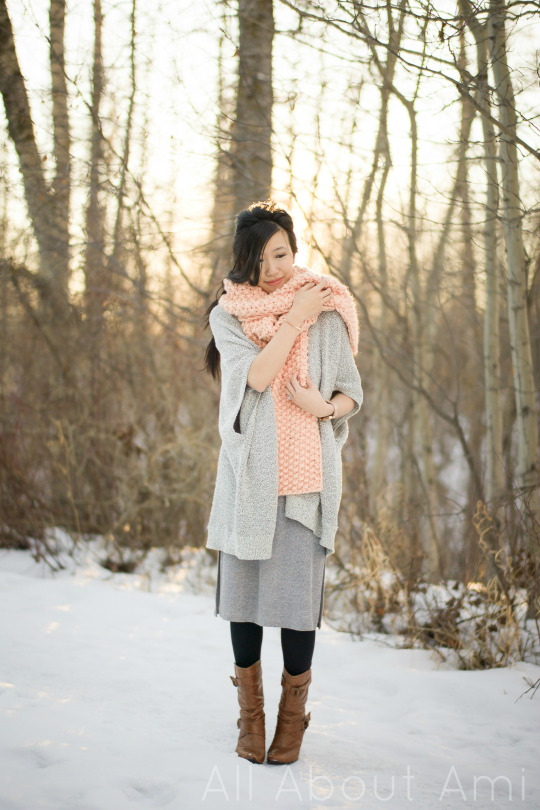 Disclaimer: I was provided with the "Cucho Scarf Kit" for review.  All opinions expressed are 100% my own.