I am so thankful to have joined a local crochet and knitting group several months ago, and I always look forward to our get-togethers!  Everyone brings their projects as we chat, sip, and busily work away on our crochet hooks and knitting needles.  Many of the women who are part of this amazing group run their own shops and businesses, and one such talented woman who I've had the pleasure of getting to know is Allison Barnes!  She is an indie dyer who spins her own yarn, sometimes with the help of her adorable son.  It was very memorable meeting Allison for the first time as she brought her wheel to the coffee shop, and I got to see her spin her gorgeous thick and thin wool in person.  From that moment on, I knew I wanted to try working with her gorgeous fiber as it was unlike any I had seen or felt before!
I asked Allison if she could dye a custom colourway for me in one of my favourite combinations: blush pink, grey, and white (as evident throughout my blog)!  She excitedly accepted and we were thrilled to collaborate together!  A couple weeks later, my jaw dropped when I saw the absolutely perfect and gorgeous colourway Allison had created.  It is such a special feeling knowing that this wool was custom spun and dyed just for me!  This hank of wool in and of itself is such a beautiful piece of art.  Every once in a while I would take it out and marvel at its beauty before I actually began working with it!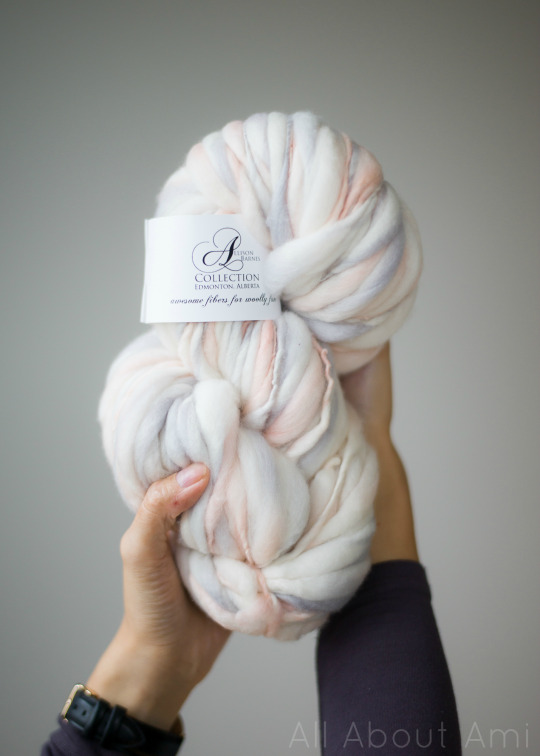 On the label it states that this wool is a super bulky 100% merino wool, with about 82 yards/4 oz.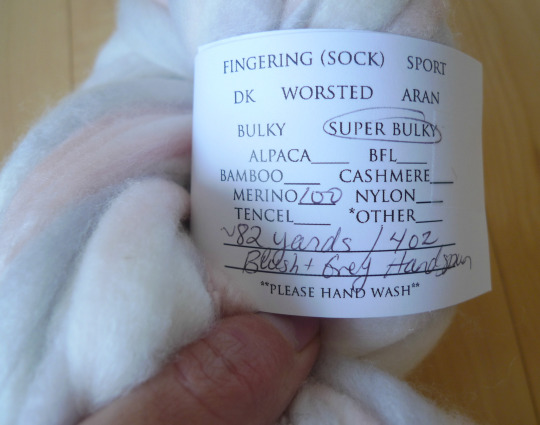 I unwound the hank and turned it into a ball so that it would be easier to work with!  Isn't this a beautiful mess?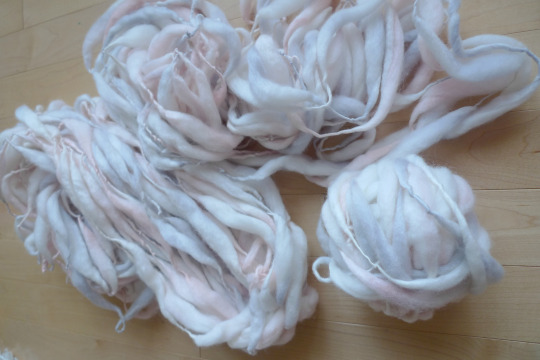 The thickness variation of this wool is AMAZING.  Look at the difference between the fluffy super bulky sections versus the very thin section.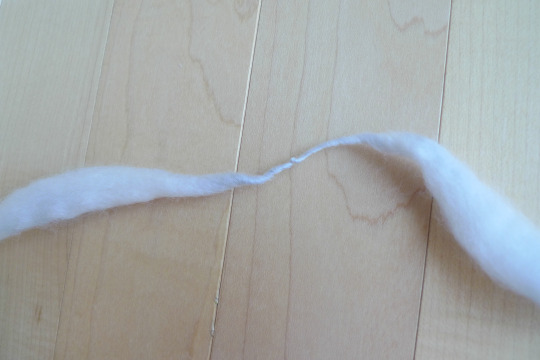 Here is my wool all wound up in a ball!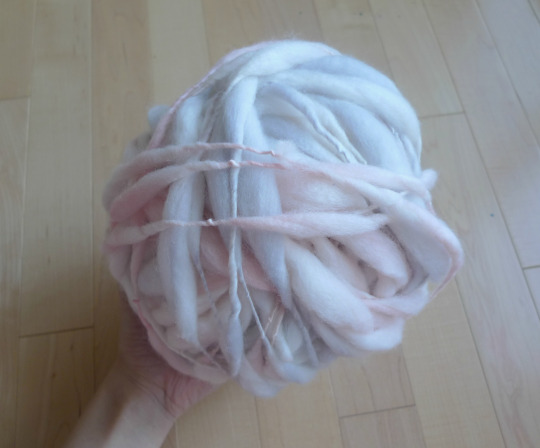 I knew I wanted to knit a cowl with this wool since it is extremely soft and warm.  Knitting requires less yardage, so I knew I would be able to make a larger cowl than if I were to crochet with it.  I wasn't quite sure what needle size to go with since there is such a large variation in thickness.  I ended up starting with my 12.75 mm Clover Takumi needles and casting on 60.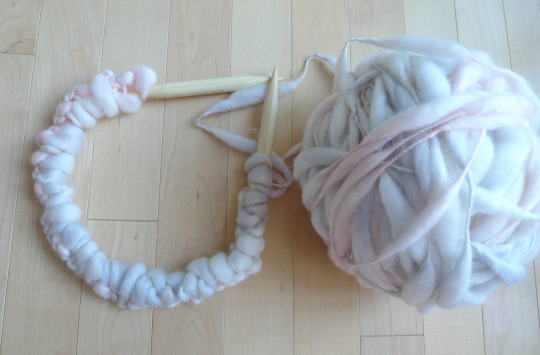 I decided to use the basic stockinette stitch for this cowl as I love the classic look of it, and a simple pattern really shows off the gorgeous texture.  For other projects, you use more complex stitches and patterns to build texture (e.g. puff stitches, granite stitch, etc).  However, in this case the wool itself has texture, so a simple stitch is best to show off that texture (e.g. stockinette for knitting or double crochets for crocheting).  You can see the difference in sizes of the V's below!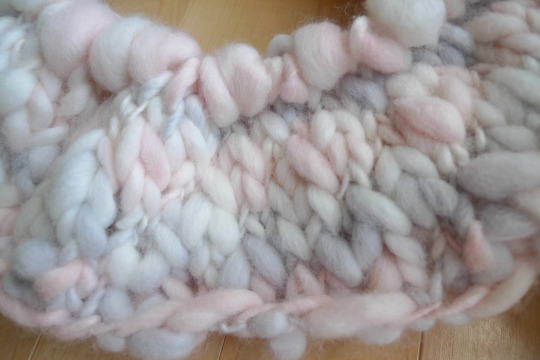 I am in love with these colours, as you can tell by my matching leggings!  It's such a romantic and pretty colourway!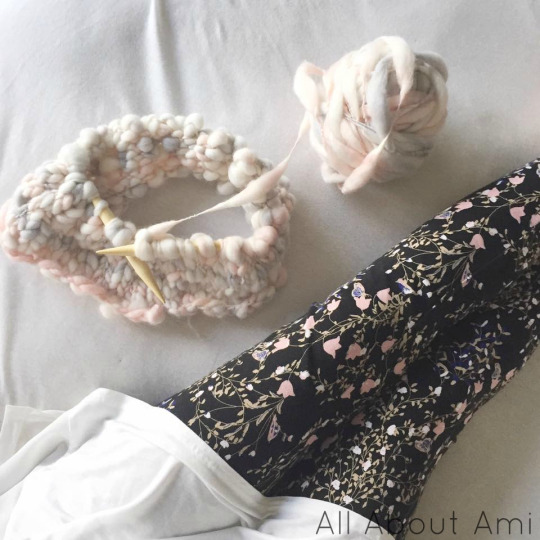 Here is a video of me knitting with my gorgeous thick and thin wool!
After I used up all my wool, I tried on my cowl.  It was too big for my liking (I wanted it to hug my neck more), and the stitches were looking too compressed and dense.  Thus, much to my chagrin, I decided to frog my work and start over.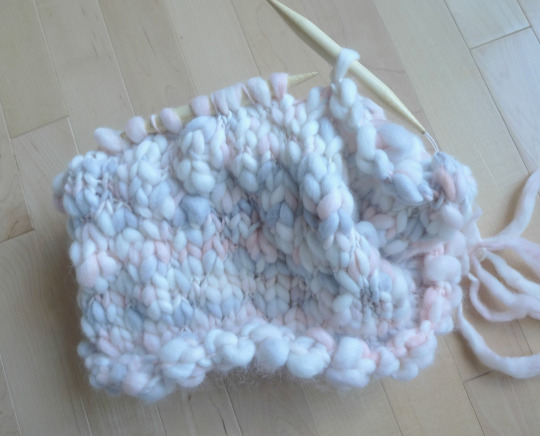 I decided to use my 15.0 mm Clover Takumi knitting needles and casted on 40 stitches.  I was much happier with my result as the stitches were more relaxed and the cowl was tighter against my neck!  I was able to knit 29 rounds with enough wool to cast off.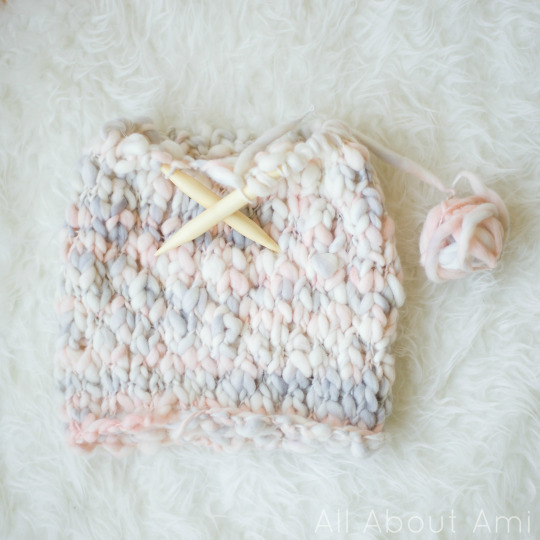 Instead of weaving in my ends, I used my trusty Clover felting needle to felt the end to the rest of the cowl.  Felting wool is such a handy trick to know!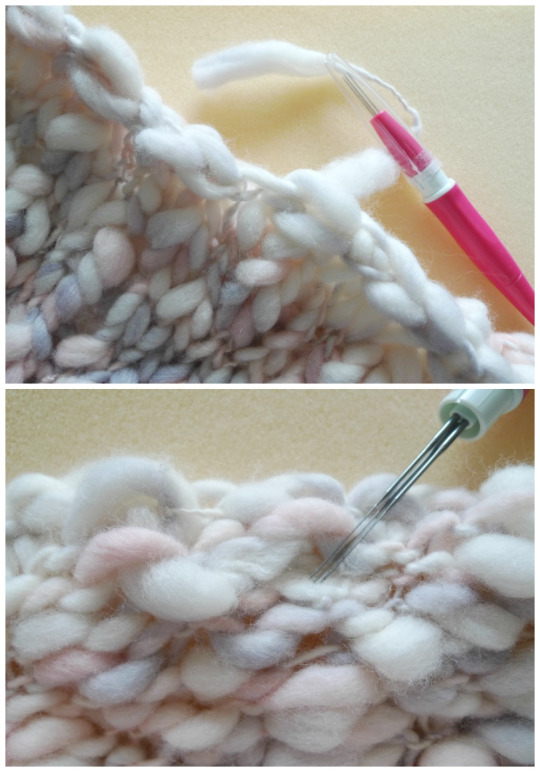 ********************************
Here is the free pattern for my Knitted Thick and Thin Cowl!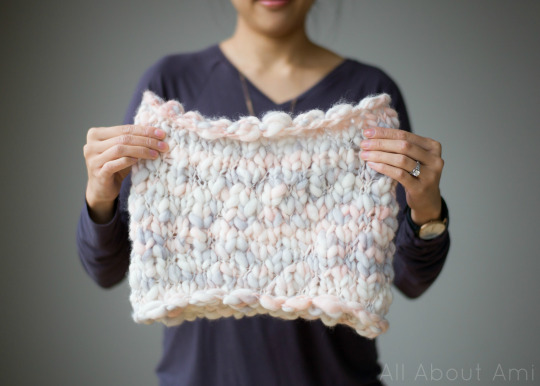 Materials:
Cast on 40 stitches.  Join.
Round 1-29: Knit 40.
Cast off stitches.
Felt end to body of cowl using felting needle and foam board.
Finished dimensions: 11″/28 cm in height, 13″/30 cm wide
********************************
I adore my gorgeous Thick and Thin Cowl so much!  Since it is 100% merino wool, it is incredibly soft and warm and feels so luxurious against the skin.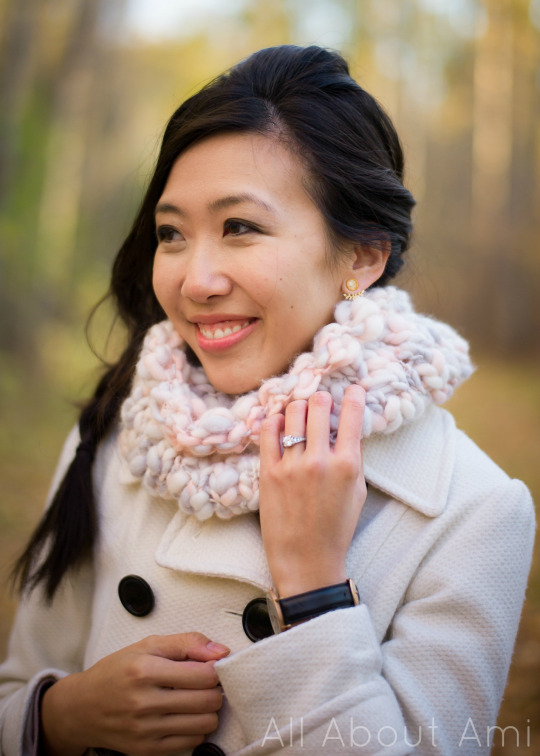 This will be my go-to cowl this winter as it perfectly exemplifies my style!  It's elegant, classic, and my absolute favorite colours!  It's amazing how simply adding a cowl immediately warms you up and makes such a bold fashion statement!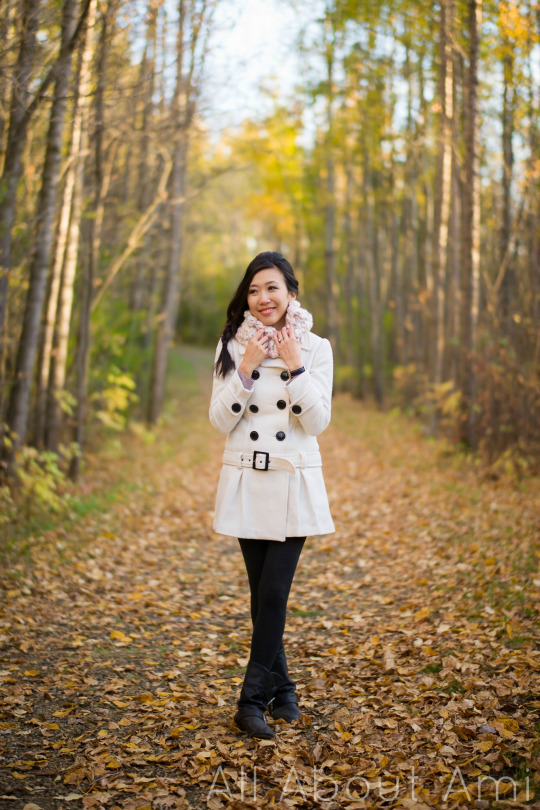 Allison was kind enough to let me name my custom colourway, and we decided to name it "Blush Bloom"!  I wanted to highlight the pretty blush pink in this colourway, and the wool can become so many different items…much like how a beautiful flower blooms!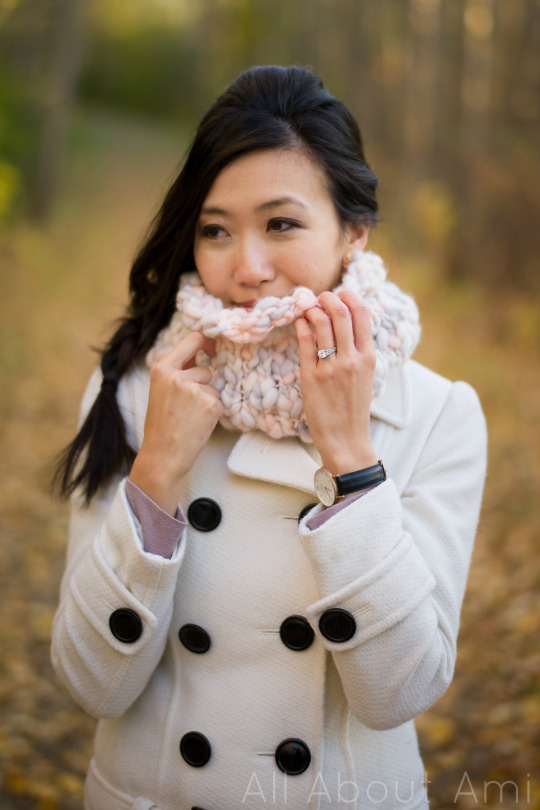 Allison has created a custom listing for "Blush Bloom" HERE in her Etsy shop in case you want to get this exact colourway that I requested in our collaboration!  If you have a certain colour scheme in mind, do not hesitate to contact her!  You can check out the rest of her hand dyed and spun yarns HERE in her Etsy shop and keep up to date with her work on Facebook and Instagram too.  I am so pleased with how my cowl turned out and am incredibly honoured that we could collaborate together!  I must say that my gorgeous custom thick and thin yarn is the prettiest wool I've ever worked with, and I had so much fun!
Note: Thank you to Allison Barnes for providing me with the wool for this project!.  All opinions expressed are 100% my own!