With my very first knitting project as an adult completed (see my "Cucho Scarf" HERE), I was itching for more of a challenge.  Thus, I decided to try my hand at knitting in the round with circular needles!  I must say that it was definitely not as hard as I thought, and it was very enjoyable!  For those of you wondering, I am now the proud owner of the "Clover Interchangeable Circular Knitting Needles Takumi Combo Set"!  They had great reviews, and I'm already such a big fan of their Clover Amour crochet hooks, so I was excited to use them.  I love that I have so many different size needles at my fingertips so I can tackle almost any project I want.  From what I've seen and felt so far, the yarn glides nicely against the bamboo without flying off too quickly.  If anyone is interested, I can try and do a more in-depth review in the future!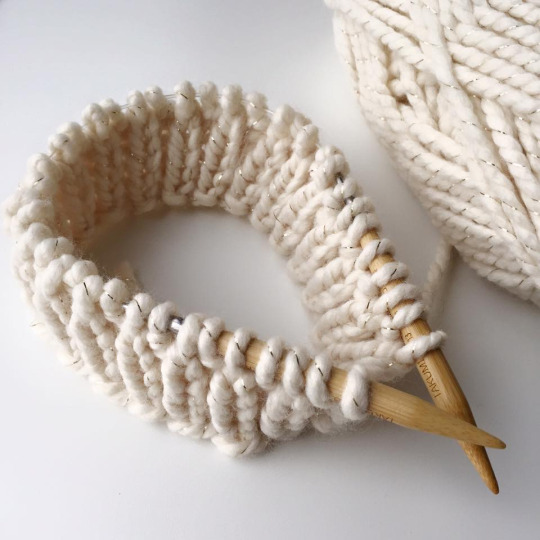 I found a free pattern for a "Knit Fisherman Ribbed Hat" by Jen of the blog "Classy Crochet" (see HERE)!  I loved the look of it and had so much fun learning how to knit in the round and create such a beautiful ribbed effect with this pattern.  This video tutorial that I found on YouTube HERE by iKNITS greatly helped as I could follow round by round and see where to insert my knitting needles when doing the "k1 below" and "p1 below".  It also astonishes me how knitting uses less yarn overall compared to crochet!  I was able to knit this hat and make a large pom pom (with my trusty Clover Pom Pom Maker) with yarn to spare!  I used Lion Brand Yarn's Wool-Ease Thick & Quick in the colour "Starlight"– you can see the beautiful and subtle gold sparkle in the yarn in the picture above!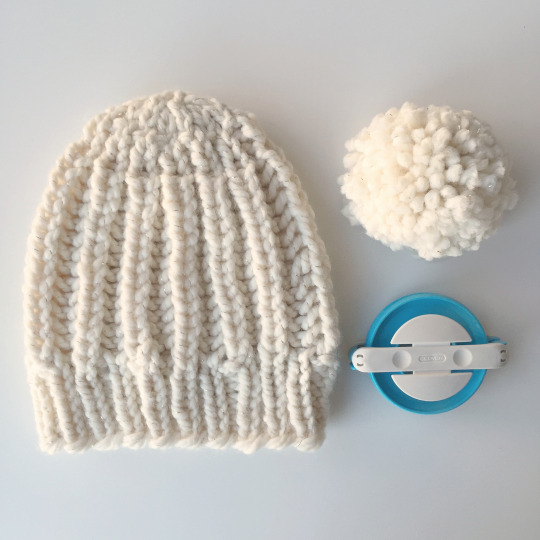 I actually finished knitting this hat and attaching a pom pom *juuuust* before we went to take photos of my "Cucho Scarf" and "Moss Fringe Scarf"!  Thus, I maximized this photoshoot opportunity by bringing along my newly knitted hat to show it off as well!  Doesn't it look gorgeous when worn?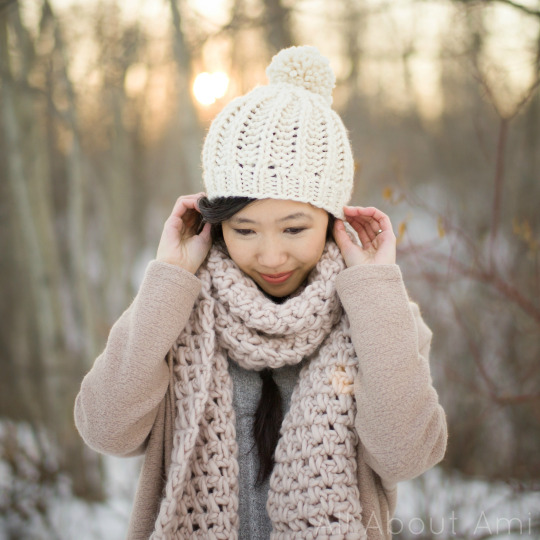 I LOVE how stretchy knitted items are!  The Fisherman's Rib creates such a beautifully thick, reversible and stretchy garment.  This hat could definitely accommodate many different head sizes!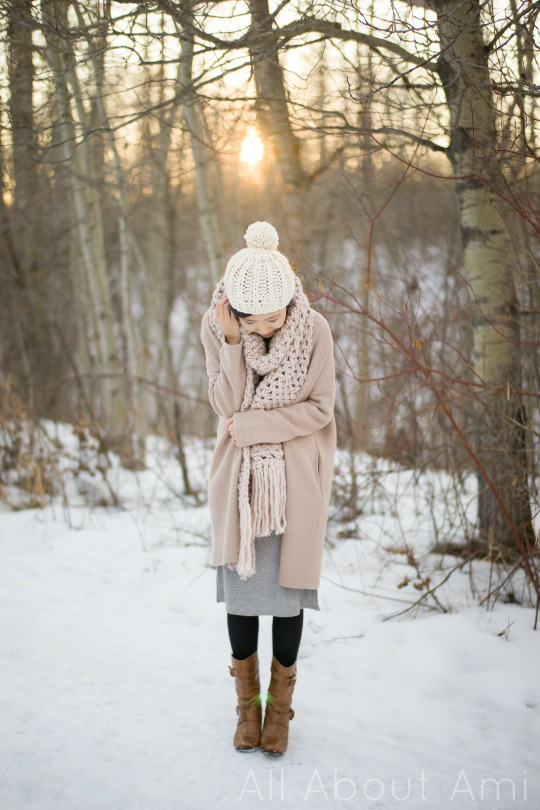 I actually ended up making two of these hats and I modified the pattern slightly the second time to make it longer.  I added three rounds to the ribbed band to make it taller and I also added four rounds of Fisherman's rib to make the body taller as well.  Furthermore, I was able to decrease and close off this hat without using double pointed needles (I don't own any currently although I've looked up how to do it) as I managed to do the decreases with my 16″ circular needles!  In this photoshoot, I am wearing my first hat (following the pattern without any modification), but you can see my second hat (made with stated modifications) in the photo above with the pom pom and pom pom maker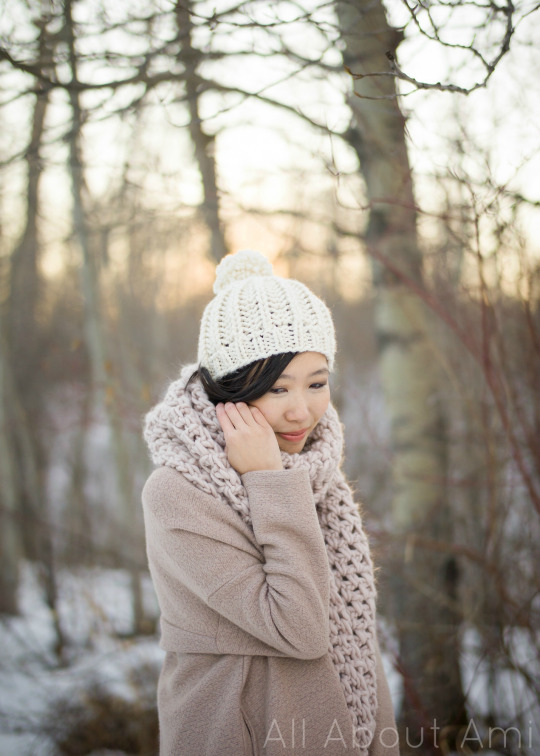 I am so proud of my very first knitted hats and right now I am actually working on more as gifts for friends!  Once you get the hang of the pattern, it works up very quickly, and I love how you can whip up a beanie in a couple of hours and with only one ball of yarn!  I would not recommend this pattern if you are a complete beginner as Jen classifies the difficulty level as Intermediate (see the Ravelry page for it HERE).  Currently it is my go-to hat as the weather is still very chilly out, and it looks super cute with all my outfits!  Thank you Jen for your free knitted pattern- once again, access her free pattern HERE!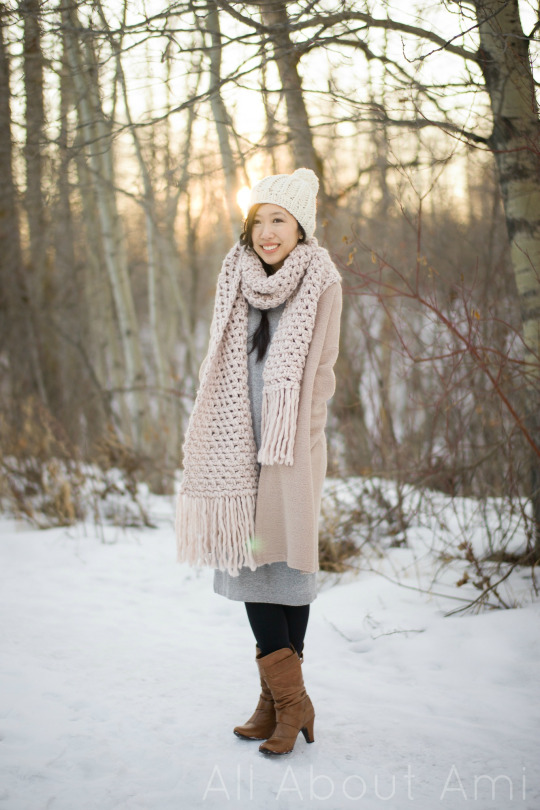 It's been fun dabbling in knitting again and having more beautiful ways to use yarn!
Subscribe to my e-mail list HERE to see what other projects I'm working on, and don't forget to follow me on Facebook, Twitter and Instagram as well!  I've got another new crochet design coming soon!