I'm a big proponent of learning new skills and challenging yourself to try new things you never dreamed of doing! This past Spring, I knitted my own Heartbreaker Shorts using a kit by Wool and the Gang and I love how comfortable they are! When I saw Chantal Miyagishima of Knitatude post about her brand new dress design called the "No Seam Sweater Dress", I instantly fell in love with its chic and modern style. The sweater dress looked so incredibly cute on Chantal, and being able to work it in the round with no visible seam was a huge bonus! I patiently waited for Chantal to release her design after she had her pattern and all the different sizes available (Small, Medium, Large and Extra Large) tested by fellow knitters. I knew I absolutely HAD to try knitting this dress as I found out that 4 skeins of We Are Knitters' Pima Cotton was needed to knit the small size. I actually had some Pima Cotton in my favourite colour "Light Salmon" leftover from my Bahia Sweater (the first sweater I ever knitted HERE). As a thank you gift, We Are Knitters also sent me a crochet bikini kit a while back containing more Pima Cotton in Light Salmon and said that I could use the yarn however I liked! With no intentions of crocheting myself a bikini, my Pima Cotton patiently sat on my yarn shelf waiting to be used, and it was meant to be as I had exactly the amount of yarn needed to knit Chantal's No Seam Sweater Dress!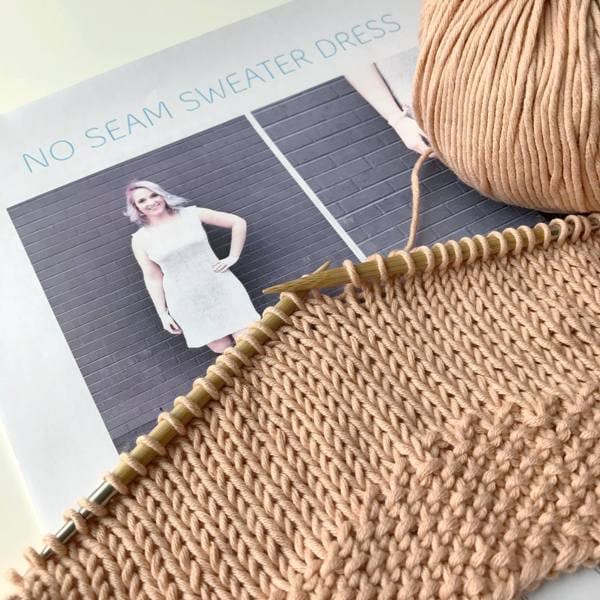 The timing worked out well as Chantal released her dress design right before we left on our trip to California (I still need to write up a blog post about our trip as we had so much fun dressing up in the style of Disney characters)! This dress was my travel project as I picked it up whenever I had some spare moments in the airport or in our car rides. I love how most of the dress required no counting or too much concentration as it was simply working knit stitches in the round continuously! It was the perfect project to pick up and put down easily without losing my place. Below are some snapshots of my dress during our travels! The pretty stitch marker was gifted to me by Allison Barnes as her son made these and gifted them to each member of our Sip and Stitch group!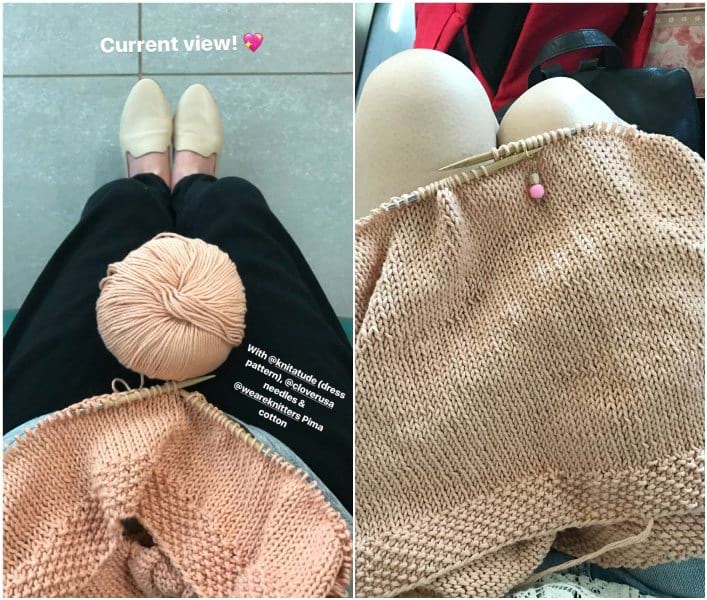 This project worked up quickly and I got quite a bit done on our travels! I adore the beautifully textured seed stitch border at the bottom of the dress and later on along the neckline. The only souvenir I bought from Disneyland was this adorably round Baymax mug! I love drinking my morning tea in it as it reminds me of our fun Disney adventures!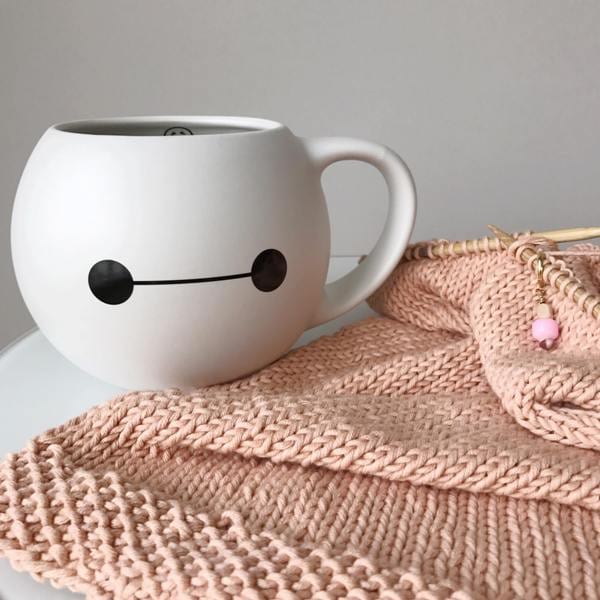 The great thing about this pattern is that you can adjust the length to your liking by simply adding more rounds depending on where you want the dress to hit and how tall you are! I was a little overzealous in adding length and decided I needed to frog my work. In her pattern, Chantal states that since this dress is made with cotton, we can expect to see some stretch and that her pattern was made to allow for 1-4 inches of "give". I messaged Chantal and she said that her own dress stretched about 2 inches lengthwise as the weight pulls it down and that cotton has no memory. Thus, I decided to undo all the extra rounds I added and stick to Chantal's pattern, knowing that the dress would become longer later on. Ideally I wanted my final dress to hit somewhere above the knee and not stretch past my knee. As I tried to search for ways to carefully frog my work, I discovered the term "tinking" which means to knit backwards or undo your knitting in a methodical manner. This method is good when you need to undo a few stitches, but it was too tedious since I had to undo quite a few rounds. A couple people mentioned adding a lifeline in which you use a darning needle and waste yarn to keep the stitches from a previous round in place as you frog the rest of the rounds. This greatly helped when I had to place these stitches back onto my circular needles!

As stated in Chantal's description of this dress on Etsy, "This dress is worked in the round until your armpits and then split up into three sections (A, B, C) – two V-neck panels and a back panel. After completing these sections you will use the three needle bind off technique to join your shoulder seams together". I was so excited when I began splitting into the three sections and seeing the beautiful V-neck develop!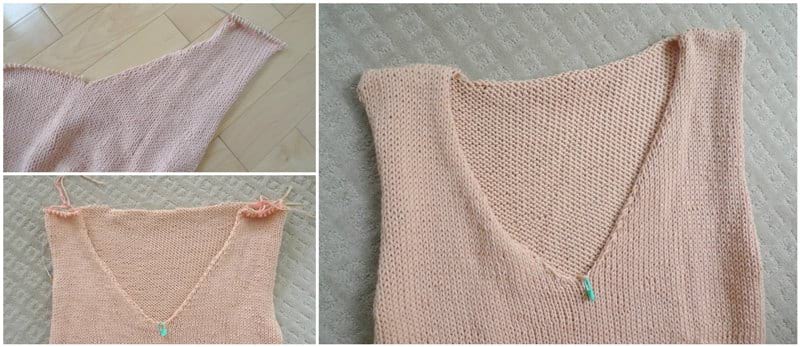 The only seaming required was the 3-needle bind off for the shoulder seams, and I love how secure and clean it is! If you've never done this seaming technique before, check out this tutorial HERE– it is very simple to do!

After working the seed stitch detailing along the neckline, I completed my No Seam Sweater Dress! I excitedly tried it on right away and was absolutely delighted with the perfect fit and how comfortable it was! We wanted to take advantage of our beautiful Summer weather and snap some photos of me wearing my first hand knit dress during golden hour!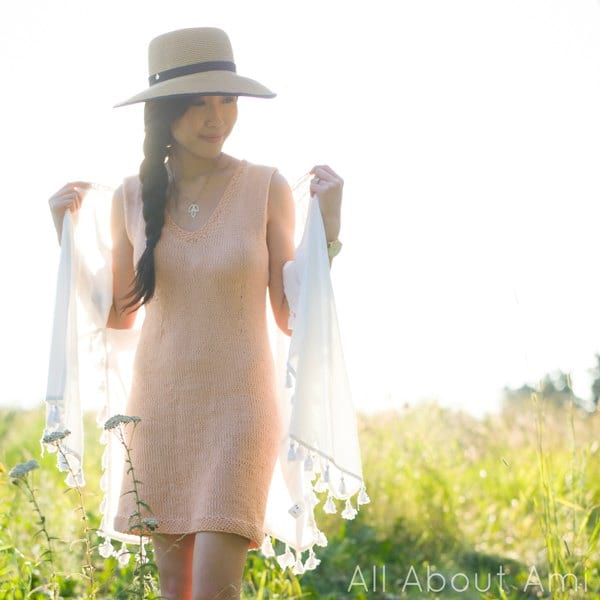 I love the style of this fitted dress and how it looks so cute under a wrap or blazer! I wanted to make sure my dress was not too low cut or too deep of a V, and it ended up being exactly to my liking (I did not modify the pattern at all, but I was ready to add some more seed stitch rows if needed or possibly pick up some stitches at the very bottom of the V with a crochet hook).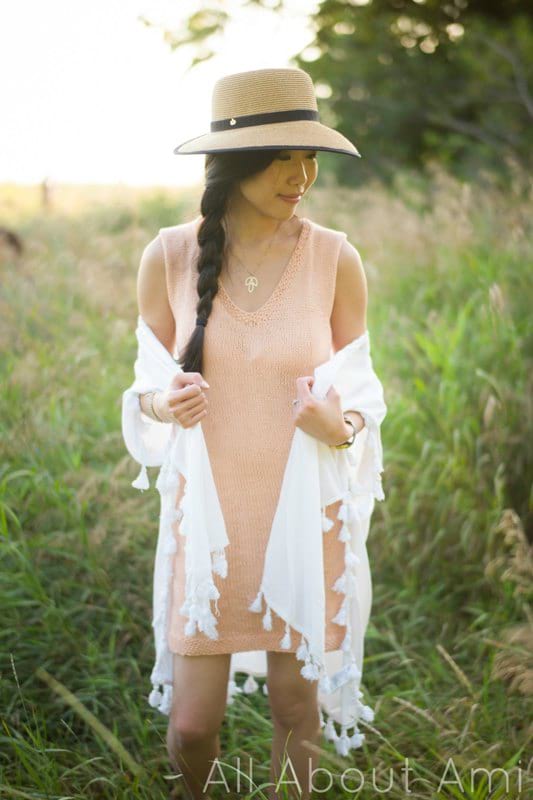 Light Salmon is one of my favourite colours of all time as it's such a soft and beautiful peachy pink! If you're looking for an alternative yarn option, I found this Cascade Yarns Pima Cotton on Amazon HERE that would probably work well!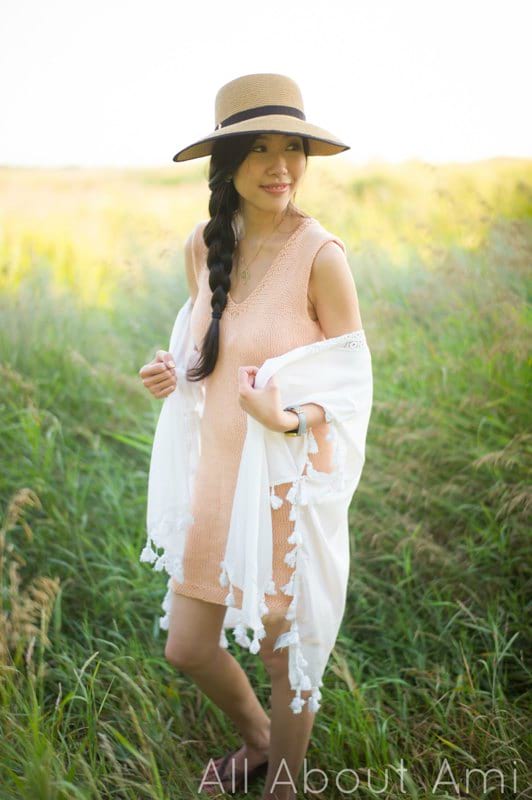 As I mentioned above, I never thought I would be able to knit my own dress, but here we are! It's such a beautiful addition to my wardrobe and a fantastic project for warmer weather with lightweight cotton yarn. This dress is not heavy at all and feels so incredibly soft against my skin. If my dress continues to stretch after repeated wears, it will still hit above my knee! I love travel projects and how wearing the pieces evokes fond memories from that trip- whenever I wear my dress, I'll always remember how I was knitting it on our fun California vacation!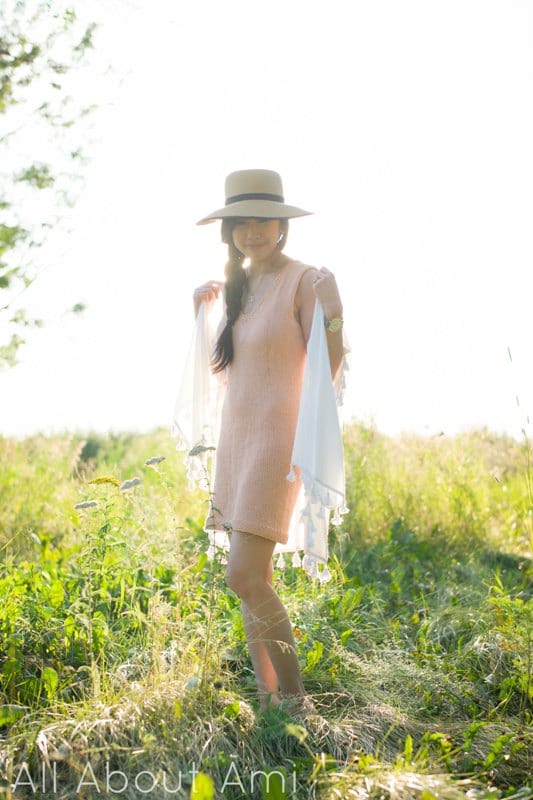 I wanted to show you the back of my white tassel kimono (from Stitches) as the details are so pretty and intricate! When I want to layer items within an outfit, I like to pair something more fitted with a looser item to balance it out!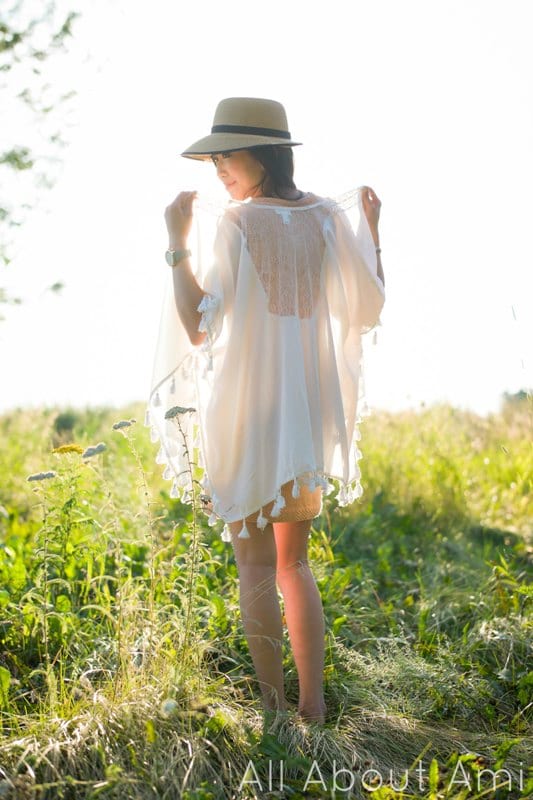 The No Seam Sweater Dress is such a brilliant and well-written pattern! I love how you do not need to seam multiple panels together and that it is worked in the round. Knitting in the round is incredibly addictive and relaxing, and it helps the project work up very quickly. Chantal has done all the math to figure out four different sizes, and her numbers are spot on. I would highly recommend this pattern if you're looking to knit a stylish garment of your own. Chantal states how this is an Intermediate Pattern, and that the skills required are: casting on, knitting, purling, increasing, decreasing, working in the round, and the three needle bind off.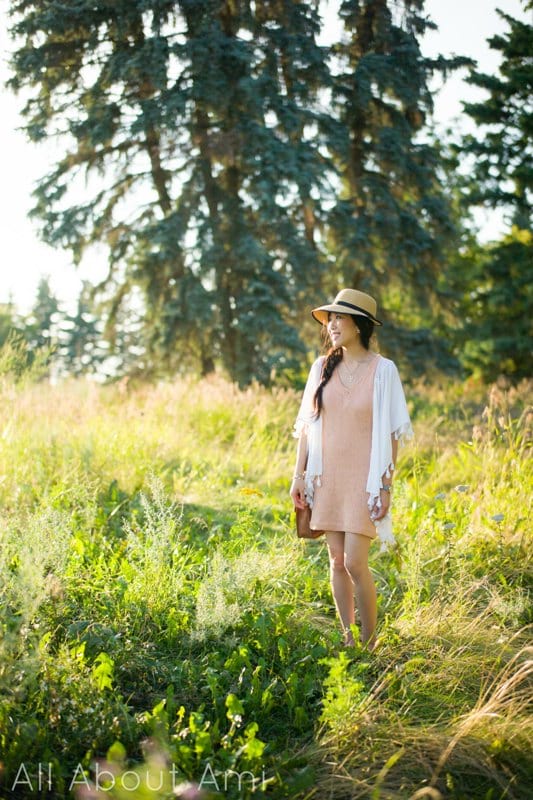 If you are an absolute beginner to knitting but are inspired to try this dress, don't forget to check out Part 1 of my Simple Knit Series HERE to see how to work the very basic knit stitch with my step-by-step tutorial and video!

I am delighted to tell you that Chantal and I are partnering together in a GIVEAWAY! THREE winners will win their choice of pattern from the Knitatude Etsy Shop, including the No Seam Sweater Dress in case you want to knit your own dress just like me! Chantal is such a talented knitwear designer with so many modern and stylish patterns in her shop! She also has finished items and knit pouches in her shop as well (remember this "Knitters Gonna Knit" pouch I blogged about?).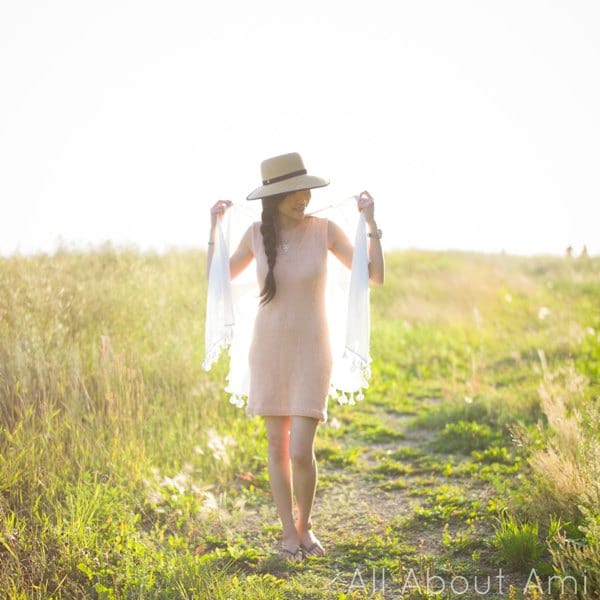 ***To enter this giveaway, visit the Knitatude Etsy shop HERE and leave a comment below telling us which pattern you would love to win! You could also let us know which colour you would use for your project (e.g. the No Seam Sweater Dress in Light Salmon)! This giveaway is open WORLDWIDE and will close on Sunday, August 13th at 8 PM MST. You can also enter through Facebook and Instagram as one winner will be chosen from each platform! Let's keep inspiring each other to knit and crochet items we never dreamed we could!
Note: Thank you to Chantal for providing the pattern prizes for the giveaway!