One of the highlights of 2018 was definitely the Lion Brand Yarn Blogger Bash as it was absolutely surreal meeting so many other knit and crochet designers who I admired, meeting the Lion Brand Staff for the first time in person, and touring the offices, outlet, and studio. I wrote a detailed blog post about our experience HERE and compiled a video as well! To tell you the truth, I assumed that it was a one time event since Lion Brand Yarn was celebrating their 140th Anniversary in 2018. I was absolutely shocked to receive the e-mail inviting us to a 2019 event as I did not expect that there would be another one! Ryan and I were so excited that we could go back again as it was such a memorable experience in 2018!
Last year there were so many uncertainties as none of us knew what to expect and for some of us, it was our first time away from our children. We felt more confident and calm going into this Blogger Event since we had more of a reference point of what to expect, what the environment would be like, and how the general flow would be. We arrived a few days prior to the scheduled Blogger Event so we could have a couple days to ourselves to walk around, take pics, and eat as much yummy food as we could. Rather than "Date Night", we were so thankful to have "Date Entire Day" as it was so fun shopping around Soho, popping into bakeries when we were hungry, and catching a Broadway Show as I will show you later on! For my airplane travel outfit, I wore my favourite soft pink scarf from Amazon HERE (which doubles as a pillow and blanket when we travel with the girls) and my "Crochet is My Cardio" sweatshirt from Debrosse HERE!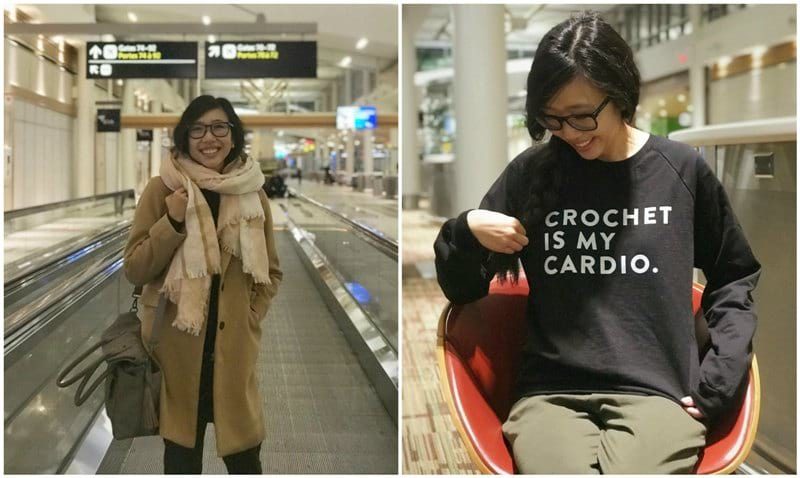 On our first day, we went to Tonchin Ramen, Rice to Riches and the Dominique Ansel Bakery (sadly the cronuts were sold out, but we tried the Cookie Shot and Black & Blue Pavlova)! We loved browsing the little boutiques of Soho, and I purchased a tape measure from Goods for the Study (a beautiful stationery store) and some jewelry pieces from Mejuri. I tried on some wool runners at AllBirds (many of you recommended them but I was not quite sold on a color that I loved), and we found some Instagrammable walls as we were walking!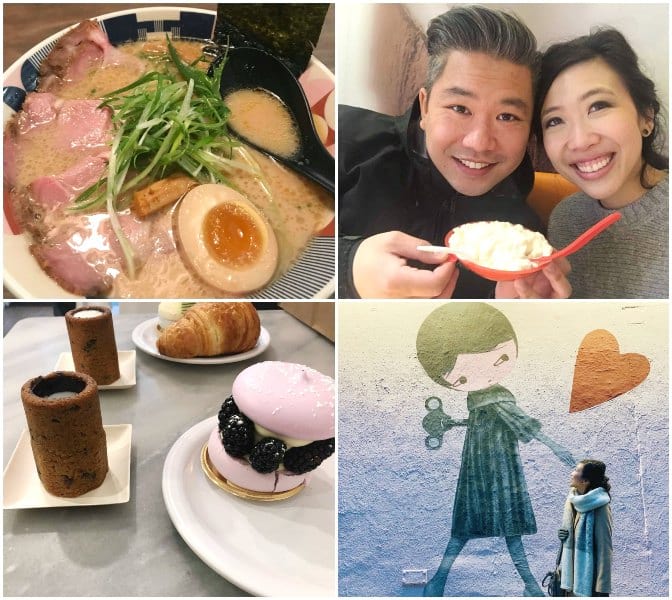 We took some time to take pictures of my Foldover Bag by Jimmy Beans Wool, and it was my first time using it on a trip! To learn more about this bag, check out my Instagram Stories Highlights as I go through the bag in detail. There are special features built into this bag for knitters and crocheters including a yarn feeder, tape measure keyring and a special area to keep your work-in-progress separate from the rest of the contents of your bag. I am currently running a giveaway with them on my Instagram HERE as one of you has the chance to win one of their gorgeous bags, so be sure to check it out! As you can see in the photos, I wore my Longbourn Scarf everywhere I went, and it kept me very warm! The neutral colour palette matches with everything, and I loved wearing this stylish statement scarf around New York City. The free pattern for the Longbourn Scarf can be found HERE and the kit with all the required Touch of Mohair Yarn can be found HERE!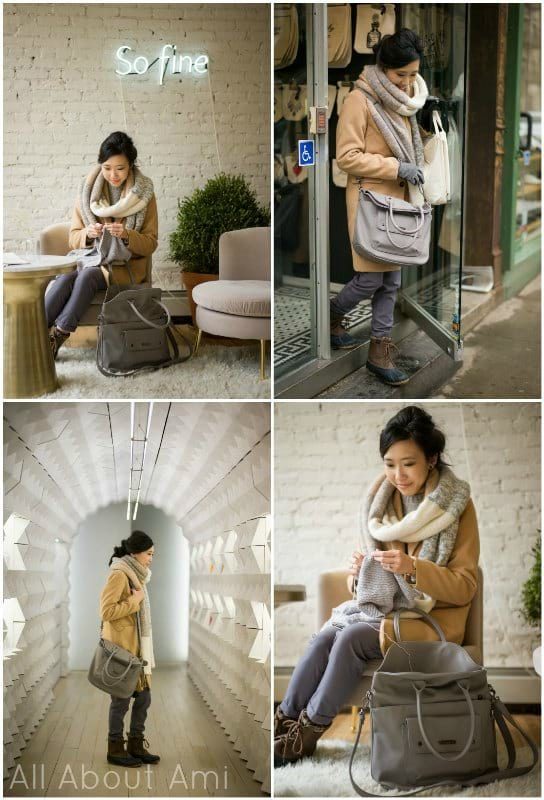 When I was taking these photos, I was thinking about how far I have come in my motherhood journey. After having Myla and going through a very rough labour and recovery, I never thought I would leave the house again, wear non-maternity clothes, or travel. And now here we were in New York City taking some "fashion blogger" type pictures knowing that our sweet girls were well-taken care of at home. We dearly missed the girls but also cherish the time we have together as we know that time for just the two of us is very important as well!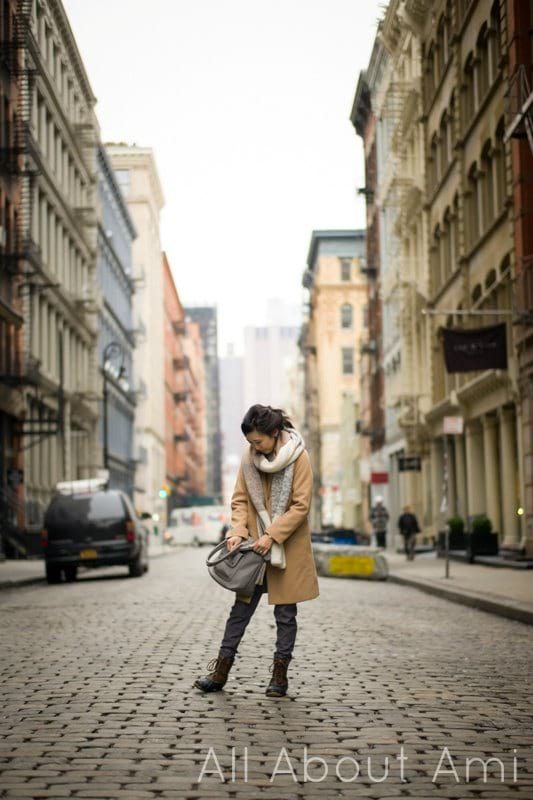 I had always wanted to visit Purl Soho in person, and I am so glad we had time on this trip! The walls of colourful yarn were stunning, and I enjoyed feeling their unique yarn such as their "Mulberry Merino" and "Alpaca Pure Helix" available in such lovely shades. I had been eyeing their Woven Beaded Bracelets kits as I used to make these bracelets as a child with a loom. They had a great variety of scissors, felting kits, and tiny amigurumi kits for sale as well!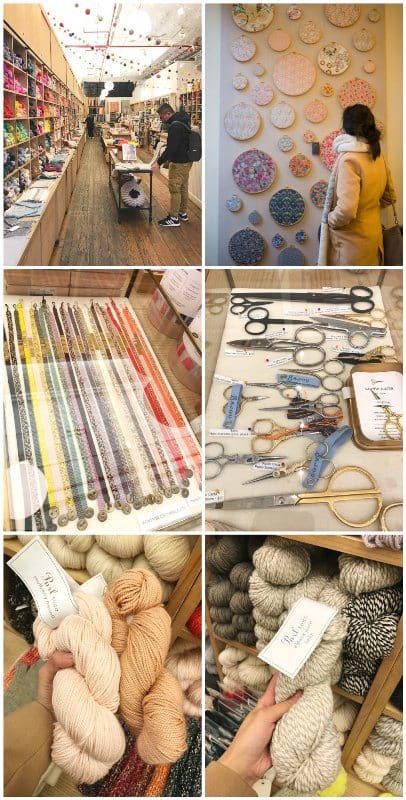 At the end of the evening, we watched a Broadway Show called "Come From Away" which was amazing! It tells the story of the flights that got diverted to Gander, Newfoundland during 9/11 and the incredible hospitality and care that the residents of Gander showed during this difficult time. With a cast of 12 people, it was very emotional and raw, and we thoroughly enjoyed the music. After our Broadway show, we had a quick dinner at Shake Shack which was DELICIOUS! It was our first time trying Shake Shack, and we were very impressed with the burgers, fries and drinks- it was such a satisfying meal after seeing a show!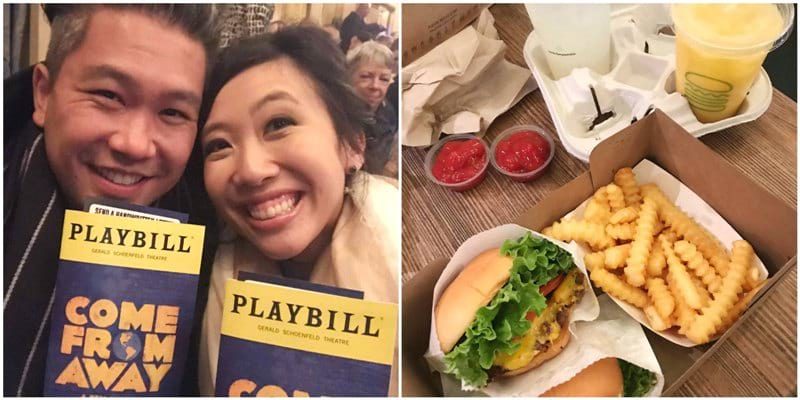 On our second day, we tried Xi'ian Famous Foods for their pulled noodles, and I was very impressed! The texture and chewiness of the noodles were perfection. We made our way to Grace Street Cafe to try their shaved ice and Royal Milk Tea, and both were great treats!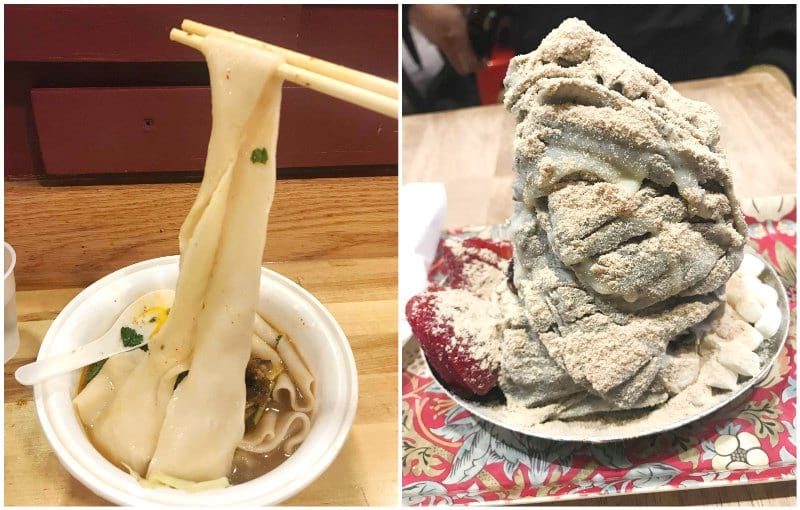 After that, we went to the stunning Oculus, the centerpiece of the World Trade Centre Transportation Hub. It felt as though we had stepped into a sci-fi movie as it was so modern and futuristic in there! We used this opportunity to take some pictures of a new beanie that I had designed called "The Horizons Beanie" (free pattern coming next week). I had worked up different colourways and this mustard/beige version was fresh off the needles as I had finished it on the airplane ride! After this, we went to the nearby Century 21 to score some bargains and pick up souvenirs for our family.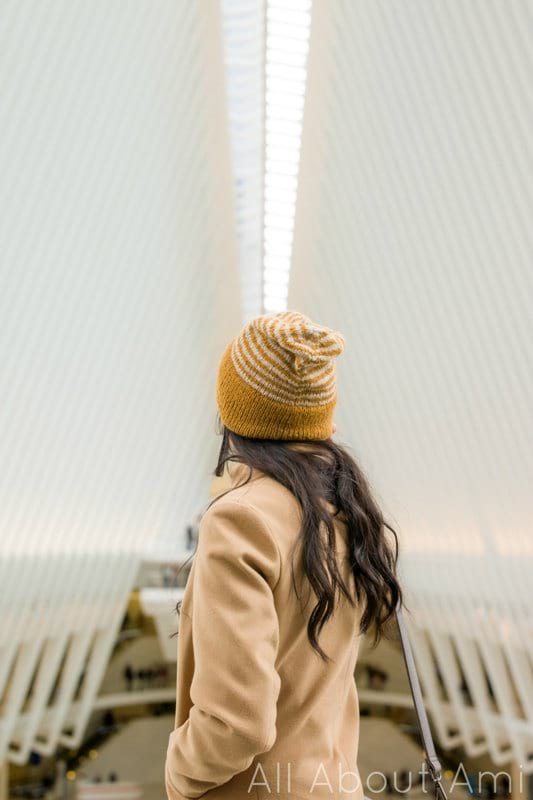 Next, we headed to Chelsea Market to do some shopping- we love browsing the stores like Pearl River Mart, Posman Books and Artists and Fleas to see local artists' work. At the end of the evening, we had our favourite Lobster Roll from the Lobster Place for dinner! It still is the best lobster roll I have ever eaten with the delicious chunks of lobster and buttery bun. I still dream about it and am glad we could eat it again on this trip haha!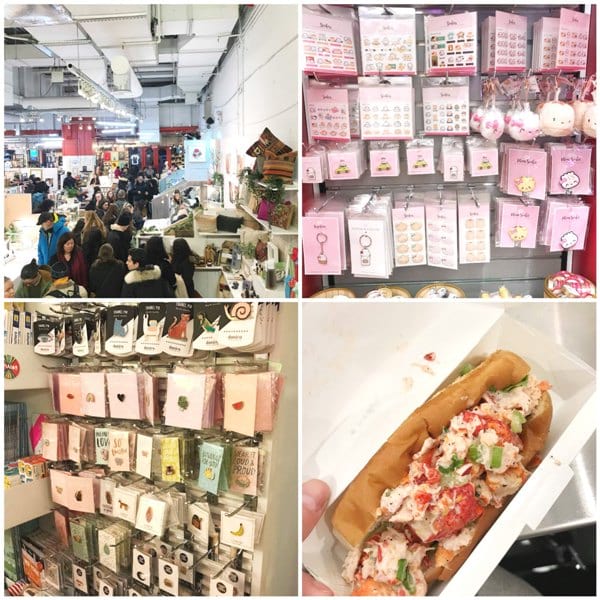 On the Sunday, we met up with all the other bloggers for the first time at Boucherie for brunch! It was so lovely meeting up again with Jessica of Mama in a Stitch, Alexi of Two of Wands, Ashleigh of Sewrella, ChiWei of One Dog Woof and Chantal of Knitatude (who I had met before in my hometown)! Jess of Make and Do Crew was unable to come during this time as her due date for her third child coincided with the blogger event!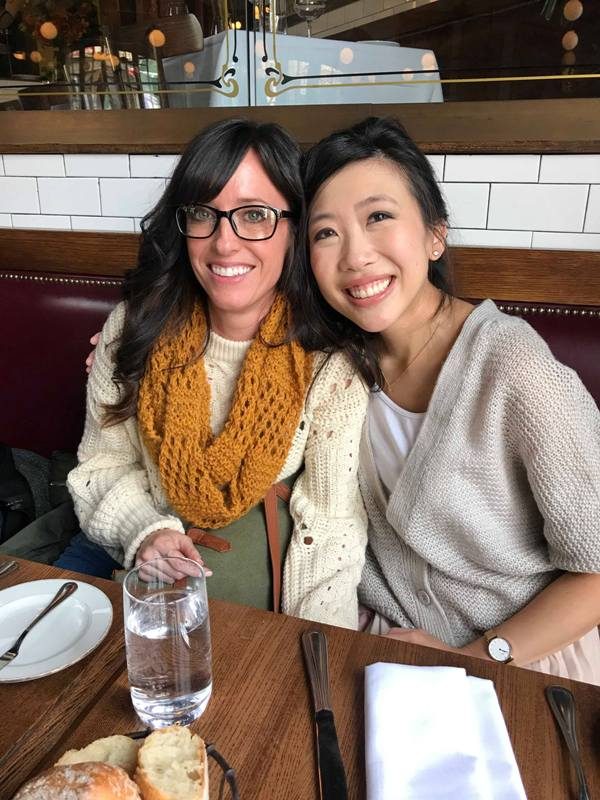 We had organized a Sip and Stitch on this day at the Standard Biergarten, so after brunch, half the group went to the meet-up location while the other half went to get the swag bags and yarn! Ashleigh, CJ, Jessica, and Ryan and I went to the Lion Brand Yarn Studio to pick up the yarn! Lion Brand Yarn was very generous in sponsoring our Sip and Stitch as they provided us with 84 balls of the ever-popular Wool-Ease Thick & Quick in the colors of our choice as well as 42 tote bags. All the bloggers had agreed ahead of time to print off our own PDF patterns using 1-2 balls of Wool-Ease Thick & Quick so that we could create our very own kits! We quickly placed two balls into each bag and carried them all to the meet-up location. It was quite the sight as we all swiftly walked down the streets carrying so many black bags full of yarn- thank you to CJ for snapping some pics of us!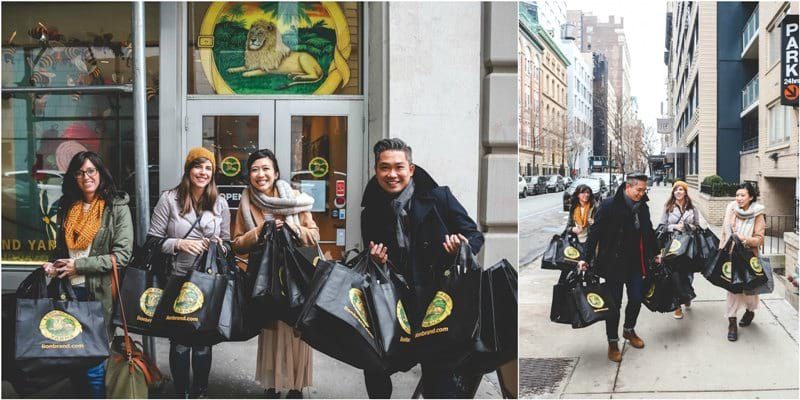 We had a blast at the Sip and Stitch, and I cannot believe I talked for 3 hours straight! I think many of us in the fibre arts are introverts, and for some of us, it takes a lot to come out of our comfort zones to attend social events like these and chat with people we have never met before in real life. I tried my best to make my way around and meet everyone, but I know I sadly was not able to chat with everyone (sorry about that!). Many women who I spoke with were mothers who made special childcare arrangements to attend the event, and for some it was their first time being away from their kids! Some had traveled hours to attend, and we were all so touched that these women had made such an effort to come and meet us. It is so special and unlike anything else when you meet the real people who are supporting our work, crocheting and knitting our designs, and interacting with us on the other side of the screen. Some friends who attended last year came to greet us again, and Teresa from Debrosse also came- it was such a pleasure meeting her in person for the first time since we have always been big fans of her work (see my blog post about her templates and knitwear designs HERE)! Thank you once again to CJ for going around and helping us capture some special moments at the Sip and Stitch!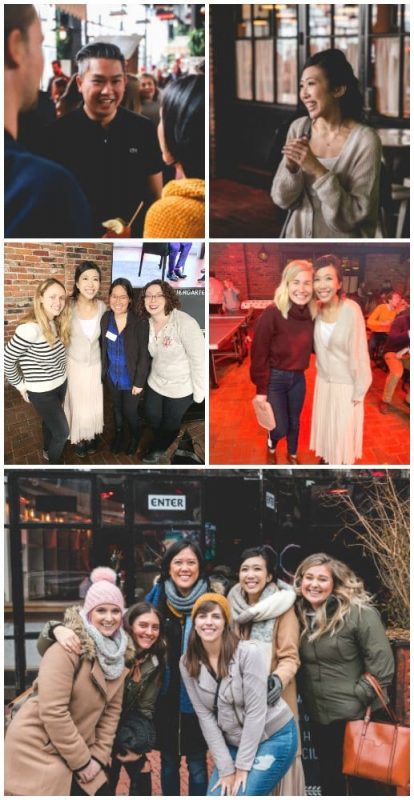 After the meet-up, we went for ramen at Ippudo and some of us went back to Grace Street Cafe for dessert! This time, I got to try their famous Korean fried donuts (Ho-dduk which I highly recommend- so delicious with the warm brown sugar taste paired with vanilla ice cream) and their mochi waffle (very chewy and yummy with Nutella, strawberries and bananas). It was also very special as it was Ashleigh's first time riding the subway and trying bubble tea!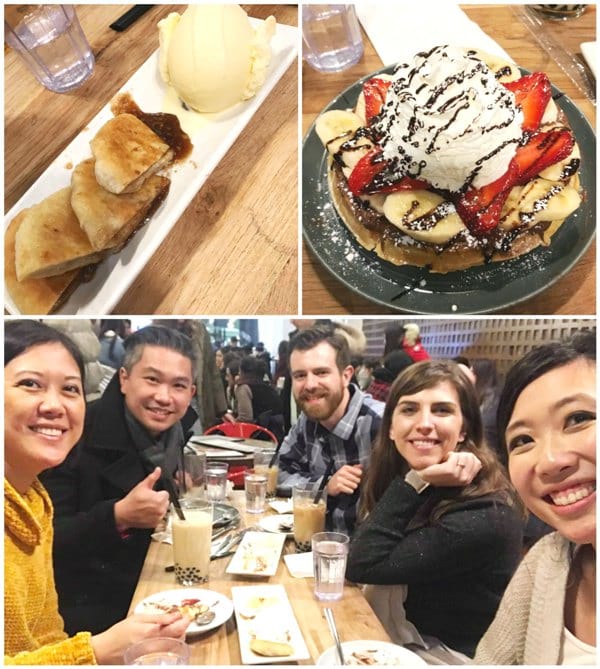 Monday was the very first official day of the Blogger Event! Since last year, most of the Lion Brand staff had moved offices to New Jersey (only the Lion Brand Yarn Studio remains in Manhattan). Thus, we met up with Abby at 8 AM at Penn Station so that we could take the train to New Jersey and then grab an Uber to the offices in Carlstadt. It was so nice of them to arrange this as we would have been lost trying to figure out how to get there!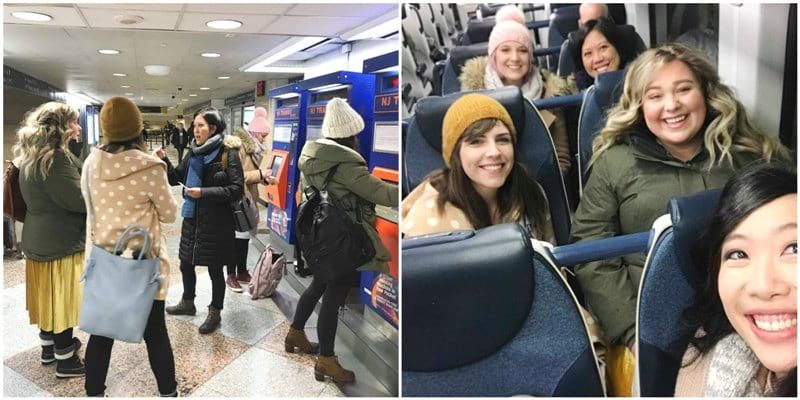 We were warmly greeted by the marketing team and just as last year, they had welcome goodies for us! They had special Oreo cookies with our logos on them as well as personalized tote bags, note books and of course, yarn!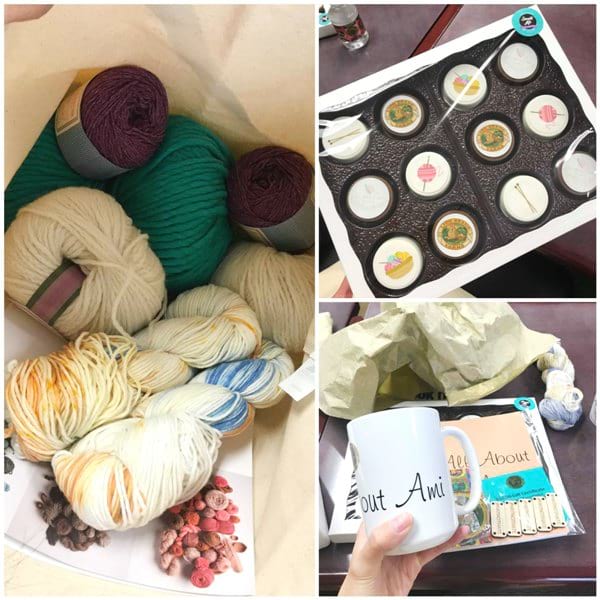 We received a tour of the offices, production development, design, mail order and the warehouse, and it is always astounding seeing the boxes and boxes of yarn!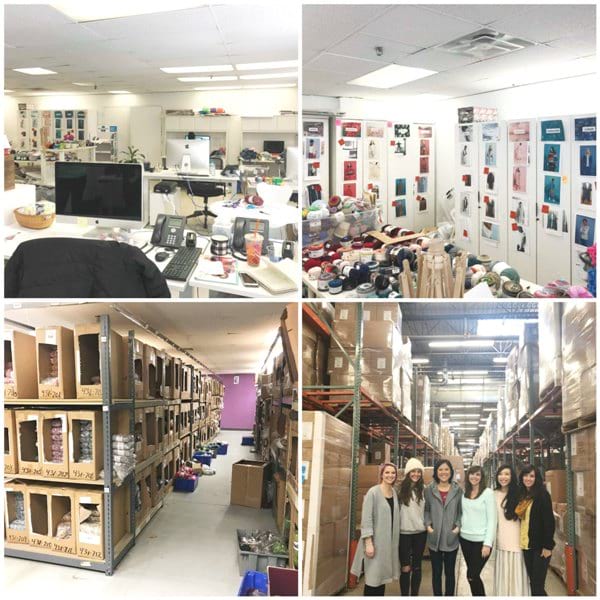 We had a chance to visit the Lion Brand Yarn Outlet again and use the gift card they gave us. It is neat browsing the outlet since you can find discontinued yarns at a very cheap price as well as yarns from the LB Collection. To give you an idea about the pricing, a 3-pack of Wool-Ease was only $7 and a 3-pack of luxurious Silk Mohair was only $9. When I posted about the outlet on Instagram, many were wondering if the outlet is open to the public: it DEFINITELY is and it is a great way to get your hands on some very discounted yarn! The address is:
140 Kero Rd, Carlstadt, NJ 07072, USA .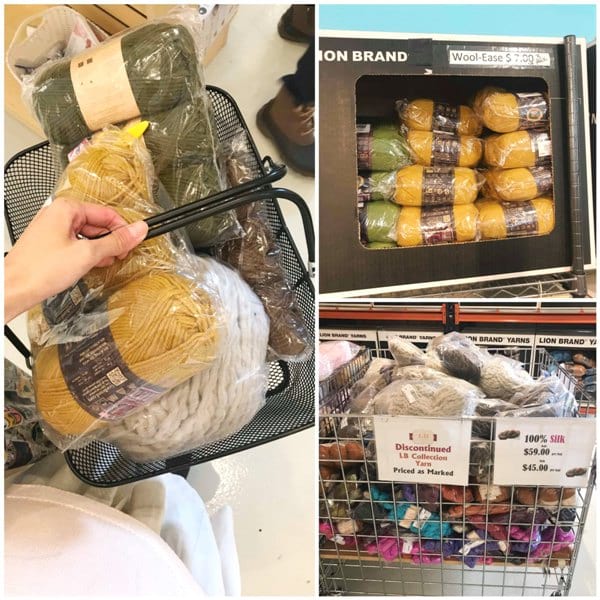 After lunch, we met with Production Development as they showed us new yarns they were working on. They passed around these new yarns and asked for written and verbal feedback. I think it is amazing how such a highly-regarded and well-established company is taking our feedback and voices into consideration. They are open to suggestions and are willing to hear from the real people who are using and designing with their yarn. Last year, I remember being very excited about some new yarns they showed such as Coboo and Wrap Star, and I ended up working with them in my projects such as the Pig and Criss-Cross Headwrap. I am excited to see the new yarns they showed us out on the market!
We then hopped on a bus back to Manhattan and had a chance to shop at the Lion Brand Yarn Studio! The studio will always hold a special place in my heart as I first visited it 9 years ago before I had even started my blog. It has such a warm and cozy feeling to it, and I love seeing the range of colors in person as well as the notions and project bags.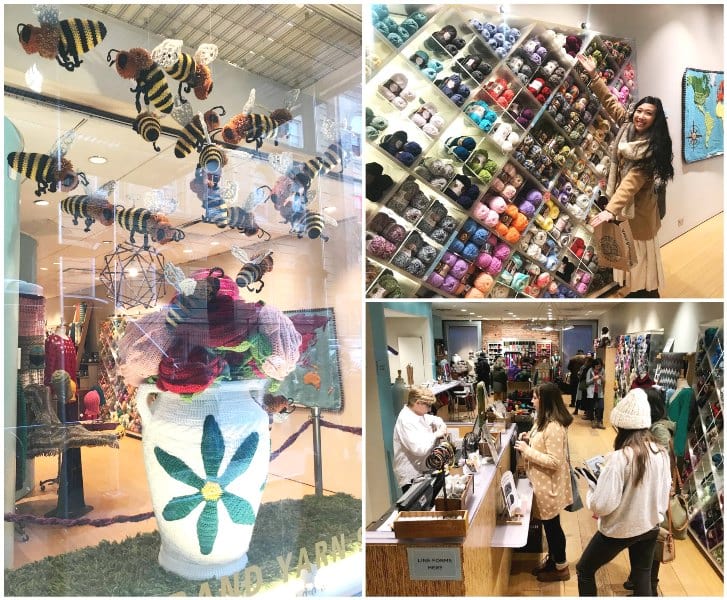 After visiting the studio, we were treated to a delicious team dinner with Lion Brand at Cookshop! The food was amazing, and it was lovely being able to chat with the other bloggers and team members!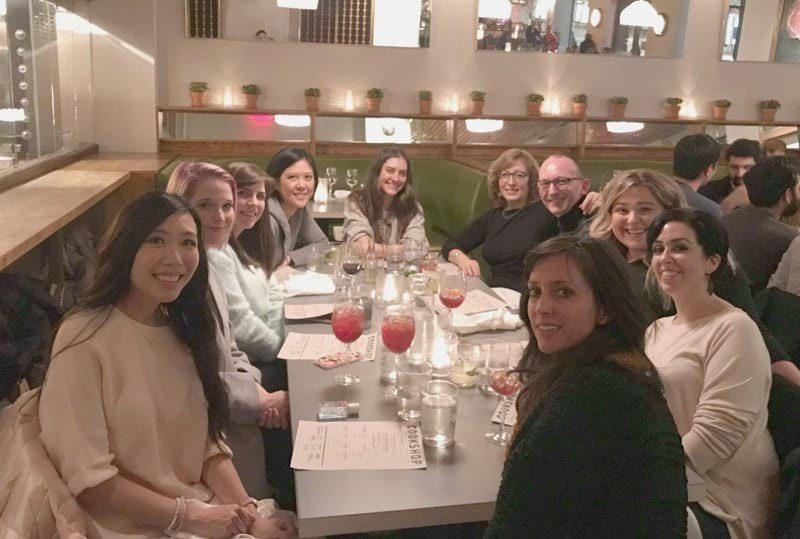 On Tuesday, we began our day looking at new yarns and colourways that are being released in the coming weeks and months. One by one, we also had a chance to film a "Tea with Shira" episode with each of us chatting about a specific topic. I felt much less nervous this time round since I could look and chat with Shira rather than staring at the camera! I will definitely let you know when our episode is posted online, and I'll give you a hint about our topic: amigurumi! Shira, the brand ambassador of Lion Brand Yarn and a fifth generation member of the Blumenthal family is also the mastermind behind "Hat Not Hate", a craftivist movement and campaign to take a stand against bullying. We all wore blue hats for these pics because blue is the colour of awareness, peace and solidarity, so blue is the color to wear in support of anti-bullying. To get involved, you can find out all the information HERE! You can make a blue hat, wear it, and share it on social media using the hashtag #hatnothate. Shira is also hoping to collect 25 000 blue hats in 2019 as they will be donated to schools around the country participating in the World Day of Bullying Prevention (on the first Monday in October), so you can help HERE!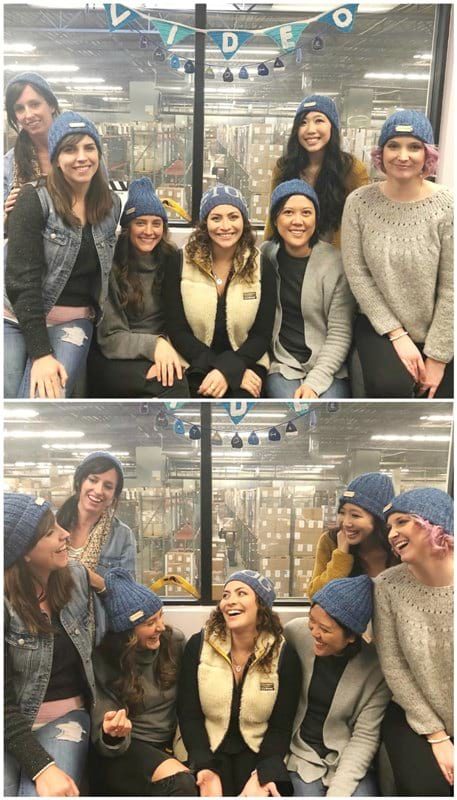 Prior to our coming to New York, Abby had asked Lion Brand Yarn's Instagram audience if they had any questions for the bloggers! Thus, we filmed an Instagram Live where Abby asked us questions and we answered them, such as what our favourite stitch or project was. It was a neat experience and for many of us, it was our first time recording a live!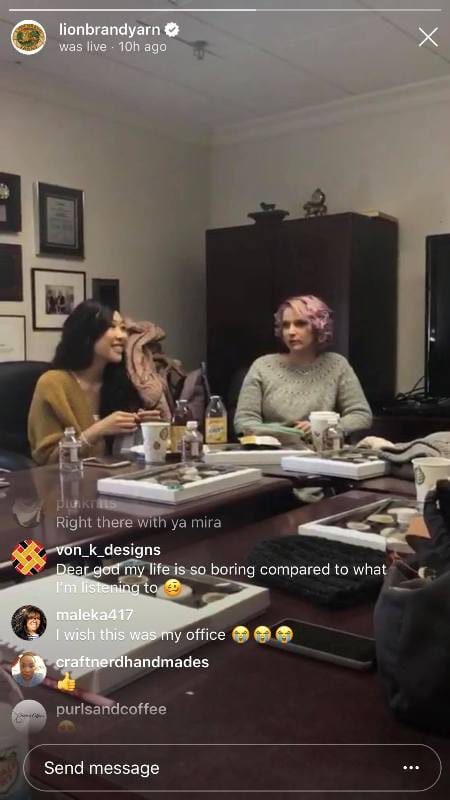 We had one last meeting with the Design team where we talked about inspiration, photos and styling. After that, we said our farewells and we made our way back to Manhattan. There is something so special about getting together with people who are doing the exact same thing that you are doing. Crochet and knit blogging is such a niche area and working with Lion Brand makes it even more specific. I am always so amazed at how down-to-earth this group is and how everyone is willing to share information, tips, and advice as we all want to see each other succeed. I do not think this is the case with all fields or with all groups, so it is very special when you have found people who understand you and know what you are going through! Ryan and I made special Howlite bracelets for the bloggers as gifts as we wanted to go for a modern and neutral colour that would match with everything. They wore them throughout the whole event, and it was so special as I glanced around the table and saw all these inspiring women wearing the bracelets we had made for them! It definitely reminded me of the macrame friendship bracelets I used to make as a little girl with embroidery floss back in the day, haha!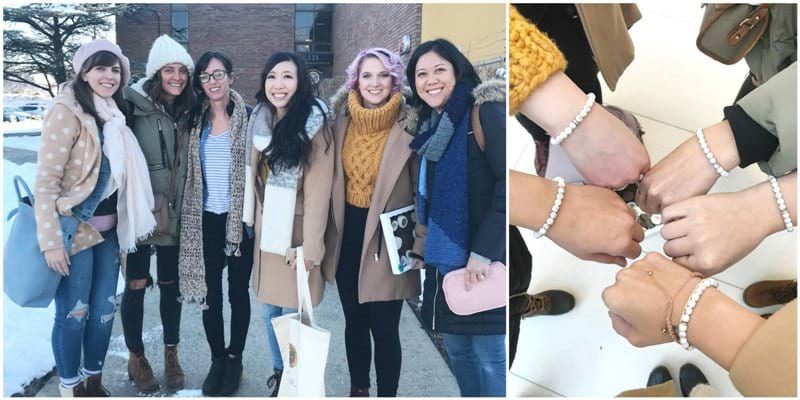 After we made our way back to Manhattan, Alexi's boyfriend Nick gave us an amazing 9/11 Memorial tour that was so poignant and emotional. Everything in the memorial was so well thought out and carefully chosen to help remember the lives of all those lost. Seeing the faces of the people through pictures and hearing personal stories made it so real and powerful. We are very thankful that we could do this tour on this trip.

While we were at our meetings, the husbands Ryan, CJ and Todd managed to snag us tickets to see the Broadway musical Waitress through TKTS (they stood in line during the cold and we are so thankful)! We quickly grabbed some delicious pizza and went to see our show! We all loved the songs and did not expect to be crying with tears streaming down our faces during the last portion. Ryan and I love Sara Bareilles' music, so needless to say, we enjoyed all the songs since Sara Bareilles wrote all the lyrics and music for Waitress. It was extra special because Joey McIntyre from the New Kids on the Block was part of the cast when we saw it as well! We have now been listening to the Waitress soundtrack at home on repeat, and it reminds us of our New York trip (*sugar*…*butter*…*flour*)!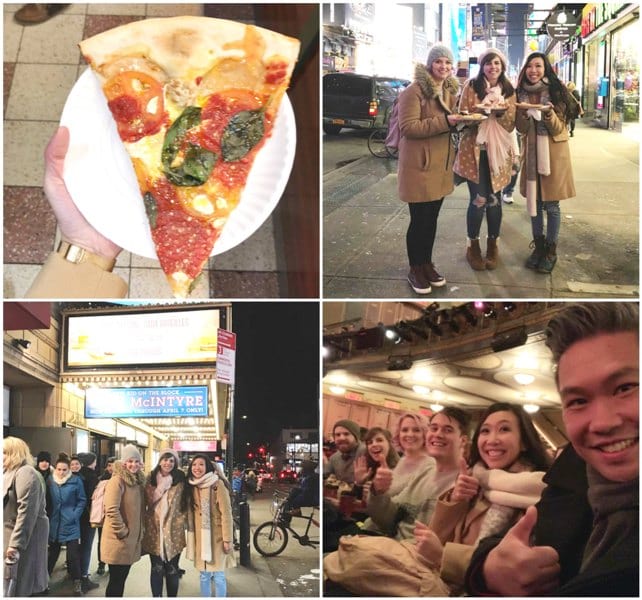 The husbands all got along so well and had a blast exploring New York City by going to museums, VR World and grabbing meals together (CJ introduced Chipotle to the Canadians, Ryan and Todd haha).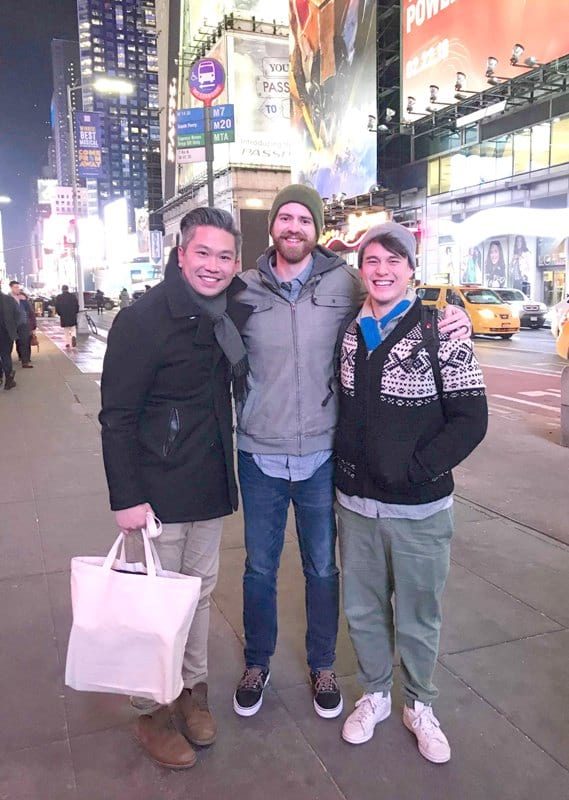 I am forever thankful for opportunities like these and still cannot believe that something I loved doing as a young girl has blossomed into a career that allows me to do what I love doing while also being a stay-at-home mom to Myla and Brielle. As I have mentioned before, Lion Brand Yarn was the first company to take notice of my work when I first started and has really nurtured me as an artist, providing so much support and creative freedom along the way. They invited me to be a part of one of their first social media campaigns called "#Scarfie" back in 2014 (see my Twist Cowl HERE) and officially invited me to do monthly collaborations with them at the beginning of 2016, and now here we are in 2019. Thank you Lion Brand Yarn for organizing this event and bringing together so many creative and brilliant women! You can tell how much they value our partnership together as they treated us so well, sponsored our Sip and Stitch, arranged a team dinner, and just wanted to hear our input. We had such an amazing time with Jessica, ChiWei, Alexi, Ashleigh and Chantal, and we always cherish our time together! Thank you to you, readers and my fellow crochet and knit enthusiasts for supporting our work, following our patterns, buying our kits and sharing your work with us- it also helps make events like these possible! Here's to living a creative life with the people you love!