In September, Ryan and I celebrated our 4 year wedding anniversary, and we did a quick weekend trip to Las Vegas that also served as a babymoon while I was in my second trimester!  Myla was well taken care of by my family, and we had a wonderful time eating delicious food, seeing spectacular shows, shopping, and really enjoying each other's company!
As we were shopping along the Strip, we happened to come upon the "Polaroid Fotobar" found in the Linq (located between the Quad and the Flamingo Hotel).  The store was very visually appealing with tons of cool products, and the staff wereincredibly friendly and helpful.  They explained that we could turn any photo into a Polaroid, and we could use their computers to upload our photos from Facebook, Instagram, and other sites.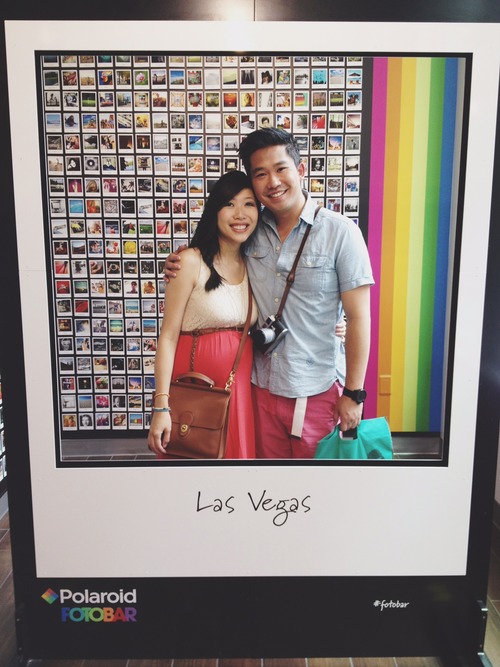 We rarely print out photos these days as we usually just look at them through our computers or phones.  Thus, we thought this would be a great opportunity to finally print them out and get some hard copies, particularly when we saw what great quality these Polaroids were.  We ended up spending half our afternoon there (which says a lot since we were only there for the weekend) as we sifted through our photos and decided what sizes we wanted.  We knew that we wanted to display some of our travel photos as artwork in our house, so we ended up getting a range of sizes!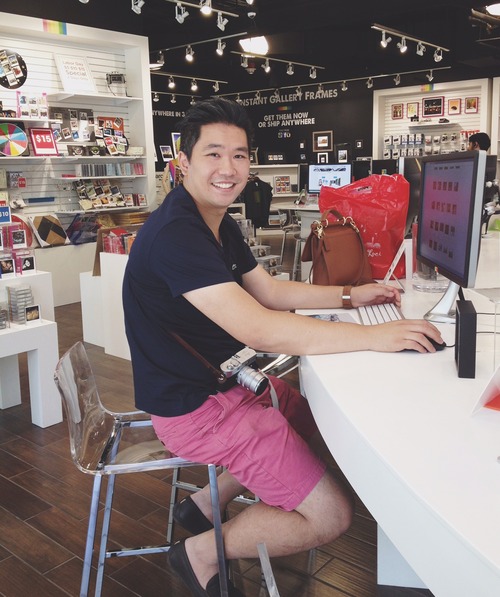 All the photos are printed within the store, and once we placed our orders, they were available for pick-up about 15 minutes later (time dependent on how busy the store is and how many orders they're dealing with at any given moment).  As I mentioned before, the staff at this location were very knowledgeable and helpful as they frequently came to check up on us and answered any questions we had along the way.  We ended up printing A LOT of photos since we knew we could save on shipping and we would simply hand carry them back to Canada!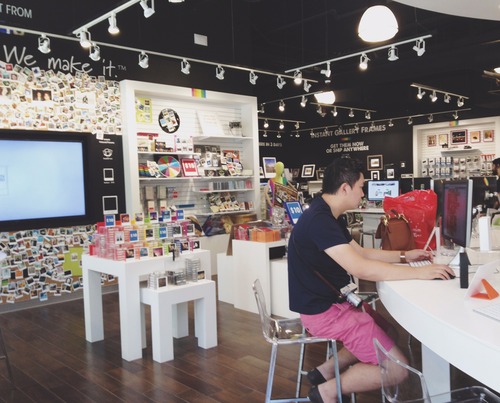 We wanted to create a travel photo wall using only black and white photos that Ryan had taken.  We printed 25 Polaroids that were 6" x 7.25" each.  See the different sizes available HERE (I think this special size we ordered was only available in store at the time and was priced at $5 each).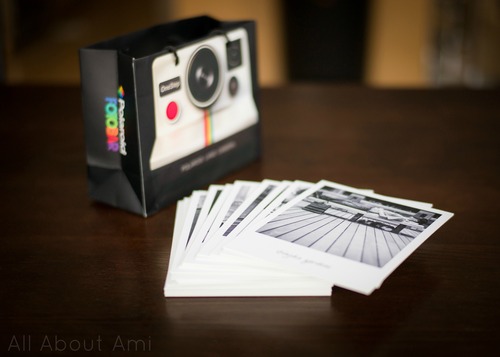 Here is an example of one of the black and white photos that Ryan took on our trip to Paris in 2011.  You get to write a personalized message at the bottom of each Polaroid, so we wrote where each travel locale was. Each Polaroid has a sturdy, hardy thickness to it as they are printed on 1.2 mm thick board with a matte finish.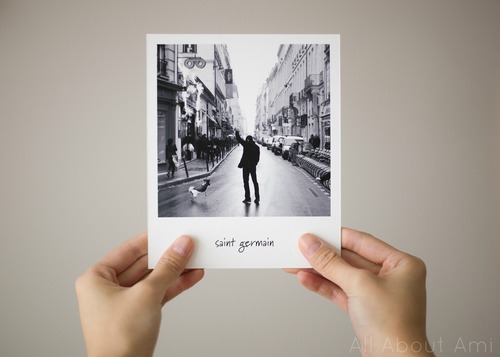 We displayed all 25 Polaroids on this inset feature wall in our house!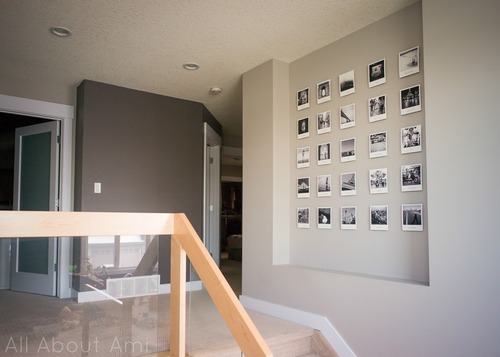 I think the black and white is very striking, don't you?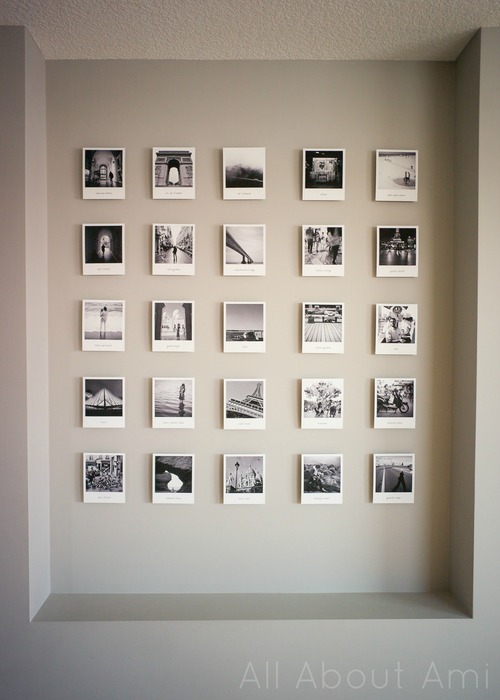 Ryan mounted each Polaroid on five layers of corrugated plastic to give them a raised appearance!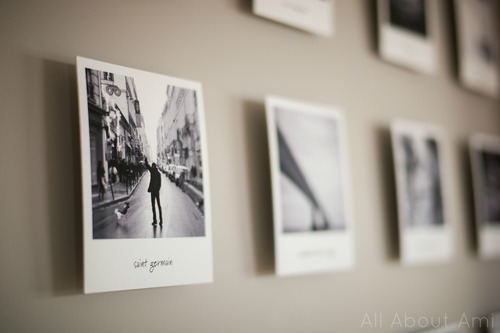 Every time I walk by this wall, it brings back so many fond memories of our travels.  I'm so glad that we printed and displayed them as they are a constant reminder of all the amazing places we visited!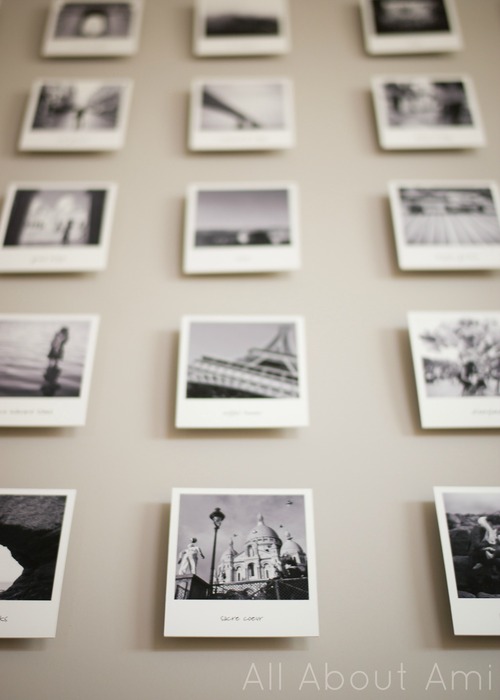 We also printed out some larger Polaroids that we could frame and display in our house as well as some smaller Polaroids that were $1 each.   Since we could hand carry everything back on the plane, we also purchased some of their fun and unique displays, such as their "Shadowbox Collages".  Below you can see our black Shadowbox Collage displaying some more of our travel photos that Ryan took, this time in colour!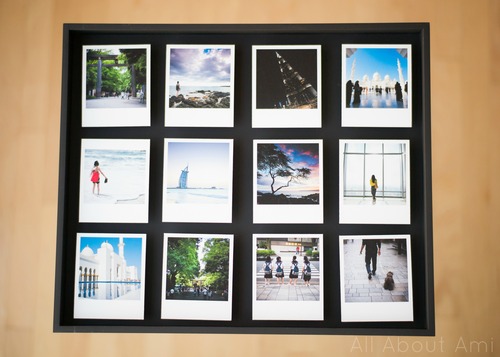 By placing a magnetic square behind each photo (these magnets come with the box and you can buy extra ones too), you can easily display and interchange them in the Shadowbox Collage.  They are raised within the Shadowbox so that it almost appears as though the Polaroids are floating!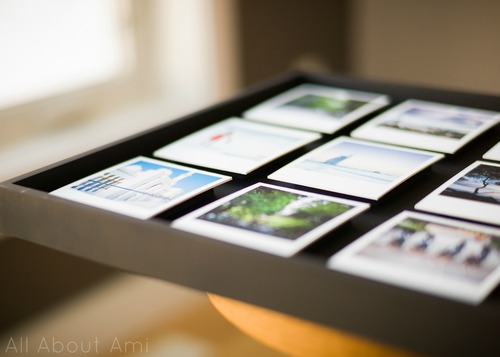 We also purchased some of their colourful "Snapbacks" to display our small Polaroids.  I love being able to slide different photos in and out of my pink Snapback to display on my desk!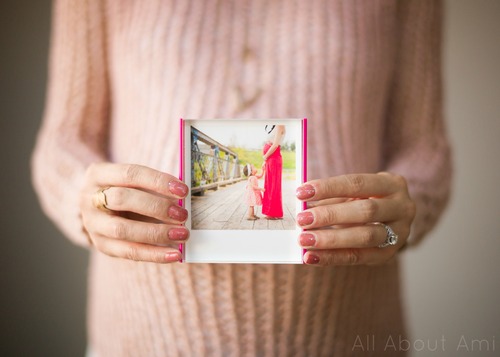 This photo was from our pregnancy announcement when I was 21 weeks pregnant- I can't believe I'm already 37 weeks pregnant now!  How time flies!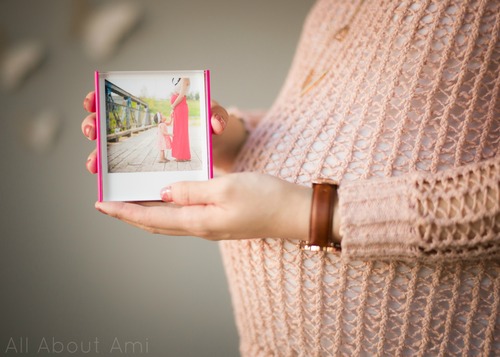 I contacted the "Polaroid Fotobar" to let them know that I would be writing up this blog post to show you all our travel photo wall and our great experience at their Las Vegas store.  They generously offered to give away a $50 gift card to one of my readers!  You can order their products from their on-line site HERE or also visit one of their stores in person (see list HERE).  This giveaway is open worldwide, but I'm told that shipping outside of the US can be quite expensive, so please be aware of this.  If you live in the US or are planning to visit a US city that has a Polaroid Fotobar, that would be ideal!  This giveaway will close at midnight MST on Thursday, December 11, and I will be announcing the winner on my Facebook page and Twitter!  Check out the Rafflecopter widget below to enter the giveaway (none of the entries are mandatory, but the more entries you have, the higher your chances of winning)!  If you leave a comment as one of your entries, let me know what your favourite travel destination is!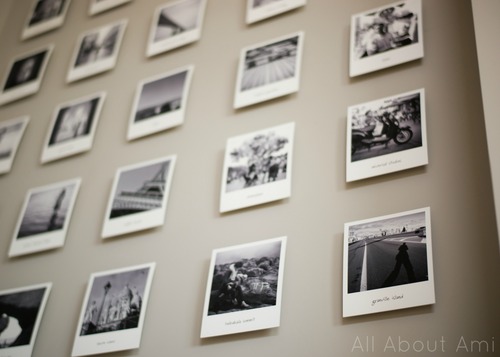 The Polaroid Fotobar is also running a promotion in which 15 winners will win 1 year of FREE Polaroid Pictures– check out this contest HERE (only open to the US).  They also have some subscription services you can check out HERE where they deliver Polaroid pictures to your door monthly.  I think the Polaroid Fotobar is a great option for those of us who take a lot of photos and are looking for a great way to display them or gift them to others!  We hope you enjoyed seeing how we displayed our travel photos and that you got some inspiration for yourself!