We wanted to share some photos from our recent Orlando trip with you all as we had an absolutely wonderful time!  I was quite nervous and wary about the trip as it was our first time traveling with baby Brie and our first time traveling with a baby and a toddler.  I had no idea if they would sleep well in the hotel room, nap in the parks, or just be too overstimulated.  Thankfully the trip went much better than I expected, in large part due to the fact that we went with my parents, brother and sister.  With a 6:2 adult to child ratio, we had so many helping hands!
Our 3 year old Myla was at such a great age to enjoy the parks as she knew many of the princesses, loved going on the rides, and enjoyed seeing the shows.  Whenever she saw a little girl walk by dressed in a princess costume, she would get very excited and say, "Oooh Rapunzel" and "Oooh Merida"!  Needless to say, when it was her turn to dress up in her princess costumes, she had a ball!  Here she is wearing her Queen Elsa dress in front of Cinderella's castle!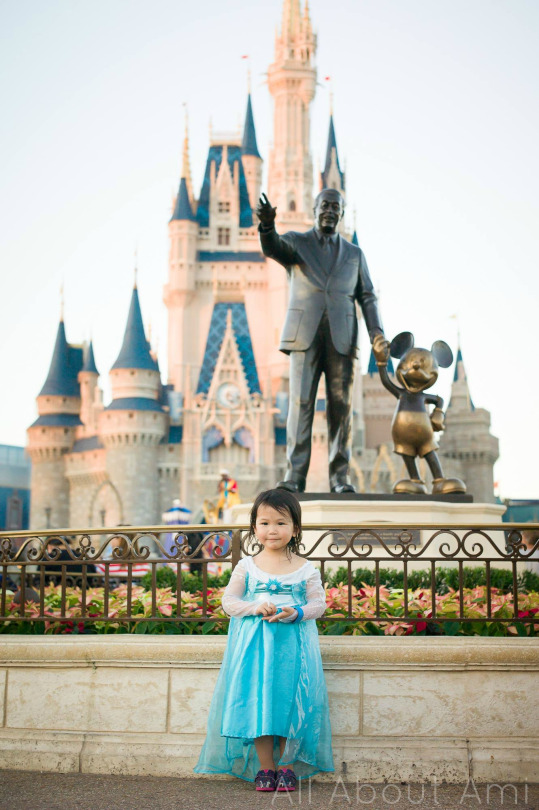 The Dumbo ride is such a classic one…it was so sweet seeing Myla's face light up as we lifted off into the air!  There was not much of a line up when we went, so we actually went on it twice in a row!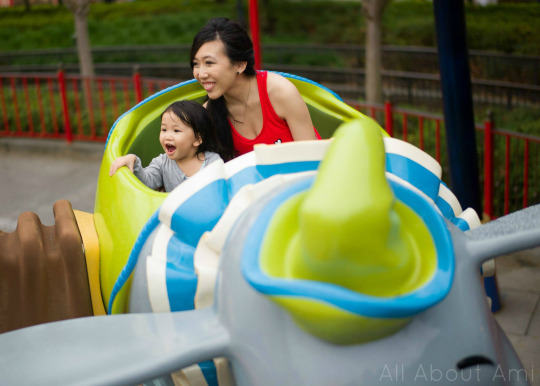 We met almost all of the Disney princesses during this trip!  Disney has a new FastPass+ system in which you can reserve access to certain attractions ahead of time.  I made sure to book most of our princess meetings using this system so that we never had to wait too long.  I was impressed that the princesses really take the time to talk with each child and pose for many pictures so that you do not feel rushed.  We also dined at "Akershus Royal Banquet Hall" in Epcot's Norway pavillion where we were able to meet many other princesses while eating lunch!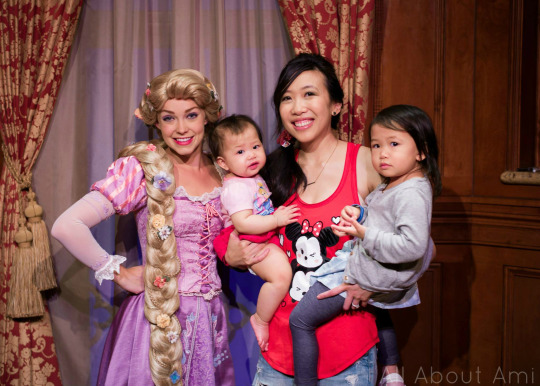 Baby Brielle dressed up as Minnie Mouse wearing the special "Minnie Mouse Basic Bib" that I crocheted for her!  Look at all those polkadots hehe 🙂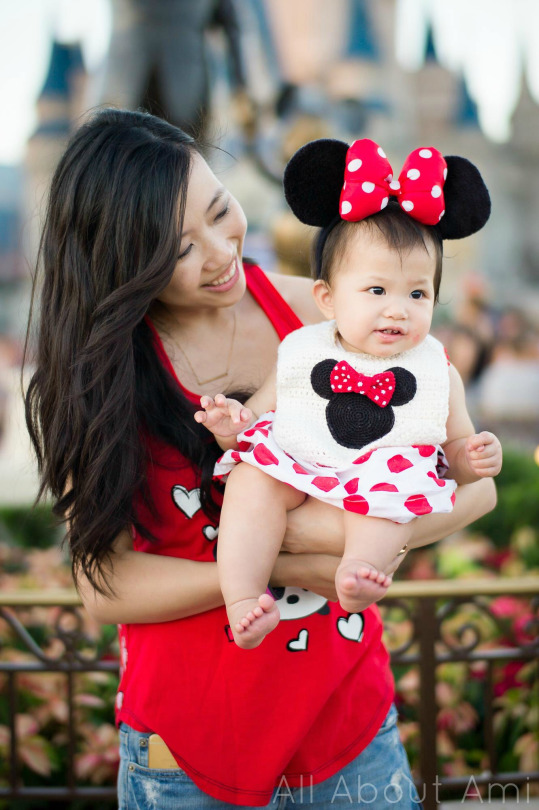 Everyone gets into the Disney spirit here….even dogs!  How adorable are those tiny little Mickey hats and ears?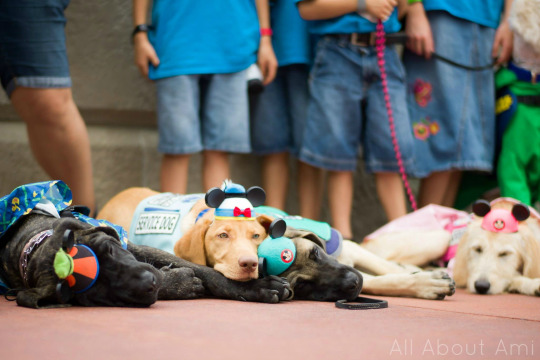 One of the highlights of the trip was definitely on Halloween when we all dressed up!  Myla dressed up as Princess Anna (one of her favourite princesses),  Brie and I were Snow White, and Ryan was Snow White's prince.  We actually bought Brie's costume from the Disney Store at home first, and that's what inspired us to all dress up since we thought it would be sooo cute if Ryan dressed up as her prince!  We couldn't find the Snow White prince costume anywhere so we decided to make it!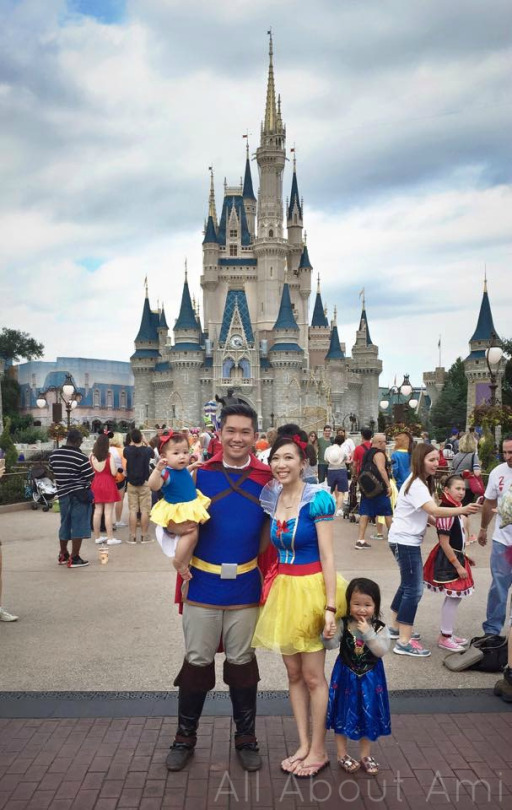 Isn't this the sweetest thing ever?  Baby Brie and her Prince Daddy!  The colours go so well together!  We spent the last couple of nights leading up to our trip at the sewing machine working away on Ryan's costume, and it was so worth it 🙂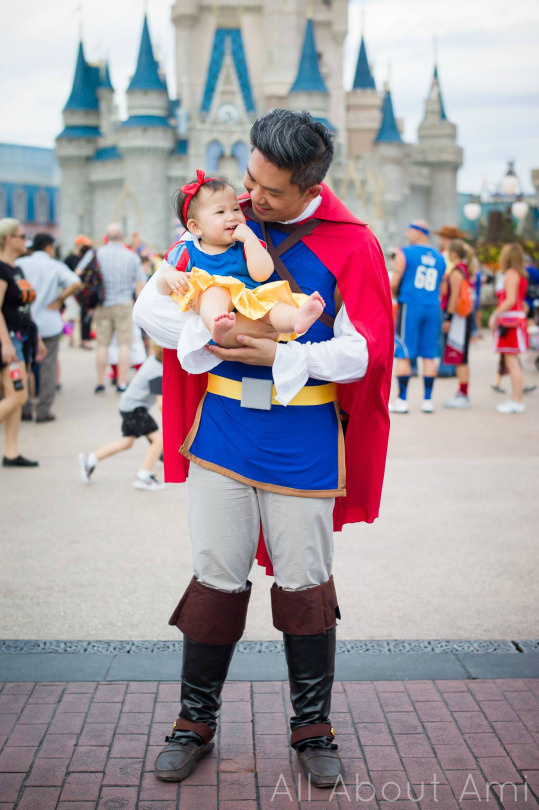 I had actually crocheted this apple for Brie as an accessory for her Snow White costume a couple of days before we left!   I whipped it up quickly using this free Lion Brand pattern HERE.  Sadly I forgot to pack it in our suitcase so we couldn't pose with it in our pictures 🙁  It makes a very cute toy though as it's great for pretend play!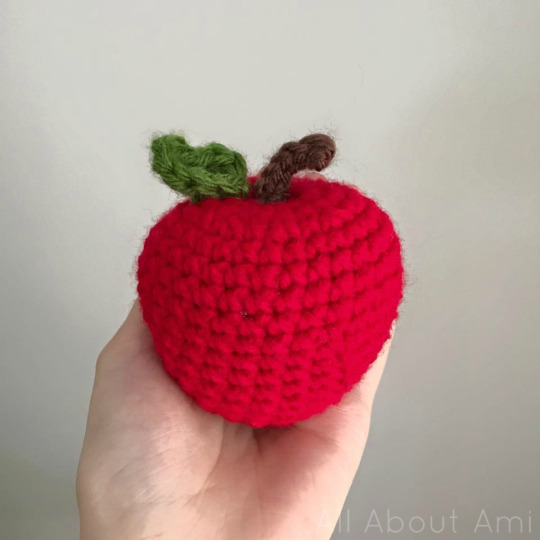 Ryan and his two little princesses
❤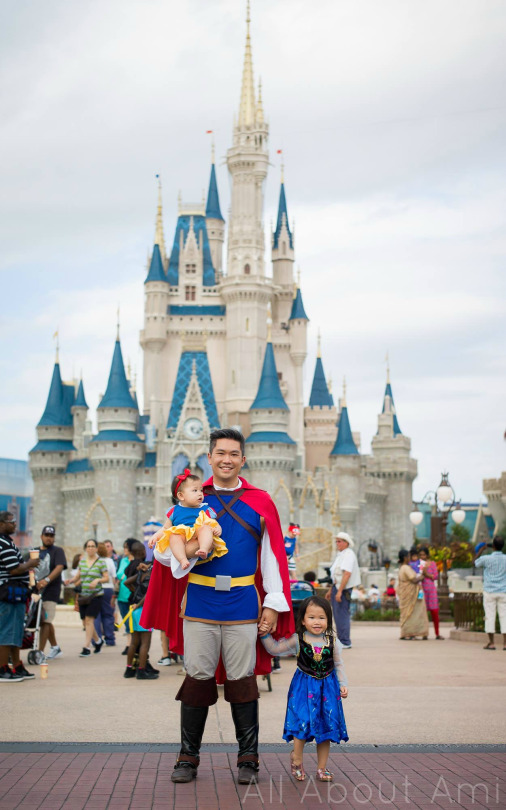 Matching mommy-daughter Snow White costumes!  I loved seeing everyone dress up in the Magic Kingdom, and there were many great group costumes centered around Disney themes such as Peter Pan and Cinderella.  Little girls would look up at me and smile shyly, and it was neat feeling what it would be like to be a Disney Princess!  In case you're wondering, I purchased my costume from one of those Halloween pop-up stores called "Spirit of Halloween"!  And here's an interesting tidbit: my costume actually came with a matching red headband (with a harder band) but I also forgot to pack it (sigh…it was a whirlwind trying to pack everything we needed)!  I was very dismayed since I knew that the red headband would help complete this outfit.  Ryan came up with the idea to cut off a thin piece from the bottom of his cape so that I could use it as my headband (hence the stretchiness as seen in the picture below).  Good thing you can't tell that there is a piece missing from Ryan's cape 😉  And the "cape" headband worked out perfectly!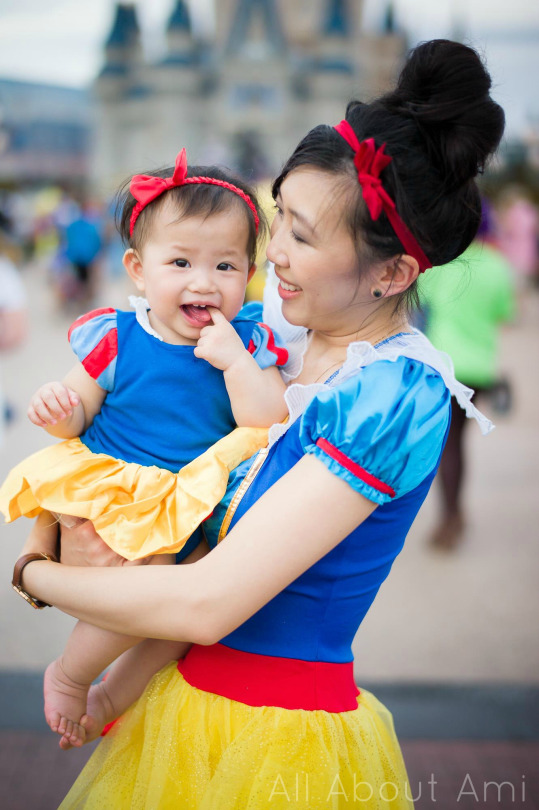 Riding the carousel in our costumes!  I am so glad that we went during this time of the year as we got to experience Disney World during Halloween AND see them transition into their Christmas decorations!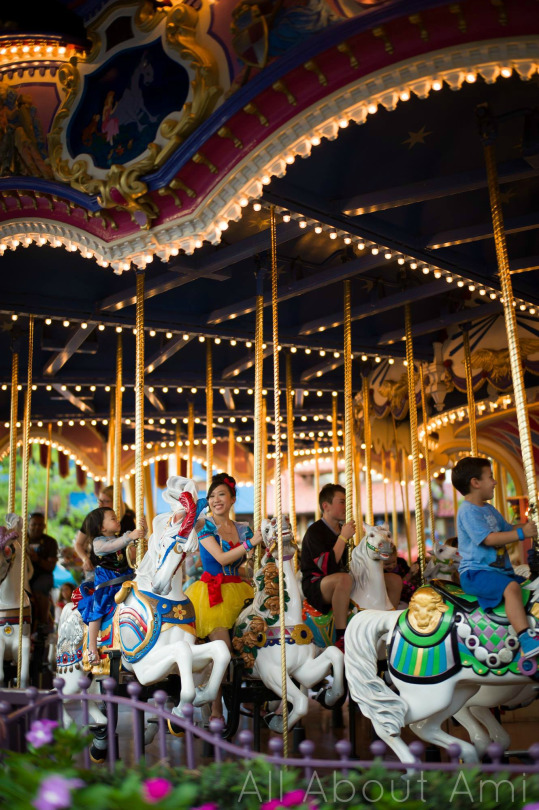 We also took two days to visit Universal Studios and Islands of Adventure!  We were blown away by the new Diagon Alley in Universal Studios that was brilliantly tucked away. Riding the Hogwarts Express from park to park was very fun, and the "Escape from Gringotts" ride behind me in the picture below was one of my new favourite rides!  Universal Studios is definitely way less child-friendly than Disney as the girls could barely go on any rides, but we're still glad that we went because of this new Diagon Alley!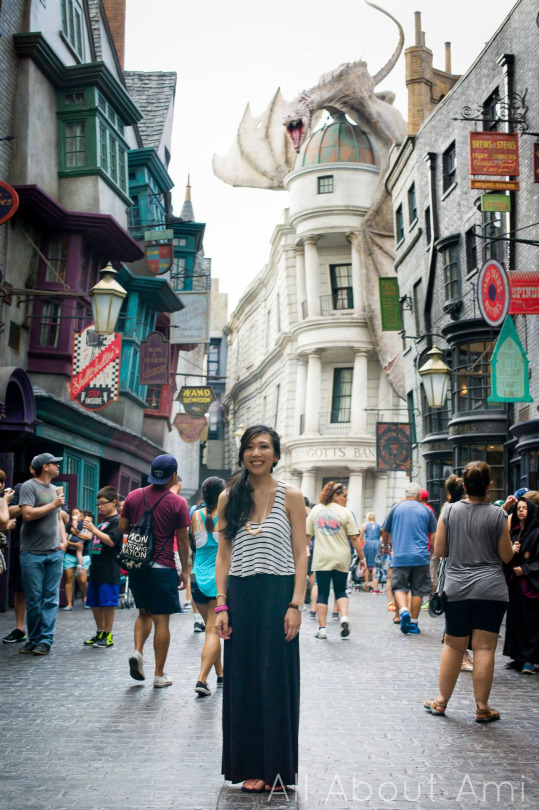 The yarn lover in me was drawn to this window display in Diagon Alley: "Self-Knitting Needles"?  Sounds intriguing, hehe!  When I posted this photo on social media, some mentioned how they'd love these for pattern checking or to carry out those mundane and repetitive patterns.  Of course, nothing can replace the joy of creating something with your own two hands without automation 😉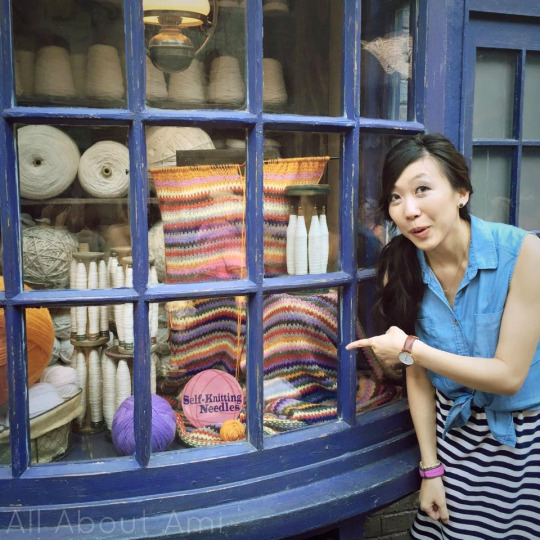 A stroller is a must when going around the Disney parks with kids since there is so much walking.  We actually don't own a double stroller at home so I was looking into renting one.  I was astounded to see that Disney was charging $31 per day to rent their hard plastic double strollers and they had to remain in the parks (you can't take them to your hotel room or use them outside the parks).  Thankfully, I did a little research on-line and discovered "Simple Stroller Rental"!  They offer premium brands in their stroller fleet such as the City Mini Double that we used for the duration of our trip.  It was very simple to make a reservation on-line and they dropped off our stroller at our hotel on the first day and picked it up from us on the last day before we headed to the airport.  They had great customer service, the stroller was very clean, and it even came with a parent console (perfect for holding our drinks) at no additional charge.  The pricing was much more affordable too as the initial charge was $35 and then only $5 per day!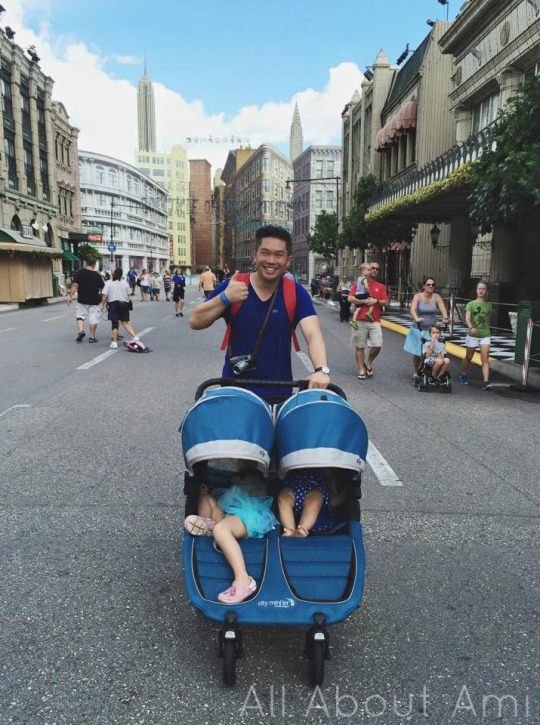 This stroller can recline very far back, so both girls were able to take naps in the parks when we were out.  The padded seats were very comfortable, and it was nice that the stroller was able to provide some sun protection for the girls on those hot days.  We used this stroller in Disney Springs (formerly Downtown Disney), a bit of outlet shopping, and Universal Studios too since we could take this stroller wherever we wanted!  I am so glad that I discovered "Simple Stroller Rental" as this stroller was incredibly handy and affordable to have throughout our stay.  It's something you can look into if you don't want to transport your big heavy strollers to the airport!  Below you can see our little Queen Elsa napping in the stroller!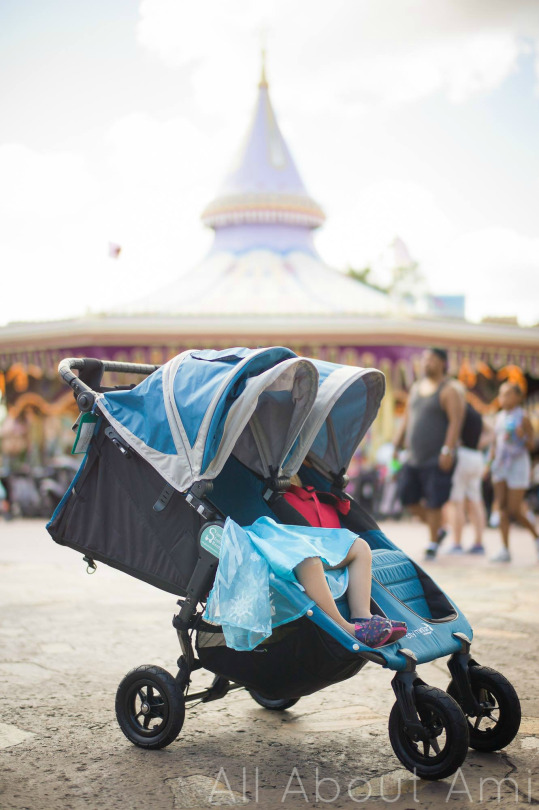 And here is Snow White Brie, snug as a bug in the stroller!  She enjoyed sitting in it and being pushed around 🙂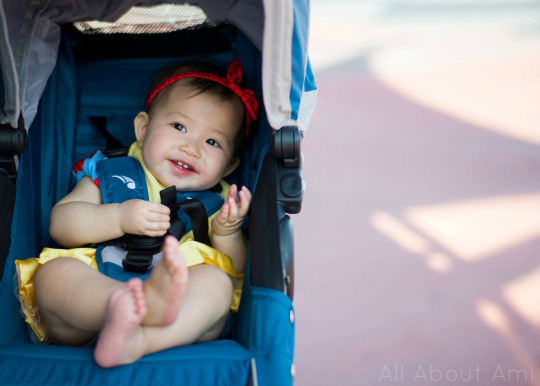 I tried to take plenty of videos on this trip to help capture these special memories…here is a short highlight reel that I posted on Instagram!
There definitely were some meltdowns and fussy moments during our trip due to the overall lack of sleep, hot and humid weather, and busyness everywhere.  However, Disney is so family-friendly as they try to make it a great experience for children.  Here are some tips in case you're thinking of doing Disney with young children:
Reserve your FastPass+ attractions as soon as you can to minimize wait time (30-60 days ahead of time depending on if you're staying at a Disney resort).  Try to target attractions that typically have a long wait (e.g. meeting Anna and Elsa, Peter Pan ride).
Use the Baby Care Centers in each park as these are quiet air conditioned areas to nurse and change diapers or to just take a break,
Use the Rider Switch option for rides that kids are not allowed to go on so that some people can wait with the children and later go on the ride without having to line up.
Take a slow pace and only expect to go on a limited number of attractions each day to accommodate for nap times and air conditioned breaks.  We spent a couple of days at the Magic Kingdom so that we didn't feel like we had to do everything in one day and we could repeat favourite rides!
You can bring your own snacks and drinks into the park!  This helps keep the little ones occupied during ride line ups or when they're in the stroller.  You can either bring your own snacks from home, have them delivered to your hotel through services such as Garden Grocer, or just go on some grocery runs yourself if you have a car or rent a taxi.
Have a comfortable stroller for your kids to rest and nap in- either bring your own or minimize what you need to bring to the airport by renting a stroller through Simple Stroller Rental.
Buy your princess dresses ahead of time as we found ours much cheaper than those sold in the parks' gift stores.  Myla's Elsa and Anna dresses were only $20 each from Costco!  Look out for them during the Halloween season and after when they go on sale too!
When taking pictures with the characters and princesses, don't be afraid to ask the Disney photographers to use your own camera as they are very willing to do so!  Then you can get some photos with your whole family without having to pay for the ones that the Disney photographers take with their cameras!
If you have a baby, bring a few toys that can attach to your stroller or your purse so they can play with them without constantly dropping them.  My LouLou Lollipop teething necklaces came in very handy as Brie could play and chew on them while I was carrying her.  I didn't have to worry about Brie dropping the necklaces since I was wearing them 🙂  Below you can see me wearing the "Blush Crush" style that I designed!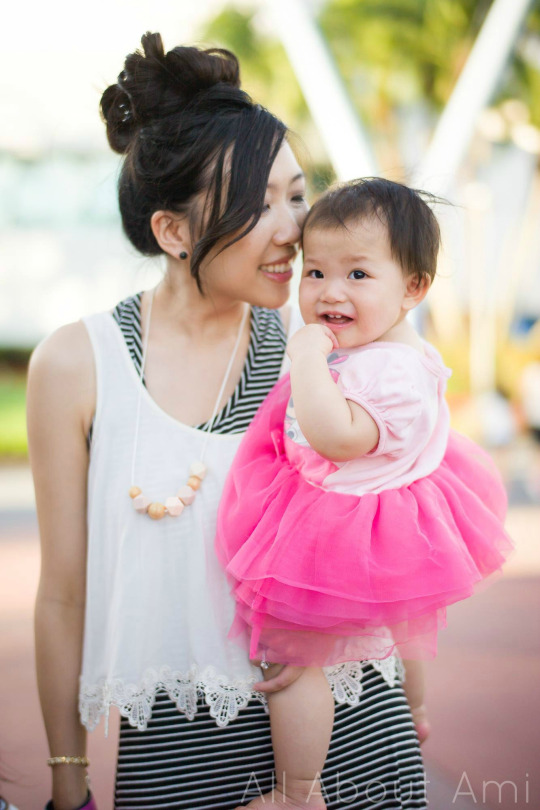 We also happened to travel during a time when the Disney Dining Plan was offered for free if you stayed at a Disney resort, so we took advantage of this special deal- you can read more about it HERE as this is usually offered in the fall!  We are such big Disney fans, and I am so happy that we went for the first time as a family of four.  It's amazing rediscovering Disney World through the eyes of your little children!  Let us know if you have any tips for traveling with young children too and where you love to go as a family- we're always on the look-out for family-friendly destinations!
Note: I was provided with free stroller rental through Simple Stroller Rental's Blogger Program to review their services.  All opinions expressed are 100% my own!