When I first received this gorgeous alpaca fleece by "The Rare Creature", I brainstormed what I should make with it.  It is hypoallergenic, does not pill, and comes in a range of 6 beautiful neutral shades.  You can read a more in-depth blog post about this special yarn HERE.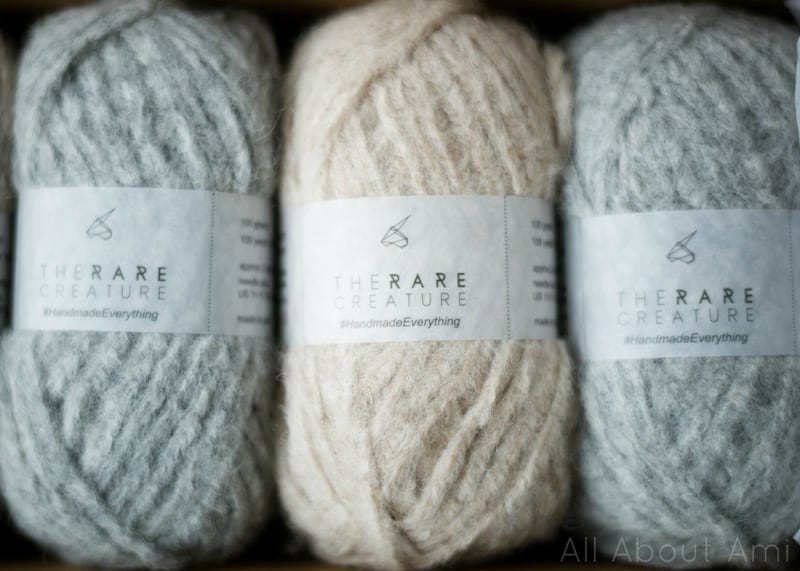 This "Big Softy Yarn" evoked images of luxurious fuzzy sweaters and adorable fuzzy teddy bears for me.  Alpaca fleece is very warm, so I thought I would use it to make the girls some bear cowls to help keep them warm during our frigid winter!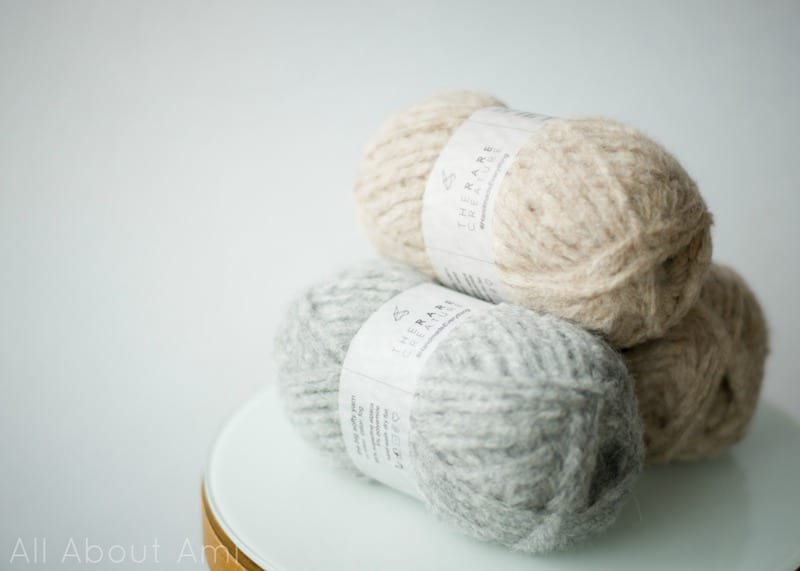 I had seen some adorable bear cowls online, and I turned to the original source and designer to make my own!  HeidiMay of The Velvet Acorn designs stunning crochet and knit items and sells her patterns in her very popular Etsy shop.  You have most likely seen some of HeidiMay's projects on Pinterest, Facebook, or other online sites as they are so beautiful, and her photography is gorgeous.  HeidiMay is incredibly talented as she can design similar items in both knit and crochet.  HeidiMay offers both a crochet"Baylie Bear Cowl" pattern and a knit "Burton Bear Cowl" in her shop, and I used the crochet pattern to make the girls their own warm cowls!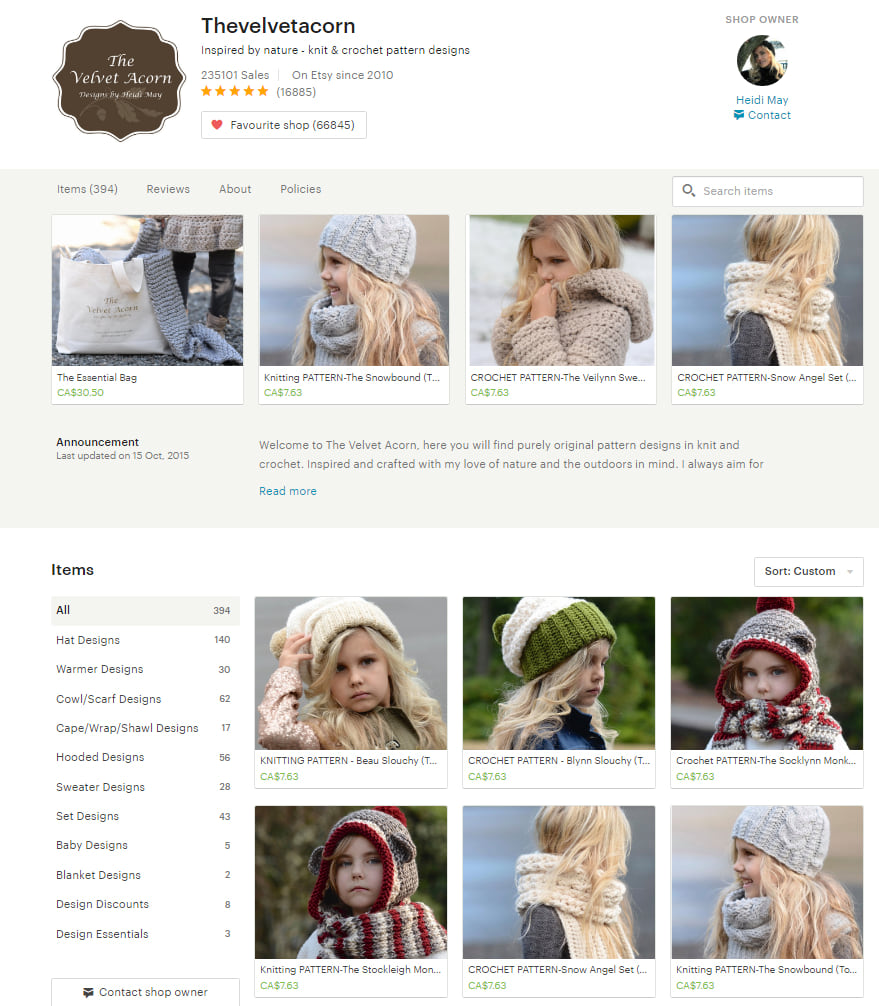 The Baylie Bear Cowl pattern is very easy to understand and follow, and I love how this cowl is constructed!  It works up quickly as I was able to whip up one bear cowl in almost one sitting.  Working with chunky yarn and large crochet hooks is always fun!  This alpaca fleece is chunkier than the yarn that HeidiMay uses in her pattern, so I sized down to get an equivalent size.  The pattern includes sizing for 3/6 months, 6/12 months, 12/18 months, toddler, child and adult.  Thus, to make a cowl to fit my toddler, I actually used the 12/18 months size!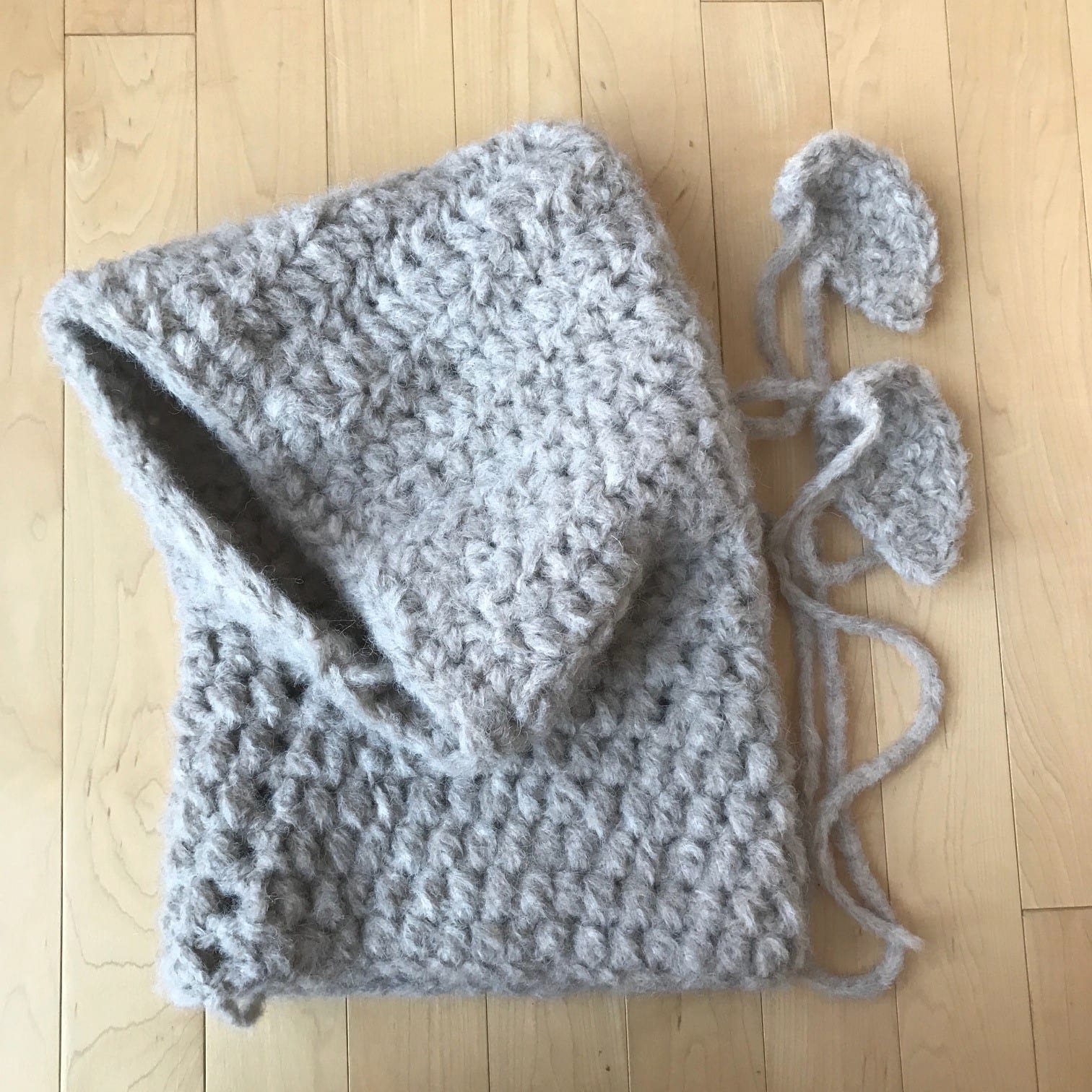 This alpaca fleece is gorgeous- look how beautifully it works up!  So dreamy!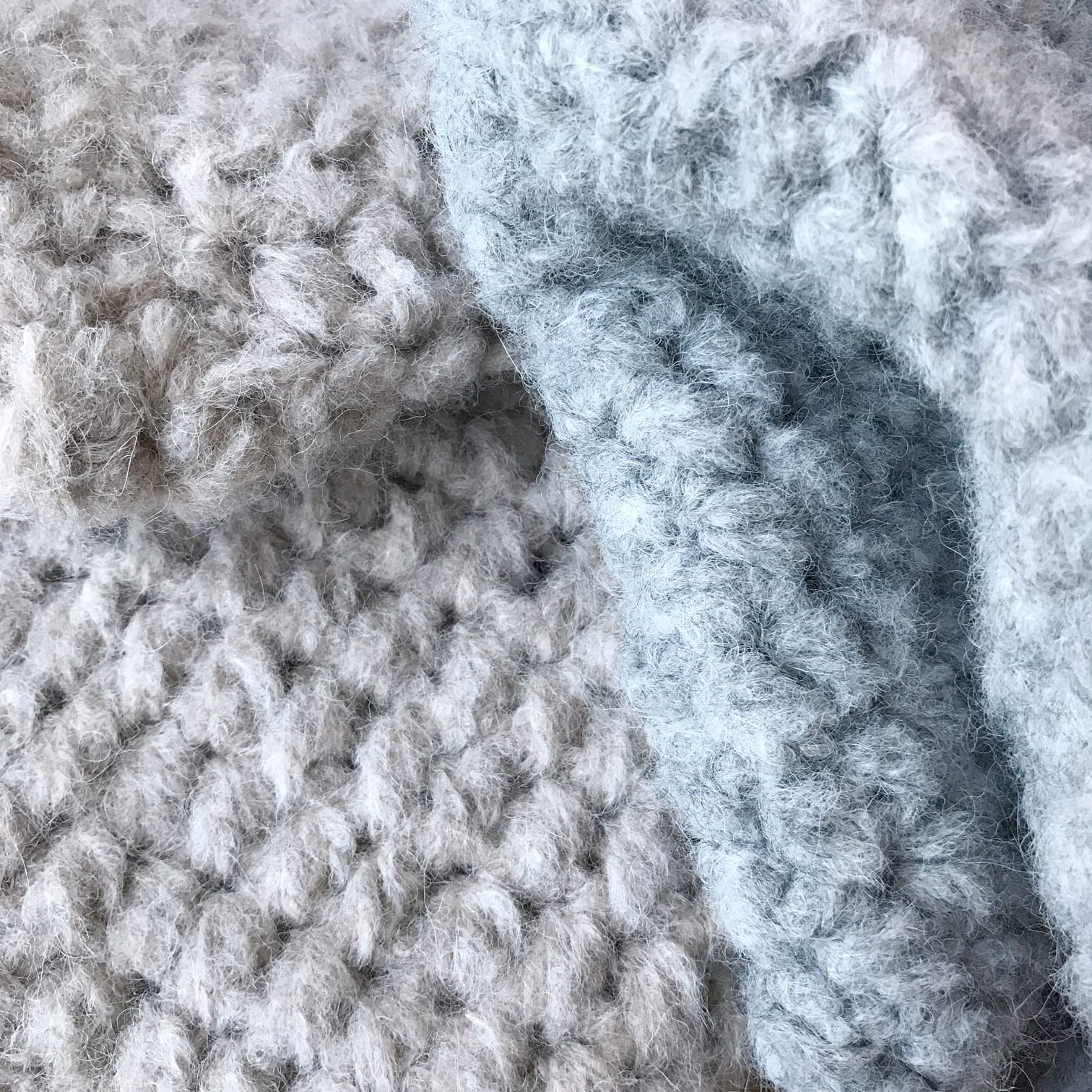 After attaching the ears and sewing on an extra large button (I found mine on Etsy HERE and HERE), my Bear Cowl was complete!  I ended up using just over one skein of the Big Softy to complete each cowl (I needed to start another skein to do the face edging and ears).  If you make a smaller bear cowl than the ones I made, you could get by with just one skein.  I also sewed on my ultraleather tag from BrickBubble as a finishing touch.  What a fast and fun project!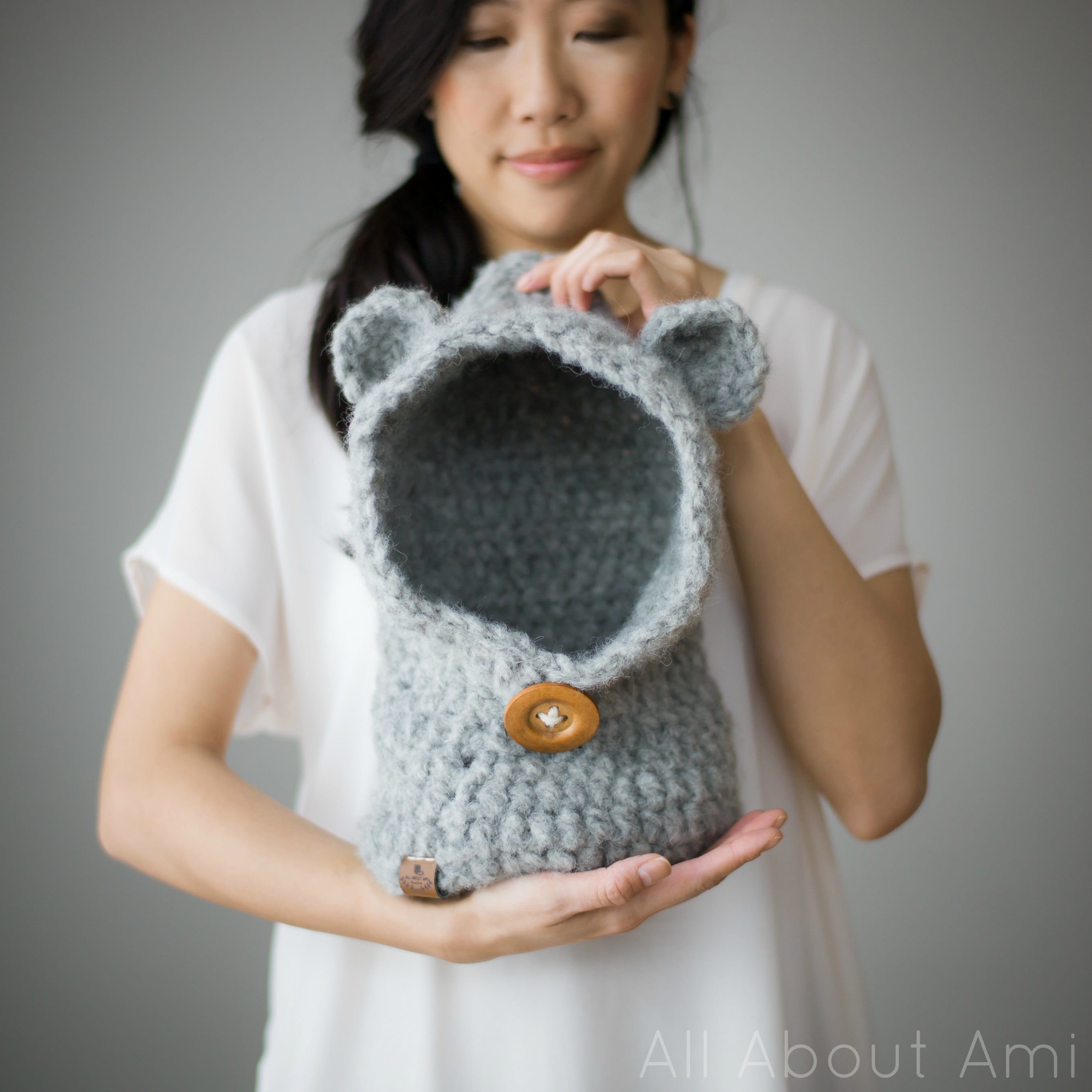 I made two of these cowls for the girls for Christmas, one in the fog colour (pictured on Myla) and one in the sand colour!  I was so excited to see them open their presents and try them on right away!  Here is sweet Myla wearing her handmade Bear Cowl!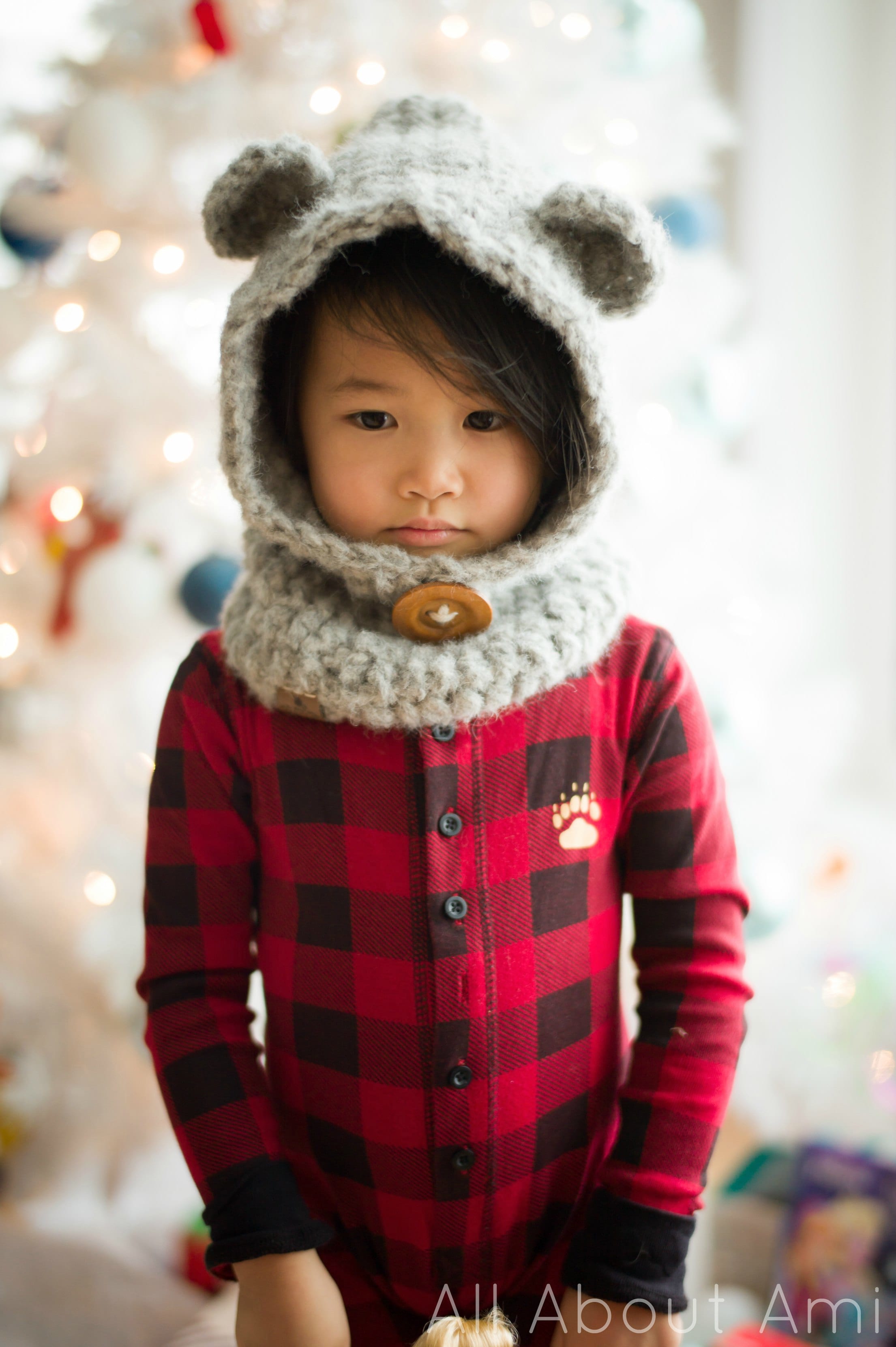 This is such a great winter item as it doubles as a cowl and a hood/hat.  If the child does not want to wear the hat, they simply slide it off their head and leave it as a cowl. It keeps both their neck and head warm!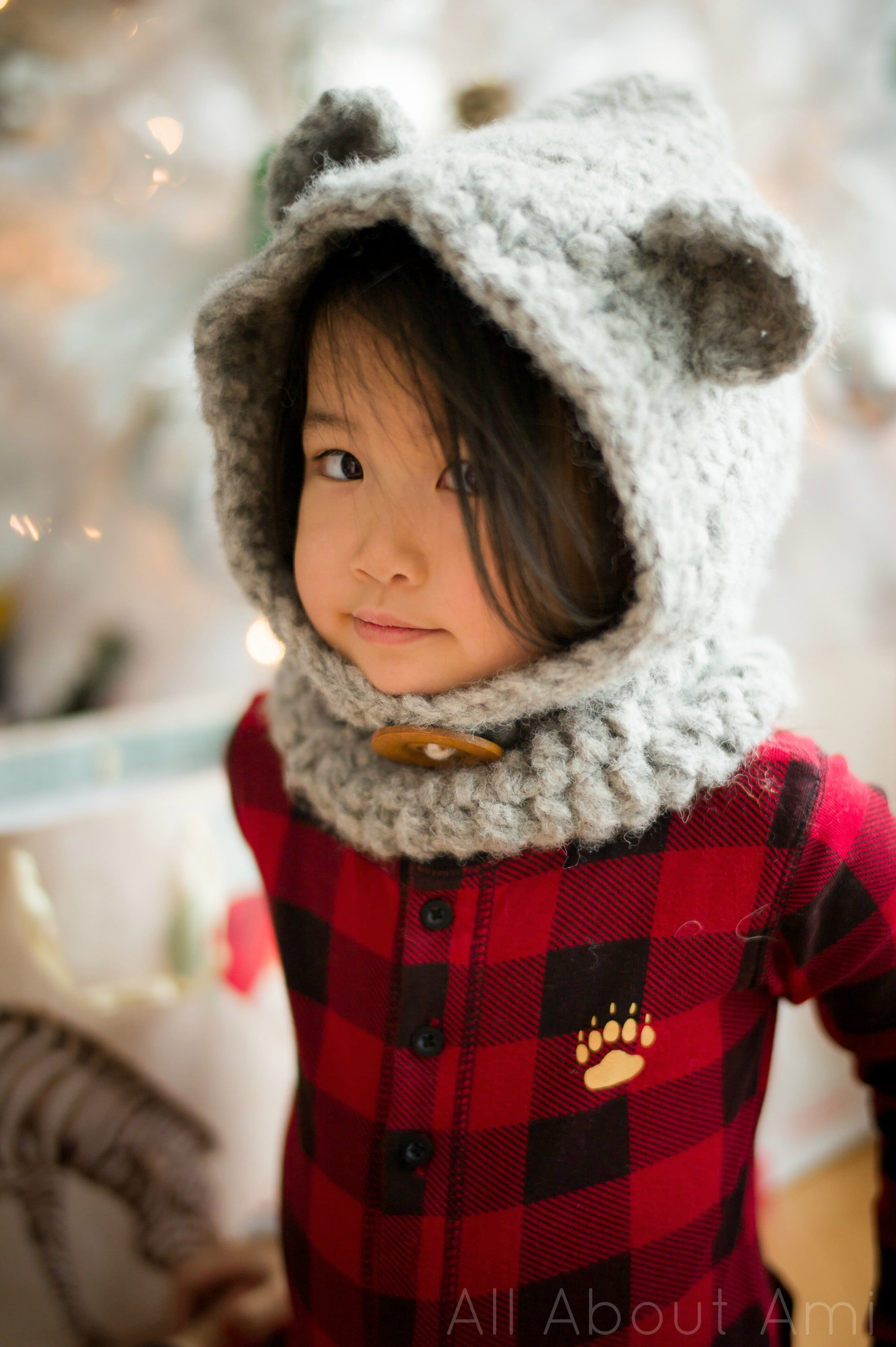 I added two rounds of single crochets around the opening that frames the face to help it protrude outwards more.  Myla looks so adorable wearing her Bear Cowl!  Look at those lashes and cheeks!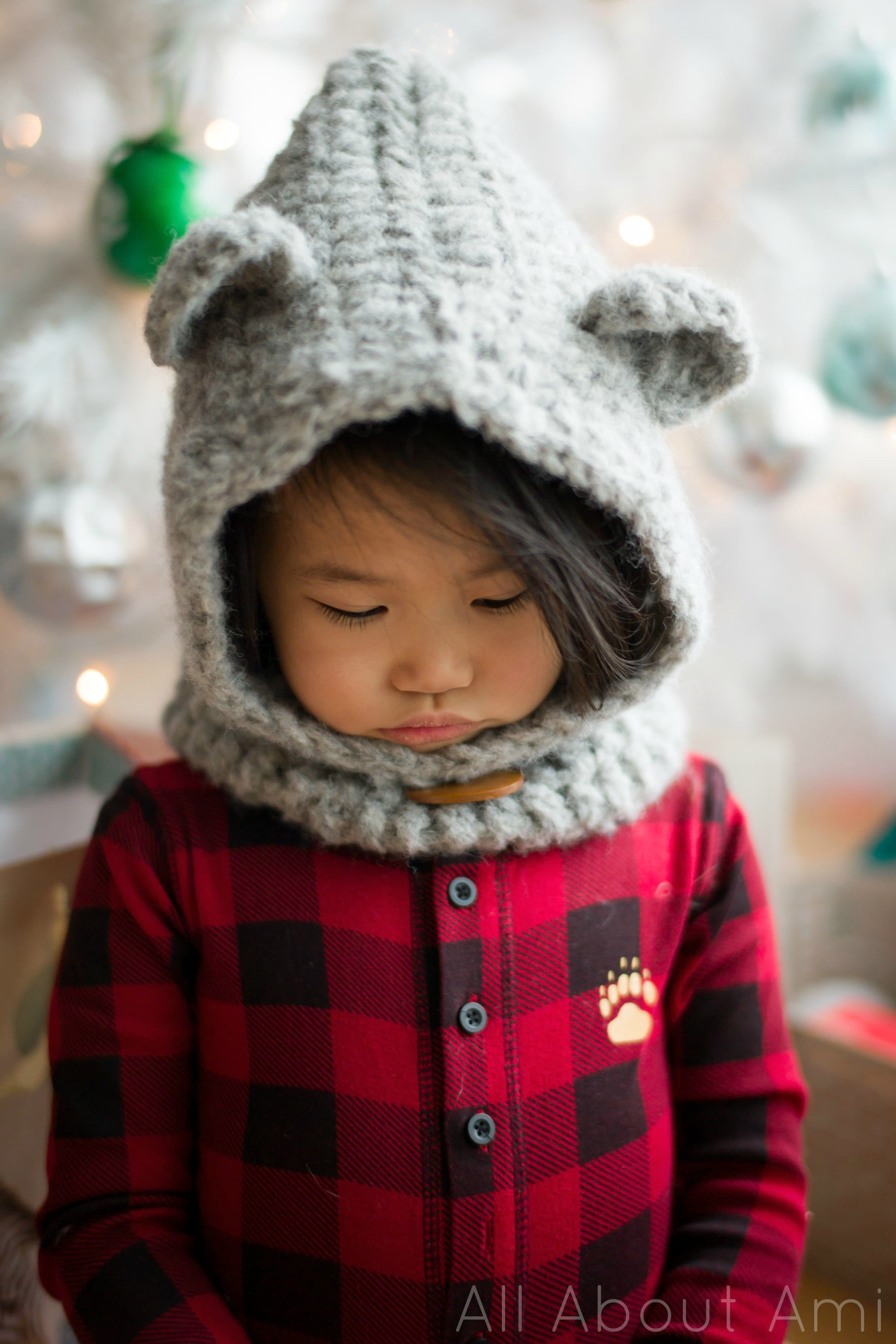 Here are my two sweethearts wearing their new Bear Cowls!  I am so blessed to be the mama bear of these two cutie pies!  I am tempted to make a Bear Cowl for myself as it would be so warm and fun to wear!  Ryan calls the girls ewoks when they wear their Bear Cowls, haha!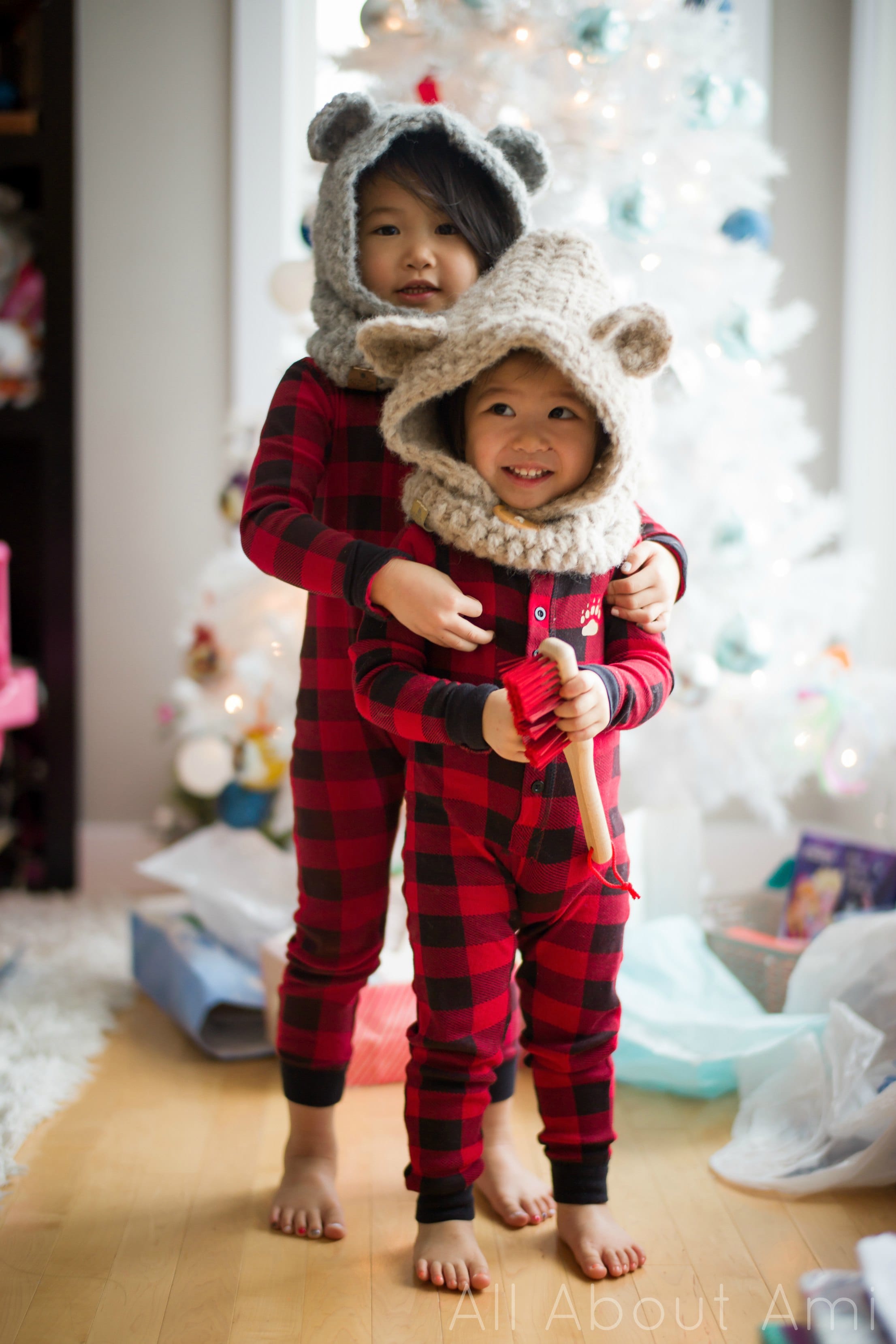 Every Christmas we spend the day in our onesies and snap a family pic (find the pajamas HERE on Amazon).  It's such a fun tradition, and I remember our very first family photo when Myla was a tiny baby swimming in her onesie.  Here is this Christmas 2016 photo- I love how we're all smiling so widely!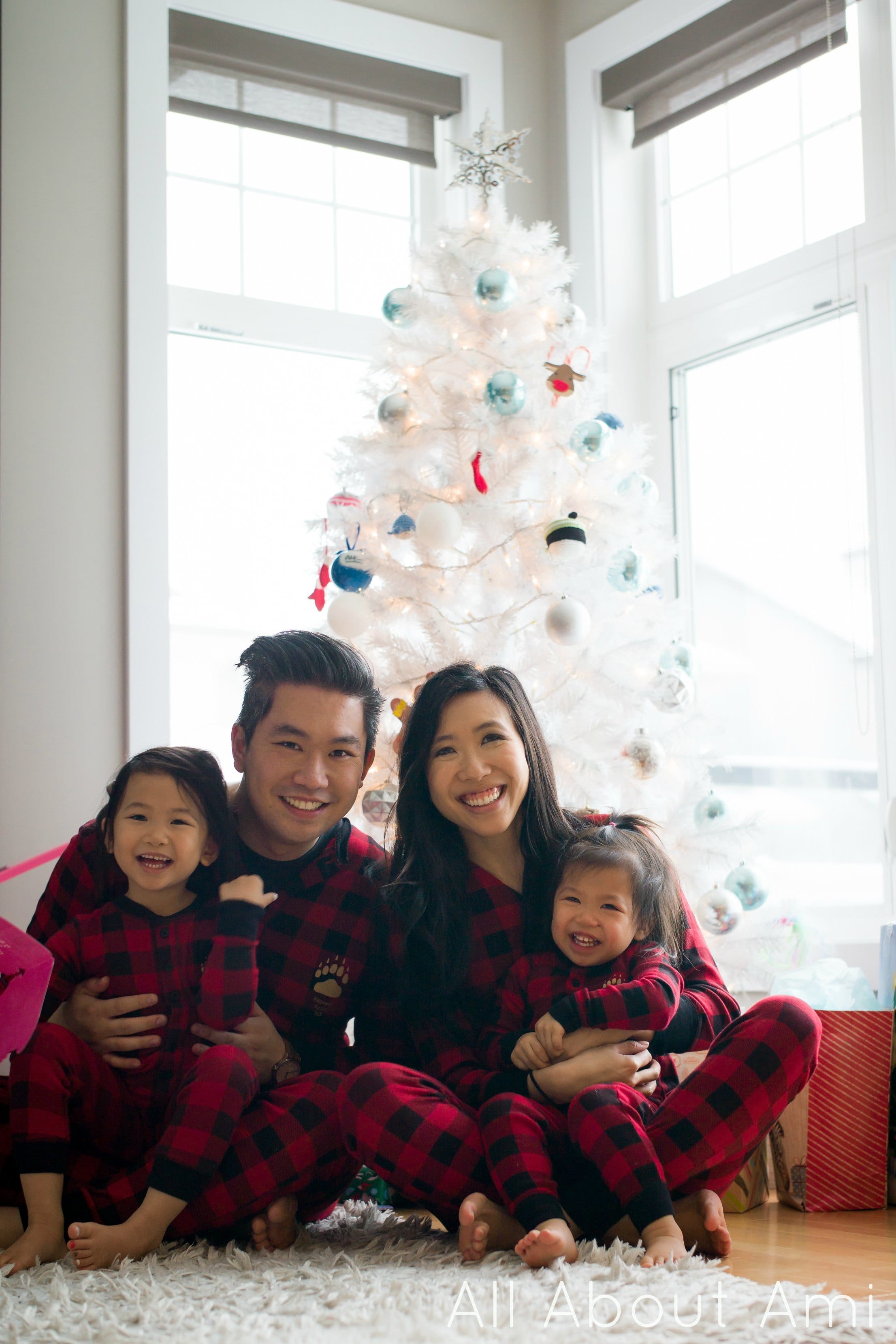 I am so happy with how my Bear Cowls turned out, and I know the girls will be putting them to great use for the rest of the winter!  Once again, you can find the Baylie Bear crochet pattern HERE in the Velvet Acorn Etsy shop!  I am excited to let YOU have the opportunity to try some of HeidiMay's gorgeous patterns too!  We are partnering together to offer a GIVEAWAY [NOW CLOSED] to three readers to win one of HeidiMay's patterns from her Etsy shop!  To enter:
Visit the The Velvet Acorn Etsy shop HERE and take a look around!
Leave a comment below telling us which pattern you would love to win (for example, the Baylie Bear Cowl or the Ulyne Unicorn Hooded Scarf).  HeidiMay offers both knit and crochet patterns, so she has a wonderful selection!
This giveaway will close on Sunday, January 1st at 8 PM MST and is open WORLDWIDE!
Thank you for reading about the making of my Bear Cowls!  If you're interested in this alpaca fleece, use code "AMI" to get 15% off your orders on the Rare Creature website HERE!  Have a Happy New Year and see you in 2017!
Note: Thank you to The Rare Creature for providing the alpaca wool and to HeidiMay of The Velvet Acorn for providing her "Baylie Bear Cowl" pattern!  This post contains Etsy and Amazon affiliate links.  All opinions and views expressed are 100% my own!