For the past two years I have been attending a Sip and Stitch in our city where local crocheters and knitters gather once a month and bring their works-in-progress!  Our co-admins are Sarah of Mama Knows Luxury and Cristin of Kozy Komforts.  I find it so neat that our love of crocheting and knitting draws people from all walks of life together as we all come from different backgrounds and are of varying ages. We organize events and ask questions through our Facebook group!  Recently, a member of our group posted on Facebook that the Labor and Delivery unit at the hospital she works at was getting short on hats for their full term babies. She explained that the hats help babies thermoregulate while laying skin to skin with their mamas in the OR and after delivery.  She said that these days they mostly use the beanies after Cesarean-sections as they put the babies right onto the moms' chests after they come out, and the rooms can be cold.  She asked if anyone wanted to donate any knit or crochet baby hats as she could take them into her next shift at work!  This got me thinking that it would be a fun event to all knit and crochet baby hats together as a group!  I remember the little newborn hats that Myla and Brielle received in the hospital, and I was so touched thinking that someone had taken the time to make these hats for them!  So much love goes into making newborn hats, and I myself created many for the girls when I was pregnant with them!  Pictured below we have: Fuzzy Bunny Hat, Butterfly Hat, Owl Hat, Panda Hat, and Shell Stitch Beanie (also pictured is my Bold & Bright Chevron Baby Blanket)!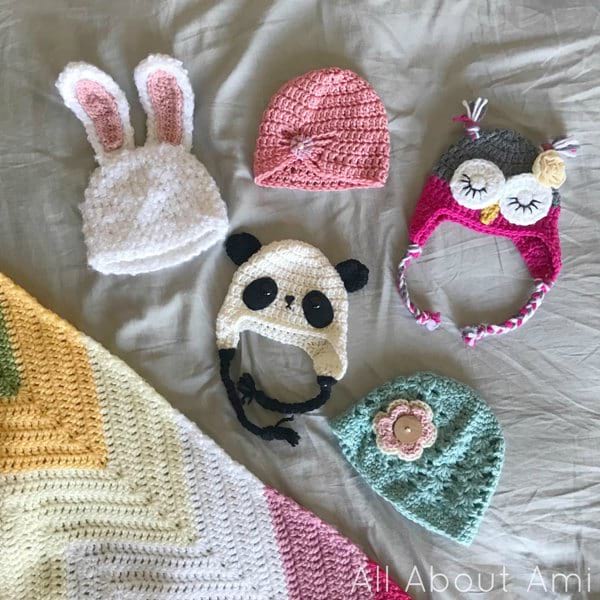 I pitched the idea to Sarah and Cristin, and they thought it would be wonderful to have a special Sip and Stitch event where we made hats together!  I reached out to Lion Brand Yarn to see if they wanted to sponsor our Beanies for Babies Event as they love giving back to charity!  They regularly donate to St. Jude Children's Research Hospital (they are approaching the 2 million dollar donation mark), and they recently taught elementary students how to knit with Brooklyn Boy Knits (see HERE)!  Lion Brand Yarn generously sent a huge box of yarn to us so that we could make beanies for newborn babies!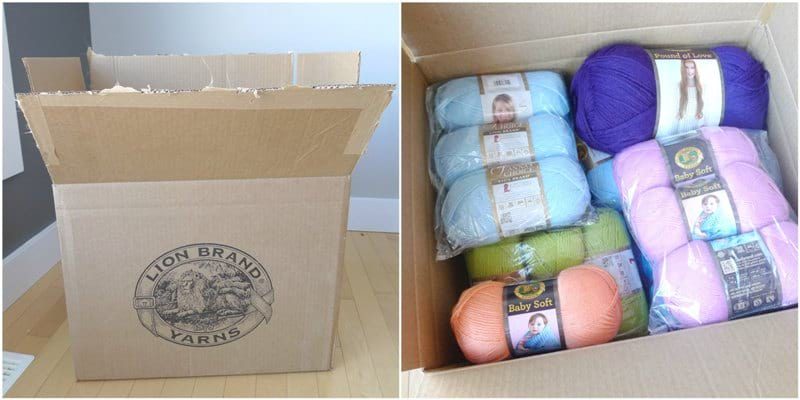 If you are interested in making hats for your local hospitals, you can call the hospitals and ask if they prefer a certain material (e.g. cotton or acrylic).  The nurse in our group said that both were fine!  Lion Brand Yarn sent us a variety of acrylic yarns such as Vanna's Choice, Baby Soft, and Pound of Love.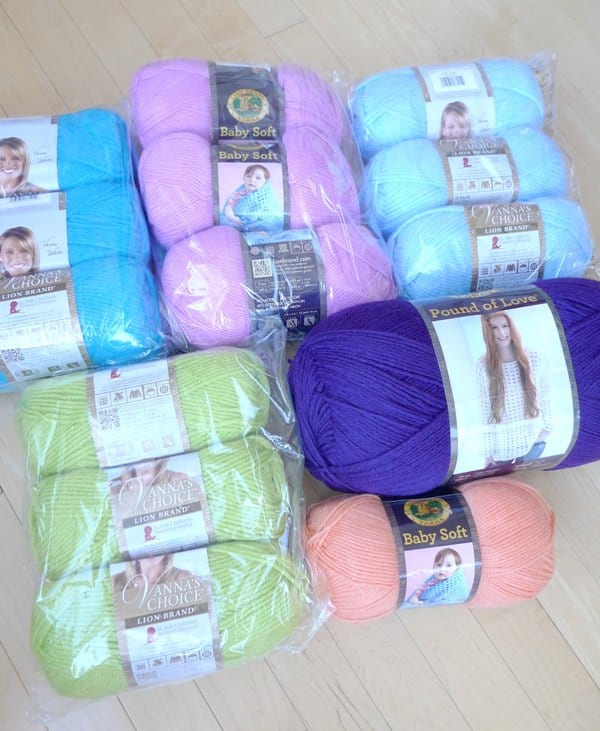 On a Sunday afternoon, we gathered and made hats together!  It was fun working on the same project and toward a collective goal!  Since we were making baby hats and one of the members brought her 1 month old baby, much of the conversation was about our labor and delivery stories!  The members enjoyed choosing a colourful skein and working away on the hats!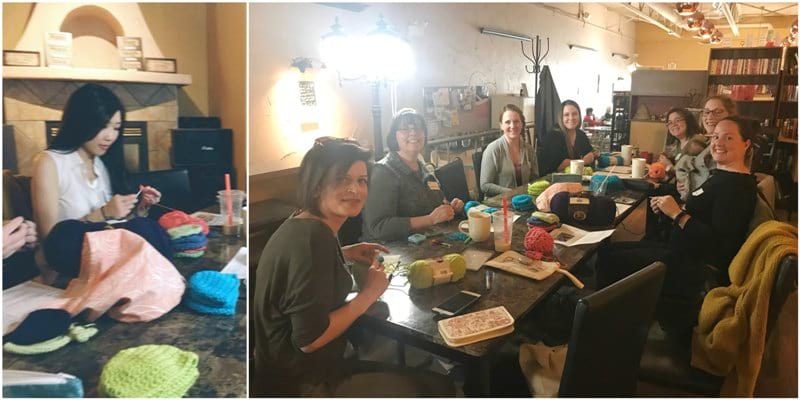 An added bonus was that the cafe where we met served bubble tea!  Ahh…yarn, bubble tea, and friends- how blissful!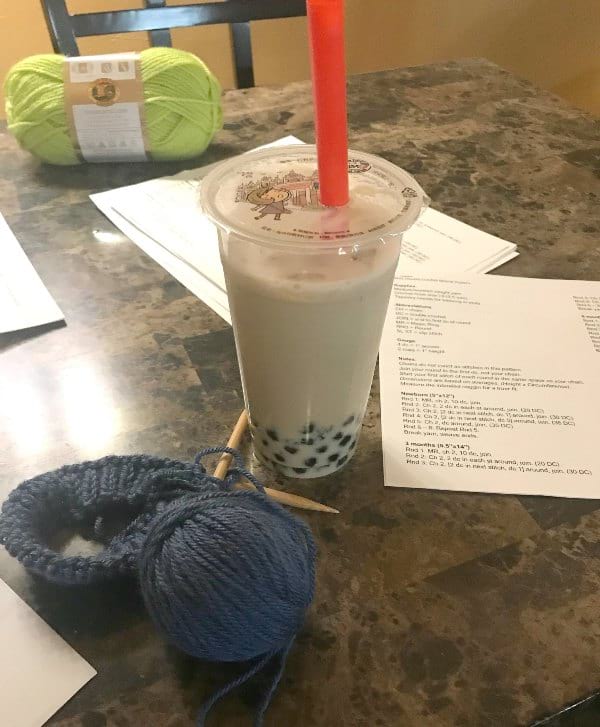 Cristin printed off copies of this crochet baby hat pattern HERE by Crochet Rochelle as sizing is available for newborn to Adult X-Large.  If you are looking for a knitted newborn hat pattern, I found this free one HERE by The Make Your Own Zone.  I love how knitted hats have so much stretch to them, but crocheted hats work up so quickly!  It is extremely satisfying making baby hats since you can make so many within a short period of time, and you are left with such a great sense of accomplishment!  Making baby hats is also a wonderful way to use up scrap yarn since each hat requires such little yarn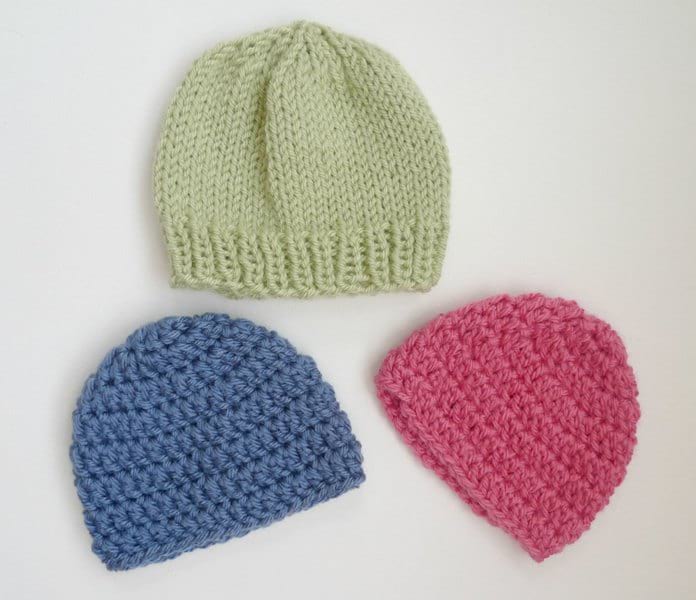 After our afternoon session, we counted the number of hats and were delighted that we had made over 40 hats together!  It's amazing how much you can accomplish when you work together!  Many members could not attend this specific event but were also interested in making some for donation!  We will be gathering hats during every meeting so that we can continue supporting the hospital- we had plenty of yarn left over as well, so we can definitely do more charity crocheting and knitting together!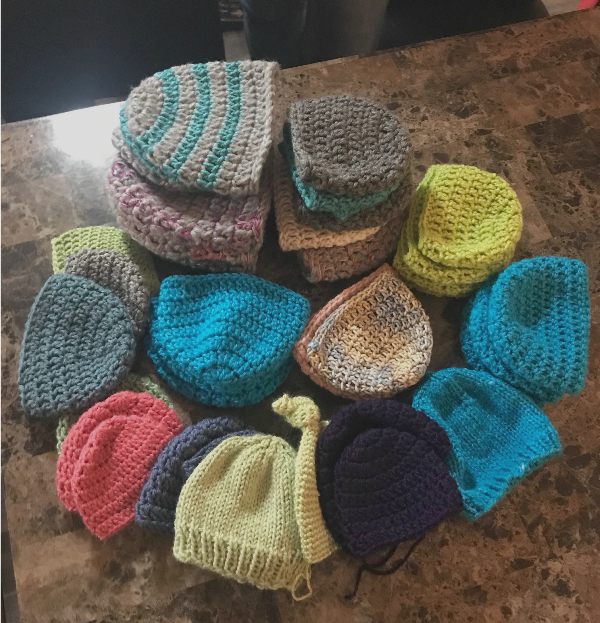 One of our members, Lisa of Prairie Vista Crochet, almost used up a whole skein of Vanna's Choice by the end as she made so many beanies!  Knitting and crocheting for charity is such a great way to give back and use your skills, interests and talents to help others!  You can crochet a couple hats while watching a television show or on a road trip, and they are such satisfying and quick projects!  Gather a group of friends together and crochet and knit some hats for your local hospitals!  Have you knitted for charity before?  Let me know about your experiences or if you have been inspired to use your crochet and knit talents to help others!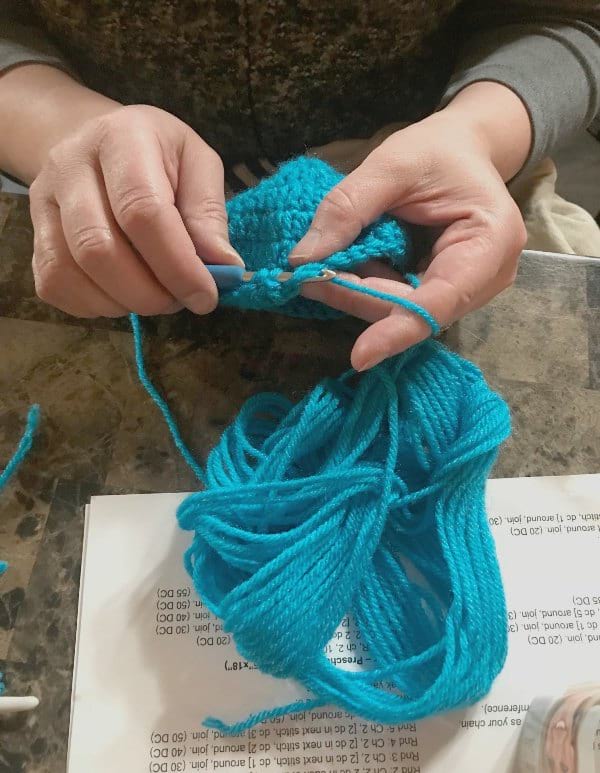 Note: Thank you to Lion Brand Yarn for providing the yarn for our Beanies For Babies Event!