As you know, when I was pregnant I went on a crochet spree, trying to crochet as many cute items for our baby as I possibly could!  I knew we would be doing a newborn photoshoot, so I tried to crochet some special props for it (including this cute stork pouch).  While looking up crochet ideas for newborn shoots, I came across this adorable turtle outfit as well as this sweet ladybug outfit.  I wanted to make Myla a little outfit too, so we decided to go with a panda bear!
I had already made some owl hats using Sarah's pattern on "Repeat Crafter Me"- I loved how the seam was hidden and how she had hat patterns for newborns all the way to adults!  And so, I followed her newborn pattern to make my panda hat.  I used Martha Stewart Crafts Extra Soft Wool Blend in "Bakery Boxy White" to crochet the hat and some black yarn for the braided tails.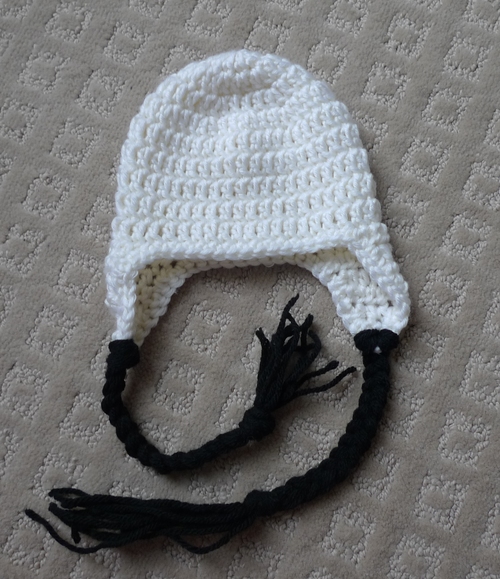 Next, I crocheted the ears using black yarn and Ryan cut these oval shapes out of black felt for the eyes.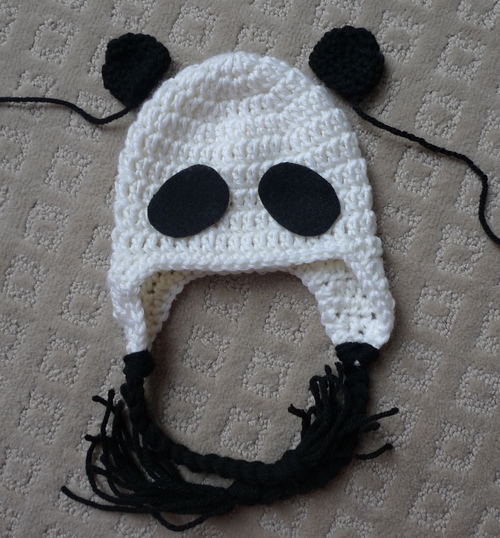 We sewed the black ovals onto the white hat and then sewed these black buttons onto the black ovals.  Ryan then stitched on this sweet little nose consisting of an upside down triangle and an upside down "Y" (see my "Amigurumi Nose Tutorial" HERE for detailed instructions).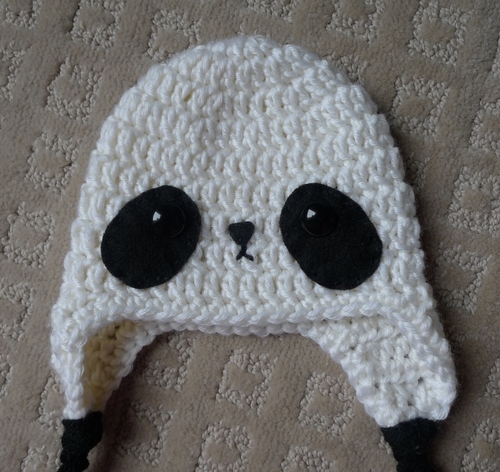 Here are some more views of the face…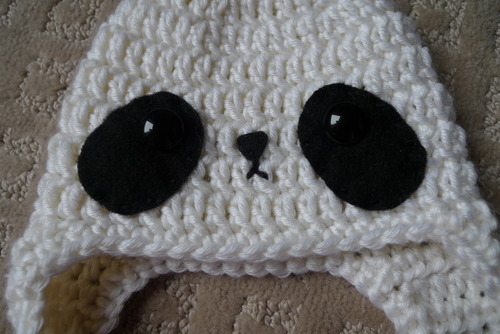 I think this panda has such an adorable, tender face 🙂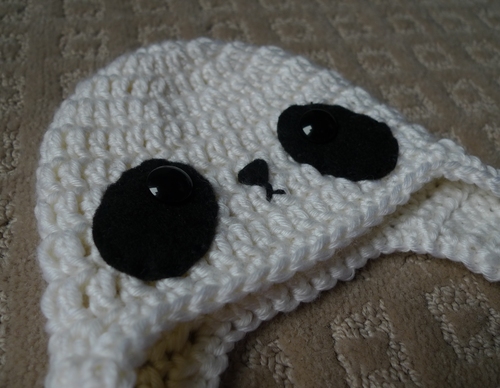 Then it was time to attach the ears…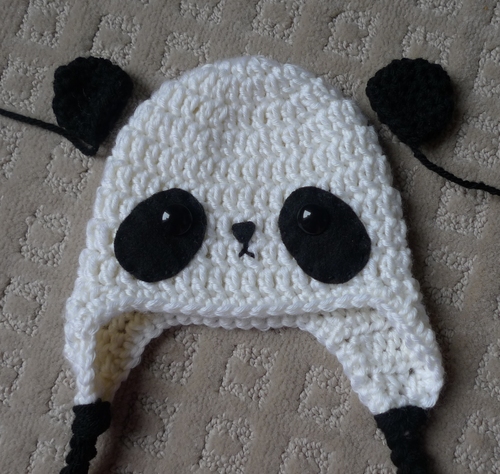 We looked for these specific buttons that had a smooth surface on one side and could be attached with little loops on the other side.  Typical buttons with holes in the center could work too but we wanted to go for this smooth look as they kind of look like amigurumi safety eyes!  We ended up buying these buttons in both black and white from Fabricland as we wanted to see how both would look for our panda hat!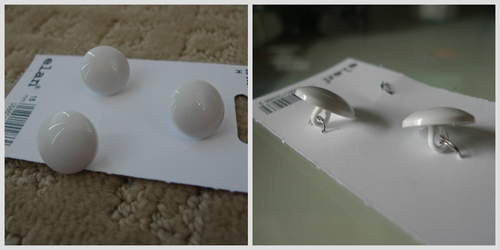 I followed this pattern to make a matching diaper cover!  It's a great pattern as it consists of double crochets and the flaps on the sides can be attached onto the black button at various points, depending on how big your baby is, making it adjustable!  We used this diaper cover in Myla's birth announcement HERE and I hinted how it was part of a special animal set that I had crocheted.  Haha, five months later we're finally revealing that it's a panda set!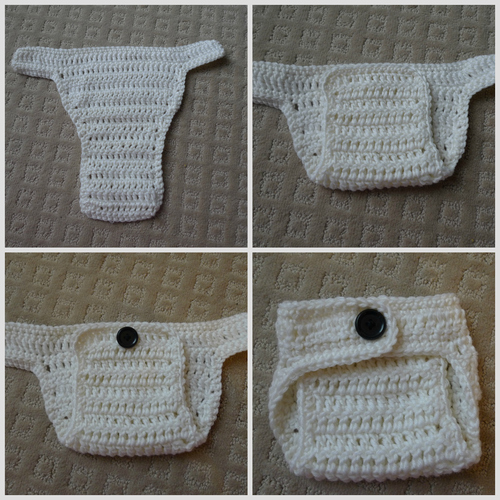 I made a black pom-pom using this tutorial HERE and added it to the diaper cover.  I did not secure it with a knot (I just tied the loose ends into a bow) so that the this pom-pom tail was easily removable.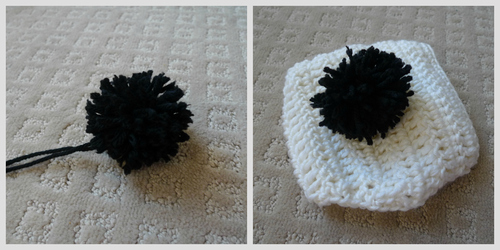 Here is our finished Panda set: an adorable panda earflap hat with a diaper cover!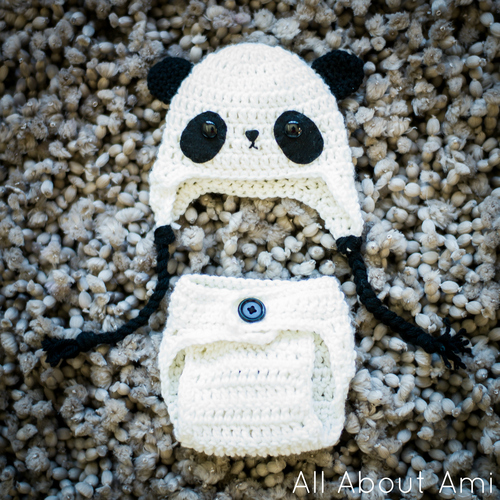 Here it is again with the diaper cover flipped so that you can see the cute black pom-pom tail!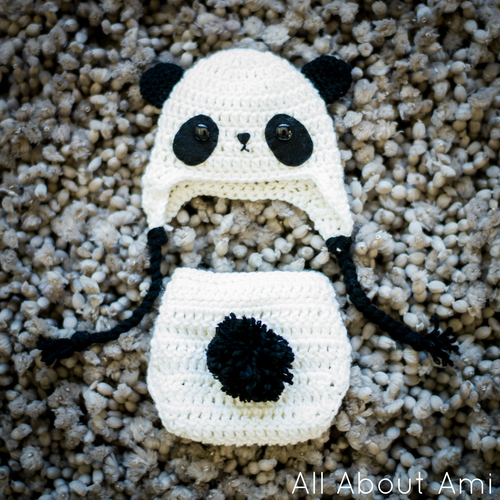 I was incredibly excited to see Myla wear this little outfit!  The hat was actually a little small for her, but the diaper cover fit well.  It's hard knowing how big to make your hats since you never know how big your baby's head will be!  We tried to get a cute sleeping shot but our little girl woke up, haha…  And so, we made the most of it by taking some shots while she was awake!  Doesn't she look so adorable with her little tail and hat and her expression?  You can see her neck was already quite strong as she could lift her head up at less than a week old!  Myla was probably thinking, "Mom and Dad….how dare you disturb my slumber?  And why am I dressed like a panda?  Where are my clothes?!?"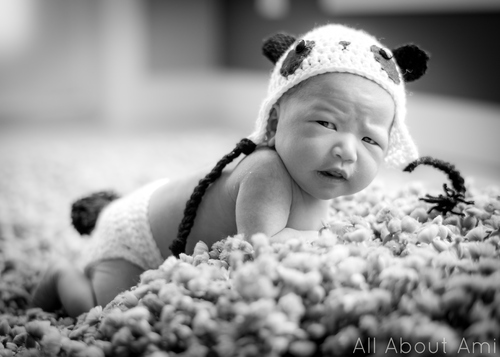 We tried again another day, but this time with just the hat, making it easier…here you can see the face of the panda better!  Doesn't Myla look so sweet?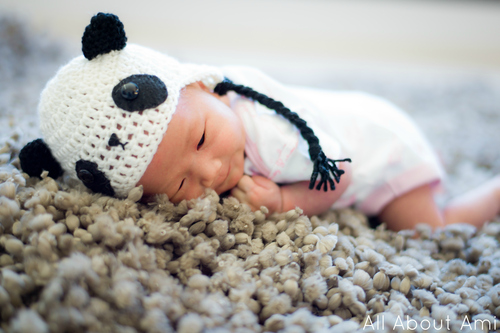 We made a bigger panda hat for our friends who were expecting a baby boy, this time using the white eyes!  You can see how using the black or white buttons gives the hat a different look 🙂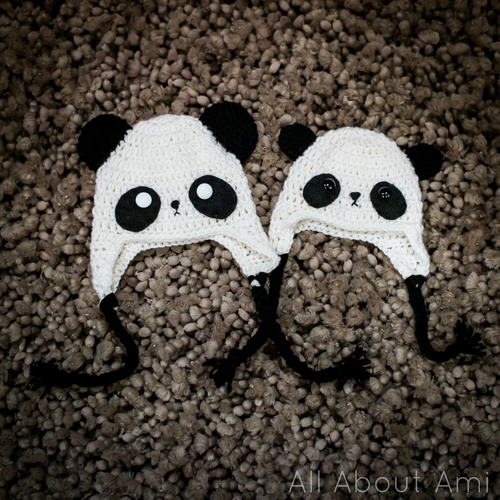 **********
Here are the patterns for the small and big panda hats:
Materials:
Black and white yarn
Black felt
Black or white buttons (for eyes and diaper cover)
Black embroidery floss
Clover Pom Pom Maker (optional)
HEAD
Using white yarn, follow Sarah's pattern to crochet the earflap hat with black braided tails.  Follow the newborn pattern HERE for the smaller panda hat and the 3-6 month pattern for the bigger panda hat HERE.  I know many of you are interested in making this panda hat in an ADULT size too!  Sarah offers these earflap hats from toddler to child to adult sizes as well, so check them out HERE!
EARS (make 2)
Smaller hat:
R1: 6 sc in Magic Ring (6 sts)
R2: 2 sc in each sc around (12 sts)
R3-6: Sc 12
Fasten off and leave long end for sewing.  Sew open end together.  Sew ontop of white hat.
Bigger hat:
R1: 6 sc in Magic Ring (6 sts)
R2: 2 sc in each sc around (12 sts)
R3: *Sc 1, 2 sc in next sc*, rep 6 times (18 sts)
R4-7: Sc 18
Fasten off and leave long end for sewing.  Sew open end together.  Sew ontop of white hat.
*** To make bigger ears, try increasing by intervals of 6 [e.g. R4: *Sc 2, 2 sc in next sc*, rep 6 times (24 sts)].  If you need help figuring out how to keep increasing by 6, follow the pattern for Sweetheart Bunny's head HERE.
Adding details:
– Cut oval shapes out of black felt.  Sew onto white hat.
– Sew buttons towards top part of black ovals.
– Embroider nose (upside down triangle and upside down "Y") with black embroidery floss (refer to my "Amigurumi Nose Tutorial" HERE).
DIAPER COVER WITH TAIL
Using white yarn, follow this pattern HERE to crochet the diaper cover using a black button for closure.
Make a pom pom with black yarn following this tutorial HERE and add to the diaper cover.
**********
Sarah of Repeat Crafter Me is the queen of cute hats, and she offers so many free patterns!  Check them all out HERE.  If you like my baby panda set, here are some other sets that Sarah has made, including this Mickey & Minnie Mouse set!  Some of you guessed that I was making a bunny set since Spring officially started this week- you can check out Sarah's Bunny set here!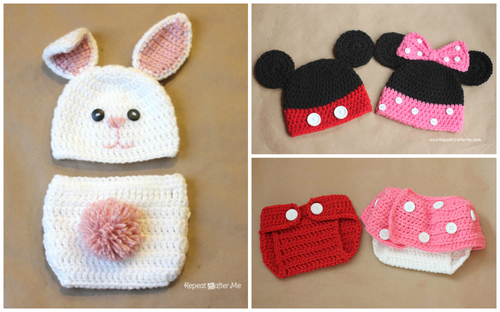 I'm so glad we have Myla's newborn photos to look back upon as time is flying by so quickly.  Myla turned 5 months old this week!  Here I am with our sweet, precious little strawberry 🙂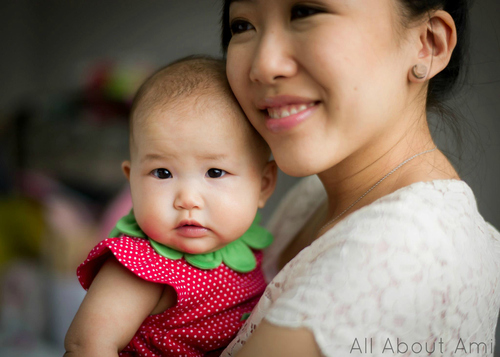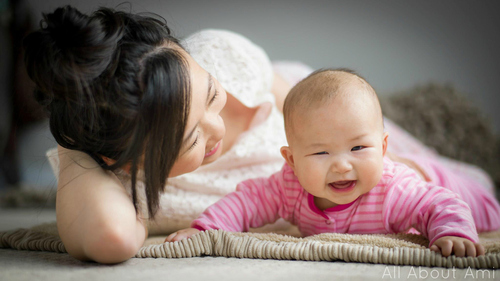 Hope you like this little baby panda set we made!  They'd make a great gift for a baby boy or a baby girl, and you could even adapt this set to make different animals, like a koala bear too!  Who is going to try making an adult panda hat?  I'd love to see your pics!  Connect with me through e-mail (all_about_ami@hotmail.com), Facebook, Twitter and Instagram (@AllAboutAmi).  If you absolutely love pandas, you could also try making our amigurumi Panda since his face looks very similar to this hat 🙂  You can get the free pattern HERE.  Happy crocheting, everyone!
This pattern is an original pattern by Stephanie Lau of All About Ami.  Please do not claim this pattern as your own. If you wish to share this pattern, you may link to this pattern but please do not reprint it on your site. You may keep a copy for your own personal use but please DO NOT sell the pattern or distribute it.
You may sell products made from this pattern but please clearly credit the design to me, Stephanie Lau of All About Ami, and provide a link to my blog www.AllAboutAmi.com.  Permission is NOT granted for mass production or factory manufacturing of any kind.  Thank you for being respectful and for your understanding!