After seeing me wear my Wildrose Backpack out and about, my daughters Myla and Brielle requested some mini backpacks as well! Of course, I happily obliged as I love matching with my darlings. Since publishing the Wildrose Backpack pattern, I have received numerous questions on how to alter the original pattern to make a smaller backpack. Given the complexity of the numbers and how all the different pieces fit together, the easiest way to downsize this pattern to make a smaller backpack is to use a thinner yarn and a smaller crochet hook while following the original pattern and numbers. I decided to use Lion Brand Yarn's Coboo which is a level 3 lightweight yarn that is 50% cotton and 50% rayon from bamboo. I used the beautiful colour "Mauve" for Myla's backpack and the vibrant "Magenta" for Brielle's backpack. As a word of caution, Coboo yarn does split easily, but it is very soft and the overall effect is definitely worth it. I used a 3.5 mm hook for the majority of the backpack and a 2.75 mm hook for the crab stitch edging at the top and strap.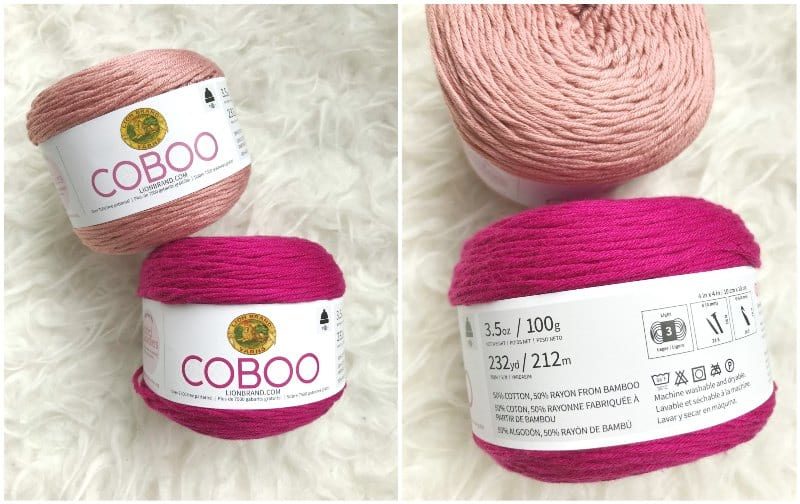 I enjoyed working through my pattern again and crocheting the different pieces. Below you will see my Wildrose Granny Square framed by the four triangles. If you are making multiple backpacks, I would suggest making them concurrently as I worked on both girls' backpacks at the same time. This facilitates the process since each piece is still fresh in your mind (e.g. the granny square, triangles, picking up the sides) and you know exactly what to do. It is so rewarding when you are done two backpacks at the same time rather than finishing one backpack and then having to start all over again to make a second one and having to reacquaint yourself with each section of the pattern.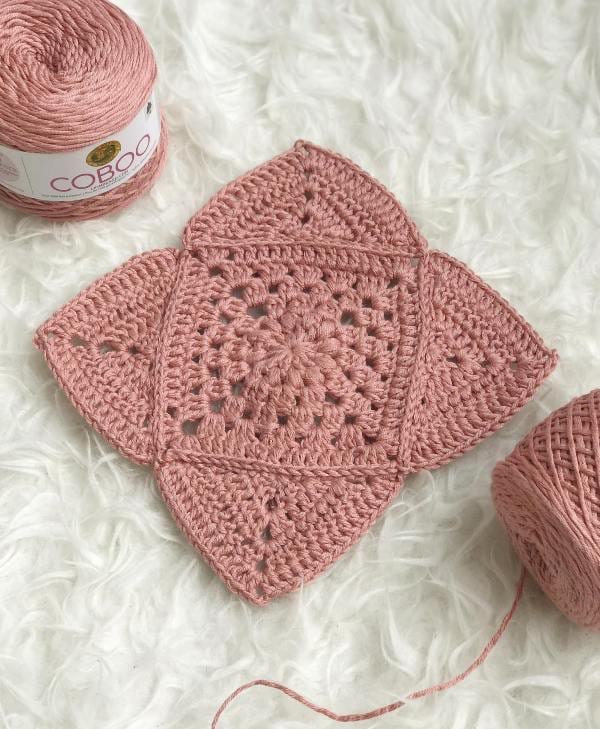 I love how these backpacks are such portable projects! I took them with me wherever we went, and I snuck in a lot of crocheting time while in the car. On this particular day, I glanced down and noticed an all pink theme with my pink backpack, mauve top, and pink bracelet!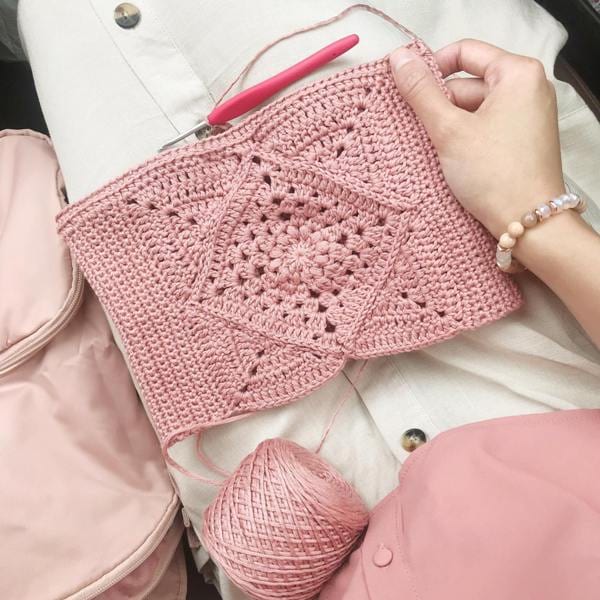 The girls were so excited to see me working on their backpacks, and soon I only had one part left to do: weaving in the strap!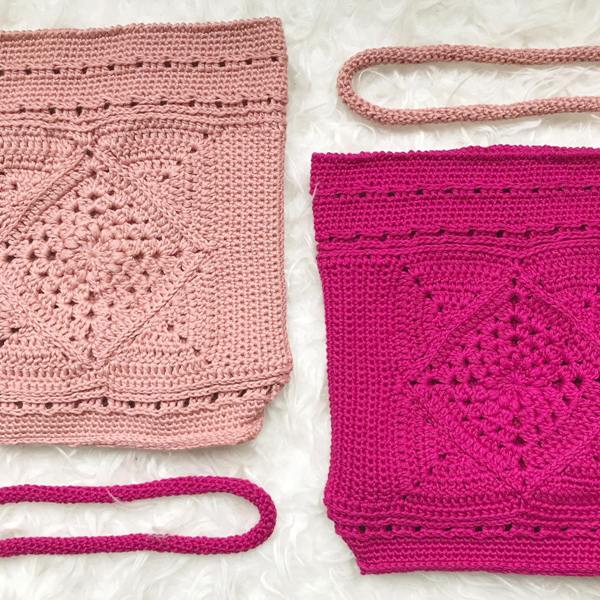 I took a video of me weaving in the strap in case you are interested in seeing how it is done! Click to view the video below on Instagram TV:
****************************
Here are my notes on how to crochet these Mini Wildrose Backpacks:
Follow the pattern, instructions, and numbers of my Wildrose Backpack Pattern found HERE.
Each Mini Wildrose Backpack uses 175 grams of Coboo yarn (2 balls). Coboo is a lightweight level 3 yarn, and I used the colours "Mauve" and "Magenta".
I used a 3.5 mm hook for the whole backpack except for the crab stitch edging at the top and the strap – for these parts, I used a 2.75 mm hook.
I made the strap 45″/114 cm long. This still ended up being too long for the girls (ages 4 and 6), so I tied the straps at the front of the backpack into a knot (which you will see in the pictures below). As the girls grow taller, I can undo or adjust the knot so that they can continue wearing their backpacks. If you would like the strap to fit your children of similar ages and height (and you do not want to tie a knot in the front), I would go with 35″/88.9 cm.
If you are on Instagram, you can check out my Instagram highlight called "Mini Backpack" as I showed my progress while crocheting these backpacks through multiple videos.
Final dimensions: 9″/23 cm wide, 10″/25 cm tall
****************************
Here are the girls and I with our matching Wildrose Backpacks! They loved doing a mommy-daughter photoshoot!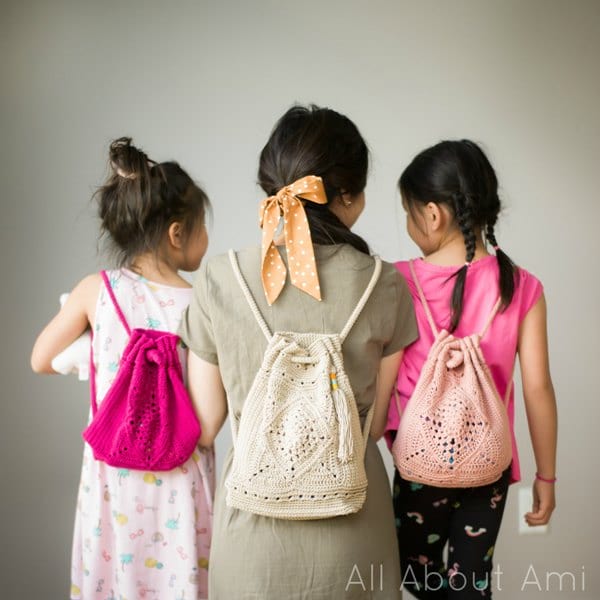 Don't the girls look so sweet wearing their little backpacks? Myla has been wearing hers everyday and brings it to all our outings – she is very proud as she tells people that I crocheted it for her!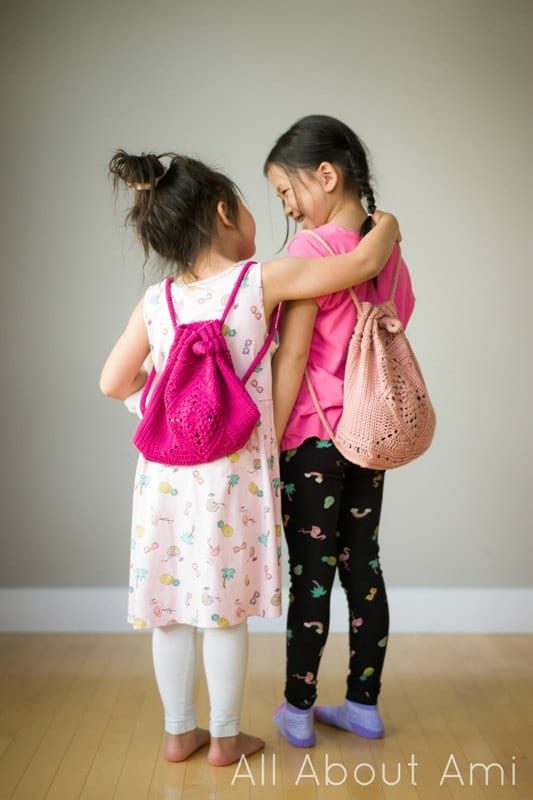 The girls have really been enjoying the summer as they are getting lots of playtime together. We are so thankful for these two and the special bond they have with each other!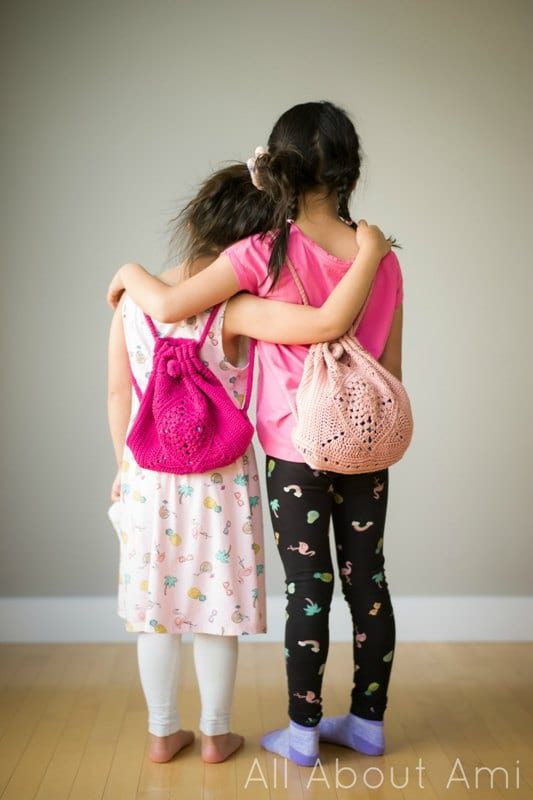 After the photoshoot, Ryan caught this pic of Brielle emptying her backpack. Isn't it adorable seeing what children pack in their bags? Brielle has hand sanitizer, a pair of handmade binoculars, and a polar bear stuffie haha!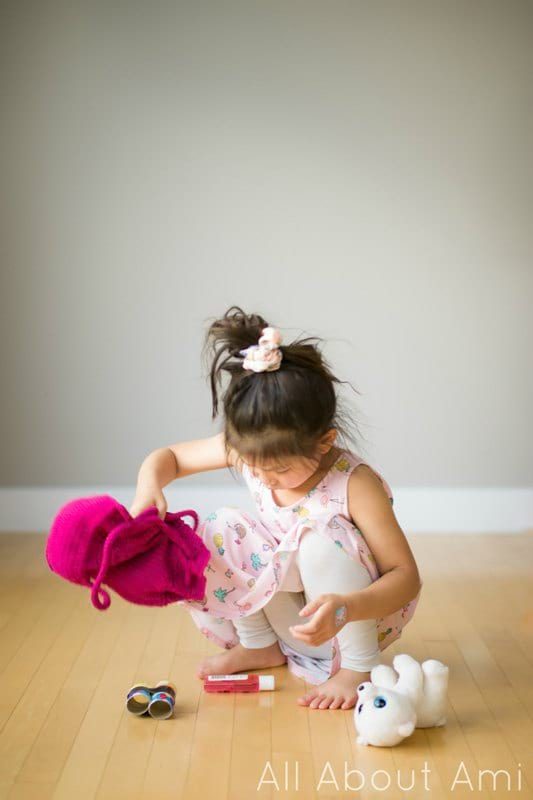 I hope this gives you some ideas on how to alter the size of your backpacks! Myla has been wearing her backpack a lot, so you can see that her mauve backpack appears larger than Brielle's magenta backpack due to stretching. You can also see how I knotted the front of the straps to adjust the length – it still looks very cute!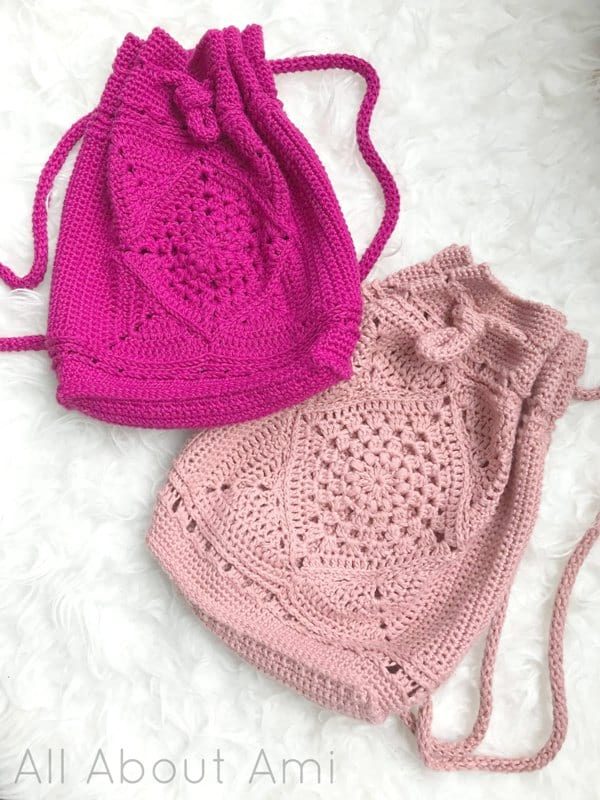 I have really enjoyed seeing all your Wildrose Backpacks and seeing what colours and colour combinations you come up with! My neutral taupe backpack matches with everything, and it is so fun carrying my essentials in it. If you are interested in seeing some of my style, travel, and fibre arts faves and picks, check out my Amazon storefront HERE – it is filled with items that I personally use and love, including this beautiful olive dress that I found (I got the midi length with pockets).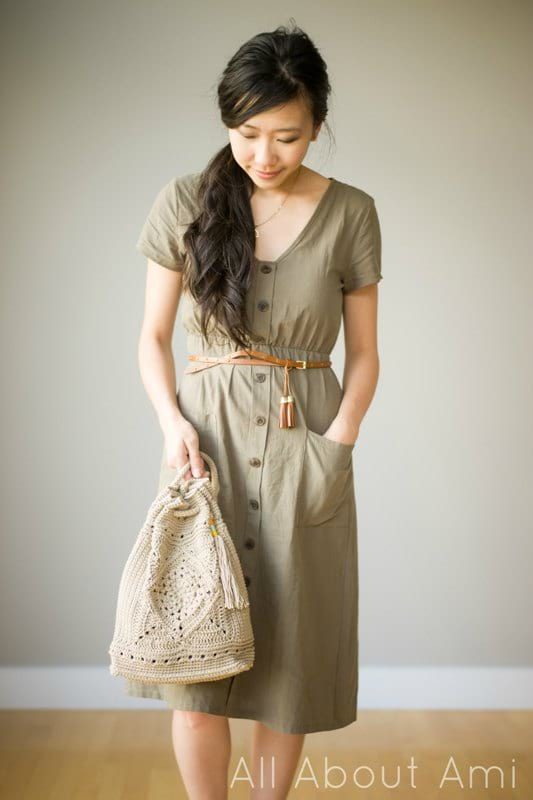 Thank you for reading, and I hope you enjoy crocheting your own Wildrose Backpacks for yourself and your little ones! We can get so much use and wear out of these backpacks, and it is very special seeing something you made being so dearly loved. Happy crocheting, everyone!