We celebrated Myla's 5th birthday this past week!  We wanted to share some of the party details with you all as we had a lot of fun planning it around the Sleeping Beauty theme, as chosen by Myla!  This theme lent itself well to decor and food planning as we focused on the colours blue and pink!  In the movie, the fairies keep changing Aurora's dress between pink and blue, so we wanted to play up this aspect (without looking too much like a gender reveal party haha- I'm not pregnant)!  This is the dessert table and feature wall from Myla's birthday party, which I will describe in more detail below!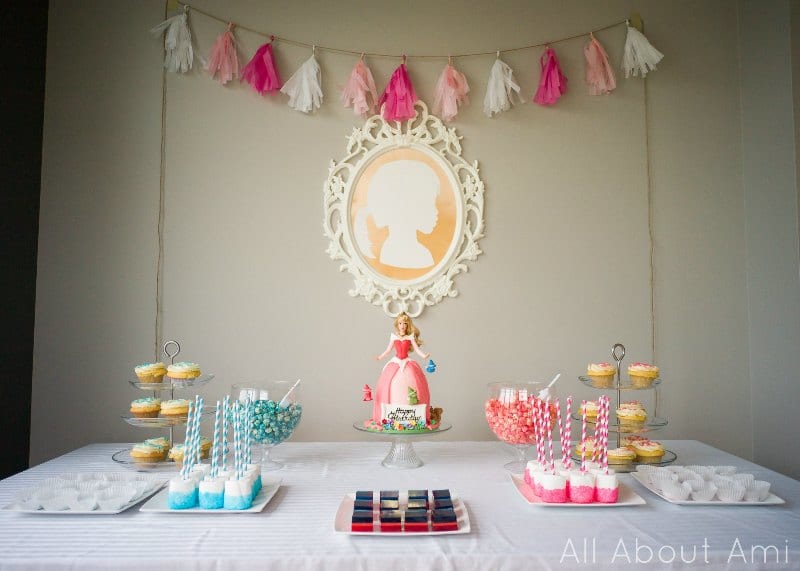 I learned how to make tissue tassels using this tutorial HERE!  They were quick and inexpensive to make, and I used gold washi tape to wrap the tops!  We hung them on some jute rope which helped frame the wall.  Using Myla's shadow, Ryan traced Myla's silhouette on a white paper taped against the wall.  He then carefully cut it out and glued it on a gold background (you could either use gold paper or use gold spray paint on white paper).  We purchased this elegant and regal white frame from Ikea which was perfect for the princess theme!  We made the food on one half of the table blue and the other half pink.  Our dessert foods included:
Cupcakes with blue or pink sprinkles: we used this pound cake recipe HERE and this swiss meringue buttercream recipe HERE.
Blue and pink popcorn: purchased from Kernels
Blue and pink mochi: I learned how to make mochi in the microwave!  Ryan's mom taught me, and the pink mochi had red bean filling while the blue mochi had chocolate peanut butter filling.  I will try and blog the recipe in a separate post!
Giant marshmallows dipped in blue or pink sprinkles/sugar: We inserted the colourful straws in the marshmallows, dipped them in water, and then dipped them in the sprinkles/sugar.
Layered Finger Jello: You can find my recipe HERE– we put this jello in the middle since it was both pink and blue!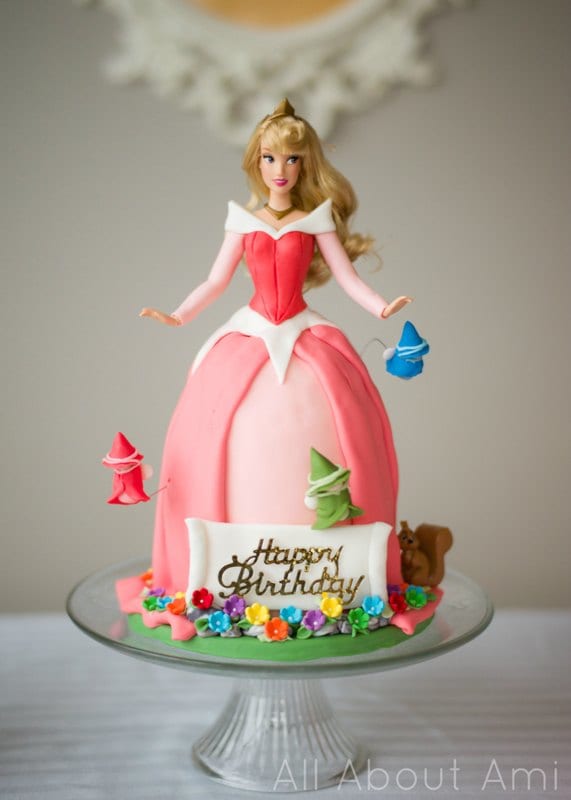 Ryan made this stunning Sleeping Beauty cake- he is such a talented artist with fondant!  I love the touches of the three fairies flying around as well as the beautiful colourful flowers on the bottom!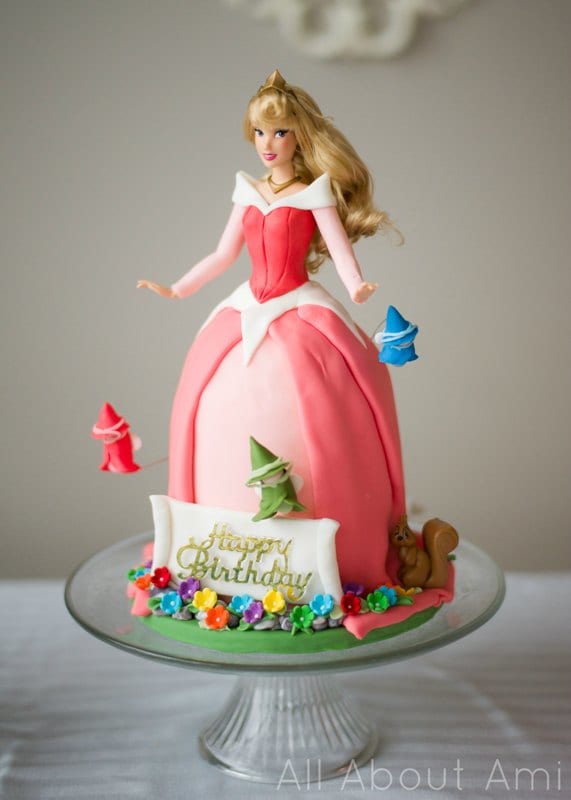 I actually took some videos when Ryan was making the cake so you can see some of his process!  He worked on it the night before Myla's party, and we were so excited to surprise the girls the next morning!
Myla's eyes widened with delight when she saw the cake!  She said she was expecting a flat cake with a picture of Sleeping Beauty, so she was very surprised to see an actual 3-D princess doll cake!  We told her that her dress was edible, and she thought it was so cool!  As we were prepping for the party, Myla would periodically go to the dessert table and glance at her cake, saying, "I just want to see my beautiful cake again!"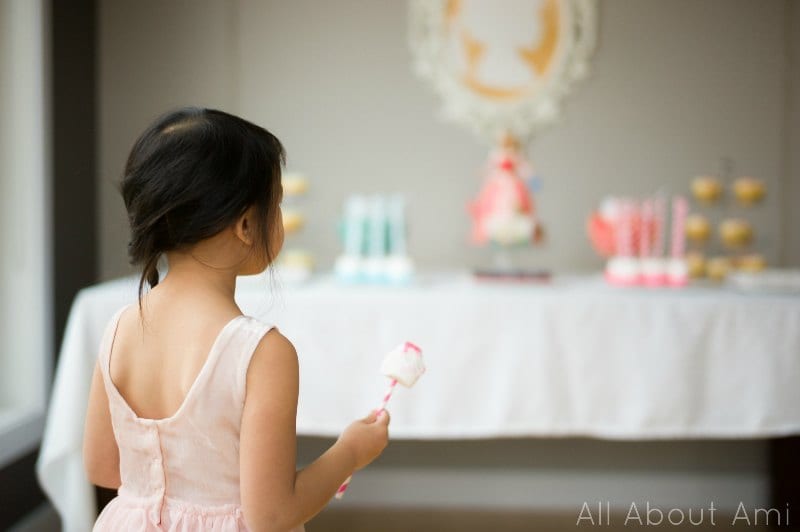 We planned some activities with Myla's friends, and they were very engaged!  Here are some of the activities we did:
I baked sugar cookies ahead of time and had the girls decorate them (I used this recipe HERE)!  We helped them add white icing, and the girls chose to make their cookies pink or blue (or both!) with fun sprinkles in various shapes.
I wrapped some accessories (hair ties and bracelets) in wrapping paper with five layers.  The girls sat in a circle and we played "hot potato" by passing around the present and singing songs.  Whoever is holding the present when the song ends gets to unwrap one layer of the present!  We played this at another girls' princess party, and the children had so much fun (they used themed gift wrap like Frozen, Spiderman, Minion, etc).  This game is good for children of various ages and who doesn't love opening presents?  All the girls got to choose a prize when the last layer was finally unwrapped and all the accessories were revealed!
We made a mini obstacle course where the girls had to crawl through a tunnel and find their party favours in a ball pit!  We actually made all the party favours and the girls LOVED them- I will blog about them in the future too, but we made each girl a fairy jar!  More pics and tutorial to come!
We asked all the guests to try their best to wear pink and/or blue!  The group photos looked lovely since all the girls were wearing the same colour palette!  They were all excited to piece their outfits together using only pink or blue wardrobe items!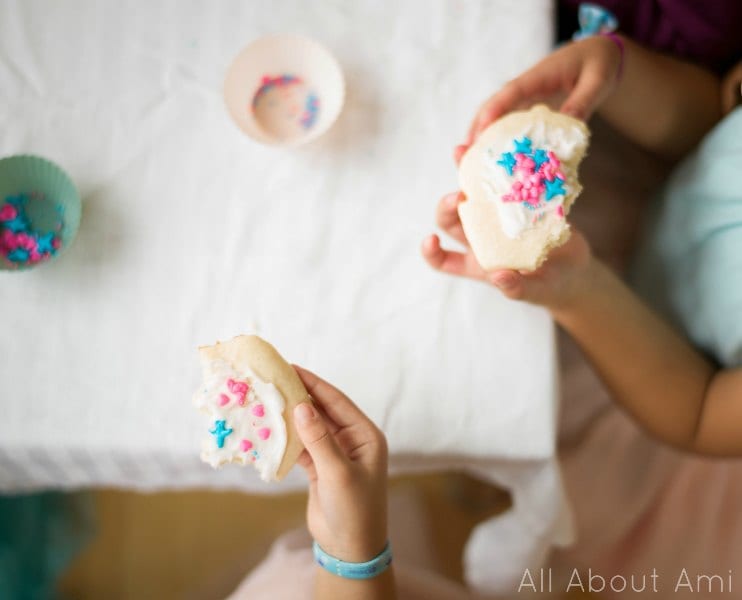 I still cannot believe that five years have flown by!  I have such vivid memories of Myla's birth and my recovery as it was so intense and challenging learning how to take care of a newborn while running on such little sleep.  Those early years were all a haze as nights blended into days with the round-the-clock feedings and diaper changes.  I'm so thankful we have videos and pictures of day-to-day moments and big milestones as they learned how to roll over, crawl, take their first steps, eat solids and discover everything around them for the first time.  It's surreal that we no longer have babies in our family, and that Myla has already started kindergarten and is loving it!  We thank God each and every day for these two sweethearts and how much joy they bring into our lives!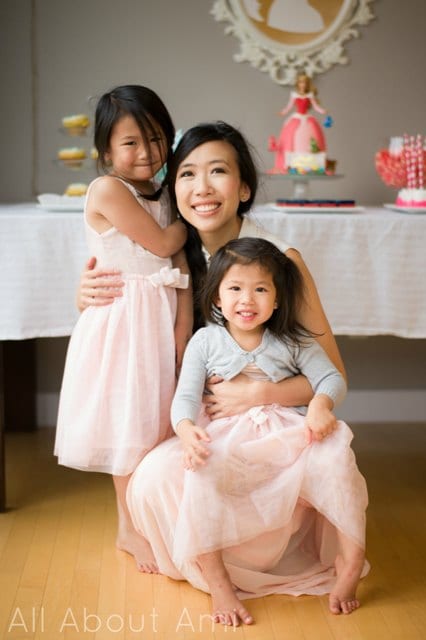 Myla said that she wished that her birthday could go on and on and that this birthday cake was the best birthday cake ever!  I'm so glad we could make her birthday so memorable for her as birthdays are so special for children- I still have fond memories of my Chuck E Cheese birthday parties growing up, haha!  I know many of you have been following my blog from even before we had the girls, so thank you for your continued support and love for our family!  I hope you like these little peeks at our family moments and vacations, and that you can perhaps get some ideas for your own parties and travels!  Next week I will be sharing a brand new original crochet garment design with you all, so stay tuned!