When I was a little girl, I remember always making a beeline for the jello if it was being served at potlucks or family dinners.  I particularly liked layered jello that was firm enough to be held in your hand (finger jello) compared to the jello eaten from a cup/bowl with a spoon.  My aunt was kind enough to give me the recipe she used since she knew how much I loved it!  These continue to be a popular treat at get-togethers for both kids and adults!
I first dissolve gelatin and jello in boiling water.  Next, I add whipping cream which will rise to the top and add a creamy layer.  I know other recipes tend to use condensed milk for the creamy layer in jello, but I've always used whipping cream.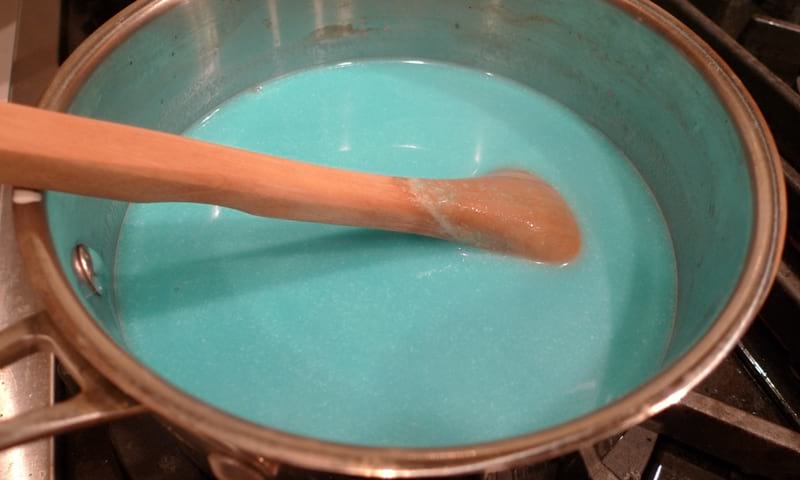 I pour the mixture into a pan and wait for it to cool before putting it in the fridge.  The whipping cream rises to the top after a few minutes.  I then let it set in the refrigerator for at least three hours (usually overnight).  This is how I typically prepare my jello: with two simple layers.  The result is an easy-to-make firm jello with a delicious creamy layer.

However, if you want to be extra fancy, you can add another layer.  You have to be careful that the original layer has completely set before adding the next liquid layer.  Otherwise, the two layers will mix, and there won't be a differentiation in colour!  And so, I let the blue layer warm up a little bit by taking it out of the refrigerator for a couple of minutes and then wait till the red mixture has completely cooled just to be safe.  This way, there is not such a stark contrast in temperature between the two.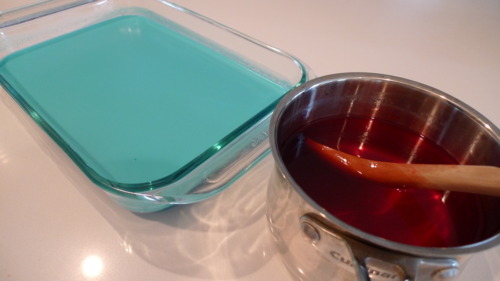 After adding the red layer…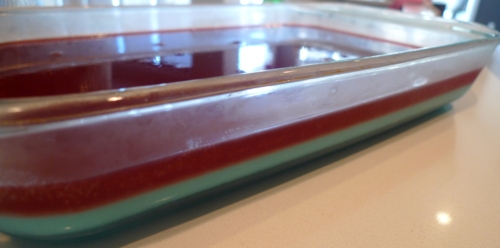 And after all the layers have set, the jello is ready to be served and cut into squares
: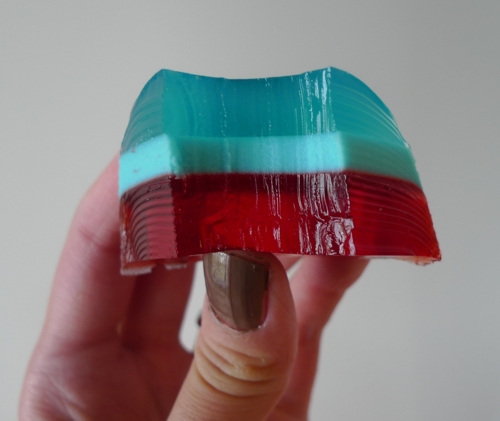 Don't the layers look great?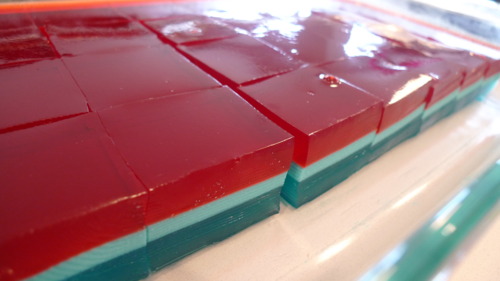 I served them on my three-tiered platter with the blue facing up on the bottom, red facing up in the middle, and a mixture of both on the top!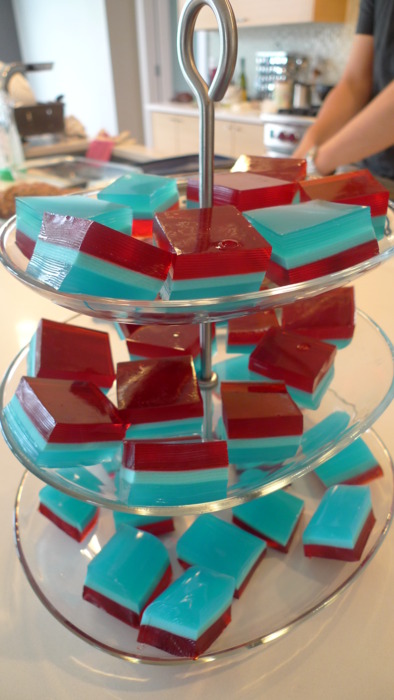 Here is the recipe I use to make delicious layered finger jello: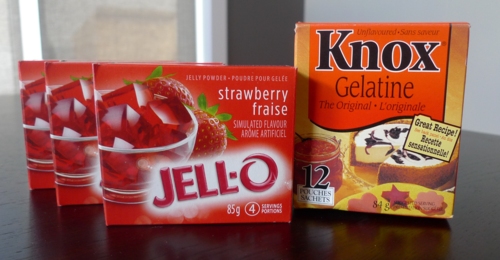 Ingredients:
3 packets gelatin (1 packet = 1 tbsp of gelatin)
3 small boxes of jello (85 g)
3 ¼ cups of boiling water
1 cup whipping cream
1.  Dissolve the gelatin and jello into the boiling water.
2.  Add the whipping cream.  Mix well.
3.  Pour into pan.  Let set for at least 3 hours.
It's as easy as 1, 2, 3!  And to add another layer, you simply repeat the steps after the first layer has set (you can have the second layer with or without whipping cream.  In this case, I did not add whipping cream to the second layer).  This jello would also be great for special occasions and holidays with so many colour combinations available (e.g. red and green for Christmas).  Give this recipe a try- it's sure to be a hit!