Growing up, I always looked forward to having sweet rice cake or lian gao/nian gao for Chinese New Year!  I loved all chewy glutinous Asian desserts such as mochi, tong yuen and tapioca, and sweet rice cake was no exception!  Typically we would buy pre-made rice cake at the store and pan fry it after dipping it in egg.  My grandma knew how to make the steamed version from scratch, and I always loved it when she made it for us!  After Ryan and I got married, Ryan's mom and sister introduced us to a delicious BAKED rice cake recipe that is extremely simple to make!  I was so excited to try out this recipe and make it on my own!  Whenever I have a craving for a delicious and chewy dessert, I can whip some up in no time as this recipe is so easy!  This sweet rice cake is a popular dessert to bring for potlucks and events, and it's so special being able to make this traditional dessert for Chinese New Year (or any time of the year like I do)!
The recipe calls for only six ingredients: glutinous rice flour, baking powder, milk or coconut milk (I like using a can of coconut milk and topping it up with 3% milk), eggs, vegetable oil, and sugar!  Pictured below is the glutinous rice flour that I like to buy from my local Asian grocery store (T&T and even Superstore).  Coconut milk gives the rice cake a delicious and rich coconut flavour!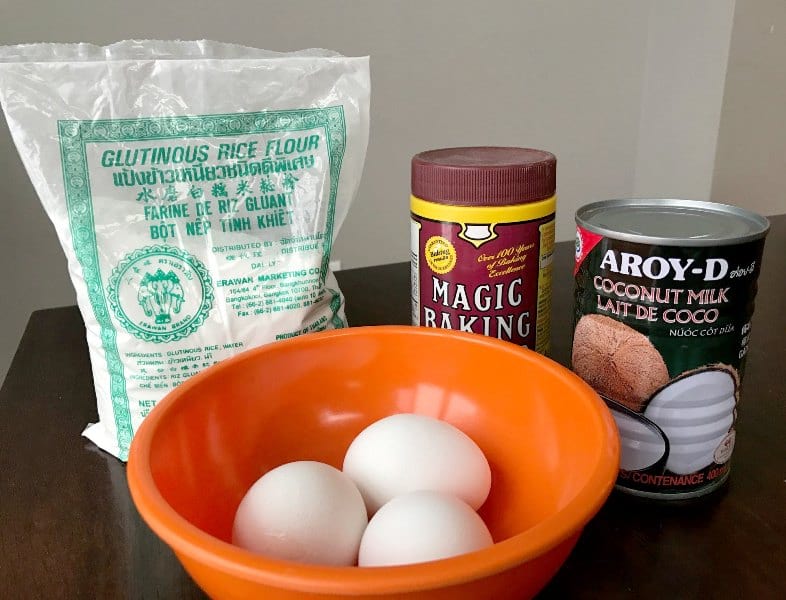 You simply put all the ingredients in a bowl…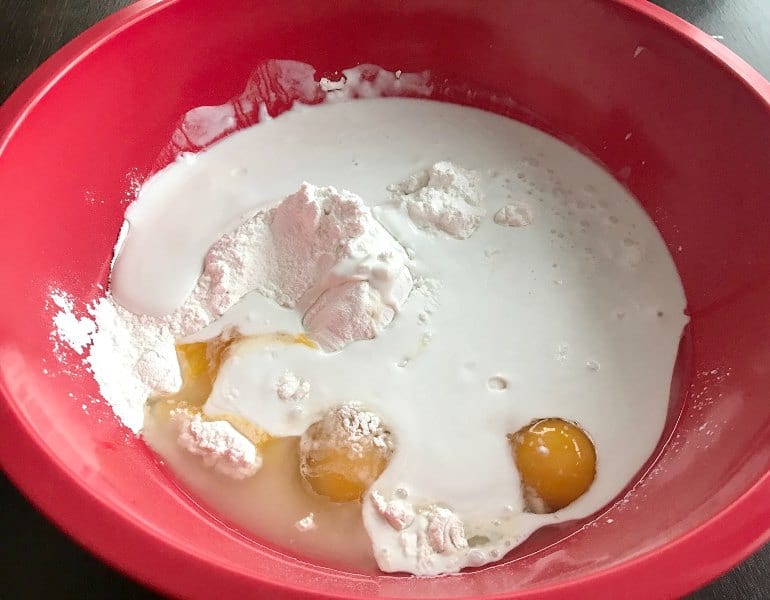 And mix them all together!  The girls love helping me mix when we bake together!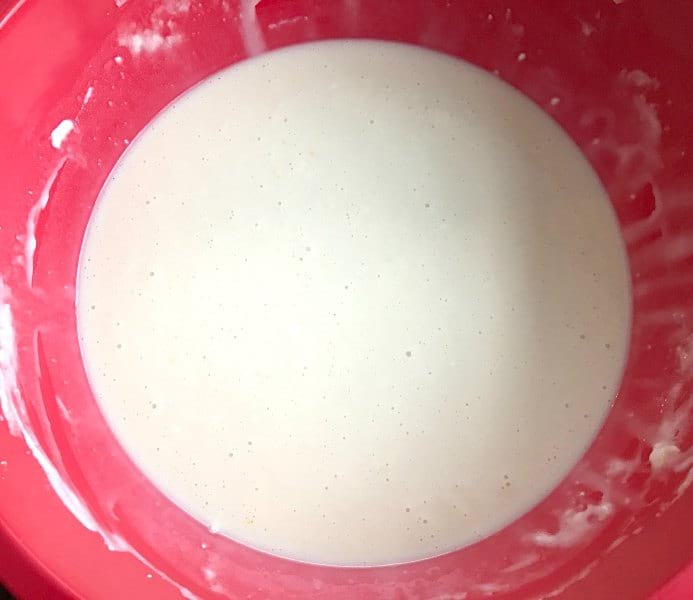 Pour the batter into a greased pan.  Then you bake in the oven for 45-50 minutes!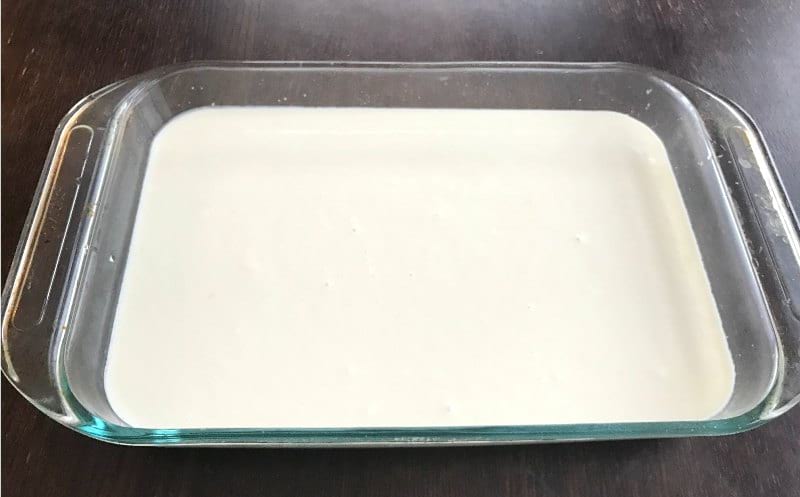 And voila, your baked rice cake is finished!  So incredibly easy, right?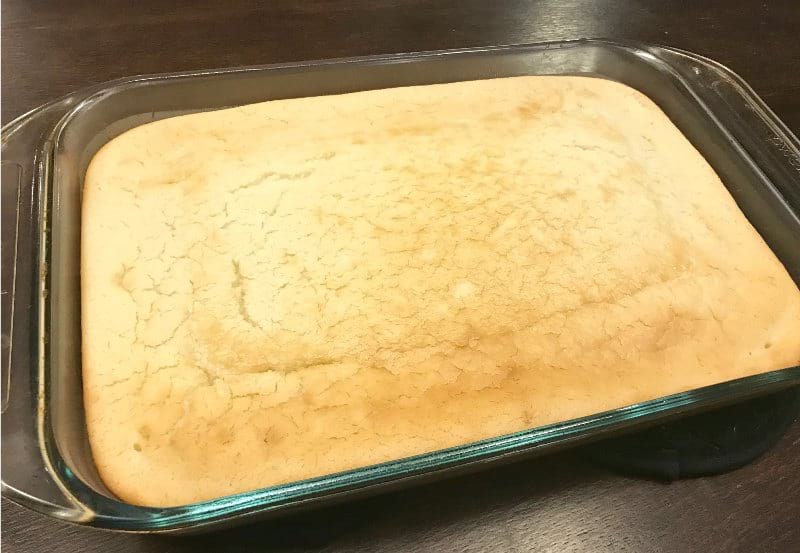 The outside crust is crispy while the inside is chewy!  It is such a delicious and simple dessert!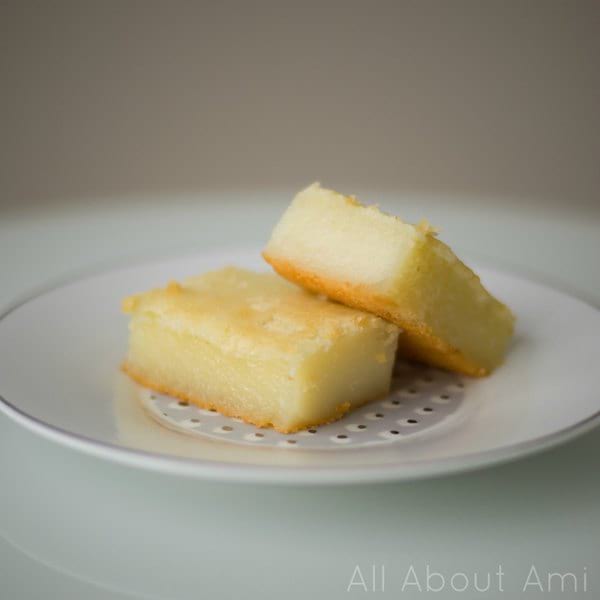 ******************************
RECIPE:
Ingredients:
1 bag glutinous rice flour (400 g)
1 tbsp baking powder
2 1/2 cups milk or coconut milk
3 eggs
1/4 cup vegetable oil
1 1/4 cup sugar
Preheat oven to 350F.  Grease a 9″ or 9″ x 13″ cake pan.
Mix all the ingredients until batter is smooth.
Pour the batter into the pan and bake for 45-50 minutes.
Serve warm or cold.
*******************************
Have fun making your own baked rice cakes, and have a wonderful Chinese New Year, everyone!  Our pups can't wait to dig in!  If you would like to crochet your own dogs, check out the step-by-step blog post HERE and the free pattern HERE!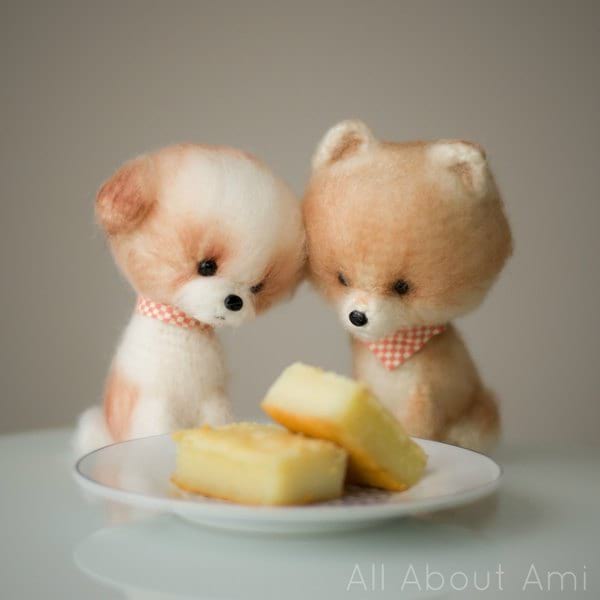 Enjoy this scrumptious treat and let me know if you'll be giving this recipe a try!