Growing up, I had so many fond memories of eating sweet glutinous rice cake (lian gao) during Chinese New Year. When we went to visit my Grandma, she would steam rice cake for us as she knew how much my siblings and I loved it, and we would gobble it up while it was soft and chewy. We would also buy rice cakes from our local Asian grocery stores – these were usually hard, and we could cut them into pieces, coat them with egg, and then pan fry them. A few years ago I posted a Baked Sweet Glutinous Rice Cake Recipe that many of you have loved using (refer to that recipe if you do not have a steamer as that version is baked in the oven). Recently, Ryan's sister and her family came to visit, and she showed me how she makes her steamed glutinous rice cake. The steamed version reminds me so much of my childhood, and I am delighted that I can now make it whenever I want, and I would love to share this recipe with you!
This simple recipe uses only three ingredients: glutinous rice flour, coconut milk, and brown sugar. You can find glutinous rice flour at your local Asian grocery store and even some Western grocery stores such as Superstore or Safeway. My favourite brand of coconut milk is Aroy-D, and I recommend using dark brown sugar.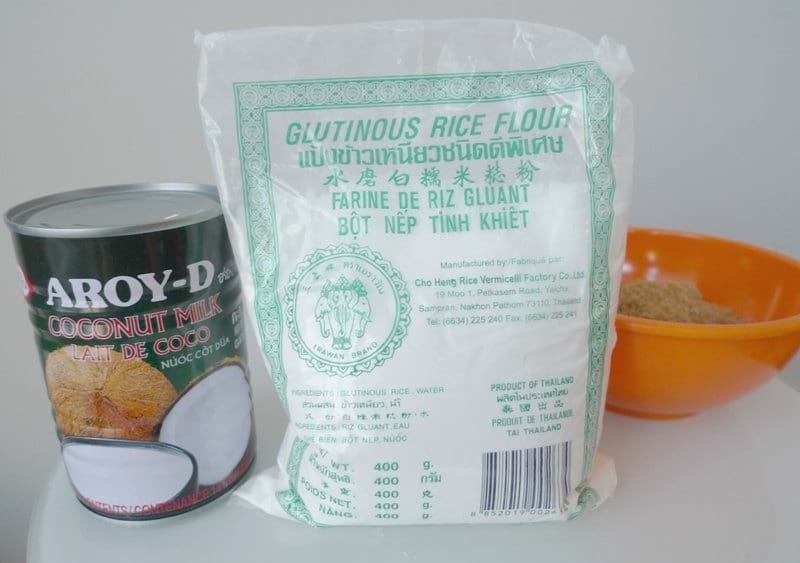 We will be using the ratio of 2 cups of liquid to 1 bag of glutinous rice flour. This 400 mL can of coconut milk is nearly 2 cups as you can see in the picture below. I top it up with water to make it exactly 2 cups. Place the brown sugar in a microwave safe bowl and pour in the liquid. Heat this mixture for 1 minute in the microwave and then stir to ensure that all the brown sugar has dissolved.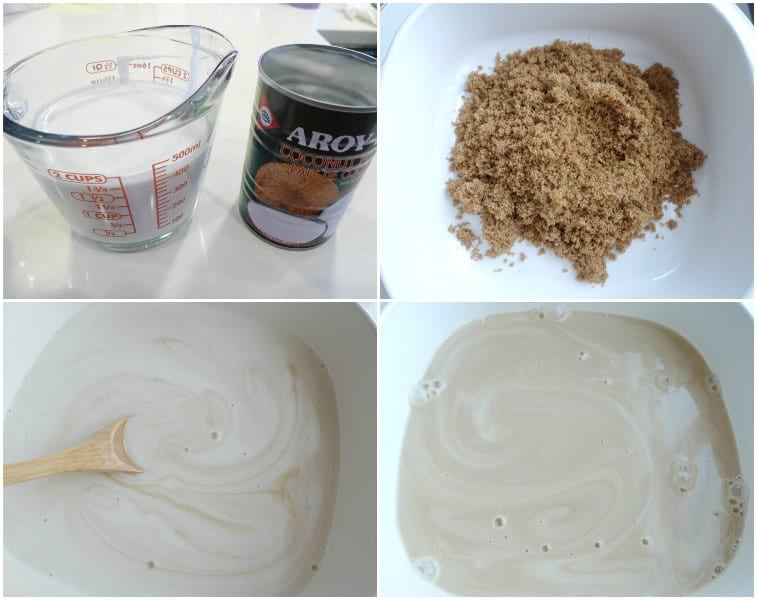 Empty the entire bag of glutinous rice flour into a large bowl. Pour the liquid mixture into the bowl and mix well until smooth. The consistency should be a thick corn syrup. Transfer this mixture into a greased dish.


Get your steamer ready: ensure there is enough water at the bottom (I have accidentally burnt my rice cake before because of too little water). Place the rice cake into the steamer and cover with a lid – steam for 30 minutes.

After 30 minutes, remove the lid and you will see that your rice cake is a light translucent colour. The colour will change to a darker brown as it cools. Let the rice cake cool before attempting to eat it as it is very sticky initially.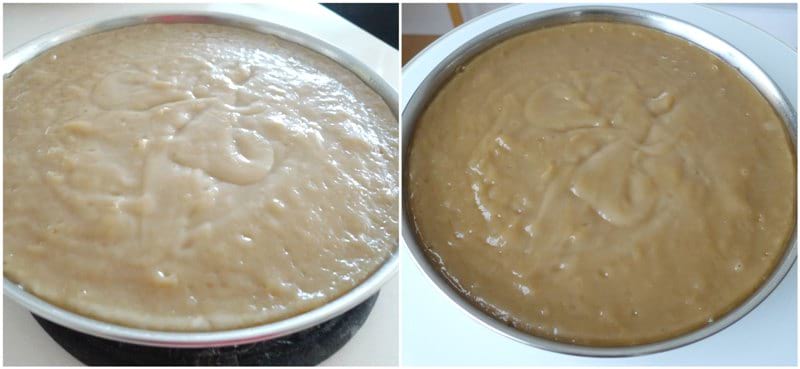 ********************************
Steamed Glutinous Rice Cake Recipe: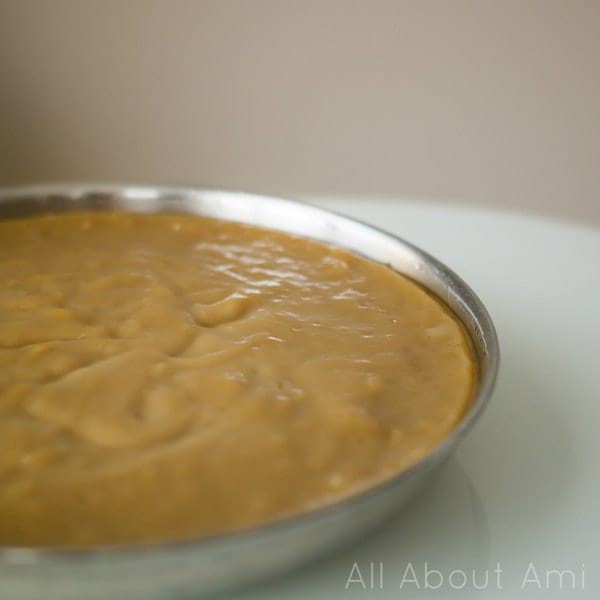 Ingredients:
1 bag glutinous rice flour (400 g)
2 cups of liquid (1 can of 400 ml coconut milk topped with water)
200-250 grams (about 1.5-2 cups) of dark brown sugar (depending on your sweetness preference)
Vegetable oil for greasing the dish
Heat liquid and brown sugar for 1 minute in microwave. Stir to make sure the brown sugar has completely dissolved.
Pour liquid into glutinous rice flour and mix until smooth. Consistency should resemble a thick corn syrup.
Pour into greased dish (I used vegetable oil to grease my 9″ diameter circular pan).
Steam for 30 minutes.
Let cool for 30 minutes. Enjoy it while it is soft and chewy (tends to harden after 2 days). If the rice cake gets hard, you can heat it in the microwave to soften it again (10-20 seconds for a piece). You can also coat pieces of the hard rice cake with beaten raw egg and then pan fry it for a delicious treat (the egg gives a crispy outer coating that contrasts the soft chewy rice cake inside).
******************************
This steamed glutinous rice cake is delicious with its brown sugar and coconut milk flavour. Rice cakes are such a delight to share with the family as everyone can enjoy a piece!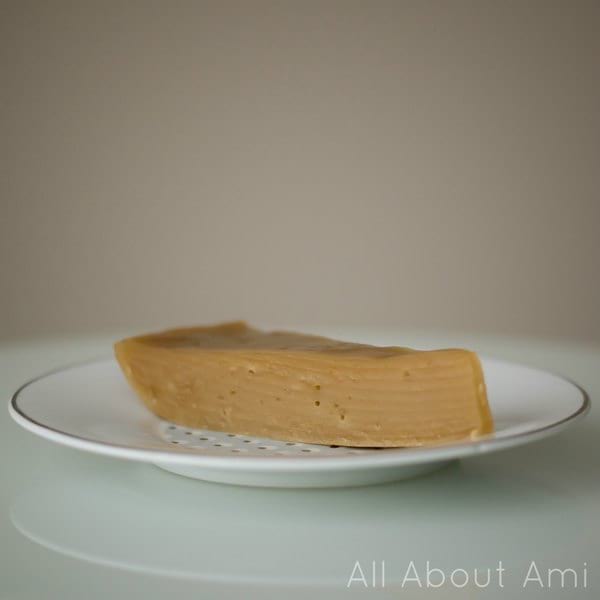 Our little crocheted Rupert the Rat is itching to try some too! He is our zodiac amigurumi design for 2020 since it is the Year of the Rat. We love being able to celebrate Chinese New Year with our crochet rat and this Sweet Glutinous Rice Cake. You can find the free crochet pattern for Rupert the Rat HERE!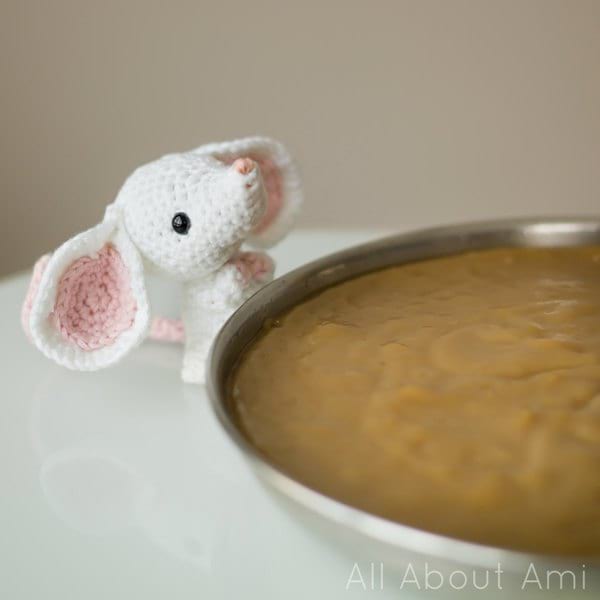 We hope you enjoy making your own steamed glutinous rice cakes and love the chewy goodness! If you are interested in the baked version of this sweet glutinous rice cake, click HERE for the recipe! Happy New Year, everyone!