I find it so fascinating how crochet and knit designers bring their various backgrounds, life experiences, interests and strengths to create their own unique designs and develop a style that readers recognize and support!  One such designer who has developed an absolutely stunning and modern aesthetic is Teresa of Debrosse Knitwear.  Teresa lives in New York City and comes from a graphic design background, which is evident in all her work.  She started Debrosse in 2013 after traveling to Haiti and seeing the needs of the children there.  They touched her heart so much that she wanted to help them in a tangible way- she asked her mom to teach her how to crochet and together they made over 150 blankets for these children!   One of the blankets went to a bright-eyed five year old boy named Israel Debrosse with a huge personality.  This boy captured Teresa's heart, and this deep yearning to help Israel and his friends beyond blankets became the heartbeat of her Etsy shop.  Teresa continues to support these children in Haiti with her work as 15% of Debrosse sales help fund two partner orphanages.  This money is used, for example, to help sponsor a child through a year of school, ensure a newborn has access to nutritional formula, and provide a young reader a book in his native language.  I am so inspired by Teresa and how she is giving back and truly using her skills to love and help these children.  You can read some of the interviews that Teresa has done HERE and HERE to learn more about her and her outstanding work, and I am very honoured to feature Teresa on the blog this week!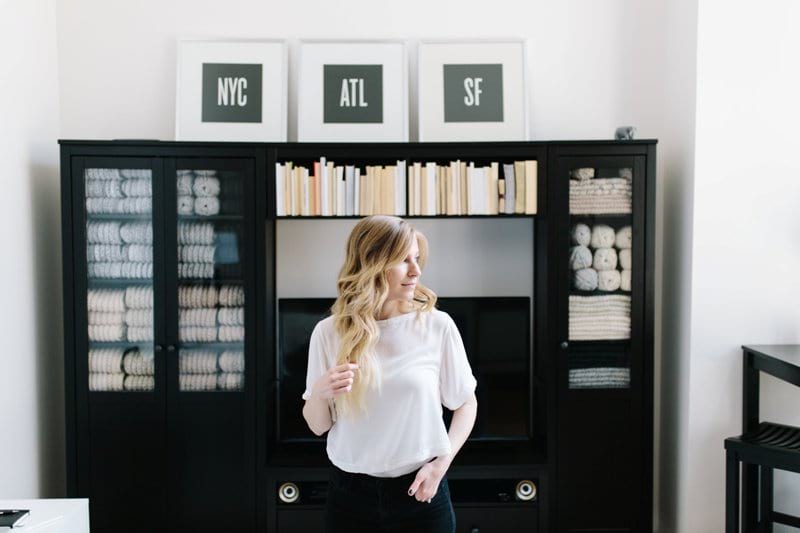 Teresa offers a variety of digital and physical items in her Etsy shop for both makers and non-makers, and I am very excited to tell you about them as they are all so beautiful. To start off, let's take a look at some of the knit and crochet patterns that Teresa offers!  Teresa has such a clean, minimalist, and modern style, and I was so excited to try my hand at some of her designs!  One of the first items that stood out to me was her beautiful Roseaux Headband.  I love the twist in the front and how on trend they are- headbands and earwarmers are one of my favourite ways to stay warm in the winter (especially with my hair up), so I was excited to try this pattern out!  I used Lion Brand Yarn's "A Touch of Alpaca" in "Taupe" to knit my own headband (also pictured here are my alpaca legwarmers from Peru, similar HERE on Etsy).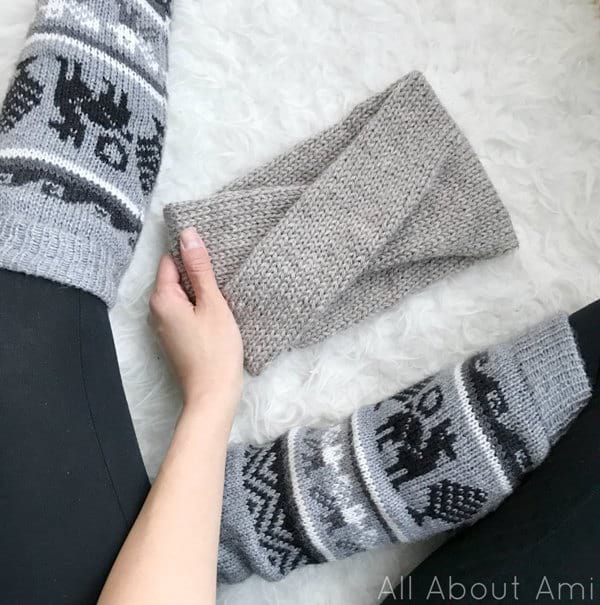 Have you ever discovered a pattern that is so addictive and satisfying that you create a multitude of that item?  This is the case for me with the Roseaux Headband!  I find it so relaxing knitting in a round since you do not need to keep the count or concentrate too hard.  I enjoy keeping this project on the go with me when I am in the passenger seat of a car or watching something on television.  Each headband requires less than one skein of yarn, and they are very stylish when worn!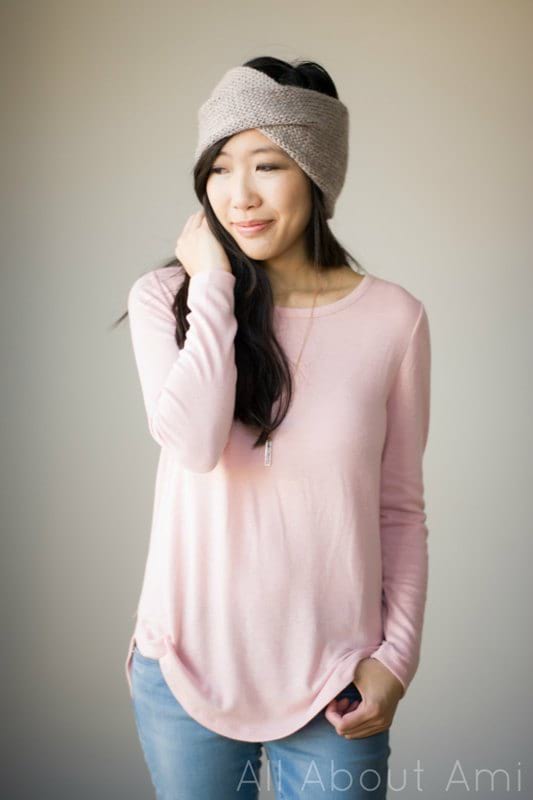 As of right now, I have knitted seven headbands in total, most of which are gifts!  Each time I create one with a new colour, I am so tempted to keep it for myself since they are so cute!  These will be my go-to gift when I want to create a chic handmade item that uses less than one skein of yarn!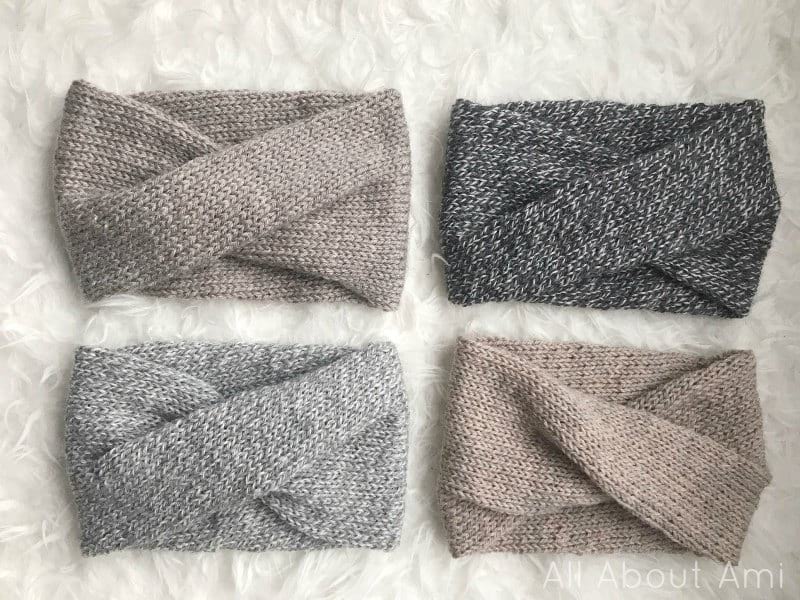 Another item that I have always wanted to learn how to knit is a double brim hat.  I thoroughly enjoyed knitting the Savante Double Brim Hat using Lion Brand Yarn's Woolspun in "Fisherman".  Here is my work-in-progress pictured with some gorgeous blanket scarves that Teresa also sells in her shop (more details below).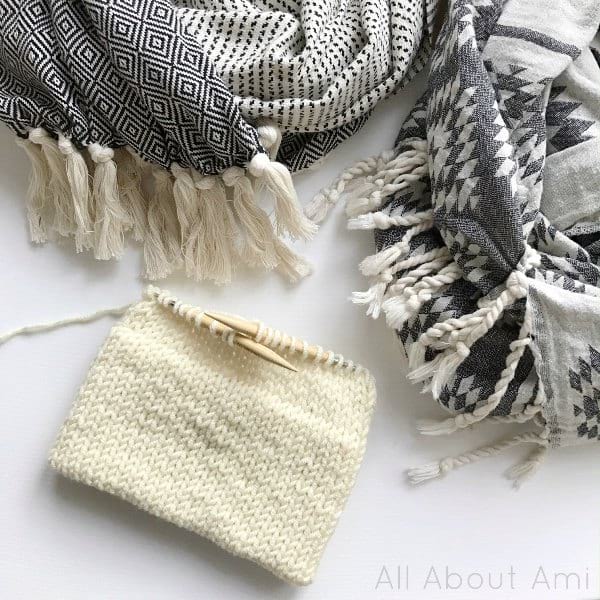 There is something so classic and luxe about a Double Brim Beanie!  I love the thick and emphasized brim!  Teresa has made many with two colours that look very cute as well!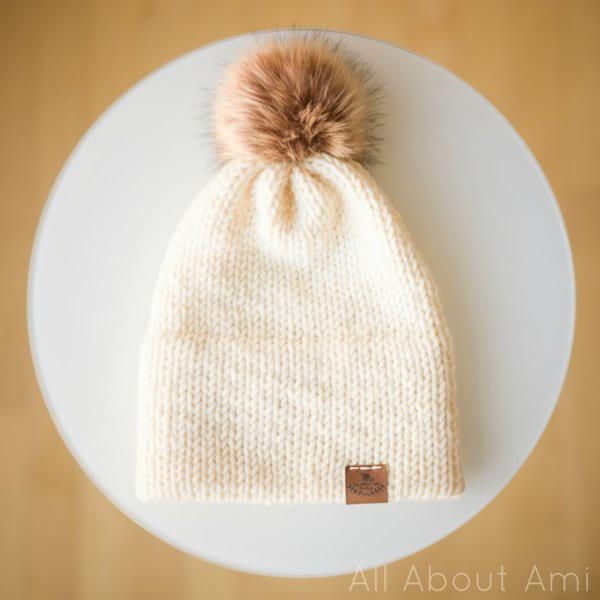 When worn, the double brim beanie feels so solid and substantial!  The brim hugs your head and looks very modern!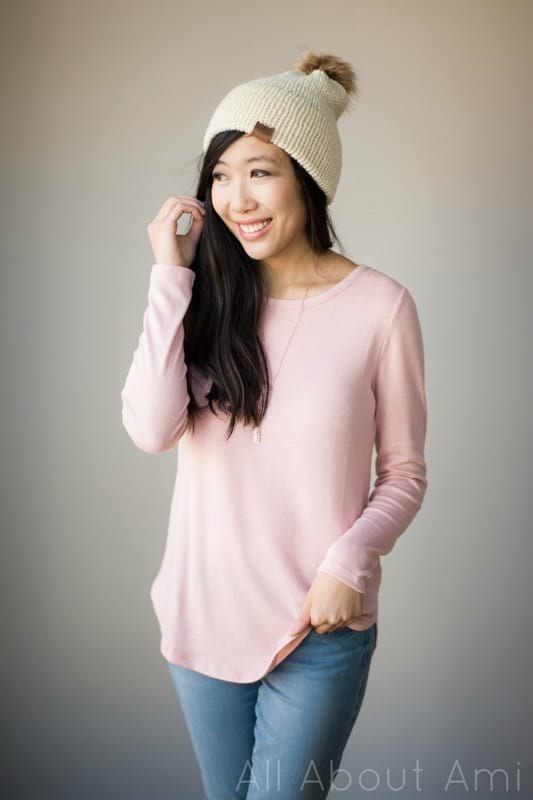 For those who do not know how to knit or crochet, Teresa sells finished items in her shop as well.  Thus, you can purchase your own Savante Beanie or Roseaux Headband in a range of beautiful and modern neutrals.  As you glance through Teresa's Etsy shop, you'll see a cohesive theme as Teresa carefully chooses which colours to offer and how to best show off her lovely designs!  Recently, Teresa has begun selling handy DIY Kits that contain everything you need to create one of her designs, including the pattern, yarn, needles or hook!  These would make fabulous gifts for those interested in learning how to crochet or knit and for those who want to use the exact same yarn that Teresa uses!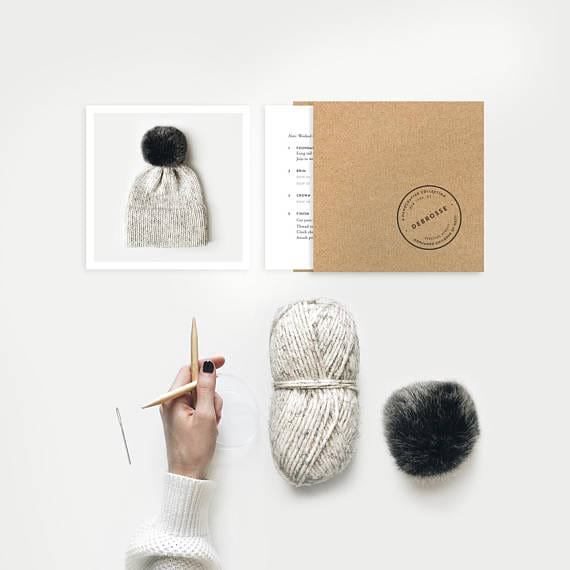 One of the signature items from Debrosse that I've had my eye on for quite some time are her absolutely stunning blanket scarves!  Teresa has chosen some gorgeous prints and colours and made them into luxurious blanket scarves complete with fringe.  Her blanket scarves are very unique because they are actually tubes or infinity scarves as the ends are seamed together.  Thus, you can simply slip them over your head and loop them around your neck, taking all the guesswork out of how to wear large blanket scarves that are traditionally a rectangle or square.  You can also request to not have your blanket scarf seamed together if you prefer it to be flat rather than circular!  I chose the "Black" and "Aztec" blanket scarf and I am IN LOVE with them!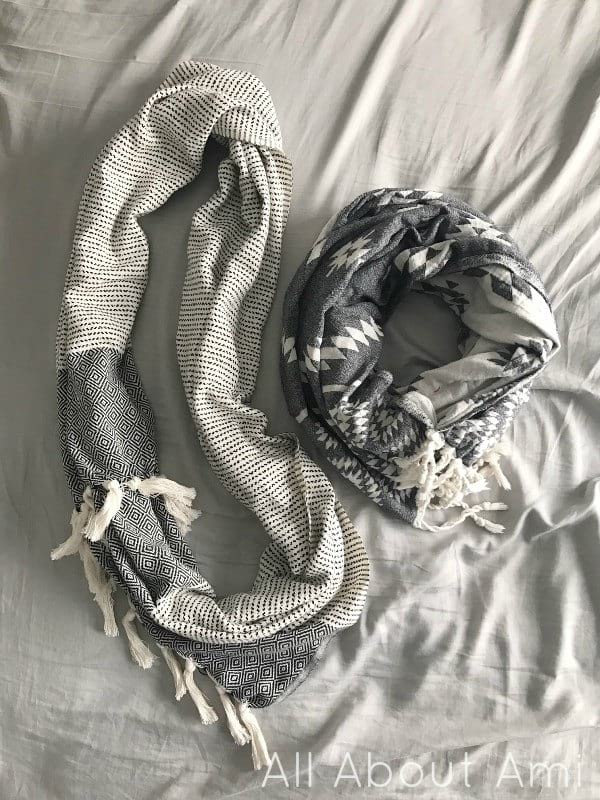 They instantly elevate any outfit and match with all my jackets with their neutral colours.  They keep me very warm as they hug my neck, and the Aztec design is actually reversible as one side is lighter while the other side is darker.  They are my favourite blanket scarves to date and would make amazing presents!  If you are eyeing any of her blanket scarves, Teresa has provided us the coupon code "ALLABOUTSCARVES" for $10 off any blanket scarf in her shop!  You can add the code manually or use this link HERE which automatically adds the code to your cart when you shop!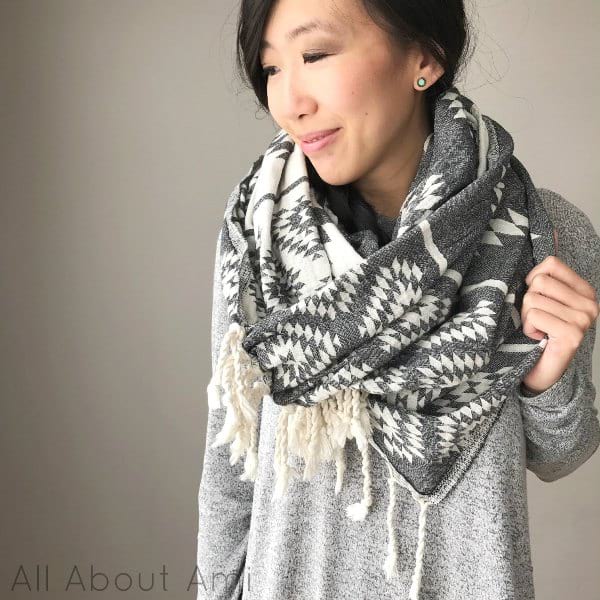 The last items from Teresa's shop that I would like to tell you about are very unique and are extremely important resources for makers who own their own shops or sell their own designs.  With Teresa's strong design background and willingness to share her skills with us all, Teresa has generously created a series of pattern templates for makers to use!  Many makers have the passion to start their own Etsy shop and sell their crochet and knit items and patterns, but they do not know where to begin.  It can be daunting figuring out how to format your patterns, create a logo, or design signs for market displays.  Teresa has designed various pattern templates and themes such as the Wanderlust and Bold, so you can simply insert your own photos and text!  The formatting is all done for you and all your patterns will have a cohesive style that is visually pleasing to readers! These pattern templates are instant download PowerPoints + Keynote files (PC/Mac compatible) and are fully customizable to your brand (logo, photos, fonts, colors, content).  Each pattern template has 11 page types: cover, quote, legend, pattern (2x), tutorial photos (4x), about + contact, and close.   I was very impressed with Teresa's PDF patterns that I used to make my Roseaux Headband and Savante Double Brim Hat as they have the most modern and beautiful formatting that I have seen.  It makes a big difference when patterns are presented in a beautiful way as they are easier to read, entice readers to want to make your project, and encourage makers to want to purchase more patterns from the same designer!  Teresa also offers other digital products to help you develop a cohesive theme and aesthetic for your shop, such as market sign templates, business card templates, and sticker packs! Many makers have already purchased and implemented Teresa's templates into their own shops and have expressed their deep gratitude!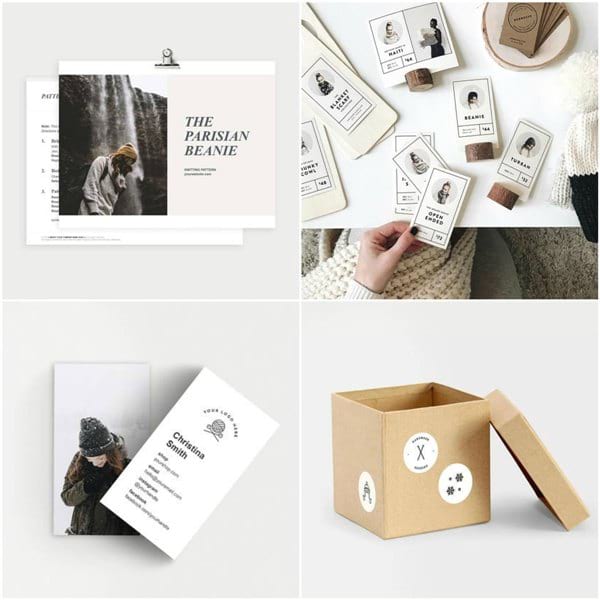 I hope you have enjoyed the tour through the Debrosse Etsy shop as Teresa has so much to offer!  She has put her heart and soul into every item, and she is so generous in sharing her skills with us all through her finished items, crochet and knit patterns, and digital files.  It is truly amazing how passionate Teresa is about helping and empowering the children of Haiti through her New York-inspired knitwear since 15% of her sales go to helping the orphanages!  Currently, all of Teresa's templates are 25% off (no code necessary) and all patterns are buy 3 get 3 free (code "BUY3GET3FREE"), and both are good until the end of the year.  There is FREE SHIPPING on all US orders and once again, you can get $10 off any blanket scarf purchase with code "ALLABOUTSCARVES"!  Teresa is offering an amazing GIVEAWAY for my readers as well!  FIVE winners will each get $30 instant download credit to the Debrosse Etsy shop!  That means that you can choose any patterns or templates that you want!
***To enter the giveaway, leave a comment below telling us how you would use that $30 credit (e.g. buying the Roseaux Headband pattern, Wanderlust templates, or Market Sign Templates, etc)!
Giveaway is open WORLDWIDE and will close on Saturday, December 9th at 8 PM MST!  You can also enter through Facebook and Instagram for more chances!  You can keep up to date with Teresa's work by following Debrosse on Etsy, Instagram, and Facebook!  Have fun browsing through her lovely designs!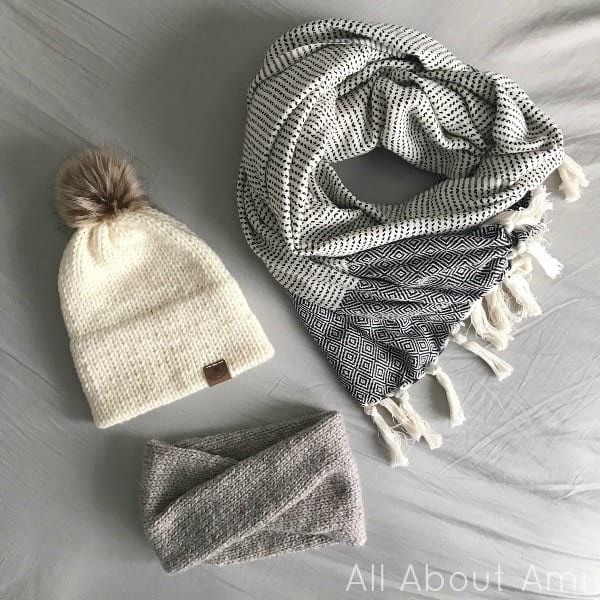 Note: Thank you to Teresa of Debrosse for providing me with her patterns, templates, and blanket scarves for review!  All opinions expressed are 100% my own!