Four years ago in the Spring of 2013, I was thrilled to be featured in the very first issue of Simply Crochet Magazine, with my amigurumi Dragon even making the cover page!  You can read all about this first issue HERE and to see pictures of a very bald five and a half month old Myla who was checking out the magazine with me!  I'm very thankful to have been featured in various issues since then, and recently, I've had the pleasure of writing some of my very own articles for the magazine!  I wrote my very first article about the beauty of crochet cables in Issue 54 (read about it HERE), and now I am excited to show you the second article that I've authored in Issue 61!  This summer issue even comes with a 4 mm polymer clay hook!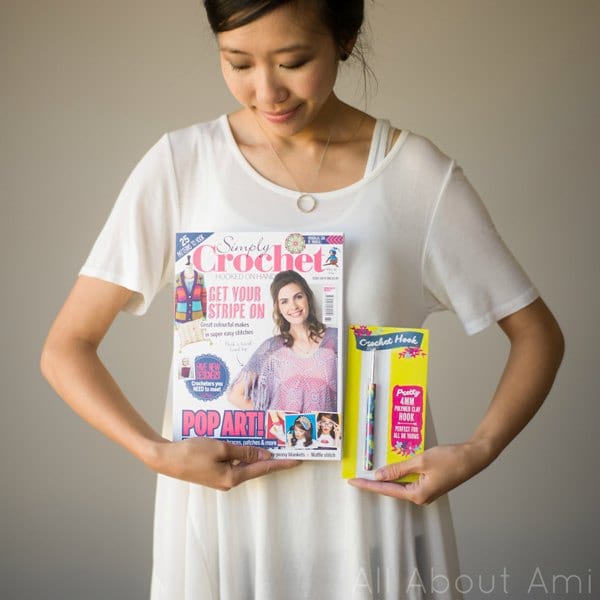 My second article talks about the practicality of crochet, and how our works of art are not only beautiful, but also serve a functional purpose in everyday life!  In the summertime, I've been crocheting lots of practical makes for our home, including pillows and purses.  Below you'll see photos of my Extreme Crocheted Rug, Fox Basket, Snuggle Bunny Pillows, Chunky Braided Cabled Blanket, Crochet Baskets, Crochet Zipper Pouch, and Bold & Bright Chevron Baby Blanket!  I absolutely love having touches of crochet around the home and being able to carry practical crochet items in my purse that I use everyday such as my coin purse.  Myla sleeps with her grey Snuggle Bunny Pillow on her bed, and Brielle has recently begun emptying the contents of the medium-sized crochet basket and using it as a bassinet for her baby haha!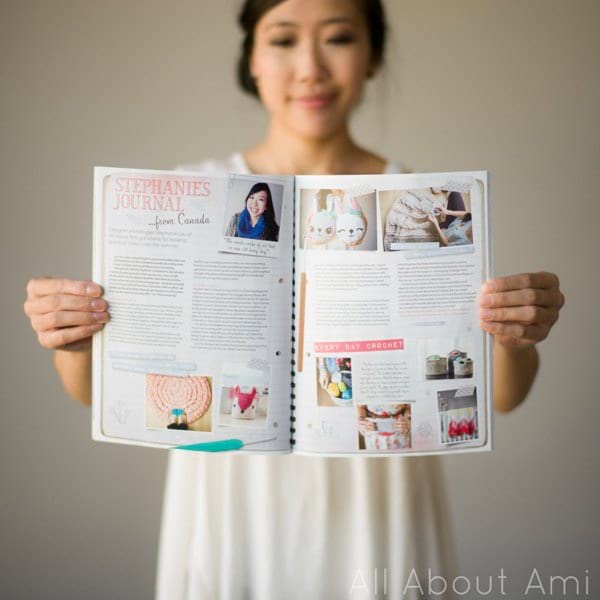 This issue also contains a fabulous article called "Rising Stars" where they have picked "nine of the best up-and-coming designers, makers and bloggers set to rock your world with yarny inspiration"!  I was thrilled to see many familiar faces and friends from Instagram including Vincent of Knot Bad, Pony McTate, Michelle of Poppy & Bliss, Jessica of The Hook Nook, and Jess of Make and Do Crew.  Also featured are Sandra of Cherry Heart, Christina of A Spoonful of Yarn, Carmen of Crafty Queens, and Emma of Emma Knitted!  Check out all their blogs and websites for some beautiful crochet inspiration!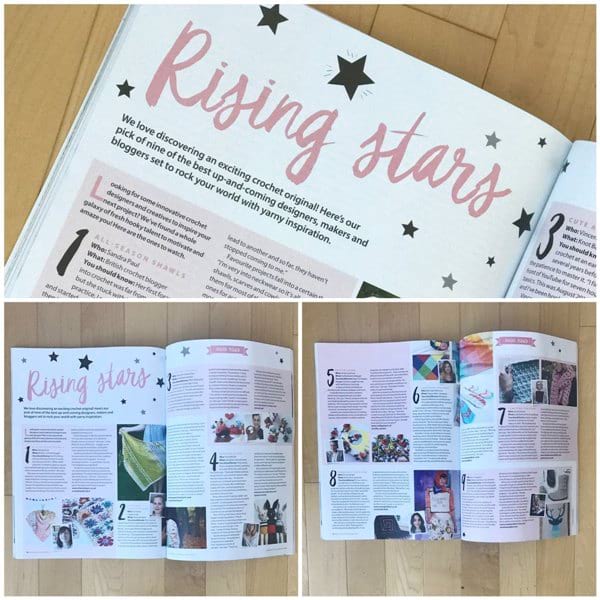 Simply Crochet can be found in newsstands around the world, so check HERE to see their list of stockists!  If you are in North America, you can look for Simply Crochet at Chapters Indigo in Canada and Barnes & Noble and JoAnn stores in the USA!  It takes a while for North America to get current issues, so Issue 61 might not be on newsstands yet, but it will be soon!  I am so glad that such a beautiful, well-designed magazine exists for us crocheters!  Thank you to the Simply Crochet team for all the love and for always supporting my work!