As some of you know, I was recently featured in a beautiful new crochet magazine called "Simply Crochet"!  I was thrilled when Debora, the editor-in-chief of "Simply Crochet" first contacted me in early November about being involved with a secret new magazine they were launching in the new year.  The magazine sounded very promising and interesting, and I jumped at the chance to be a part of it! 
The first issue of "Simply Crochet" came out in the UK and on Apple Newsstand in January 2013, and we immediately bought a digital copy of it on our iPad.  I was very impressed by the beautiful lay-outs, pretty patterns and picture guides for those who were new to crochet.  I absolutely couldn't wait to get my hands on a hard copy of it so I could share my magazine feature with you all!
I wasn't able to find a copy of the first issue of "Simply Crochet" at my local bookstore until last week!  Chapters Indigo was kind enough to call me as soon as they received copies of the magazine.  Since it is from the UK, it took a while for it to come to Canada.  I know the US got it earlier at Barnes & Noble- thank you for your tweets, Facebook and Instagram messages letting me know that you had spotted me in the magazine!  That was very sweet 🙂  I was so incredibly excited to see the magazine in person!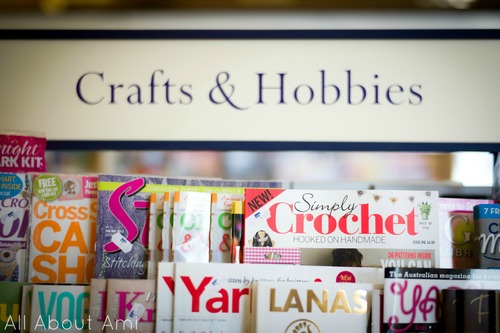 It's surreal picking up a magazine and seeing your work and picture in it!  I never in a million years thought that I would be featured in a magazine.  Haha, part of me wanted to go around the store and say, "Look…that's me!" (I didn't end up doing this :P).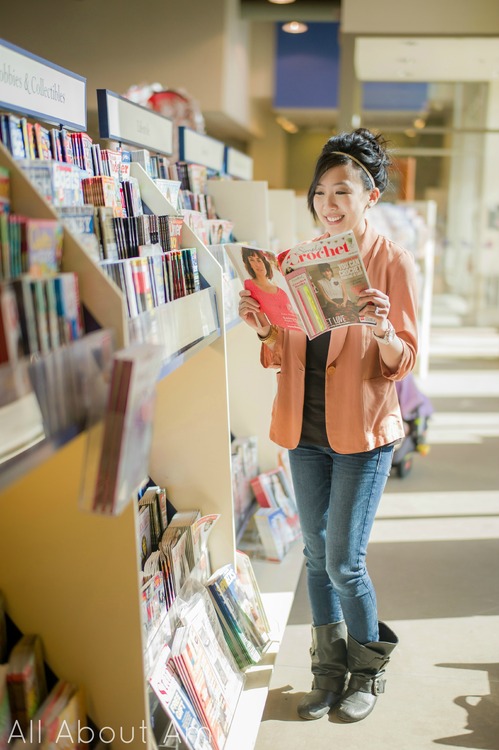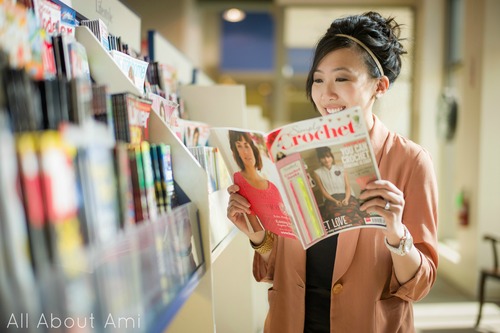 Here is Simply Crochet's youngest reader, five and a half month old Myla!  I think she spotted some familiar faces…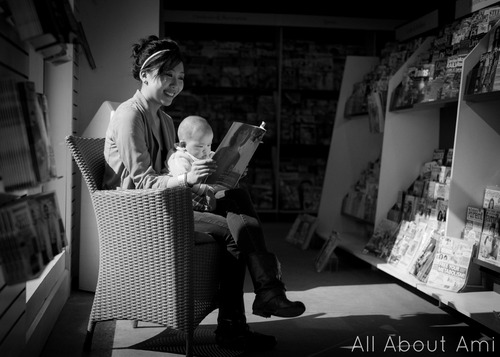 Myla was only 5 weeks old in our family photo in the magazine.  How time flies…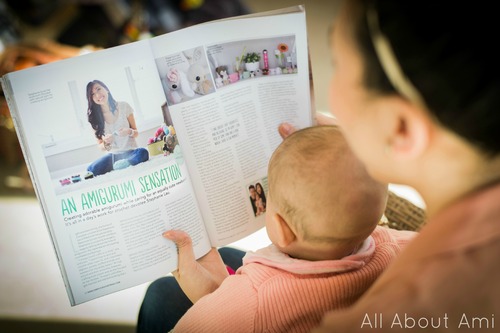 This is the front cover of the first issue of "Simply Crochet"!  It's such an honour that my amigurumi Dragon was featured on the cover and in the top right corner!  This makes him very visible when the magazine is stacked behind other magazines.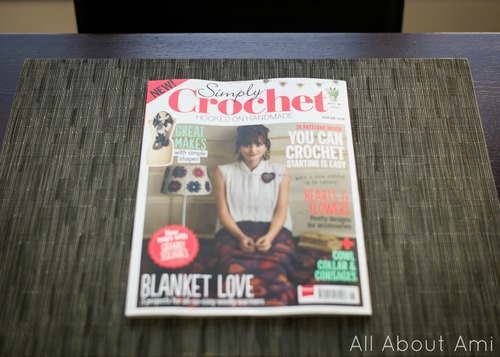 The first issue also came with two crochet hooks: a pink 4 mm crochet hook and a bright yellow 6 mm crochet hook.  This gives the magazine a little more value since it is pricey at $13.99 CAD (£4.99 in the UK).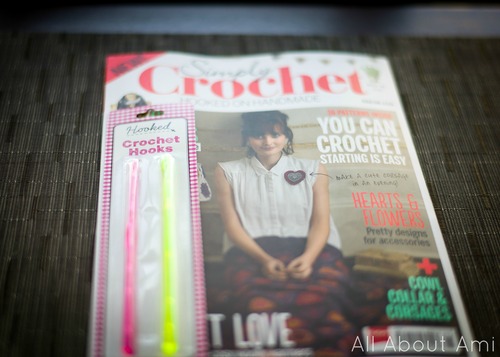 Here you can see a picture of me holding Dragon in the Table of Contents!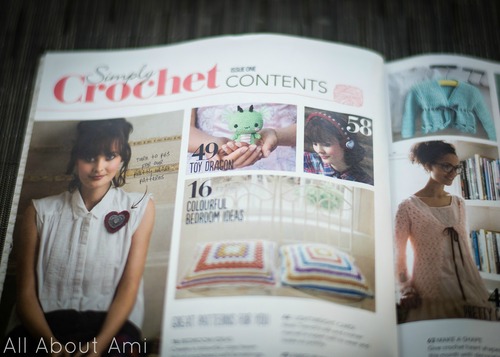 I was very honoured that they listed me as one of the "Contributors" for this issue!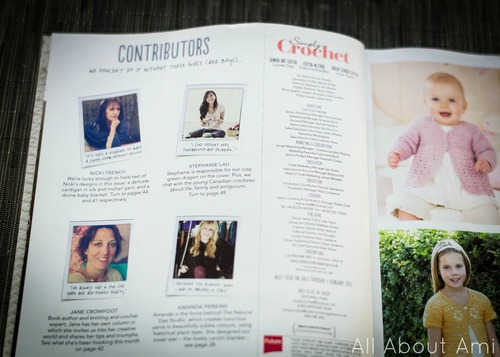 They included an article entitled, "What is Amigurumi?" to introduce people to the Japanese art of crocheting stuffed animals in case they had never seen it before…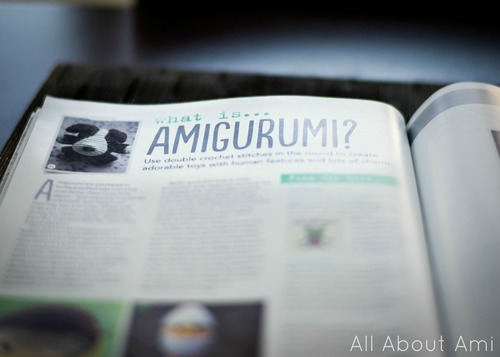 And on the next page there was a big picture of my Dragon!  Doesn't he look so sweet?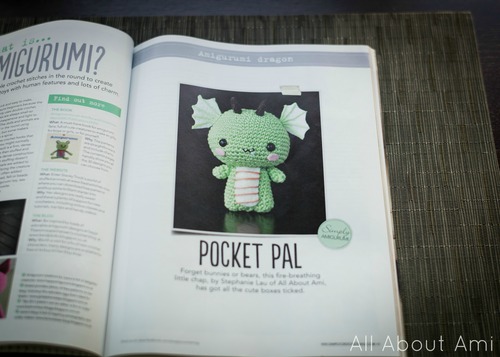 It was neat seeing my Dragon pattern typed up nicely in a magazine.  They did a great job with the lay-out as the steps coincided with the pictures along the bottom.  At first when I read the pattern I was a little taken aback as I saw all the double crochets.  I momentarily forgot that single crochets are double crochets in UK crochet terminology!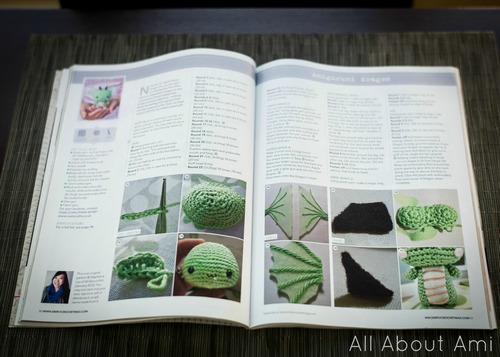 On the following pages was the feature of our family!  I was very flattered by the title of the article: "An Amigurumi Sensation: Creating adorable amigurumi while caring for an equally cute newborn?  It's all in a day's work for crochet devotee Stephanie Lau".  A colleage of Debora's named Judy sent me about a dozen interview questions to answer back in November.  Myla was less than a month old and I was very sleep-deprived and recovering from labour.  I slowly chipped away at those questions when I felt like I had a little energy and was somewhat coherent, but it felt like an eternity before I finally finished answering all of their questions to the best of my ability.  I think Judy did a wonderful job writing up the article based on my answers!  Some of you said that you learned some new things about me (e.g. my husband Ryan takes all of the lovely photos for the blog!) and that you enjoyed the feature too 🙂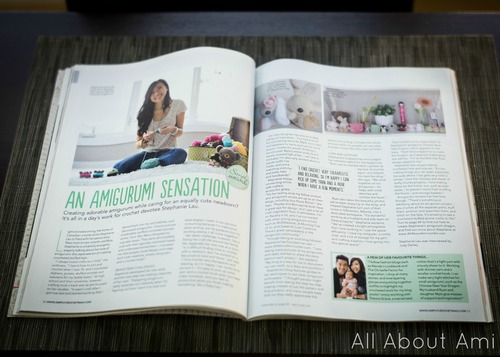 It still astounds me how popular Dragon is!  He is definitely my most popular amigurumi and I've really enjoyed seeing your versions and hearing your lovely feedback about the pattern.  Some of you have stated that it's your favourite amigurumi pattern and that you've been inspired to learn how to crochet just to make him!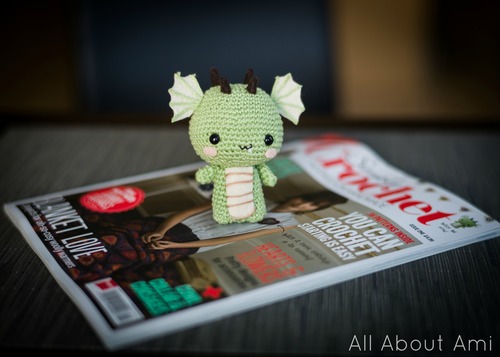 "Simply Crochet" introduced some new readers to my blog and I am so thankful to have been a part of the launch of such a beautiful new crochet magazine.  The bright images, aesthetic lay-outs and great project ideas (jewelry, items for the home, fashion) make this a very modern magazine that makes crocheting appealing to all generations…no longer is crocheting just a "grandma's hobby" anyore!  (Side note: I remember teaching my classmate in Grade 6 how to crochet and a boy laughed at us and called us old ladies when he saw what we were doing!).  "Simply Crochet" also has a very lovely blog that you can keep up with here! 
Thank you so much to the staff of "Simply Crochet" for featuring me and for letting me be a part of your magazine!  And thank you to all our readers for continuing to support, encourage and help inspire us to keep being creative- Ryan and I cannot thank you enough!  We have more new projects coming up (including a new amigurumi that we will be unveiling next week!), and we can't wait to share them with you 😀