My love of Crochet Cables is no secret, and I thought I would do a round-up of all the cabled projects I've crocheted and designed in one blog post!  Cabling may appear daunting at first, but it is actually quite straight-forward once you get the hang of it!  The intertwined effect is created by mixing front and back post double and treble crochets to raise stitches forward and push others behind!
The very first cabling project I ever tried were these "Cabled Wristwarmers"!  The free pattern is by Julee Reeves, and it is this project that taught me the technique and got me hooked on cables!  It is worked flat and then seamed up at the end!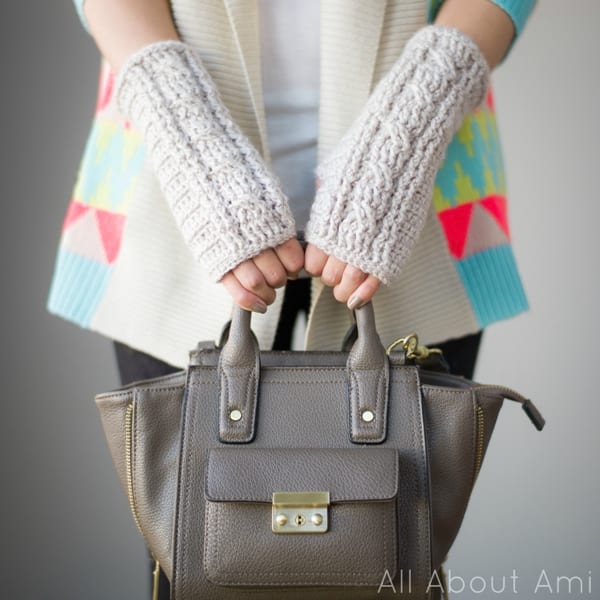 My first original cabled design was my "Cabled Slouchy Beanie"!  It is so fun working cables in the round, and I love the gorgeous slouch it has to it using Lion Brand Yarn's Heartland.  I ended up creating a smaller toddler version HERE for Myla and a Chunky Cabled Slouchy Beanie using super bulky yarn HERE as well!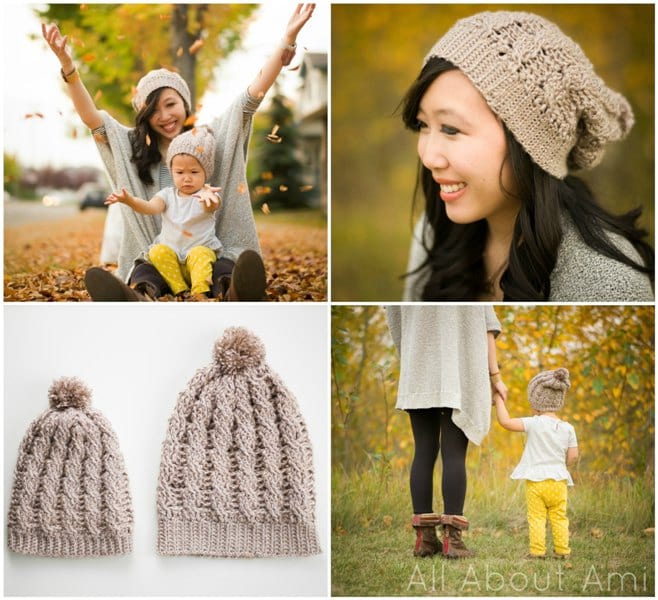 I also designed a second version of the Cabled Beanie with bars framing the cables and a faux fur pom pom as well (free pattern HERE!  This version uses only one skein of Vanna's Choice– gotta love one skein projects!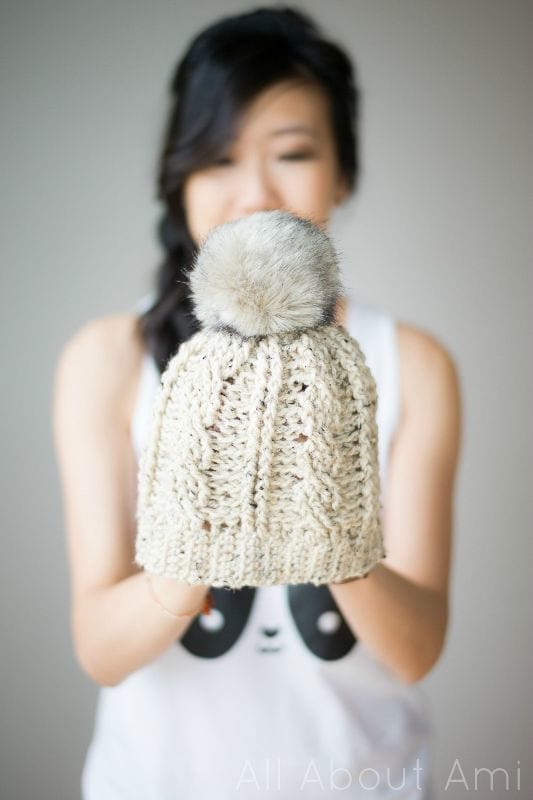 After all the hat projects, I decided to try designing Cabled Legwarmers/Boot Cuffs!  They are a fabulous way to dress up your boots while also adding some warmth!  They can be styled in numerous ways and look really cute scrunched up overtop ankle boots!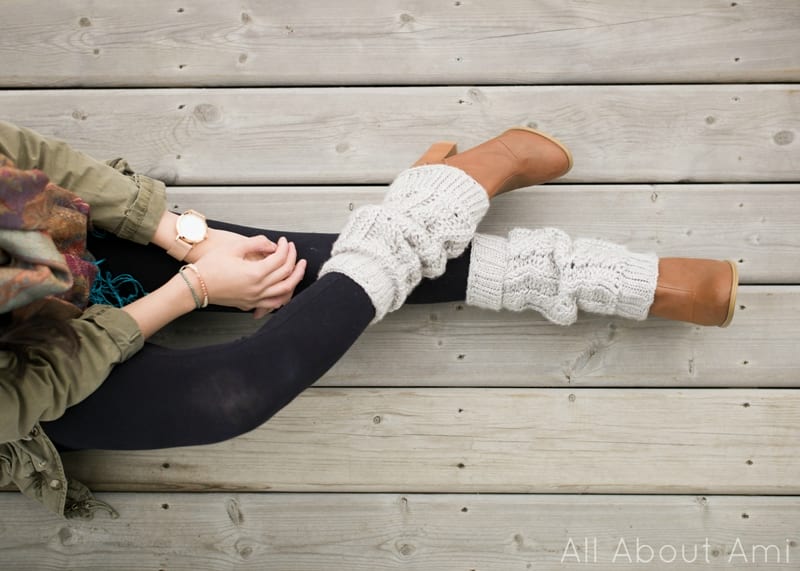 I was astounded by the popularity of my "Chunky Braided Cabled Blanket" when I first released it in the fall, and it warms my heart whenever I see it pop up on Pinterest!  Using a jumbo hook and jumbo yarn creates this rich and luxurious blanket.  For this pattern, I learned a new method of cabling that gives this intricate braided cabled effect!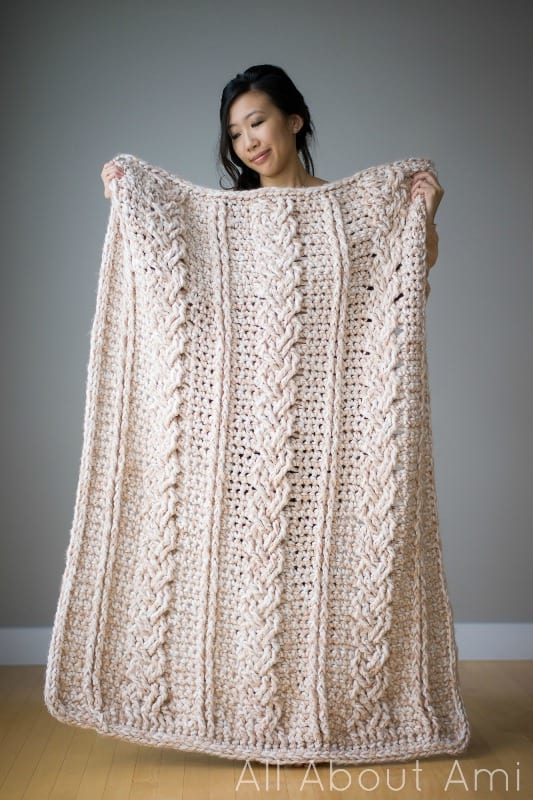 Most recently, I designed these lovely "Crochet Cabled Mittens" that work up quickly and look so cute!  They help keep your hands warm and are a fun project if you want a more intricate design on your mittens!  For a simpler design, don't forget to check out my "Cozy Crochet Mittens" using Homespun yarn!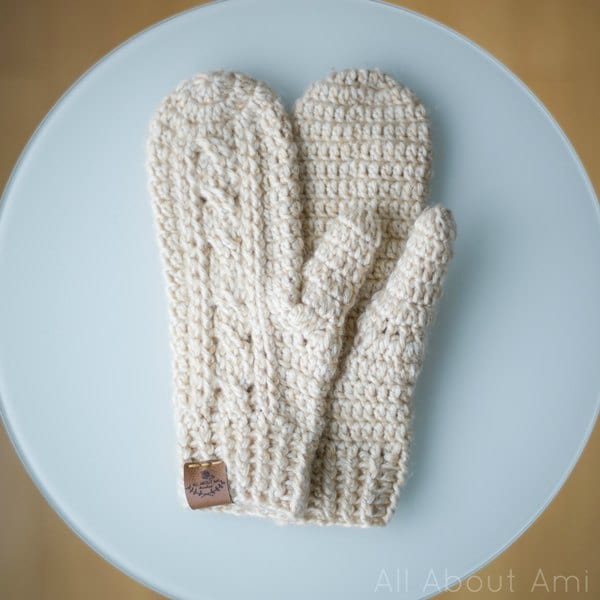 I am a big fan of Simply Crochet Magazine, and I was delighted when Becca asked if I wanted to write an article for an upcoming issue!  I didn't even need to think long about what I wanted to write about: crochet cables!  I am excited to announce that my article has officially been published and can be found in Issue 54!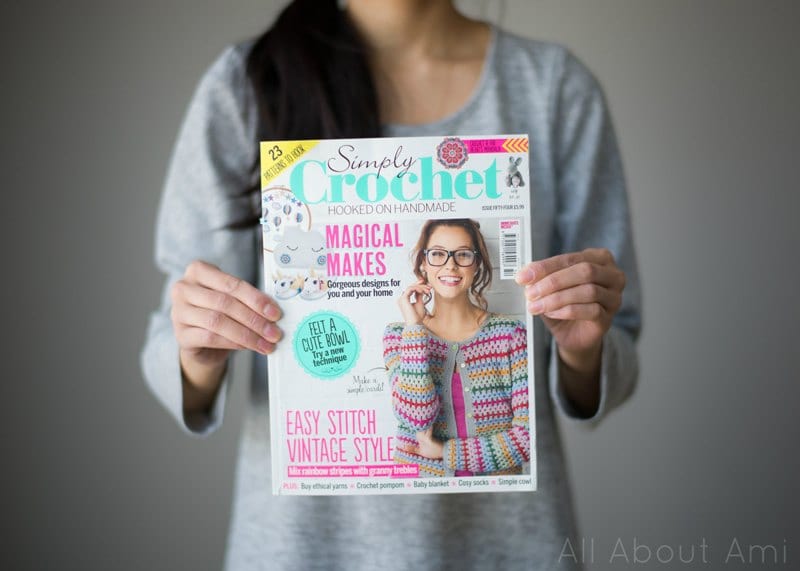 It is so exciting to see the article that I wrote in print!  They did such a lovely job with the spread and I adore the colours they used!  This particular issue is very neat because it comes with a free kit to make Ilaria Caliri's unicorn!  It just so happens that Simply Crochet is currently running a GIVEAWAY and you can win a copy of this issue (they're giving away FIVE of them)!  You can enter the giveaway HERE so you can make your own unicorn and check out the article I wrote!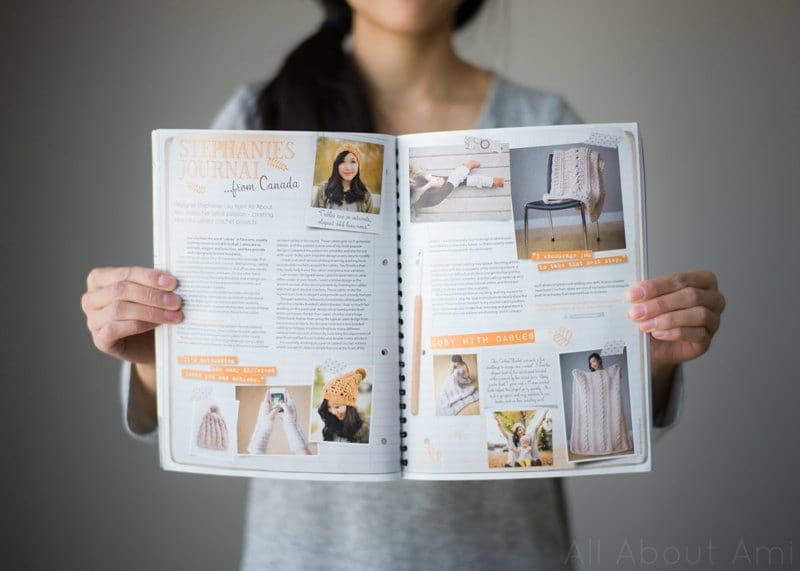 I have a feeling that I will be designing more cabled projects in the future…possibly a garment- wouldn't that be fun?  Feel free to pin the below image to your Pinterest boards to help remind you about this blog post round-up!  If you've always been wanting to try crochet cables, any of these projects would be a lot of fun!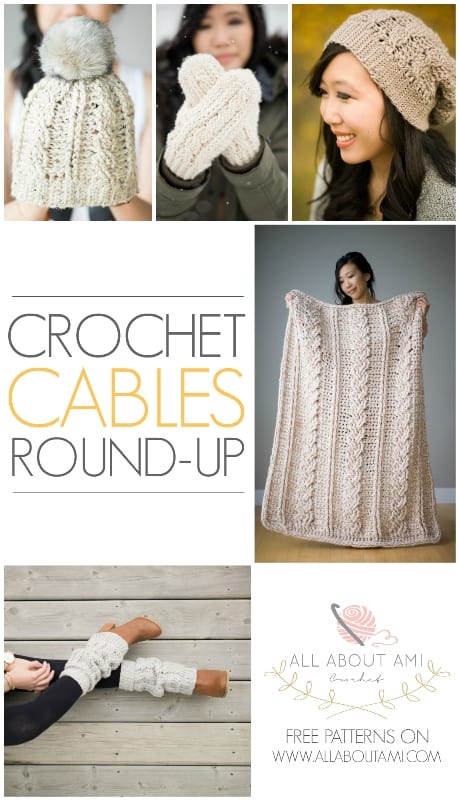 I have been working hard on a more polished newsletter in which I will deliver patterns, designs, and neat tips straight to your inboxes!  Please sign up HERE if you would like to be added to my mailing list, and I can't wait to share my upcoming Spring and Summer designs with you all!