As 2017 draws to a close, it's a great opportunity to look back upon the year and revisit some of the projects that you enjoyed!  Each year I love designing a range of different projects, challenging myself, and seeing what you love and expanding on those designs!  Below are my 5 most popular new designs of 2017!
Coming in at #5 is my Amigurumi Pineapple Purse!  This adorable pineapple functions as a drawstring purse that can hold your goodies!  I've really enjoyed seeing how you've put different facial expressions on your pineapples!  You can embroider eyes (e.g. winking, eyelashes) if you don't want to use safety eyes!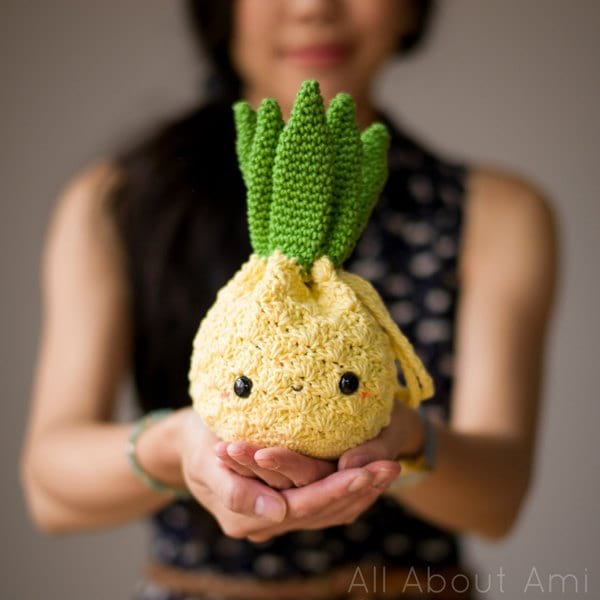 #4 is a design that I released only two months ago, and I'm delighted that you've loved the Granite Cardigan so much!  I've seen a number of finished Granite Cardigans, and I know some of you gifted them for Christmas!  This cozy cardigan is one of my favourites and I can't wait to wear it more this winter!
It's been our tradition to design an amigurumi for Chinese New Year (the next one is right around the corner, so we better start designing :P), and #3 is our fluffy Rooster!  This little guy is so sweet, and I made some with animated "cartoon-y" eyes that you can check out as well!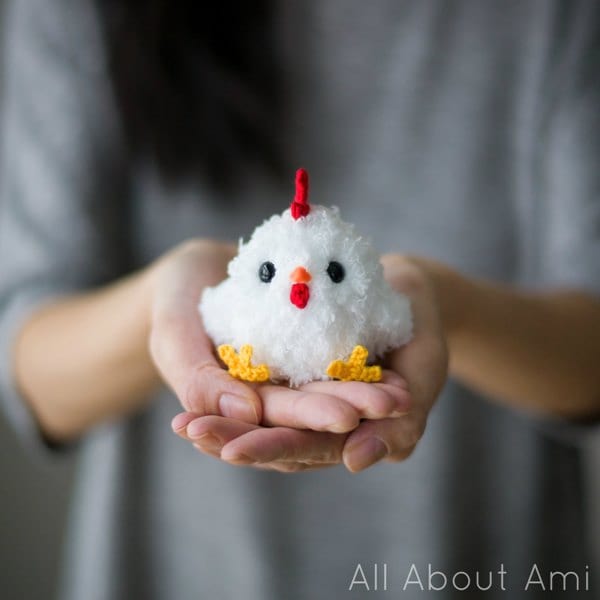 My second most popular design of 2017 is the Crochet Cabled Mittens!  The elegant cable running down the middle of the mittens is so classic, and I've loved seeing the different colour mittens you've been making!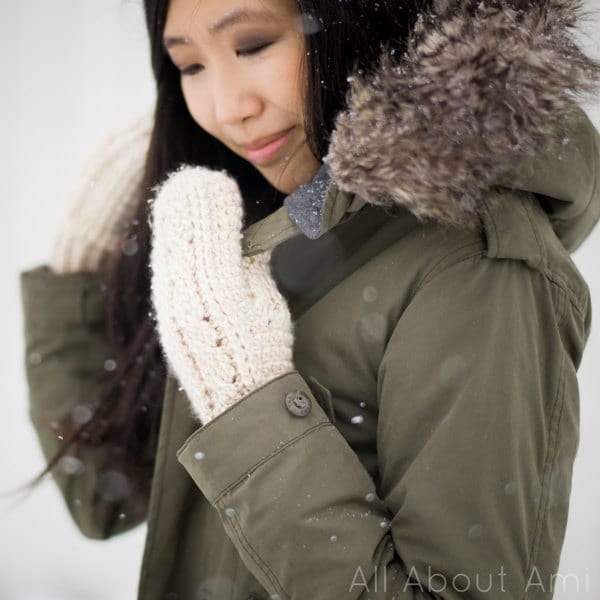 The anticipation is building….my #1 most popular design of 2017 is my Snuggle Bunny Pillow!  These sweet pillows look adorable around the home and inject some kawaii to any room!  Myla sleeps with hers on her bed, so I see it every night as we do our bedtime routine!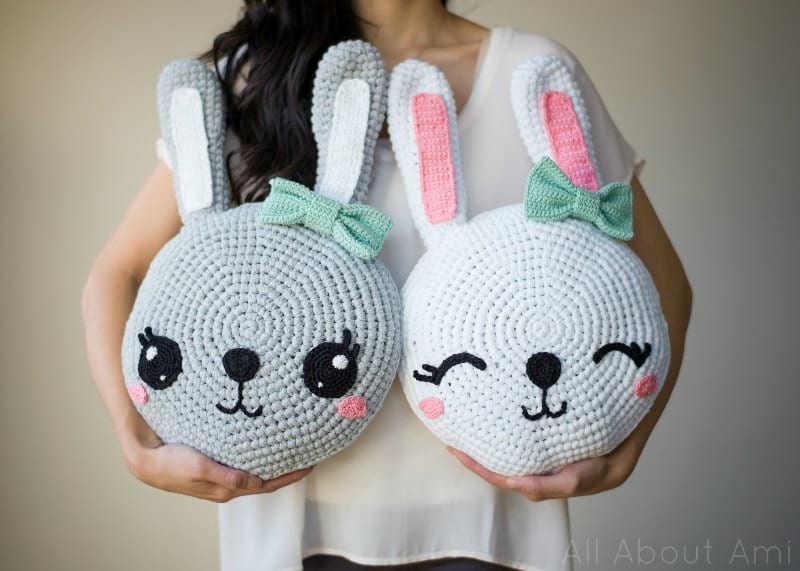 Here are my 9 most liked posts on Instagram!  Instagram is by far my favourite social media platform, and I love the community and interaction that can be found there.  I also enjoy showing you behind-the-scenes with my Instagram Stories, and I'm glad that you love watching them!  By popular request, I will be sharing the pattern for the cute little knitted beanies in the middle next week!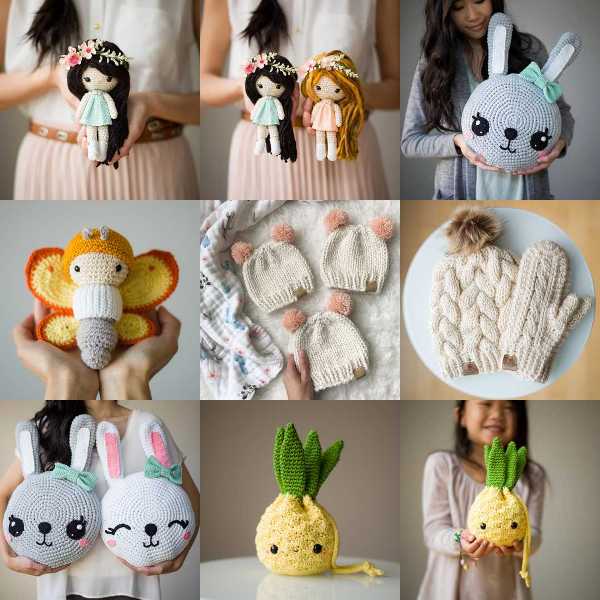 Fellow crochet designer Kali of The Friendly Red Fox asked 9 other designers what their top posts of 2017 are!  It's a great way to get to know some other bloggers if you don't follow them already as they are very talented and have so many wonderful designs to share!  Let's take a look at what their top designs are!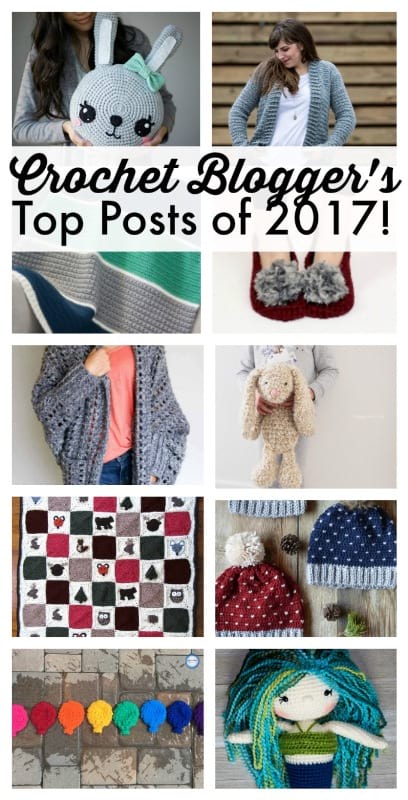 The Friendly Red Fox's top post is this Friendly Mermaid! This free pattern is beginner friendly and a great design to try if you've been wanting to crochet a doll!  I love her colourful hair, sweet face, and adorable tail and fin!  Make sure you sign up for The Friendly Newsletter and join The Friendly Crochet Club if you want to keep following along for more free patterns and tips!
Make and Do Crew 's Easy, Chunky Crochet Sweater is her most popular design of 2017 and it's no wonder!  It's such a beautiful chunky sweater that is so on trend right now- the construction is simple for those who are eager to try their first garment, and it even has pockets!  Jess has put together a video tutorial to show you how to crochet this sweater too!  I am a big fan of all of Jess's creative designs, and you can follow her on Instagram here.
I love how there are more options for crochet garments these days, and Sewrella's top post is this Everyday Cardigan!  It is such an elegant and classic design that will be a staple in any wardrobe! Follow Ashleigh on Pinterest here.
Maria's Blue Crayon made this sweet Woodland Granny Square Afghan and I love all those adorable little forest creatures!  This is such a cute take on the classic granny square blanket and a great way to include appliques! Follow her on Facebook here.
Left in Knots came up with this brilliant idea for Crochet Water Balloons! They are washable, reusable, dryer safe, eco-friendly and latex free!  I'll have to keep this project in mind when summer comes as the girls love playing with water!  Follow her on  Facebook for more fun!

Little Monkey's Crochet has this bold Henry's Baby Blanket as her top post!  I love the stitches she used as they give so much texture, and the blue, grey, green and white go so well together in this modern baby blanket! Make sure to follow her over on Facebook!
One Dog Woof's sweet amigurumi Classic Stuffed Bunny is her top post!  This bunny is such an adorable design with her long limbs and fuzzy texture- so huggable!  Follow ChiWei on Instagram to keep up with her projects!
Persia Lou posts all different types of crafty projects on her blog, and these adorable pom pom slippers are her top post this year!  It's such a cute way to keep your feet warm and toasty!  Follow her on Pinterest.
Whistle and Ivy's top post is this super amazing, very versatile Crochet Snowfall hat! It is such a delicate, classic, and beautiful design that you can really personalize with different colours!  Be sure to join Whistle and Ivy's group here.
I hope you enjoyed this blog post filled with crochet inspiration!  I am so excited for 2018 and can't wait to show you what we have in store!