***You can purchase an INEXPENSIVE AD-FREE PDF of this pattern on Etsy HERE! This beautifully formatted PDF includes the step-by-step pictures and patterns for BOTH the Summit Beanie and Summit Cowl- it is a total of 4 pages including the cover page! Lion Brand Yarn has made a convenient kit HERE that includes the knit patterns and all the luxurious Fifty Fifty Yarn required to make the matching beanie and cowl set (this special yarn is only available online or at the Lion Brand Yarn Studio in New York City)!
Get ready to knit an amazingly luxurious and chunky hat that is very on trend! After knitting my Summit Cowl (free pattern HERE) using the luxurious new Fifty Fifty Yarn from the LB Collection, I embarked on knitting a matching beanie! This yarn is absolutely stunning and incredibly soft with its 50% Alpaca and 50% wool composition. Each ball is a generous size of 200 grams of yarn, and 9 different colours are available!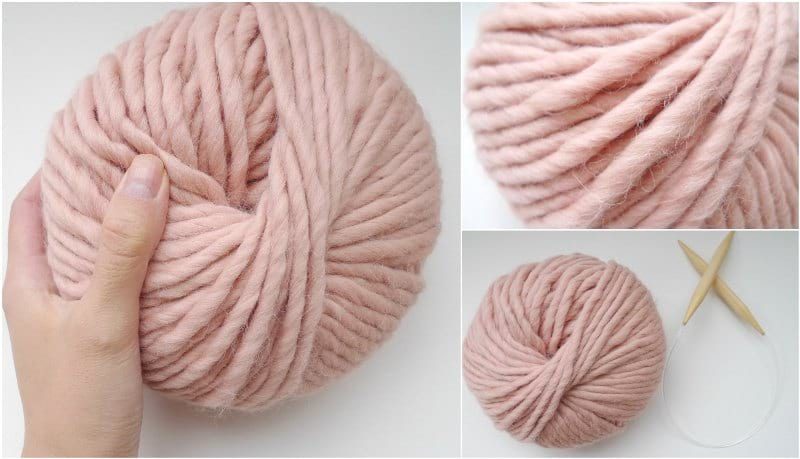 I used 12.75 mm circular needles with this super bulky yarn. As you can see, it can be a little tricky getting through the first round with the number of stitches, but it gets easier as you continue knitting.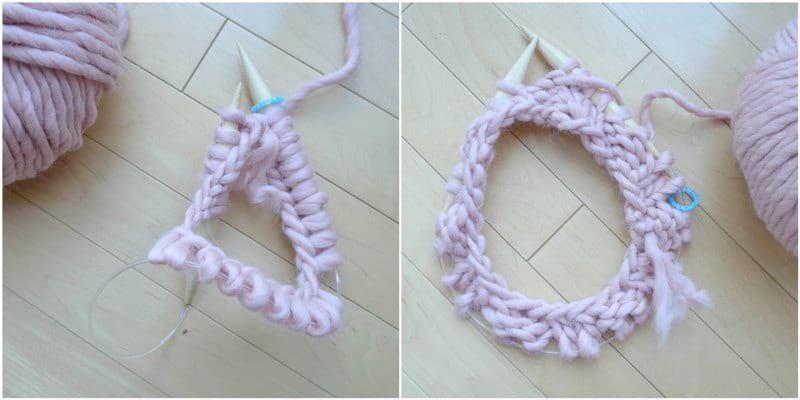 This project worked up incredibly quickly, and the yarn feels so soft when you are knitting with it. I folded up the brim to get a feel for how tall I wanted my hat to be!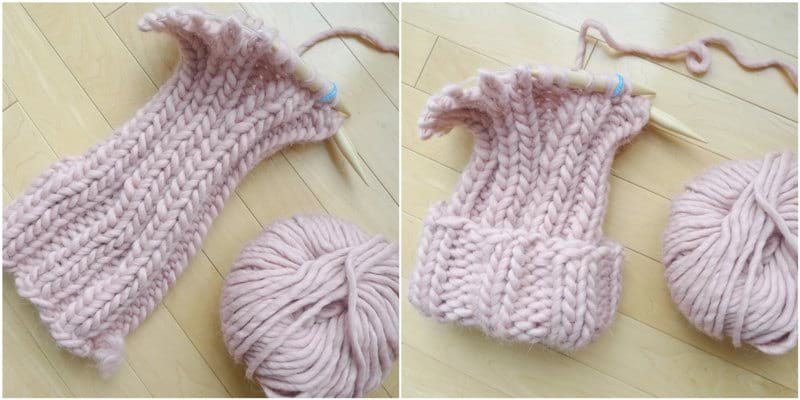 I worked some decreases towards the top and then pulled the yarn tail through the last remaining stitches to close up the hole!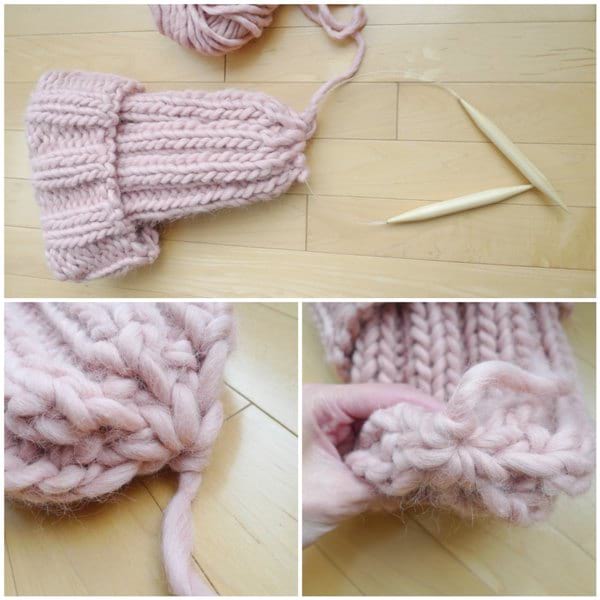 If you want, you could add an extra large pom pom to your beanie! I opted to do so as I used up the remaining Fifty Fifty Yarn to make a pom pom. I used the Clover Extra Large Pom Pom Maker and made sure to use a worsted weight yarn of similar colour to tie the pom pom together and attach it to the top of the hat. I tried to anchor the pom pom into place by attaching it in multiple directions so that it would not flop around too much!
******************
Here is the free KNIT pattern for the Summit Beanie: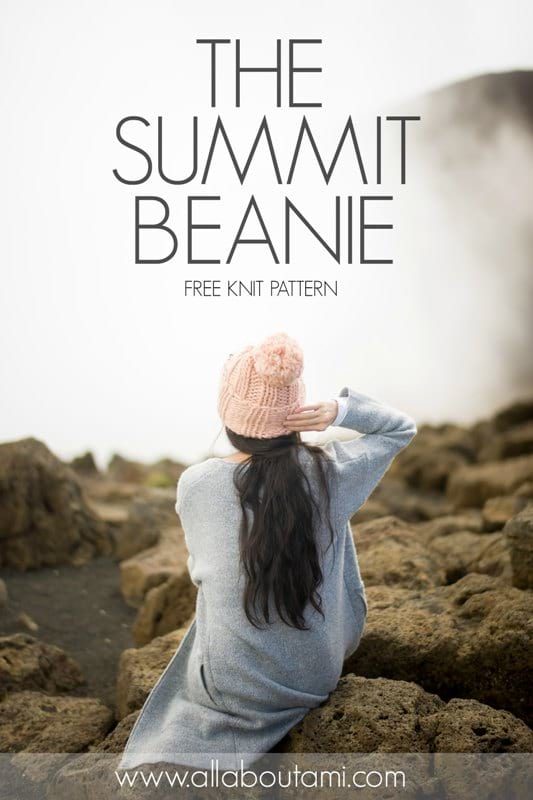 Materials:
Notes:
For a seamless join at the very beginning, cast on an extra stitch (i.e. 29 stitches in this design). Slip the first stitch purlwise onto the working needle. Take the extra stitch that was made (now second stitch on the working needle) and slip it over the slip stitch (now the first stitch on the working needle). Pull yarn tail and working yarn tightly and add stitch marker. Continue with pattern. This technique is demonstrated in this video HERE.
The bottom of the hat is rolled up to create a chunky brim.
To make this hat wider, cast on more initial stitches.
To make this hat taller/slouchier, add more rounds.
Since this yarn is an alpaca wool blend, you can felt the yarn ends together with a felting tool.
The first round will be a bit tricky on the 24″ circular needles, but it gets easier from Round 2 onwards. Use the magic loop technique when the number of stitches decrease towards the end.
This design can also be knit on flat needles in turned rows. Omit the decreases and work *K2, P2* for all 39 rounds. Leave enough yarn to seam the edges together to form a tube. Then, whip stitch opposite ends together to close up the top.
An optional extra large pom pom is added to the top of this beanie.
Gauge: 8 sts and 10 rounds = 4″
PATTERN:
Using long-tail cast-on, cast on 28 stitches (leave 47″ tail).
R1: *K2, P2*, around. (28 sts)
R2-R37: Repeat Round 1. (28 sts)
R38: *K2tog, P2tog* around. (14 sts)
R39: *K2tog* around. (7 sts)
Cast off all stitches and cut yarn. Thread yarn tail through last remaining stitches, pull to shut, and tie multiple knots.
OPTIONAL: Use remaining yarn to make an extra large pom pom using the Clover Extra Large Pom Pom Maker. Using thinner pink light weight or worsted weight yarn, attach the pom pom to the top of the hat. Anchor it in multiple directions for a more secure attachment and to prevent the pom pom from flopping around too much.
Finished Dimensions: 15″ tall (without brim rolled up), 14″ circumference towards top without brim rolled up (capable of plenty of stretch), 18″ circumference with brim rolled up and hat stretched
********************
I happened to finish this project just in time for our family trip to Maui, and I brought it along! You might be wondering why I would bring such a wintery hat to Hawaii, but I knew we could get some epic shots ontop of Mount Haleakala, a dormant volcano at 10 000 feet elevation!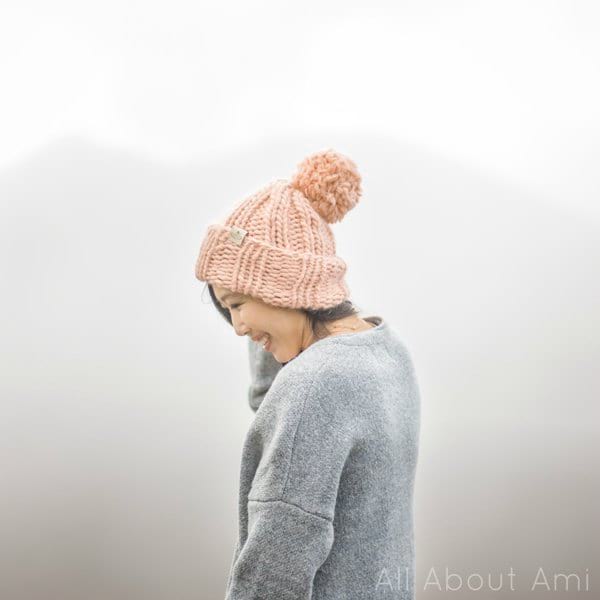 This is why we named this project The Summit Beanie! Here we are at the summit of Mount Haleakala- I love the misty background!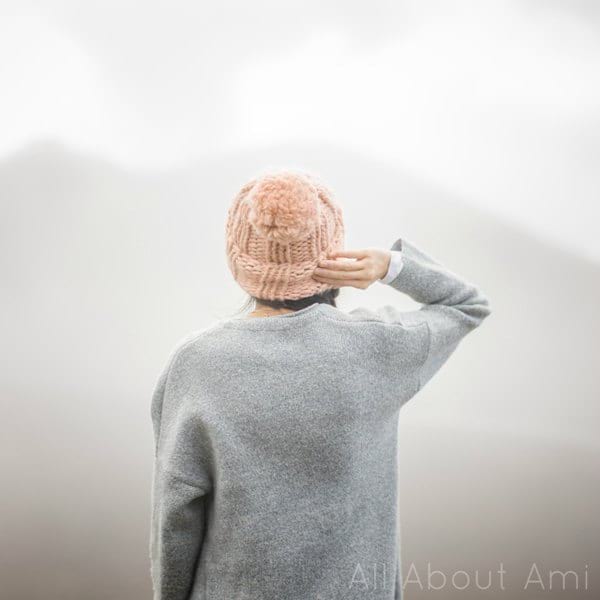 It is such a surreal place as you are above the clouds! Ryan and I first visited Mount Haleakala years ago at sunrise, and it was one of the most breath-taking sites we have ever seen.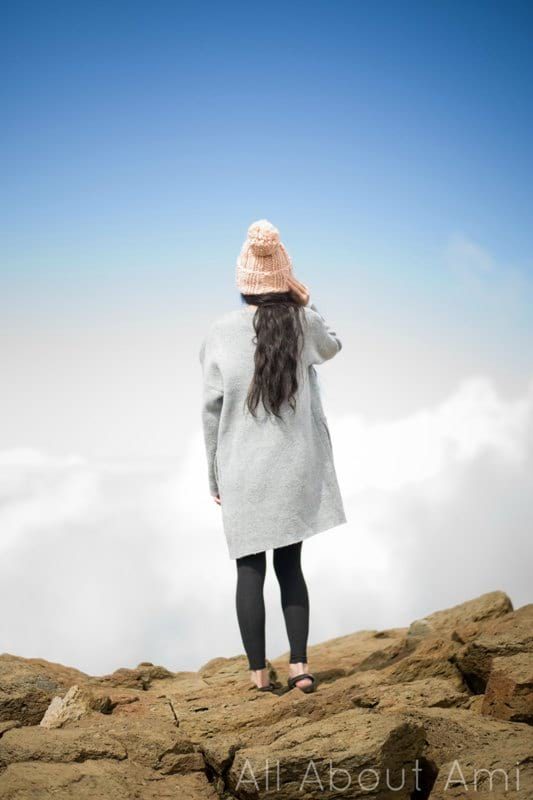 You only need 1 ball of Fifty Fifty Yarn to make the beanie, and another ball to make the matching cowl! The free pattern for the Summit Cowl can be found HERE!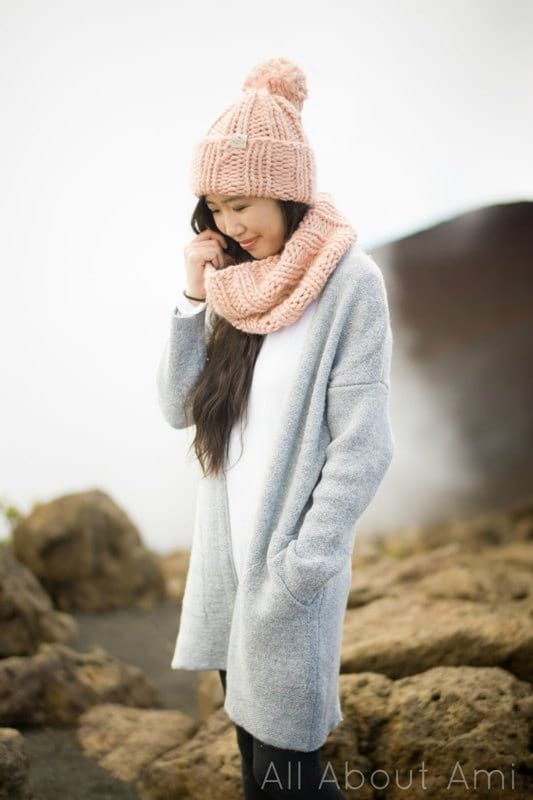 The convenient Lion Brand Yarn Kit contains 2 balls of the Fifty Fifty Yarn so that you can knit your own matching beanie and cowl set- snag it HERE! It is a great deal right now at 20% off as $35.19 is a steal for such luxurious yarn that you can make two designs with!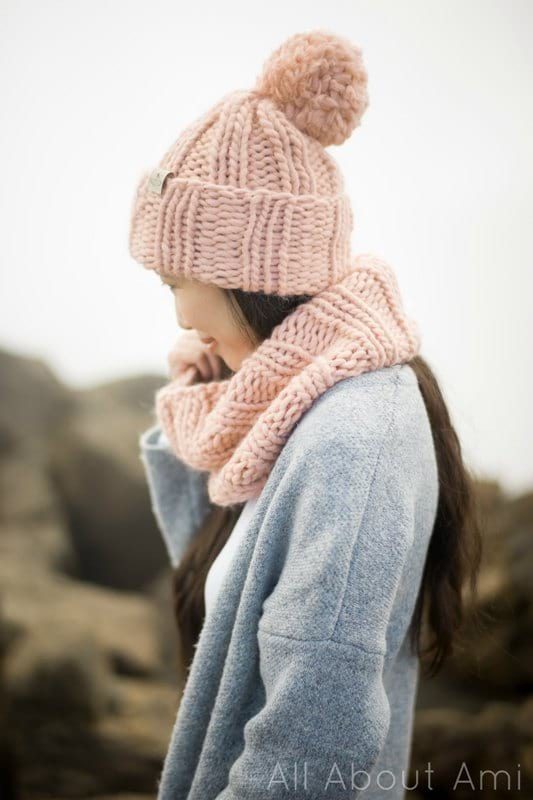 I hope you have been inspired to create your own luxurious beanie! It works up in no time and is very beginner-friendly. It is amazing being able to create such high-end pieces with your own hands and wearing them proudly on the ski slopes or out and about town! I have to tell you that this beanie is the warmest one I own, and I have been diligently wearing it during our frigid winter days here in Canada! If you are interested in crocheting your own set, be sure to check out the Summit Beanie Crochet pattern HERE and the Summit Cowl Crochet pattern HERE!

This pattern is an original pattern by Stephanie Lau of All About Ami. Please do not claim this pattern as your own. If you wish to share this pattern, you may link to this pattern but please do not reprint it on your site. You may keep a copy for your own personal use but please DO NOT sell the pattern or distribute it.
You may sell products made from this pattern but please clearly credit the design to me, Stephanie Lau of All About Ami, and provide a link to my blog www.AllAboutAmi.com. Permission is NOT granted for mass production or factory manufacturing of any kind. Thank you for being respectful and for your understanding!