***You can purchase an INEXPENSIVE AD-FREE PDF of this pattern on Etsy HERE! This beautifully formatted PDF includes the step-by-step pictures and patterns for BOTH the Summit Beanie and Summit Cowl- it is a total of 5 pages including the cover page! Lion Brand Yarn has made a convenient kit HERE that includes the crochet patterns and all the luxurious Fifty Fifty Yarn required to make the matching beanie and cowl set (this special yarn is only available online or at the Lion Brand Yarn Studio in New York City)!
Everyone loves a quick and chunky hat, and I am so excited to show you this modern design! The Summit Beanie uses 1 ball of the new Fifty Fifty Yarn from the LB Collection, which is 50% alpaca and 50% wool. It is classified as a super bulky level 6 yarn although I would say it is closer to a jumbo level 7 yarn. 9 different colours are available, and it is very soft due to the alpaca in it! How beautiful are these blush and cream colours?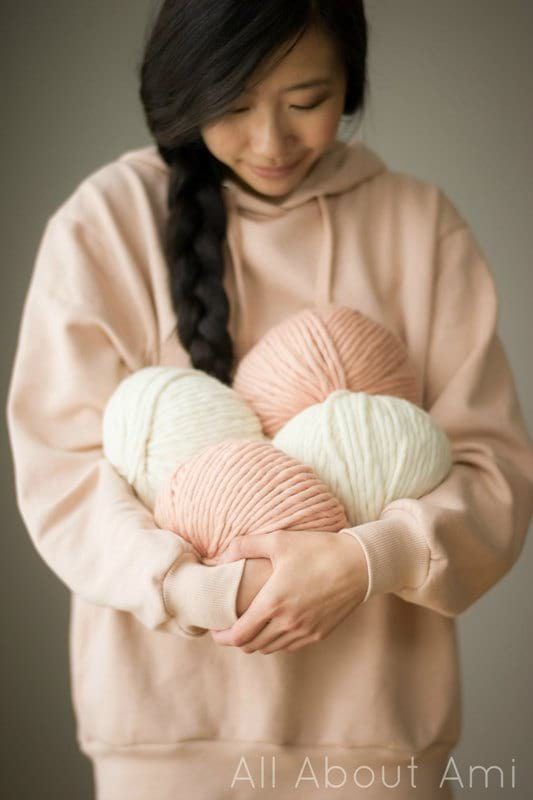 To get beautiful drape and looser tension, I used a 15 mm crochet hook for this design. You can read my blog post HERE to see how I achieved this gorgeous ribbing, but essentially you are alternating rows of single crochet with rows of slip stitches.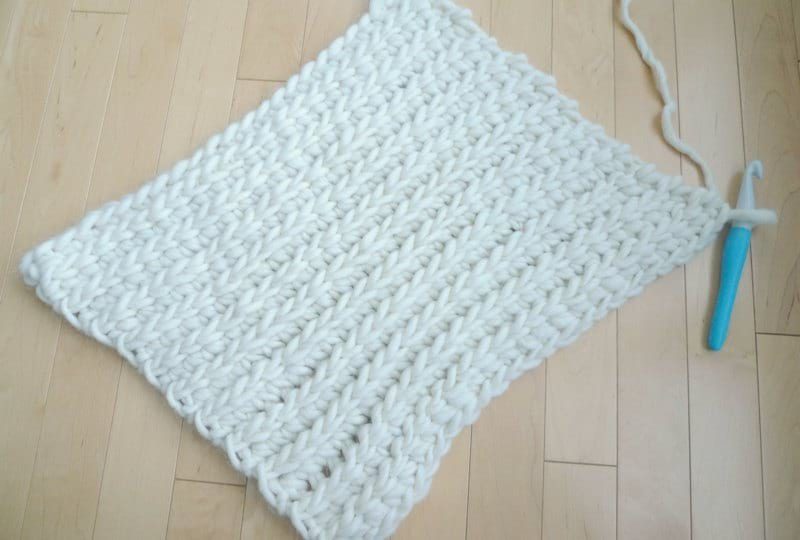 The initial number of chain stitches determines the height of the hat while the number of rows determines the width/circumference of the hat. After you are happy with the width of the hat, it is time to seam the ends together to form a tube.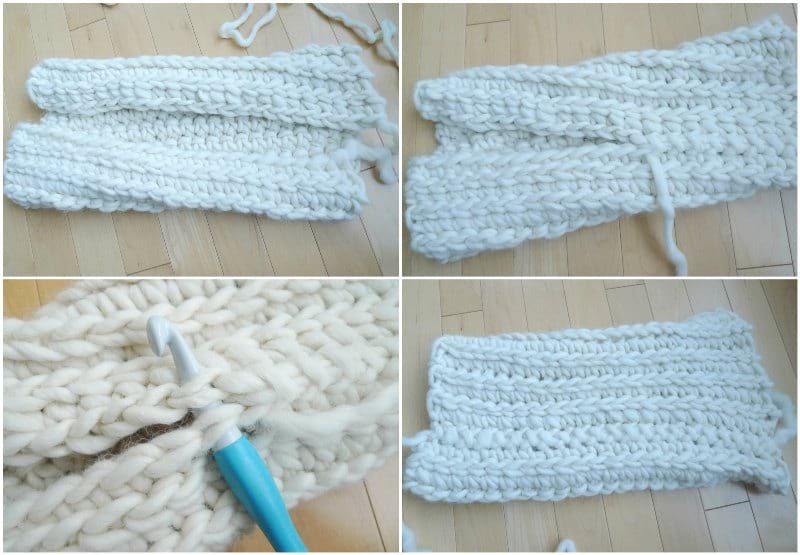 Next, you can invert the tube inside out so that the "wrong" side or non-ribbed side is facing outwards. Flip the brim upwards so that the ribbed side is now showing.

To close up the top of the hat, whip stitch opposites ends together!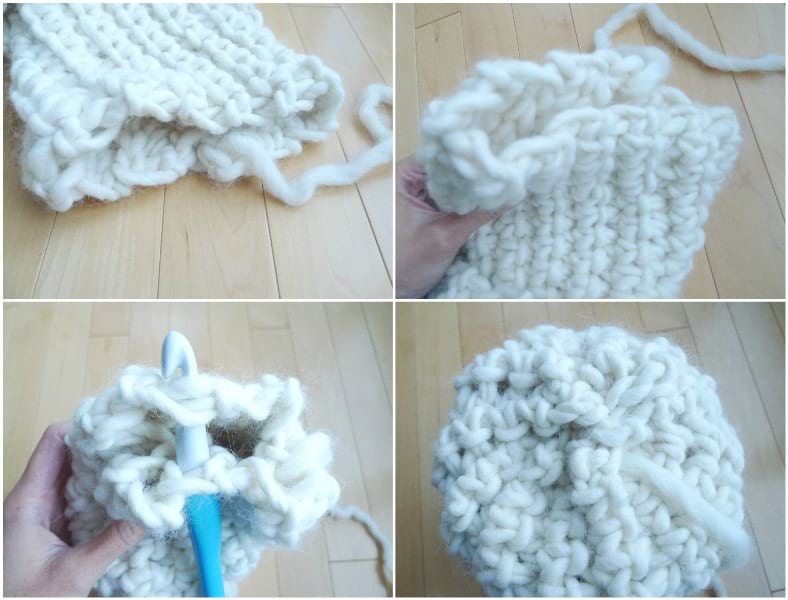 Your Summit Beanie is now complete! The hat is reversible as you can wear it with the different sides showing. The picture below shows the folded-up brim as the ribbed side.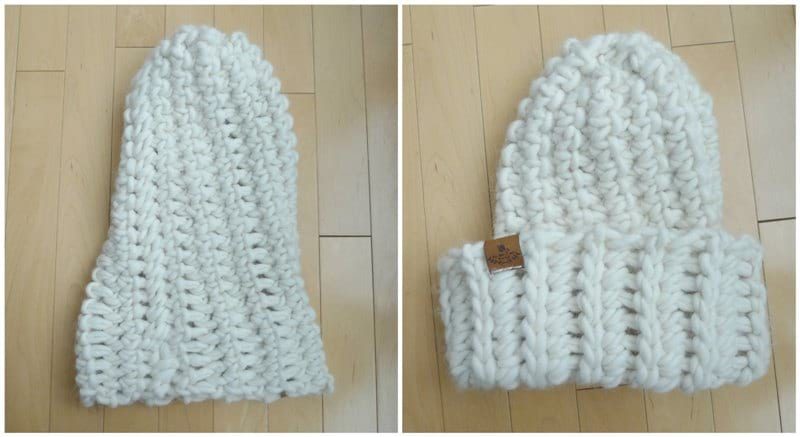 This picture shows the ribbed side being the body while the other side is the folded-up brim!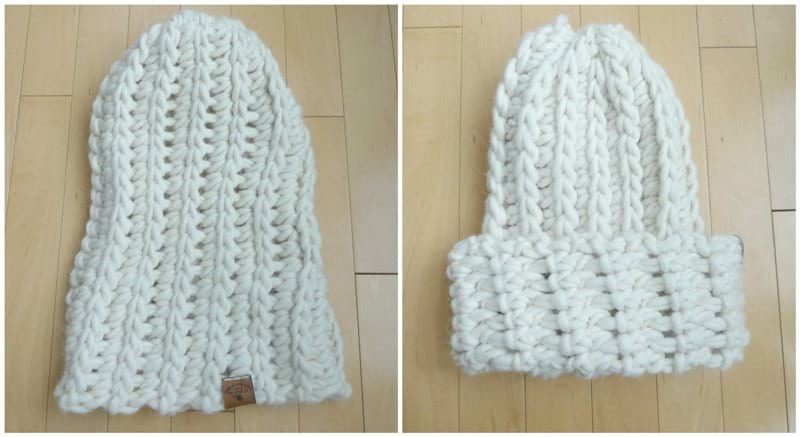 *****************
Here is the free crochet pattern for The Summit Beanie: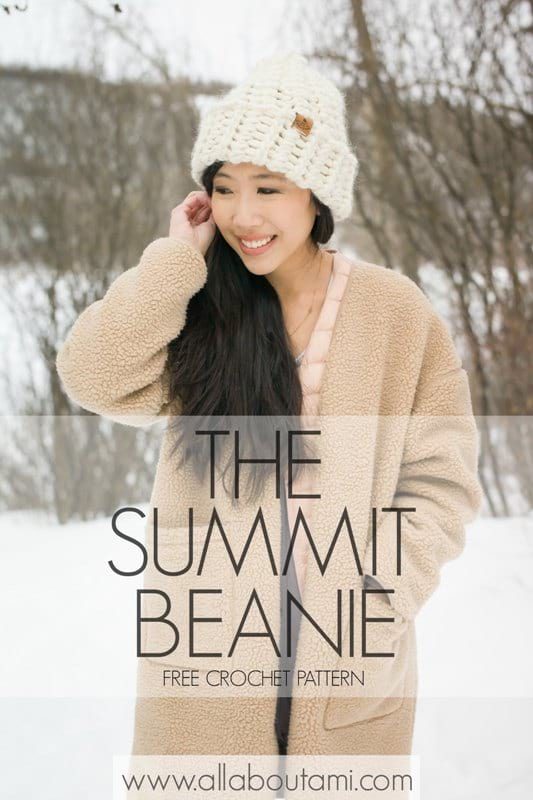 Materials:
Notes:
This hat is worked in turned rows. At the end, the sides are seamed together and the tube is flipped inside out. The top of the hat is closed up by whip stitching opposite ends together.
The ribbed design is created by alternating rows of single crochets with rows of slip stitches.
If you forget where you are, remember that even rows are slip stitch rows and odd rows are single crochet rows. The ribbed side is the single crochet (odd row #) side.
The brim is folded upwards for an extra cozy and warm effect.
This hat is reversible as both sides are different and can be worn with either side showing on the brim.
Gauge: 6 sts and 6 rows = 4″
PATTERN:
Chain 24.
Row 1: Starting in second chain from hook, single crochet across. (23 sts)
Row 2: Chain 1, turn. Slip stitch in each single crochet across. (23 sts)
Row 3: Chain 1, turn. Single crochet in each slip stitch across. (23 sts)
Row 4-23: Repeat Rows 2 and 3.
Fasten off and leave long end for sewing. Whip stitch edges together to form a tube. Flip inside out so that the "wrong side"/non-ribbed side is facing outwards. Flip brim upwards. Whip stitch opposite ends together to close up top. The Summit Beanie is reversible so you can wear it with either side facing outwards.
Finished dimensions: 15″ circumference (without brim folded up), 21″ circumference (with brim folded up), 15″ tall (without brim folded up)
******************
I love the look of this chunky beanie with its slight slouch! It looks so cozy with my teddy bear jacket that I found in Tokyo- the neat thing is that my jacket is ALSO reversible! I love versatile items that can be worn different ways!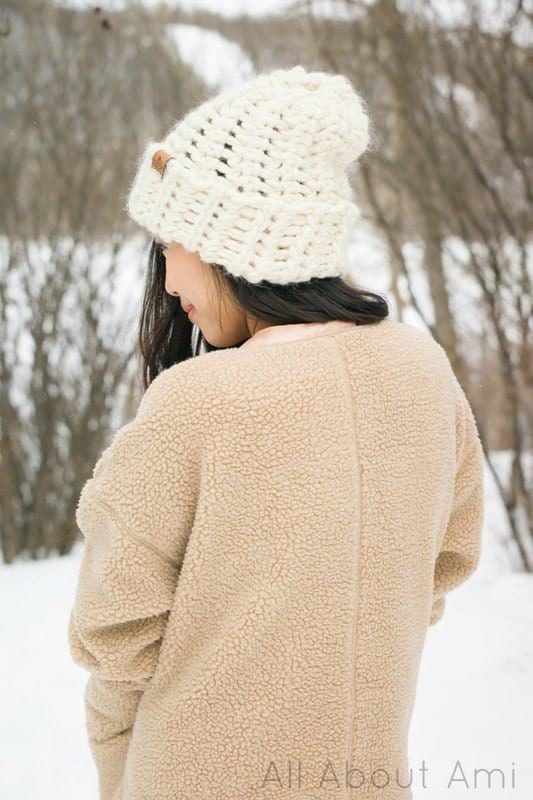 The Summit Beanie and Cowl use the same ribbing design, and both work up incredibly quickly since you are using such a large crochet hook. The free pattern for the Summit Cowl can be found HERE!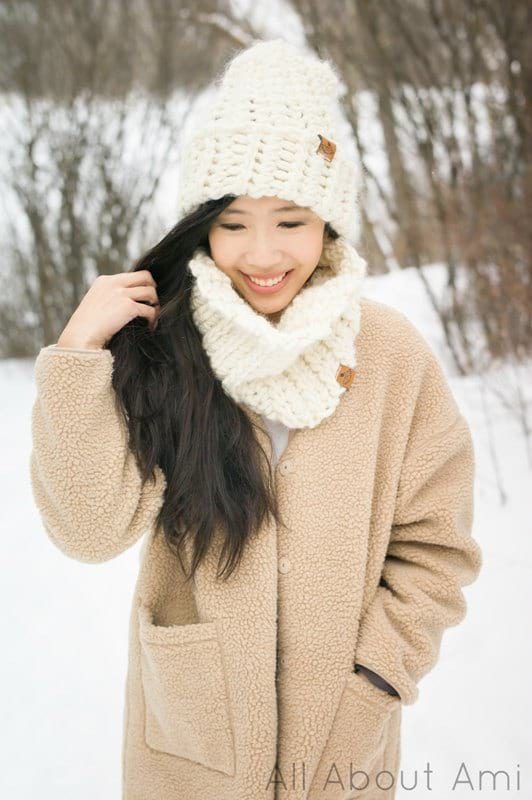 Since the Fifty Fifty yarn is an alpaca wool blend, this beanie and cowl are incredibly warm, cozy and soft. It's amazing how winter can feel much less harsh as long as you are wearing something warm to protect your head and neck!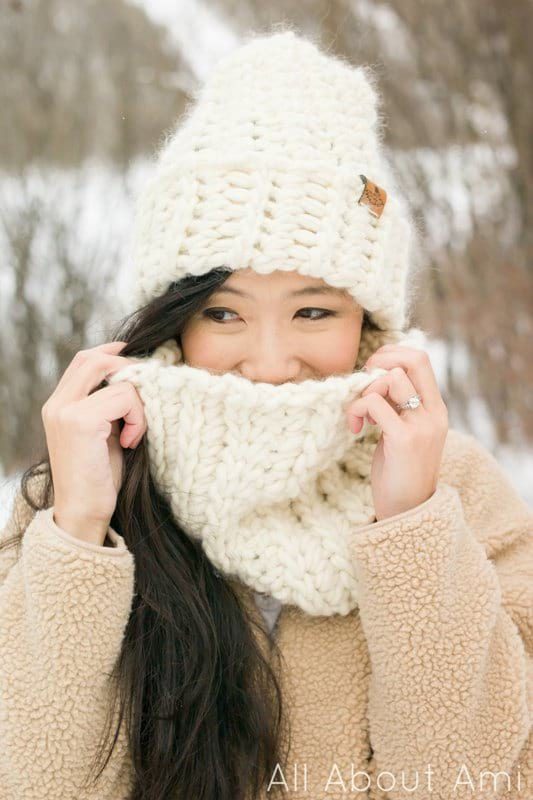 Lion Brand Yarn has put together a convenient kit so you can make a matching Summit Beanie and Cowl HERE! The kit contains two balls of Fifty Fifty yarn since the beanie uses one ball and the cowl uses another ball. It is a great price right now as $35.19 is a steal for such luxurious yarn that you can make two projects with!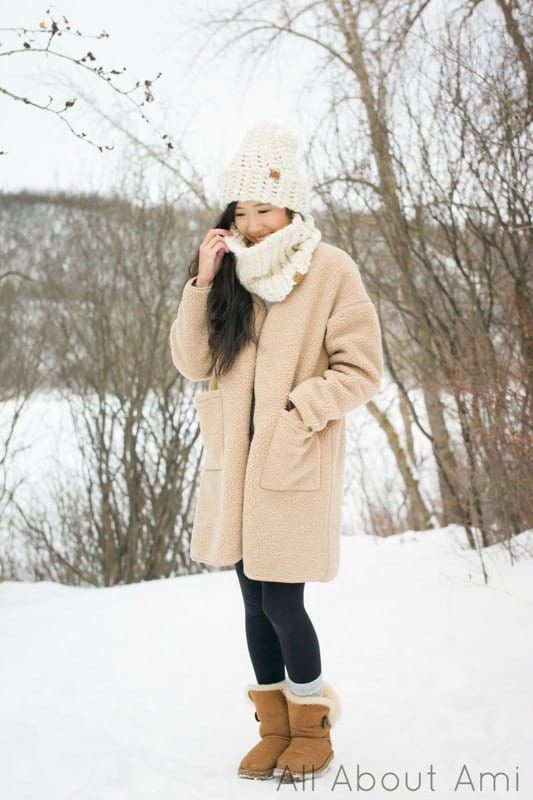 If you are interested in knitting a cozy matching set, please check out my Summit Beanie Knit pattern HERE and my Summit Cowl Knit pattern HERE! I love quick projects that have such a high-end look and feel, and I hope you enjoy crocheting your own cozy winter wearables as well!

This pattern is an original pattern by Stephanie Lau of All About Ami. Please do not claim this pattern as your own. If you wish to share this pattern, you may link to this pattern but please do not reprint it on your site. You may keep a copy for your own personal use but please DO NOT sell the pattern or distribute it.
You may sell products made from this pattern but please clearly credit the design to me, Stephanie Lau of All About Ami, and provide a link to my blog www.AllAboutAmi.com. Permission is NOT granted for mass production or factory manufacturing of any kind. Thank you for being respectful and for your understanding!