***You can purchase an INEXPENSIVE AD-FREE PDF of this pattern on Etsy HERE! This beautifully formatted PDF includes the step-by-step pictures and patterns for BOTH the Summit Beanie and Summit Cowl- it is a total of 5 pages including the cover page! This pattern is also available in the "Crochet Cowls & Scarves PATTERN BUNDLE" which includes over 20 beautiful designs at a discounted price – check out the bundle HERE! Lion Brand Yarn has made a convenient kit HERE that includes the crochet patterns and all the luxurious Fifty Fifty Yarn required to make the matching beanie and cowl set (this special yarn is only available online)!
Whenever I release a new knit design, people always ask if I can make a similar crochet version (and vice versa)! I knit my Summit Beanie and Cowl and brought them to Maui so that we could photograph them ontop of the dormant volcano Mount Haleakala. Upon our return home, I managed to find some time to design a crochet version so that my crochet friends would not be left out! I wanted to make sure that crocheters could get a chance to work with the amazing new Fifty Fifty yarn as well. It is 50% alpaca, 50% wool, and it is classified as a super bulky level 6 yarn although I would say it is closer to a jumbo level 7. It is a very soft yarn because of the alpaca in it, and I do not find it itchy at all!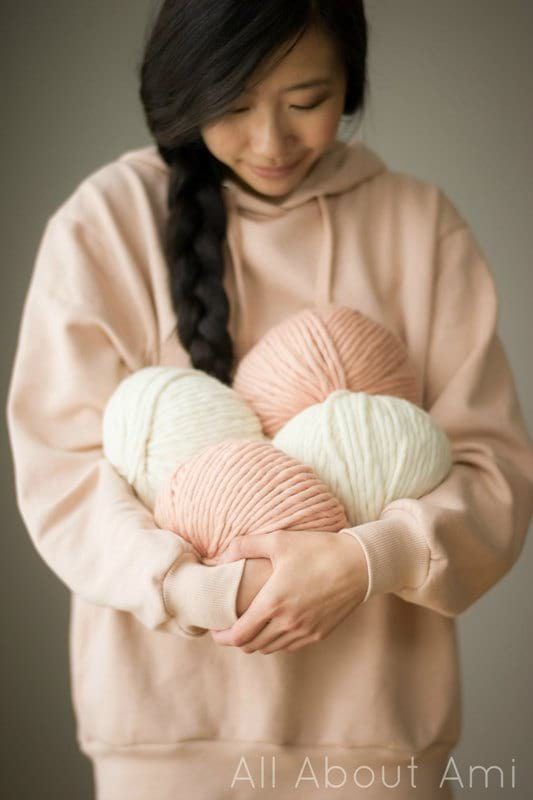 As we all know, crochet projects use more yarn than knit projects, and crochet stitches tend to be denser and stiffer than knit projects as well. It took some experimentation for me to get a similar look and feel to their knit counterparts. My first attempt at a crochet cowl was not great as it was extremely stiff- when I slipped it on, it looked as though I was wearing a neck brace! Thankfully I kept trying and I ended up moving up a hook size and using different stitches. This is the beautiful ribbing that I achieved using a 15 mm crochet hook!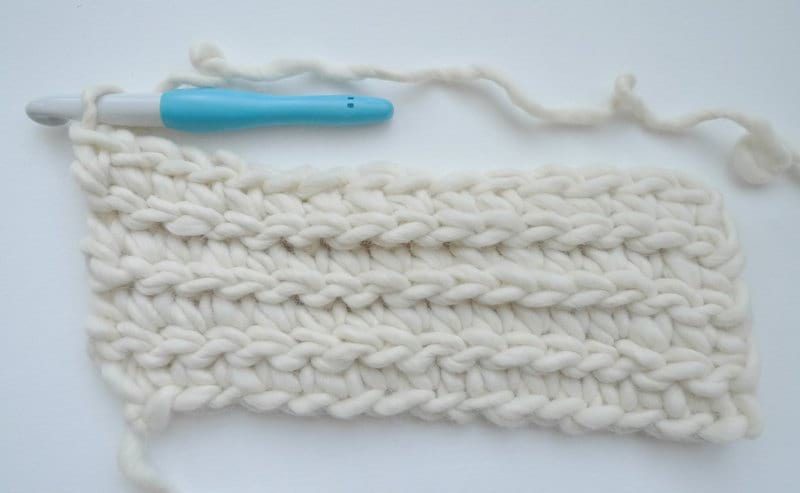 This is the other side of the ribbing! I explained this new ribbing technique in my Velvet Ribbed Cowl, and I will quickly walk you through it again.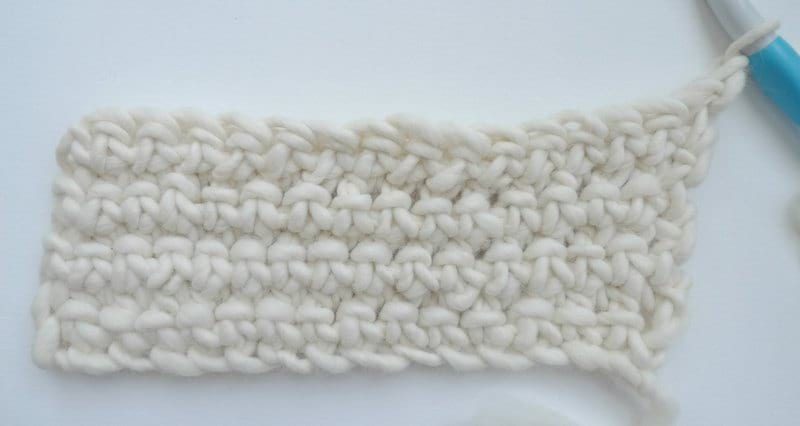 For even rows, you work slip stitches across. By working slip stitches, you are placing V's (as shown by the red V's in picture below) ontop of the stitches from the previous row.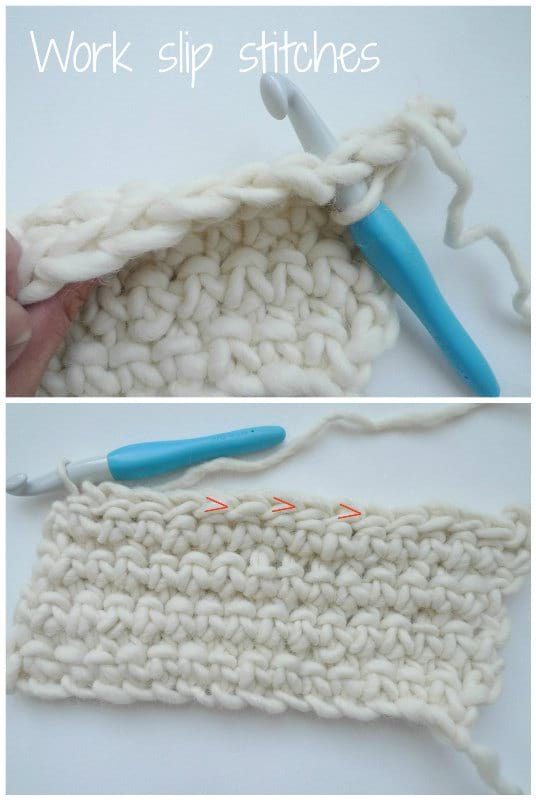 On odd rows, you then work single crochets into the slip stitches from the previous row (as shown by the red V's below). By doing so, you are leaving the beautiful V's from the prior single crochet row untouched (as shown by the blue V's). If you ever forget where you are, remember that the ribbed side is the single crochet/odd # row side while the other side is the slip stitch/even # row side.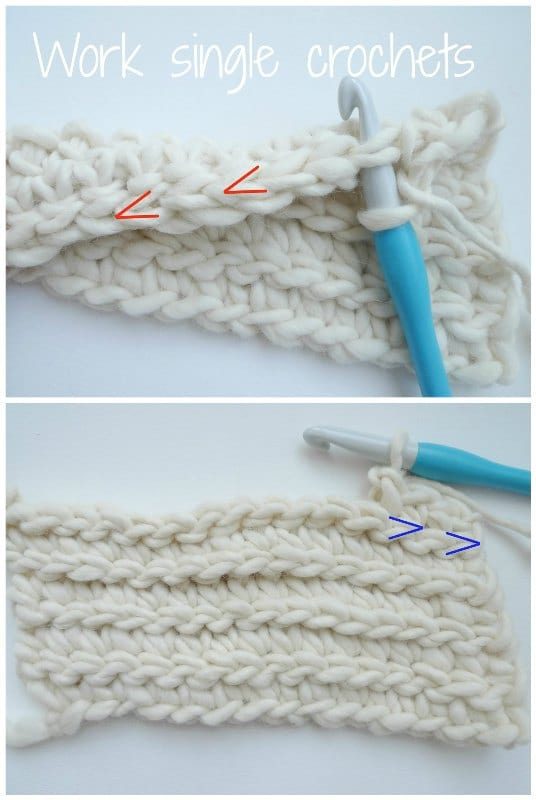 After my length was complete, I then slip stitched the ends together to form a cowl!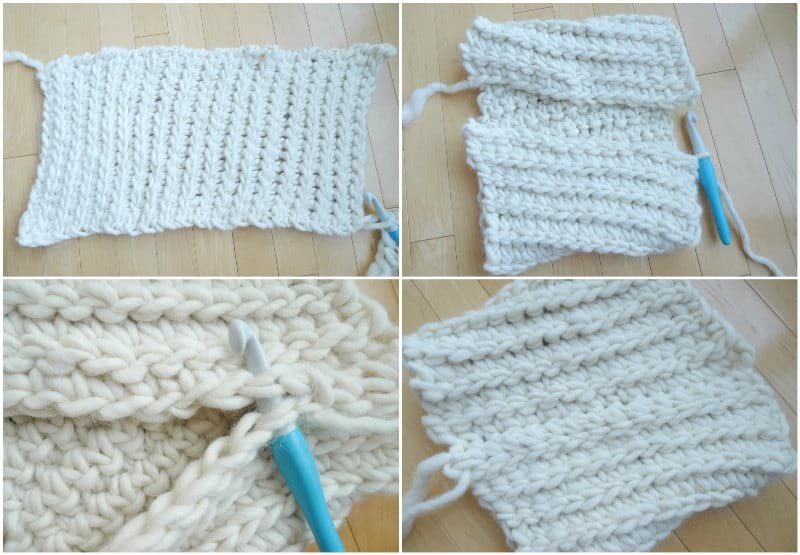 *********************
Here is the free crochet pattern for The Summit Cowl: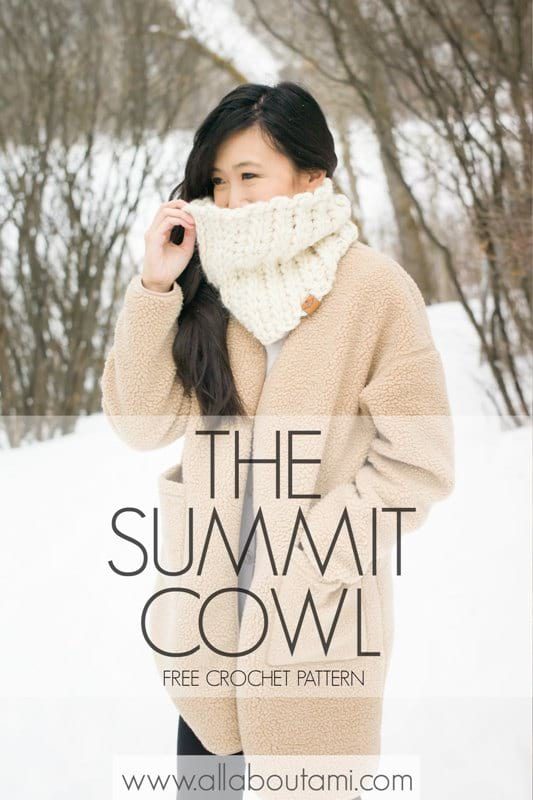 Materials:
Notes:
This cowl is worked in turned rows and then seamed together at the end to form a circle.
The ribbed design is created by alternating rows of single crochets with rows of slip stitches.
If you forget where you are, remember that even rows are slip stitch rows and odd rows are single crochet rows. The ribbed side is the single crochet (odd row #) side.
Gauge: 6 sts and 6 rows = 4″
PATTERN:
Chain 16.
Row 1: Starting in second chain from hook, single crochet across. (15 sts)
Row 2: Chain 1, turn. Slip stitch in each single crochet across. (15 sts)
Row 3: Chain 1, turn. Single crochet in each slip stitch across. (15 sts)
Row 4-36: Repeat Rows 2 and 3.
Fasten off and leave long end for sewing. Whip stitch edges together to form a cowl and hide end.
Finished dimensions: 10″ tall, 11.5″ wide, 24″ circumference
*********************
I love the beautiful stitches and drape of this cowl, and it works up incredibly quickly since you are using such chunky yarn and a large crochet hook! The cowl is such a great height as you can pull it up over your nose and mouth to shield yourself from cold winds.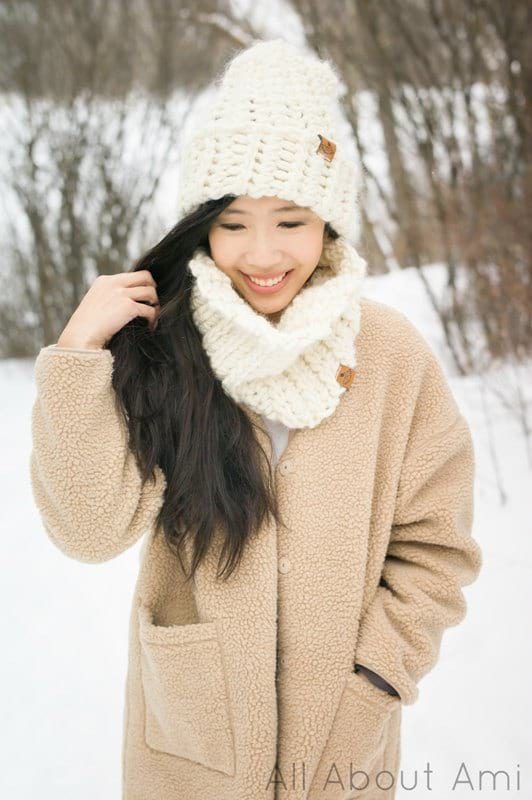 Chunky projects are still so on trend, and who doesn't love a project that you can complete in one sitting? If you would like to crochet the matching Summit Beanie, please check out the free crochet pattern HERE! It uses the exact same ribbing pattern, and also uses exactly one ball of Fifty Fifty Yarn!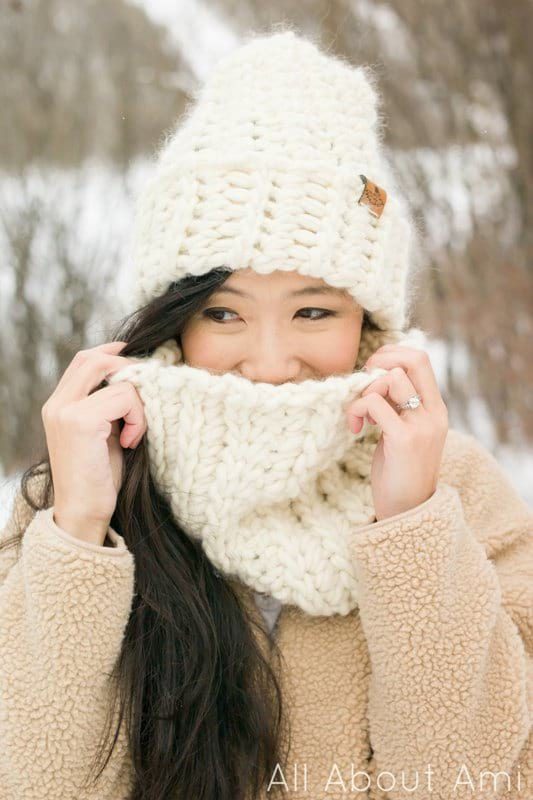 Don't forget to check out the convenient Lion Brand Yarn kit HERE as it contains two balls of Fifty Fifty yarn so that you can make the matching Summit Cowl and Beanie! It is currently on sale for $35.19 which is such a great deal for two designs using such luxurious yarn!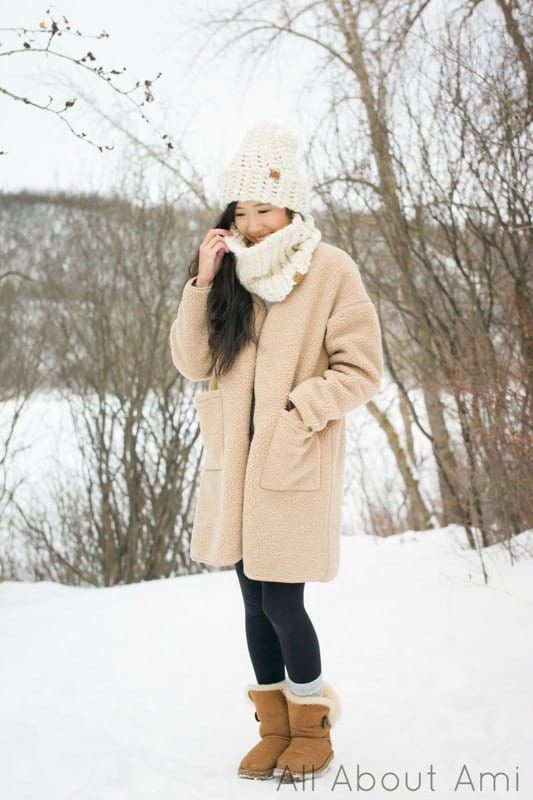 If you would prefer to knit your own matching set, check out the Summit Cowl Knit pattern HERE and the Summit Beanie Knit pattern HERE! I hope you like this crochet design and I cannot wait to see you all rocking your stylish cowls and beanies!

This pattern is an original pattern by Stephanie Lau of All About Ami. Please do not claim this pattern as your own. If you wish to share this pattern, you may link to this pattern but please do not reprint it on your site. You may keep a copy for your own personal use but please DO NOT sell the pattern or distribute it.
You may sell products made from this pattern but please clearly credit the design to me, Stephanie Lau of All About Ami, and provide a link to my blog www.AllAboutAmi.com. Permission is NOT granted for mass production or factory manufacturing of any kind. Thank you for being respectful and for your understanding!