***You can purchase an INEXPENSIVE AD-FREE PDF of this pattern on Etsy HERE! This beautifully formatted PDF includes the step-by-step pictures and patterns for BOTH the Summit Beanie and Summit Cowl- it is a total of 4 pages including the cover page! Lion Brand Yarn has made a convenient kit HERE that includes the knit patterns and all the luxurious Fifty Fifty Yarn required to make the matching beanie and cowl set (this special yarn is only available online or at the Lion Brand Yarn Studio in New York City)!
When Lion Brand Yarn sent me their GORGEOUS new yarn, I knew exactly what I wanted to make with it! This luxurious beauty from the LB Collection is called "Fifty Fifty", and as its name suggests, it is 50% alpaca and 50% wool. It is classified as a super bulky (level 6) yarn although I would say it is closer to a level 7 jumbo yarn as it is definitely thicker than Wool-Ease Thick & Quick and other super bulky favourites. It is a generous size as each ball contains 200 grams/87 yards, and there are 9 different colours available. It is softer than comparable luxury yarns on the market since it contains the alpaca, and I do not find it itchy at all. I fell in love with this pretty pink and knew I wanted to fully maximize the yarn and make a luxurious cowl with it!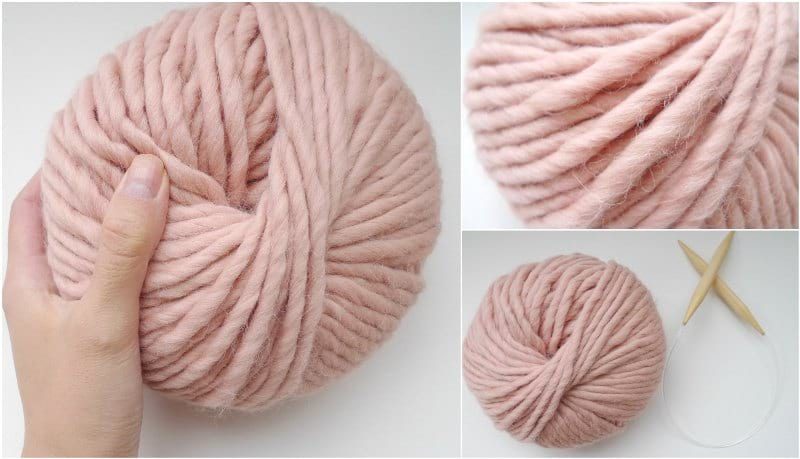 I used my 12.75 mm circular needles as I love knitting in the round- no need to seam any ends! I used a simple Knit 2, Purl 2 to achieve a modern, beginner-friendly ribbing.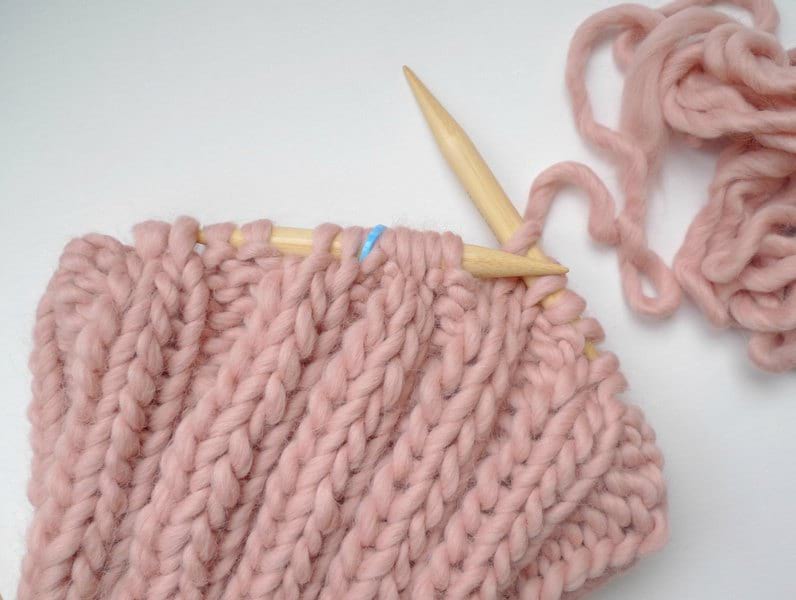 At the end, I casted off my stitches using the same K2, P2 design. I love being able to fully maximize the yarn when working with luxury products like these- no one wants to waste precious yarn!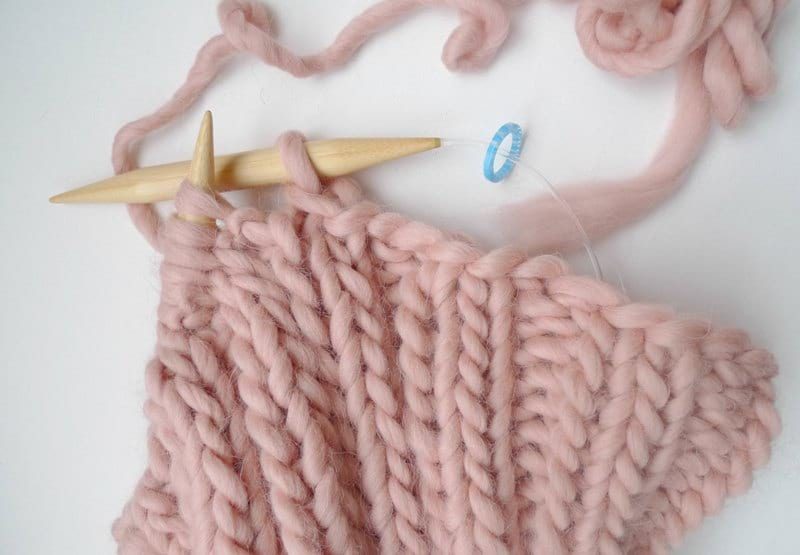 **********************
Here is the free KNIT pattern for The Summit Cowl: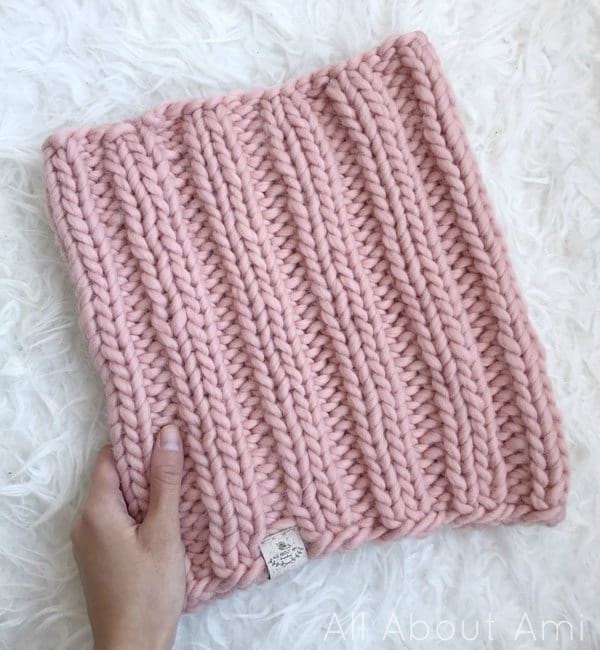 Materials:
Notes:
For a seamless join at the very beginning, cast on an extra stitch (i.e. 45 stitches in this design). Slip the first stitch purlwise onto the working needle. Take the extra stitch that was made (now second stitch on the working needle) and slip it over the slip stitch (now the first stitch on the working needle). Pull yarn tail and working yarn tightly and add stitch marker. Continue with pattern. This technique is demonstrated in this video HERE.
To make this cowl wider, cast on more initial stitches.
To make this cowl taller, add more rounds.
Since this yarn is an alpaca wool blend, you can felt the yarn ends together with a felting tool.
This design can also be knit on flat needles in turned rows. Leave enough yarn to seam the edges together to form a tube!
This cowl is very stretchy, and can be pulled over the head to be worn as a snood too!
Gauge: 8 sts and 10 rounds = 4″
PATTERN:
Using long-tail cast-on, cast on 44 stitches (leave 80″ tail).
R1: *K2, P2*, around. (44 sts)
R2-R30: Repeat Round 1. (44 sts)
Cast off all stitches in *K2, P2* pattern.
Finished Dimensions: 10″ wide, 22″ circumference, 12″ tall (capable of plenty of stretch)
***************************
I love my gorgeous Summit Cowl as it has lovely drape! You can pull it up to cover your nose and mouth to shield yourself from chilly winds, and you can also fold it down.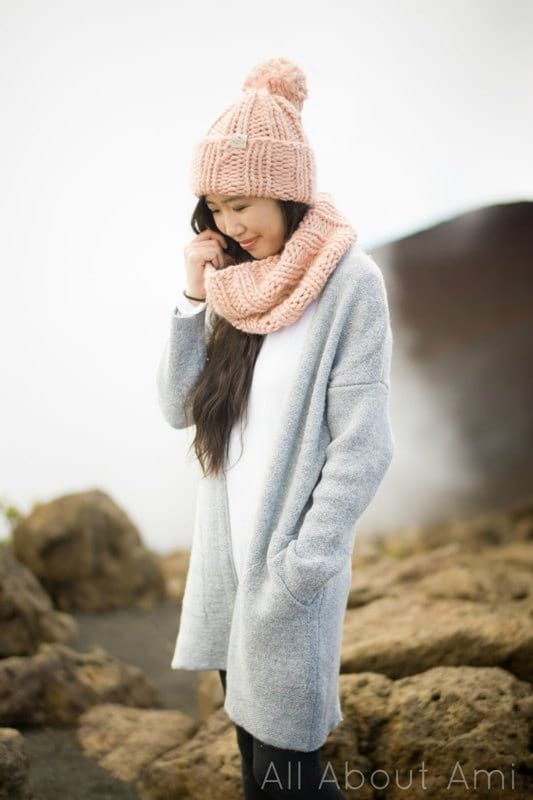 I knitted a matching beanie using the same ribbed design, and is also uses 1 ball of Fifty Fifty yarn- you can find the free pattern HERE! I love matching sets and being able to wear these pieces together or separately as well!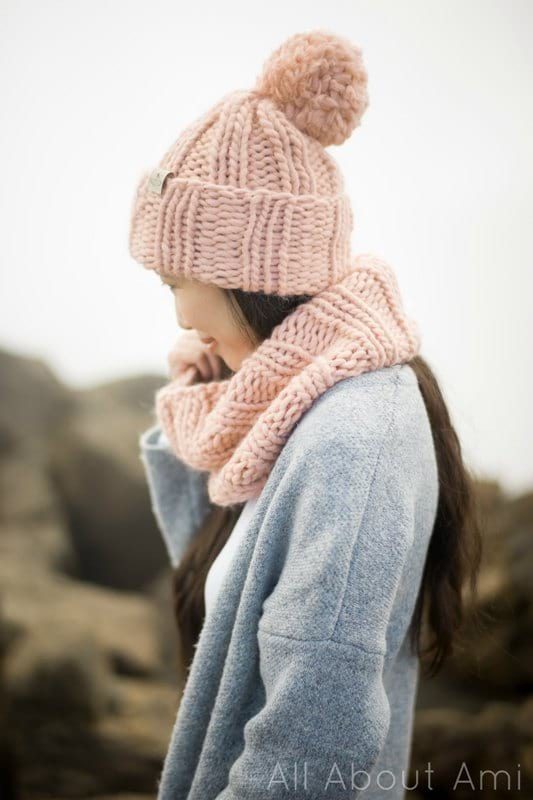 If you would prefer to crochet yourself a set, please check out my Summit Cowl Crochet pattern HERE and my Summit Beanie Crochet pattern HERE! These beginner-friendly projects have such a high-end feel as you can find similar items in luxury stores, but now you can make them yourself! My favourite part is that you can whip up each project in one sitting- who doesn't love a quick and satisfying project using big yarn and big needles? Don't forget to check out the convenient Lion Brand Yarn kit HERE, and it is a FABULOUS deal right now as it is 20% off! $35.19 is an amazing price for such luxurious yarn, and you can make BOTH a beanie and a cowl with the kit! Thank you for your support, everyone!

This pattern is an original pattern by Stephanie Lau of All About Ami. Please do not claim this pattern as your own. If you wish to share this pattern, you may link to this pattern but please do not reprint it on your site. You may keep a copy for your own personal use but please DO NOT sell the pattern or distribute it.
You may sell products made from this pattern but please clearly credit the design to me, Stephanie Lau of All About Ami, and provide a link to my blog www.AllAboutAmi.com. Permission is NOT granted for mass production or factory manufacturing of any kind. Thank you for being respectful and for your understanding!