When we were invited to the Lion Brand Blogger Bash in New York City in January along with six other crochet designers, we knew that we wanted to get some special gifts for the other bloggers.  I had connected with them all on-line for years, and it was such a rare and amazing opportunity to meet them all in real life.  I was hoping to find gifts from a small local business in Alberta to help represent the area that we are from since the rest of the designers are from the United States.  Even better would be if these gifts could somehow be personalized for each blogger!  Ryan and I were thrilled when we discovered Lamose Water Bottles as they had set up shop in the RAAS Market in West Edmonton Mall which features local makers and artisans from the Edmonton area.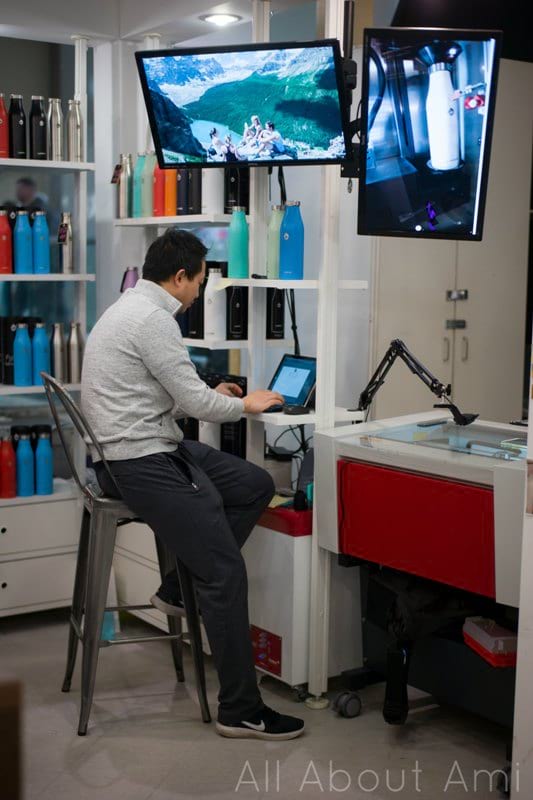 We met the owner and founder of Lamose named Chen (pictured above) who was excited to work with us!  Chen was inspired by the breath-taking Canadian Rockies to design environmentally-friendly, stainless steel insulated water bottles free of plastic.   Lamose is taken from the words "Lake Mountain Sea" and their core belief is that life should be full of adventures.  With these bottles, they are hoping to inspire others to protect nature and themselves.  Lamose water bottles are designed in Canada and responsibly made in China.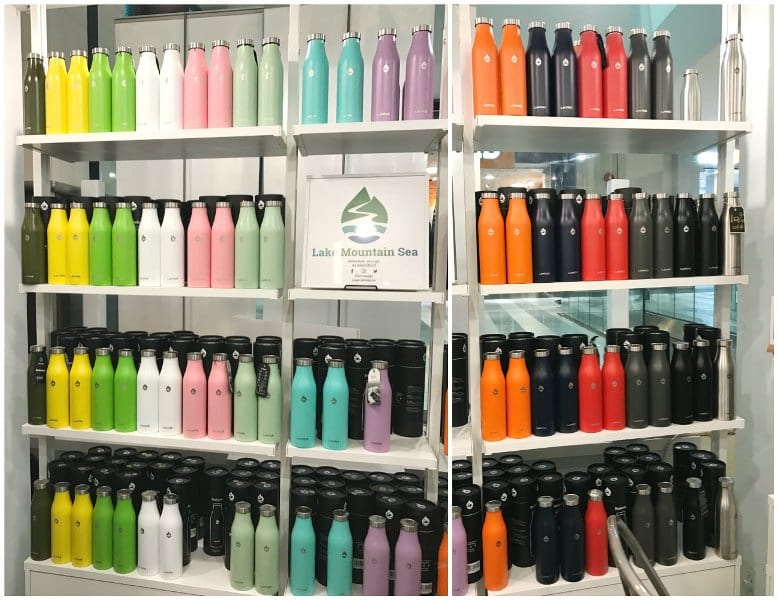 Currently there are two water bottle styles available: the Robson and the Moraine.  We chose the Robson style for the bloggers as they are very sleek- two sizes are available, namely 21 oz and 28 oz.  Chen had so many different colours available in his shop, and I tried my best to decipher the favourite colours of the bloggers without giving them any hints that I was gifting them something special!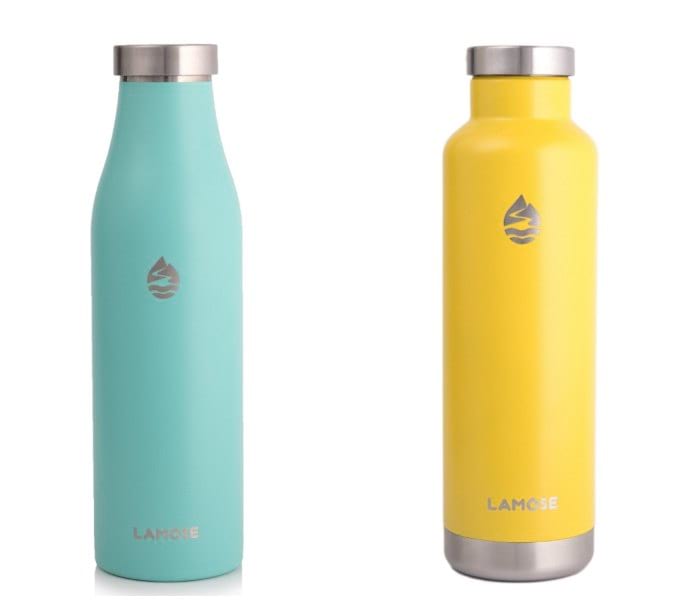 Lamose water bottles are very durable and easy to clean as they are dishwasher-safe (both the bottle and lid)!  The double-walled vacuum insulation keeps drinks cold for 24 hours and hot for up to 12 hours, and they have a lifetime guarantee!  At the West Edmonton Mall location, you can get your water bottles ENGRAVED with anything you want, including an image or quote!  As soon as we discovered this neat feature, we knew this was the absolute perfect gift for the bloggers!  I gathered their logos and sent them to Chen so that he could convert them to vector files and prepare them to be transferred onto the water bottles.  Chen worked so diligently to convert the files and match the fonts as best as possible.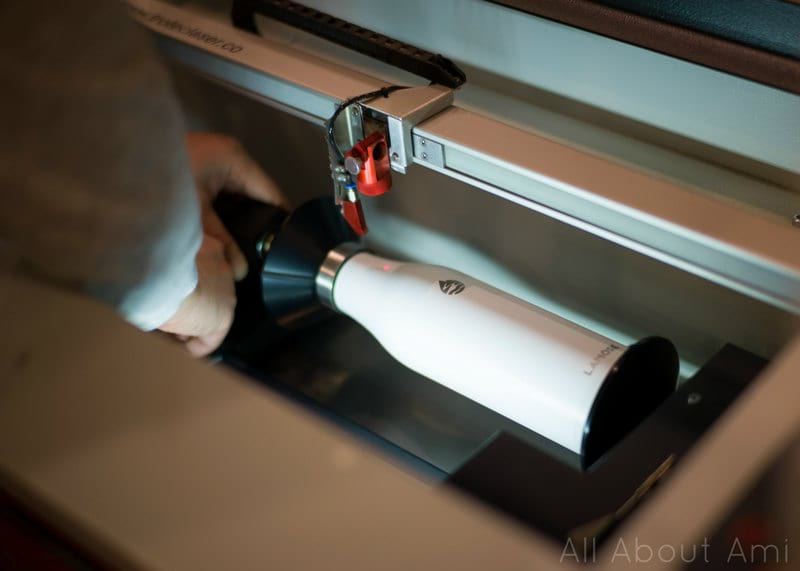 I chose a white water bottle for myself, and we took a time-lapse video showing my logo being engraved on it!  Isn't this so neat?  I love how clean and crisp my logo looks on the white bottle!
I have been using my water bottle for the past few weeks now and I cannot say enough good things about it!  The bottle is smooth to the touch with a beautiful matte finish.  As stated on the packaging, the "powder-coated layer improves grip and durability" and I can definitely feel the difference when I grip this bottle compared to other water bottles I've owned in the past!  It really does keep your water cold for an extremely long time, and cold water tastes so much better than lukewarm water!  I always find myself reaching for my water bottle and proudly taking it out during outings, so I know this sleek and personalized water bottle is helping me increase my water intake.  Washing the bottle is very easy as I simply put it in the dishwasher!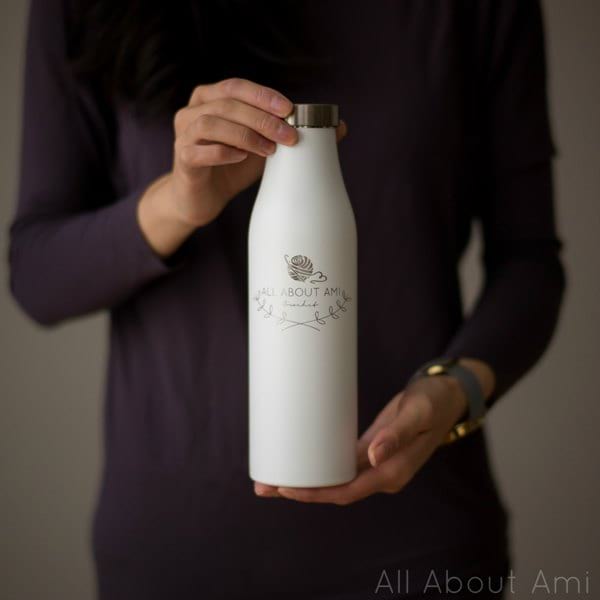 The other bloggers LOVED their gifts and were so surprised to find their logos on them!  I gifted the bottles to them on the first day of the Blogger Bash, and some of them started using the water bottles right away on the subsequent days in New York!  Water bottles are such a practical gift  that everybody can use, and being able to personalize them is such an extra bonus!  I've seen Lamose water bottles customized with favourite quotes, images of people's dogs, and even a child's first drawing!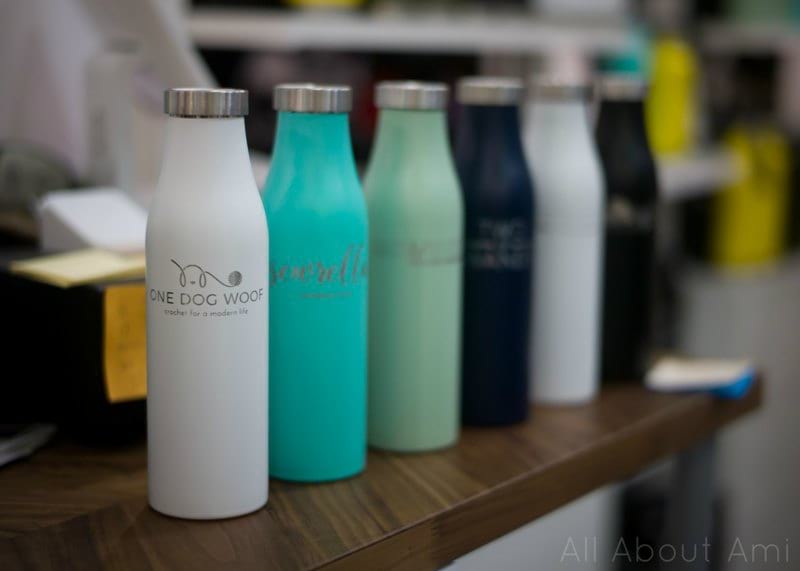 If you are in the market for a new water bottle, I highly recommend you check out Lamose Water Bottles!  Chen sells his bottles on Amazon HERE so you can get them shipped right to your door!  Currently the engraving is only available at the West Edmonton Mall location, so if you will be visiting, do check his store out in person!  There are also insulated mugs in a variety of colours available in his store in West Edmonton Mall  I know my tea tends to get cold in the morning with various interruptions, so this is a great option to keep your tea and coffee warm instead of having to constantly reheat it!  These mugs can be engraved as well!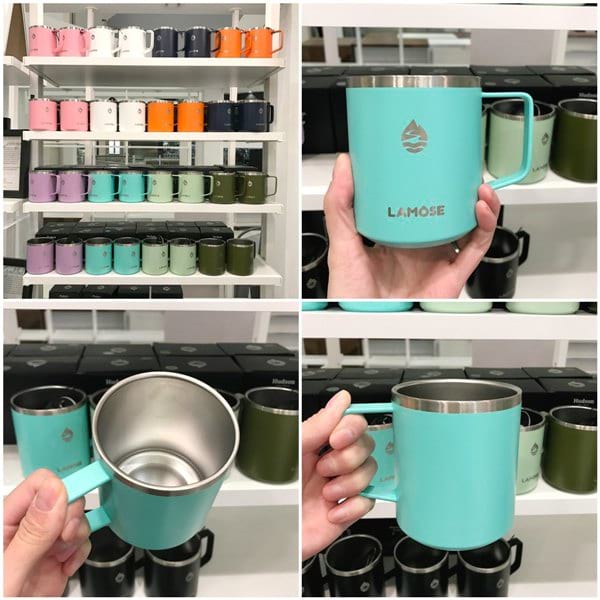 Chen has given a coupon code for my readers to use on Amazon.com and Amazon.ca!  Use the code "AMIPROMO" to get 10% off your Lamose water bottle purchase (code good until the end of March)!  Chen is also partnering with me to give away one Lamose water bottle of your choice to a special reader!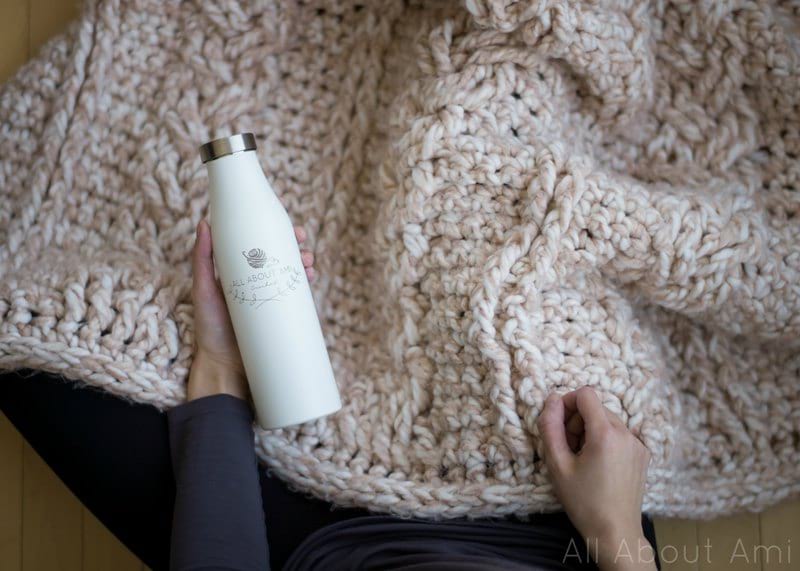 ***To enter the giveaway [NOW CLOSED], leave a comment below telling us which style water bottle you would choose and what colour (e.g. the Robson water bottle in Turquoise)!
Giveaway is open to residents of the USA and Canada and will close on Friday, March 2nd at 8 PM MST!
Note: Thank you to Chen of Lamose for partnering with us for this post- all opinions expressed are 100% my own!