As makers, we know all the hard work and love that go into handmade items.  I loved going to craft fairs when I was younger, and I've really gained a deeper appreciation for the value of handmade items since picking up crocheting and knitting again as an adult.  I love perusing Etsy and seeing what unique handmade items creative people are dreaming up all around the world!  I am pleased to partner with Etsy Canada to bring you this blog post and share some of my Etsy finds that crafters will appreciate!
One of my recent obsessions has been beautiful enamel pins as they are definitely growing in popularity!  They are such a fun way to decorate your project bags or add a special touch to your collar or lapel.  There are many artists who gear their enamel pin designs for crafters, and I would like to showcase some of them!  Tiffany of Twill and Print from Montreal, Quebec makes such whimsical pins and progress keepers: some of my favourites include her Sheep and Alpaca, One Stitch At A Time, Make Wear Mend Sweater, and Craft Queen!  I adore Tiffany's aesthetic and every single one of her designs- they are absolutely perfect for fibre fanatics such as ourselves!  Check out the Twill and Print Etsy shop HERE!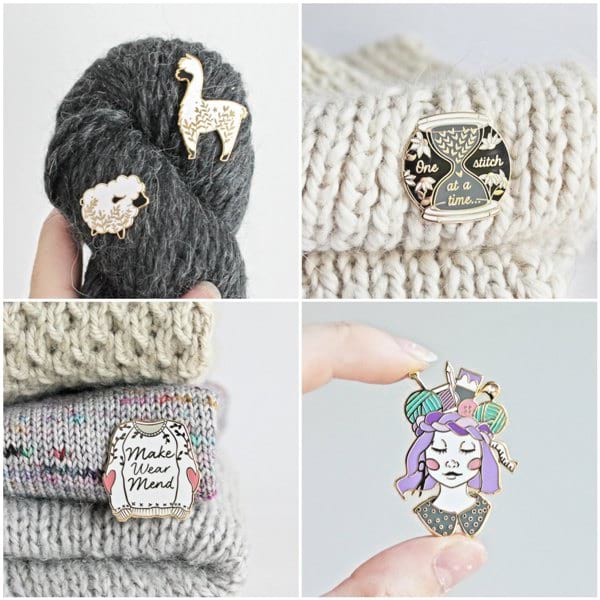 Nicole of Woolfield from Calgary, Alberta has designed some adorable pins for knit/crochet, book, and tv lovers!  Her "One More Row", "One More Chapter", and "One More Episode" pins have such vibrant colours and would make great gifts for book clubs or sip and stitch friends.  Check out the Woolfield Etsy shop HERE (Nicole has some fabulous sock patterns as well)!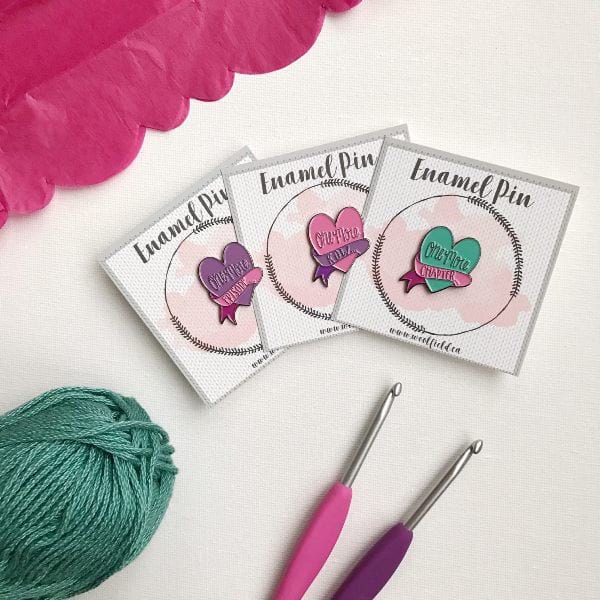 I absolutely love project bags as I always have numerous knit and crochet projects on the go!  I try to maximize my crafting time whenever I can, so I like to bring my projects with me in the car in case I can sneak some time in when Ryan is driving, at the playground, or when waiting for appointments.  Bookhou based in Toronto, Ontario creates stunning and modern screen printed original drawings and incorporates them in their beautiful bags.  Their grey Box Tote would make a gorgeous project bag with the leather handle and is made of linen (outer) and organic cotton canvas (lining).  This tote can be left open or the leather tie can be used to cinch in the sides, giving it some closure.  Bookhou also has Oblong Pouches with their original drawings that would be fantastic for carrying your crochet hooks and tooks!   Check out the Bookhou Etsy shop HERE!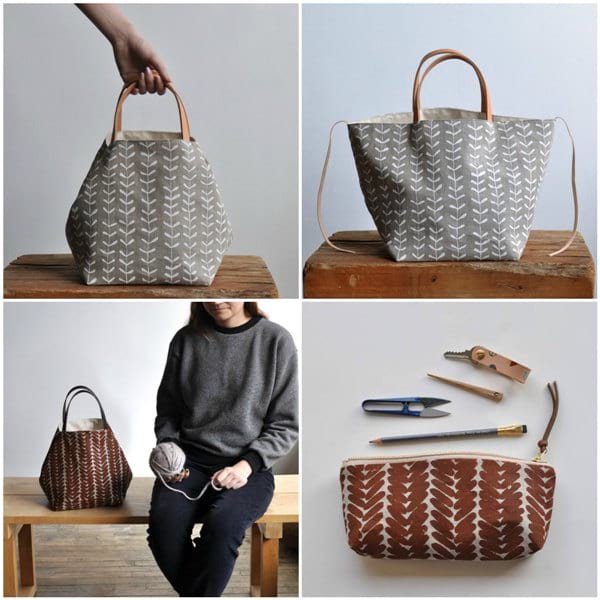 If you love crocheting amigurumi, check out this e-book entitled "100 Days of Mini Amigurumi" by Lauren of A Menagerie of Stitches!  Lauren recently released her first book called "Whimsical Stitches" (see my review HERE), and she also participated in the 100 Day Project in which people choose to do one thing (e.g. painting, writing, music) and to that for 100 days.  Since Lauren loves designing amigurumi, she designed a mini amigurumi for 100 days (what a feat!) and published all the patterns in this eBook.  I love how each project is small, so you could definitely finish one in one sitting- it is so satisfying completing an entire project in one go!  They are all so colourful, and it would be such a fun challenge to work your way through this eBook- check it out HERE!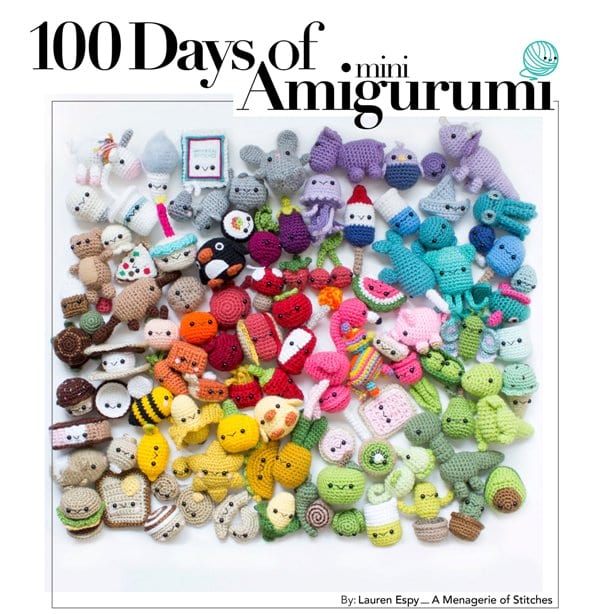 Amigurumi lovers will adore this "I Make Cute Things With Yarn" tank top!  I love proudly displaying my love of crafting, crocheting, and knitting with fun clothing and bags, and this tank is so comfy and cute.  This would be perfect to wear if you are a vendor at craft fairs, or would make a special gift for your crafty friends!  Nancy of Vancouver, British Columbia is a fellow amigurumi and crochet lover, and she gifted this tank top to me when we visited her beautiful city.  Nancy also sells this design on tote bags as well- check out her Too Much Love Crafts Etsy shop HERE!  I'm holding my fuzzy Chinese New Year Dog in the picture below as you all know I like making cute things with yarn!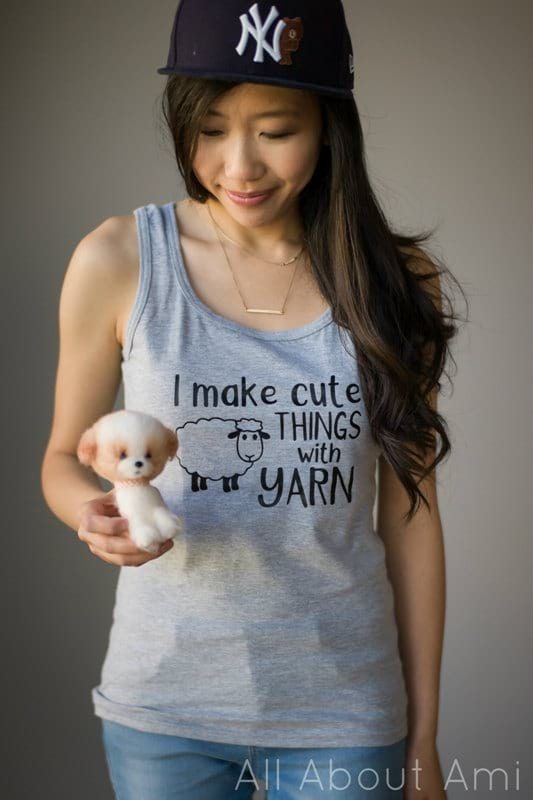 If you love the look of amigurumi but are not interested in crocheting your own, I highly recommend Jenn of Croochet's work (also from Vancouver, British Columbia)!  She designs absolutely adorable amigurumi, from Chubby Whales to sweet Ducklings.  We own some of her work, and they are very well-crafted.  Her amigurumi look so cute hanging from your bags, backpacks or rear-view mirrors, and we also use them as Christmas decorations since they hang so daintily!  Check out Jenn's Croochet shop HERE, and she also sells some PDF patterns as well!  I've pictured my Croochet ducklings with my Crocodile Stitch Mermaid Tail Blankets (blog post found HERE)- Jenn was so sweet to crochet personalized ducklings for Myla and Brielle to match their respective mermaid tails that I made for them!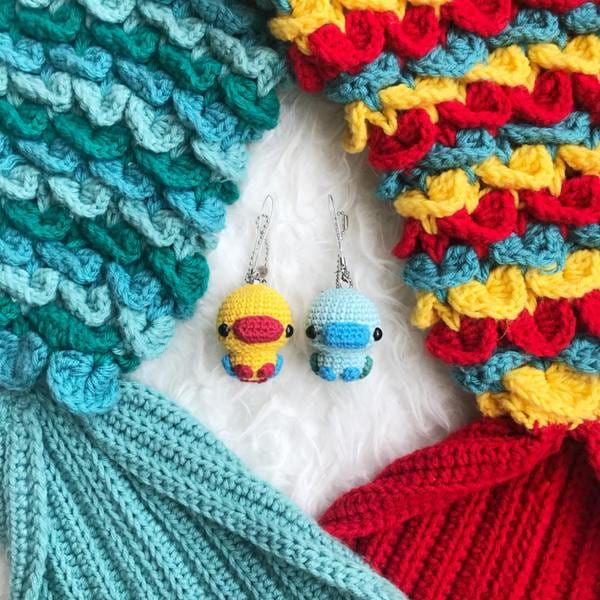 Erinna and Rosemary are a mother-daughter duo based in Melbourne, Australia who I have featured on my blog in the past (check out my Craft Chat with them HERE)!  I greatly admire their work and style and love how they combine different crafting elements together in their amigurumi such as knitting, crocheting, and sewing.  They sell their finished dolls in their Bubbles & Bongo Etsy shop HERE and their work is exquisite- they could definitely be heirloom dolls that could be passed down the generations.  They gifted me this beautiful doll pictured below- I am in awe of her curly locks, handsewn dress, and stylish boots (she is pictured with my Chinese New Year Pony who has quite the beautiful mane as well)!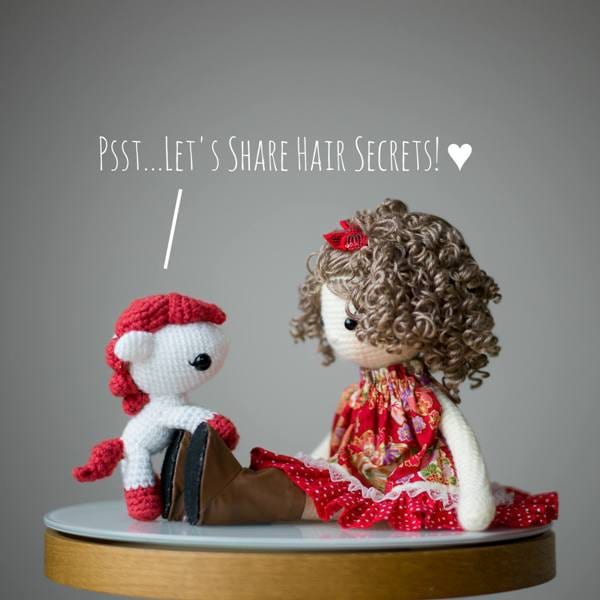 Erinna and Rosemary have recently opened a second Etsy shop called "The Little Hook Crochet" to sell their crochet patterns- they will be selling kits in the future as well!  Check out their whimsical amigurumi designs such as Pippa the Pig and Moochie the Mole as shown below!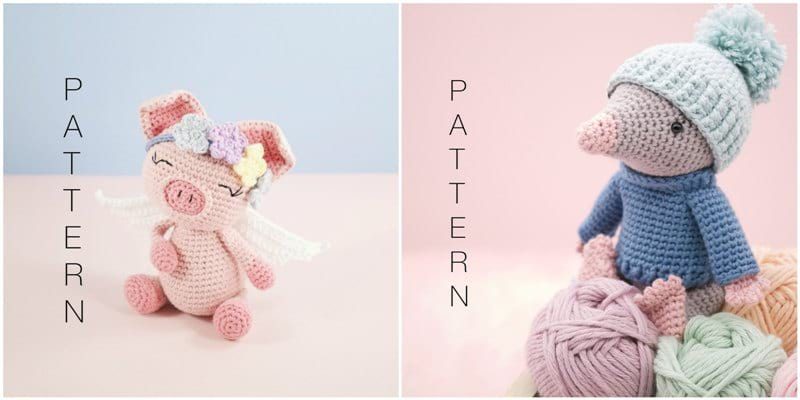 I have quite the collection of zipper pouches as you simply cannot have enough!  I have different project bags on the go, and I love having these zipper pouches on hand to carry my crochet hooks, stitch markers, and measuring tape.  One of the cutest zipper pouches I own that is absolutely perfect for crafters is this "Knitty Kitty Zipper Pouch" designed by Sami of Momomints!  I love the adorable kitty on it and how she is knitting with pink yarn- the pastel colours are just so beautiful.  It is made of durable cotton canvas, and it is lined with nylon inside so that it is easy to wipe clean.  The extra strap is handy if you want to carry the bag or hang it onto something else!  Check out the Momomints Etsy shop HERE as you can find many other adorable items such as tote bags, enamel pins, and paper clips!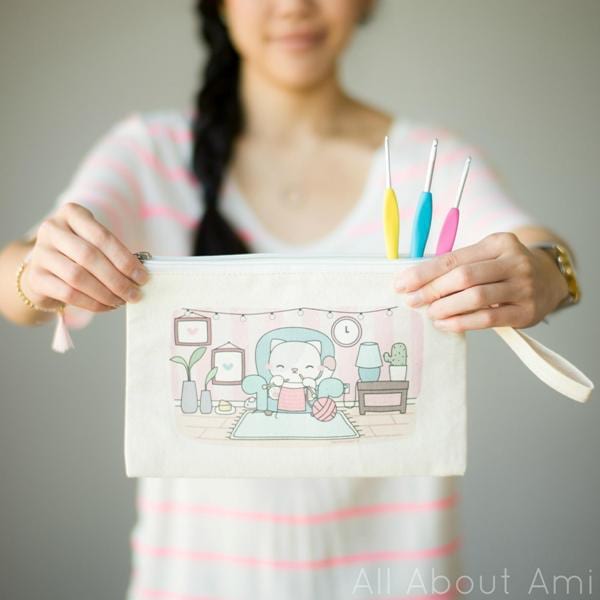 A great way to appreciate the fiber friends in your lives is with these unique greeting cards that Alison from La Reserve Design of Montreal, Quebec has created!  These digital downloads can be reprinted again and again once purchased.  Alison has "So Happy to Have a Fiber Friend Like You" and "I Feel Really Comfortable Knitting in Silence With You"!  These would be so fun for your fiber friends, especially if you are gifting yarn to them.  Check out the La Reserve Design Etsy shop HERE!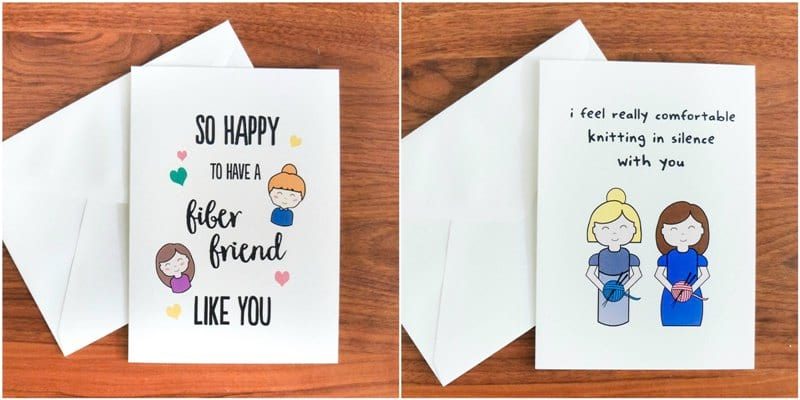 I really admire other artforms that use yarn as well, and I have always been intrigued by weaving.  Marissa designs absolutely adorable amigurumi in her Etsy shop called Mint and Woolly, and she has extended her kawaii aesthetic into her weaving as well!  My jaw dropped when I saw her amazing animal woven wall decor hoops using luxurious wool fibers.  I think it is so creative how she adds the faces, crochets the ears and adds unique touches such as pom pom crowns and bowties.  They would make stunning additions to nurseries, children's rooms or a workspace!  I am honoured to own some of Marissa's gorgeous work and I cannot wait to hang them up in my own workspace- they are such unique, whimsical, and adorable pieces of art!  Check out the Mint and Woolly Etsy shop HERE!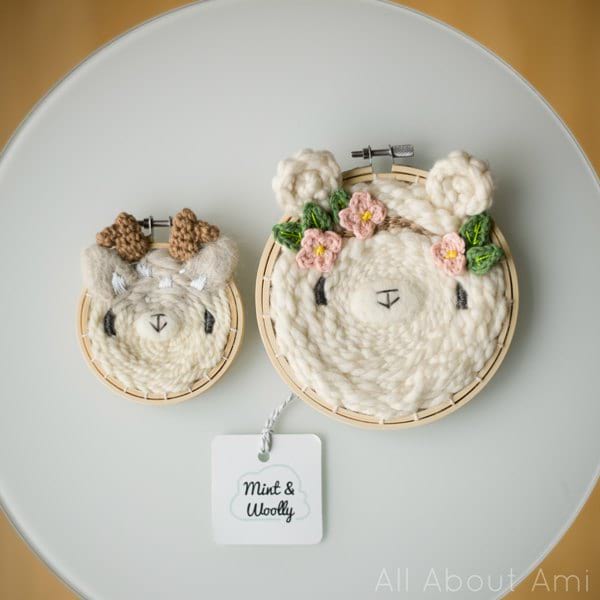 A couple years ago, Sarah of Mama Knows Luxury and I teamed up together to create some big stitch yarn kits!  It had always been a dream of mine to work with luxurious wool roving and knit my own blanket!  It was such an amazingly fun experience, and I still cannot believe I used such giant knitting needles and how each stitch was so large.  If you would like to try your hand at extreme knitting, check out the kit that Sarah has put together for my Extreme Knitted Blanket that contains 6 lbs of ethically sourced unspun merino big stitch yarn (colour of your choice), giant circular needles, a felting kit, and my pattern!  Check out the KIT HERE and the Mama Knows Luxury store HERE for more luxurious kits and yarn!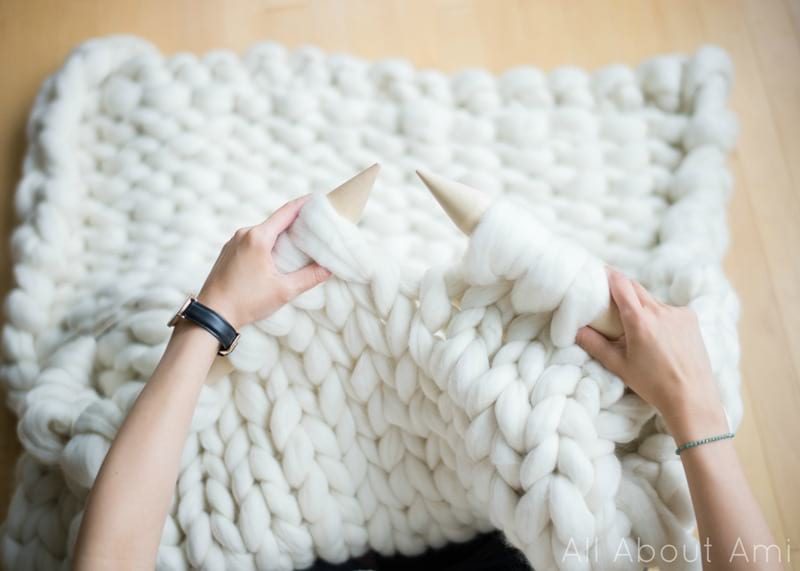 For those of you who sell your crochet and knitwear, Teresa of DebrosseNYC has created a MasterClass in which she shares her tips and strategies to hitting over 10,000 Etsy sales and earning over $100,000 in annual revenue.  As listed on her site, the DeBrosse MasterClass is a comprehensive, access-only, online resource, designed to provide you with the strategy, tools, and framework to build a flourishing knitwear shop.  This MasterClass contains 17 jam-packed modules including yarn and supplies (including how to purchase at a discount), photography, Instagram, pricing (including a pricing calculator), product listings, shipping + organization, patterns, and branding.  I think it's amazing how Teresa has created this resource for knit and crochet business owners as there are very few resources out there for our particular niche.  Teresa has one of the most successful knitwear brands I know, and she is bursting with knowledge and good advice!  Check out her MasterClass HERE!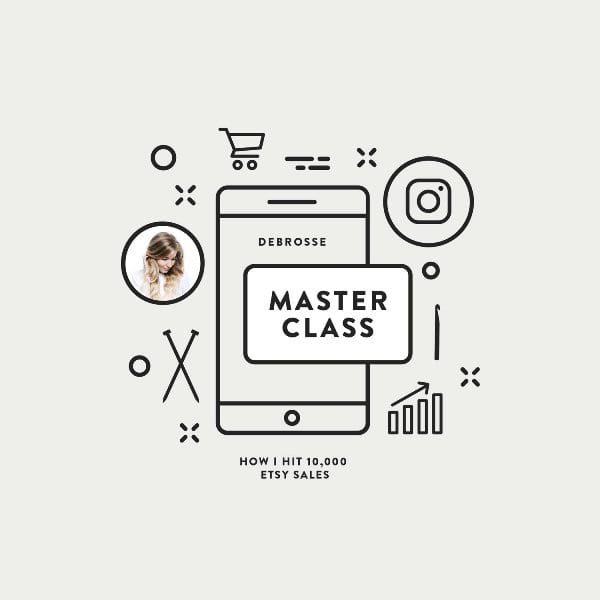 I hope you enjoyed reading about my Etsy Picks and that I could direct you to some new shops and handmade artists!  It's amazing being able to put a face and story behind the products we buy and supporting small businesses!  Are there any items that caught your eye?  Keep this blog post tucked away for future gift ideas or wish list items!
Note: Thank you to Etsy Canada for sponsoring this blog post!  All Etsy links are affiliate links- thank you for supporting my blog and my work!