With fall and beanie-making season upon us, many of us crocheters and knitters will be creating those little tufts of yarn that really complete a hat like a cherry ontop of a cake: pom poms! I started off creating my own pom poms years ago using cardboard templates, but once I discovered the incredible Clover pom pom makers, it was a game-changer, and I never looked back! Whenever I need to create a pom pom for a project, I always look forward to using these indispensable tools as they are so much fun to use and really help facilitate the pom pom making process. You may remember that I blogged a step-by-step tutorial on how to use the Clover pom pom maker HERE and I'm delighted that so many of you found this tutorial helpful!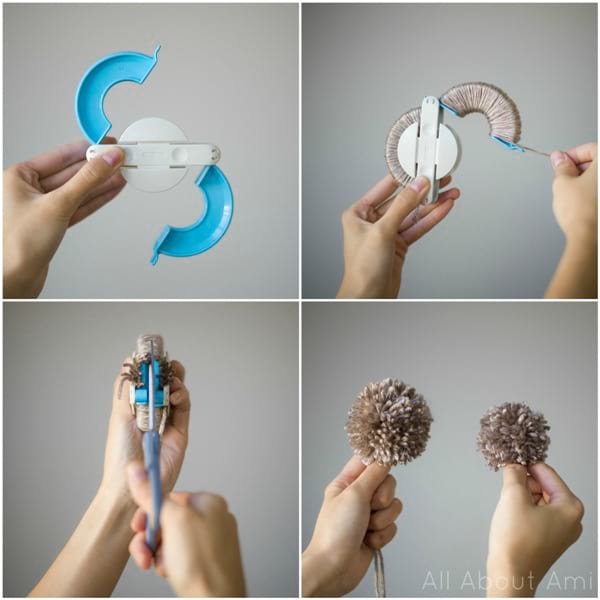 In this blog post, I would like to show you all the different sizes available as I was unaware that such a range of sizes existed! From small pom pom garlands to extra large pom poms for super bulky beanies, we need to create different-sized pom poms as makers, so knowing the selection out there is handy! Currently there are 7 different sizes available, as pictured below!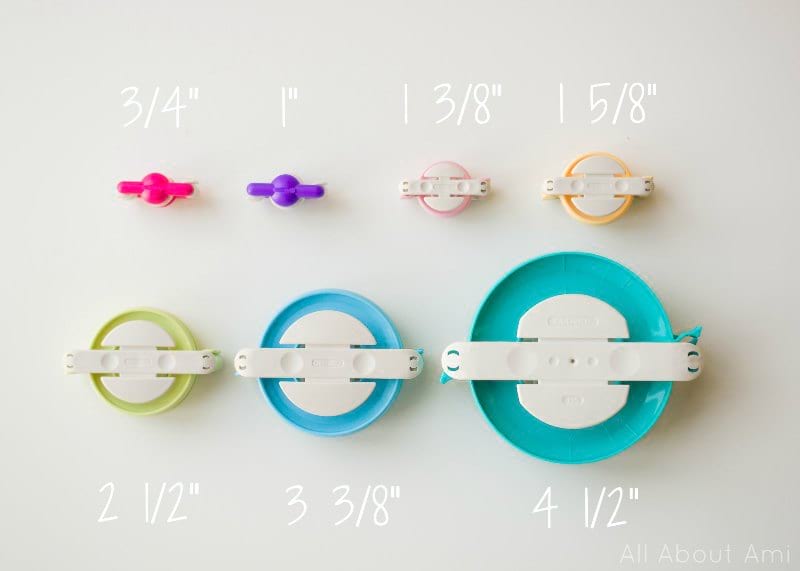 I used all the different sizes to make 7 different pom poms to show you the relative difference in size. I used Lion Brand Yarn's Vanna's Choice for the smaller pom poms and Wool-Ease Thick & Quick for the larger pom poms!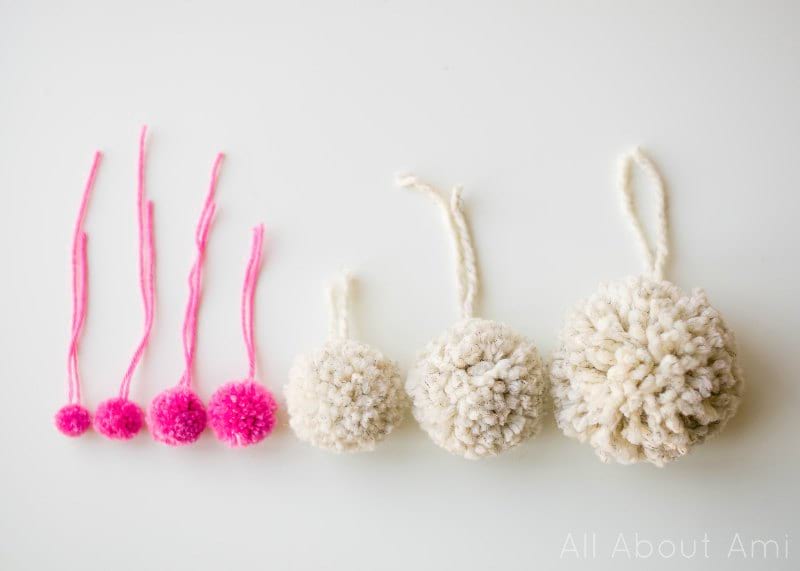 Here are the largest three sizes with a knitted hat (Knitted Fair Isle Beanie blog post HERE) to show you what they look like with a finished item. As you can see, the XL pom pom is a hefty size and certainly would make a statement atop a beanie! I generally use the 3 3/8″ size for adult hats and the 2 1/2″ size for child hats. Out of all the sizes, I definitely use the Large Pom-Pom Maker set the most!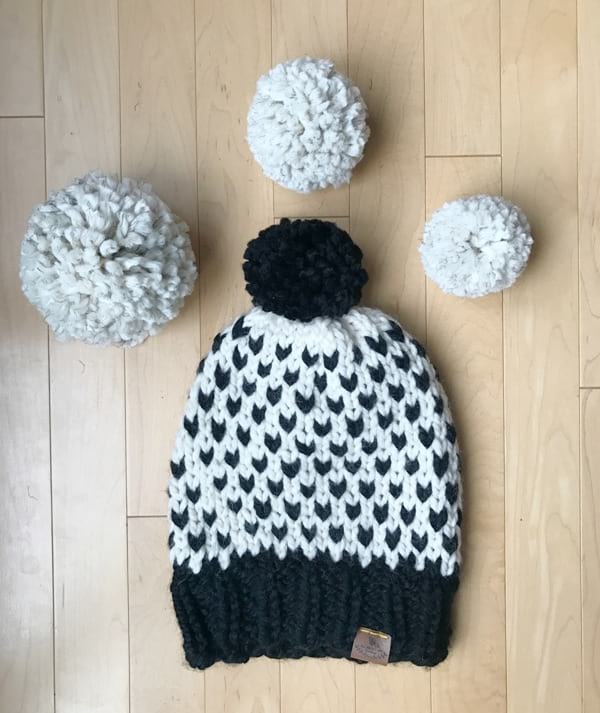 Below you can see me holding one of the smaller pom poms to show you how tiny they are! These could be used for smaller garlands, pom pom jewelry or purse charms (see more ideas HERE). One important tip is to use very sharp and pointy scissors when cutting the yarn along the groove of the Pom Pom Maker. This antique red bronze pair of scissors is from Warm Crochet, and they are fantastic with the pom pom maker. Another tip is to use thinner yarn to tie the knots to secure the pom pom, and I know that some people also use hot glue to secure the knots and middle strand to prevent the pom pom from coming apart! Making the smallest pom poms can be a little tricky, and it is VERY important to densely wind the yarn around the arches (3 times) so that the middle strand tying the knots is not visible.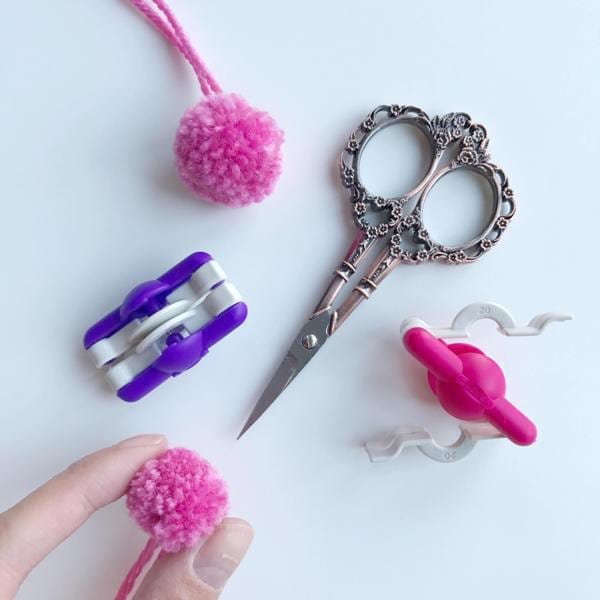 In addition to checking out my step-by-step photo tutorial on how to use these pom pom makers HERE, you can also check out this video I made to show you the pom pom maker in action!

The Craft Yarn Council has launched a campaign this fall called #PomPomParty in order to show you fun and creative ways to wear or decorate with pom poms and tassels! To celebrate, Clover USA and I are partnering together to give three of YOU the chance to play with these amazing pom-pom makers as well! Each winner gets to choose the Pom-Pom Maker size of their choice, and we will be choosing THREE winners!
***To enter, please leave a comment below stating which set you would love to win (e.g. XL, Large, Small or XS)! This giveaway is open to residents of the US and Canada only and will close on Sunday, October 15th at 8 PM MST! You can also enter through Instagram and Facebook for more chances as we will be choosing one winner from each platform!


Note: Thank you to Clover USA for providing me with some of the Pom Pom Makers for review! All thoughts and opinions expressed are 100% my own!