Ever since I started my blog, it's been great connecting with people from a wide variety of backgrounds in crochet.  Some have been crocheting for years but have never tried crocheting stuffed animals.  Some used to crochet but gave it up as life got too busy.  Some have never picked up a crochet hook before in their life but are interested in learning!
Crocheting is easy to learn and now there are so many resources out there on-line.  I learned how to crochet from a book when I was younger, but now with the existence of YouTube, I think it's easier to learn from videos as you can see it all in action!  I've received e-mails from people who've been inspired to learn how to crochet after seeing how cute amigurumi are, and they've written to me about their successes.
I would encourage any of you who have thought about picking up a new hobby to try crocheting.  It's inexpensive, therapeutic and portable (you can work on projects while waiting for the bus or on road trips!).  With today's mass consumerism, there's just something special about making a unique stuffed animal with your own two hands from scratch that feels organic.
Here are some resources that I find helpful and that I recommend to people who want to learn how to make amigurumi but don't know where to begin.  In this post, I also talk about important crochet abbreviations you need to know to read a pattern, and what materials you should go out and buy when starting this hobby.
Almost all parts of an amigurumi (e.g. head, arms, legs, body) are formed by crocheting around a circle.  I recommend using the "Magic Circle" technique when beginning amigurumi (see my tutorial here or watch the video below).
[Please note that these are NOT my own videos as I currently have not filmed any of my own- I simply link to helpful videos that I found on YouTube!]
Once you've got your basic circle, it's now time to increase around the circle with single crochets.  The video below shows you how to a single crochet.  Increasing the stitches around a circle involves doing more than one single crochet into one stitch (e.g. going from 6 stitches in the Magic Circle to 12 stitches in the next row, or two single crochets in each stitch).  Increasing the stitches allows the crocheted piece to expand outwards into a ball.  Amigurumi is pretty forgiving, so it is alright if you lose count of your stitches and you're off by a stitch of two.  Once you've mastered the single crochet, you're pretty much set as almost all amigurumi uses this basic stitch!
Once you've crocheted many rows to form part of a sphere, it will soon be time to decrease your stitches.  You can follow my tutorial here to use the "Invisible Decrease" technique, or watch the video below.
It is important to note that there is technically a "right" and a "wrong" side to amigurumi.  Initially, I made my amigurumi all inside-out until a few readers informed me of the difference.  Check out my full blog post here to see pictures and a more detailed description of the "right side" vs. the "wrong side".
Once you have crocheted all the body parts of your amigurumi, you will need to attach and sew them together.  You can read Planet June's tutorial on "Joining Amigurumi" here.  You can also check out the following helpful videos, the first by Roxycraft showing you how to attach limbs and the second by Planet June showing you how to do the amigurumi seamless join:
In order to crochet amigurumi, you'll need to learn how to follow and read crochet patterns (check out some of mine here to see what they can look like).  I've written a "How to Read Amigurumi Patterns"  post in which I break down what each line means, row by row.  Be sure to check it out here.  Some important abbreviations that you might encounter are explained in the table below: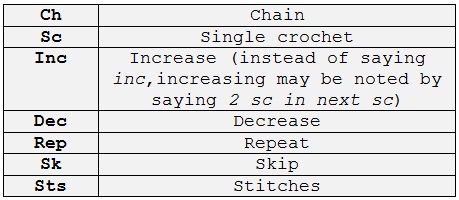 Of course, there are many other crochet stitches and abbreviations out there, so if you would like to see a more extensive list, click here (there is a printable version you can download too).
When you are just beginning to make amigurumi, these are some basic materials that you need to go out and purchase, pictured and explained below: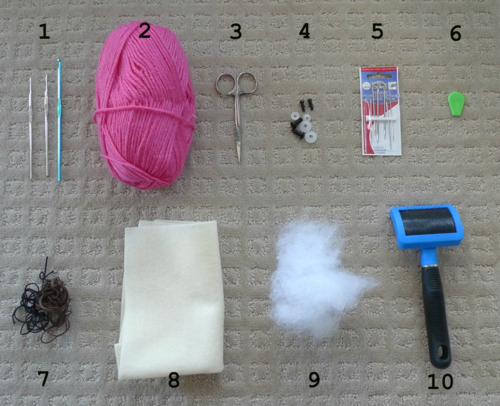 1.  Crochet hook: When I first started crocheting, I used aluminum crochet hooks such as those pictured above.  However, my all-time favourite crochet hooks are now Clover Amour hooks as they have aluminum tips with elastomer rubber handles.  They are extremely comfortable and ergonomic to use and I can crochet much longer using these hooks.  Having a comfortable handle is especially important when you are crocheting with such small crochet hooks.  You can find them HERE on Amazon and read my full review about HERE  It is recommended that you use a hook 2-3 times smaller than that recommended for your yarn when crocheting amigurumi.  I almost always use my 2.00 mm crochet hook as using a smaller crochet hook allows me to have a tighter gauge (not as loose, fewer holes).
2.  Yarn: There are so many different types of yarn out there in a wide range of beautiful colours.  Most people like to use worsted weight acrylic yarn so that the stuffies are more durable and don't get too fuzzy.  Of course, there are times when you might want to fuzz up your amigurumi (see my Valentine Teddy), so yarn with some natural fibres (like wool) are useful.  I also really enjoy using mercerized cotton as it is strong and lustrous (see my Bunny and Penguin made using mercerized cotton).  Sooner than you know it, you'll be building up your yarn collection as so many different colours are required for different patterns!
3.  Scissors: Invest in a good, sharp pair of scissors to make clean cuts in the yarn.  It's annoying when the ends of yarn begin to fray.
4.  Safety eyes:  When I first started making amigurumi, I used beads instead of safety eyes (see example here).  However, using safety eyes is so much easier and much more visually appealing as well.  You attach the safety eyes when you're almost finished crocheting the head with plastic washer backings (see close-up picture here).  I buy my safety eyes from 6060 on Etsy (I tend to buy/use 6, 9, and 12 mm eyes the most)
5.  Yarn needles: These needles are used to attach the body parts of your amigurumi together.  We use yarn to stitch them together, not thread, which is why bigger needles are required.  I later discovered bent tip tapestry needles which are more ergonomic as they make attaching limbs and amigurumi parts easier.  You can buy Clover Bent Tip Tapestry Needles HERE on Amazon, and they even come in a cute little case!
6.  Needle Threader: A threader helps you put the yarn or embroidery floss through the eye of a needle.  Trying to thread a needle without one is just plain difficult!
7.  Embroidery floss: I used to use embroidery floss when I made friendship bracelets a long time ago.  We use embroidery floss in amigurumi to stitch the noses and mouths (see my nose tutorial) and sometimes as accents or decorative pieces too (e.g. bear paws, tassel).
8.  Felt: Felt is often used for the noses (cut oval shapes) and for the lining of ears, hands and feet.  I buy my felt at the dollar store, and one sheet goes a long way.  I tend to use my white, brown, beige and black felt the most.
9.  Polyester Fiberfill stuffing: This is what you use to stuff your amigurumi.  They come in big bags and once again, one bag goes a long way.  Be sure to stuff your amigurumi appropriately: too little results in a limp amigurumi, but too much might result in the stuffing bursting through!  Wolfdreamer has an in-depth post where she provides a lot of great tips on how to stuff your amigurumi here.  You can find the polyester fiberfill that I use on Amazon HERE!
10. Dog slicker brush: This is an optional item which I purchased later on.  If you would like to make fuzzy amigurumi (see this post), then you can buy one of these to brush your amigurumi.
If you are interested in using some of my patterns for your first amigurumi projects, I recommend checking out my "Teddy Ornaments" or my "Spring Bunnies" as they are constructed of basic amigurumi shapes that are not too tricky!  Be sure to reference the step-by-step blog posts as well as the free patterns for extra help and plenty of pictures!

I hope this post is helpful to those who are interested in learning how to make amigurumi or who are just starting out.  I wanted to have one place where I could direct people when they asked me where to start.  Thanks again for all your support and for your lovely comments.  I love hearing about your crochet experiences and seeing your work.  Don't forget to send along any photos of amigurumi or pieces you've made using my patterns and tutorials.  And never hesitate to ask me any questions or to send a quick hello!  Comment below if you have any tips that you think people beginning to make amigurumi should know 🙂
{Note: This post contains affiliate links to products that I love and use all the time!}