Ryan and I love creating and crafting together, and it all started when we were engaged and doing a lot of DIY projects for our wedding.  5 years later, I'm so glad that we are still crafting and creating together as a team, not only for the blog, but also for our kids' birthday parties!
I know I say this a lot, but times goes by so quickly as Brielle is 1 year old today!  This year absolutely flew by, particularly since she is our second child and having a toddler and a baby really kept us on our toes.  For those of you who have been following us for a while, I'm sure you remember when I first announced I was pregnant with Myla, then Brielle (and you were guessing the gender), and now can you believe she is 1 year old?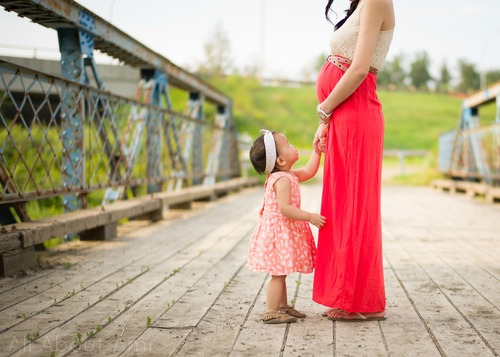 Myla's 1st birthday party theme was "Cute As A Button" (see HERE) and for Brielle we decided to go with a Woodland Creature theme!  I knew there would be so many ideas for us to draw upon with all the forest friends and trees.  We started brainstorming and getting ideas from Pinterest a couple of weeks before so that we wouldn't be scrambling last minute.  We wanted to make Brielle a special cake and we were a bit nervous since Ryan's sister Sharon was the one who made Myla's beautiful fondant cake for her first birthday (see her gorgeous button cake below).  We had actually never worked with fondant before, but we wanted to give it a try!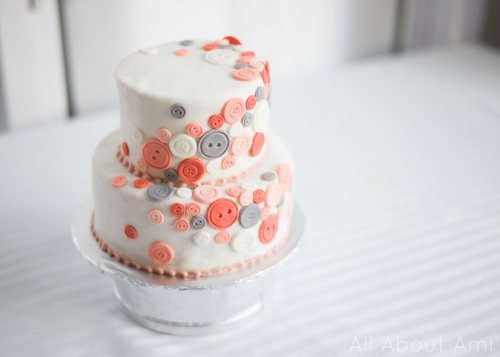 We found a youtube tutorial teaching how to make a cute fondant owl cake by Wilton HERE so we decided to try it out!  I followed this "White Almond Wedding Cake" recipe HERE and used a 10 x 2 inch square pan.  After the cake was completely cool, Ryan then cut it in half and spread buttercream icing in the middle and around the cake.  We were going to make the icing from scratch, but we found some ready to buy at Bulk Barn, so we just picked up two tubs to save us some time!  Ryan then refrigerated the cake so that the icing would crust (the icing needs to be hard so that you can lay the fondant as smoothly as possible without it being lumpy).  Before adding the fondant, Ryan sprayed the cake with mists of water to moisten the icing so that the fondant would stick to it!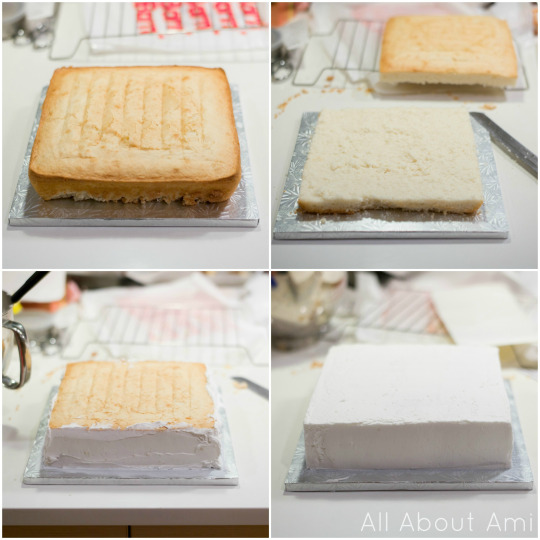 Ryan prepared the fondant ahead of time to achieve the colours needed.  We used Wilton's Decorator Preferred Fondant since we saw that it had great reviews.  It was indeed smooth to work with, and it tasted great!  Ryan found videos on how to cover a square cake with fondant, and I think he did a great job as it looks seamless!  Isn't this such a pretty colour?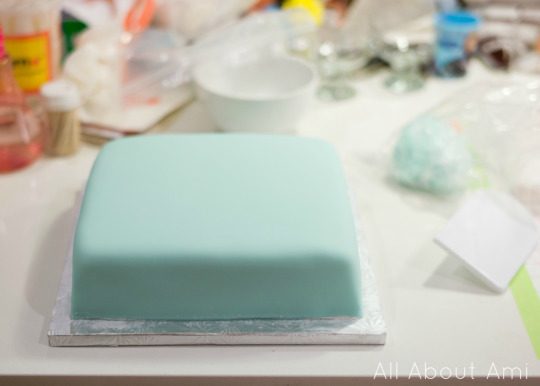 The Wilton owl cake doesn't actually have shape templates available, so Ryan had to figure out the sizes and shapes on his own.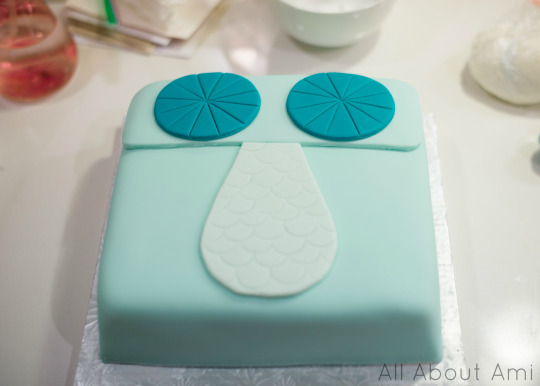 The finished owl cake!  Doesn't it look so cute?  Ryan did such a wonderful job!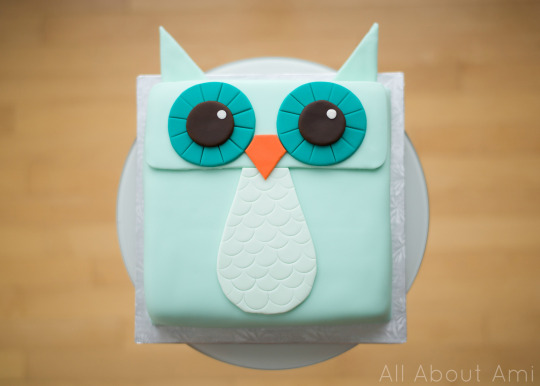 I love cupcakes, and we got the idea to make cute animal cupcake liners HERE!  Ryan designed templates for fox and owl cupcake liners, and my mom and I traced and cut them out.  He glued the pieces together and later drew in the eyes and noses with a black pen!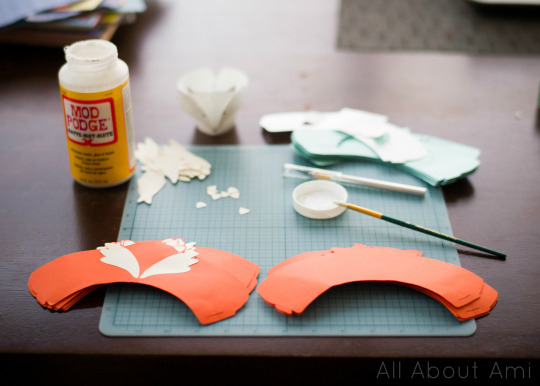 Aren't these colours gorgeous?  Everything is so vibrant with the bright icing too!  I love Fuss Cupcakes and I've been happily munching on them after the party since we have leftovers 😉  With so much other food prep and crafting going on, I'm glad that we purchased these cupcakes!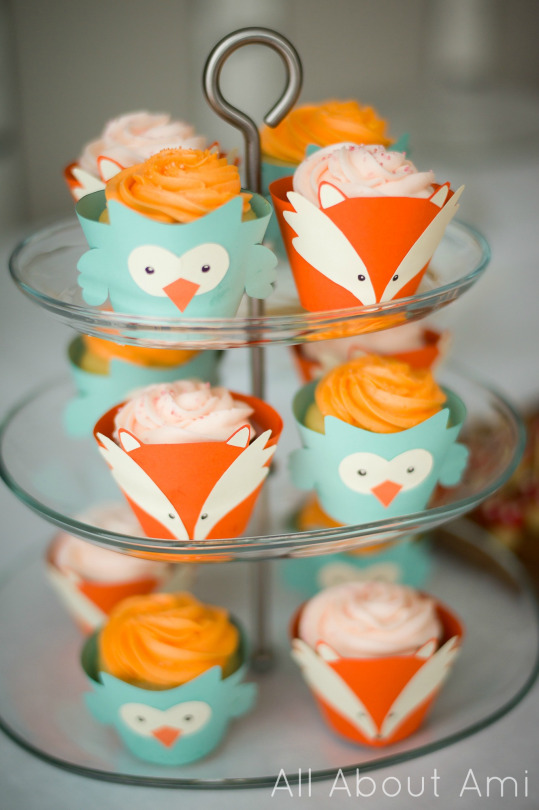 We also wanted to make a special welcome sign for our guests when they entered our home!  Ryan did this initial sketch with pencil…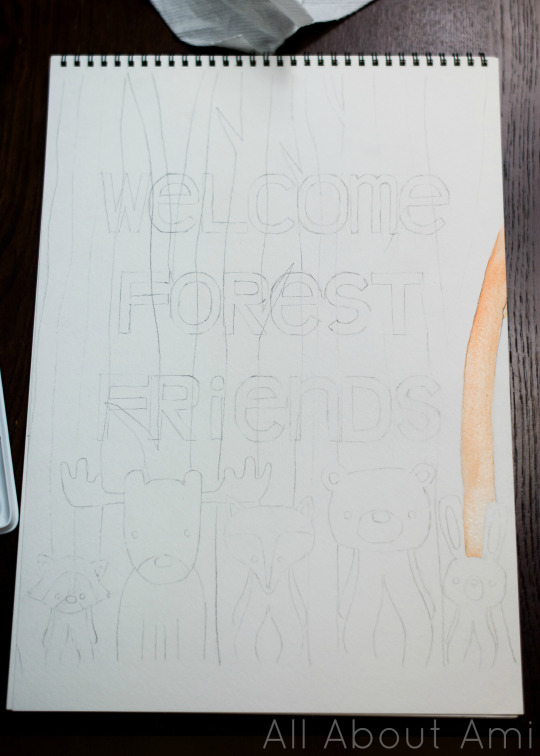 Then he used some inexpensive water colours he purchased from Michaels HERE to paint it!  Ryan hasn't painted since elementary school, and he kept saying how much fun he was having when he was painting this welcome sign.  It's amazing rediscovering old past times or things we used to love doing as a child, isn't it?  This blog would not be here if I had not rediscovered my love of crocheting!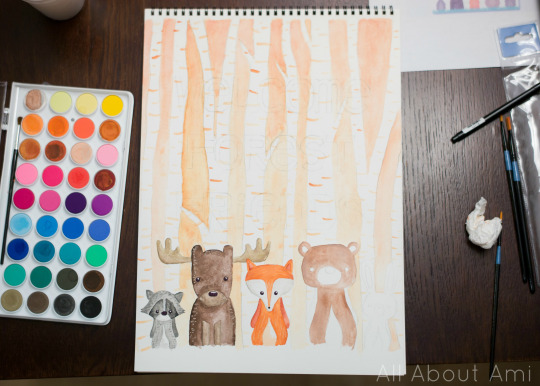 Here is the finished sign to welcome our forest friends- the animals are just sooo adorable!  I want to frame this sign and hang it in Brielle's nursery!  What a wonderful keepsake this will be when she grows up too- some artwork her daddy painted for her for her 1st birthday ❤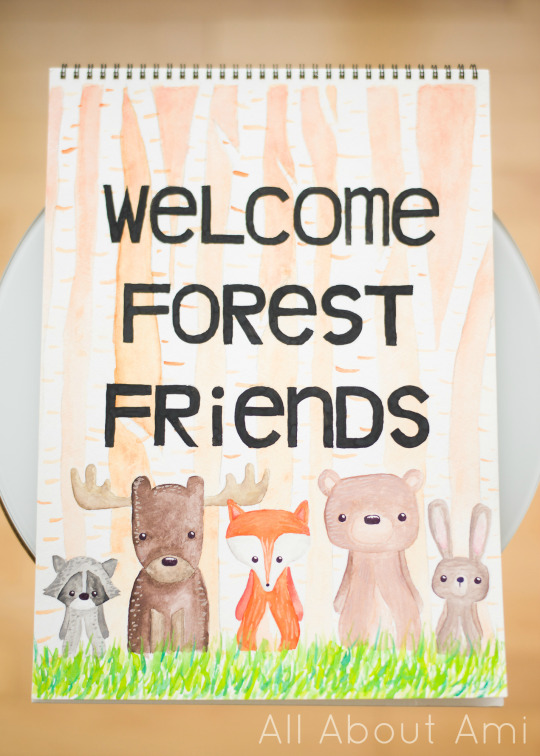 We wanted to make some cute foods to tie in with our Woodland Creature theme as well.  We found some hedgehog cookies on Pinterest and tried to make our own!  I used this Butter Cookies recipe HERE as we needed a dough that would keep its shape and not flatten too much after baking.  We refrigerated this dough and it was indeed stiff, which was perfect since Ryan could mold them in the shape of a hedgehog.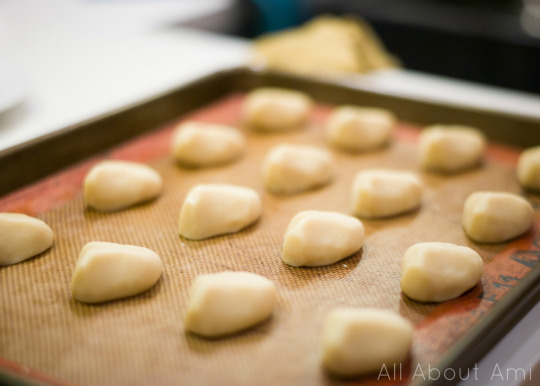 Then we dipped the cookies in melted chocolate and pressed them into chopped pecans.  My mom did most of the faces, placing two cute little eyes and a nose with black icing. Here you can see the evolution of our hedgehogs!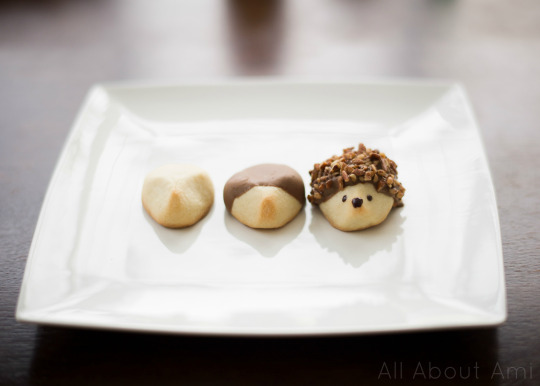 Aren't they adorable?  The pecans simulate the spikiness of the hedgehogs so well!  They were delicious too 🙂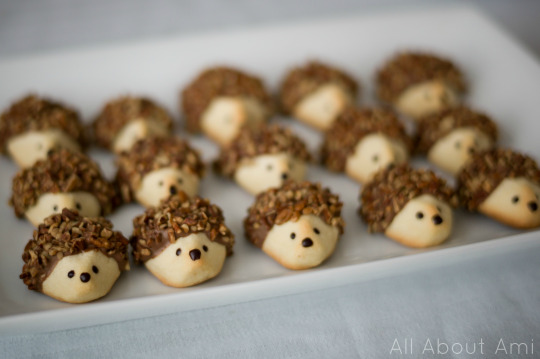 Next my parents made these "mushrooms"!  They were made out of mozzarella cheesestring, cherry tomatoes, and white icing for the dots ontop!  These were tasty as well!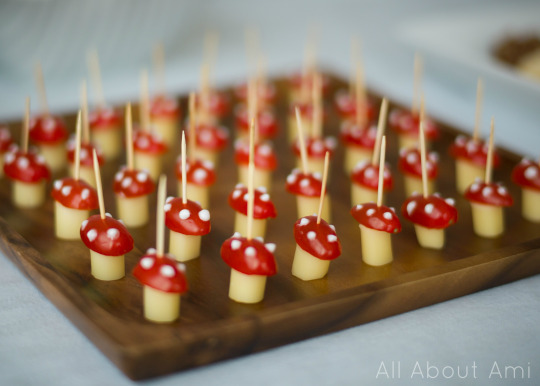 We found a recipe for "Acorn Candy Cookies" on Pinterest (see HERE) but decided to go with an even easier method that didn't require any frosting to stick the pieces together.  We molded a Werther's soft caramel around a Hershey's Kiss, and then inserted a butterscotch chip ontop!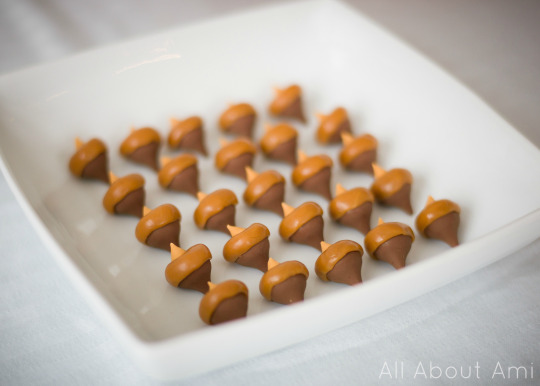 I first saw these S'more Pops on Christine of Just Bella's Instagram HERE.  They look sooo neat, like a mini forest, and they're super easy to make!  We decided to use these as favours to hand out at the end of the party.  You can see how to make them HERE!  The birch paper straws add such a great effect, and you can purchase them on Amazon HERE (I bought them locally from Ailynn of The Sweet Social– thanks!).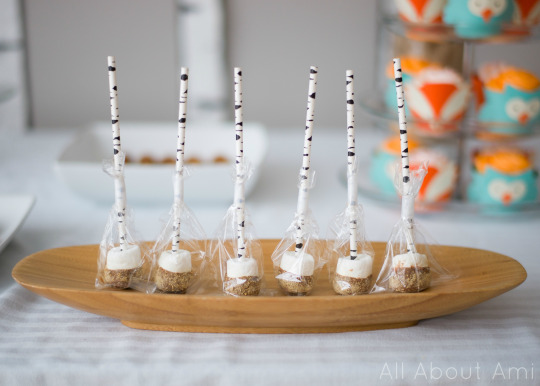 To help add to our table decor, Ryan painted these cute little food signs!  Aren't they adorable?  I want to keep them in case I ever pick up scrapbooking again 😉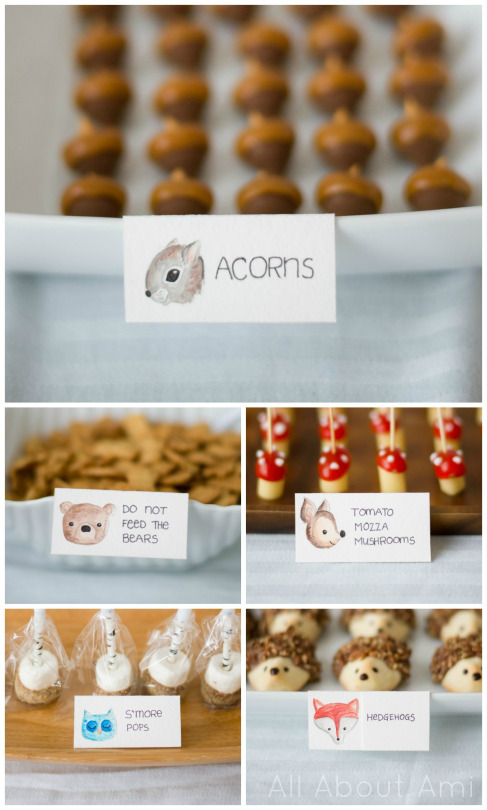 We also got an idea to decorate our feature wall with birch trees from Pinterest HERE.  You might be wondering where we got our paper from and how it is so long!  When we first moved into our home, we had no curtains or drapes, and my dad gave us two rolls of paper that usually cover medical examining tables to help cover our windows.  We still had that paper in our basement, so Ryan used Myla's tempera block paints to paint some gorgeous trees!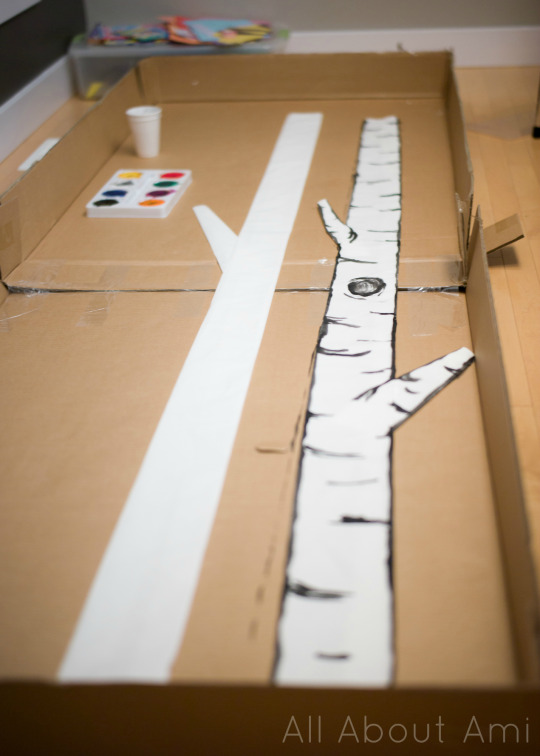 Here is the feature wall with our table of goodies!  Don't the trees look so modern and stunning against our grey wall?  The cupcakes and cake add such bright pops of colour too!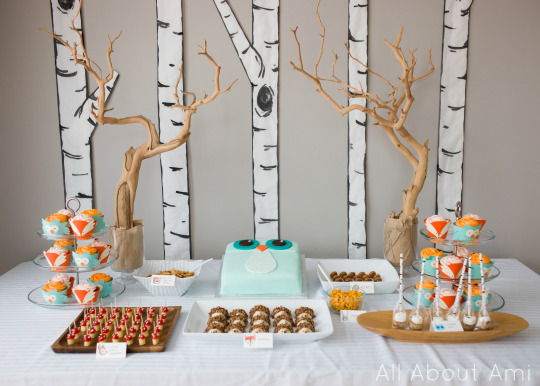 And finally, here is a pic of our family with the birthday girl!  I can't believe how big Brielle is getting!  I found Brielle's adorable deer dress from the Gap in the summer and knew it would be perfect for her birthday party.  You can't really tell, but my dress has little cats (see HERE) on it while Ryan's shirt has little birds!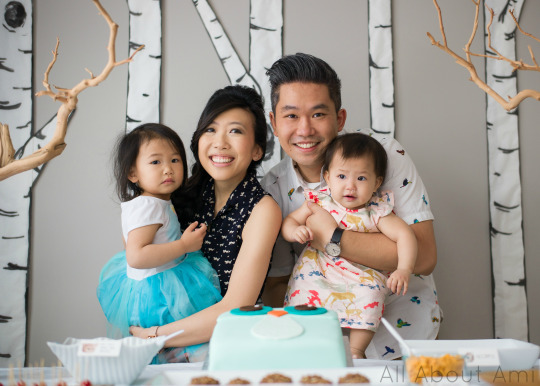 Here is a picture of my whole family with my parents, brother Corey, and sister Ashley!  They helped sooo much leading up to the birthday party with all the food prep and crafting too.  We could not have done it without them, and I want to extend a huge thank you to them!  They love the girls so much and Myla and Brielle are incredibly blessed since they have so many people who love them dearly and who pray for them daily!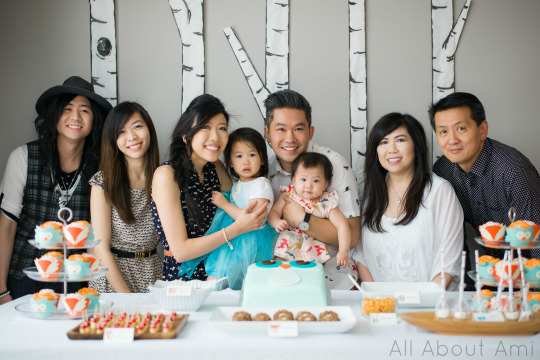 Ryan and I enjoyed planning for Brielle's special 1st birthday, and we hope you enjoyed reading about her Woodland Creature party too!  Perhaps you can get some ideas for future baby showers or birthday parties 🙂  We are so so thankful to have these two little girls in our lives as they bring us so much joy and teach us to be patient and understanding. Happy 1st birthday, sweet baby Brie!  You are such a joyful, smiley, friendly, curious, adventurous, and playful girl!  We love you so much and thank God each and every day for you!  We'll end off with a picture of Brie proudly showing how old she is today!