It's been a LONG time since my last "Craft Chat" post but I am so happy that I can revisit this series in which I feature different handmade and crafting artisans who are passionate about what they do!  In this edition, we will be meeting Tori of "Storiarts", the creator and designer behind the Original Book Scarf!
Tori has a BFA in Fashion Design and she currently resides in Portland, Oregon with her husband Chris where they work from home and run Storiarts.  They both are passionate about the written word and the arts, and they share their love of literature with others through their beautiful book scarves which are 100% American made!  Excerpts from classic literature are screen printed by hand onto 100% cotton knit fabric so that you can wear your favourite novels as a scarf or cowl!
I love browsing Etsy, and when I first came across Tori's work, I thought it was so unique!  I was completely sold when I saw that Tori had a "Pride & Prejudice Book Scarf" since it is one of my favourite novels, and I cannot tell you how many times I've read the book and watched the movie.  I purchased one last year before Christmas and was absolutely delighted when it arrived as the look and softness of the scarf exceeded my expectations (it's always difficult shopping online since you can't feel a piece).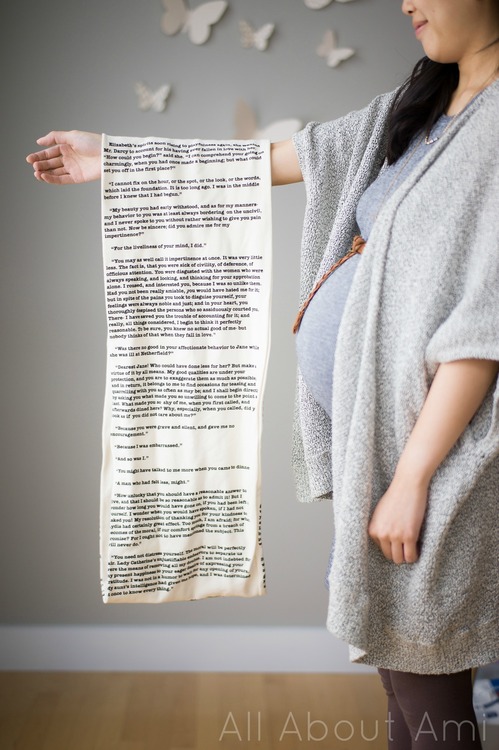 This is a close-up of the featured passage of my "Pride & Prejudice Book Scarf"!  The text can be found on both sides of the scarf.  Doesn't it look like I'm holding a giant page out of the novel?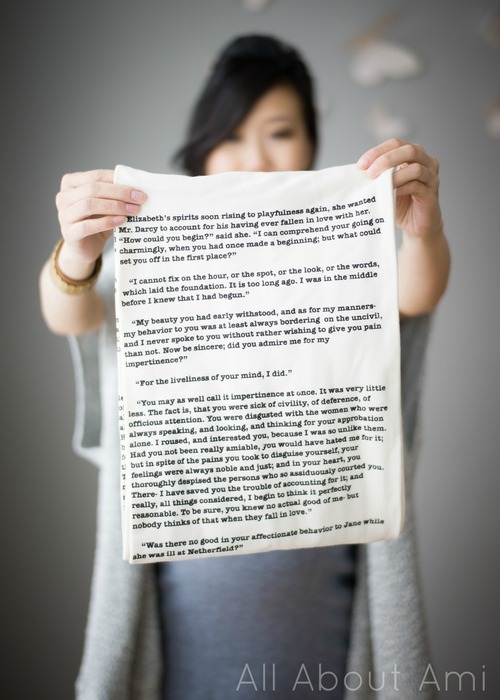 This book scarf is cream coloured and the fabric is of medium to heavy weight, similar to a t-shirt.  When the scarf is worn, folded and draped, it really mimics the look of a book page!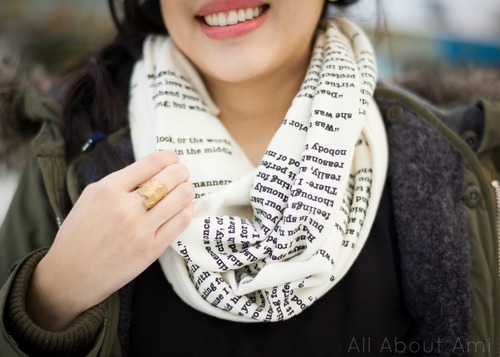 It is very thick, warm and soft, and I absolutely love wearing it!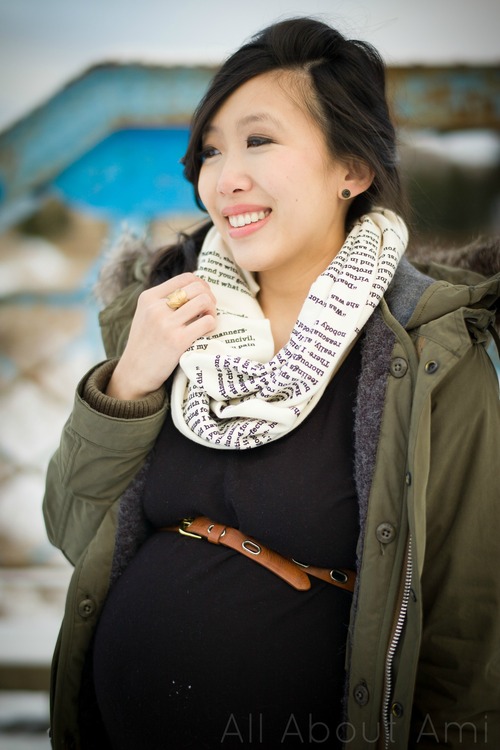 [Outfit 1: Sweater Cape: Aritzia , Striped Dress: Cotton On; Outfit 2: Parka: Aritzia; Long black tunic: Old Navy; Gold Leaf Ring: CoutuKitsch; Stud Earrings: Urban Outfitters; Pride & Prejudice Book Scarf: Storiarts; Brown Belt: Aldo]
Interesting fact: Tori's husband Chris is a writer whose family is related through marriage to Jane Austen!  How cool is that?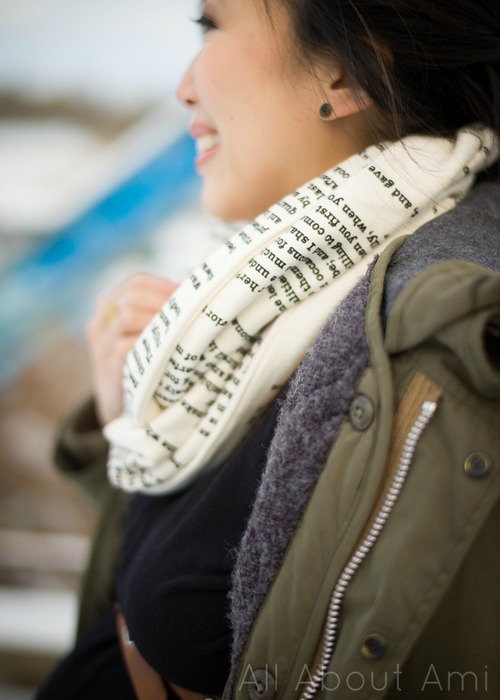 As an aside, if you're also a big "Pride & Prejudice" fan, be sure to check out "Pride & Prejudice: A BabyLit Counting Primer" by Jennifer Adams (see HERE), which is part of the the "Little Miss Austen" series!  It's a great way to introduce your little ones to the classics early on, and the illustrations are beautiful.  Of course, this book is more for me than Myla haha but she enjoys it too!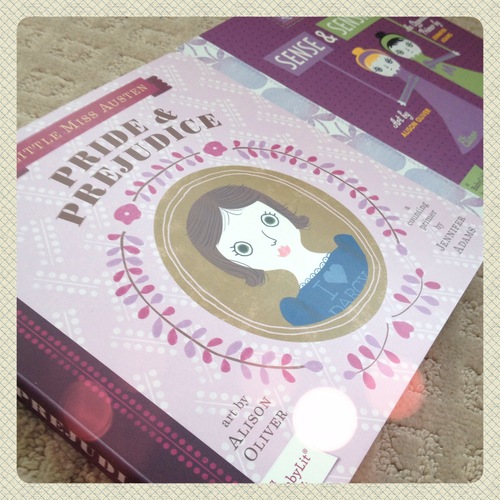 Tori was also the one who introduced me to "The Lizzie Bennet Diaries", a brilliant Emmy award winning drama web series that does a modern adaptation of the traditional "Pride & Prejudice" story that we know and love.  The story is told through a series of vlogs with each episode ranging between 2-8 mins long.  There are 100 episodes in total, and I plowed through these quickly as I completely devoured this whole series.  I really loved their clever, modern take on such a familiar story, the writing and the acting.  Check out the series HERE on Youtube!  Ashley Clements, who plays Lizzie Bennett, also owns a Storiarts "Pride & Prejudice Book Scarf"!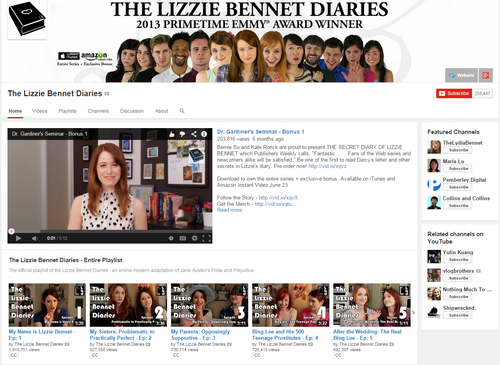 Tori has other items in her shop as well, such as writing gloves, pillow covers, headbands, scarves with unconnected ends (vs. cowls) and lightweight summer book scarves.  Some of her book scarves are printed on different colours such as black (see Dorian Gray Book Scarf) and green (see Anne of Green Gables Book Scarf).  Tori also makes Custom Scarves but they are unavailable until February/March.  They also don't sell scarves with literature published after 1921 since they are copyrighted and not in the public domain.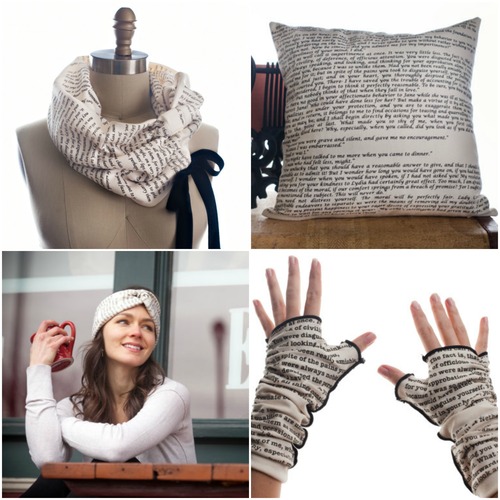 Now that we've seen some of Tori's work, let's get to know her better with these questions that I asked her for this Craft Chat Feature!
***********************************************
1) How did you first come up with the idea for the book scarf?
The first recipients of my scarves were my close friends and family because they were initially created as Christmas gifts during the holiday season of 2011. I moved away from my family just a few months before the economy crashed in 2008, and I was unable to buy gifts as I attempted to live on my own with monumental student load debt and multiple mind numbing jobs that weren't making ends meet. I was desperate for a way to use my education and passions of screen-printing, fashion, and literature, and the idea to print words on scarves came to mind while reading my Bible. Since those closest to me also have an affinity towards reading, it seemed like the perfect solution for gifts and possibly more. When I sourced fabric and found a cream colored knit, the idea further expanded into making the scarf specifically resemble a page out of a book by using black ink on the paper colored material. I never expected to make a business out of my creation, but I listed some extras on Etsy one night and within weeks I had more work and requests than I could handle.
2) Was it a difficult process coming up with your final design (material/font/ink choice, measurements)?
It was actually not the least bit difficult! Rather it was a very organic process that came together perfectly as the initial creative process moved along. It's rare for me to picture something in my head and then have the reality turn out just like the imagined idea, but that's how it happened with my scarves.
3) How do you determine which books and passages to use for each scarf?
Starting out I picked some of my favorite excerpts because like I said, I was not planning on running a business that catered to anybody. But now we focus a lot on customer opinion and requests. Of course without a licensing agreement, we can't legally use anything published after 1921 so that takes away a lot of options but still leaves plenty to choose from. I specifically like to use excerpts that deal with morality or have a life lesson.
4) What are some of your favourite books?  What book are you currently reading?  
Some of my favorites to date include Jane Eyre, Pride and Prejudice, The Last Unicorn, The Night Circus, The Chronicles of Narnia, White Fang, and I don't believe anything will ever surpass my deep affection for Harry Potter.
I am always reading multiple books at once and right now that list consists of Spell of High Water Magic 2.0 by Scott Meyer, Encounters with Jesus by Tim Keller, Frankenstein, & I am listening to The Invention of Wings by Sue Monk Kidd.
5) Where do you find your inspiration?
Books of course! My illustrations are highly influenced by what I read, specifically fantasy fiction, but I am also inspired by my love of video games, cartoons, movies, and costume history.
6) What has been one of the most exciting experiences or opportunities since starting Storiarts?
During our first year but after many months of waiting and hoping, we were granted an official Design Patent! This means we have the sole rights to some of our products and nobody else can create anything that looks too similar to them.
We've also branched into retail shops really early on and our first wholesale account was with the Library of Congress! They continue to sell our items and it's one of our favorite bragging points.
Furthermore, we've been featured on TV, in the Seattle Times, and we've had the opportunity to make custom pieces for some wonderful authors like Jodi Picoult and Neil Gaiman.
7) How did you make the decision to quit your job and run Storiarts full time?
I practically felt forced to do it! I didn't have the time to do both, and Storiarts was the one tugging on my heart so it was a surprisingly easy decision especially when you consider the fact that I was barely surviving month to month. But I also didn't have any attachments or responsibilities like a husband, kids, or even a pet so my decision only affected myself. However, it's still crazy to look back at that. When I quit I didn't have much of a business plan, I was terrified to outsource anything, and I didn't even have an inventory of shipping supplies. I just took on one obstacle at a time as it came.
8) Do you have any advice for people who are thinking of opening their own handmade business or pursuing their craft full time?
Surround yourself with your achievements whether that's your craft, artwork, awards, or your family. It's encouraging to see what's already been overcome and to be reminded, "You can do this."
Also, and this is the main advice I went by, "just do it!" You might fail, you might have to go back to a job you don't love, but you'll have the satisfaction in knowing that you gave it a shot.
***********************************************

It's amazing and inspiring hearing about how far Storiarts has come, and I love how Tori has been able to combine her love of drawing, reading, creating and designing in her work!  Thank you for participating in this edition of "Craft Chat", Tori!  You can follow Storiarts through their Facebook Page, Twitter, and Instagram (they have some interesting photos showing their step-by-step screenprinting process).  Be sure to check out the Storiarts Etsy store HERE to learn more about her work and see if your favourite novel is available as a book scarf!  They would make wonderful gifts for the literature lovers in your life, and it's nice being able to support handmade artisans this Christmas season!