Last year around this time, I partnered with We Are Knitters and knit my very first project as an adult: the gorgeous Cucho Scarf which you can see me wearing below. It sparked my interest in knitting again, and I also knit my first sweater using their Bahia Sweater kit months later. Sometimes it can be difficult finding that perfect shade of peachy-pink, but We Are Knitters offers a gorgeous colour called "Salmon" that I am absolutely smitten with. When they asked if I wanted to try their brand new fiber, the Meriwool, I did not hesitate at all, and I was delighted to see that it came in my favourite colour!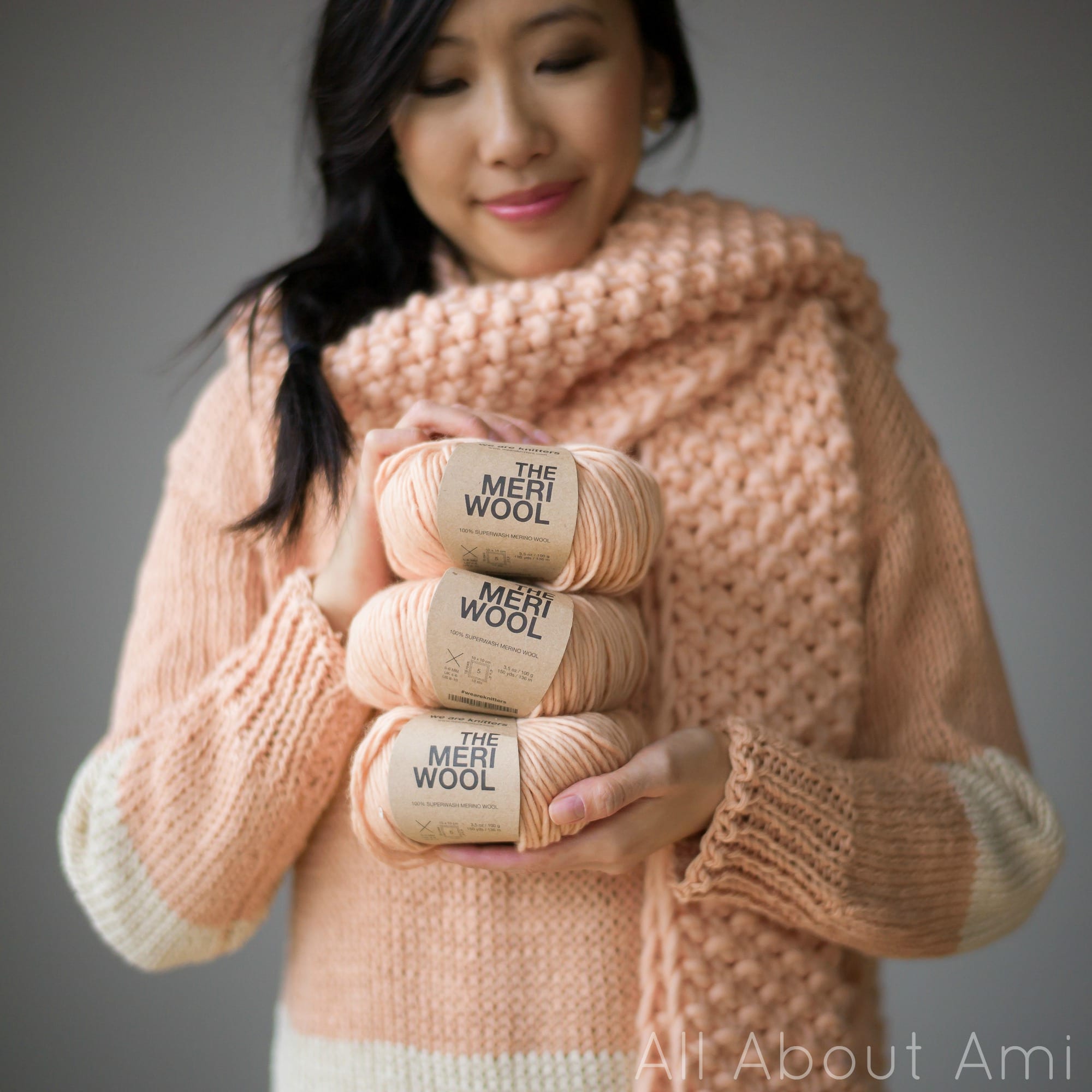 The Meriwool is 100% superwash merino wool that is incredibly soft and squishy- I do not find it itchy at all. It is much thinner than the wool I used to knit the Cucho Scarf as the Meriwool is worsted weight. One ball goes far as it is 150 yds/136 m and 3.5 oz/100 g.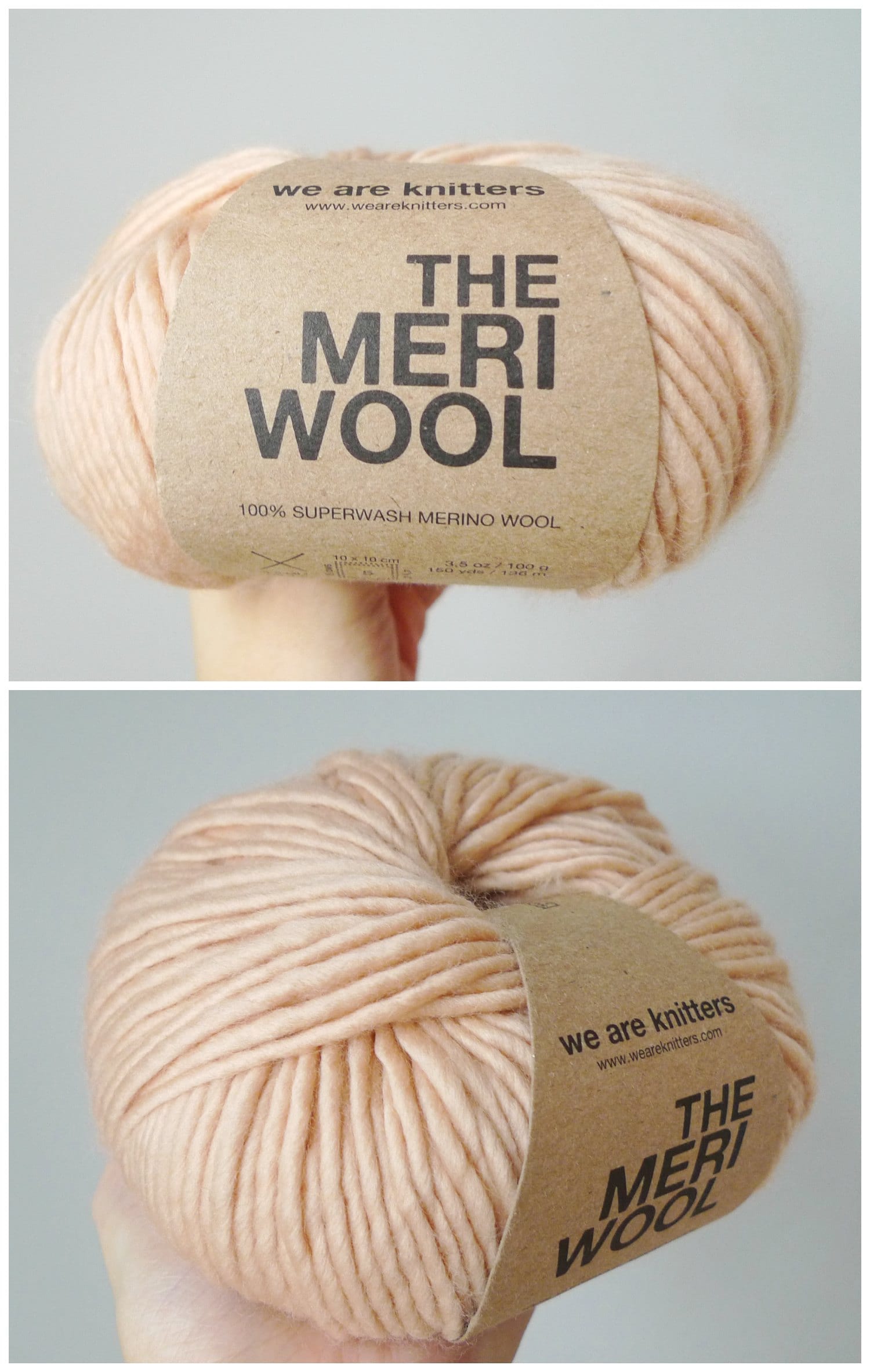 After knitting my huge Cucho Scarf aka Super Scarf (very on trend right now), I wanted to knit a more delicate seed stitch cowl that I could loop around twice and tuck into my jacket when going about my daily errands. The knitted seed stitch is one of my favourite stitches due to its amazing texture and look, so I used this stitch for my cowl. I decided to work in turned rows and seam up my work at the end instead of working in rounds. This way, I could determine the length as I went. I actually had to frog my work a couple of times as determining the width at the beginning was a little hard. I did not want it to be a flimsy and skinny scarf, so I casted on A LOT of stitches at the beginning. After going through one skein of Meriwool, however, I knew that I would not be able to wrap this cowl around twice with three more balls. I frogged my work and went with 51 stitches which ended up being the perfect number!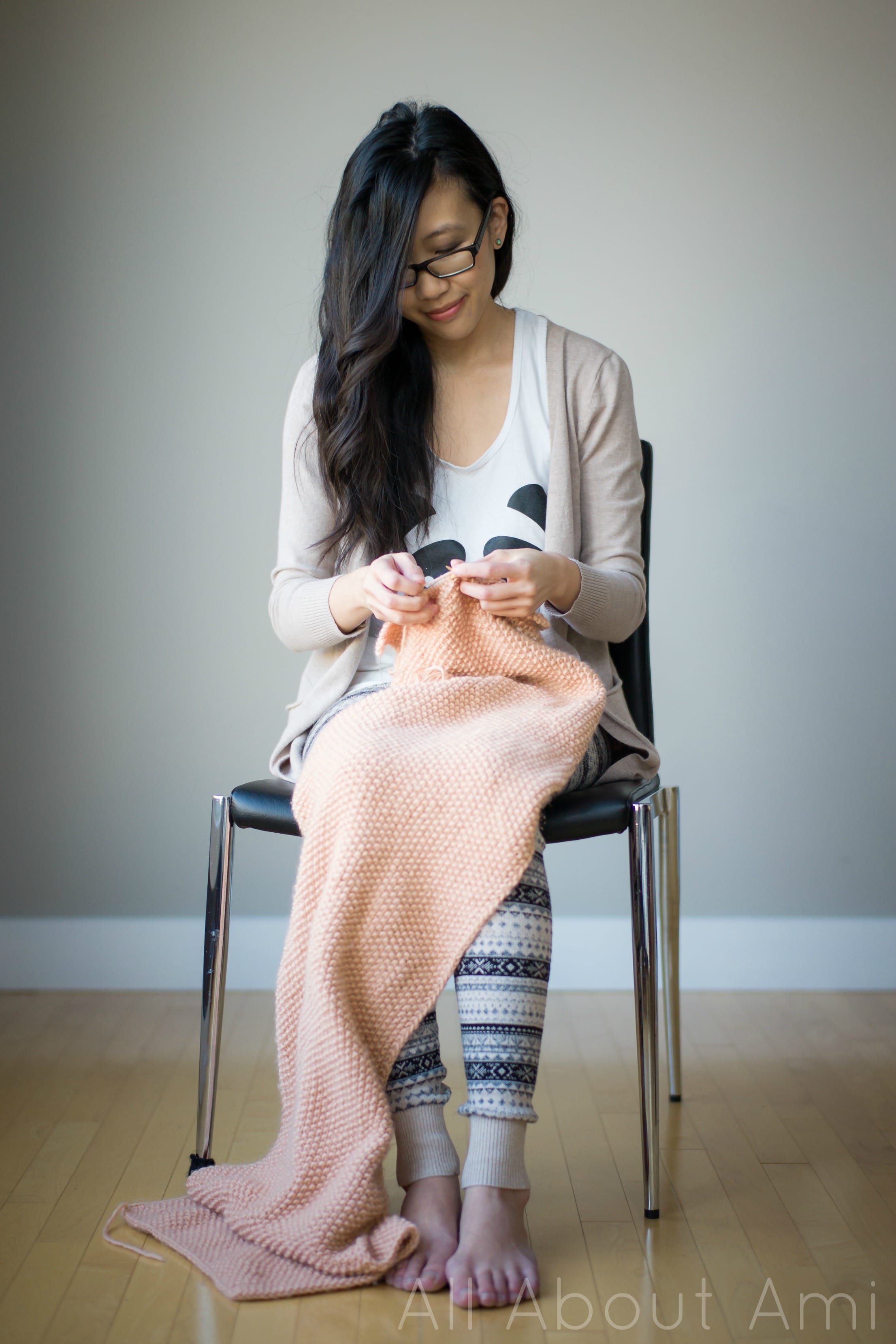 If you would like to see how to knit the seed stitch (alternate knit and purl stitches), check out my video below:

This seed stitch scarf will always hold a special place in my heart as this was the project that I was working on during a hospital visit for Ryan. As my needles fell into a soothing rhythm, God granted me insurmountable peace as I prayed while knitting away. This scarf will forever be a reminder to me of the power of prayer, God's healing hand, to be thankful in all circumstances, and His peace that transcends all understanding. This is the reason why I named this scarf the "Serenity Seed Stitch Cowl"! Our family is all healthy and doing well now, praise God! I ended up working on this project for a couple of months as it was my "don't need to focus too much" project on the go. I am so used to crocheting and knitting chunky cowls that work up quickly with super bulky yarn and large needles and hooks. It was a nice change of pace to work on such a delicate project.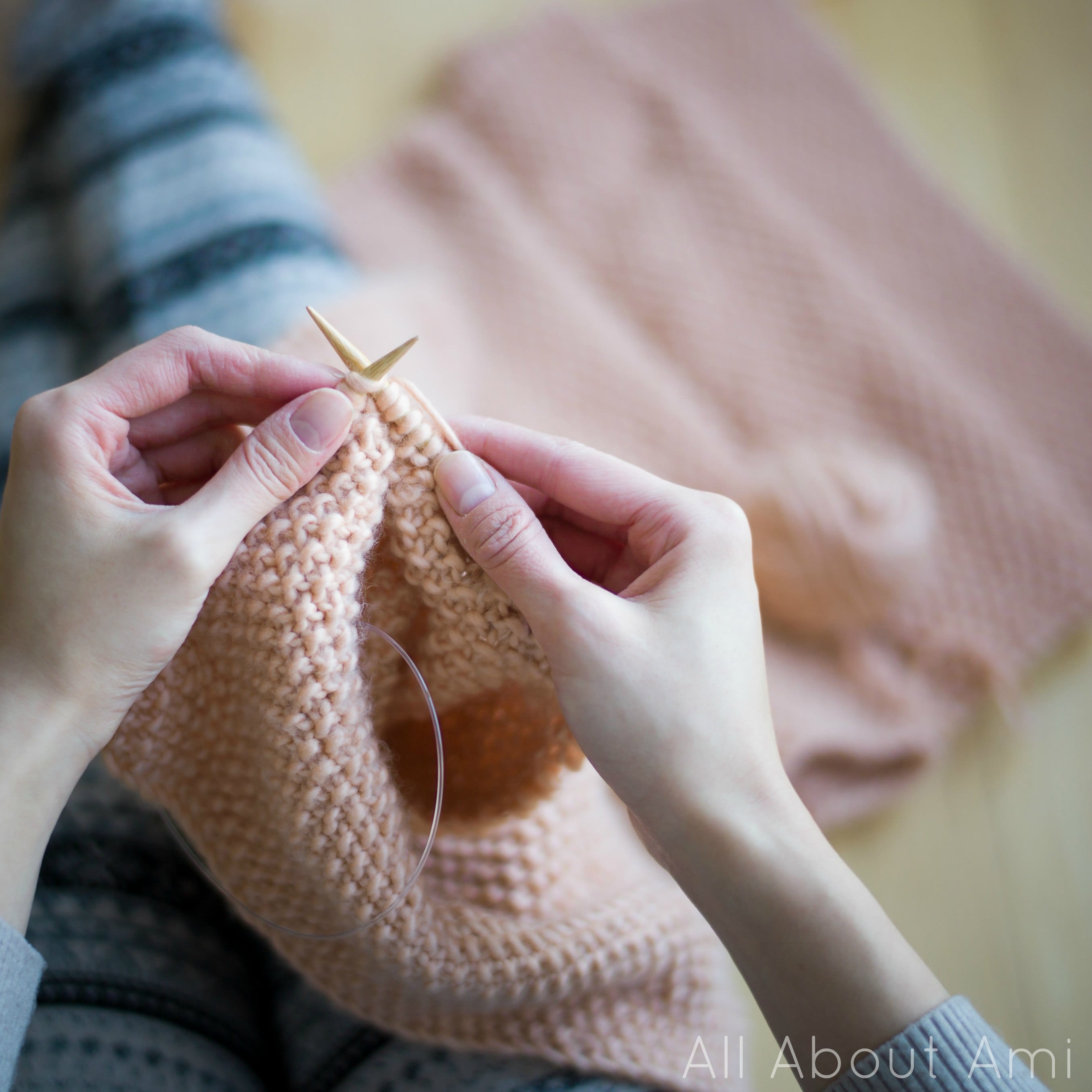 One of the joys of working with wool is being able to use my felting needle! When it was time to join a new ball of yarn, I simply felted the ends together seamlessly with my Clover felting tool. This way, no yarn was wasted and I didn't need to weave in any ends. Typically superwash merino is specially treated so that it cannot be felted in the wash with water. However, it seems to work when felting just the ends with agitation! You can read my detailed blog post about "How To Felt Yarn Ends Together" HERE!

You can see me felting in action in this video below:
After casting off my stitches, it was time to seam up my work!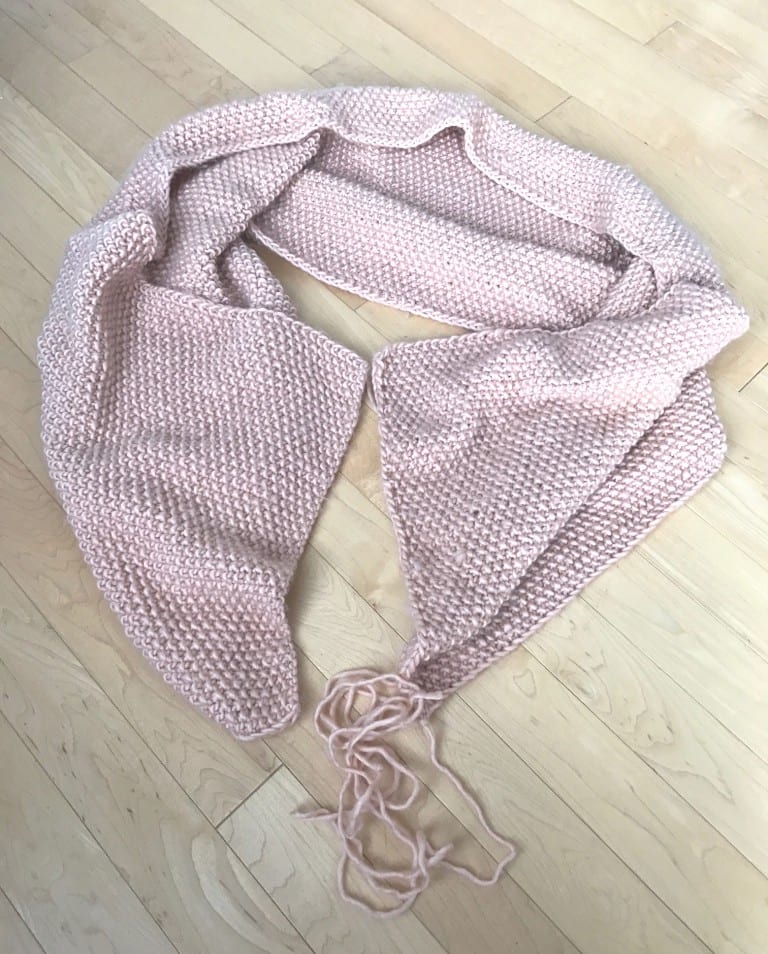 I simply whip stitched the ends together as shown below!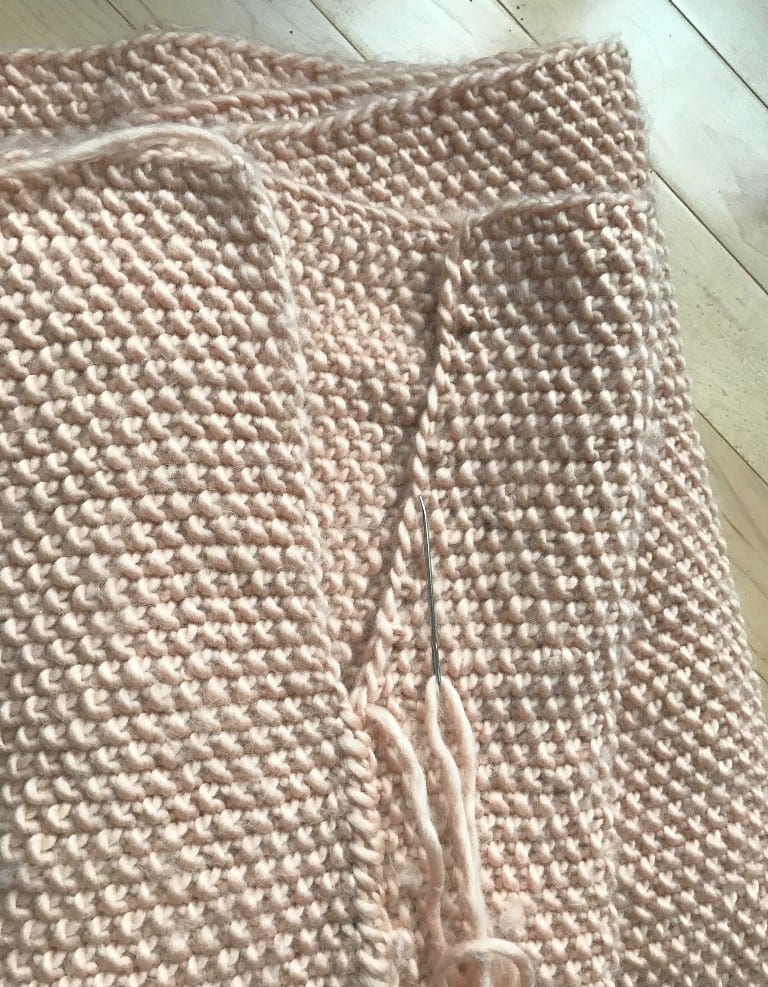 After seaming up the ends, my cowl was complete! I was so excited to wear it and feel its softness and warmth around my neck!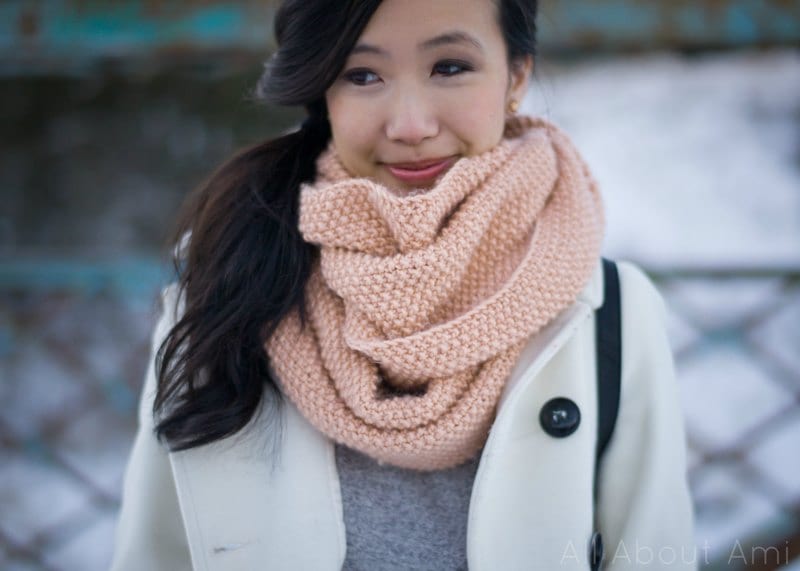 ************************
Here is the free pattern for my "Serenity Seed Stitch Cowl"!
Materials:
Cast on 51 stitches.
R1: Slip a stitch knitwise, *K1, P1* till end . (Slipping a stitch at the beginning of each row creates a beautiful edge along the sides.)
R2: Repeat R1.
R3-360: Repeat R1
Cast off and leave long end for sewing. Whip stitch ends together
Measurements: 13.8″/35 cm wide, 60″/152 cm long (circumference of cowl)
****If you do not want a seam, work in continuous rounds using circular needles. You will be casting on the length/circumference of the cowl, so if you want the cowl to loop around twice, you will have a very large number of stitches per round.
Cast on 361 stitches (odd number).
R1: *K1, P1* till end. (No need to slip a stitch since you are working in continuous rounds- no edging is created.)
R2: Repeat R1.
R3-51: Repeat R1.
Cast off stitches and felt end.
*************************
The Serenity Seed Stitch Cowl is one of my favourite cowls to wear since it drapes and folds so beautifully.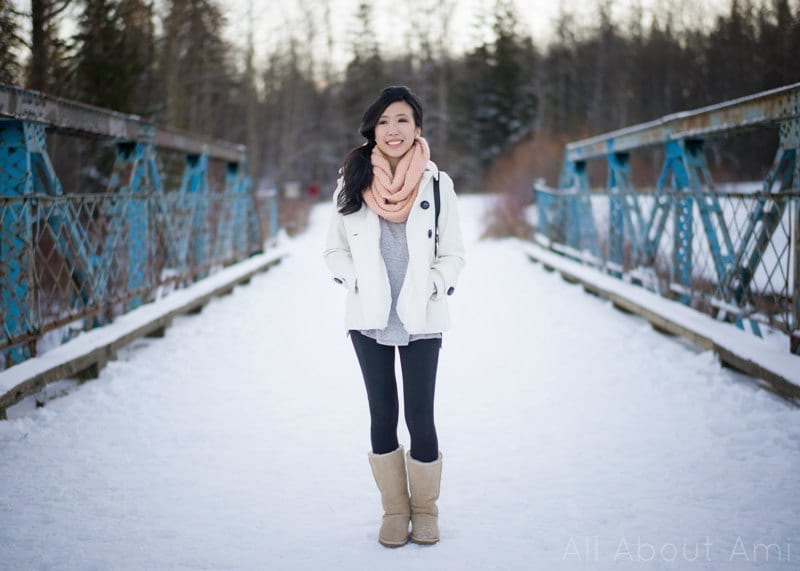 It feels so soft against my skin and I do not overheat wearing it. Superwash merino is such an amazing fiber to wear and work with!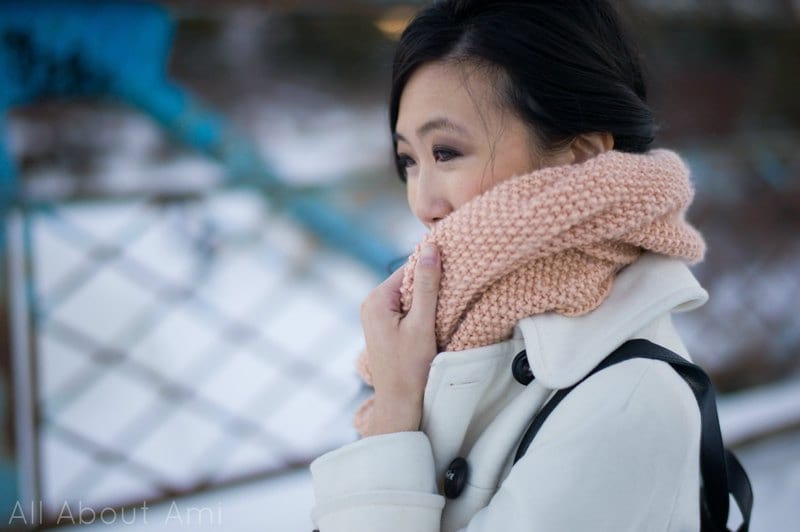 Here you can see the full length of the scarf! You can also see the seam- if you do not want a visible seam, you could try working in continuous rounds!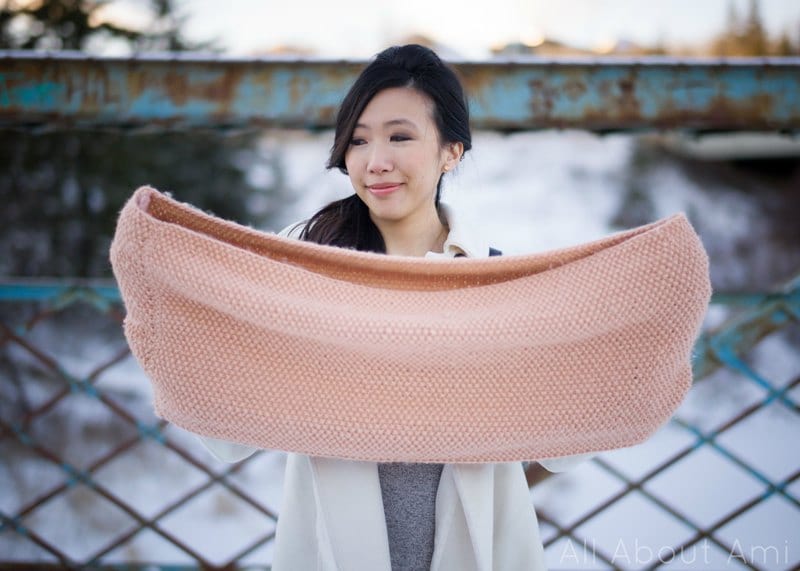 I am teaming up with We Are Knitters to give one of YOU the chance to try their scrumptious Meriwool in this amazing GIVEAWAY! One reader will win FOUR SKEINS OF MERIWOOL in the colour of their choice so you can make your own Serenity Seed Stitch Cowl (or any project you'd like of course)! To enter:
Subscribe to the We Are Knitters newsletter HERE (mandatory)!
Leave a comment below and let us know which colour you would choose– check them all out HERE (they've got some amazing sprinkle options)!
This giveaway will close on Sunday, January 8th at 8 PM MST and is open to residents of the continental USA, Canada, and Europe. Thank you for reading and have fun looking around! We Are Knitters is currently having a big sale on their website (many yarns and kits are 25% off) until January 10th. After this date, you can use my code "WAKABOUTAMI" to get 20% off your orders! If you are a crocheter and you don't know how to knit, stay tuned for my beginner's knitting series launching soon in a couple of weeks! I will demonstrate some basic knitting stitches and show you how to create some gorgeous pieces using them! You can sign up HERE to get e-mail updates every time I publish a blog post, or you can follow me on Facebook, Instagram, or Twitter! And of course, there is a certain amigurumi who will be making an appearance soon as per our tradition every year (see last year's Chinese New Year Monkey HERE)! Have a wonderful 2017, everyone, and thank you for your continued support!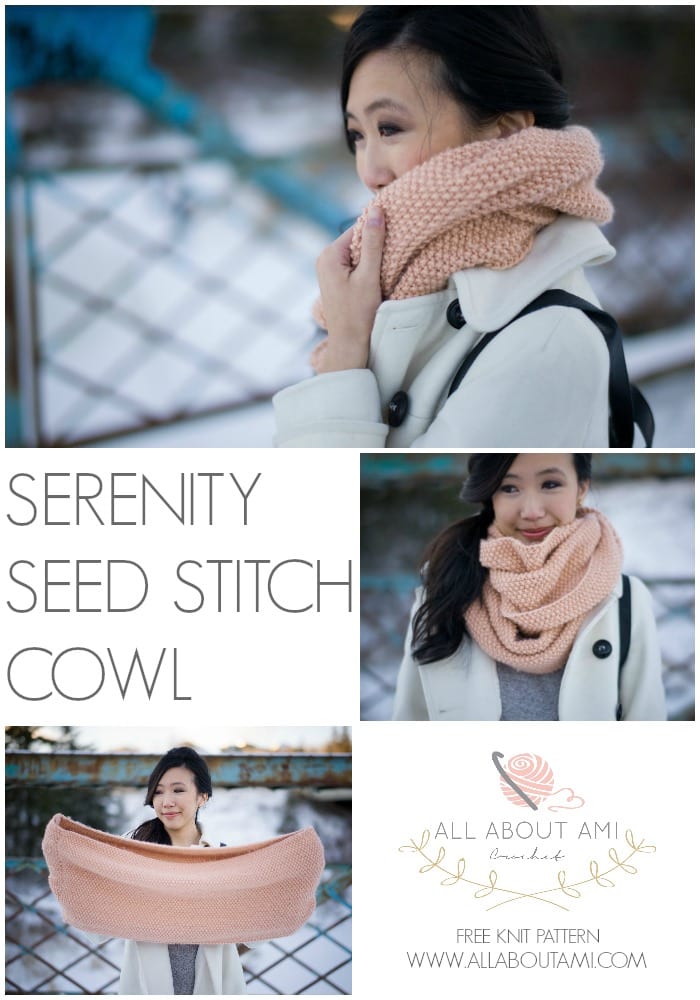 Note: Thank you to We Are Knitters for providing the wool for this project!