Two years ago we visited Maui and absolutely fell in love with the Hawaiian island and vowed to return!  The amazing scenery, delicious food, laid back atmosphere and friendly people made our first trip very special and memorable.  We decided to return again this year, this time with our little toddler Myla and the rest of my family!
We revisited some of our favourite spots and restaurants but also discovered some new places as well.  Whenever we go on trips, I love doing lots of research to see where to get the best food and what the most popular attractions are!  I thought I would write up a blog post summarizing what we did in case anyone will be traveling or is interested in traveling to Maui!  I always love living vicariously through other people's travel photos as well 😉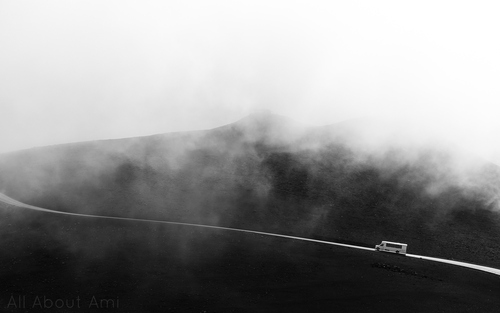 On our first visit two years ago, we drove up to the Haleakala Crater to watch the sunrise.  This meant waking up around 3 AM and starting to drive at 4 AM to make it in time…however, since there is a couple hours time difference between Maui and where we live, this wasn't actually too bad since we did this the day after we arrived.  Watching the sunrise was absolutely breathtaking and one of the most beautiful sights that I've seen.  We revisited the crater on this trip but during the afternoon.  Your view really depends on the weather and it was quite cloudy when we went.  It was neat driving up through the clouds though!  Also be warned that it is quite chilly up there as you are at over 9700 feet elevation- we wore every single layer that we brought!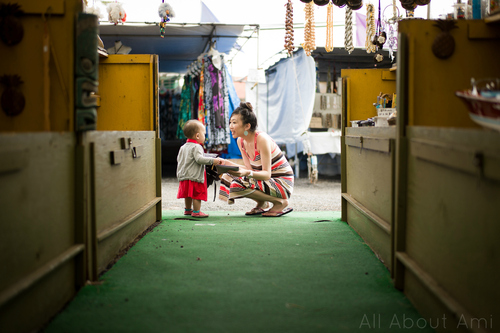 I was very excited to visit the "Maui Swap Meet" which occurs every Saturday morning from 7 AM to 1 PM!  I was delighted to see tons of vendors when we pulled up to the market- however, we ended up getting rained out as vendors started packing up within an hour when we arrived as their products were getting soaked.  I was sad that we did not get to see everything, but we also found a tiny little craft market beside a McDonald's that we visited that had plenty of jewelry and dresses for a very affordable price.  Myla enjoyed walking around and shopping for herself as you can see in the picture above!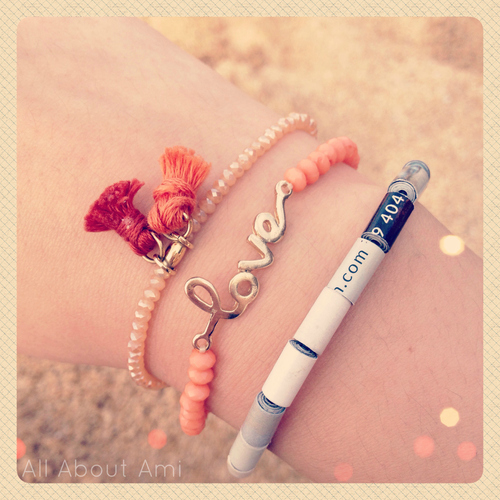 Whenever I am on vacation, I love collecting bracelets to add to my collection!  I adore these two peach colour bracelets I got- I think the mini tassels and "love" are so cute!  I also really like the bracelet that I bought by "Indies Attic" (my only buy from the Maui Swap Meet) and it's special because it's made from recycled paper!  Also, a portion of their proceeds goes to help children in Uganda, and their tagline is "People Before Profit"!  What an amazing company 🙂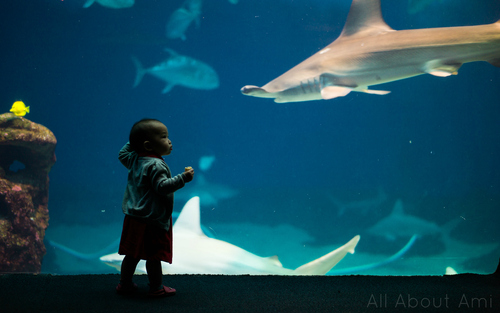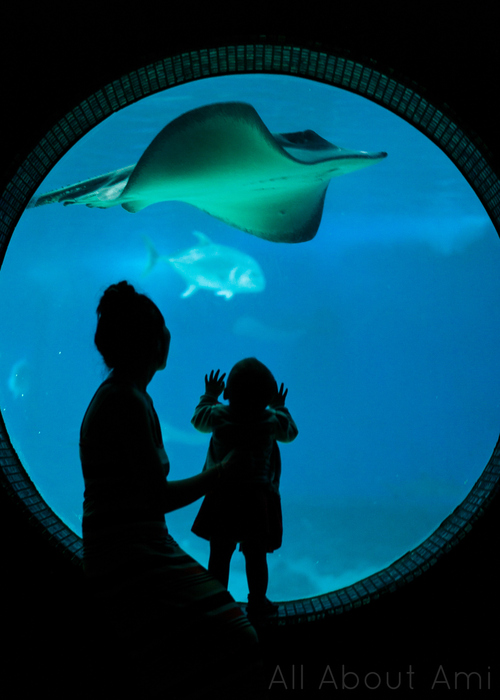 We also decided to visit the "Maui Ocean Center" because Myla LOVES animals!  It was smaller than we expected but we enjoyed the exhibits and we found the talks by the naturalists working there particularly interesting and educational.  Myla was totally unfazed by the sharks and enjoyed watching them swim around!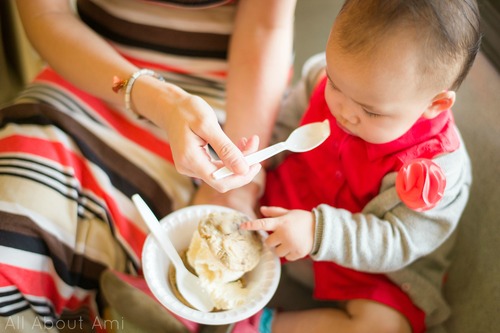 After visiting the Maui Ocean Center, we dropped into the nearby "Hula Cookies" for their famous ice cream sandwiches!  You get to choose which ice cream flavour and which cookies you would like (you can even choose different flavour cookies for each side).  The cookies were so gooey and soft- it was the perfect afternoon snack and we wished we had gone again!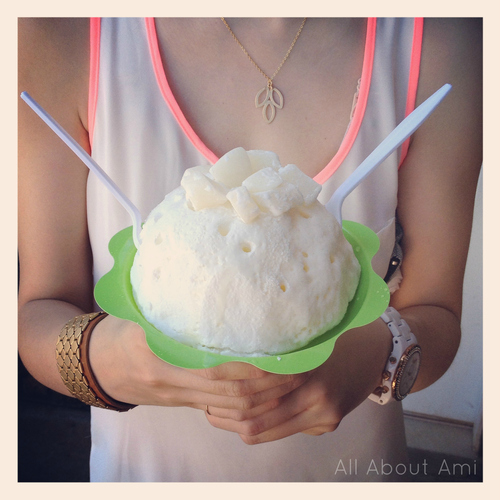 Our all-time favourite snack/dessert in Maui is from "Ululani's Shave Ice"!  They have the BEST shave ice as it is pillowy soft and their flavours/syrups are amazing.  My favourite combination is the "Haleakala" as it is made of coconut and leche topped with sweetened condensed milk and cream.  I always add mochi on the top too!  I could not wait to eat this again as I had been missing it from two years ago….we went almost every single day to get shave ice and made good use of their stamp card!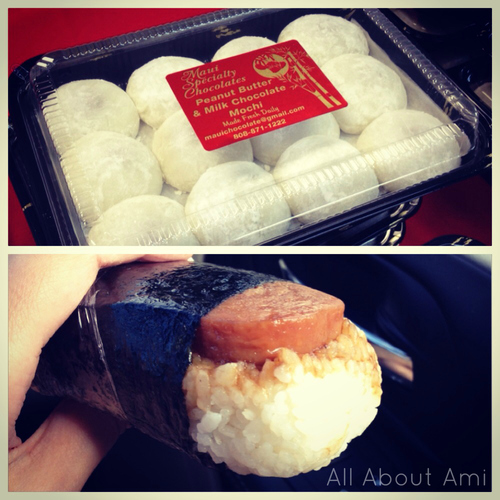 Some other treats we discovered on this trip were the delicious mochi from "Maui Specialty Chocolates".  The mochi itself is so soft and chewy and their flavours such as "Peanut Butter & Milk Chocolate" and "Dark Chocolate Truffle" are delicious.  I am a big mochi fan so I was very excited to try them and I was not disappointed!  Another popular Hawaiian delicacy is "Spam Musubi" (spam and sushi rice wrapped in seaweed).  It can be found in many little shops and stores (we got ours mostly from the ABC Stores) and it makes a tasty little snack!  I also found a great recipe for it here and I can't wait to make it at home 🙂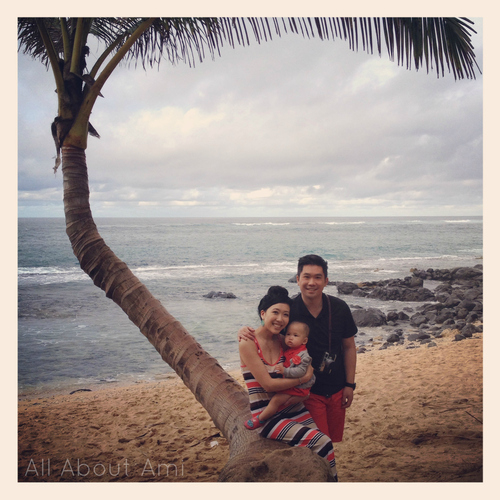 Here is a family picture of us outside a popular restaurant called "Mama's Fish House"!  The ambiance and location are amazing as it gives you the quintessential Hawaiian experience.  The service was wonderful and the fish was fresh although the entrees are pricey!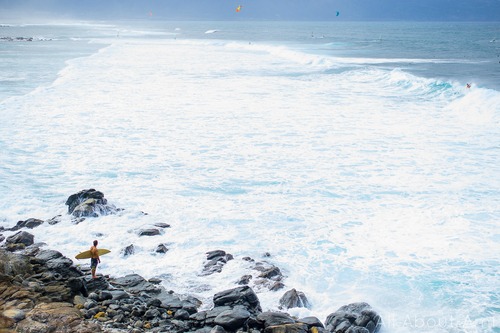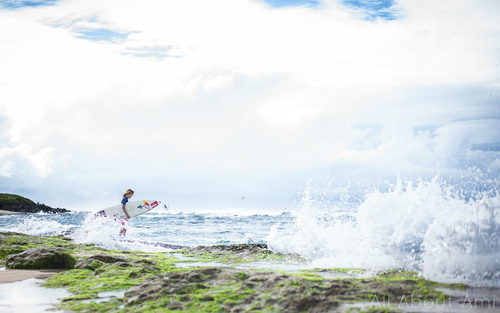 We spent some time walking around a hippie surfer town called Paia.  There were some quaint shops and a delicious lunch spot called "Paia Fish Market" which has our favourite seafood pasta.  We also lay on the beach and watched the surfers brave the waves and also got to see some really cute sea turtles!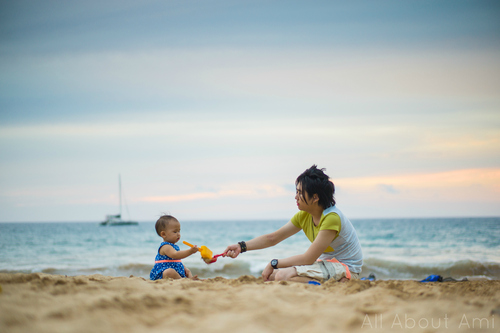 Myla really enjoyed playing in the sand with her shovel and sand toys.  Here she is with her Uncle Corey, digging right into the soft sand of Makena Beach!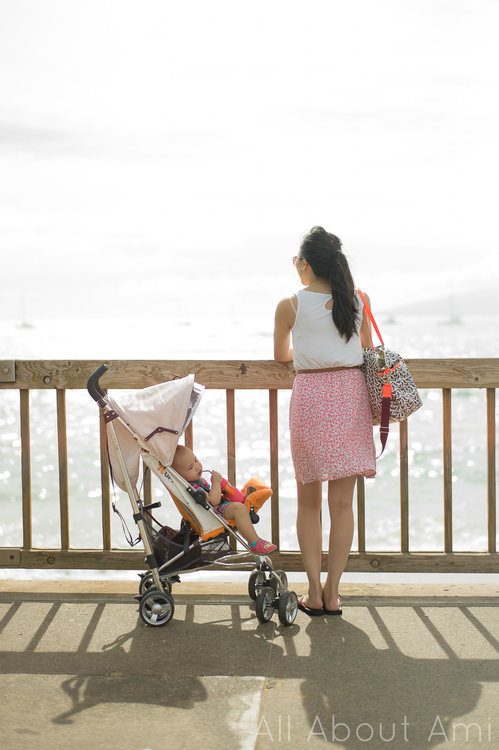 Another popular area with many oceanfront stores is Lahaina, which used to be a whaling town (one of these times we'd like to go on a whale watching tour)!  Two years ago we went to a highly rated and very popular magic show called "Warren & Annabelle's" and got to see Warren himself perform his sleight-of-hand magic and comedy.  We absolutely loved it and highly recommend it!  We did not go this time but the rest of my family went and thoroughly enjoyed it (you need to be over 21 to attend because of the liquor laws).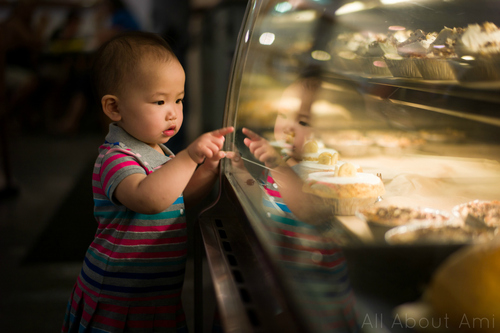 We also found a delightful restaurant called "Leoda's Kitchen & Pie Shop" that is famous for their sandwiches and pies!  Here you can see Myla picking out exactly which pie she wanted to try 🙂  We really liked their "Macnut Chocolate Praline Pie" for dessert as it was divine!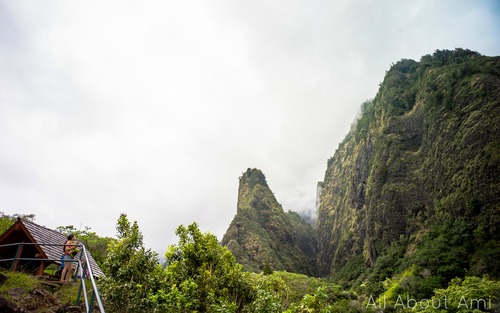 We visited the "Iao Valley State Park" and soaked in the beautiful views with their very short, easy hike.  For us, it was a warm up for the long hike to come shortly after!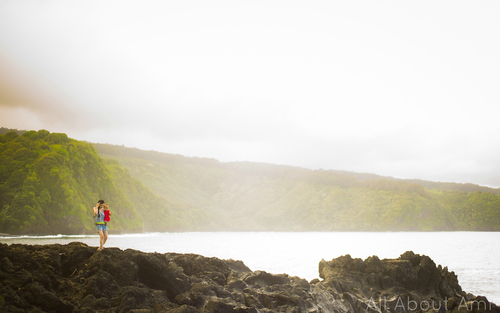 One of the most memorable things we did from two years ago was "The Road to Hana".  The Road to Hana is a long, narrow and winding road that takes you through the rain forests of Maui.  Along the way, there are many breath-taking views of the coast, forests and waterfalls.  Ryan and I were hesitant and worried about what it would be like with a toddler but overall it went well and I am so thankful that we were traveling with the rest of my family on this trip as they could entertain her!  We stopped off at "Nahiku" which offers the most stunning views of the coast!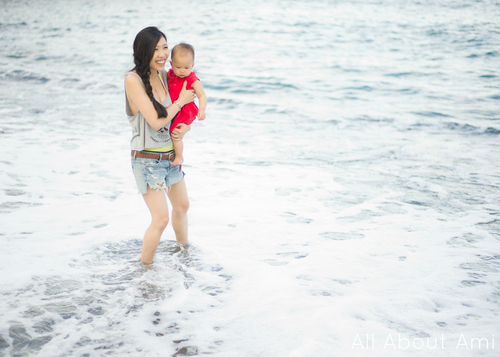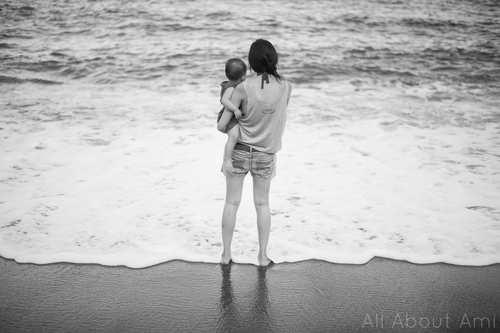 We also stopped off at the "Black Sand Beach"- the sand is actually made of small, smooth lava pebbles!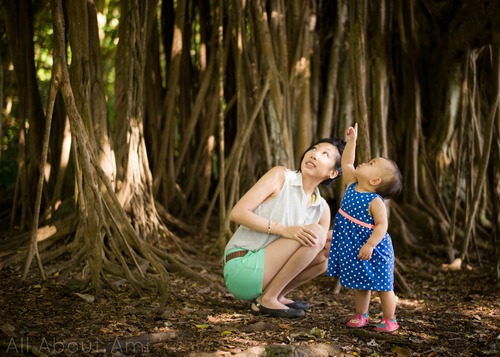 On our last full day in Maui we did the hike that we were most looking forward to out of the whole trip: the "Pipiwai Trail"!  It is an amazing 4 mile hike (2 miles there, 2 miles back) that takes you through some stunning scenery.  I was worried what this hike would be like with a toddler too- I strapped Myla to me in a baby carrier and she was asleep for most of the first half.  It was exhausting and grueling for me though as going uphill seemed so much more difficult with the extra weight I was carrying.  I actually seriously doubted whether I would make it and was contemplating turning back….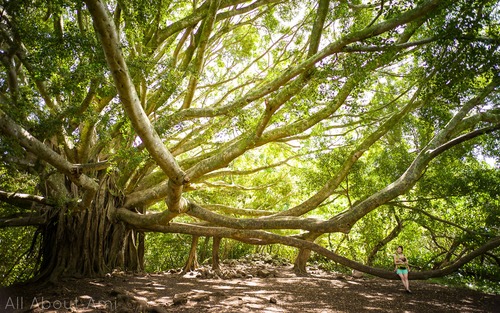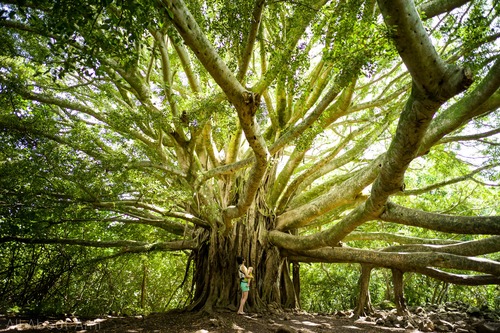 However, I kept pushing myself and just went slowly, taking frequent water breaks.  I am so glad we persevered as we did not want to miss out on the beautiful sights!  Two years ago we took one of my favourite travel photos sitting atop a gorgeous banyan tree that can be found along the hike.  It was neat seeing it again, and this time I got to take pics with our little (sleeping) Myla too!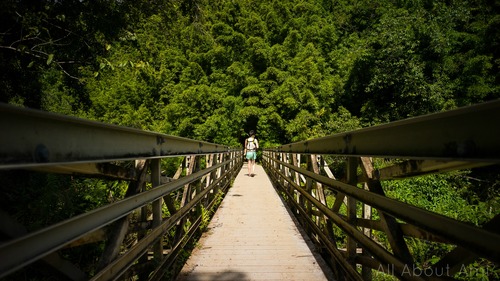 For those of you wondering, we use the Ergo baby carrier and we love it!  It is very comfortable to use as it has a lot of padding and cushioning with multiple carry positions available (front, back and hip).  We were very glad we used our Ergo on these hikes!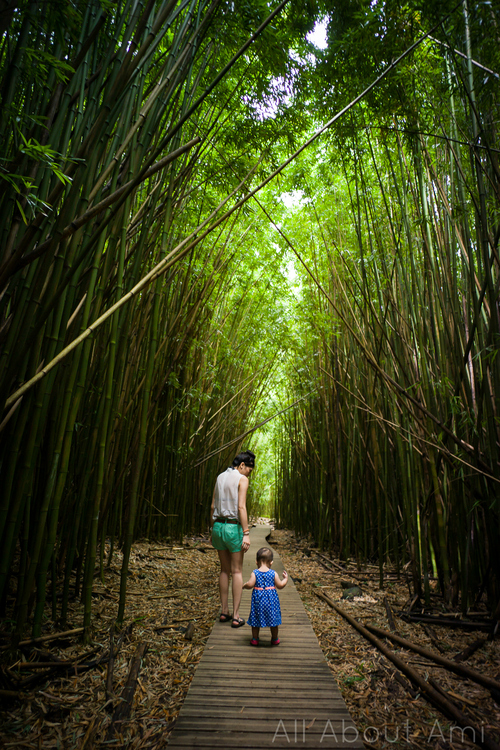 Myla woke up just as we were entering the beautiful bamboo forest!  This is one of my favourite parts of the hike as it is calmly serene as you can hear the bamboo hitting against each other as the wind blows.  Myla wanted to walk a bit too so we took her out of the carrier and let her walk along the wooden planks!  She got many friendly smiles from fellow travelers who were surprised to see such a young hiker make it that far 🙂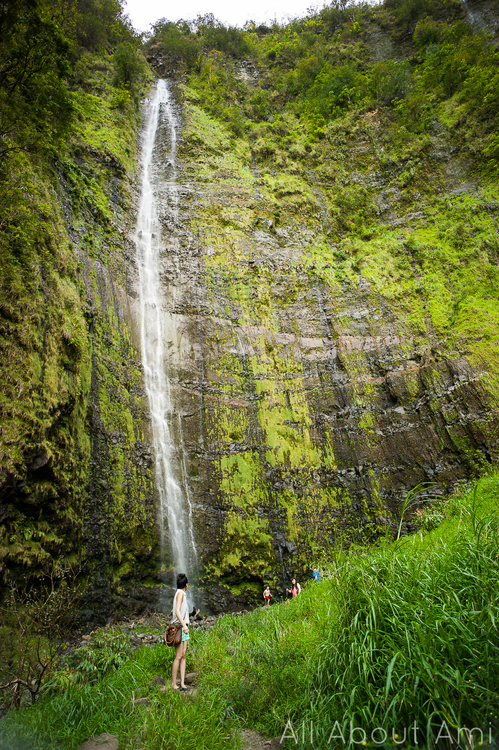 At the end of the Pipiwai Trail you are rewarded with this amazing site: the stunning 400 feet Waimoku Falls!  It is breathtaking when you first see it and it makes the whole hike worthwhile.  We took a little snack break here and soaked in the scenery before embarking on the journey back!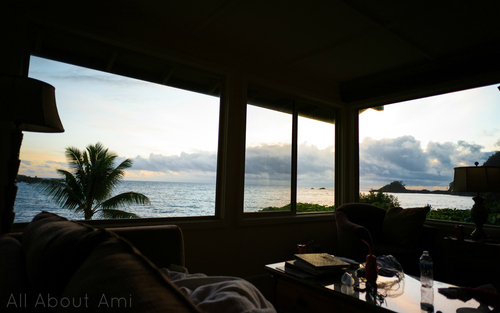 We decided to stay a couple nights in Hana so that we could take our time and not have to rush back to the other side of the island.  We stayed at the "Hana Kai Maui" which is the most beautiful place that we've ever stayed in.  I was completely taken aback when I first walked into their flagship unit (the "Ka'ahumanu") as I had never before stayed in a suite with such stunning views and panoramic windows.  You could hear the waves lapping onto the beach since we were so close to the ocean and it was amazing being able to fall asleep and wake up to the sound of the waves.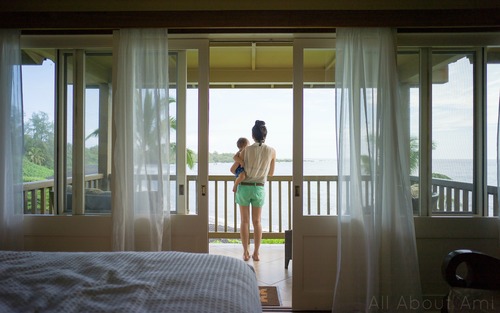 The views from our balconies were spectacular!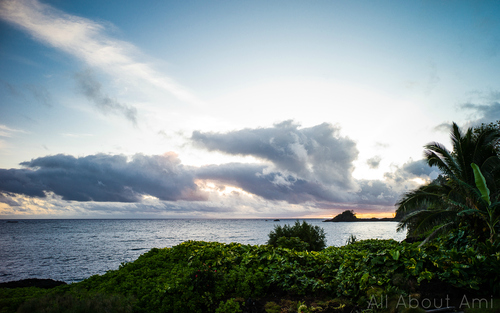 We were so sad to leave this place and drive back to the airport.  Maui is such a beautiful, family-friendly island with so many things to discover!  We had a great family vacation and we cannot wait to return in the future- we hope you enjoyed seeing our photos and what we did!  I will do a quick summary below in case anyone is planning a visit 🙂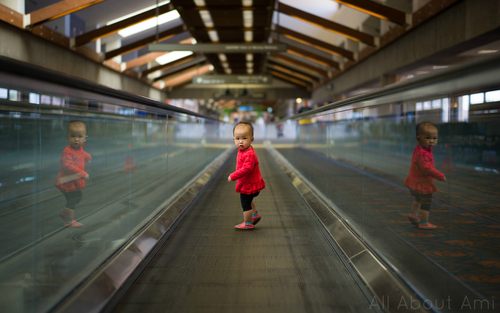 **********
Hotel accommodations: 
Aston Maui Hill (Kihei): great location, spacious unit with fully-equipped kitchen, washer/dryer, perfect for families
Hana Kai Maui (Hana): amazing views, great location; pricey though (anything decent in Hana is quite pricey, but it's more worth it if you're staying with a large family)
Attractions:
Haleakala Crater: beautiful at sunrise (very cold with extreme winds so be prepared)
Maui Ocean Center: great exhibits and talks by naturalists; shark tank and underwater tunnel
Iao Valley State Park: easy, short hike with beautiful views
Maui Swap Meet: open every Saturday morning 7 AM – 1 PM with many vendors and handcrafted godos
Warren & Annabelle's Magic: great sleight-of-hand magic and comedy show
Road to Hana (Nahiku, Black Sand Beach, Venus Pool, Seven Sacred Pools, Pipiwai Trail leading to Waimoku Falls)
Food:
Ululuani's Hawaiian Shave Ice: soft, fluffy ice with incredible syrups and flavours
Hula Cookies: make your own ice cream sandwiches
Maui Specialty Chocolates: delicious peanut butter milk chocolate and dark chocolate truffle mochi
Spam Musubi: tasty Hawaiian delicacy that can be found in many shops
Mama's Fish House: wonderful Hawaiian ambiance, great service, fresh fish but pricey entrees
Sansei Restaurant: great panko-crusted ahi tuna rolls, shrimp dynamite; get 25% off bill if you arrive before 6 PM at Kihei location
Koiso: deliciously fresh sushi; only sits 14 people so you need to make a reservation; the omakase offers a great variety
Kihei Cafe: great breakfast place
Paia Fish Market: the best seafood pasta and delicious fish and chips
808 Deli: great sandwiches and potato mac salad
Da Kitchen: Hawaiian-style home cooking with very big dishes; Kalbi ribs and shredded pork were delicious
McDonald's: don't laugh!  They have special local deluxe breakfasts consisting of Portuguese sausages, spam, eggs and rice!  They also have taro pies which are very unique!
Leoda's Kitchen & Pie Shop: sweet and savoury pies; macnut chocolate praline pie was awesome
Thai Food by Pranee (Hana): amazingly delicious Thai food with very good prices (limited opening hours so check ahead); a great place to eat after the long Pipiwai Trail Hike (there are very limited food options in Hana)
"Maui Revealed" is a wonderful guidebook for the island as it details many stops along the "Road to Hana" and gives very useful information in a humorous tone!  You can pick this book up at a great price at the Costco in Maui (also a great place to stock up on snacks, groceries, water gear and ahi tuna!).
**********
Please let me know if you've been to Maui and if you have any recommendations for us during our next trip there!  I love sharing experiences and swapping stories!  Mahalo and Aloha 🙂
***Updates after our January 2017 trip:
Star Noodle (Lahaina): delicious noodles
Geste Shrimp Truck (Kahului- near the airport): AMAZING garlic shrimp and crab mac salad!  Highly recommend and worth visiting multiple times!
Giggle Hill: fun playground for children
Komoda Bakery (Makawao): famous cream puffs and donuts on a stick
Horhito's Mobile Taqueria (Kihei): yummy quesadillas and tacos
Monkeypod Kitchen (Wailea): delicious pizzas – check out their Happy Hour for discounted prices
Wow Wow Hawaiian Lemonade (Kihei): refreshing lemonades with many different flavours