Crochet mesh bags are so beautiful and practical as their open stitch, net-like structure allows them to stretch to hold many items during grocery, market or beach trips!  For those who have been following my work for a long time, you may remember that I made this pink and grey mesh bag HERE five years ago.  That bag was worked from the bottom-up and in a round, as most of these crochet mesh bags are typically constructed.  When I was in New York City for the Lion Brand Blogger Bash, I had the pleasure of meeting Alexi Tavel of Two of Wands in person- she is such a brilliant crochet and knit designer, and I am always in awe of all her beautiful, stylish, and intricate designs she releases.  Wherever we went during the Blogger Bash, from the Michaels visit to our Sip and Stitch that we organized, Alexi was always sporting her French Market Bag, and it was filled with her works in progress or finished designs!  Alexi was always the epitome of chic and effortless style, and her French Market Bag suited her so well!  I was inspired to make my own French Market Bag following her crochet pattern after seeing it modeled all around town by Alexi and put to such great use.  Here is a picture of Alexi and I during the last day of the Blogger Bash- you can see the French Market Bag in the picture below too!  Alexi is also wearing her Mount Tremper Sweater, one of her free crochet patterns found HERE!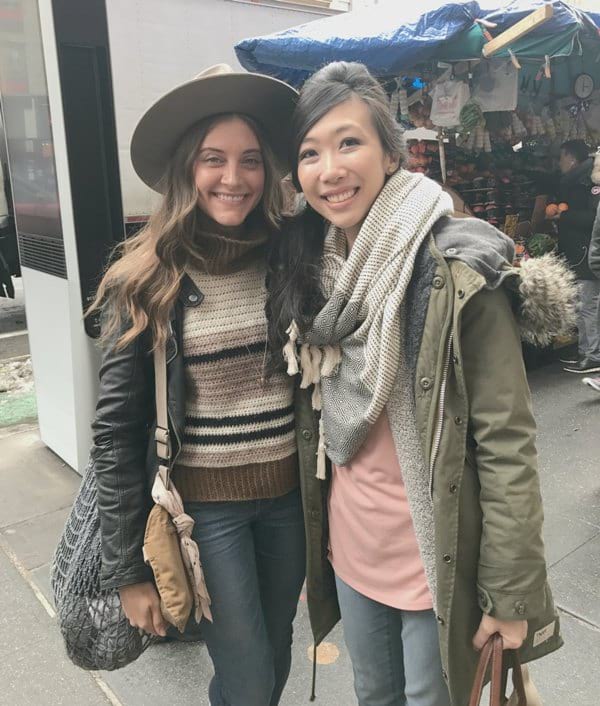 Choosing the right type of yarn is important when crocheting projects like market bags as you want the bag to be strong and you do not want the yarn itself to stretch too much and lose its shape!  24/7 Cotton by Lion Brand Yarn is a great choice as it is a strong mercerized cotton with a beautiful sheen to it.  This is the same yarn that Alexi used for her own design, and I myself used 24/7 Cotton for my Star Stitch Pouches and Star Stitch Purse.  The stitch definition is gorgeous, and there are a wide array of beautiful colours available!  I had no doubt in my mind what colour I wanted to use: the vibrant Goldenrod, such a perfect colour for Spring and Summer with our days filled with sunshine!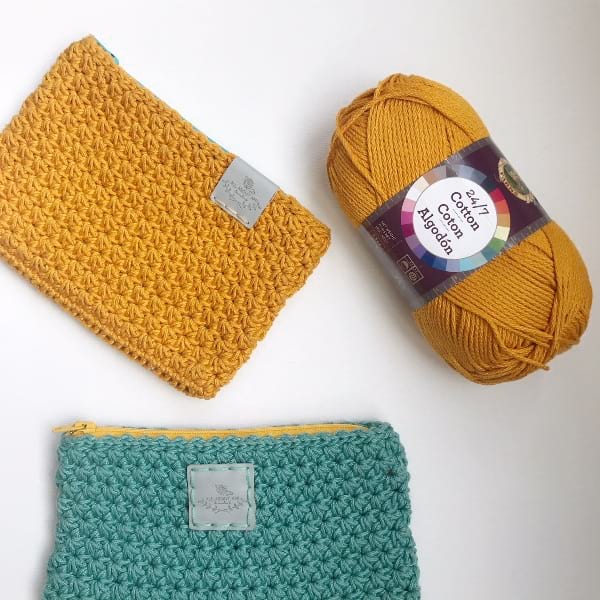 24/7 Cotton is classified as a level 4 yarn and there are 100 grams in one skein.  You need three skeins to crochet one French Market Bag!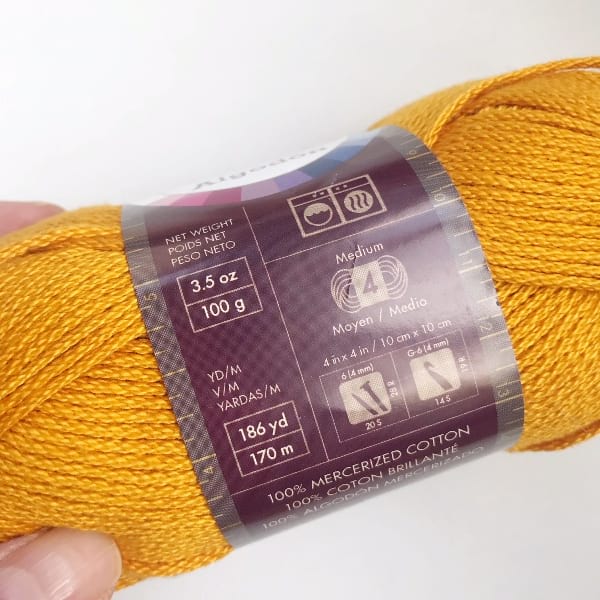 Alexi's market bag is constructed differently than other crochet market bags!  Rather than being crocheted in a round, you work in turned rows to form a square.  This is a great project to work on while you are watching television or as a passenger while commuting since this portion does not require too much concentration.  I myself brought this as my travel project when we took our quick trip to Vancouver a couple of months ago- I worked on my bag during the flight and in the car!  I used my 4 mm Clover Amour hook, my favourite ergonomic crochet hook!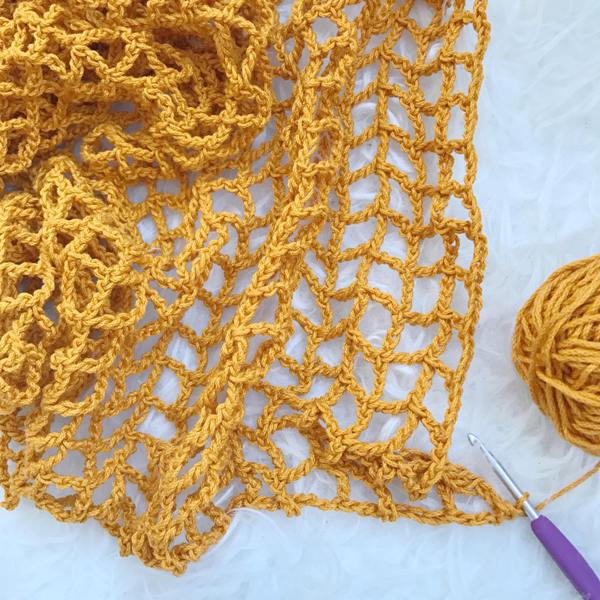 My net-like square is complete!  It actually worked up much more quickly than I thought it would!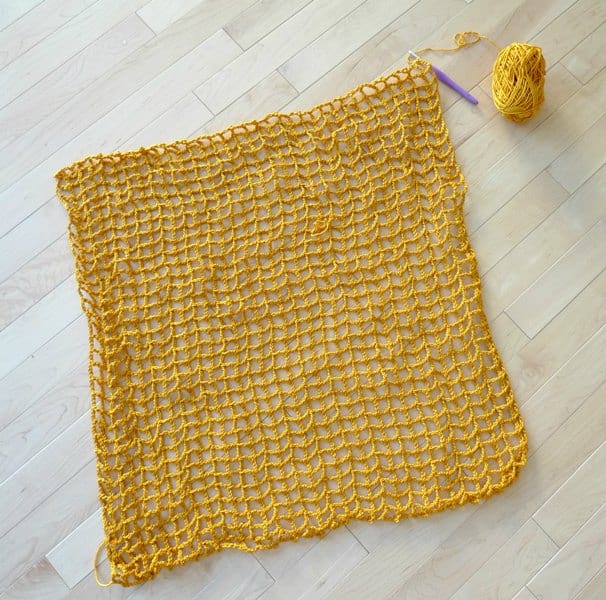 Then it was time for the decrease rows to cinch the top edges together.  Alexi's pattern is very clearly written and laid-out, and I had no problems following it whatsoever!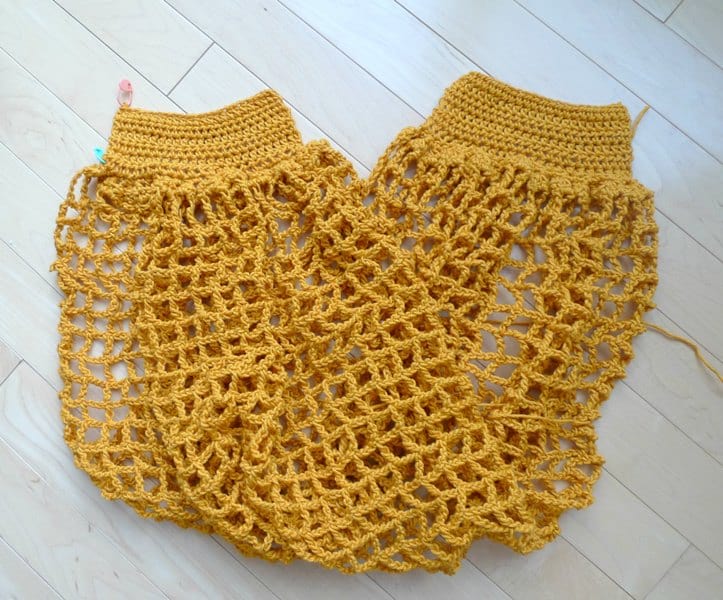 Next, it was time to work in rounds across all four sides to join the bag together and add the straps!  This bag is so strong since the straps are part of the whole outer edging- you can adjust the length of the straps as you want by adding more or fewer stitches.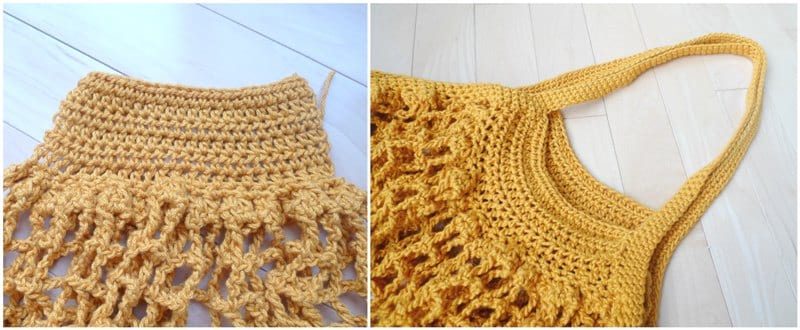 Below you can see how the rounds have been worked across all the edges of the bag and how the straps emerge from them.  Alexi's design is brilliant since it allows for much more expansion than typical crochet mesh bags that are worked in a round from the bottom up.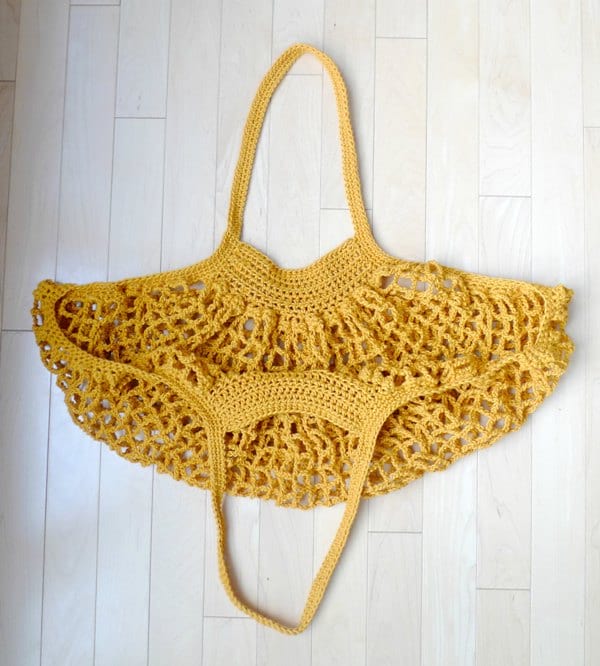 I adore the look of this bag and how it has a ruched look towards the top!  It is so romantic and elegant!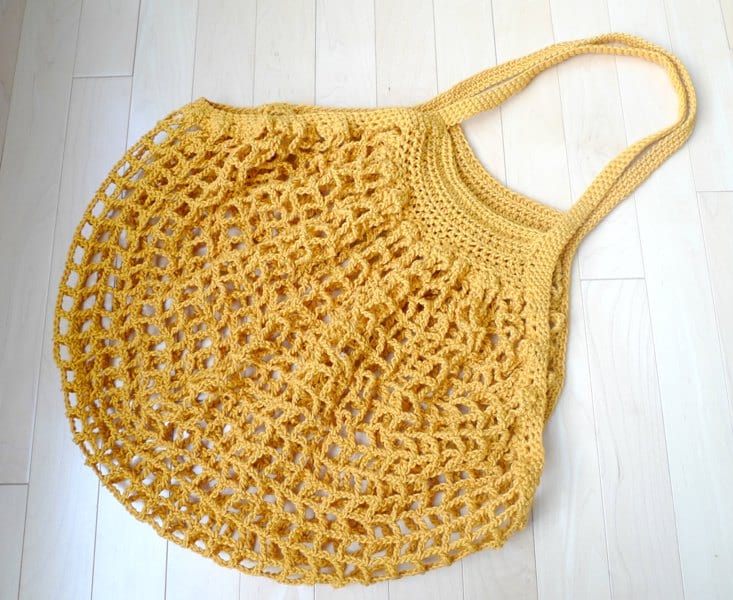 The French Market Bag looks so cute when worn, and you can store so much in it!  Can you spy what is in my French Market Bag?  Yarn of course!  I'm also sporting my new Crochet Cord Bracelet with Adjustable Closure that I recently blogged about HERE!  I love layering bracelets in the Spring and Summer!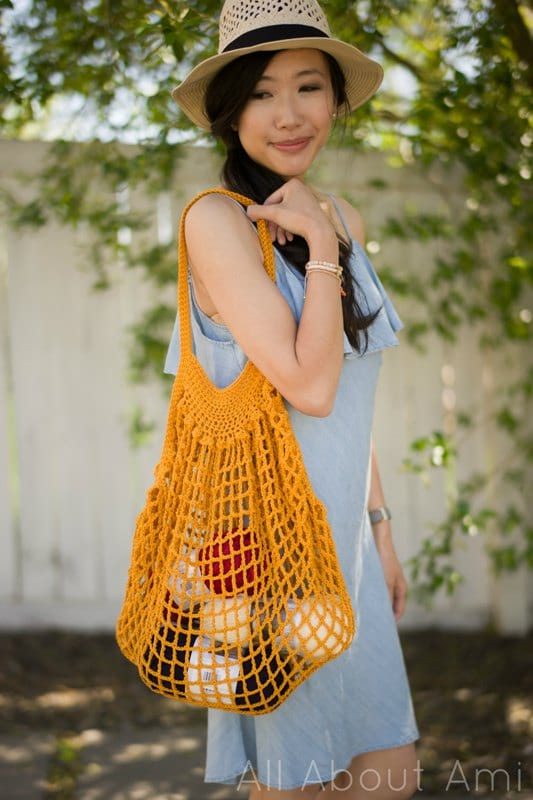 If you have been wanting to try making your own market bag, I highly recommend you give Alexi's design a try!  The construction is so unique and clever, and it is a very fun project to whip up!  There is a kit on the Lion Brand Yarn website available for the French Market Bag HERE with three colour options!  If you're interested in this particular "Goldenrod" colour in 24/7 Cotton that I used (requires 3 skeins), click HERE!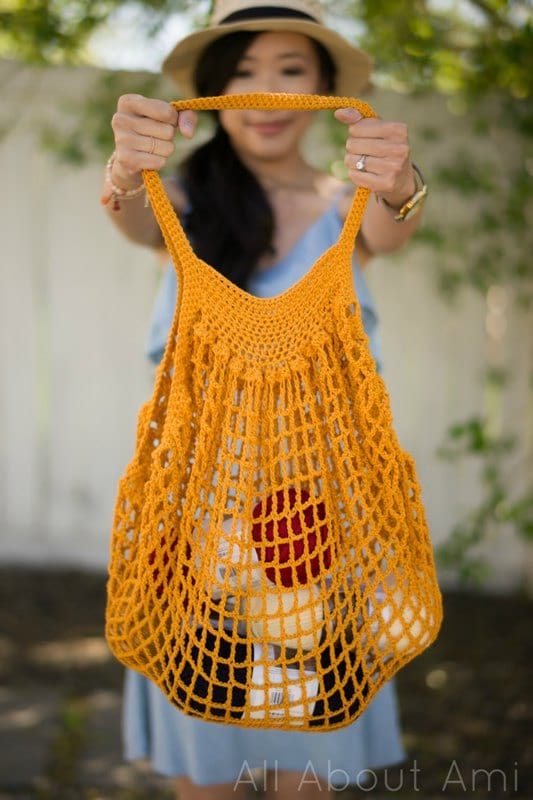 I tend to gravitate towards neutral colours for my crochet and knit designs, but I do love bright pops of colour every now and then.  Marigold happens to be the Lion Brand Yarn Color of the Month for May, and these three designs I made using this vibrant golden hue are on sale!  Check out my Midtown Cardigan Kit (15% off), Amigurumi Pineapple Purse Kit (25% off, and one kit makes two purses), and the Pillowji Pillows (30% off, and one kit makes all three pillows)!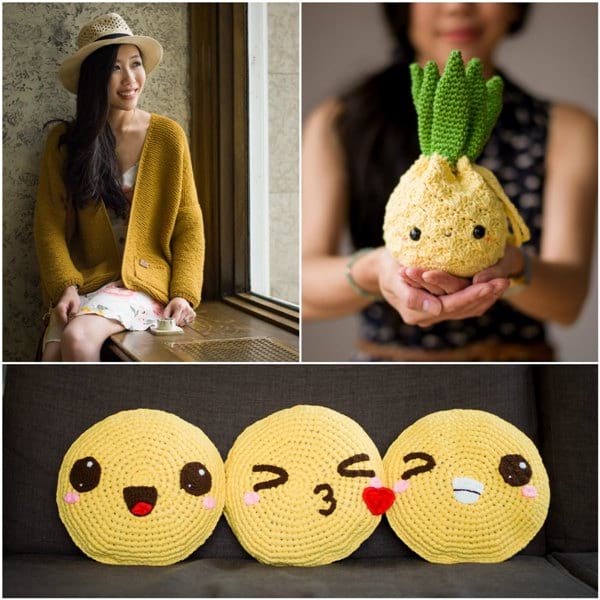 I have already put my French Market Bag to use on a trip, and it was so much fun to tote around!  It is easy to store since it is collapsible, and you can fill it up with sweaters or jackets for chilly evenings, works-in-progress, or essentials for the beach like I've shown below!  The free pattern for the French Market Bag can be found HERE on Alexi's blog and the kit can be found HERE on the Lion Brand Yarn website!  Thank you for sharing this brilliant pattern with us all, Alexi!  Have fun crocheting your own practical market bags and sporting them around in the Spring and Summer!