At the beginning of the fall, I received a delightful e-mail from Sean, the founder and owner of a company called "Chetnanigans"!  According to their website, at Chetnanigans they design and create unique, heirloom quality organizers for knitting and crocheting, and they also offer looms, broomstick pins, blocking boards, and more.  Their products are constructed using solid hardwoods that are designed to last for years, and they enjoy working with their customers to design and build new solutions because they share our passions!  I was intrigued by this company as I had seen some of their work on-line before, and I loved learning more about the story behind Chetnanigans!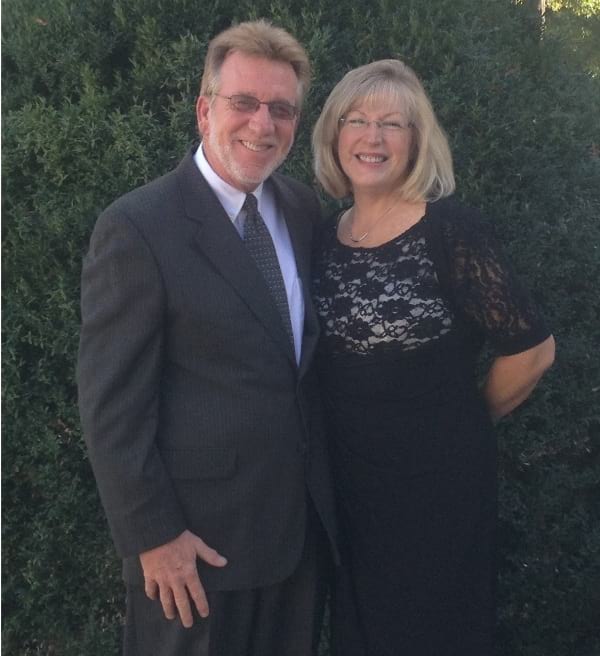 Sean has always had a deep interest in working with wood for most of his life.  After he retired from working with a large electronics corporation, he spent his weekends pursuing his passion and hobby of wood working.  His wife Holly learned how to crochet when she was a little girl and over the years has become quite a crochet professional and enthusiast.  I love it when both a husband and wife have discovered what they are passionate about, particularly when these passions have been fostered from such a young age!   In late 2014, Holly asked Sean if he could build her a Hairpin Lace Loom as she could not find exactly what she was looking for of suitable quality in the market.  After some trials, Sean built exactly what Holly was looking for and it garnered a lot of interest among her crocheting colleagues.  Next, Sean wanted to help Holly solve some crochet professional workflow challenges as he saw her searching for crochet hooks unzipping bag after bag.  Thus, he created a desktop crochet hook holder to help efficiently organize all her hooks so that they would all be in view and within easy reach!  After even more interest was shown in their unique work, Sean and Holly decided to open an Etsy store to share their handcrafted wooden products to the world!  They have been open for about two years now, and they continue to explore fiber art enthusiasts' workflow challenges that are experienced every day and design solutions to address these issues.  Their product offerings have grown to over 50 handcrafted items that elegantly address their customers' concerns, and they strongly encourage us as consumers to reach out if we have any ideas for them!  Below you will see a sampling of the items in their shops such as blocking boards, hook organizers, hairpin lace looms, and broomstick lace looms.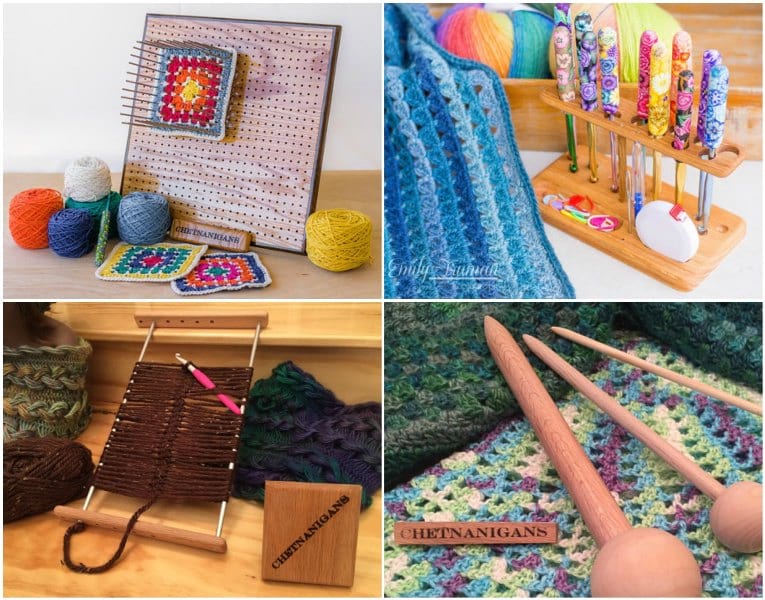 I was very excited that Sean and Holly reached out to me as I love how Chetnanigans perfectly pairs Sean's love of woodworking with Holly's love of crochet to bring us these beautifully crafted pieces of wonderful quality.  They have stellar reviews in their Etsy shop and each and every item helps us crocheters improve our craft and stay organized.  They have a range of different price points, with hook stand organizers as low as $15 (e.g. SlimLine Crochet Hook Stand) to more intricate and tiered organizers.  Sean told me about his recent design, the Bedside Crochet Comfort Organizer/Workstation for those who like to, or need to, crochet in bed!  This definitely piqued my interest as I love crocheting in bed after a long day.  This design came about because a customer reached out to Sean and Holly and expressed how on some days, she is restricted to bed, and she often spends that time crocheting.  Their traditional organizer designs would not work for her, so she asked if they could design one specific to her needs!  I ended up requesting this same design, and I am very excited to tell you all about its unique features!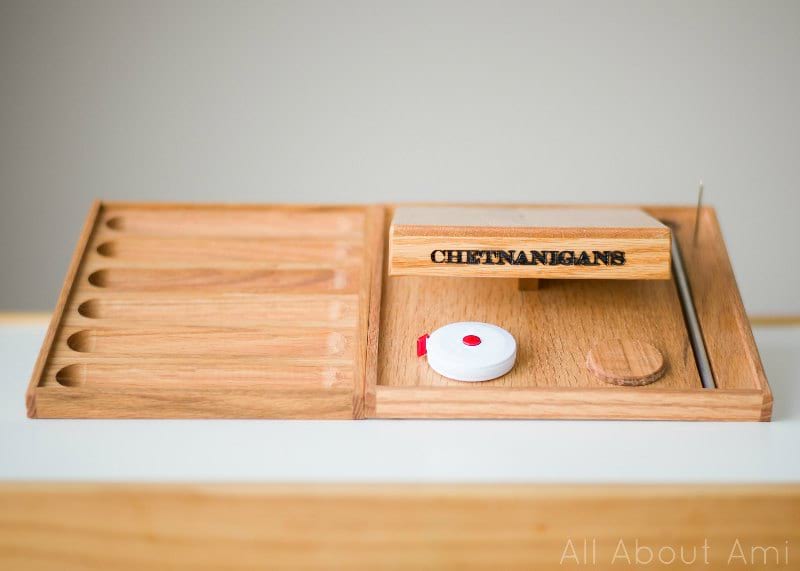 The Bedside Crochet Comfort Organizer/Workstation is constructed in Red Oak, and it consists of two platforms held together with 8 strong magnets.  Sean loves using magnets in his designs, and they really help keep the designs very clean and seamless.  There is something so satisfying when items click perfectly into place with magnets!  When attached, the organizer measures about 16″ wide and 9″ wide, and it sits at a 20 degree angle thereby making your tools, hooks, and platform easily accessible.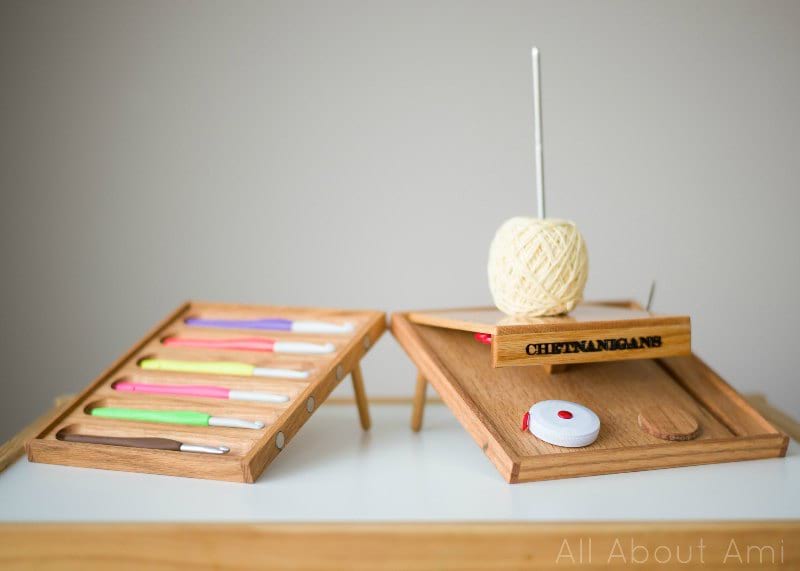 The left side is the platform where you can store your hooks, and there are six 1″ troughs that can hold six ergonomic hooks (as I've shown here with my beloved Clover Amour hooks), dozens of standard hooks, or about 12 comfort grip hooks.  The right side is the working platform that consists of a SpinOff Platform where you can place your yarn.  The yarn spindle can be taken from its spindle trough and placed on the SpinOff Platform so that your yarn can easily glide around the spindle as you work with it.  A yarn eyelet can also be found on the rear of the organizer so that you can thread your yarn through.  The working platform also contains a small stitch marker tray with a cover, a tape measure magnet, a tapestry needle holder, and a scissors magnet to securely hold your scissors under the SpinOff platform.  I love retrieving and storing the scissors discretely under this platform, and it feels so secure with the strong magnet.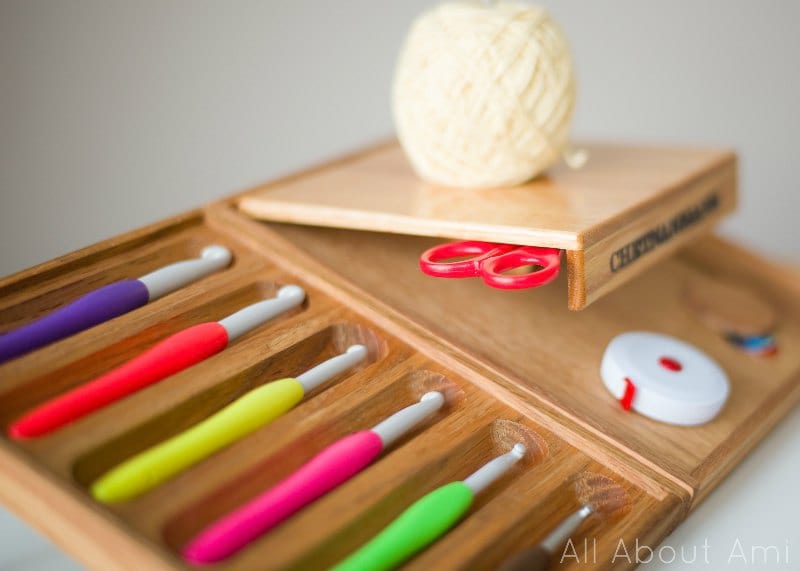 I love that the Bedside Comfort Crochet Organizer/Workstation actually ships with a notions kit that includes a 5″ pair of scissors, a collection of stitch markers, a #13 Tapestry needle, and a retractable 60″ tape measure!  All you have to do is add your own hooks and yarn, and you are ready to go!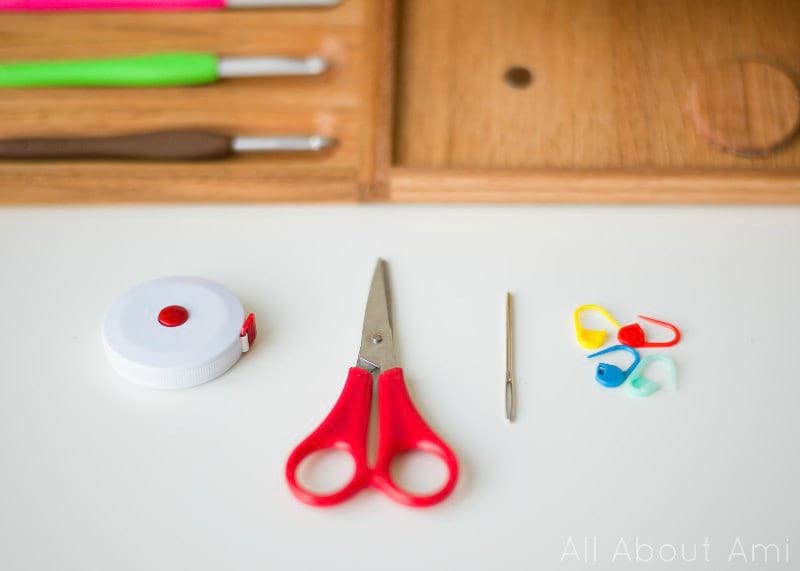 The Bedside Comfort Crochet Organizer/Workstation is a wonderful solution for those who like to or need to crochet while lying in bed.  It helps keep you organized with the various troughs and enables you have to have all your necessary tools within reach.  This organizer is lightweight at under 4 pounds, making it easy to move around if you need to.  Since it can easily split apart into two separate platforms, you can choose to have your hooks  or working platform elsewhere or perhaps in a different room.  The Bedside Comfort Crochet Organizer/Workstation has been carefully designed to help ease our workflow, and it is crafted with great care in Sean's workshop in Midlothian, Virginia and built to last for many years!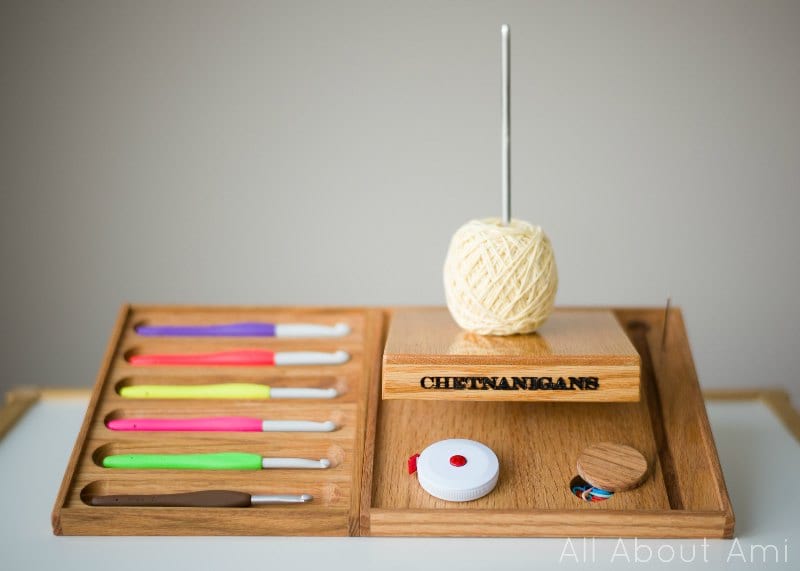 When I am working at my desk, on the bed, or on the sofa, I love having everything I need within reach.  Often times I find myself fumbling to find a stitch marker, a tape measure, or a pair of scissors to snip the yarn, so this greatly helps, and the magnets make returning the items to their rightful spots very fun!  This would be a wonderful addition to your night stand beside your bed, your workspace or perhaps on a coffee table next to the sofa or chair where you crochet.  I can't tell you how many times I've searched high and low for a missing crochet hook the next morning after crocheting late at night in bed.  Usually it has rolled under the mattress, but with this organizer, I can place the hook back in its trough!  I also love how your working yarn can spin off the spindle so that it is not rolling around the floor or becoming tangled.  If you have a set of notions already, it is handy to have this organizer in a different room or a different floor so that you do not need to go downstairs or hunt for your notions bag!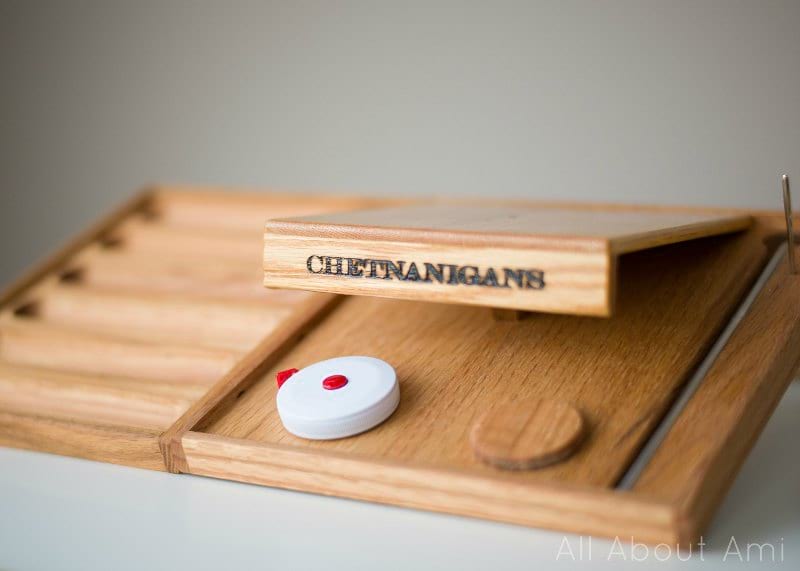 Ryan helped me film this short video so we could demonstrate the unique features of the Beside Comfort Crochet Organizer/Workstation!  It's neat seeing the magnets in action!
You can also check out this video HERE on the Chetnanigans Facebook page to see Sean himself describing the features he designed!  Sean and Holly are offering my readers 15% off ANY purchase on their website HERE or Etsy shop HERE with the code "AMI15" (good until Sunday, November 26th).  These organizers would be such an amazing gift for the crochet enthusiasts in your life, and since there are such a range of price points, you are sure to find something within your budget!  They offer organizers for different types of crochet hooks, such as Furls, AddiSwings, or comfort hooks.  Sean and Holly are also hosting an amazing GIVEAWAY for my readers as they are giving away one SlimLine "Twin" Crochet Hook Organizer Workstation!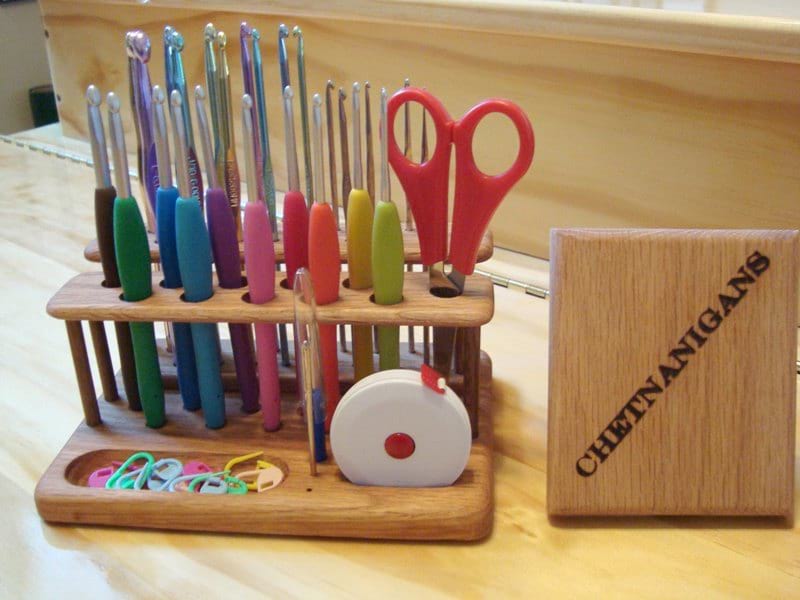 From their website, "The SlimLine Twin is constructed of 100% Red Oak Hardwood and finished in a natural Lemon oil finish that highlights the depth and grain of the wood. It consists of two separate tiers: the front tier of the Twin was designed for Clover Amour, Cheffort, and Tulip Etimo Crochet hooks and those similar (Clover Soft Touch and Boye Comfort Grips will not fit in this organizer- extra customization would be required) as well as a scissors hole.  The second/rear tier accommodates 16 Standard Grip Hooks (from size 14 to a size N hook).  Our Standard Crochet Hook platforms (both our Hook Stands and Organizers) accommodate hooks sizes 9.00 mm (M, N, or L depending on your manufacturer) through 2.25 mm (D, C, or B — again depending on your manufacturer). All steel hooks (00 – 14) fit in the 2.25 mm holes universally. Need for hooks over those size parameters would constitute a custom build.  Finally, there are 8 of the 2.25mm holes on the standard platform.  As with all of Chetnanigan's Workstations, the SlimLine Twin ships with a free Accessory Package that includes a retractable Tape Measure, a ripper, a #13 Tapestry Needle, 10 Stitch Markers and a pair of 5″ scissors (colors may vary)."  Note that the hooks are not included in this amazing prize, but the winner will get an accessory package just like I did!
***To enter this GIVEAWAY [NOW CLOSED]:
Leave a comment below telling us where you would put this SlimLine Twin Organizer!  Giveaway is open to residents of the U.S. and Canada only.  This giveaway will close on Friday, November 24th at 8 PM MST and you can also enter through Facebook and Instagram for more chances!  If you'd like to keep up to date with Sean and Holly's work, you can find them on Facebook, Instagram, and Pinterest!
Note: Thank you to Sean and Holly of Chetnanigans for providing me with the Bedside Comfort Organizer/Workstation for review!  All opinions expressed are 100% my own!