As a stay-at-home mom to my two young girls, it can be difficult finding time to crochet.  It was especially hard when the girls were younger as I was nursing every couple of hours and functioning on very little sleep!  I was so thankful to have my crocheting back then as it felt so relaxing and therapeutic, even if I was only able to crochet a couple of rounds at a time while the girls were napping.  Now that the girls are older and a bit more independent, I am finding it easier, and it is so sweet whenever they run off to play together!  The majority of my crocheting and blogging time, however, is still done after they both go to sleep at night!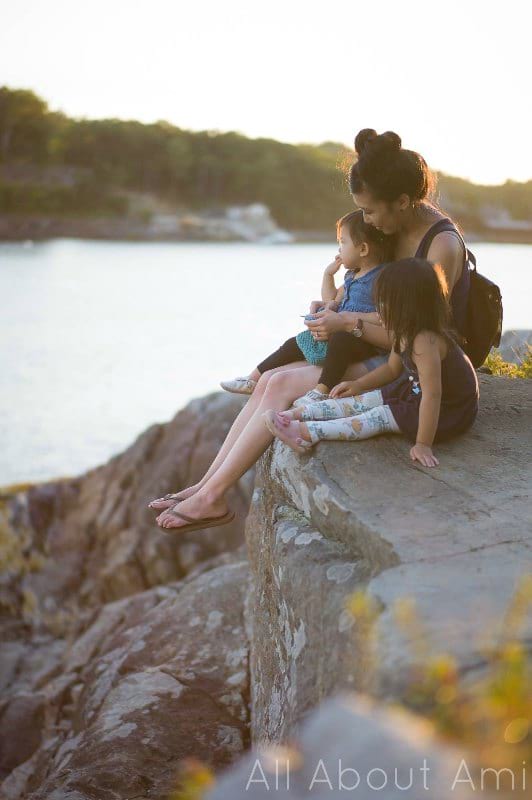 The challenge with crocheting at night is the lack of natural sunlight and my need to take step-by-step photos for my blog tutorials!  It is especially difficult working with darker yarns and small crochet hooks as it is nearly impossible to see the stitches with poor lighting.  When OttLite recently reached out to me and asked if I wanted to try out one of their lamps, I jumped at the opportunity as I had already heard so many positive things about their products and I was definitely in need of good lighting!
Dr. Josh Nash Ott founded OttLite Technologies in 1989 to bring the power of natural daylight indoors through his one-of-a-kind natural daylight bulb.  Through his 40 years of scientific research, Dr. Ott found that a light with the entire visible spectrum of light wavelengths was best for vision and well being.  He developed the first sunlight lamp and believed that by seeing better and feeling better, people could do what they love longer, whether that be sewing, drawing, jewelry making, or in my case…crocheting and knitting!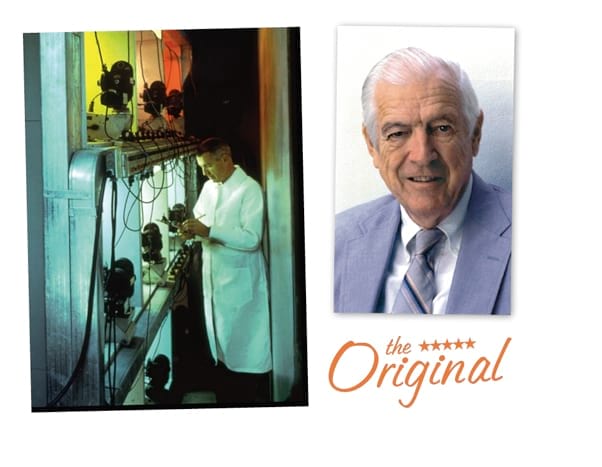 The OttLite team sent me their 13w Craft Space Organizer Lamp to review!  I love how it is not only a lamp or light source, but also a wonderful organizer!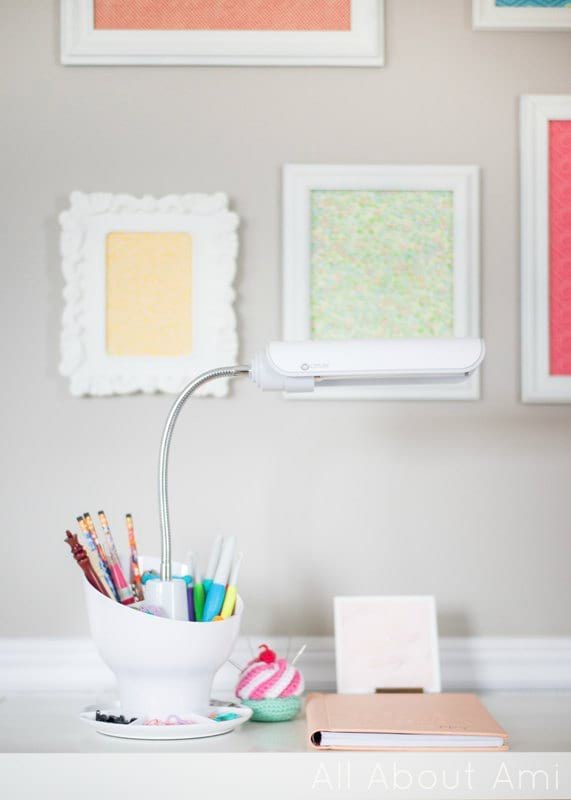 When working through crochet and knit designs, there are often many notions that are needed, from stitch markers and safety eyes, to yarn needles and threaders.  This organizer helps keep all my materials readily accessible with pockets of various sizes and depths.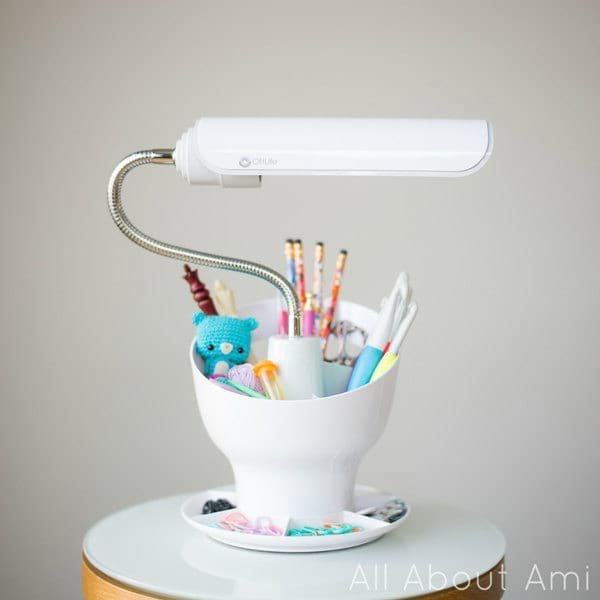 The upper storage area has tiered compartments that are deep, so they can easily store crochet hooks, scissors, and pens!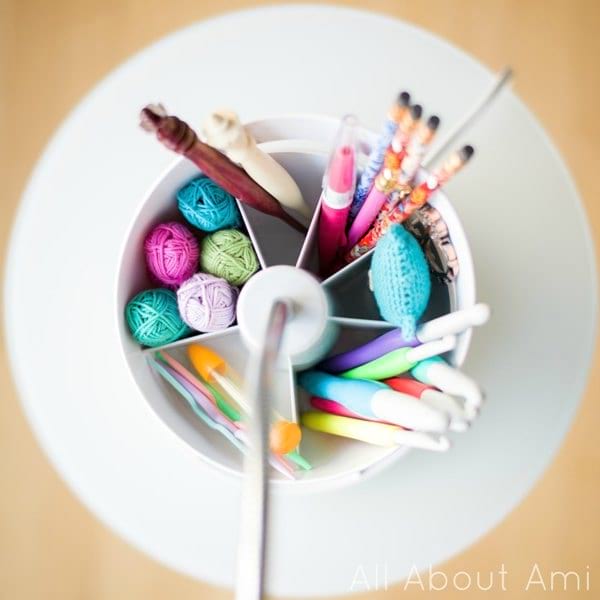 The lower storage tray has six rounded compartments for smaller supplies such as stitch markers, safety eyes, and threaders.  I chose the white craft space organizer, and I love how all my colourful supplies really pop against it!  The functionality of this lamp is fantastic since it does not simply take up space on a table or counter: it provides wonderful storage as well!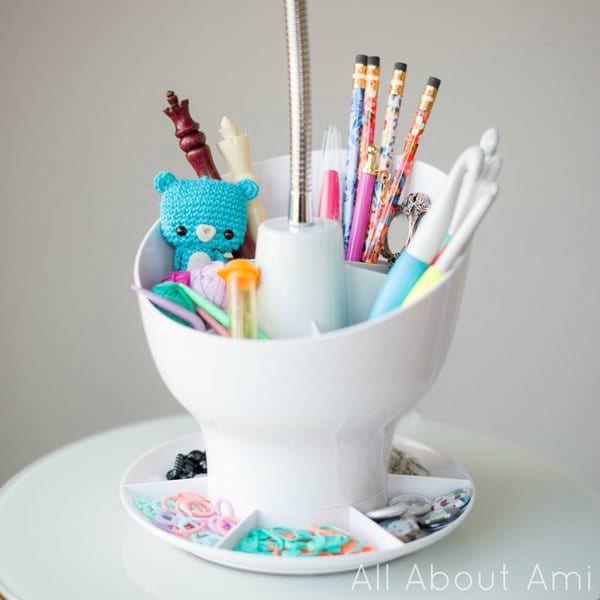 The multi-position shade rotates to adjust the lighting so you can get exactly how much light you want.  The flexible neck is very sturdy and easily adjusts the light angle over my projects.  Once you place the neck in the position that you want, it stays firmly put!  With its special natural daylight bulb, it allows for more accurate colours, and it is rated to last up to 10,000 hours!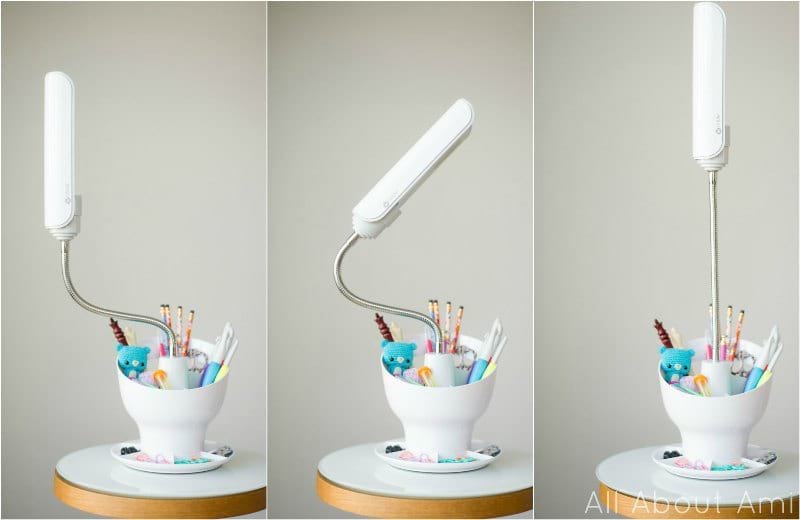 Since this is not a big floor lamp, I can easily unplug the lamp and carry it to another location in the house, whether that be on the sofa or my dining room table.  It is so convenient having all the tools I need at my fingertips PLUS good lighting when I need to work on amigurumi projects.  Here is an example of some photos I took at night with no editing: the picture on the left shows my normal dining room lighting while the picture on the right shows the same work under the OttLite!  What a big difference, hey?  The stitches are much better illuminated on the right (particularly with the black yarn) and I love how the light does not cast a yellowish tinge.  Clear, crisp lighting is so important when you need to find the next stitch and seam pieces together!  Sometimes you do not notice how poor your lighting is until you get a special craft light such as this one, and you see what a big difference it makes!  You do not want to be straining your eyes when reading, embroidering, painting, or doing any activity, so good lighting is worth the investment!  The photos below are from my newest design, the "Snuggle Bunny Pillows" that required A LOT of attaching!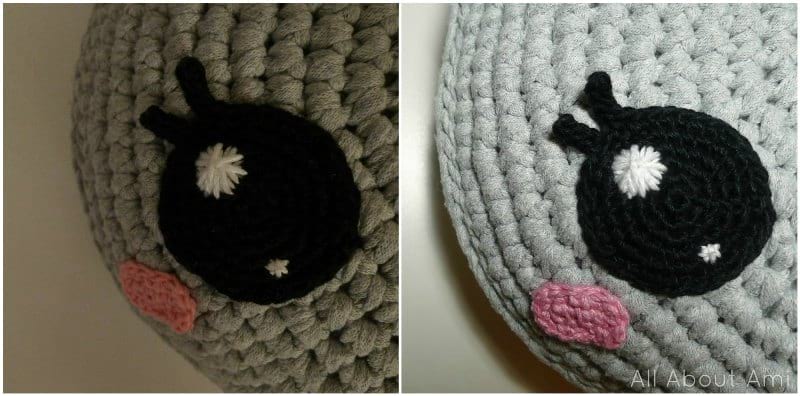 I am so happy that this special light is now part of my crafting arsenal, allowing me to see more clearly without straining my eyes so that I can crochet and knit longer!  I also dabble in jewelry making, sewing, and macrame, so this light will be put to very good use for years and years to come!  You can find the OttLite 13w Craft Space Organizer in the US at many different stores such as Michaels, Jo-ann Fabrics, and online at OttLite.com and on Amazon.  It has stellar reviews on Amazon, so you can see what other consumers are saying about their craft space organizers HERE!  If you want a fun pop of colour in your home or on your desks, this organizer also comes in turquoise and purple!  In Canada, you can find the organizer lamp at Michaels!  I am very excited because OttLite and I are teaming together to give one of YOU the chance to win the very same lamp that I have just reviewed!
***To enter this GIVEAWAY:
Leave a comment below telling us WHERE and WHEN you do the majority of your crafting (e.g. on your couch, in the car, at night, in the morning, etc.)!
This giveaway is open to residents of the USA and CANADA ONLY (sorry, overseas readers!) and will close on Saturday, April 14th at 8 PM MST!  You can also enter through Facebook and Instagram to increase your chances!  One winner will be chosen at random from all the entries!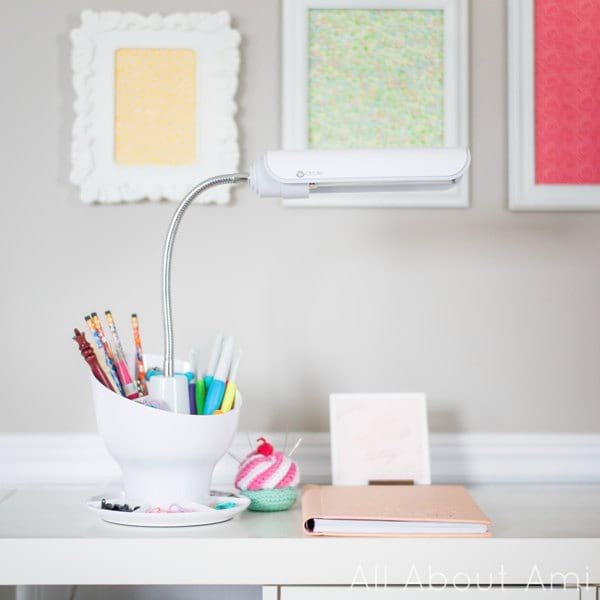 Note: I was provided with an OttLite 13w Craft Space Organizer Lamp for review, but all opinions expressed are 100% my own!