Over my years of blogging, one of the things I've loved most is becoming a part of the
online crafting community
.  I've enjoyed connecting with other crochet bloggers, designers, and yarn enthusiasts who are passionate about what they do!  Almost one year ago, I started attending a local Sip and Stitch group and became a part of a
real life crochet and knit community
!  I look forward to our monthly meetings, and it is wonderful being able to chat with people who are enthusiastic about the fiber arts and have the same interests as me!  Everyone brings their own projects, and we love seeing what everyone is working on and squishing each others' yarns!  Many are small business owners, so they can share their challenges or market advice with each other as they believe in collaboration over competition!  I highly recommend joining (or creating) a local crochet or knit group as being able to learn from one another, ask questions, bounce ideas, and inspire each other is amazing, and will help spur you on as you pursue your craft. {Photo credit below to
Sarah Willey of Mama Knows Luxury
!}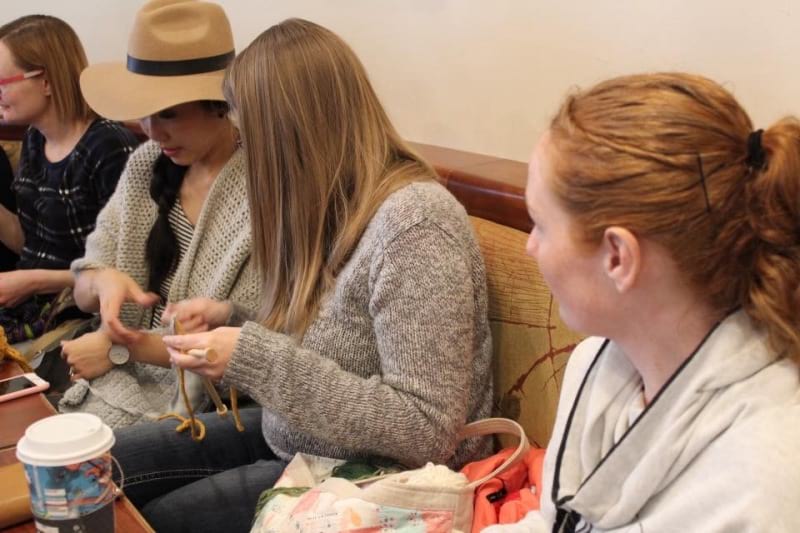 One artist in my Sip and Stitch group is
Holly
from
Ilex Everyday Couture
.  We first connected online when she showed me some
Spring Bunnies
that she had crocheted following my pattern.  They were her first amigurumi she had ever made back in 2013 as a new crocheter.  You can see her sweet bunnies below!  It was so neat to meet her in person during the very first Sip and Stitch I attended as it is always amazing connecting with online friends/readers in real life!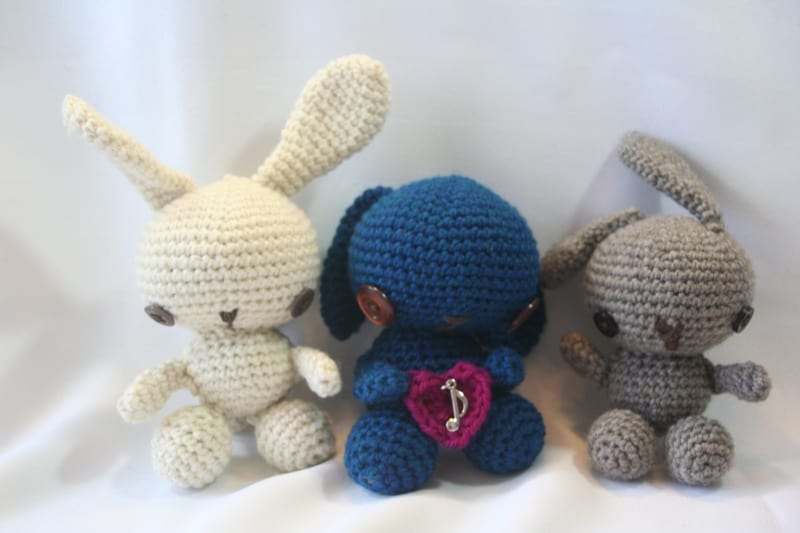 Holly fell in love with the fibre arts a few years ago when she decided on a whim to learn how to crochet in order to make something handmade under the Christmas tree for her daughter, and she has not stopped since!  She opened her
Etsy shop HERE
a year later at the urging of some friends.  As she focused on learning her craft and developing her personal niche, she began learning how to spin and dye her own yarn, and soon she started selling both finished items and yarn in her shop.  Holly places great importance on using environmentally sound practices when processing and dyeing her yarns.  She also tries to use local fibres as much as possible and tries to source materials from the most ethical sources as she can.  Holly loves learning new techniques and says that "
there is this magic that happens when I'm at my wheel in the middle of the night with the rest of the world asleep, music in my earbuds, and a beautiful rhythm of my hands and feet working together to make something original, unique, and full of my own soul
".  Isn't that beautiful?  Here is a picture of us below when I visited her during the
Etsy Made in Canada Show
back in September 2016!  We are standing behind Holly's spinning wheel, and she spins yarn during the lulls of her markets!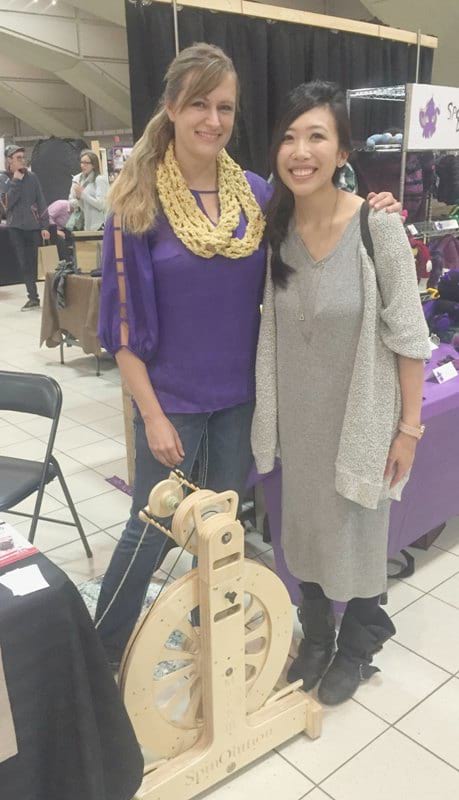 As mentioned above, Holly believes wholeheartedly in fair trade practices and humane treatment of the animals used to create her fibers, so many of her items are made with homegrown, local fibre (we live in Alberta, Canada).  Holly gifted me this stunning
Sassafras Alpaca Yarn
 that is sourced from a farm in Rollyview, just outside of Beaumont.  The farmer washes and cards the fiber and Holly spins it on her pedal-driven wheel in Edmonton.  She spins one ply of white and one ply of brown, and plies them together to get the marled look. I adore this gorgeous marled look and how luxurious it appears!  It's neat because this yarn uses the undyed natural colours of the animals, and since the brown is naturally-occuring, there is some variation in each skein!   You can find this alpaca yarn in her Etsy shop
HERE
!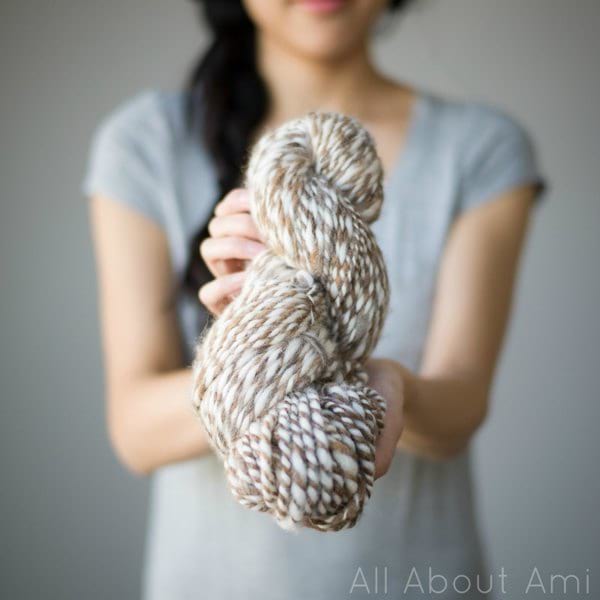 I LOVE how this alpaca yarn has been sourced locally and handspun by a local artisan and friend!  I can't wait to work with this alpaca yarn in the future, and I'm thinking of trying to knit my first pair of mittens with it!  Whatever finished item I end up making, I will always remember its special origins.  I encourage you to explore what locally sourced wools you can find in your areas whether that be in the USA, UK, or Australia as it will have a special significance, and you can support your local farms and spinners.  I know many people who love to travel (including myself) and picking up some local yarns sourced from that area as a wonderful souvenir!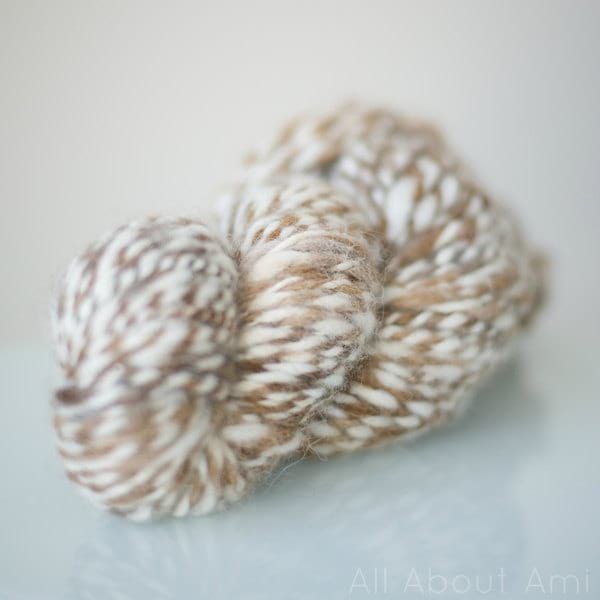 Holly provided me with this picture below showing you the roving she uses to create this marled yarn and how it looks worked up into a scarf!  It is incredible how that fluffy roving gets spun into yarn!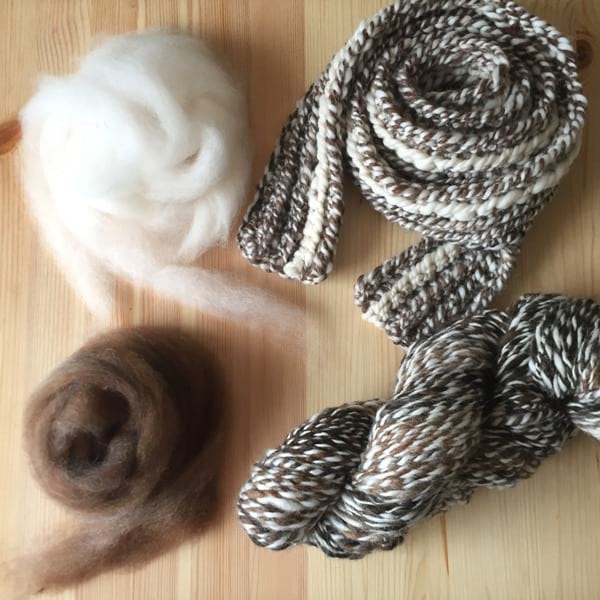 The very exciting part is that Holly and I are partnering together to give away one skein (100 g) of her lovely handspun alpaca yarn to one of my readers [GIVEAWAY NOW CLOSED]!  I know many of you are interested in working with more luxurious fibers, so this is an amazing opportunity!  Holly currently has 4 colourways in her shop that you can choose from: Sassafras, Peppermint, Spearmint, and Seashell.
***To enter this GIVEAWAY:
Visit Holly's Etsy shop HERE and leave a comment below telling us which colourway you would want to win (Sassafras, Peppermint, Spearmint, or Seashell)!
In the same comment, tell us what you would knit or crochet with it!
Optional: Suggest an alpaca colourway that you would love to see!
This giveaway is open WORLDWIDE and will close on Friday, April 7th at 8 PM MST!  You can also enter through Facebook and Instagram to increase your chances!  One winner will be chosen at random from all the entries!  Be sure to follow Holly on all her social media (Facebook and Instagram) to keep up to date with her work!
Note: Thank you to Holly for providing me with this alpaca wool and for sponsoring the giveaway!  All opinions expressed are 100% my own!