***You can purchase an INEXPENSIVE AD-FREE PDF of this pattern on Etsy HERE and on LoveKnitting HERE!  This beautifully formatted PDF includes BOTH the Dotty Beanie Knit Pattern and the Duo-Color Dotty Beanie knit pattern, as well as the step-by-step pictures.  It is a total of 6 pages including the cover page!  You can also find both patterns in my Easy & Modern Knits Pattern Bundle found HERE (includes over 10 of my knit patterns at a discounted price)!
I love discovering new stitches and poring through knit and crochet stitch guides and dictionaries!  In one of my knitting books, I found a beautiful and simple stitch called "The Dot Stitch" that intersperses purl stitches throughout knit stitches, providing some lovely and dainty texture.  I wanted to try and incorporate the dot stitch in a design, and I decided to try it out with a beanie!  For this beanie, I used some luxurious "Merino Yak Alpaca" yarn from the LB Collection.  It is a worsted weight (level 4) yarn that is 70% merino, 15% alpaca, and 15% yak- what an interesting mix!  As stated on their website, "the merino adds softness and bounce, the alpaca adds luster and drape, and the yak adds warmth and a bit of mystery to this luxury yarn".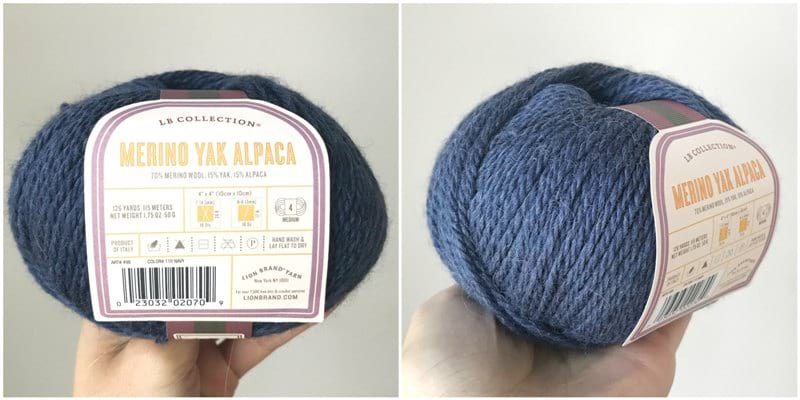 I started off with my Clover Takumi bamboo 4.5 mm 16″ knitting needles and knit about 2″ of ribbing.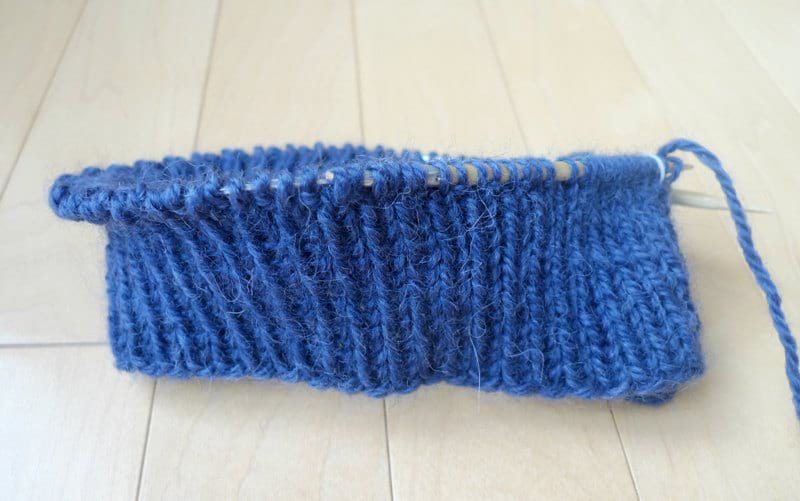 Then, I switched to 5 mm needles and began working the dot stitch.  The dot stitch is worked over 4 rounds as delicate purl stitches are scattered throughout the knit stitches.  I love the beautiful texture it provides and how it is not too complicated to achieve.  Once I was happy with the height of the body, it was time to begin the decreasing and crown shaping!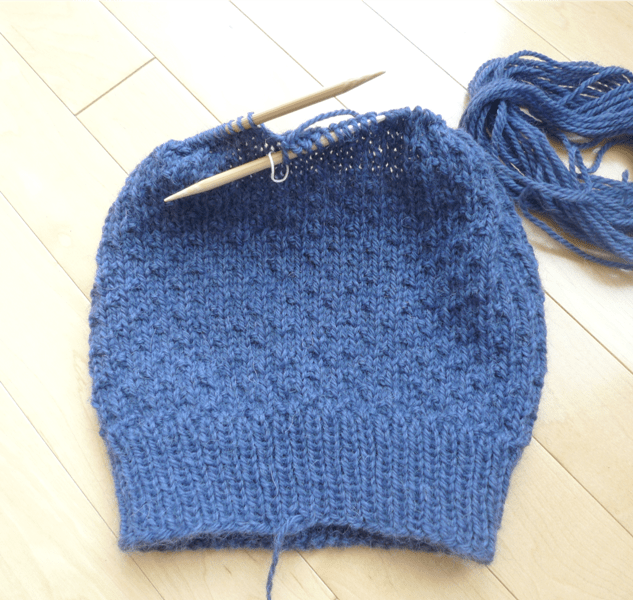 As you begin to work the decrease rows, the purl stitches will no longer line up any more, but it is not too noticeable since it is towards the top of the hat.  You can see the crown being shaped below!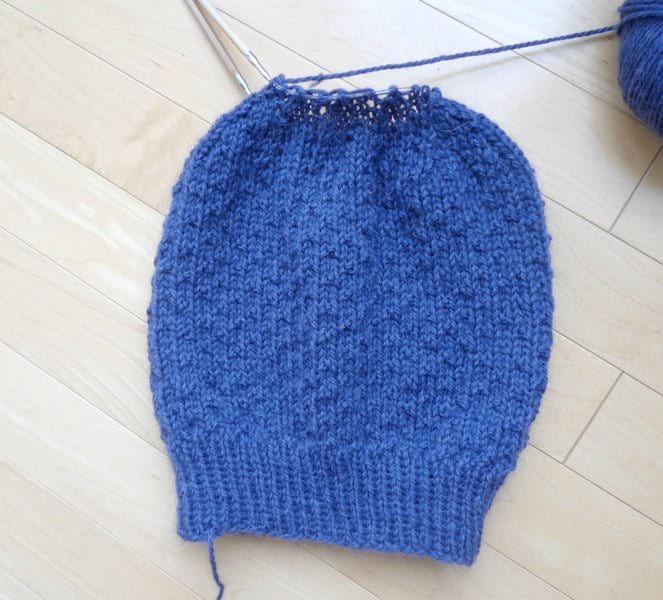 After the last round, you cut off the yarn and thread it through a tapestry needle.  You then weave the tapestry needle through the remaining stitches and pull tightly to close up the top of the hat.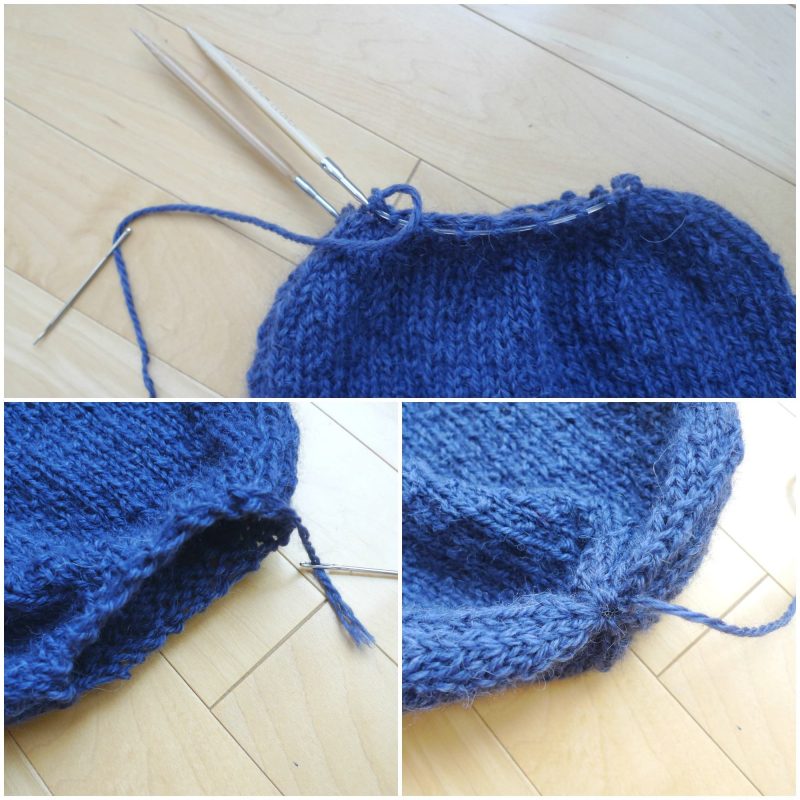 I decided to name this hat "The Dotty Beanie" since it uses the dot stitch, and I thought it sounded like such a cute name!  "Dotty" can mean amiably eccentric, amusingly absurd or composed of or marked by dots– let's go with the last meaning hehe!  The Dotty Beanie is very fun to work up, and I loved having this project on the go as it is a wonderful and portable travel project!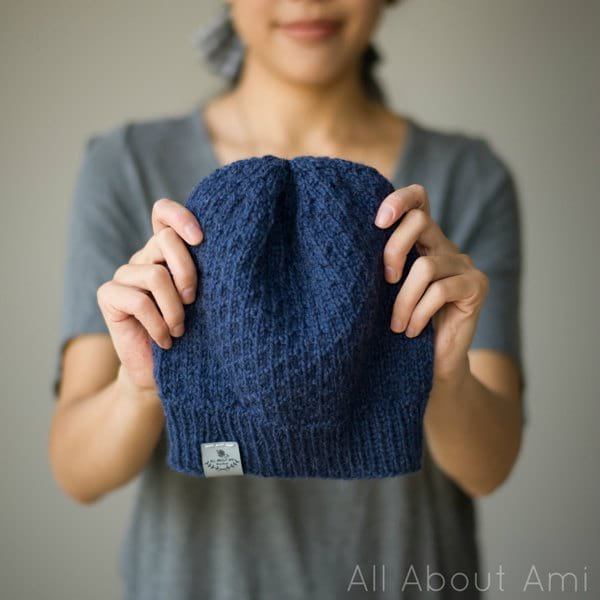 Once you get into the rhythm of the pattern and 4 round repeat, this design is very relaxing- I even worked on it as I went around "knalking" (knitting + walking at the same time)!  Check out the video of me knalking while working on a Dotty Beanie at our local anime convention in the video below (do you like my matching Totoro dress and Totoro cardigan?)!
*********************************
Here is the free knit pattern for The Dotty Beanie!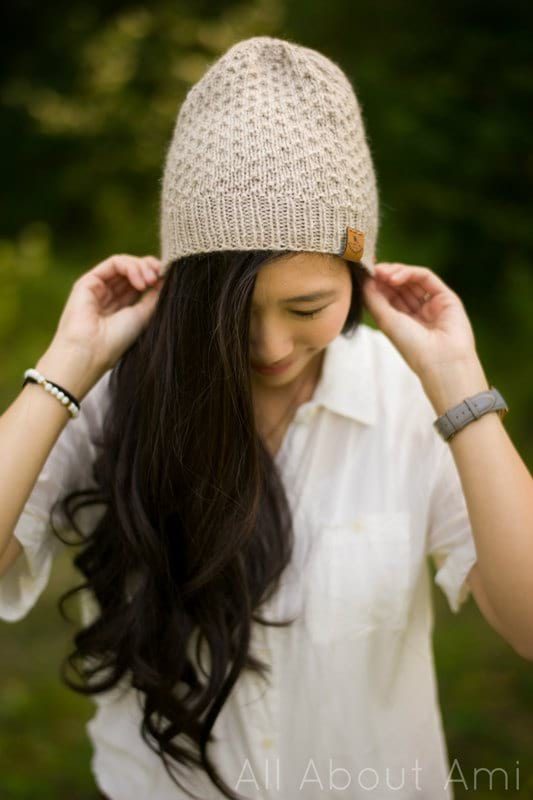 Notes:
The ribbed band is about 2″ tall- you can add or subtract rounds depending on how much ribbing you want.
If you would like to adjust the number of stitches for the cast-on, be sure to make it a multiple of 4.  Add more stitches to make the hat wider, decrease the number of stitches to make it narrower.
To make the hat slouchier with more height, add more rounds to the body.  To make the hat shorter, decrease the number of rounds in the body.
This pattern uses the dot stitch which staggers purl stitches among knit stitches for a beautifully textured and dotted look.  The dot stitch is worked over four rounds.
Keep checking to make sure your purl stitches are lining up appropriately in the body of the hat.  Once you begin the decreases, the purl stitches will no longer line up, but it is not very noticeable since it is towards the top of the hat.
For a seamless join, I cast on an extra stitch as demonstrated in this video HERE.
The decreases (K2tog or knit 2 stitches together) are worked in the knit stitch rounds (not the rounds where there are purl stitches).
The Dotty Beanie has plenty of stretch and can fit anywhere from a child to an adult.  My 5 year old daughter wears this hat and it has a cute and slouchier look to it.
This beanie uses slightly over 1 ball of Merino Yak Alpaca, which contains approximately 50 grams.  It is possible to make a beanie with just one ball but it will be shorter.  To do this, knit until Round 50 and begin decreases.  Keep working decreases as stated in pattern until 10″ yarn tail remains- pull through remaining loops.  A hat of this size fits my 3 year old daughter.
When adding a new ball of yarn, you can felt the ends together (rather than tying knots) since Merino Yak Alpaca yarn contains animal fibers.  See my "How to Felt Yarn Ends Together Tutorial" HERE!
Materials:
Gauge: 20 sts and 30 rows in dot stitch = 4″
We will begin with the ribbing.  Using 4.5 mm needles and long tail cast on (need 66″ tail for the cast-on), cast on 96 stitches.
R1-14: *K1, P1* around. (96 sts)
We will now begin the dot stitch.  Switch to 5 mm needles,
R15: *P1, K3* around. (96 sts)
R16: Knit around. (96 sts)
R17: K2. *P1, K3*, repeat around until two stitches remain.  P1, K1. (96 sts)
R18: Knit around. (96 sts)
Rounds 15-18 make up the four round repeat that will be repeated for the body of the hat.
R19-54: Repeat Rounds 15-18.
R55: *P1, K3* around. (96 sts)
We will now begin the decreases and crown shaping.  The purl stitches will no longer exactly line up, but it is not noticeable towards the top.
R56: *K6, K2tog*, rep 12 times. (84 sts).
R57: K2.  *P1, K3*, repeat around until two stitches remain.  P1, K1. (84 sts)
R58: *K5, K2tog*, rep 12 times. (72 sts)
R59: *P1, K3* around.  (72 sts)
R60: *K4, K2tog*, rep 12 times. (60 sts)
R61: K2. *P1, K3*, rep around until two stitches remain.  P1, K1. (60 sts)
R62: *K3, K2tog*, rep 12 times. (48 sts)
R63: *P1, K3*, around. (48 sts)
R64: *K2, K2tog*, rep 12 times. (36 sts).
R65: K2. *P1, K3*, rep around until two stitches remain.  P1, K1. (36 sts)
R66: *K1, K2tog*, rep 12 times. (24 sts)
Cut yarn and thread tail through remaining stitches.  Pull tight, tie knots and hide end.
Finished dimensions:
8.5″/21.6 cm wide (at body when flat), 9″/23 cm in height, 17″/43 cm circumference when unstretched
9.5″/24 cm wide (at body when flat), 9″/23 cm in height, 19″/48 cm circumference after repeated wears
***Please watch this video below to see me demonstrating HOW TO KNIT THE DOT STITCH with the four round repeat:
***********************
The Dotty Beanie is the very first hat that I have ever knitted and designed with worsted weight yarn!  I adore how lightweight and chic it is, and it is perfect for fall.  Sometimes you need a hat that is not too warm or bulky that you can wear indoors as well, and this is a great option!   Here is a side and back view to show you the slight slouchiness of the Dotty Beanie!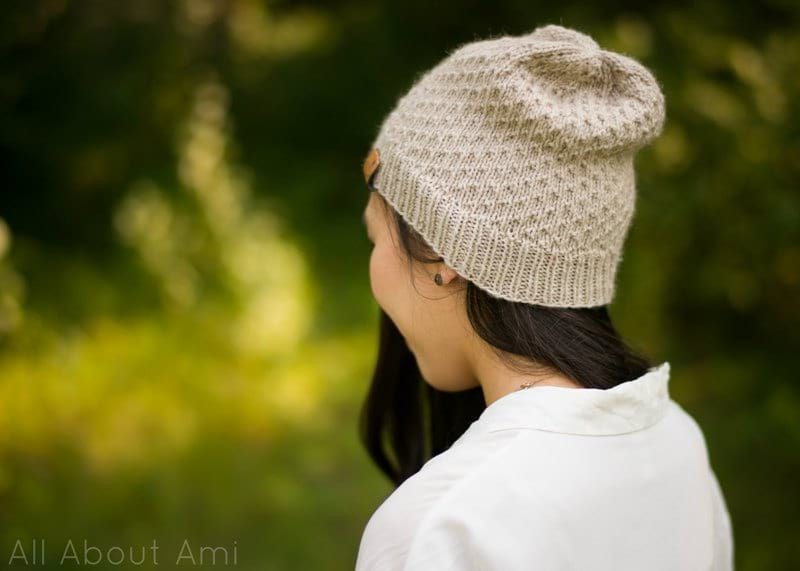 I adore the different shades available in Merino Yak Alpaca Yarn.  This "Oatmeal" colourway is one of my favourites as it is a beautiful neutral grey that will match with everything.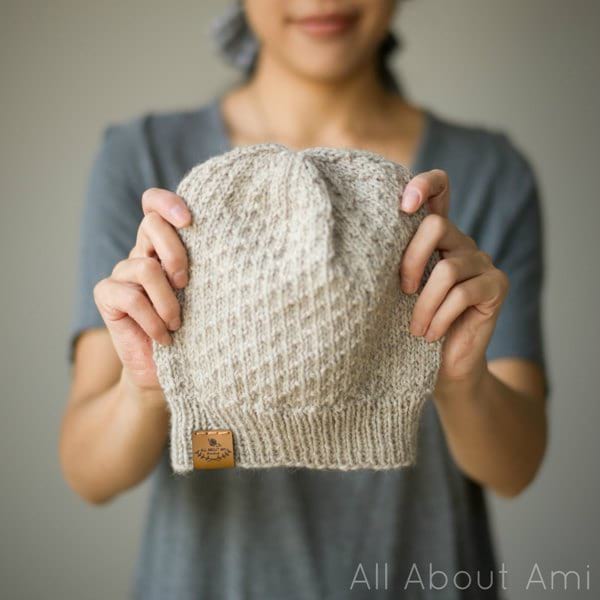 I knitted a blue Dotty Beanie as a part of a special anti-bullying campaign called #HatNotHate organized by Lion Brand Yarn in partnership with STOMP Out Bullying, the leading national anti-bullying and cyberbullying organization for kids and teens in the U.S.  The goal is to increase awareness about the impact bullying has on children and teens by rallying together and crafting blue hats to wear proudly on World Day of Bullying Prevention which is on October 1st, 2018.  They hope to create a new 'craftivist' movement to send the message that bullying is unacceptable, and encourage us to use the hashtag #HatNotHate when posting our hats to social media to show our support!  Blue is the color of awareness and solidarity, and they want to remind us that we are all in this together as we wear our blue hats proudly.  This is a great way to use our crafting skills for a larger movement and message to spread kindness and understanding!  We all have our differences and quirks, and that should be no reason for anyone to feel marginalized or have less worth.  As the girls become school-aged and will encounter "the real world", I am glad that STOMP Out Bullying provides tangible strategies on how to respond to bullying with a helpful Parents Page as well.  The landscape has changed so much since I was a child with cyberbullying and people hiding behind their computers and phones, so campaigns such as these are great to help raise awareness to this issue!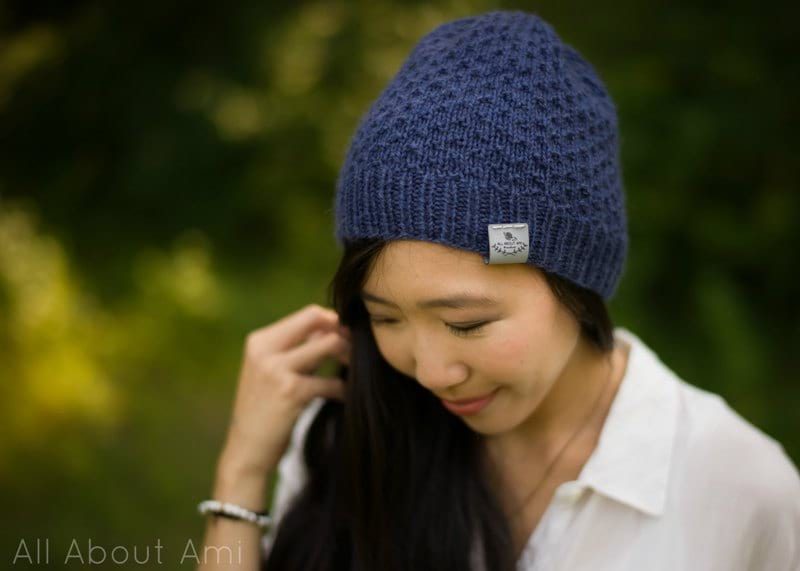 If you would like to get involved, you can knit or crochet a blue hat using this pattern or one of the 23 free knit and crochet hat patterns on the Lion Brand Yarn site HERE.  You can find out more information on the Hat Not Hate website HERE!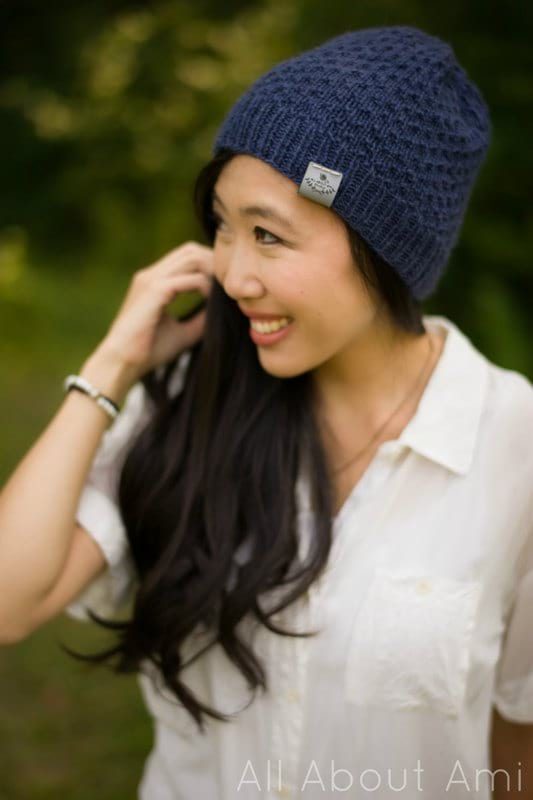 The Dotty Beanie is one of my favourite hats of all-time, and I hope it will become a favourite of yours as well!  There is something so soothing and satisfying as you watch the dot stitch build up.  This lightweight beanie is so sleek and stylish, and I am itching to make more in many different colours!  As you can see, I went on a dotty beanie knitting frenzy- I am gifting the oatmeal one to my sister, the blue one is for 5 year old Myla (it has an adorable extra slouchy look on her), and the purple one (using one skein of Merino Yak Alpaca as stated in the Notes above) is for 3 year old Brielle!  Are you curious to see which one I am keeping for myself?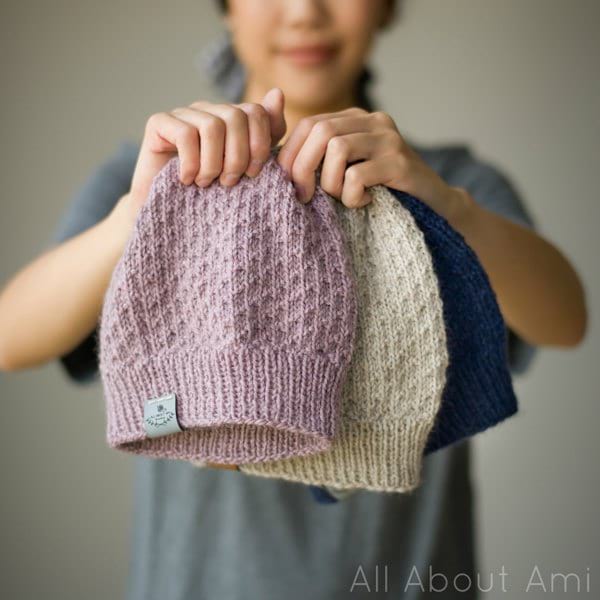 I was intrigued to see what the Dotty Beanie would look like worked up in two colors, so I experimented with using a contrast color for all the purl stitches.  Wouldn't the little colorful dots look so cute if they stood out against a different-colored background?  I'm so glad I tried it out as my Duo-Color Dotty Beanie looks amazing- this is the one I will be keeping for myself!  The free pattern for the Duo-Color Dotty Beanie can be found HERE!  Keep in mind that if you purchase the Dotty Beanie Pattern on Etsy HERE, it contains both the single color and duo color patterns!  You can also check out the "Easy & Modern Knits Pattern Bundle" as it contains all the knit patterns I've designed (over 10) at a discounted price!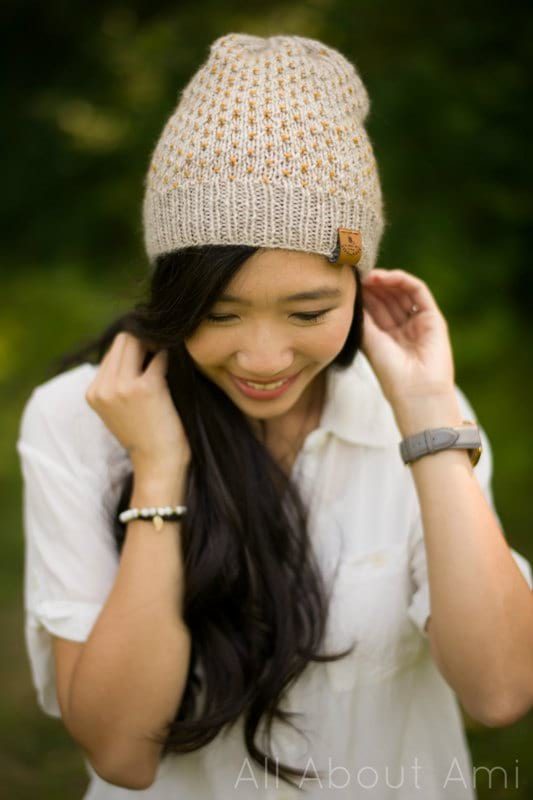 Be sure to subscribe to my e-mail newsletter HERE so you'll get the notifications right away whenever I post a new design or pattern!  Enjoy making your own Dotty Beanies, everyone!  Use the hashtag #thedottybeanie or #dottybeanie on social media if you make this hat so we can all see your work!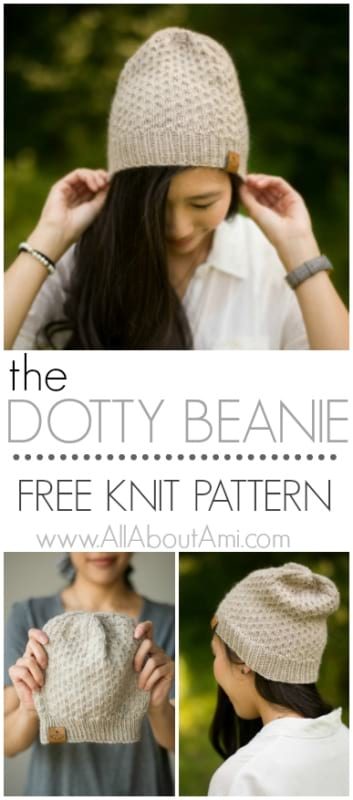 Note: Thank you to Lion Brand Yarn for providing the yarn for this design!
This pattern is an original pattern by Stephanie Lau of All About Ami.  Please do not claim this pattern as your own. If you wish to share this pattern, you may link to this pattern but please do not reprint it on your site. You may keep a copy for your own personal use but please DO NOT sell the pattern or distribute it.
You may sell products made from this pattern but please clearly credit the design to me, Stephanie Lau of All About Ami, and provide a link to my blog www.AllAboutAmi.com.  Permission is NOT granted for mass production or factory manufacturing of any kind.  Thank you for being respectful and for your understanding!