Once again, this blog post is somewhat of a departure from what I typically blog about (crochet, baking, travel), similar to when I blogged about "My Maternity Fashion" here.  At first I was hesitant about whether I should blog about this, but I decided that other mamas and mamas-to-be might find it helpful, so I decided to go for it!  I will highlight two Canadian companies that have made items that I've loved so far as a new mama 🙂
I always knew I wanted to breastfeed Myla from the very beginning because of all the health benefits for both Myla and I (not to mention it also burns 500 calories a day!).  I must say that I've really been enjoying it for the past 4 months and I've found our nursing sessions to be precious bonding time.  After getting the hang of it in the comfort of our home, I was nervous about taking our little newborn out and having to feed her in public settings. 
I knew that wearing certain clothing items and outfits would make nursing in public very cumbersome, and I hadn't even thought about how my wardrobe would now be somewhat restricted since I was breastfeeding (I thought I was already past the "wardrobe limitation" phase of being pregnant!).  Button-down shirts, v-necks, and tank tops + cardigans were now the way to go as I would scan each item in my closet and assess how easy/difficult it would be to feed Myla in it.  I decided to research what different nursing clothing options were available to facilitate breastfeeding in public. 
I came across a Canadian company based out of Montreal called "Momzelle" that was founded by a mom named Christine Poirier.  Christine made her own nursing top after having her baby daughter and started Momzelle after all her friends were asking about her tops.  As I browsed the different Momzelle clothing items, the items that stood out to me were the tank tops.  I knew having a nursing tank top would be a good investment since I could layer different pieces ontop of it (cardigans, shirts) in addition to wearing it on its own.  I ended up ordering two black tank tops: the "Original Nursing Tank Top" and the "Xtra Long Nursing Tank Top".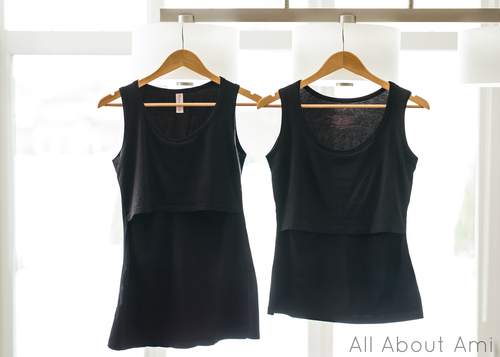 I was pleasantly surprised when they arrived shortly in the mail.  They felt like they were very good quality!  These two black tank tops are made out of 94% cotton and 6% spandex.  One of my tank tops was made in Canada while the other was made in Peru.  Momzelle states that all of their nursing clothing is ethically made.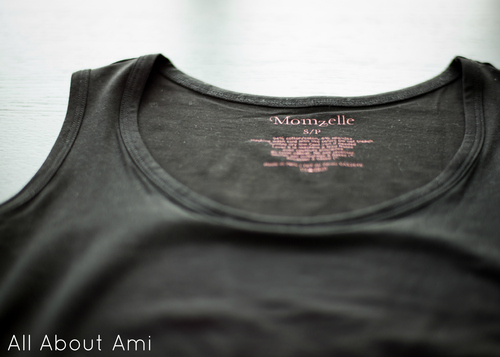 Both tank tops have these openings for discrete breastfeeding.  It makes breastfeeding a lot easier as you do not have to lift your entire tank top or shirt up to feed- your belly and back remain covered and the baby has easy access for feeding!  If you would like to see photos of some Momzelle tops in action with nursing moms, click here.  For you "Dragon's Dens" fans out there, Christine was actually featured on the show and got funding for Momzelle- check out the clip here!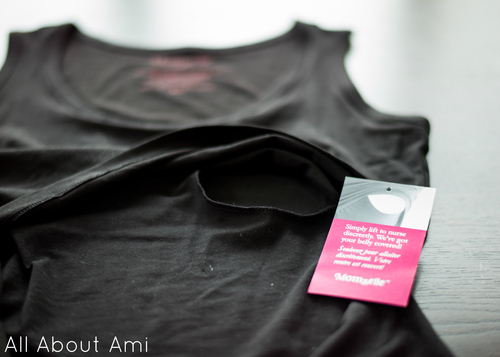 I was excited to try them on right away as it's always a little scary ordering clothing online as you can never guarantee a perfect fit.  I was so happy that I had chosen the right size as they fit me very well!  Both tank tops were incredibly comfortable and had a sleek look.  This is the "Original Nursing Tank Top"!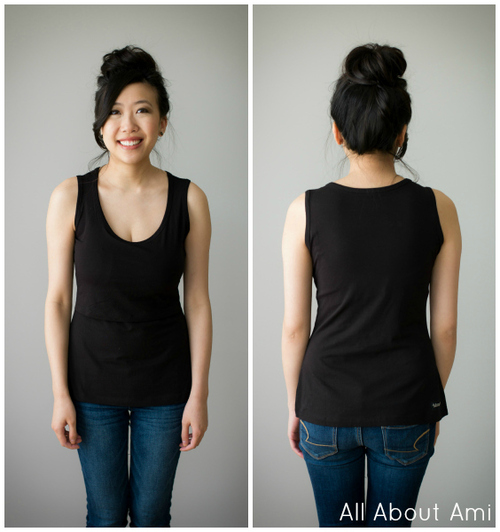 You need to wear a nursing bra with these tops and I love how the thick black straps of the tank tops cover the bra straps.  There are nursing tank tops available on the market that have built-in bras, but in my experience, I found them to either be too low-cut, less supportive or less comfortable.  The flaps are quite discrete, especially since these tank tops are black and when items are worn ontop of them. This is the "Xtra Long Nursing Tank Top"!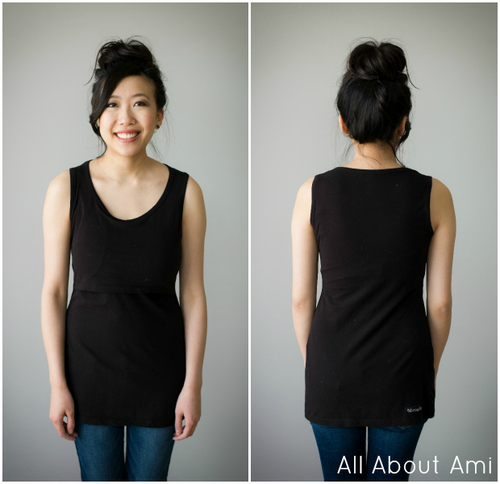 I am particularly happy with the "Xtra Long Nursing Tank Top" as it can be hard to find tank tops of this length, especially a nursing one!  It's nice having a tank top that doesn't ride up with such great coverage (perfect for extra tall mamas too!).  I've worn this top so much ever since receiving it in the mail, and it's stretched a bit since it is 6% spandex.  Overall though, it's held up well.  I thought I would show you how I styled some of my outfits featuring this long tank top…
Here I paired it with an oversized cardigan, a scarf, and jeggings!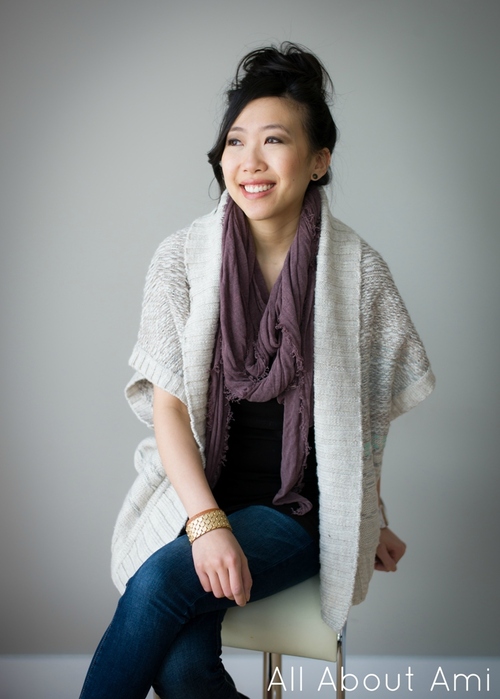 For a bit of a dressier feel, I paired it with my peach blazer and jeggings.  A simple black tank top is so versatile…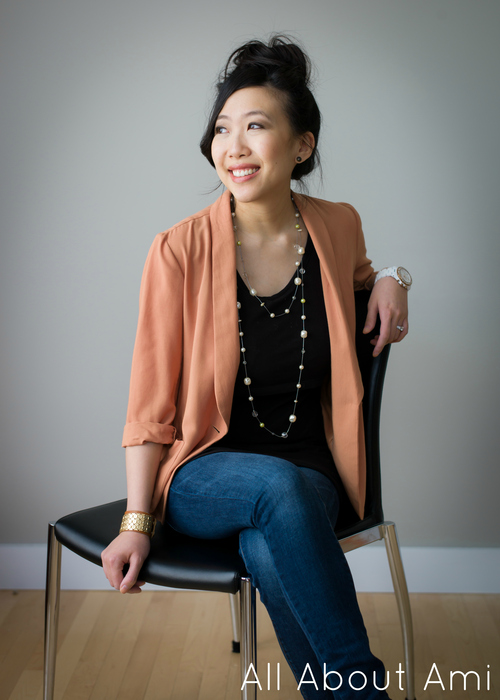 I absolutely love wearing leggings since they are so comfortable.  I practically lived in leggings while I was pregnant and I wanted to continue wearing them post-partum, particularly since I still could not fit into my pre-pregnancy jeans!  This long tank top works perfectly with leggings, and I am so happy that I don't have to lift up my long tunics or tops in order to feed Myla.  Here I layered a chambray shirt and long cardigan overtop my long nursing tank top with leggings and a colourful scarf.  This has been a perfect winter outfit on those cold days.  Keeping all the layers open facilitates easy access to the nursing tank top and easy breastfeeding!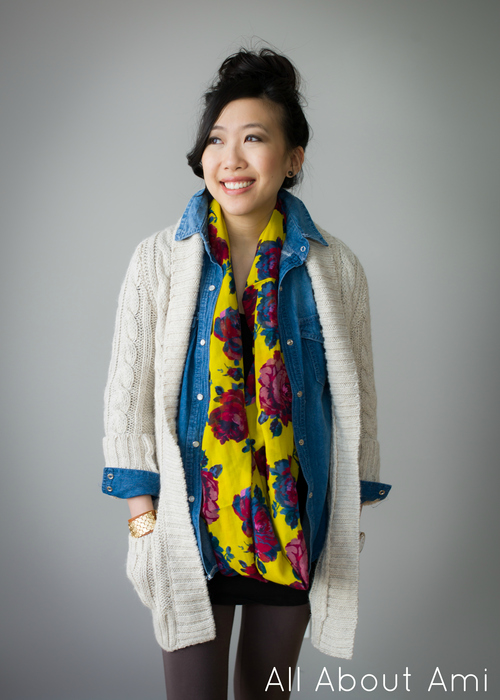 Haha, we happened to go grocery shopping this same day we were taking these shots, so I thought I'd show another typical outfit I've worn out and about.  Here is my Xtra Long Nursing Tank Top paired with my high low sweater, jeggings, circle scarf and over-the-knee boots.  I really love the length of this tank!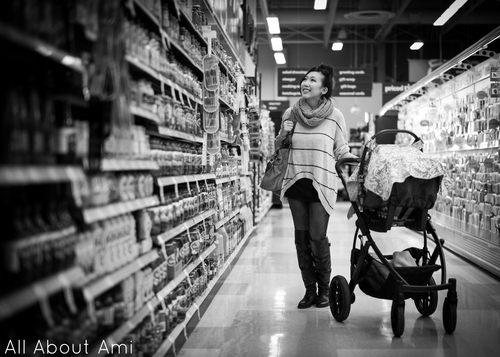 Here is a picture of my sweet baby girl Myla and I at a baby shower!  I am wearing the same long tank top paired with leggings and a crocheted sweater ontop.  Both this sweater and the above sweater are light and can be easily lifted away for breastfeeding.  I just love Myla's big smiles and adorable laugh…melts my heart!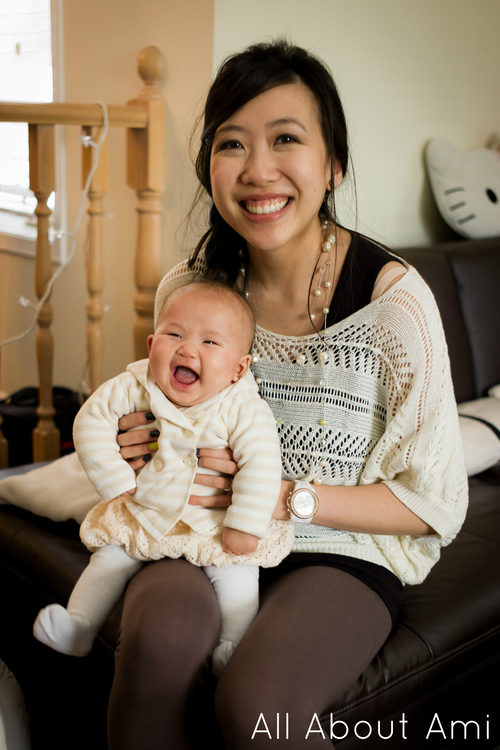 I wear my "Original Nursing Tank Top" with shorter cardigans, like these two below: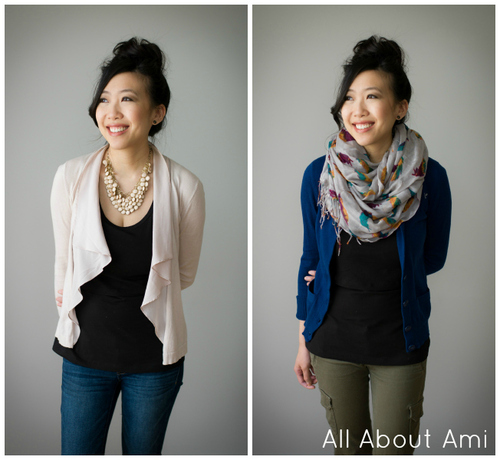 Did you notice the feathers scarf in the above outfit?  It's no ordinary scarf….it's actually a nursing scarf!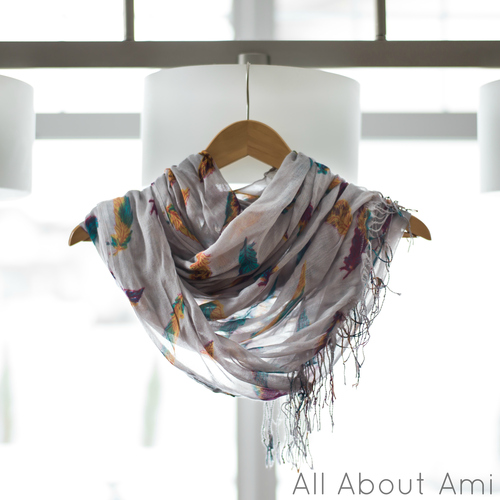 CoverBoo Couture is a line of nursing scarves from Edmonton, founded by a mom named Maria who wanted to nurse discretely in public.  These scarves are perfect for moms who want more coverage while nursing or for those who have distractible babies!  Just how does this scarf turn into a cover?  Let me show you!
You can wear the CoverBoo doubled up like I am here, knotted, or as a long circle scarf.  It's neat because these scarves serve as a fashion accessory in addition to a nursing cover, and it's very convenient whenever you want to nurse since you are already wearing your cover!  They can be easily stored in your purse too since they are so lighweight. 
When you're ready to nurse, you unwrap the scarf…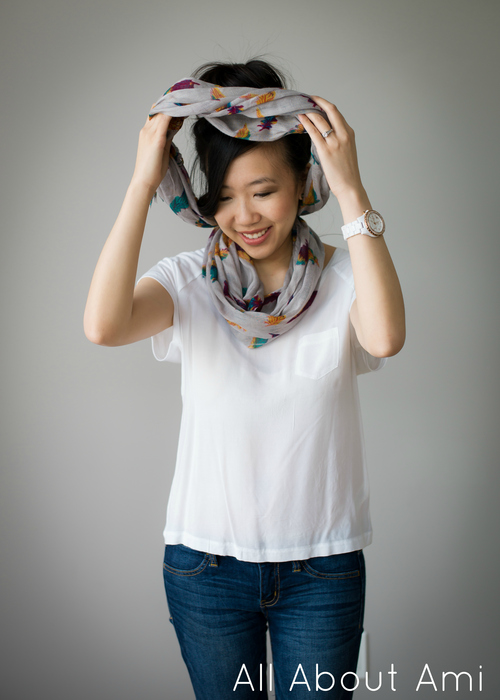 So that it's a single layer like this!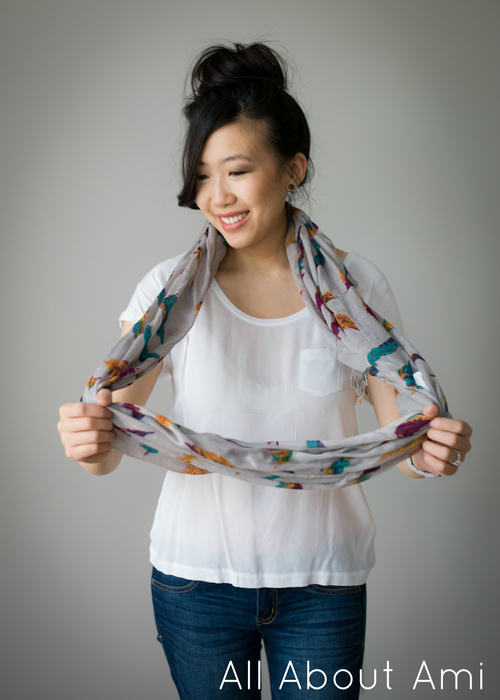 Then you look for the neck hole…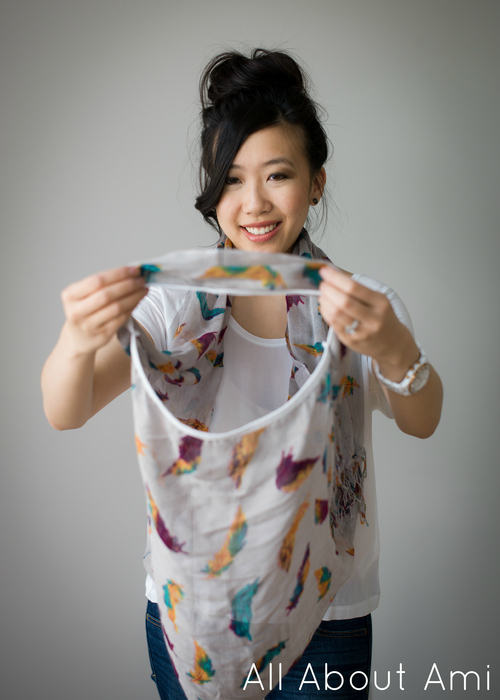 And slip your head through it!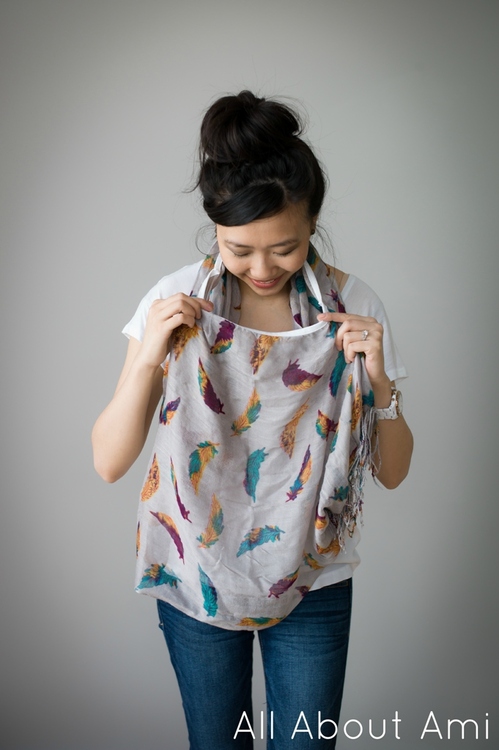 Pull your arm through…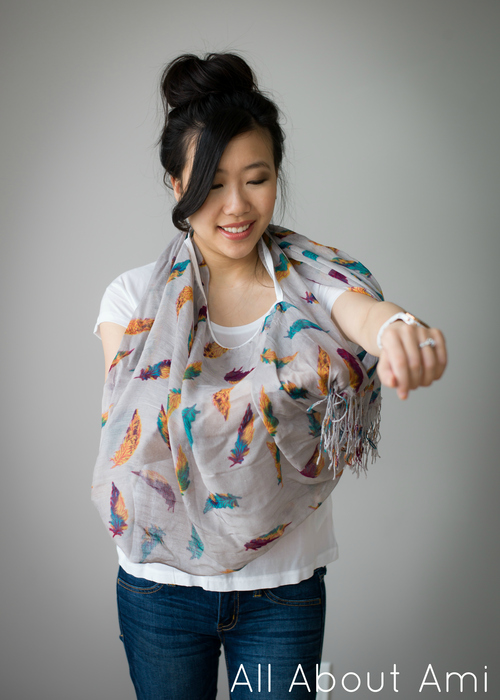 And you're ready to nurse your sweet baby!  You get great coverage and baby is less distracted by what's going on around them 🙂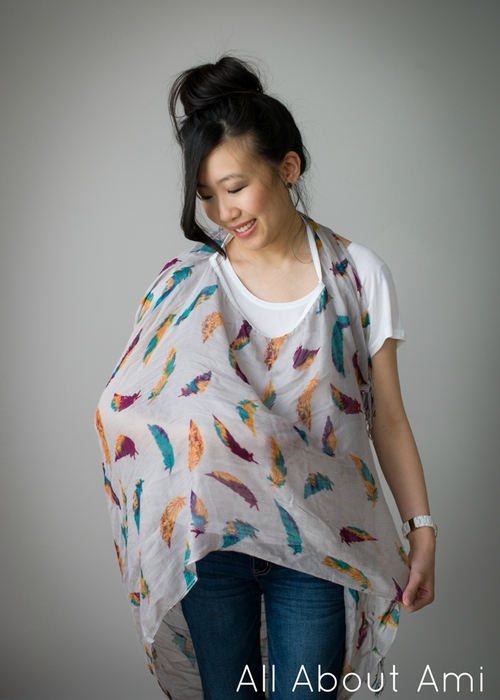 Check out this video of Maria demonstrating how to use a CoverBoo here and see it in action here.  BabyBellyKelli also did a great video review of her CoverBoo here.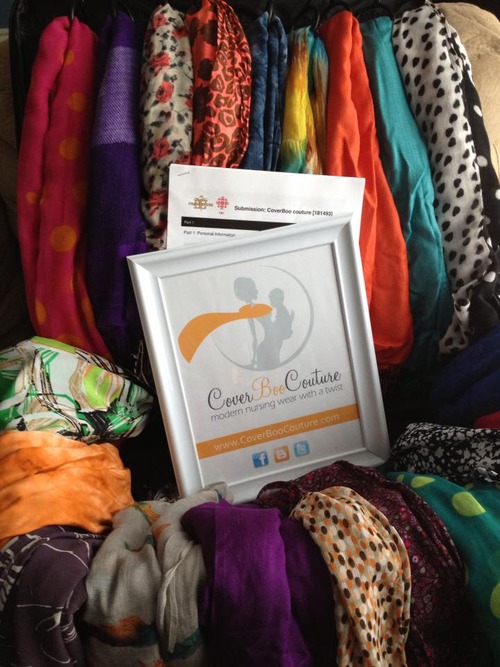 These CoverBoos are all designed and manufactured in Canada, and they come in an array of patterns and fabrics.  Their lightweight, airy feel are perfect for the upcoming spring and summer months, and Maria just released her Spring Collection last week!  These nursing scarves look very different than the other nursing covers currently on the market, and they are such a clever and simple design.  They don't offer a rigid neckline as others do (see here), but you can always lift the opening at the neck hole to peek and make eye contact with your baby!
I love that both of these companies are Canadian and founded by real moms who were making products to help them on their breastfeeding journeys.  I also love scoring good deals, and I managed to purchase all of these products when they were on sale!  Momzelle had a great Black Friday sale (tops up to 40% off with an additional 10% off) and CoverBoo Couture had an amazing Christmas Eve sale (50% off all CoverBoos).  Thus, if you are interested in any of their products, I highly recommend liking their facebook pages so you can get their notifications and keep up-to-date with their products!  You can find the Momzelle Facebook page here and the Coverboo Couture Facebook page here. 
I approached both companies and told them how I would be writing about my positive experiences using their products.  I asked if they could provide any discounts for my readers in case they were interested in purchasing their products right away!  Both companies replied incredibly promptly and were very generous.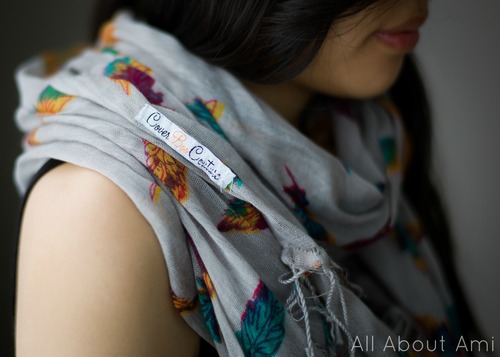 Maria of CoverBoo Couture is offering a 15% off discount for readers of "All About Ami" with the coupon code "AMI15", and it expires on February 28 (Canadian shipping is $5, international shipping is $10, and free local pick-up is available if you live in Edmonton).  Check out the CoverBoo Couture website HERE and see if you want to order any for yourself or for your friends!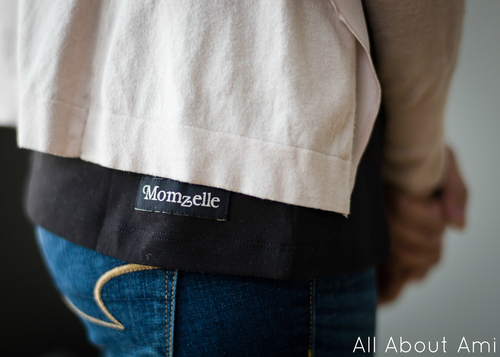 Momzelle is offering a $5 discount for readers of "All About Ami" with the coupon code "AMIGRMI5" (no expiry date) and a $30 gift card as a give-away!  ***To enter, please leave a comment below stating which nursing top you would buy if you won the $30 gift card!***  Check out the Momzelle website HERE.  This giveaway is open worldwide until Thursday, February 28.  I will randomly choose a winner and announce who it is on my facebook page HERE.    For your information, shipping is $5 per order in Canada and the US (excluding Hawaii and Alaska) and is pricier to other countries (see shipping costs here). [NOTE: The giveaway is now CLOSED: Congrats to Sarah Clymer, the winner of the $30 gift card!!!]
I hope you've enjoyed reading about my nursing fashion and how these products have made it a lot easier to breastfeed my baby girl.  I think the nursing tops and nursing cover are a good investment, especially if you consider how long moms breastfeed for and if there are plans on breastfeeding more children in the future.  The tank tops and cover also work well together for those who want a lot of coverage while nursing in public as absolutely nothing is exposed.  They would make great gifts for your friends or family who are expectant or new mamas who are going to nurse (particularly the CoverBoos since they're one size fits all!).  Thank you to Momzelle and CoverBoo Couture for your great products and for providing us with coupon codes too!  I love how they both made the coupon codes based on "amigurumi" [the Japanese art of knitted/crocheted stuffed animals, which is what my blog is all about in case you're new here!].  I had fun putting together these outfits and showing you my style and how I've adapted my wardrobe in my new role as a nursing mama! 
Please feel free to forward this post to your pregnant or mama friends as well so they can enter the giveaway and access these awesome discount codes too 🙂  Thanks for reading and I'd love to hear what you think about this post!
~ Stephanie ♥
[ UPDATE 2015: I have written another Momzelle review for some of their new tank tops!  You can read the new blog post HERE!]