It's been such a fun challenge figuring out what knit and crochet items I can create using a specific amount of big stitch merino wool from the Etsy store Mama Knows Luxury.  With 3 kg/6 lbs of wool, I was able to knit my Extreme Knitted Blanket.  With 1 kg/2 lbs of wool, I was able to crochet my Extreme Crocheted Rug.  My smallest quantity of wool was 1 lb of the mint green, and I contemplated what small item I should make: perhaps a cowl or hat.  However, I wanted to try making a cushion, and I wondered if I would have enough!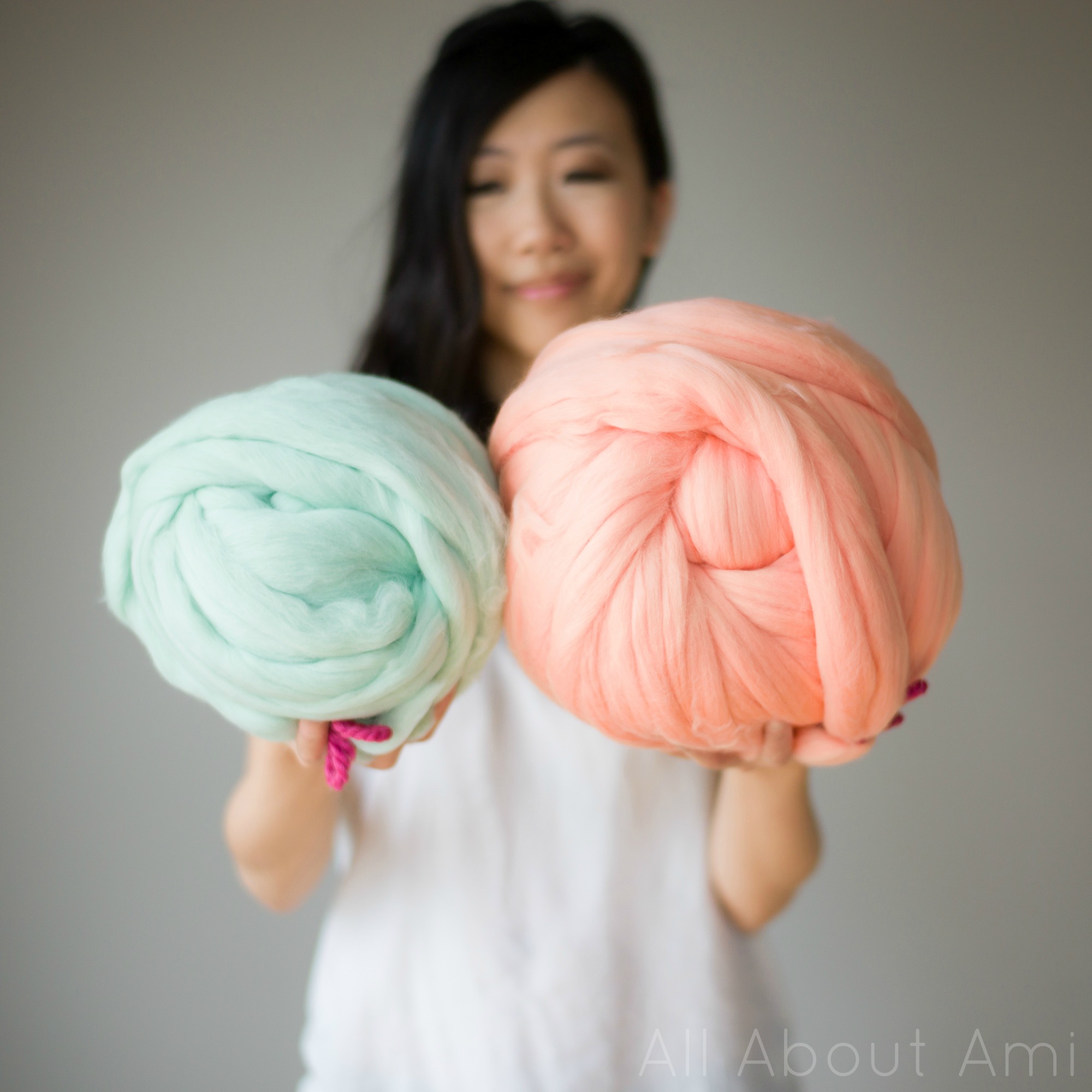 I decided to once again split my big stitch wool (see my previous Extreme Crocheted Rug post to see how I did this myself) so that I could double my yardage.  I used my jumbo 40 mm crochet hook made of poplar to crochet a series of chain stitches.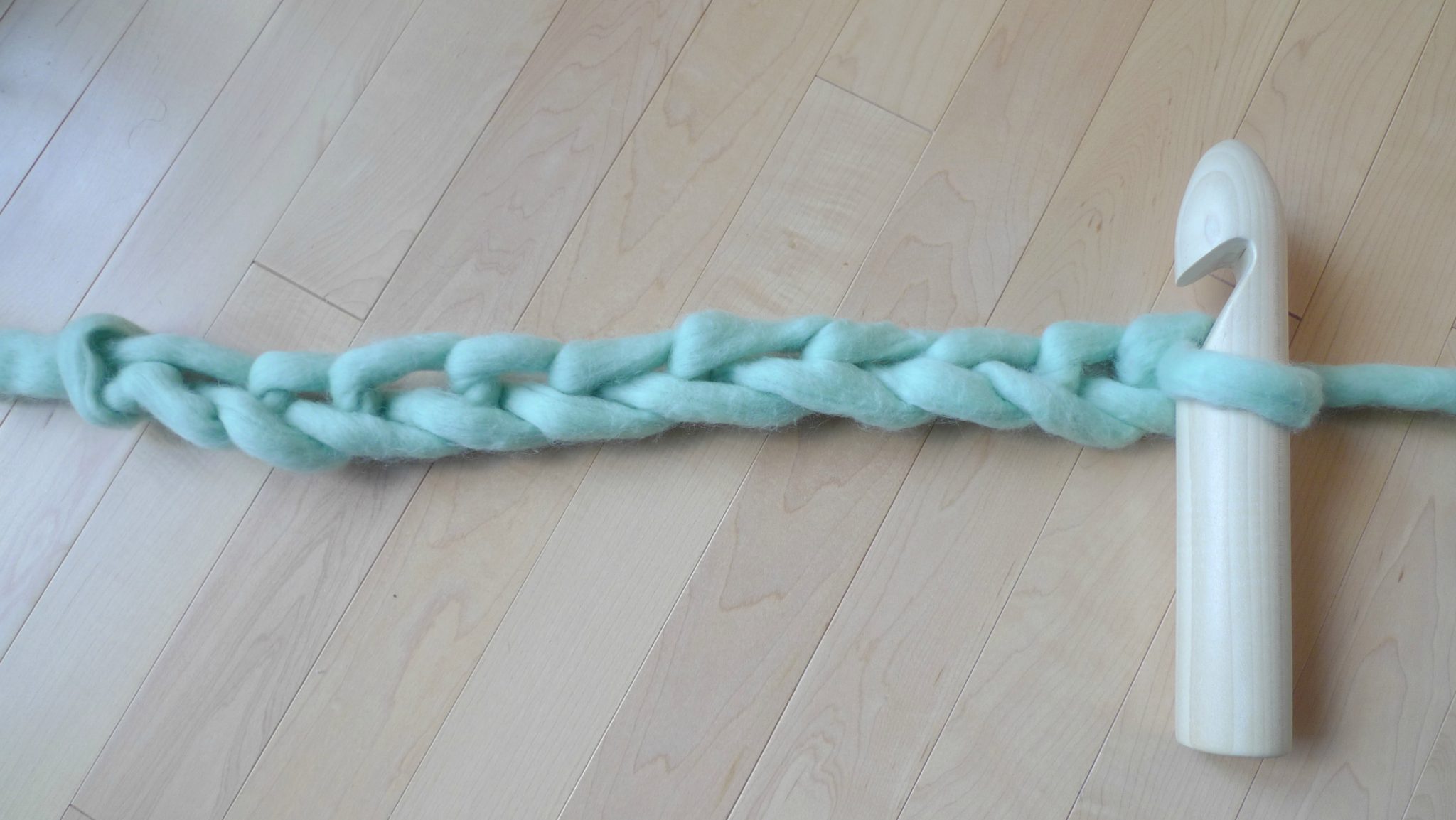 I then created an oval by working slip stitches in the back loops of these chain stitches (see my detailed "How to Crochet Around a Foundation Chain" tutorial HERE).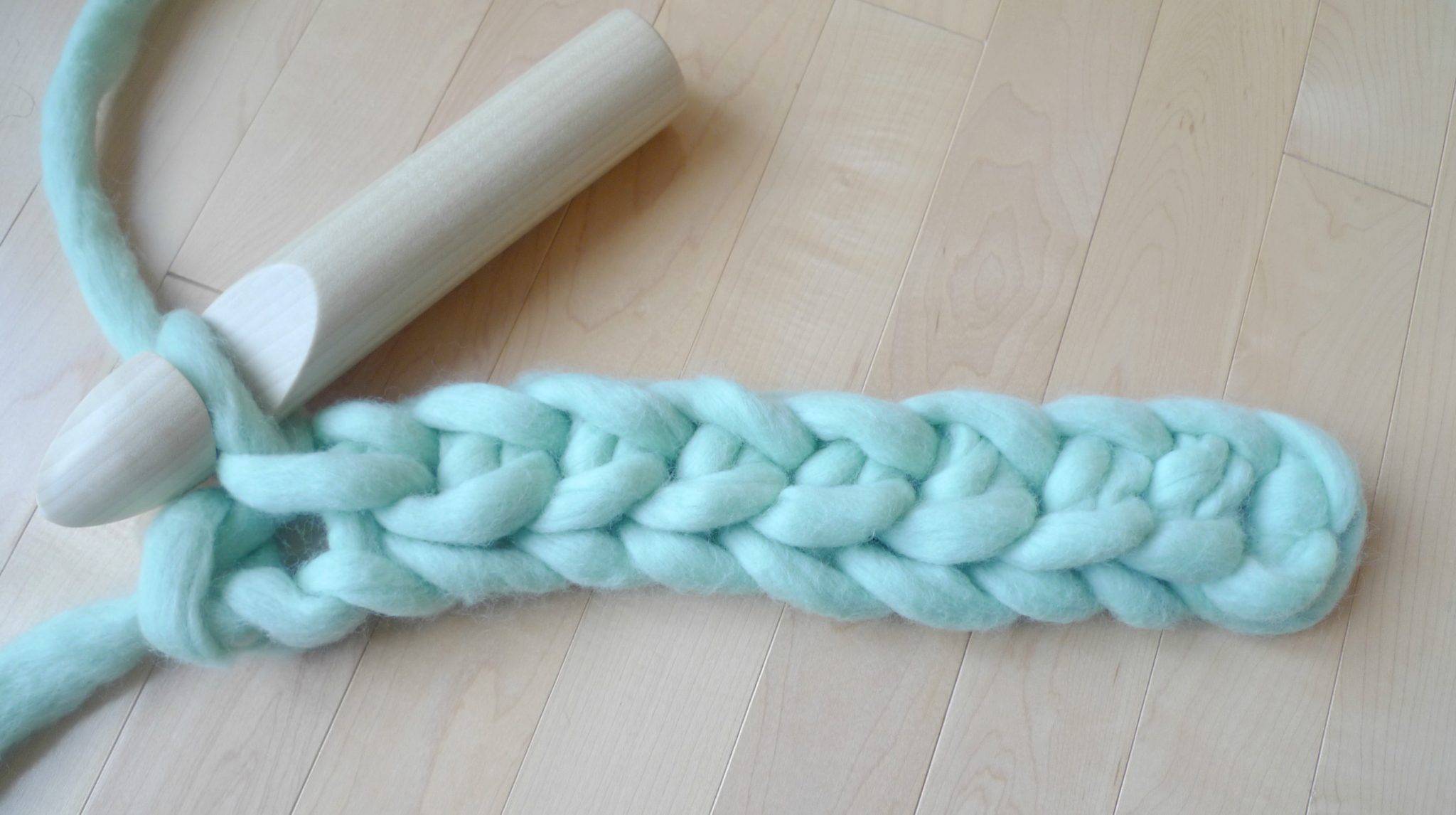 Next, I turned my work and crocheted slip stitches along the front loops of the chain stitches.  The oval is complete!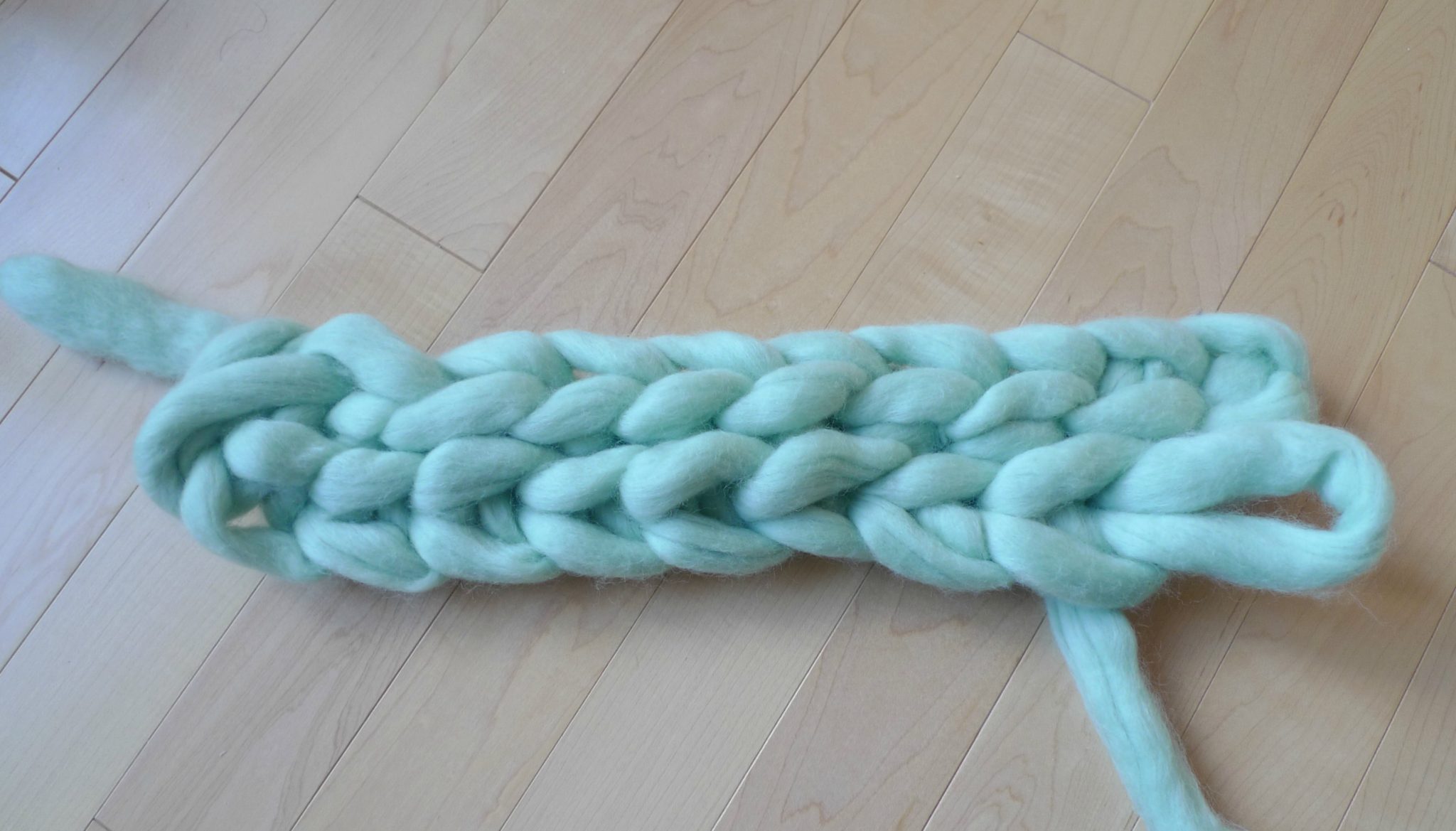 From here, I decided to work slip stitches in the back loops only to create a unique and textured look.  As you can see, I am actually using a shoelace as my stitch marker (I worked in unjoined continuous rounds).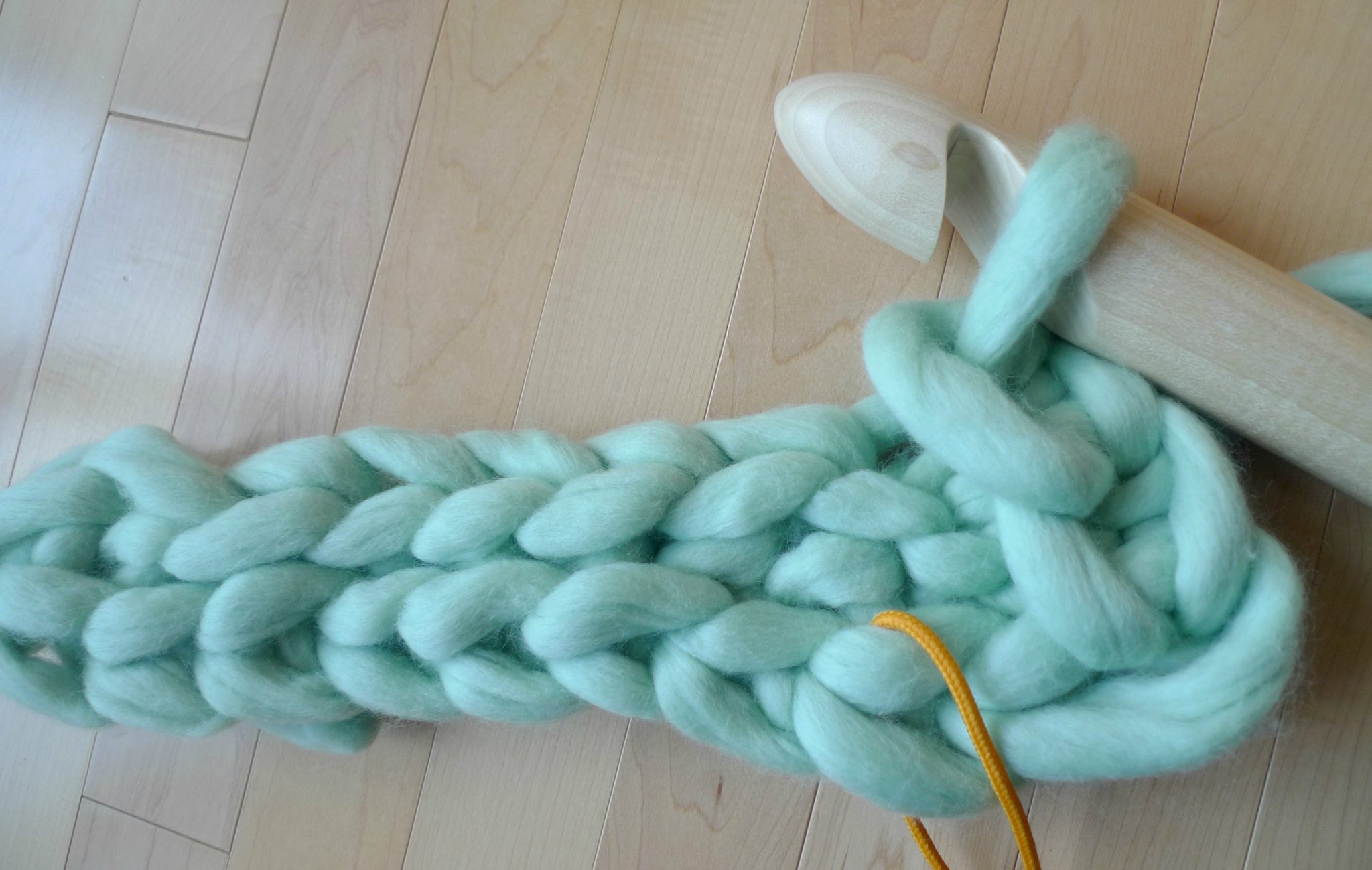 By working slip stitches in the back loops only, the front loops are left untouched and create a really neat effect!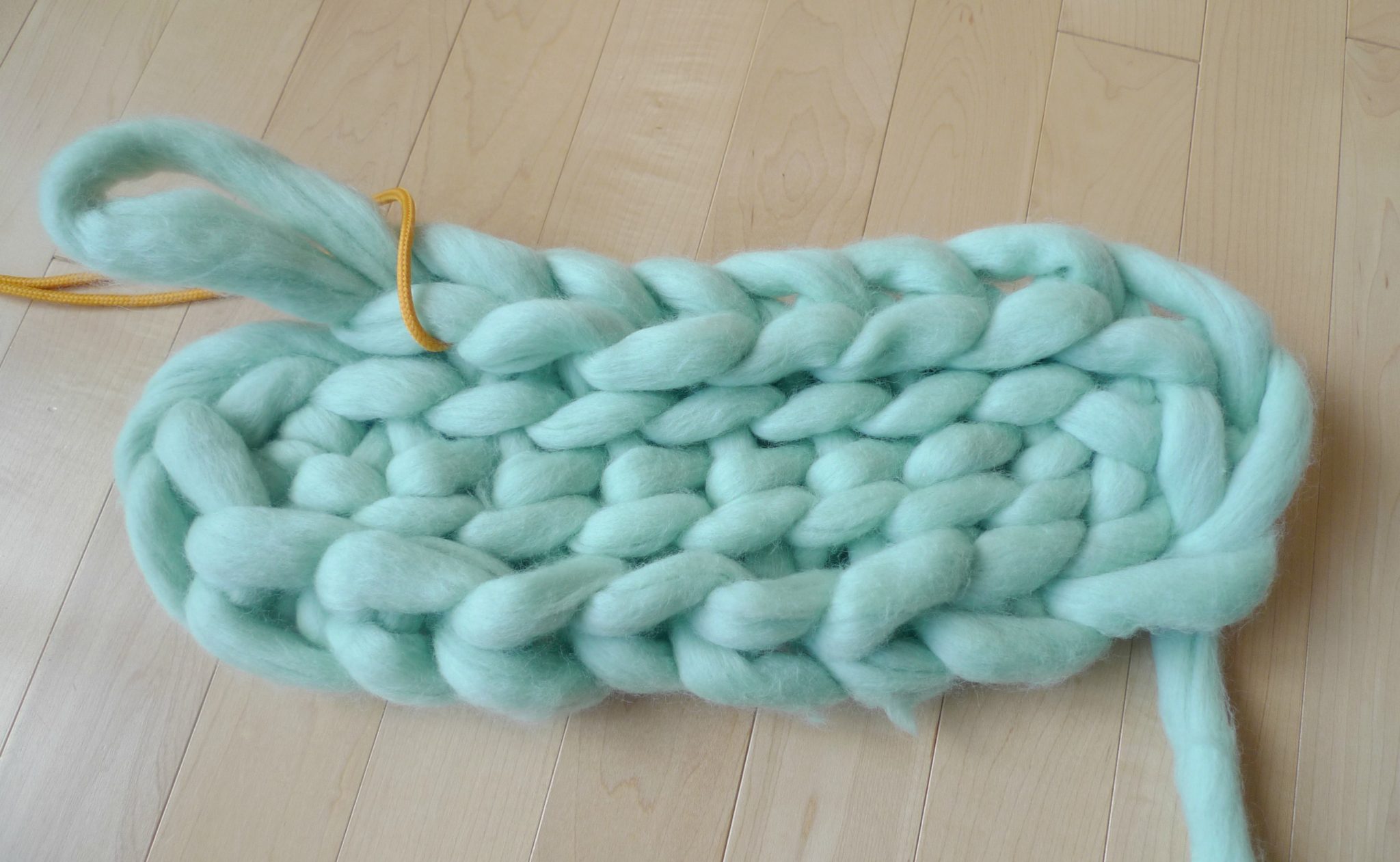 I was very happy with how my design was turning out as I built up round upon round!  I really hoped that I would not run out of wool!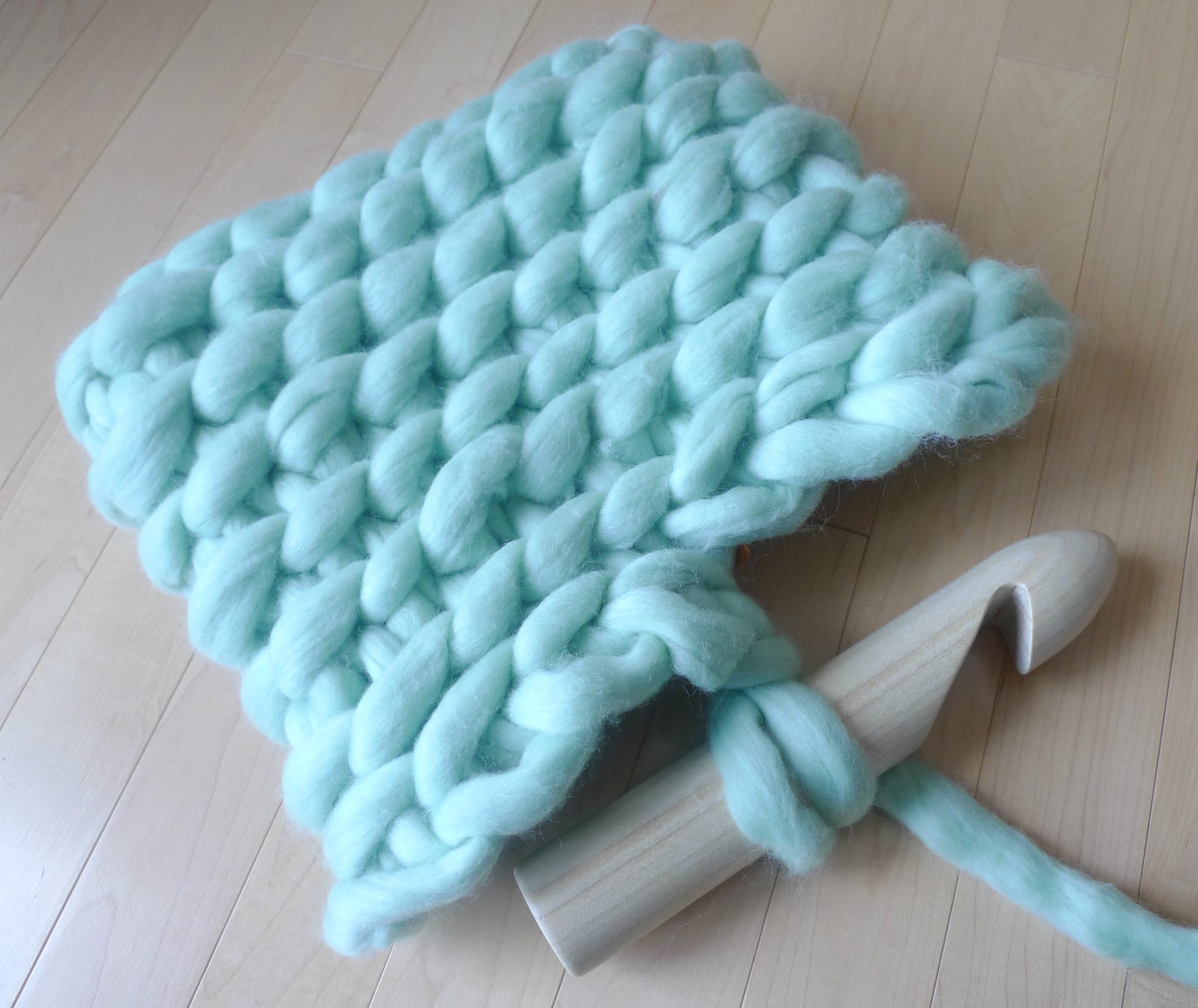 When I asked readers to guess whether the piece was knitted or crocheted, people were torn and some guessed it was Tunisian crochet!  When working with big stitch wool, each stitch is so plump and luscious!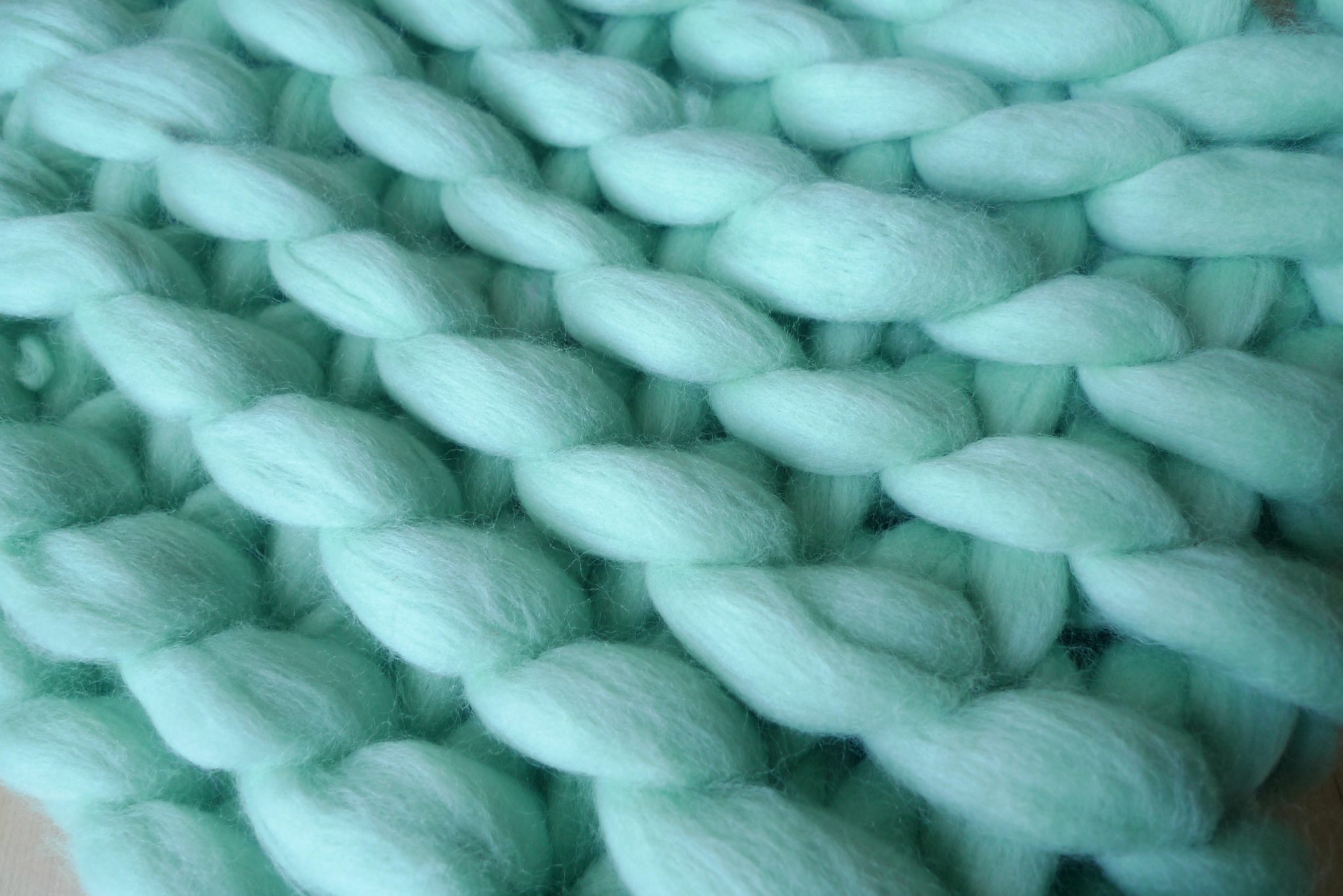 Thankfully it looked as though I would have enough wool to complete my project!  I was so happy!  Isn't it such a terrible feeling when you're *thisclose* to finishing a design and you run out of yarn?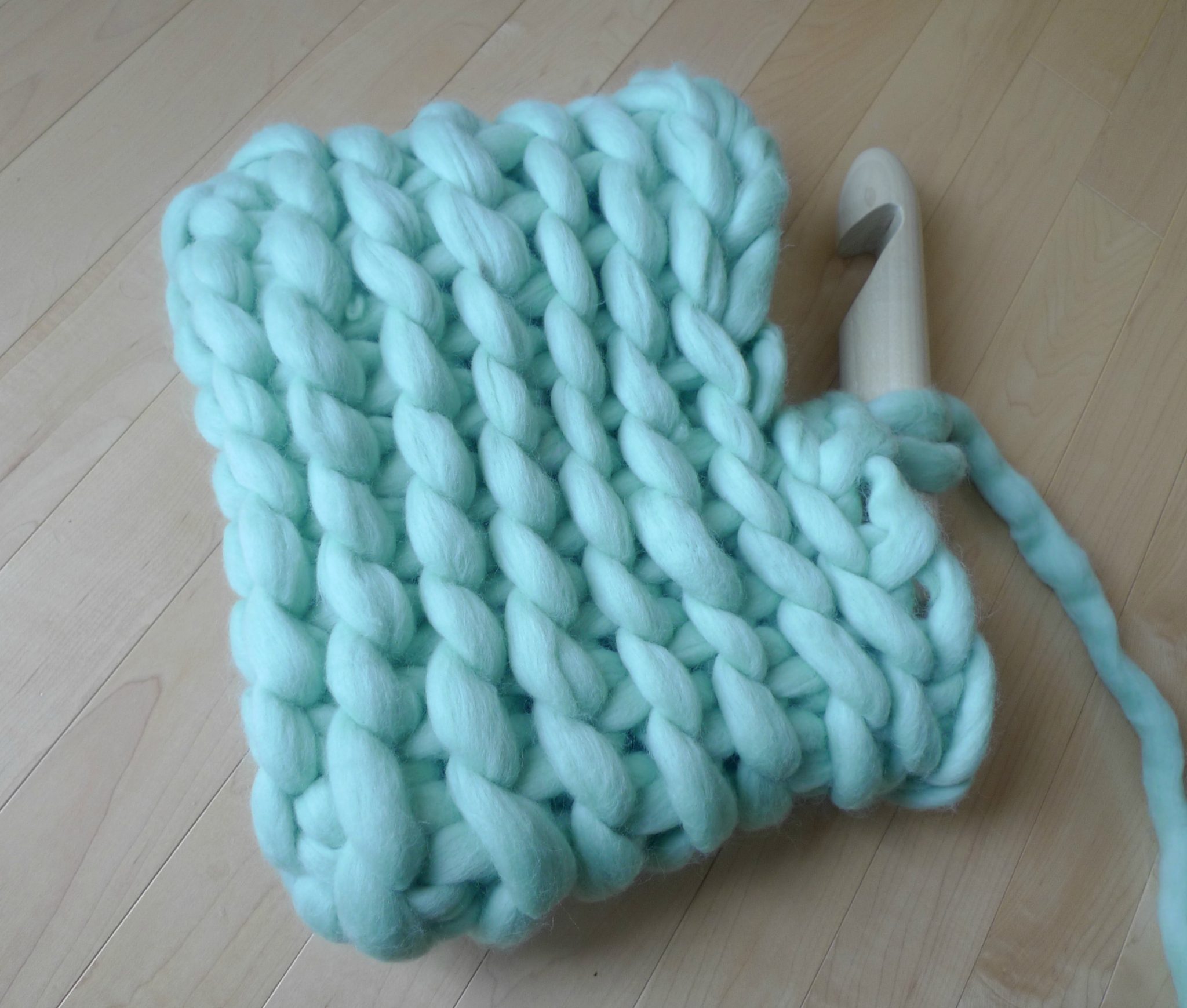 We found this "Pillow Form" from Walmart (see similar on Amazon HERE) and it turned out to be the perfect size (14″ x 14″) for my cushion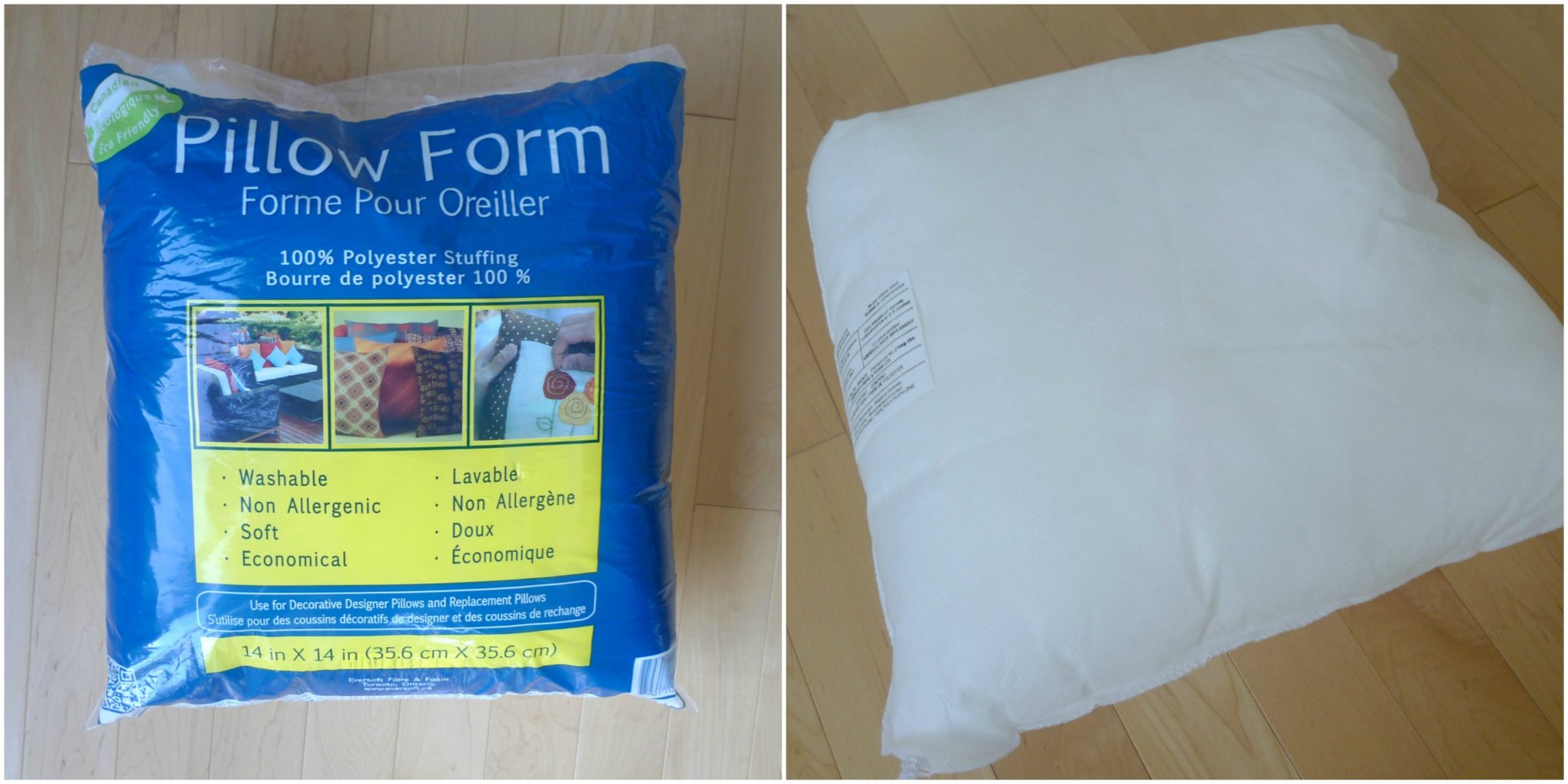 I stuffed the pillow form into my cushion….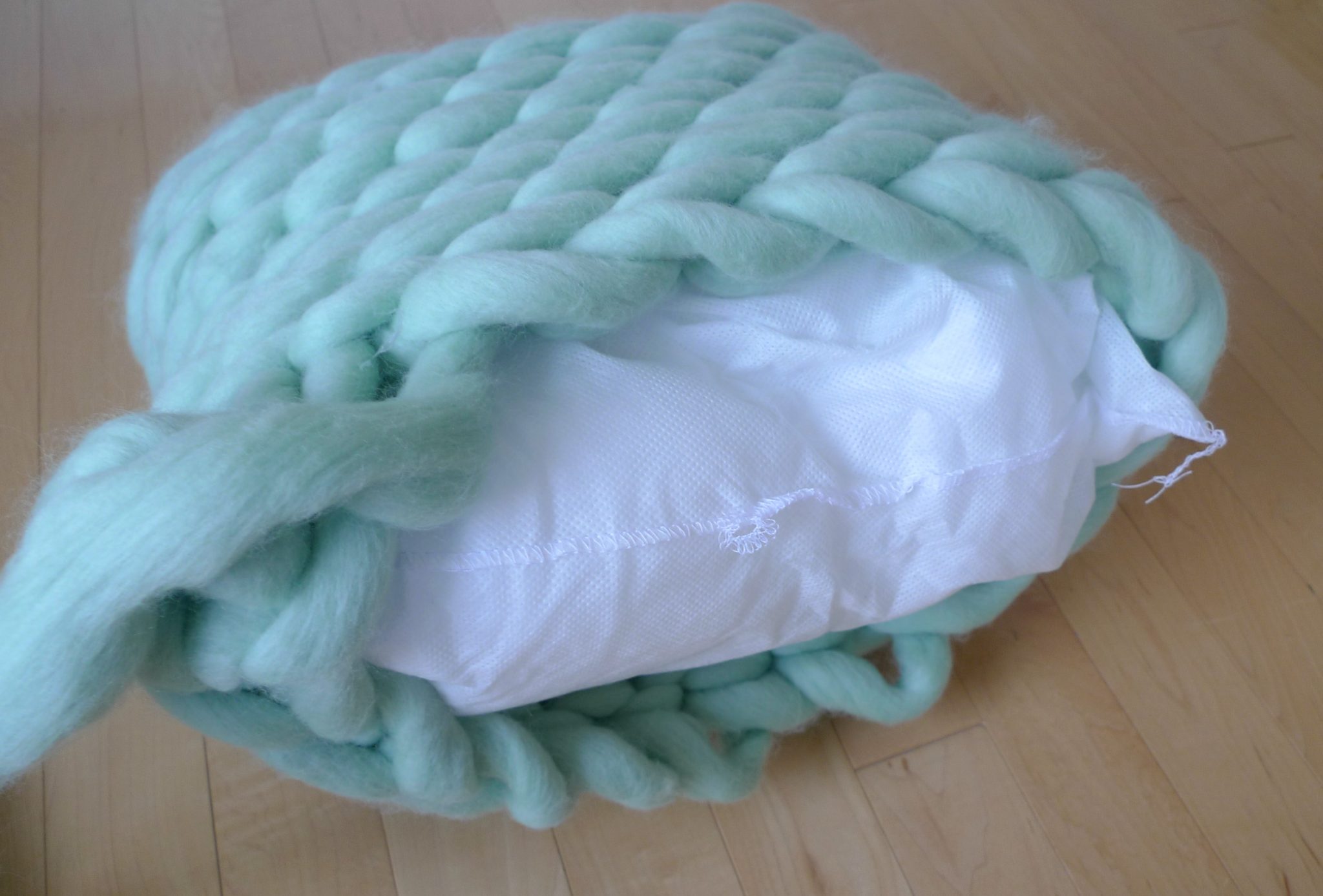 And then whip stitched the ends together to seal the opening!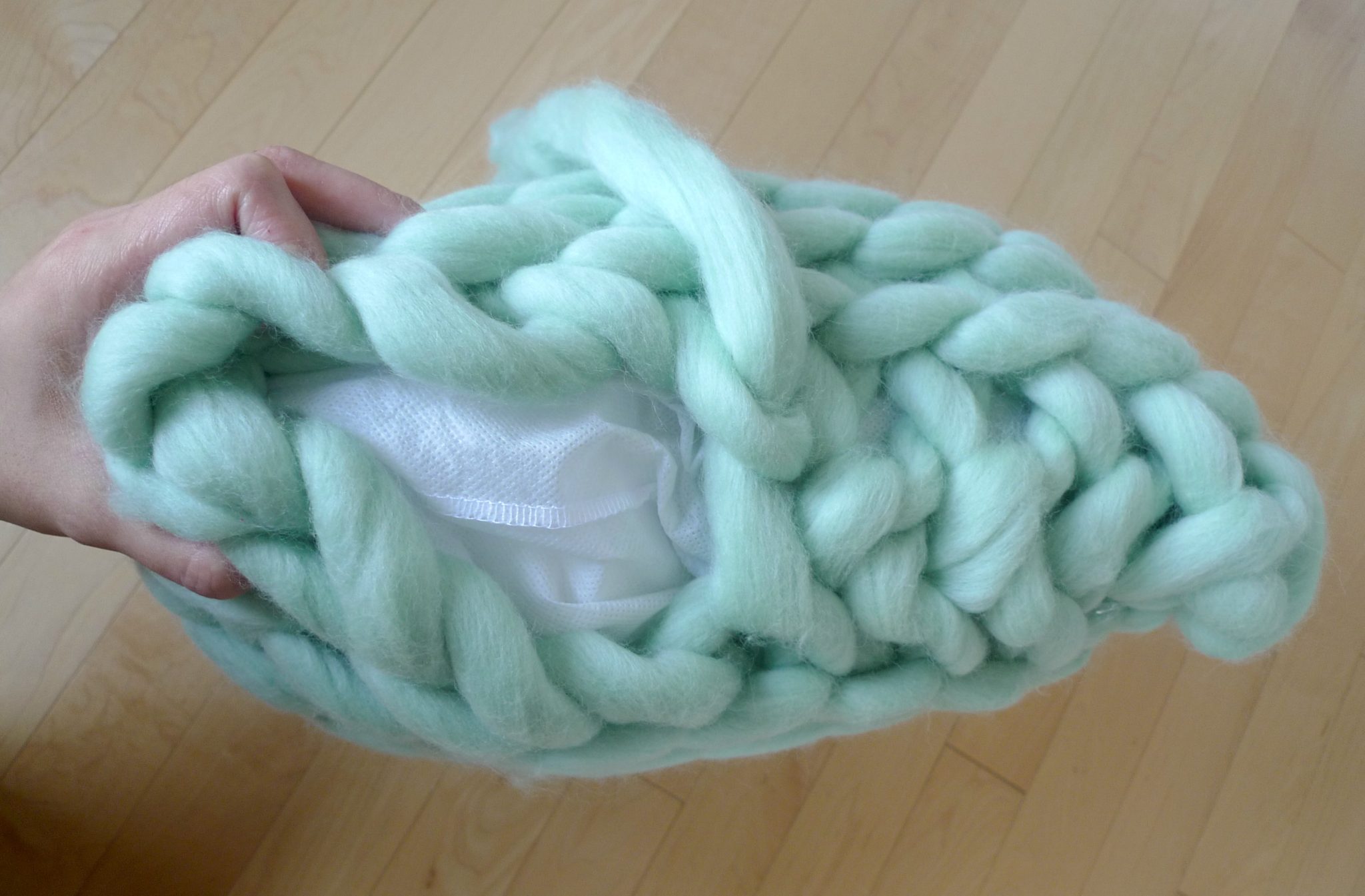 I am so happy that I could maximize this 1 lb of wool to make this cushion!  Look how much I had left!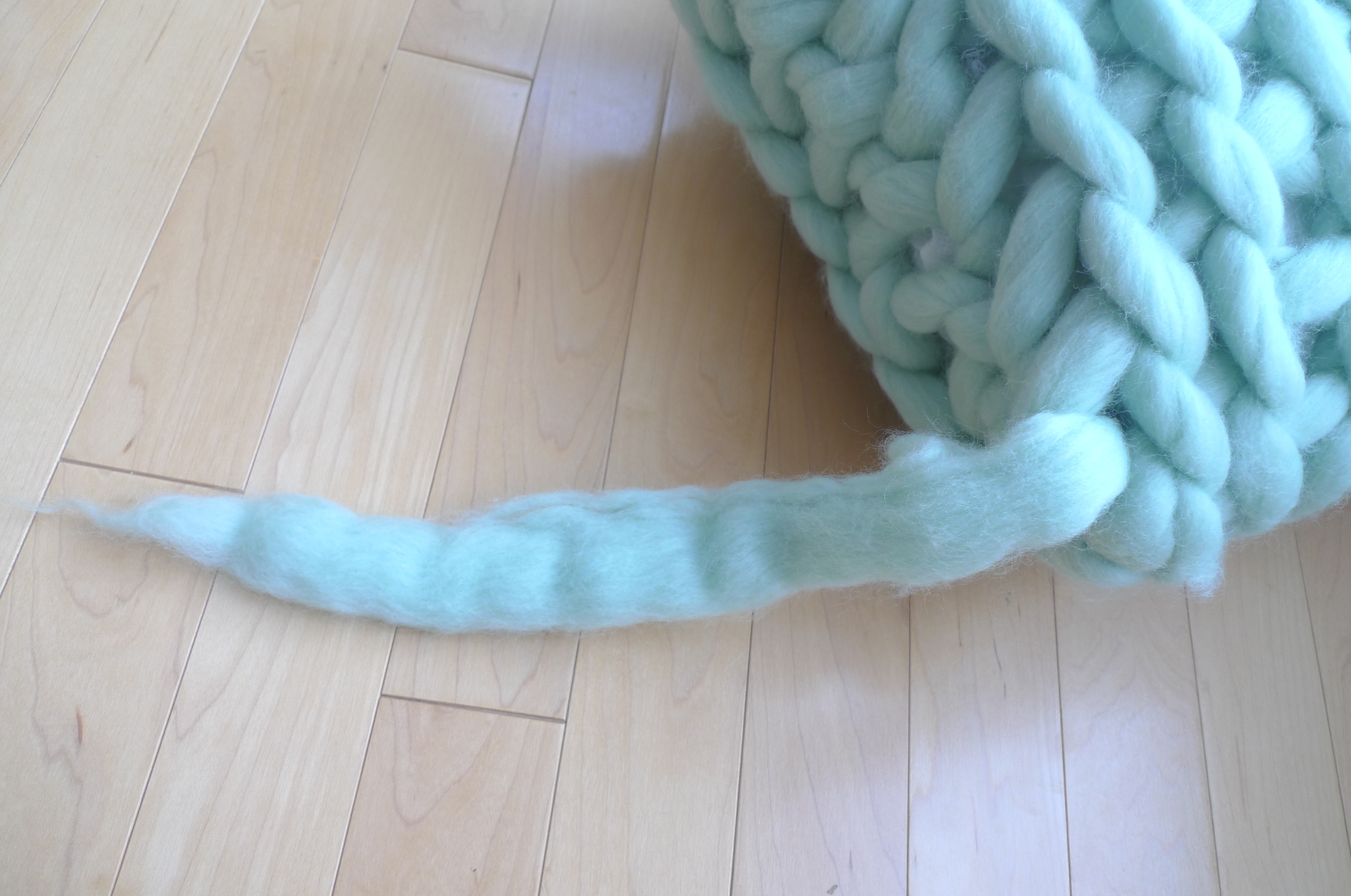 I then used my trusty Clover felting needle to felt the wool end to the rest of the cushion!  I love how you can use this technique when working with wool so that you don't need to try and weave in the ends.  Trying to weave in such massive ends would be a nightmare, and it would be difficult to be discrete and hidden!  You can read my detailed blog post on "How To Felt Yarn Ends Together" HERE!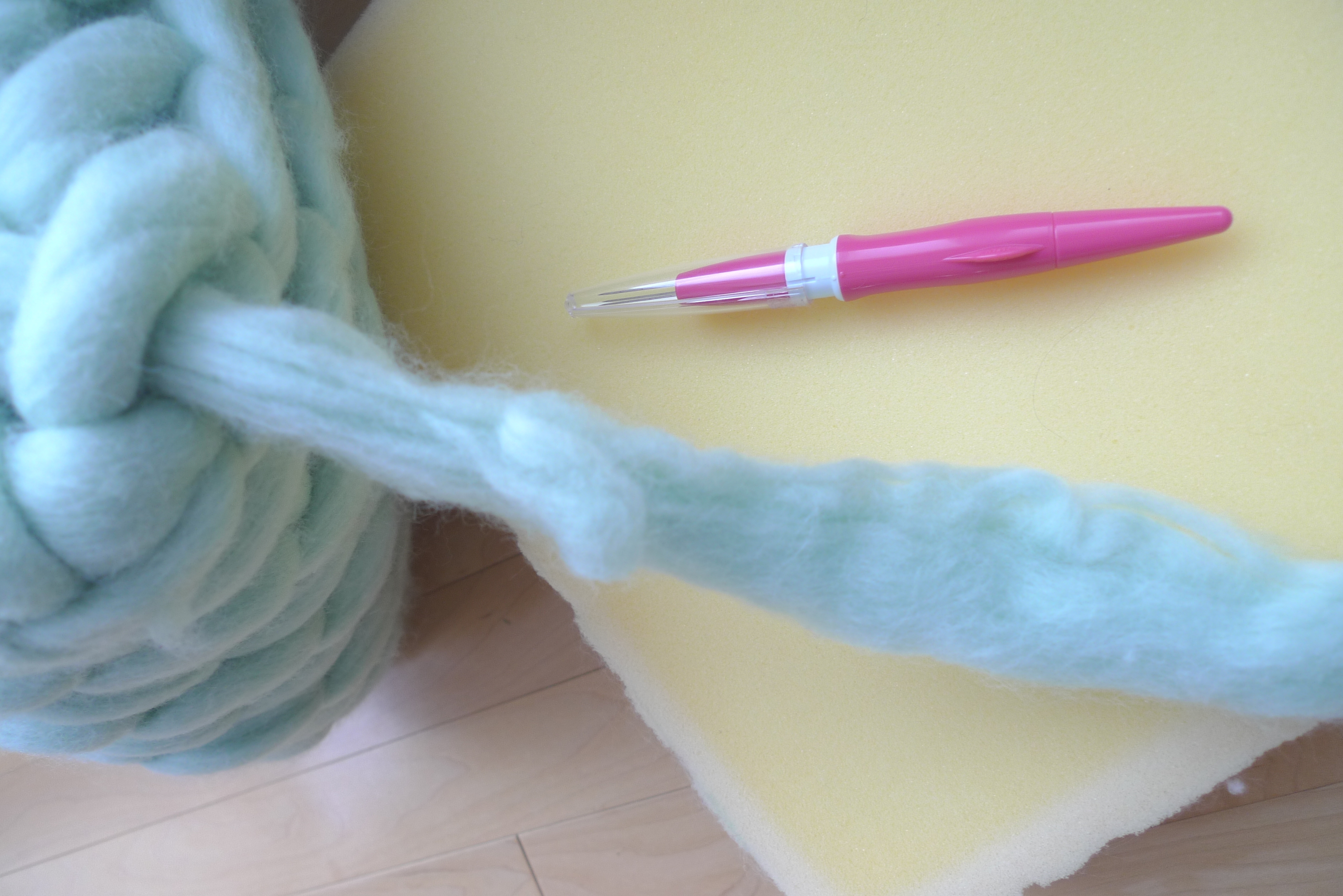 Look at this clean finish with no end in sight!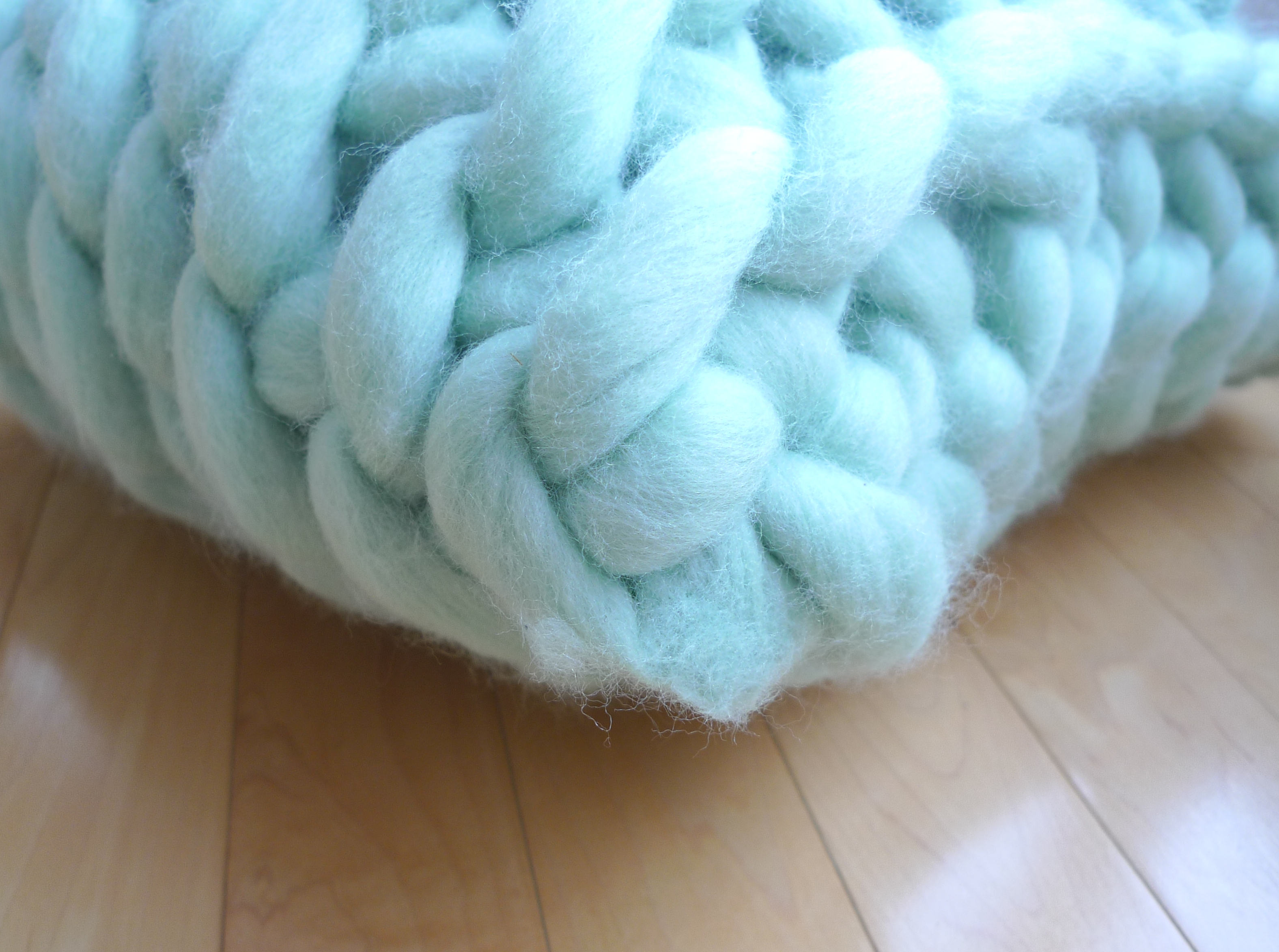 Here is my finished Extreme Crocheted Cushion!  It uses up pretty much all of the 1 lb of big stitch merino wool, so you don't have to worry about wasting any!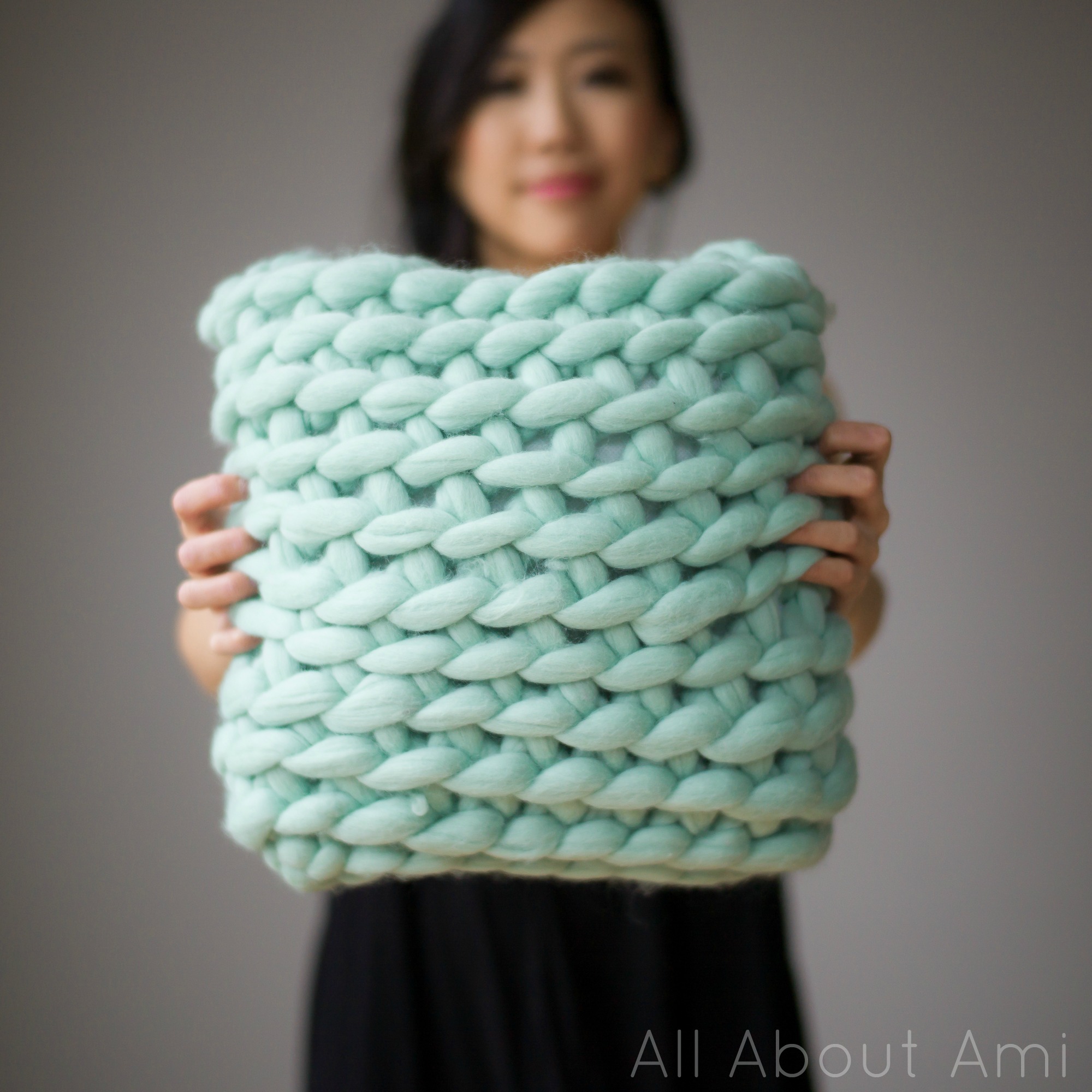 **************************
Here is the free pattern for my "Extreme Crocheted Cushion"!
Notes:
Work in unjoined rounds so that there is no seam.
Materials:


Split wool to half thickness using tips found in this blog post HERE or video HERE.
Chain 10 (this is the foundation chain).
Round 1: Starting from second chain from hook, slip stitch 9 in back loops of chain stitches.  Turn and slip stitch 9 in front loops of the foundation chain [we are making an oval by crocheting around the chain].  (18 sts)
***To see a step-by-step tutorial on how to crochet around a foundation chain, please see HERE!
Round 2: Slip stitch in back loops only till end (18 sts).
Round 3-11: Repeat Round 2 (18 sts).
Insert 14″ x 14″ pillow form.  Using wool end, whip stitch back loops together to close opening.  Using felting needle, felt wool end to rest of cushion.
Finished Dimensions: 14″ x 14″
*****************************
It is incredibly soft and luxurious, and it has such a unique look!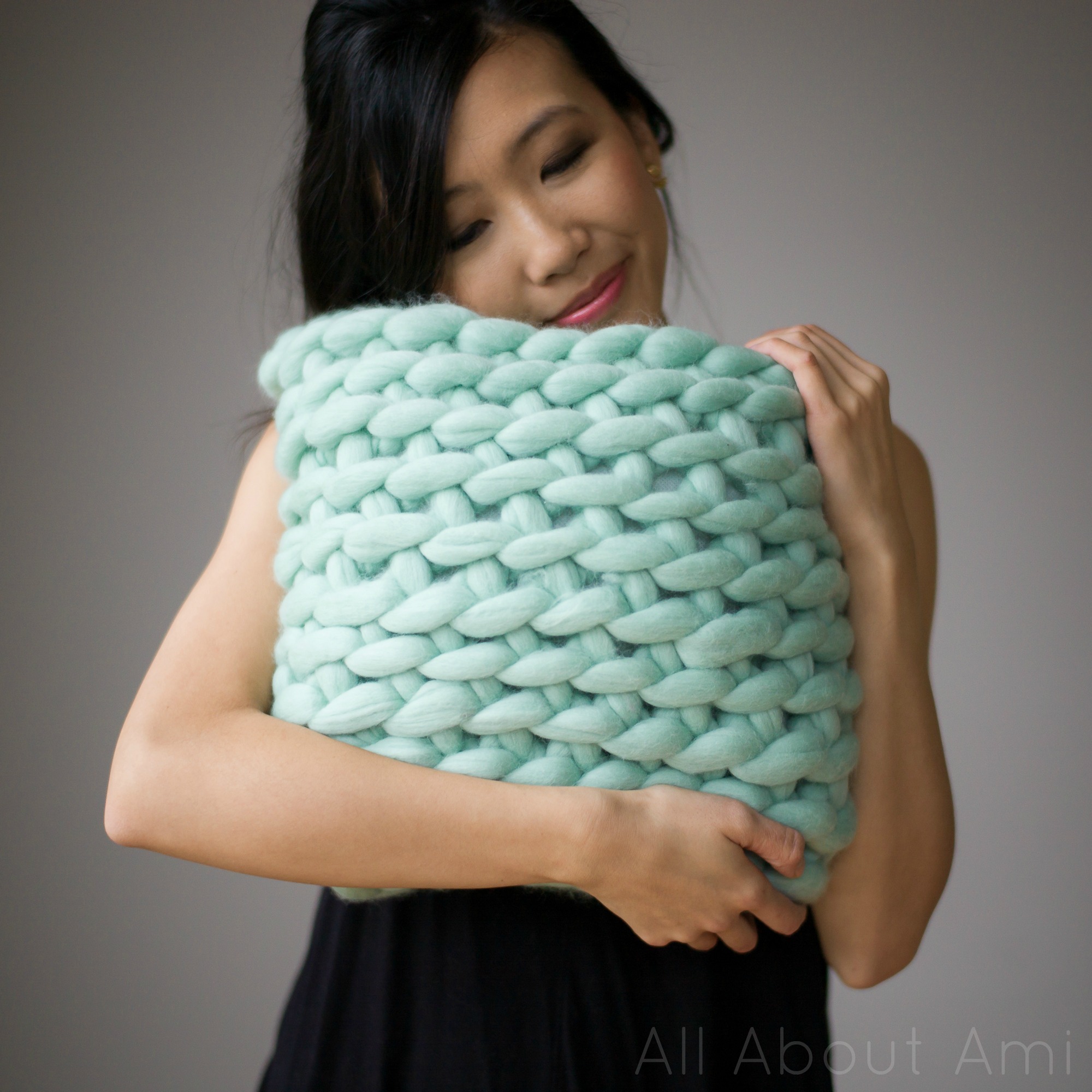 If you love the look of these stitches and want to use it for a wearable project, be sure to check out my Cobblestone Cowl pattern HERE!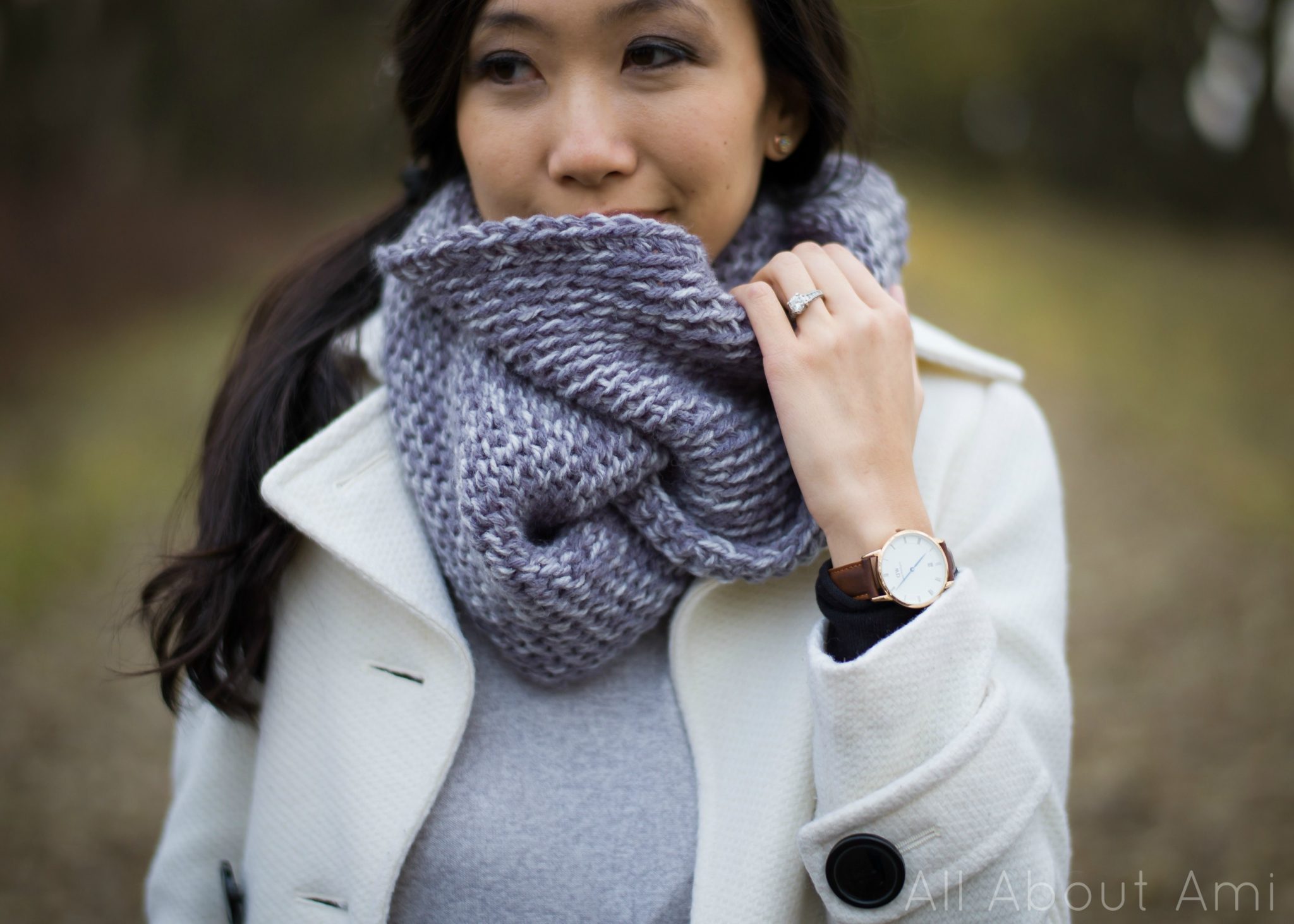 Sarah of Mama Knows Luxury has put together a fabulous kit so that you can get all the necessary tools to crochet your own "Extreme Crocheted Cushion" in one place!  This handy kit includes the wool required, a print-out of this pattern, a giant crochet hook, felting kit, mystery button, and a printed yarn info sheet and finished item care instructions.  Be sure to check out this kit HERE, and you get to choose any wool colour that you want!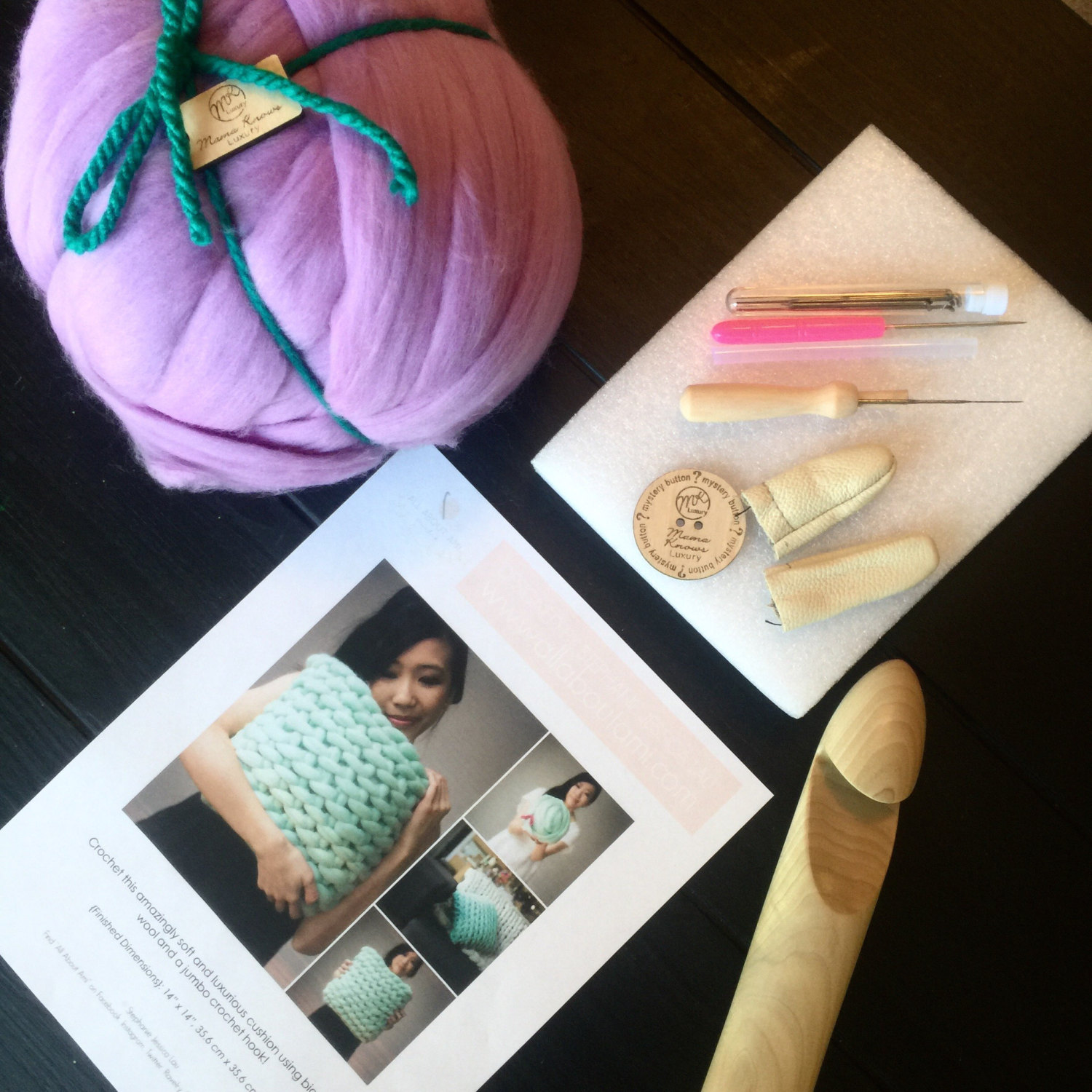 Thank you for reading this post!  It's so much fun being able to add crocheted items to your home decor!  You can customize what colours you want as Sarah's big stitch wool comes in a vast array of colours to match your home.  Don't forget to check out my other projects for the home using jumbo wool including my Extreme Knitted Blanket (as pictured below) and my Extreme Crocheted Rug!  I've got a fun Christmas crochet project coming your way soon, so stay tuned!  This makes it so convenient since you do not need to look for and purchase each item separately!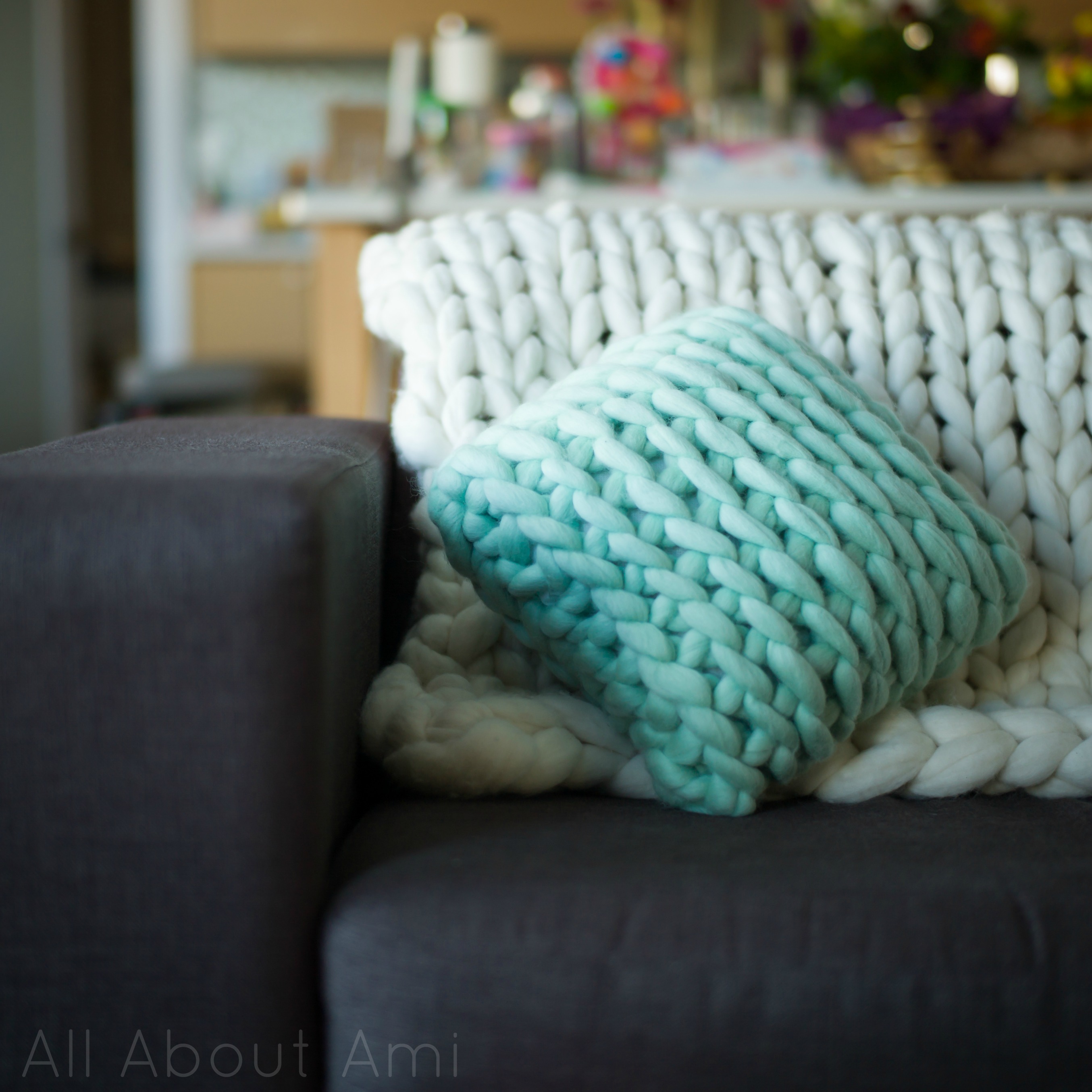 Note: Thank you to Sarah of Mama Knows Luxury for providing me with the wool for this project!.  All opinions expressed are 100% my own!