***You can purchase an INEXPENSIVE AD-FREE PDF of this pattern on Etsy HERE! This beautifully formatted PDF includes 3 patterns: the Basic Knitted Baby Hat, Basic Knitted Child Hat, and Basic Knitted Adult Hat. The PDF is a total of 6 pages including the cover pages!   These patterns can also be found in my Easy & Modern Knits Pattern Bundle found HERE (includes over 30 of my knit patterns at a discounted price)!
Many of my friends have been having babies, and I always love gifting them something handmade!  Knitting baby beanies has been my go-to gift as of late since I love knitting in the round, babies always need hats to keep their heads warm no matter what season, and the hats look so stylish with plenty of stretch.  For my knitted beanies, I love using Wool-Ease Thick & Quick by Lion Brand Yarn as it is warm with its wool content, and it can be easily washed.  Furthermore, with one skein of yarn, you can actually make two baby hats!  There are so many colours available, and if the baby's gender is a surprise, I love using a neutral grey or cream colour!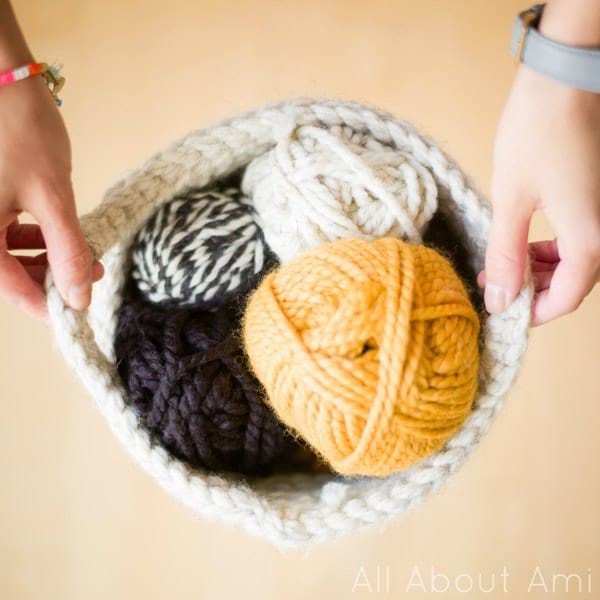 Below are some examples of the hats I have gifted to friends!  The simplicity of the pattern really lets the yarn shine through as it looks great with a variegated yarn, striped yarn, or single colour yarn!  Adding a pom pom ontop adds such a cute look- I used my the smaller pom pom maker in this set HERE!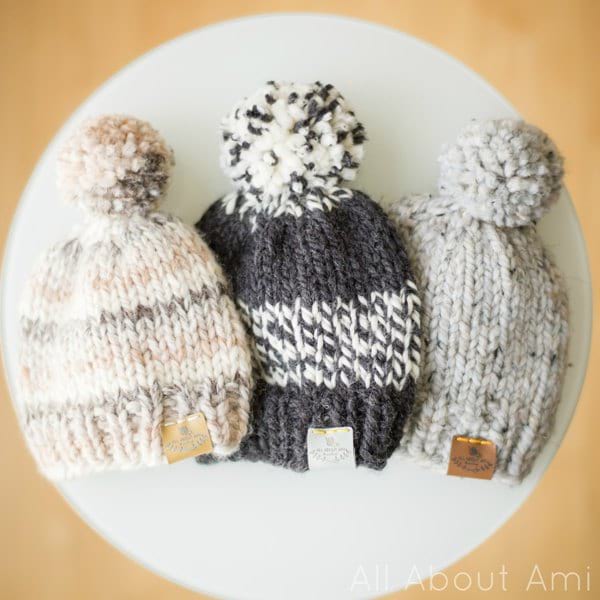 *******************
Here is the free pattern for my Basic Knitted Baby Hat!
Notes:
Babies' heads vary widely in size, but I think these beanies will generally fit a baby up to 6-9 mos old (as I've seen with my friends' children) since it has the capability to stretch.
If you would like to make this hat larger, try adding more stitches to the initial cast on and add more rounds to add more height.
If you would like to knit a matching adult hat (which would be such a lovely baby shower gift) or a matching child hat for an older sibling, you can find my free patterns HERE (these hats also use Wool-Ease Thick & Quick)! 
For a seamless join at the very beginning, cast on an extra stitch (i.e. 33 stitches in this design). Slip the first stitch purlwise onto the working needle. Take the extra stitch that was made (now second stitch on the working needle) and slip it over the slip stitch (now the first stitch on the working needle). Pull yarn tail and working yarn tightly and add stitch marker. Continue with pattern. This technique is demonstrated in this video HERE.  You do not need to cast on any extra stitches in subsequent rounds.
Materials:
Using long tail cast on (need ~45″ tail for the cast-on), cast on 32 stitches.
R1-5: *K1, P1* around. (32 sts)
R6-21: Knit around. (32 sts)
R22: *K2, K2tog*, rep around. (24 sts)
R23: *K2tog*, rep around. (12 sts)
R24: *K2tog* across. (6 sts)
Cut yarn and thread tail through last sts.  Pull tight, tie knot and hide end.
Make pom pom (either one larger pom pom or two smaller pom poms) and add to hat.
Finished dimensions:6.25″ tall, 13″ circumference, about 6″ wide
*******************
These quick projects are so satisfying since you can whip one beanie up in one sitting!  Sewing a label onto these little beanies adds such a luxe effect as well.  Below you can see all the different colours I have in my ultraleather labels by BrickBubble!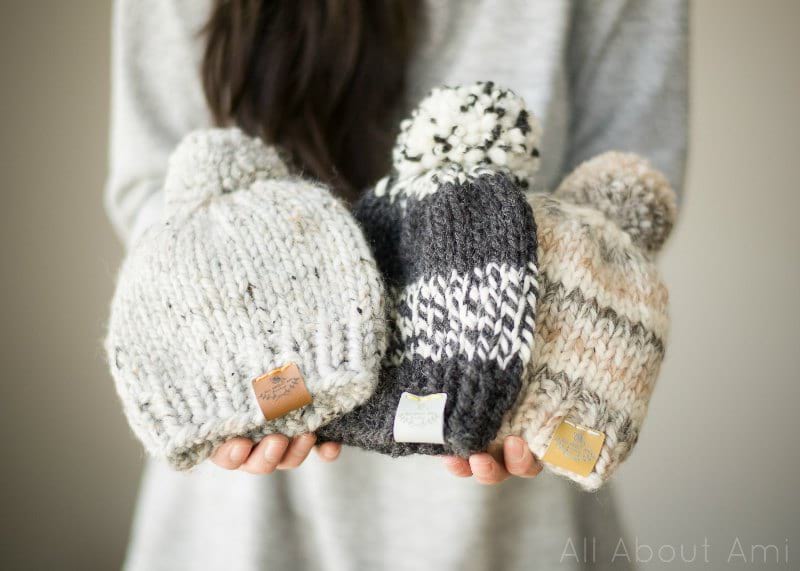 For the girl babies, I used the beautiful "Starlight" colourway which has a lovely hint of gold sparkle throughout.  For the pom poms, I used some pink worsted weight yarn I had in my stash.  Changing up the weight of the yarn for the pom poms helps give a delicate effect!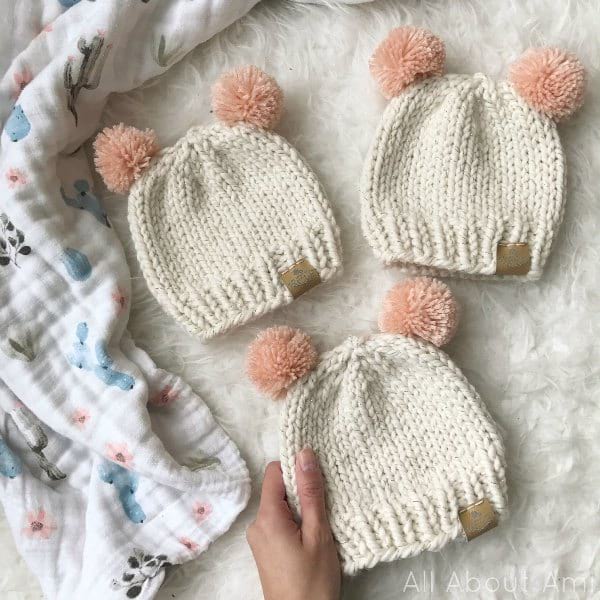 Have fun knitting these sweet little beanies for the babies in your lives!  You can knit matching adult and child beanies using my free pattern HERE!  It is wonderful being able to knit beanies for the entire family, and they make such perfect gifts for loved ones.  I love being able to customize them with different colourways and adding yarn or faux fur pom poms! You can purchase an inexpensive PDF HERE that contains all 3 patterns, and also find them in my "Easy & Modern Knits PATTERN BUNDLE" that contains all the knit patterns I've ever designed (over 30)!  Happy knitting, everyone!