Do you listen to any crochet or knitting podcasts?  Brittany is a fellow crochet designer and blogger who is the creator of the B.hooked Podcast.  She has interviewed many guests and covers a wide range of topics, such as developing personal crochet style, how to find more time to crochet, and knowing your worth when pricing handmade.  You may remember that I was on her podcast last year in June 2017 for Episode 15, and our topic was "Finding Your Crochet Community" (read my blog post about this podcast interview HERE).  I was so honoured when Brittany reached out to me and asked if I wanted to be on her show again as she was featuring amigurumi for the month of June!  We managed to co-ordinate a time after our San Diego trip so that I could sit down and chat about all things amigurumi with her.  Special thanks to my mom and brother for taking care of the girls so I could have some uninterrupted time with Brittany!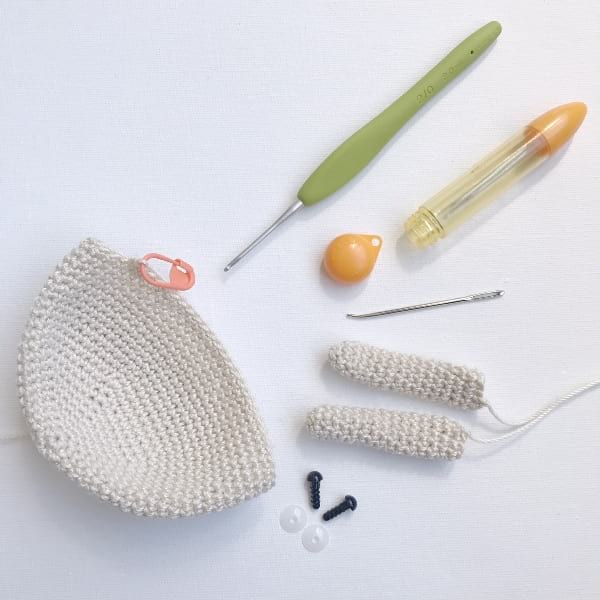 Brittany suggested a question and answer format for our episode, and we both opened up the floor to our audiences and asked if they had any questions about amigurumi on social media!  We took ten of the most frequently asked questions and tried to address each one.  These are the questions that came up:
How do you get fewer holes in amigurumi?
Is there a right side and a wrong side to amigurumi?  How can you tell the difference?
How do you achieve smooth colour changes?
Do you have any tips for attaching limbs?
How do you know when you have enough stuffing?
What is your design process for amigurumi?
Do you have any tips for embroidering faces?
How do you make fuzzy amigurumi?
Who are some of your favourite amigurumi designers?
How do you get started with amigurumi?  What skills are required?
I had a great time chatting with Brittany, and I hope you'll take some time to listen to our episode!  You can LISTEN TO EPISODE 69 HERE!  I was a lot less nervous than last time since this was our second time round.  It's true what they say: if there is something that scares you, you need to keep putting yourself out there and just do it, and it becomes less scary each time!  While preparing for the interview, I was reflecting about how far we've come in the blog and how we've gained more experience along the way with each new design.  When I first started out, I had no idea that the Magic Circle or Invisible Decrease existed, or that there was a way to achieve smoother colour changes.  I am happy to share what we've learned along the way and describe our design process!  I do not see myself as an amigurumi expert or a guru of any sort, so it's such an honour that people would ask me for advice or invite me to speak about my amigurumi experience.  I find it so interesting how I have come to know a lot about this particular area as it is not something I studied in school or university.  As you try more and more projects and expand your skills, you will gain more experience and learn what works for you and what your amigurumi style is!  Our most recent amigurumi is pictured below: the Chinese New Year Dogs– we used some new techniques such as brushing the yarn with a dog slicker brush and painting the fur with a Sharpie marker.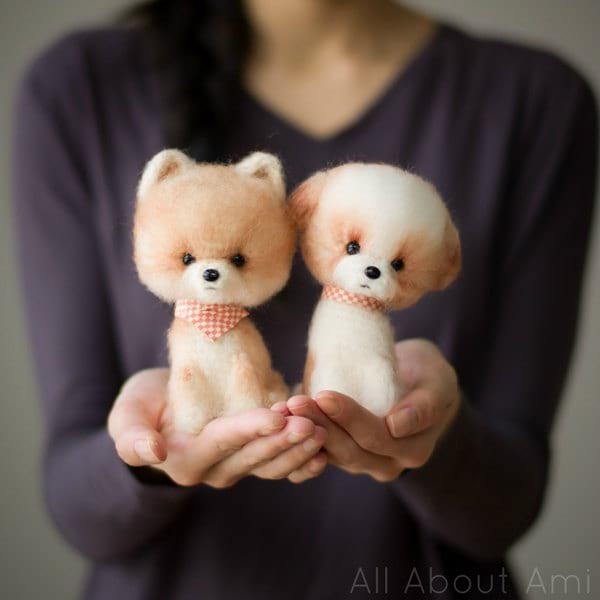 In the episode, I reference the following techniques and tips which I have written blog posts about in the past!  Most of them date from 2011 when I first started my blog, but I have tried to update them and create images for you to pin to your Pinterest boards so you can keep them for future reference:
Kudos to Brittany for consistently putting out so much content for us fiber artists to enjoy and learn from through her podcast!  My previous episode was #15, and the current one is #69 one year later!  Once again, you can listen to Episode #69 entitled "Your Questions Answered with All About Ami" HERE! I would also recommend listening to Episode #67 entitled "Amigurumi: Pattern Writing Tips from Coco Lee Crochet" and Episode #68 entitled: "Explore Amigurumi with A Menagerie of Stitches" (I featured Lauren Espy's new book Whimsical Stitches HERE).  Thank you for having me as a guest, Brittany!  I hope you find our interview helpful- let me know if you have any questions below or if you would like me to create specific tutorials or videos!  Stay tuned for a new amigurumi design that will be making its debut on the blog shortly- you can keep up to date with my latest posts and designs by subscribing to my e-mail newsletter HERE!