We celebrated our oldest daughter Myla's 9th birthday recently! Every year, Ryan and I make special birthday cakes for our two daughters, usually centered around a certain theme of their choosing. In the past, we've made Toy Story, the Incredibles, Elena of Avalor, and Totoro themed cakes. Myla has been playing the video game called "Animal Crossing New Horizons", and she adores this sweet game. We were excited when she told us that she wanted to have an Animal Crossing themed birthday party this year!
Ryan took some screenshots of Myla's game so that he could model the cake after her house and character in Animal Crossing! He also included the characters Tom Nook and Isabelle. Ryan spent a lot of time mixing the colors of the fondant and gum paste to match the colors of the game to get the exact shades he wanted. He worked on this special cake over two weekends, and he said that in total, he probably spent 12 HOURS working on this cake! This Animal Crossing cake is the most detailed cake that he has ever made as you can see in the photos below. From the tiny triangles of the grass to the dainty flowers, roof shingles and wood details, so much time and love was poured into every section. Look at this exquisite Animal Crossing cake!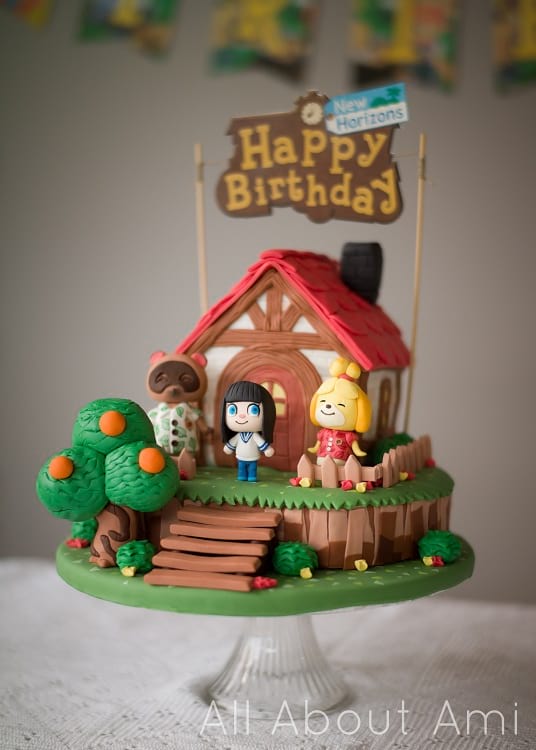 The characters on the cake are so sweet! I LOVE how little Myla is a part of this cake and standing so adorably in front of her house. As you can imagine, Myla squealed with delight when she saw her cake and her little character staring back at her! She was smiling from ear to ear as she clapped her hands and said, "I look so cute!" All the details of the characters are amazing, from the leaves and buttons on the shirts of Tom Nook and Isabelle to Myla's little jeans and shirt.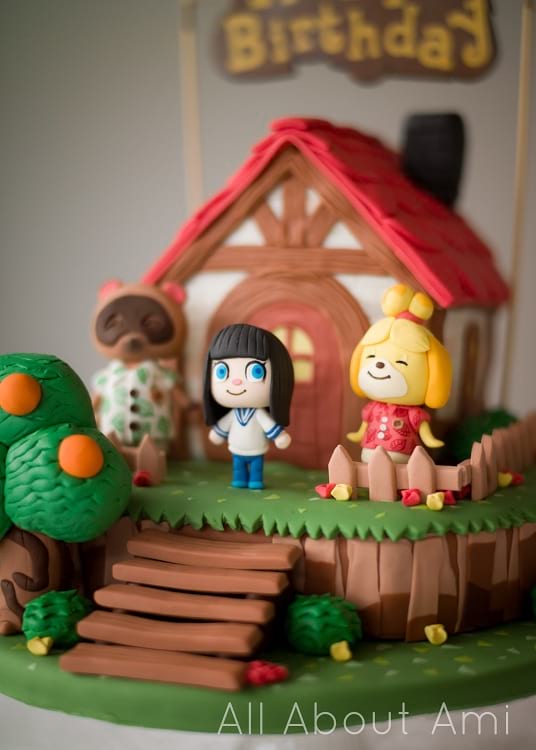 I am in awe of this absolutely beautiful cake that Ryan made! He did such an amazing job bringing the game to life in the form of this cake and capturing the whimsy and joy of Animal Crossing! Myla said that this is her favourite cake and she is so thankful that Ryan made it for her.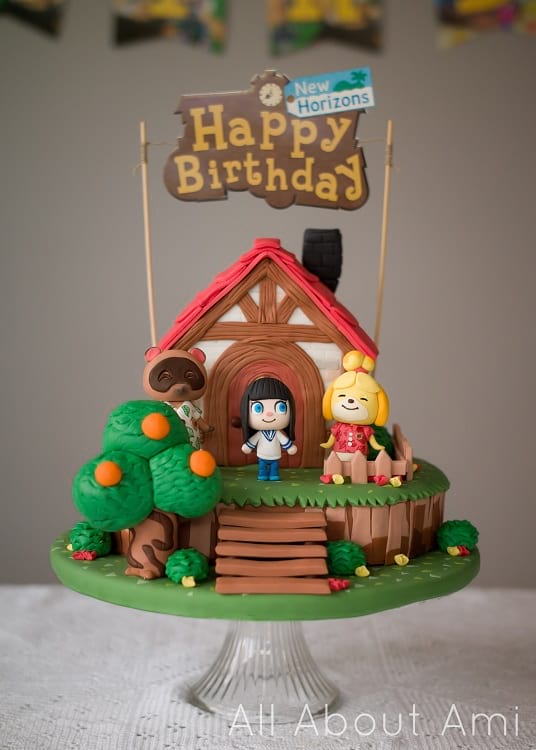 Here is our family photo! It is surreal how quickly the girls are growing, and we cannot believe that Myla is 9 years old now – next year, she will be double digits! I still remember announcing that I was pregnant on my blog so many years ago and sharing many baby and toddler projects that I was working on. Thank you for following along throughout the years, and I know there are some of you who have been following us since those beginning blogging years. I officially started blogging in January 2011, so 2021 now brings us to a decade of sharing my crochet and knit journey with you all! Thank you for showing so much support for our projects and family throughout the years and sharing in our joys and interests. Myla has started her own knit and crochet journey as well as she has numerous projects under her belt. It is so special how I have a little knit and crochet buddy since we can work on our projects together now! Myla is a very kind, sweet, thoughtful and creative girl, and she is a wonderful daughter and big sister to Brielle – we are so thankful to have her in our family!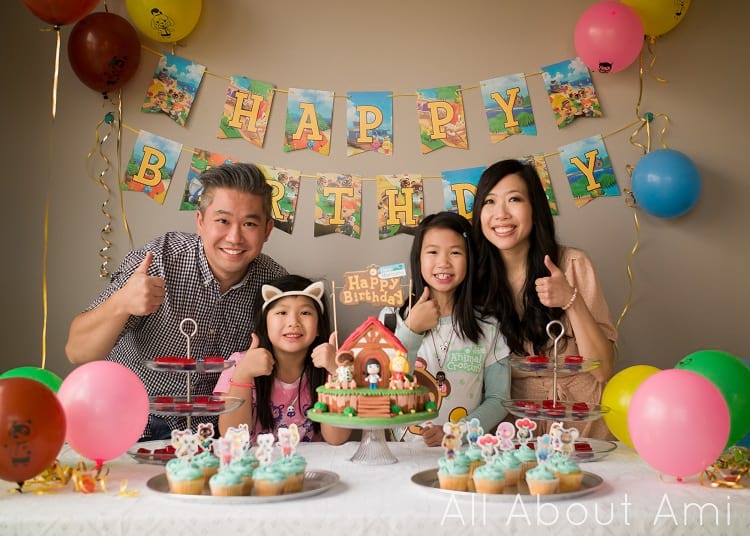 Here are some details about our Animal Crossing Birthday Party in case you are interested in having your own:
We purchased this "Animal Crossing Birthday Supplies Set" (46 pieces) on Amazon HERE and it included: the banner, cake topper, balloons and cupcake toppers. Note that it was for "New Leaf", so we printed off our own "New Horizons" logo and added it to the cake topper. You can search for "New Horizons" party sets on Amazon too!
I like using this Yellow Pound Cake recipe HERE! We have been using this recipe throughout the years and we love how moist this cake is with the added pudding powder. It is very easy to make since it uses boxed cake mix as the base. We also use this recipe to make our cupcakes!
Our favorite icing is Swiss Meringue Buttercream – it tastes AMAZING and so light. We use this recipe HERE.
We surprised the girls with these Animal Crossing t-shirts HERE to wear to the party! Each set comes with 2 shirts, and they are great quality and a very good deal. We got the blue/white shirts for Myla and the pink/white shirts for Brielle!
I have listed our favorite cake making and decorating supplies in my Amazon shop HERE! We are very thankful that we invested in all these tools/equipment early on as we use them every year when we make these special cakes for the girls!
We always make "Layered Finger Jello" for our birthday parties! The girls love this delicious jello, and you can choose different colors to match your theme. Myla requested blue and red for her party, so we got Berry Blue and Cherry jello – you can find the recipe on my blog HERE!
I got some "Animal Crossing Water Beads" as a fun activity we can do together – we have not made them yet, but we are excited to try them out! They look similar to Perler beads, but it is neat how you do not need to add heat, just water. You can check them out HERE!
I tried to take some videos of Ryan making the cake along the way! We condensed the videos down to this 1 minute video on Tiktok (I also posted it as an IG reel) if you want to see some of the process:
Thank you for taking the time to read about Myla's Animal Crossing Birthday Party, and we hope you like the cake as much as we do! Ryan is such a sweet dad with all the time, effort, love, planning and detailed focused work he puts into these amazing cakes!
Note: All of the Amazon links are affiliate links, meaning at no additional cost to you, I will earn a commission if you click through and make a purchase.