This past weekend our little girl turned one!  It still amazes me how quickly time has passed by.  Those first few weeks were quite rough as I slowly recovered from labour and my body adapted to the sleepless nights.  However, then within a blink of an eye Myla was smiling, rolling over, sitting up, crawling, standing and now on the verge of walking!  It is truly amazing to see her development and what a miracle life is.  It's hard to imagine our life before Myla now, and she has brightened up each and every day!  
I wanted to share some photos from Myla's first birthday party that we held earlier when Ryan's relatives were in town!  We were so excited to celebrate Myla's very first birthday, and we wanted to make it special.  I searched for 1st birthday party ideas on Pinterest to get some inspiration, and one of the themes that came up was "Cute As A Button"!  It's always nice having a theme for a party so everything is a bit more cohesive as you can cater the decorations and food around it.  I thought the button theme was adorable, particularly since we love crafts!
Ryan's sister Sharon is an expert at making cakes and has plenty of experience making amazing cakes for her own children!  We told her our theme and showed her some pictures of cakes we liked, and she spent hours the night before making this beautiful cake!  It was a triple layered chocolate cake with raspberry buttercream, and there was even a surprise pink layer!  It was both beautiful and delicious!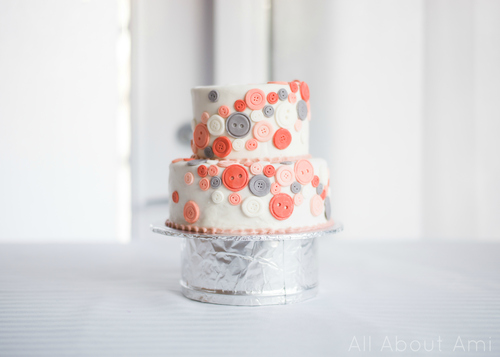 I helped make some of the fondant buttons!  We were going for kind of an ombre effect with the buttons as there were different shades of pink.  The grey and white buttons matched beautifully as well.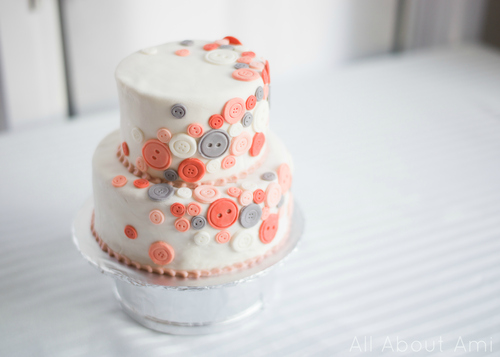 It was so special that Myla's very first birthday cake was baked from scratch with so much love by her dear auntie!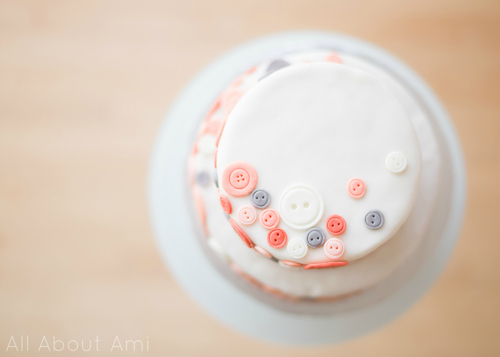 Sharon also made these adorable button cookies with her children earlier and even hand carried them on the airplane to bring them safely here!  She is an amazing baker!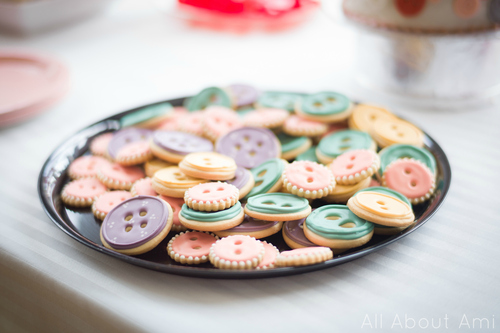 We decorated this wall so it could be the backdrop of some of our photos!  We cut out triangles and strung them along hemp to make our own pennant banners, filled balloons with helium and made these pom poms out of tissue paper (following the same instructions we used to make the ones from our baby shower HERE).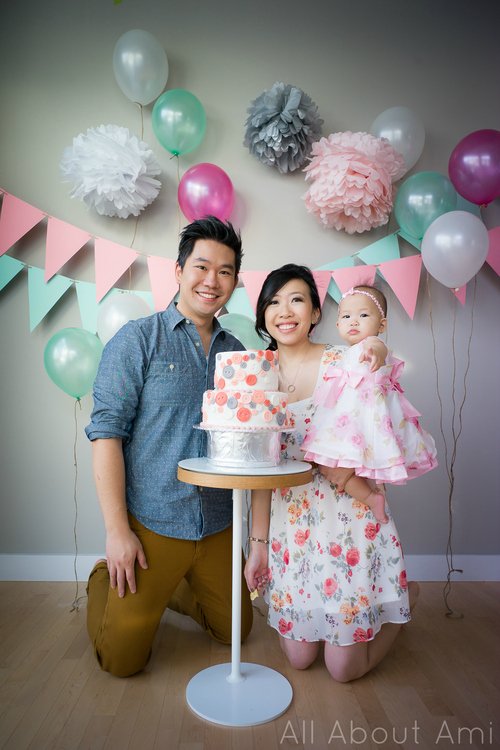 For our party favours, we bought some white chocolate and mint Kit Kat bars and rewrapped them with scrapbook paper.  Then we glued a coral button on each bar to help tie them in with the "Cute As A Button" theme!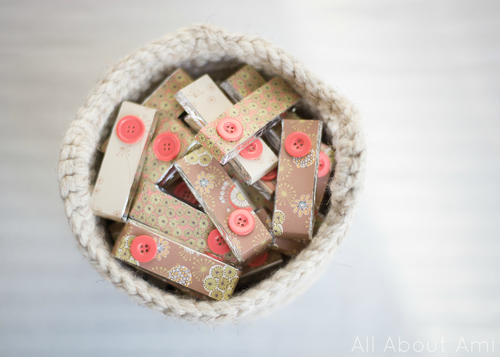 We held them in the small chunky crocheted basket that I made last year (see blog post HERE).  Baskets are so handy to have around the house!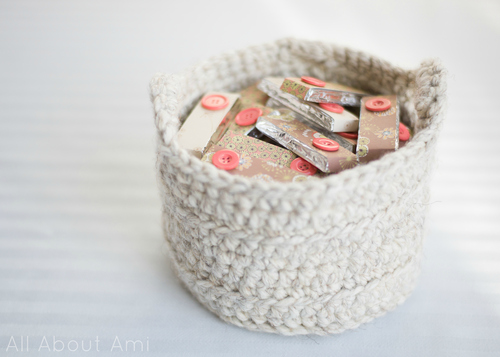 I had seen chalkboard ideas on Pinterest and I asked Ryan if he could make one for Myla!  We went to several stores to look for a chalkboard, but we soon found out there was something called chalkboard spray that we didn't even know existed!  And so, we purchased a picture frame that we liked and then simply sprayed the glass with the special chalkboard spray- then voila, we had our own chalkboard!  Ryan spent a lot of time figuring out the layout of the words and writing everything in pencil first.  Then, he used chalk maker to go over the pencil…he didn't make a single mistake!  He kept it a surprise from me until he was done everything, and I was sooo impressed with how it turned out!  Ryan is VERY artistic and has such nice writing….just look at all the different fonts he wrote!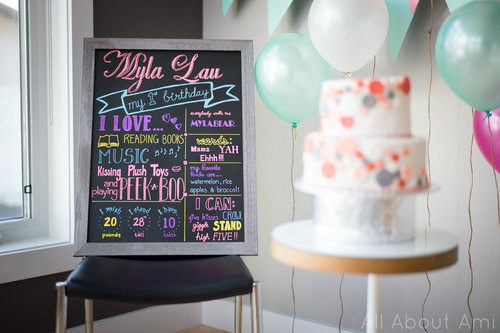 Here is Myla standing proudly beside her board as if to say, "These are all the things I can do"!  She is growing so quickly….since we made this board, she actually now has 12 teeth and is 29" tall!  I'm sure she'll be walking very soon as well!  
I also wanted to extend a HUGE THANK YOU to Kay of Mikaylove for gifting Myla's beautiful dress to her!  We were actually on the hunt for a dress for Myla to wear at her party when we received a surprise package from Kay.  Along with some beautiful arm candy, we were so touched and delighted to see a birthday card, a little bracelet and this dress for Myla!  Kay started Mikaylove around when Myla was born, so she just celebrated 1 year for her shop too!  Thank you for being so thoughtful, Kay, and as you can see, the dress fit Myla perfectly!  It matched so well with the colours of her party too 🙂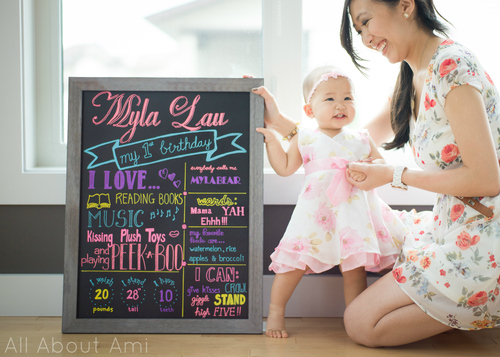 We have been taking monthly family photos with Myla, so to show her development, we strung many of the photos along some hemp with clothespins!  We glued a button on each clothespin too 🙂  She looks sooo different when she was first born!  I of course don't notice the change since I see her everyday, and it's not until I look at old photos that I realize how much she has grown.  I am so thankful for photos that help capture these special moments and help us remember!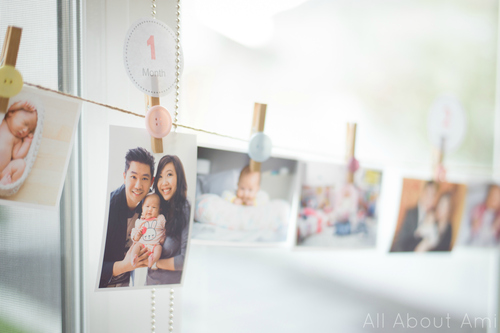 Here we are singing happy birthday and about to blow out the candle!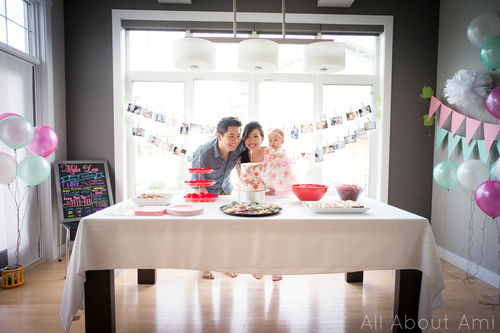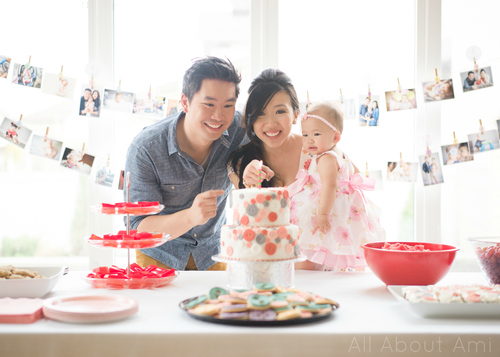 I got kind of sentimental as we were blowing out her candle as it suddenly hit me that this is the smallest and youngest she'll ever be….our little girl is growing up right before our eyes!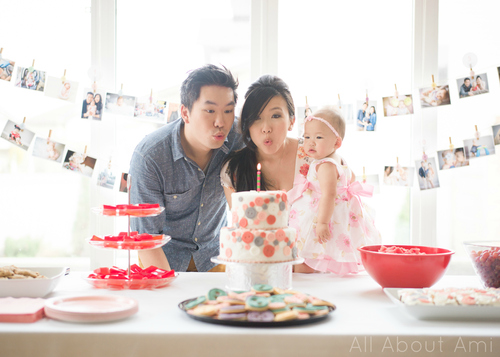 Here is a video from my Instagram showing some of the birthday singing 🙂  I'm glad we can share these special moments with you all!
We are truly blessed to have Myla in our lives and we thank God each and every day for her.  "Myla Brielle" means "Merciful" and "God is my strength", and we have been seeking and relying on God's strength and wisdom in learning how to be parents and how to raise her.  Thank you for supporting and loving our family, and we hope you enjoyed getting a glimpse into her very 1st birthday party and perhaps got some inspiration for your own parties as well!  Stay tuned for some new amigurumi projects that I am currently putting the finishing touches on!  Much love ♥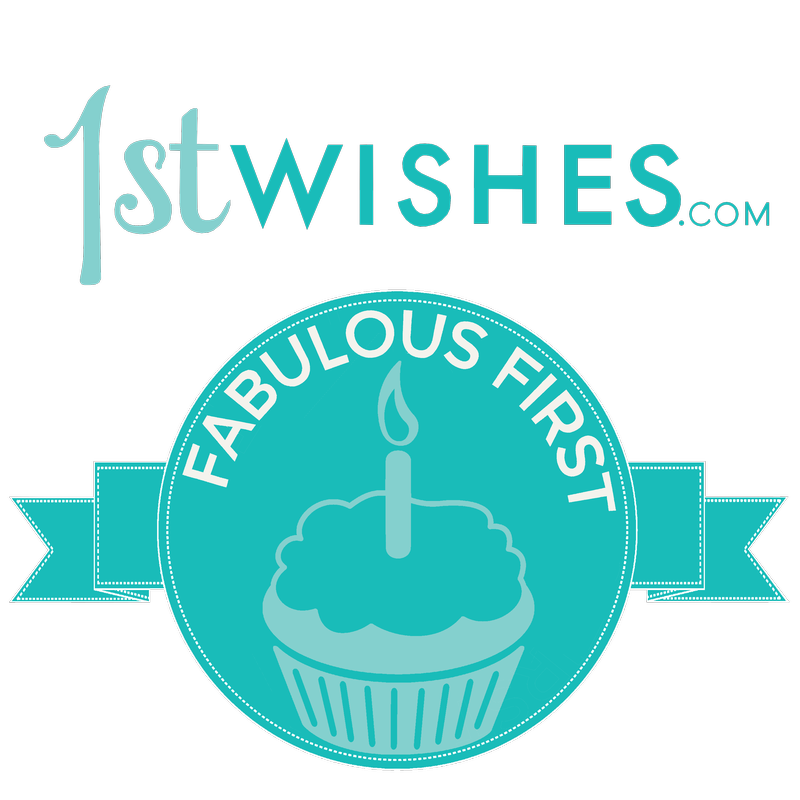 [Note: The people over at "1st Wishes" awarded us this badge since they loved the details of Myla's birthday party so much!  Thanks for the acknowledgment!]