Last week I had the opportunity to attend "MAKESHOP", an amazing modern craft workshop that brings people together to meet, mingle and make stuff!  I was invited by the creators Andrea (@andreahanki) and Christine (@justbellablog) along with an intimate group of local Edmonton bloggers to take part in their official launch!  Christine and Andrea explained that they wanted to establish a creative environment for people to come together, socialize, and be inspired.  Not only would we work on projects, but also attend a beautiful party as each event would be "uniquely styled to create a stylish, personalized environment with tons of engaging details".  I was ecstatic when I first received the invitation as this event sounded right up my alley!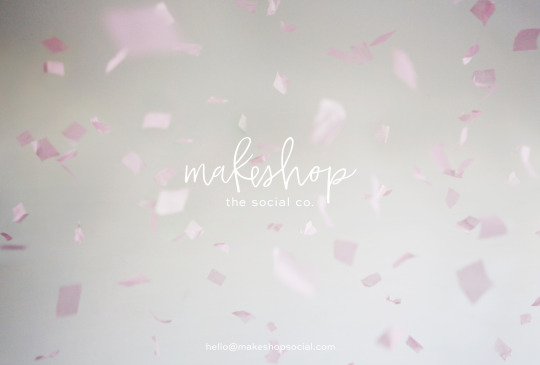 I must admit that I was both nervous and excited to attend the event!  I had never been to any blogger event before, and I had never met any of these ladies in person.  Thankfully, I had connected with a handful of them on-line through Instagram, so I was excited to meet them in real life!  As I approached "The Project Loft", I saw this beautiful confetti print on the door.  I knew this was the right place as Andrea and Christine are all about the confetti 😉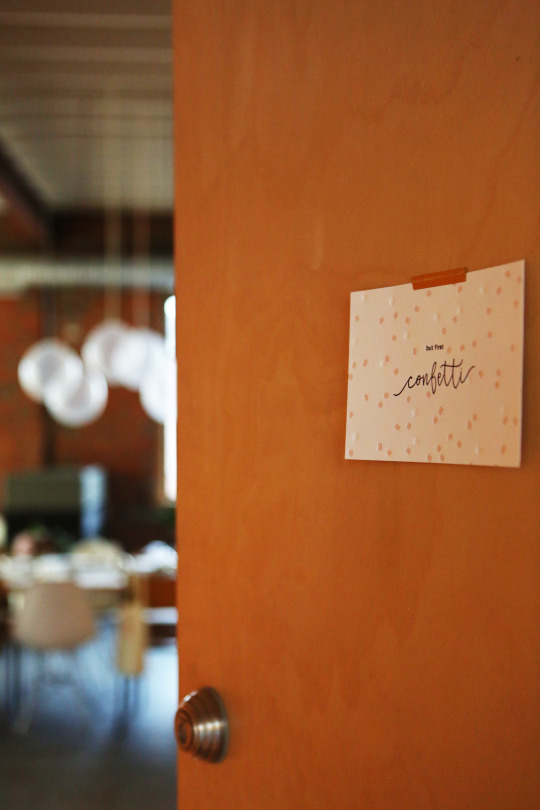 As soon as I stepped into the loft, I was warmly greeted by Christine and Andrea, and all the bloggers were given name tags.  I love how they had both our first names and our Instagram handles haha…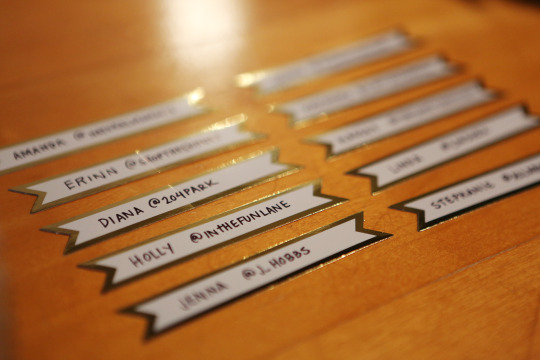 The Project Loft is a gorgeous and open space, and Christine and Andrea put so much thought and detail into styling the event.  Just look at these beautiful flower arrangements from Fabloomosity!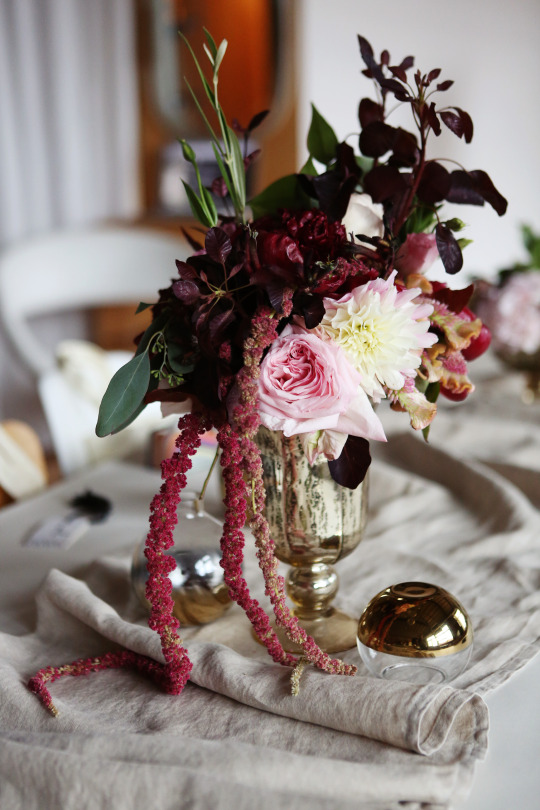 The delicious food looked so pretty too, from the macarons (by Contessa Macarons) to the fun confetti cookies (by Confetti Sweets).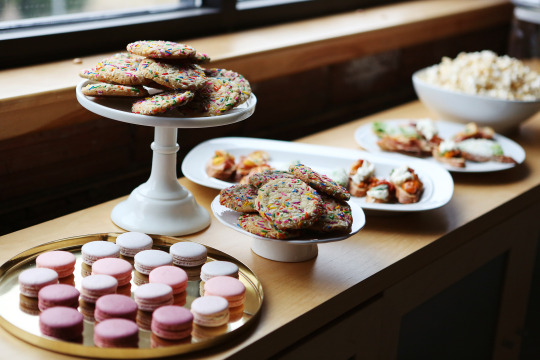 They even created a signature drink for MAKESHOP- it was very sweet and yummy…and PINK!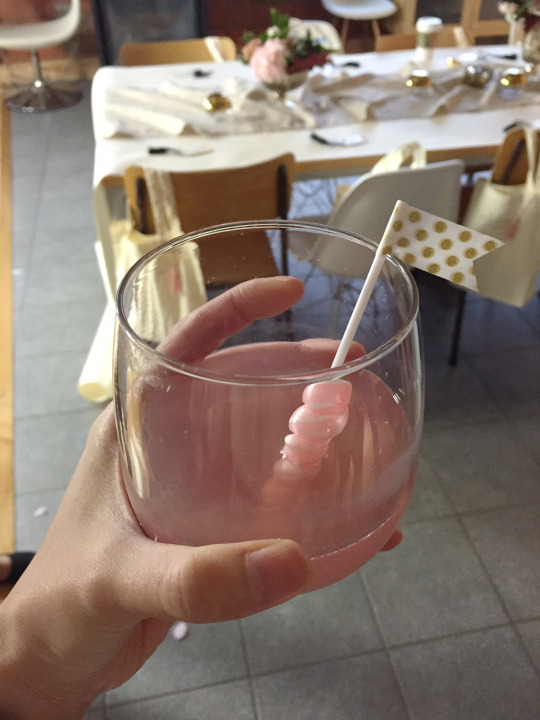 It was wonderful being able to chat and get to know the fellow bloggers!  I had always admired Justine Ma's beautiful hand lettering (you have to check out her work if you haven't already) so it was neat meeting her in real life.  I also got to meet my friend Amanda of "Natural Mommie" who also crochets, food blogger Linda Hoang (who I sat beside while crafting), and MAKESHOP co-creator Christine of Just Bella who I had first connected with a couple of years ago through Instagram!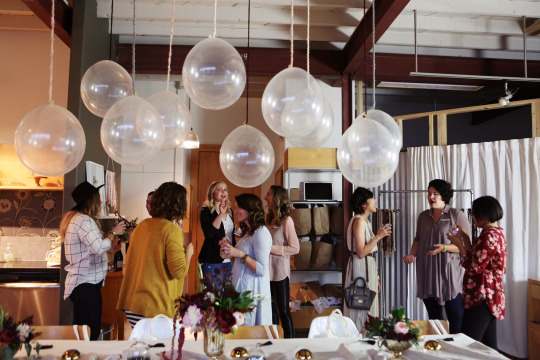 Group photo with all the bloggers!  It was amazing getting to know so many creative and inspiring women who are passionate about what they write about (whether it be lifestyle, photography, style, family) and who run their own businesses.  It was really fun taking photos together whilst throwing confetti! On the top from left to right: Kassey of The Lovely Ordinary, Holly of In the Fun Lane, Diana of 204 Park, Jenna of Plum Home+ Design, Erinn of Shop the Skinny, Me, Justine of Justine Ma Design.  On the bottom from left to right: Kelsy of Twirls and Travels, Amanda of Natural Mommie, Andrea of Andrea Hanki Photography, Christine of Just Bella Blog,  Jenna of Hobbs Photography, and Linda of Linda Hoang.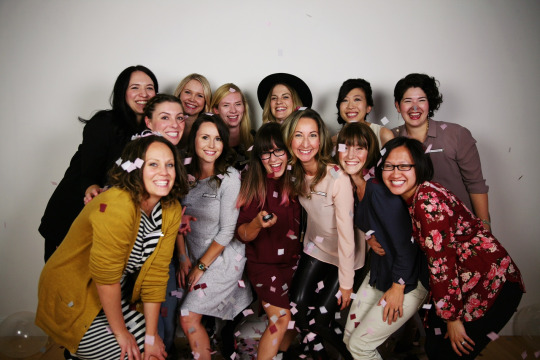 This is where we did our crafting!  I love how Christine and Andrea styled the table with the pretty balloons above and our names beautifully written on place cards to show us where to sit!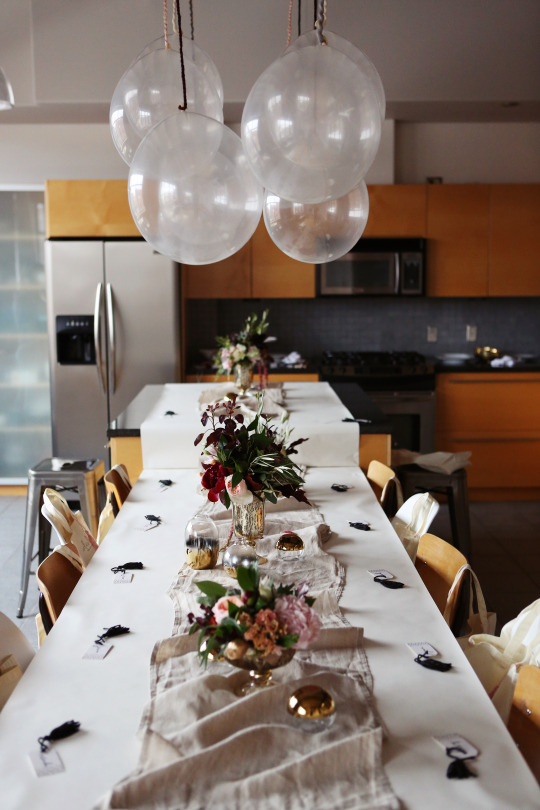 Christine and Andrea then explained what we would be making: Yarn Wall Hangings!  I thought it was such a great idea as they are so popular now and very easy to make, particularly since everyone came from various levels of crafting experience.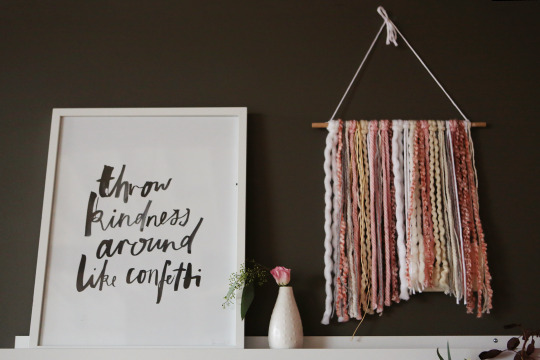 My heart skipped a beat when I saw all the beautiful yarn that they had organized and cut up so neatly!  What a great variety of colours and thicknesses of yarn!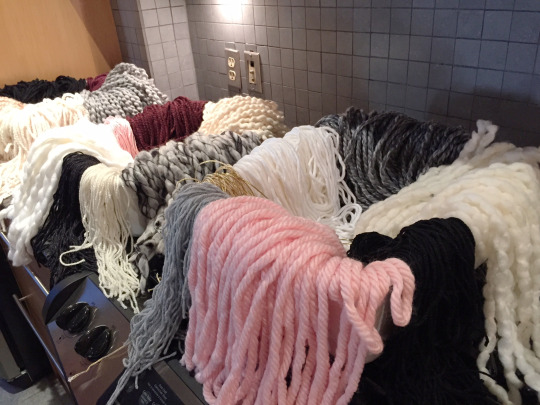 They had dowels and salvaged branches from the Banff area to use as the base to attach our yarn.  These workshops are wonderful since they provide all the materials needed- sometimes you want to make a project but don't want to go out and get the supplies yourself, particularly if you will have a lot left-over and don't know what to do with it!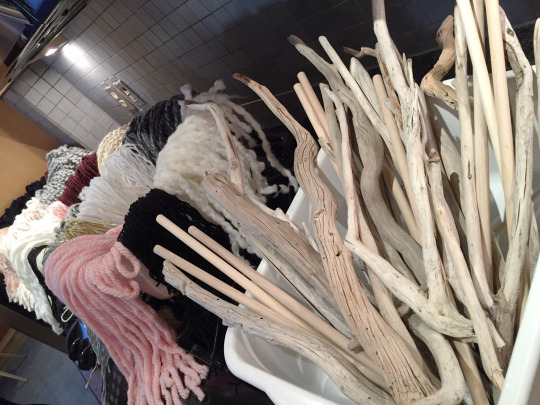 It's fun crafting in a group too!  Everybody puts their own spin on their projects, and it was lovely being able to munch on delectable treats and chat along the way!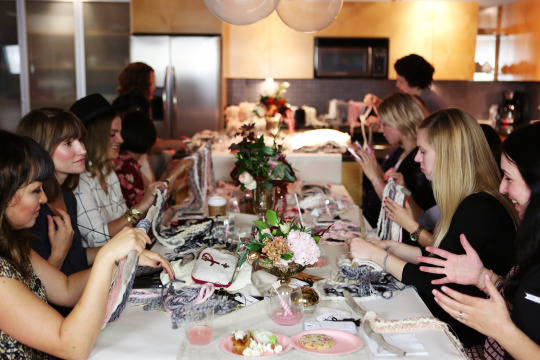 Here I am working on my yarn wall hanging!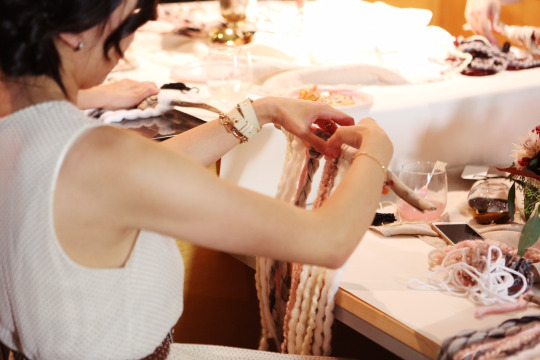 I went with a mostly white/cream/beige theme with some highlights of pink and grey!  Don't you love all the polkadots in the details, from the straw to our place card?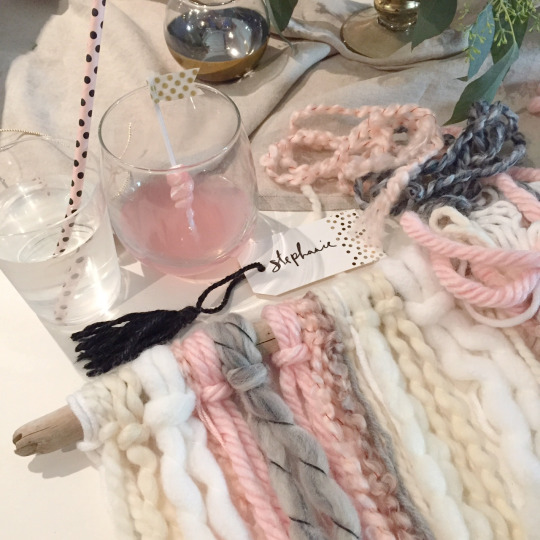 At the end of the night, they took a group photo with everyone's finished projects.  Don't they all look great?  Unfortunately I couldn't stay till the very end as I had to put Brielle to sleep!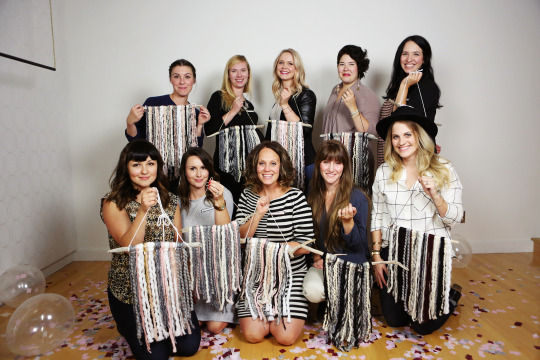 I had such a blast (as you can see by my big smile in the photo below haha) attending MAKESHOP!  It was so special being able to craft in such a beautiful, stylized environment, and it was a wonderful "mom's night out".  Being able to meet so many talented women and fellow bloggers was almost surreal!  Many thanks to my mom, brother Corey, and Ryan for taking care of the girls so that I could attend this amazing evening.  And a HUGE thank you to Christine and Andrea for inviting me to their very first MAKESHOP and making me feel like such a VIP!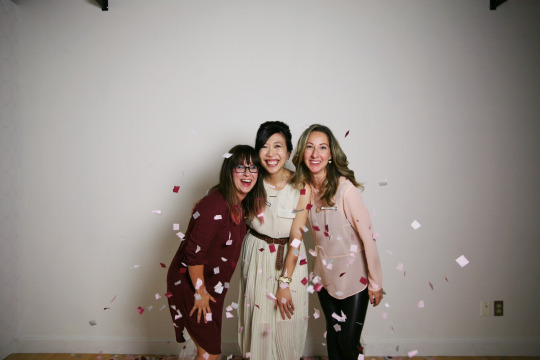 The event technically didn't end there as there was a special swag bag at each seat for us to take home at the end of the night.  I love how the bag had their logo stamped on it along with a pretty tassel!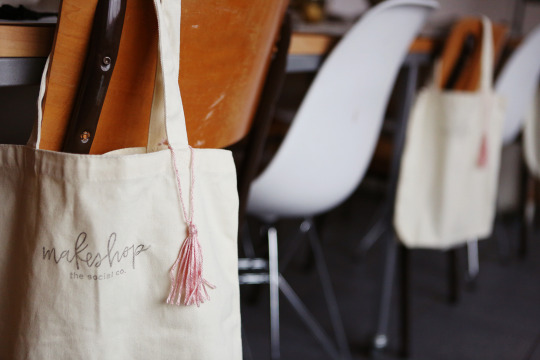 When I went home I excitedly went through the swag bag and found so many beautiful goodies from various small, creative businesses.  Thank you to Carousel Paper Co, I Love the Moon, Justine Ma Design, Plum Home + Design, Pura Botanicals and Uppercase Press for your generousity- I can't wait to use your items!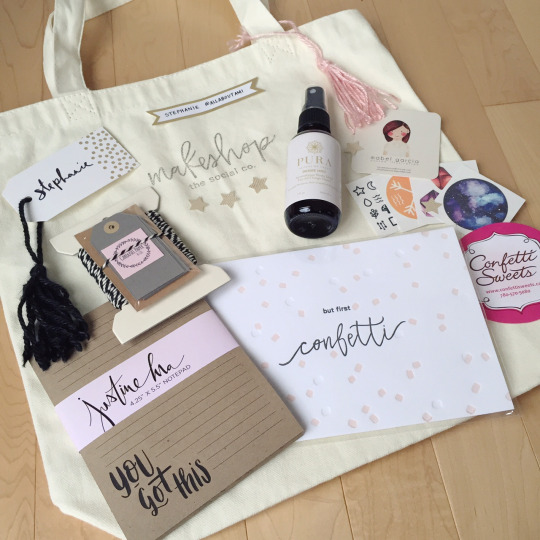 Here is my yarn wall hanging in case you're curious what mine looked like at the end!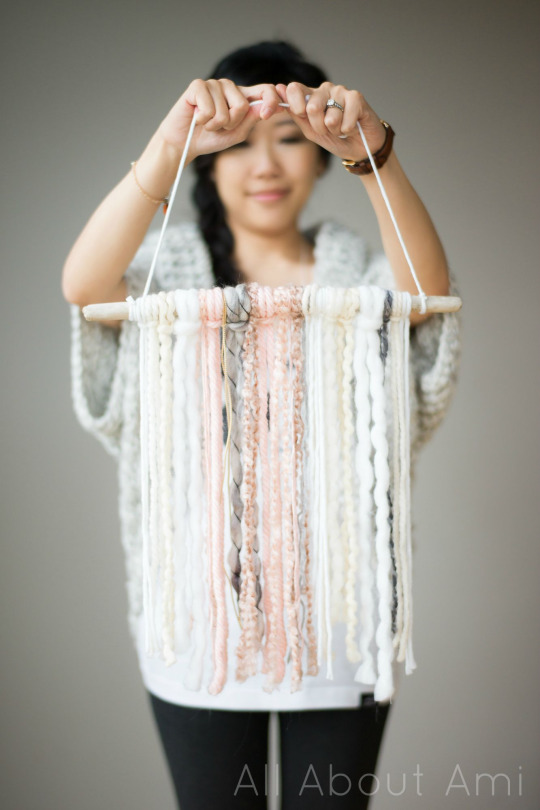 It looks really nice against our grey walls!  For now I haven't trimmed the edges too much, but I might cut them into a "V" shape or an asymetrical slant in the future.  I saw some other yarn wall hangings on-line where they incorporated pom poms and tassels, which is a neat idea!  I thought this would be a fantastic project to share with you all since I know many of us have bits of yarn left from our crochet projects that we don't know what to do with.  This is a great stash-busting project and it's fun choosing the colours!  Get your friends together and combine your yarn- you can find plenty of tutorials on how to make these yarn wall hangings HERE!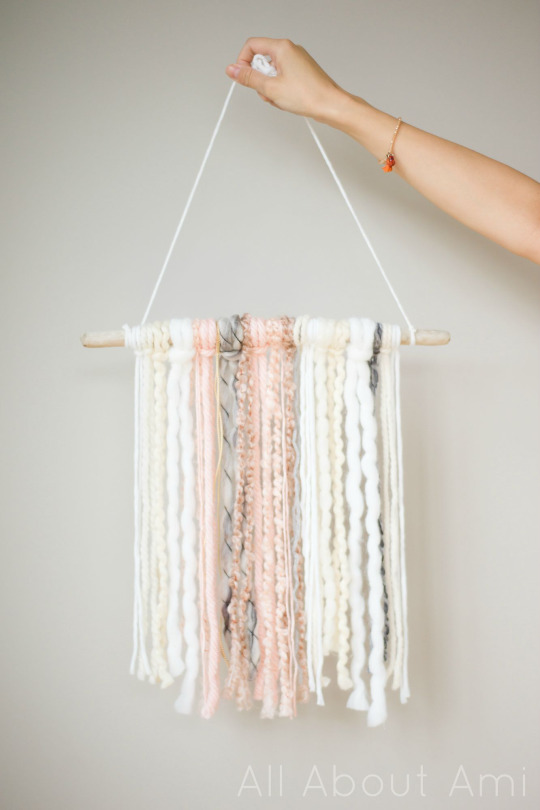 I hope you enjoyed reading about this modern craft workshop that I attended last week!  If you're interested in MAKESHOP and are in the Edmonton area, Christine and Andrea will be opening up future workshops to the public- how fun would it be to gather some friends together and craft the night away at such a stylized, gorgeous party?  You could also have Christine and Andrea host a whole group of your friends for a bridal shower or birthday party!   Visit the MAKESHOP site HERE and enter your e-mail address to sign up for their newsletter so you can hear about their upcoming workshops!  Thank you once again to Christine and Andrea for creating such a beautiful event and fostering a creative and crafting community!  Photo credit to Andrea Hanki for taking most of the gorgeous photos above so that I could share this experience with you all!